If you are looking for a sweet coffee treat, you have got to try this Starbucks sugar cookie latte! It the perfect combination of fresh brewed coffee and sweet syrup goodness. The best part? This DIY coffee drink can easily be made at home, anytime you want!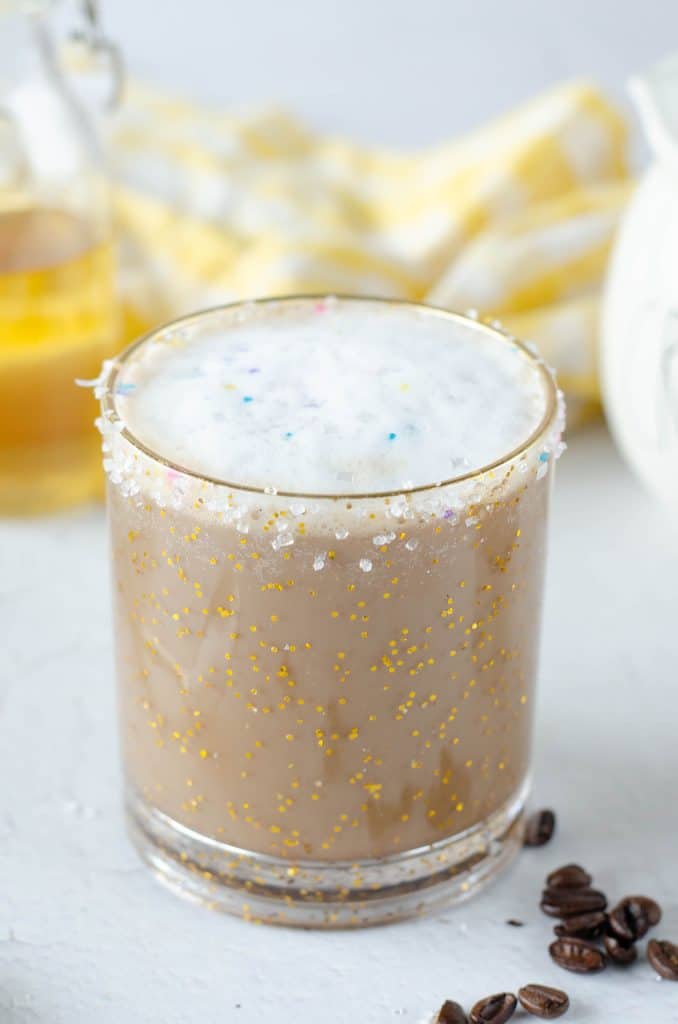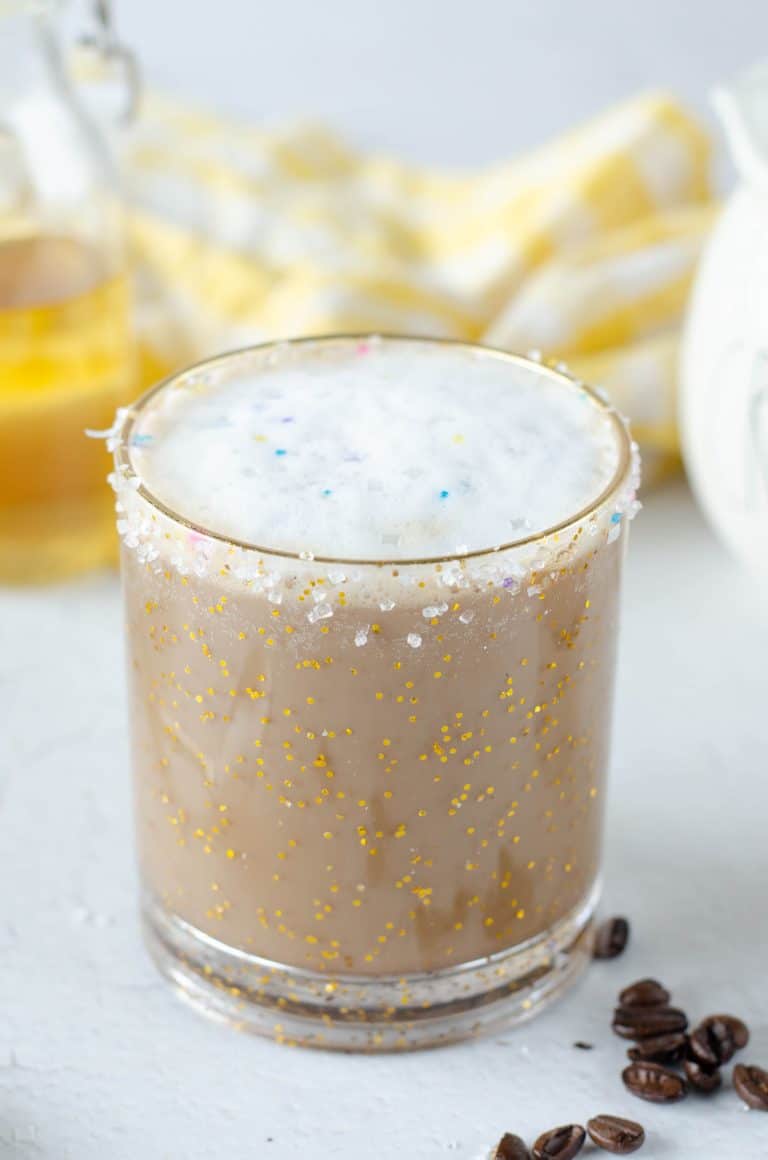 Starbucks has done it again! They have released a new drink on their winter seasonal menu and it's ahhh-mazing! How amazing? It came out and I wasn't able to try it for weeks.
Once the sugar cookie latte was released, people must have rushed to Starbucks to try it because I couldn't get one for 3 weeks after it launched. I went to 3 different Starbucks for a few weeks and each one was out of the sugar cookie syrup. Crazy – I know! When I took a sip, I realized why it was sold out. It's delicious!
What is the sugar cookie latte?
The sugar cookie latte is the newest release from Starbucks onto their seasonal menu. It comes out with the winter drinks such as the chestnut praline latte, caramel brulee latte and the peppermint mocha latte. It does replace the gingerbread latte, which will no longer be on the seasonal menu. You can make a copycat gingerbread latte at home though!
The sugar cookie latte is a combination of fresh espresso with a yummy sugar cookie syrup. The syrup is the star of the show and tastes like you are biting into a soft and chewy cookie. The Starbucks version uses almond milk, but you can request whatever milk you'd like.
Sugar cookie syrup ingredients
Before you make your sugar cookie latte, you first need to make a homemade sugar cookie syrup. Don't worry – it's super easy to make and you only need a few ingredients. Bonus – once you've made the syrup you can have a sugar cookie latte whenever you'd like!
sugar
water
vanilla extract
almond extract
butter extract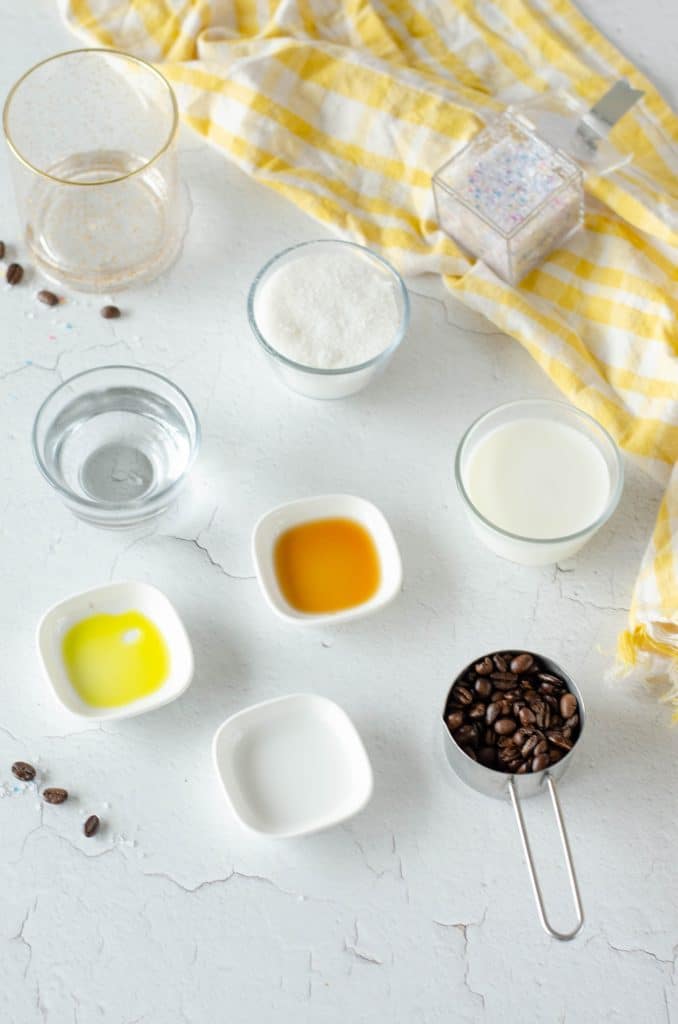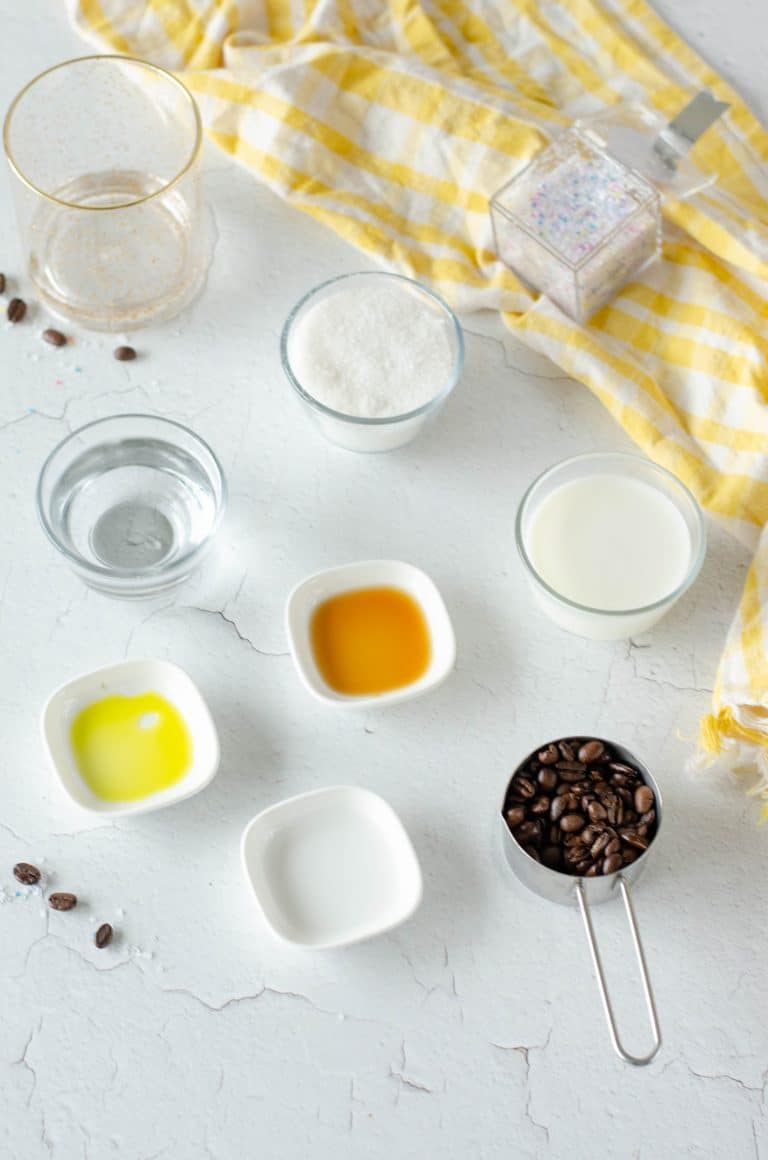 Sugar – Plain white granulated sugar works best for this syrup. I also added a large colored sugar to the rim of the glass and on top of the foam. It gives it that real Starbucks feel. The fancy sugar can be found in the baking aisle.
Vanilla extract – Homemade or store bought vanilla extract works fine in this recipe.
Almond extract – This helps give the syrup an authentic sugar cookie flavor. It's a great addition to this latte.
Butter extract – Stay with me here. What is the best part of a sugar cookie? That sweet buttery taste, right? This butter extract gives the syrup that same flavor! You can find butter extract in the baking aisle with all the other extracts.
You will also need coffee and milk of choice for the latte portion of this drink.
How to make a copycat sugar cookie latte
Once you have gathered all of your sugar cookie latte ingredients, you will also need to grab:
measuring cups and spoons
small pot
spatula
mason jar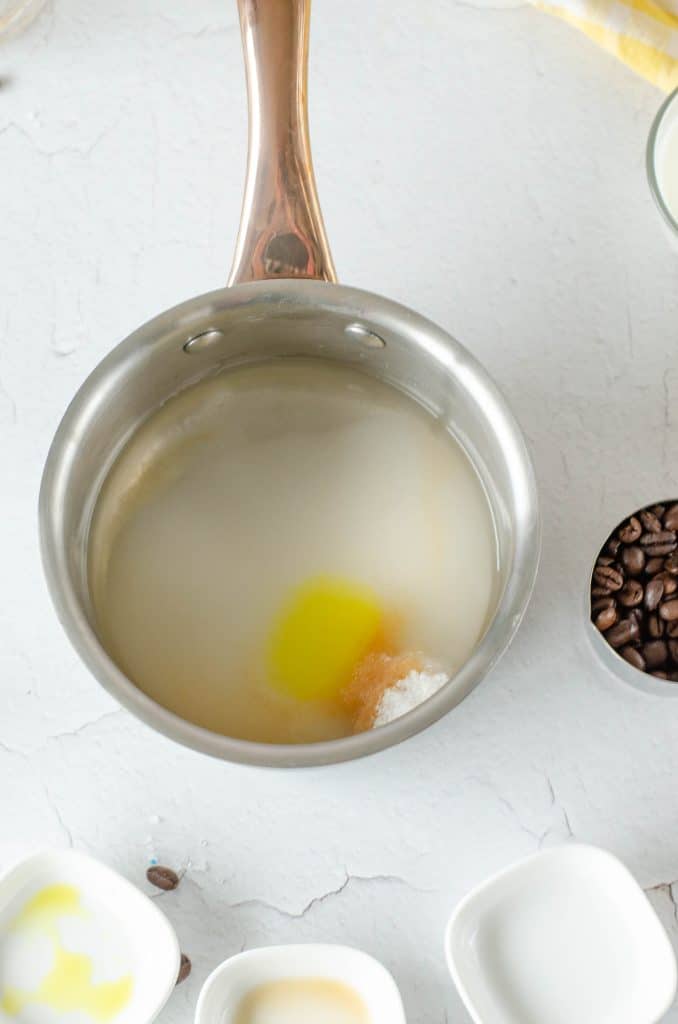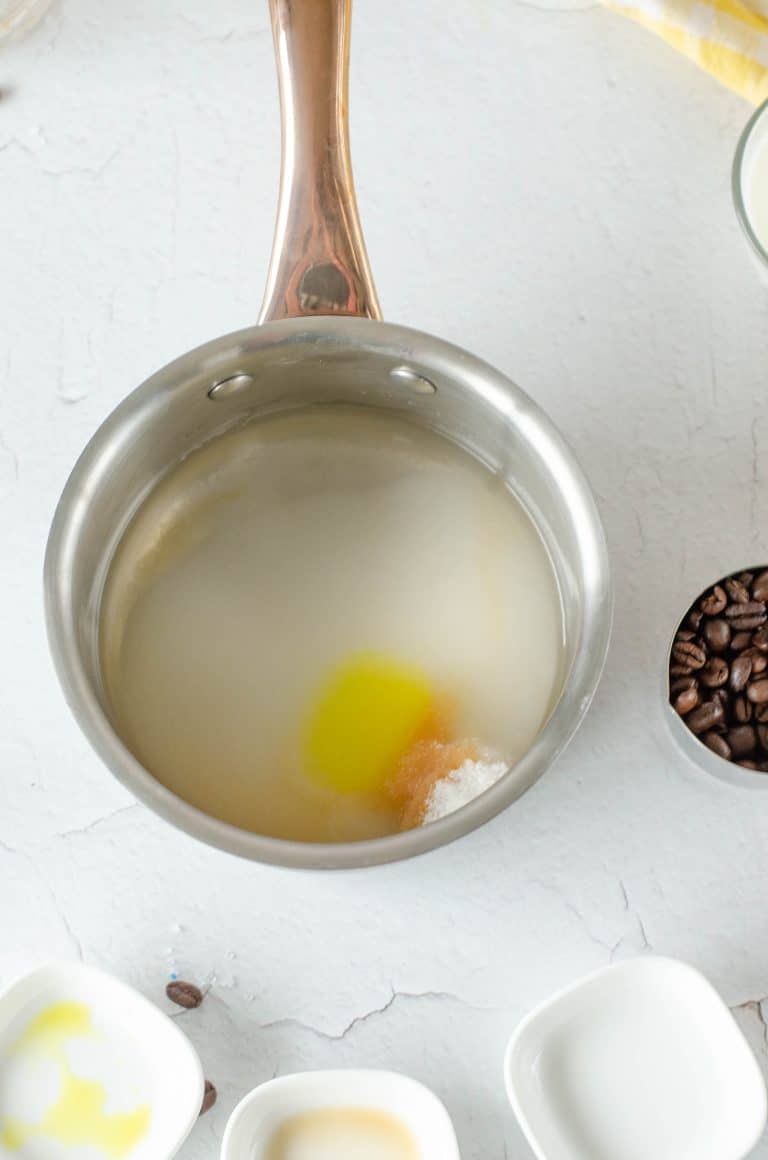 Step 1 Make the sugar cookie syrup Place your sugar, water and the extract in a small pot over medium heat. Allow the water to come to a slight boil until the sugar dissolves. Simmer for about 5 minutes until the syrup thickens.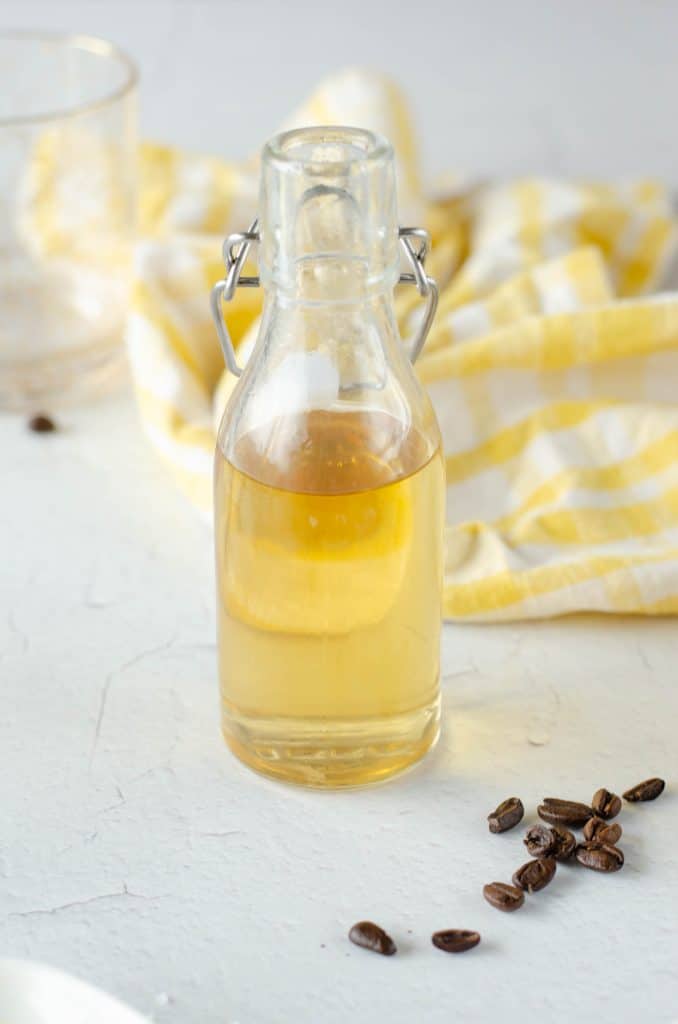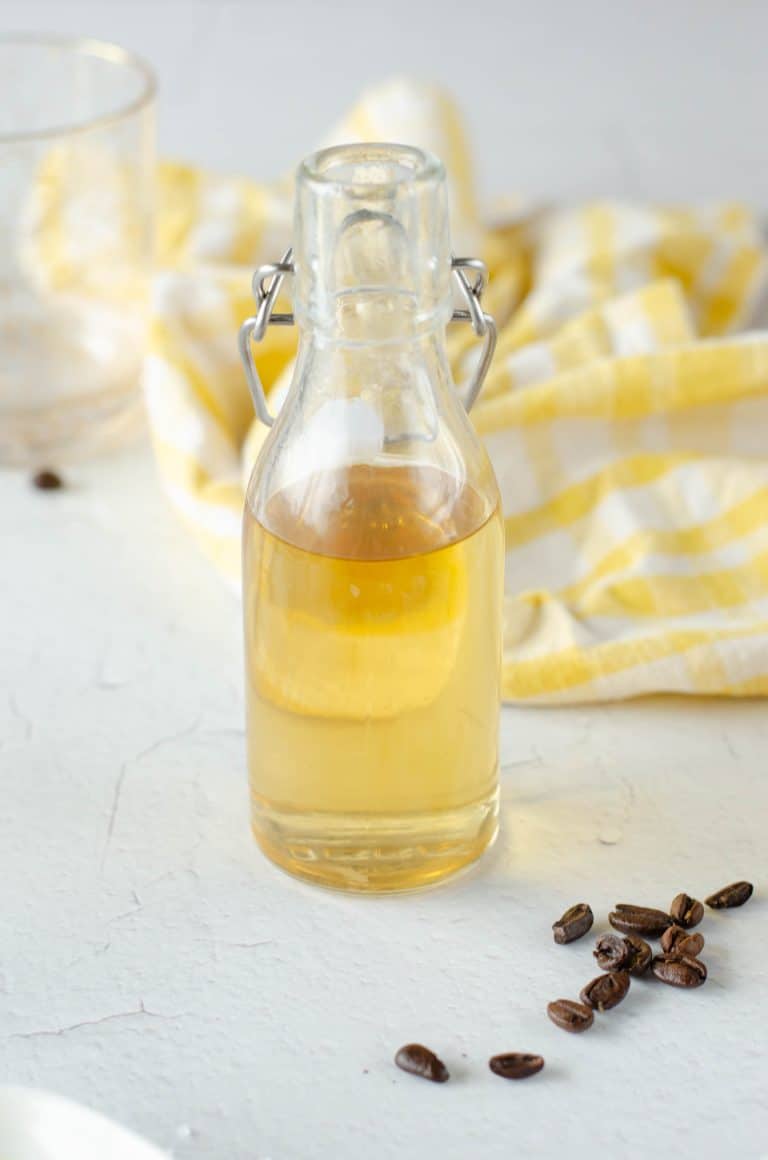 Step 2 Cool the syrup Put your syrup in an airtight container such as a mason jar or a jar with a flip lid. The syrup will continue to thicken as it cools.
Step 3 Assemble the latte Pour some of the cookie syrup in a glass. Add in your hot coffee or espresso. Stir to combine. Froth your milk and add it on top of the coffee mixture. Top with colored sugar crystals and enjoy.
Do I have to use steamed milk?
You don't have to use steamed milk for this latte. Starbucks uses steamed almond milk for their sugar cookie latte, but you can use whatever milk or milk alternative you'd like. You can steam the milk in a saucepan over medium heat or use a milk frother with heat function. Or you can just pour in cold milk and save some time. Any option works.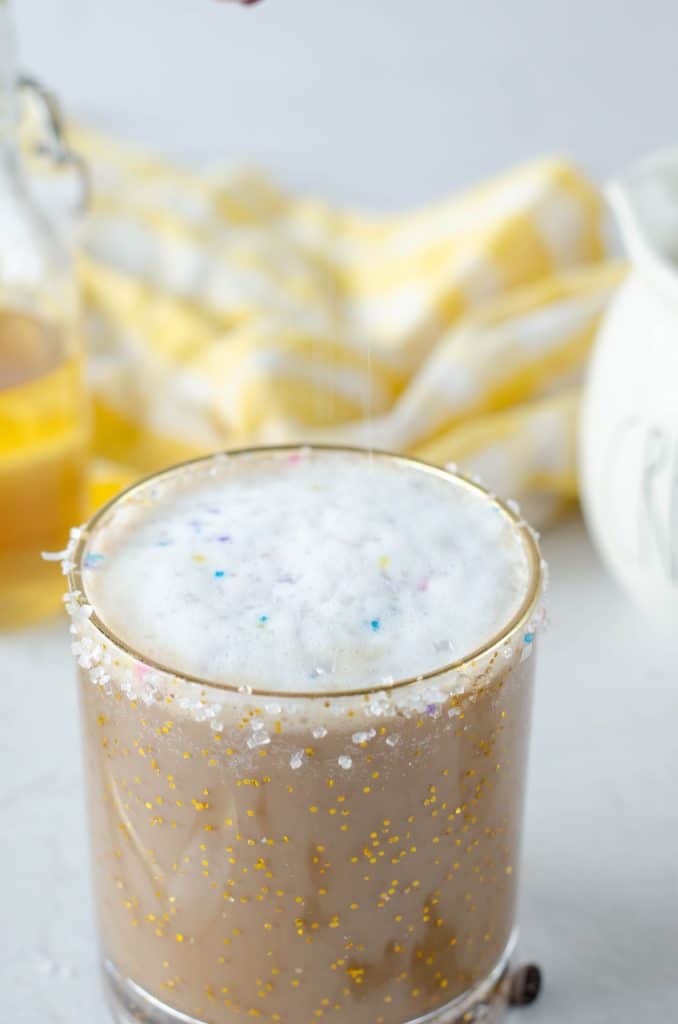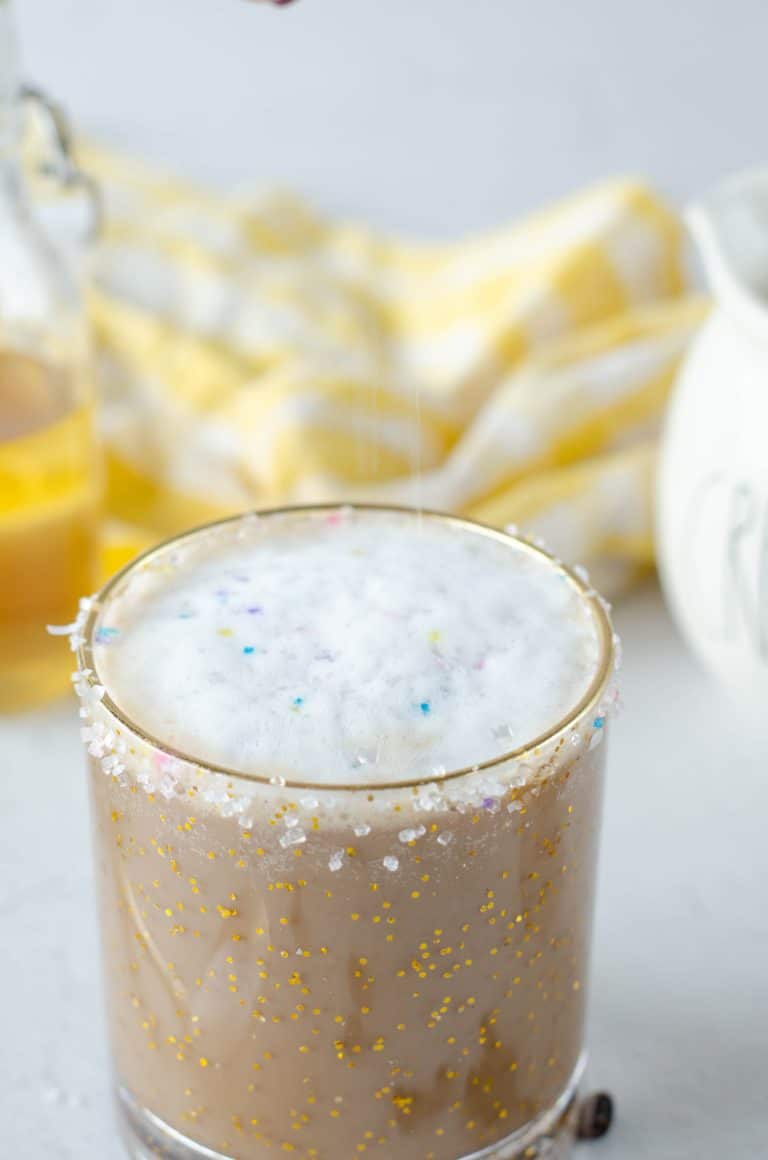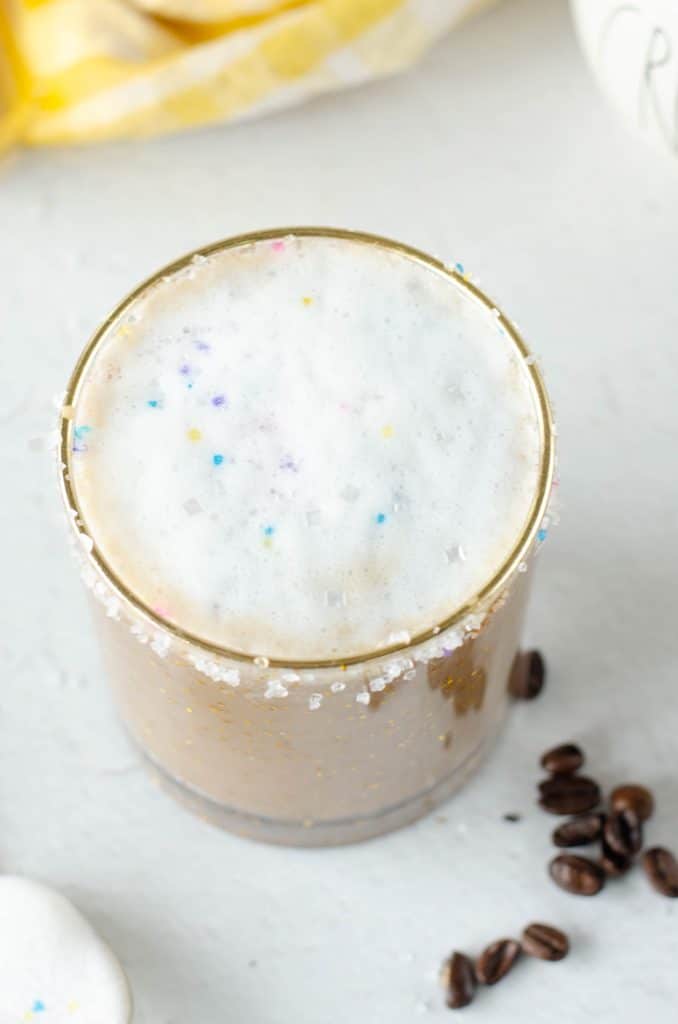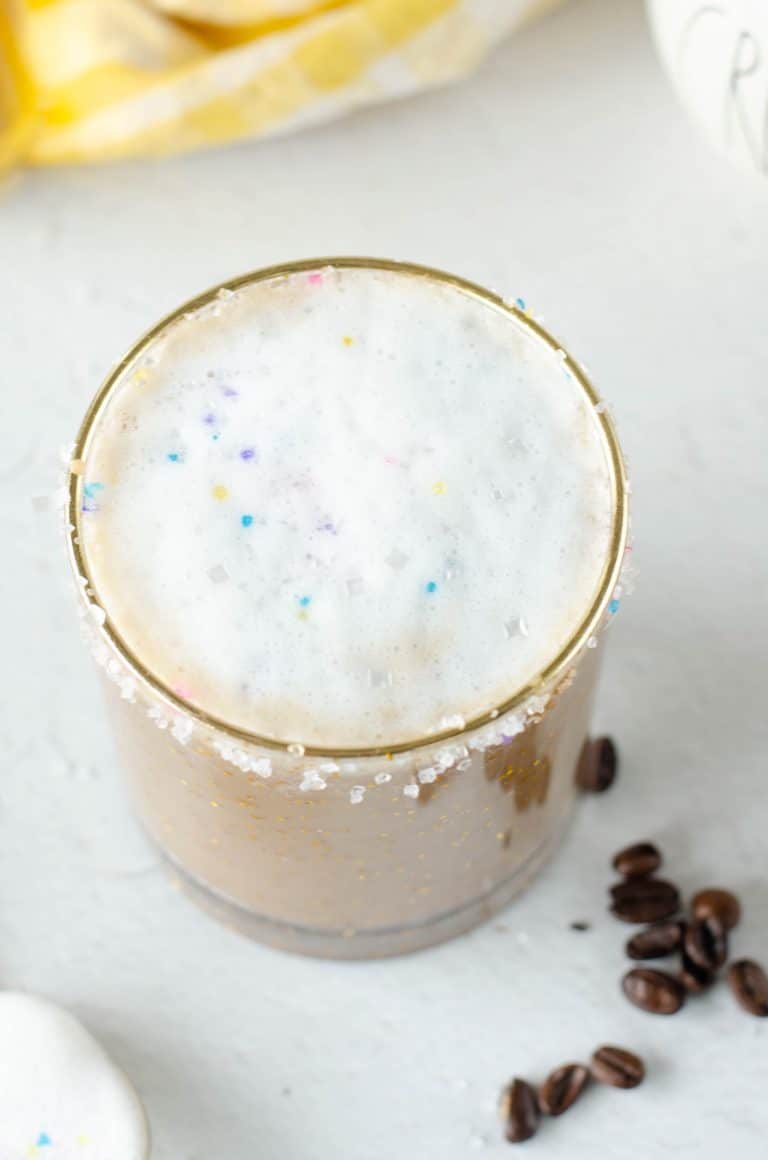 What does the sugar cookie latte taste like?
This sugar cookie latte tastes like a warm sugar cookie paired with a cup of hot coffee. It's a great Christmas drink that combines some familiar flavors together.
What type of coffee do I need?
You can use any type of hot coffee or espresso for this recipe. You can check out my coffee guide to help you figure out the best coffee for this latte.
What's the best Starbucks Christmas drink?
Starbucks offers a variety of great Christmas inspired drinks on their seasonal menu. Some of my favorites are: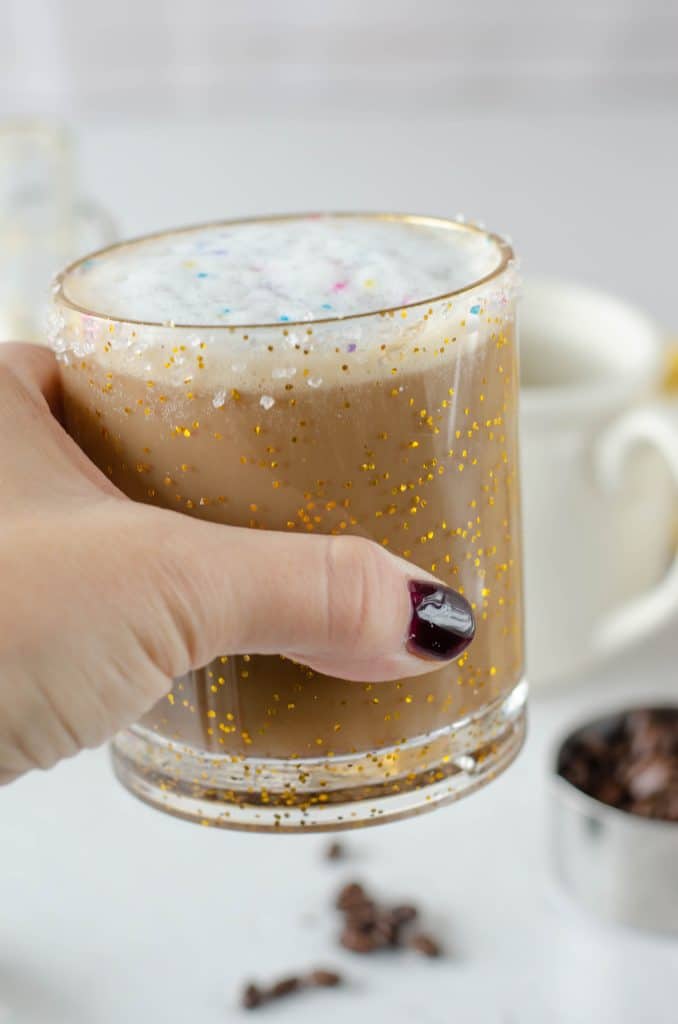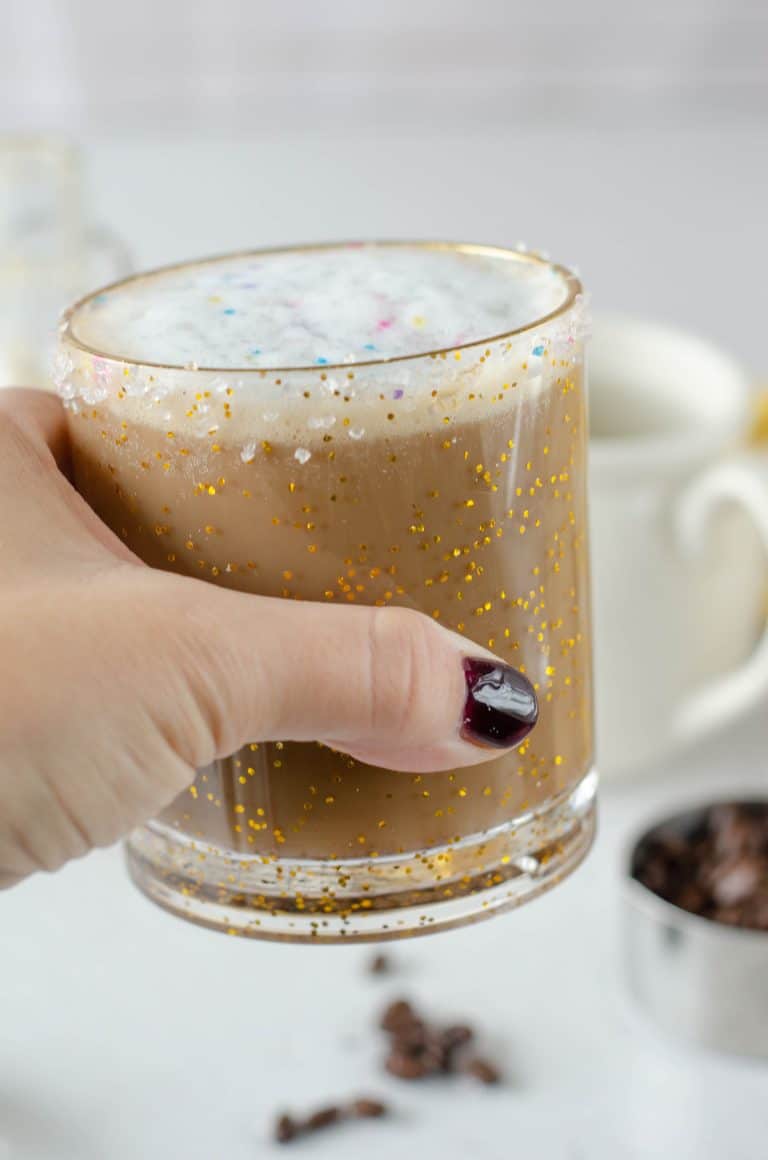 Sugar cookie latte tips and tricks
This sugar cookie latte is pretty easy to make, especially once you've made the homemade cookie syrup.
Don't let the syrup come to a rolling boil. Allow it to come to a soft boil and then allow it to simmer.
You can tell the syrup is ready when it coats the back of a spoon.
Allow the syrup to cool before securing the top on the jar. You can store the syrup in the pantry. Crystallization is normal on homemade syrups.
Use a strong espresso or coffee for the best tasting latte.
Make it iced by using cold brew coffee and cold milk.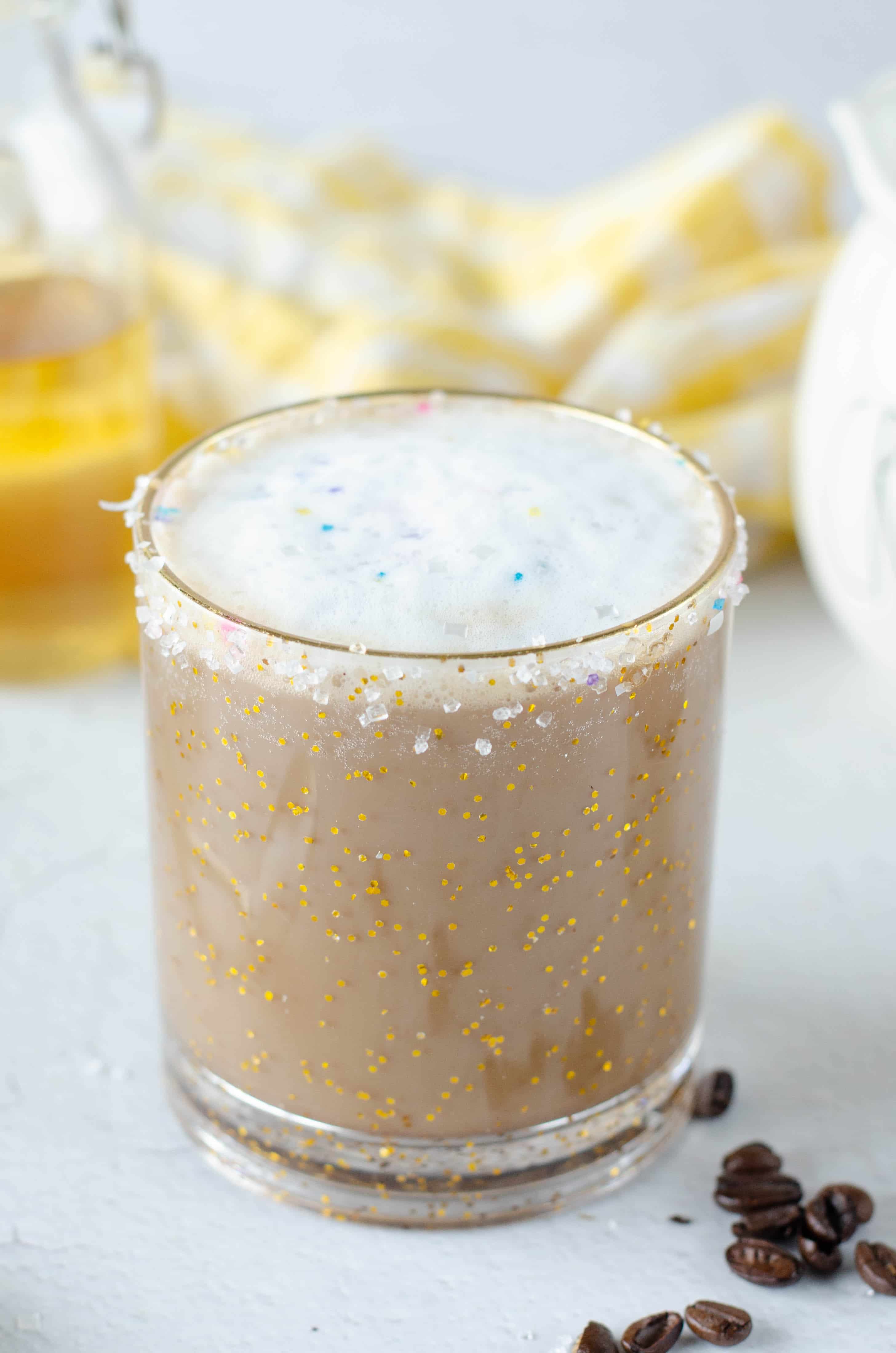 Sugar cookie latte
Make a copycat Starbucks sugar cookie latte that tastes like a fresh baked cookie on Christmas morning!
Ingredients
1/3 cup sugar
1/3 cup water
1/2 teaspoon vanilla extract
1/4 teaspoon almond extract
1/4 teaspoon butter extract
1 cup hot coffee
1 cup milk, steamed
colored sugar, for topping
Instructions
Combine the sugar, water, vanilla, almond and butter extracts in a saucepan over medium heat.
Bring to a soft boil and reduce to a simmer. Stir constantly to avoid burning.
Allow to simmer for 10 minutes or until the syrup coats the back of a spoon.
Remove from heat and allow to cool.
Make a latte but adding a tablespoon or 2 of the syrup to a mug.
Pour in the hot coffee and stir to combine.
Add in the steamed milk.
Top with colored sugar.
Enjoy!
Other Starbucks copycat recipes to try
Yall know I'm a sucker for a homemade Starbucks drink. If you want to try more drinks at home, I suggest you try:
Did you try this recipe? I'd love for you to leave a review in the recipe card above.
Want to try it later? Pin the image below to your favorite drink board.