If you are looking for a fun cookie recipe to try this holiday season, these peppermint sugar cookies are it! They are made with a cake mix which gives you a soft and chewy cookie base. Then we add a delicious peppermint frosting for a festive and easy cookie!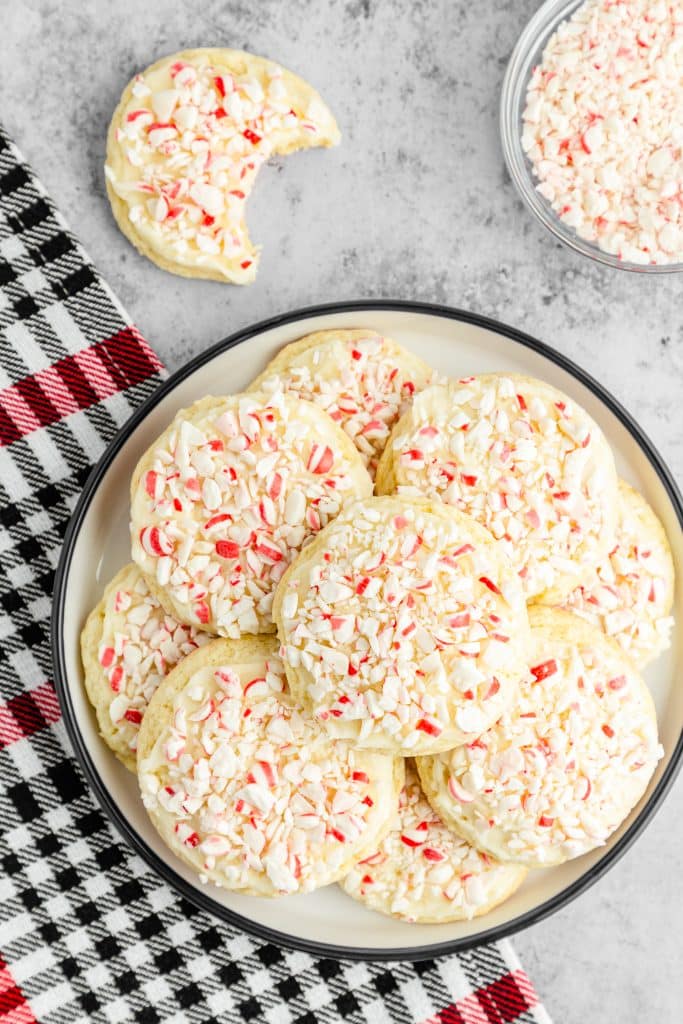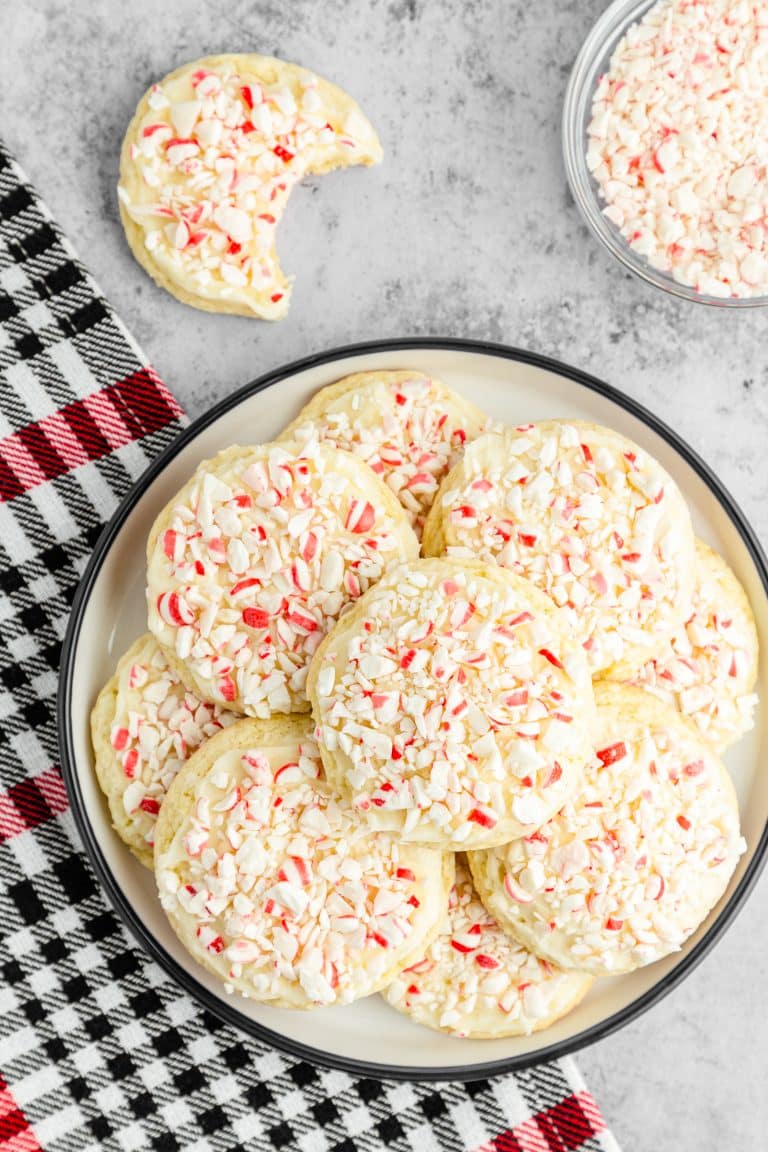 We love holiday baking! My kids love being in the kitchen with me in general so when it's time to bake something sweet, they are all about it! During the holidays we love making peanut butter blossoms, cinnamon sugar pecans, fudge and so many other classic holiday treats.
What are peppermint sugar cookies?
These cookies are a basic sugar cookie with a peppermint frosting topping. The best part of these cookies is that they use a cake mix! Yes! Sugar cake mix cookies! They are perfect for little hands that like to help in the kitchen. You only need 4 ingredients for the cookies and 6 for the peppermint frosting.
Peppermint sugar cookie ingredients
To make these cookies you will need:
vanilla cake mix
baking soda
butter
eggs
powdered sugar
vanilla extract
peppermint extract
crushed peppermint stick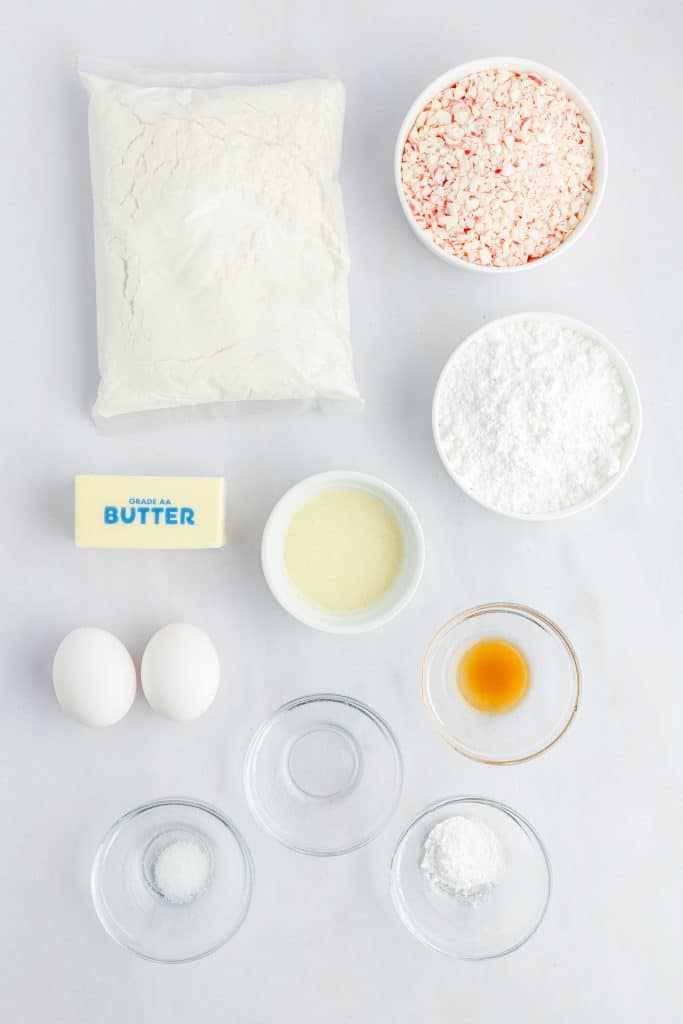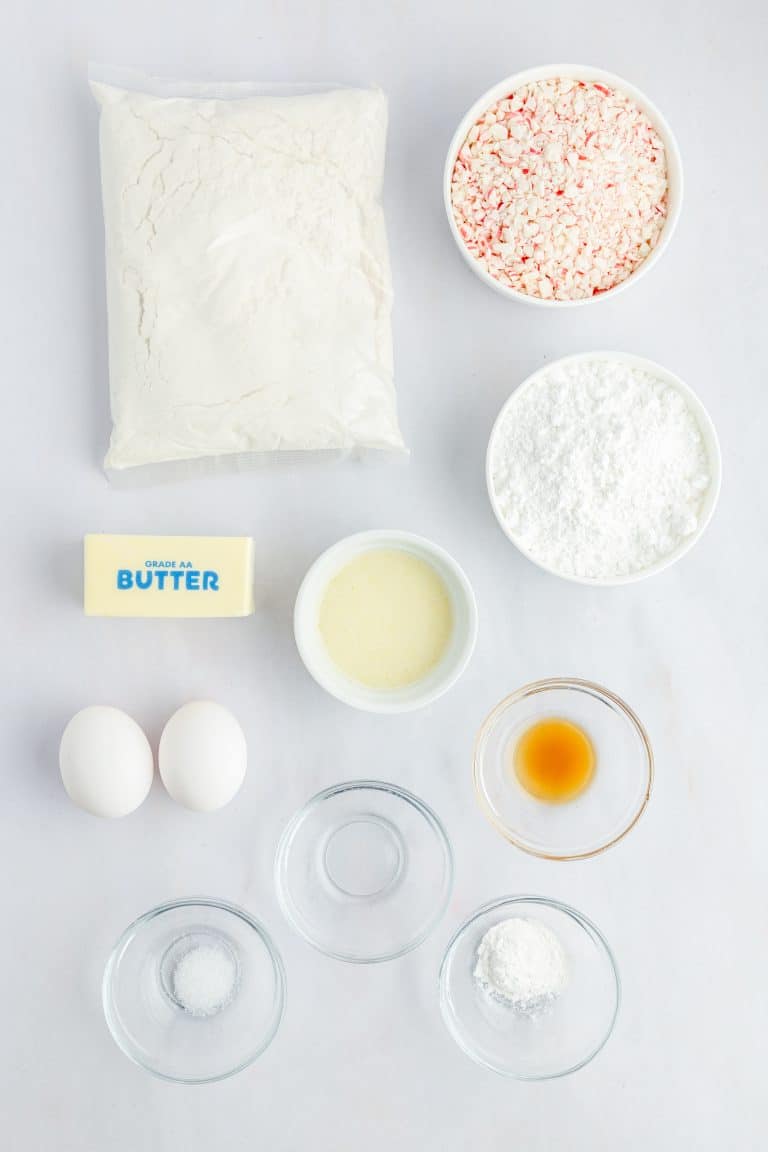 Vanilla cake mix – You can use your favorite boxed cake mix for this recipe. Any one from the baking aisle will work.
Baking soda – This will help make the cookies fluffy. Make sure to check if your baking soda is fresh before adding it in.
Butter – You can use salted or unsalted butter for these cookies. If you use salted butter, leave out the salt in the frosting.
Crushed peppermint – You can crush candy canes or you can by pre-crushed peppermint candies in the baking aisle.
How to make peppermint sugar cookies with a cake mix
Once you have gathered all your ingredients you will also need to grab – mixing bowls, measuring cups and spoons, hand mixer, baking sheets, spatula and a cookie scoop.
Step 1 Preheat the oven and prepare your baking sheet.
Step 2 Mix together the cake mix and baking soda in a mixing bowl. Add in the butter and eggs and using your hand mixer, mix until smooth.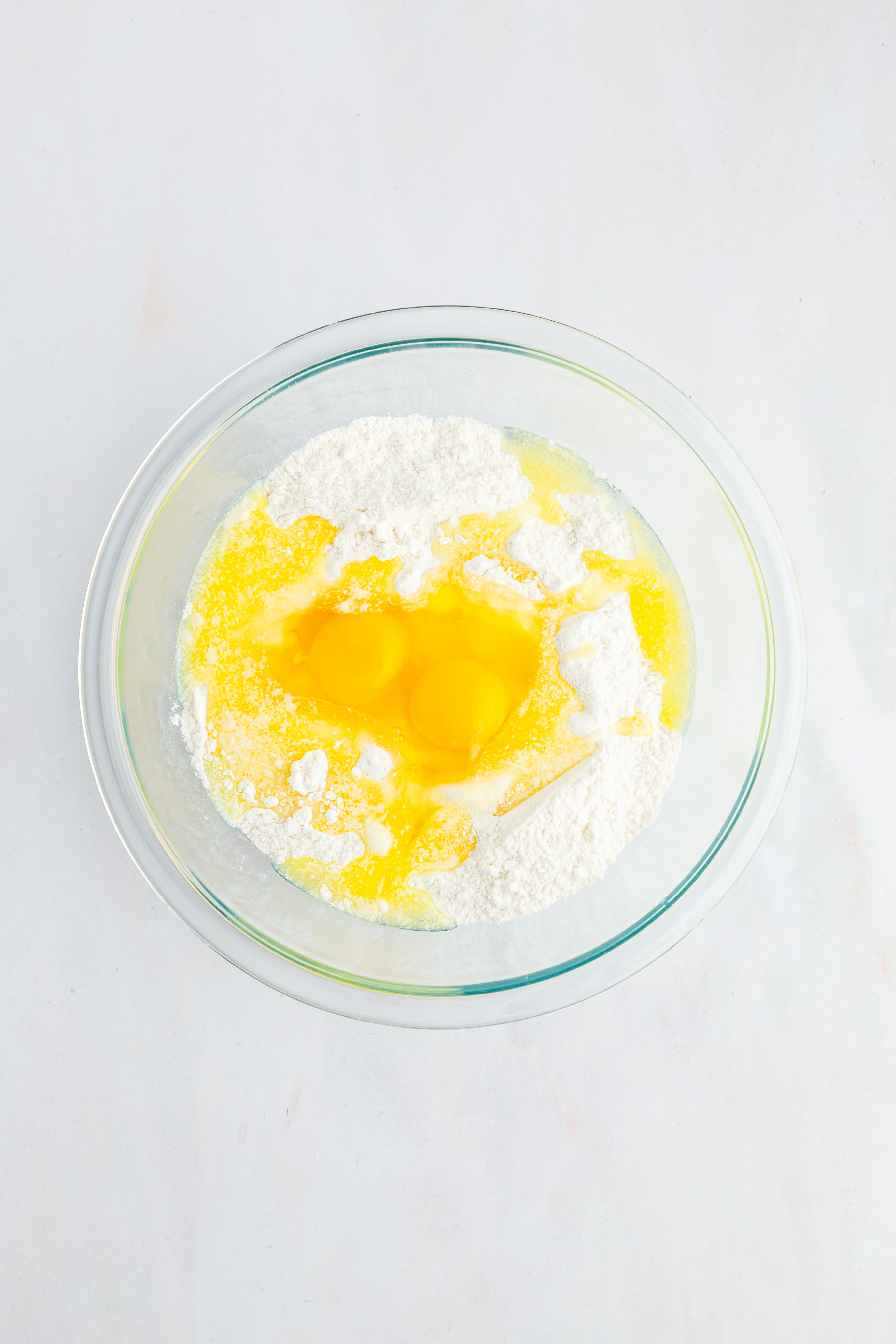 Step 3 Scoop out the cookie dough using your cookie scoop onto the prepared baking sheet.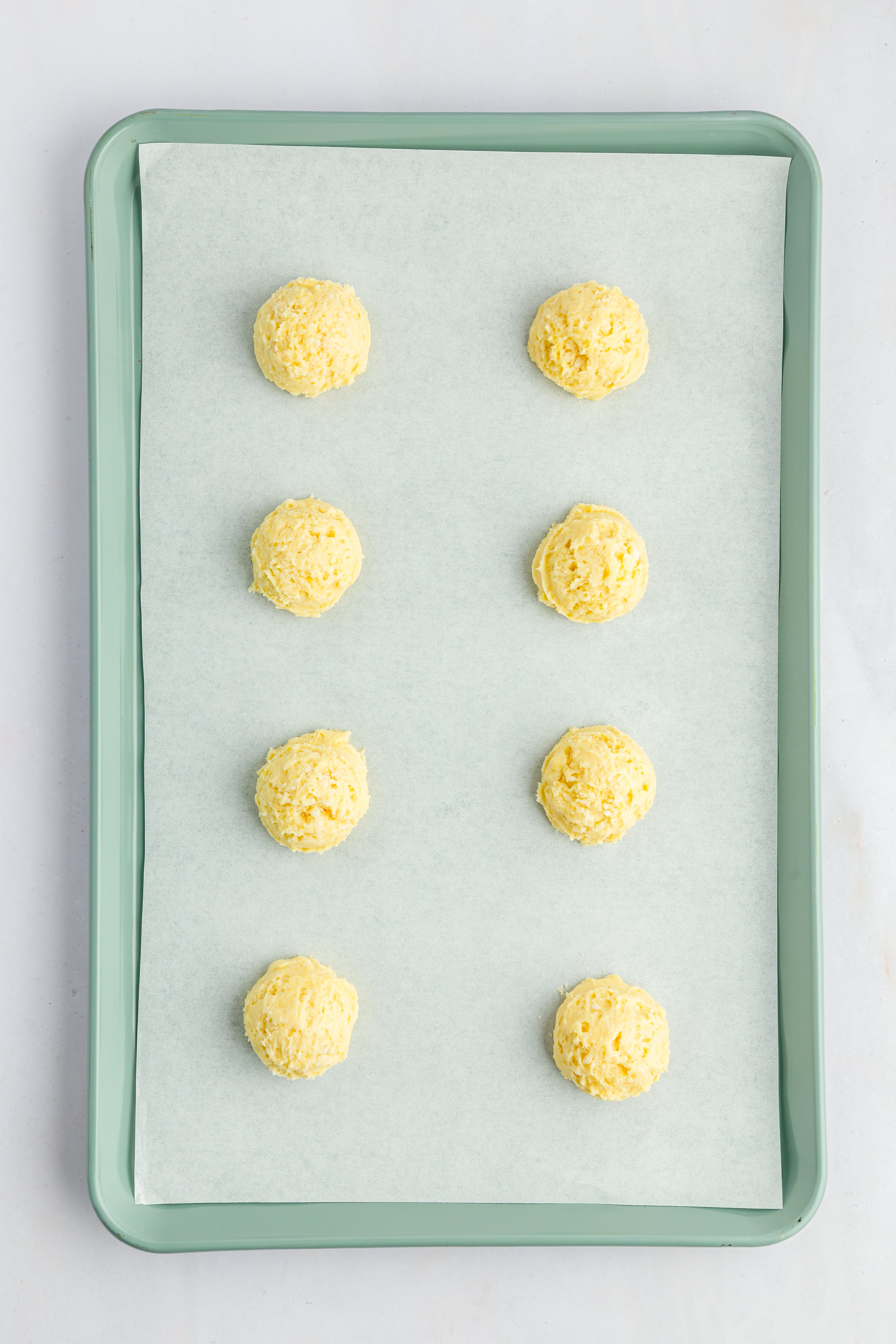 Step 4 Bake the cookies for 8-10 minutes. The cookies will be done once the tops are set.
Step 5 Beat the sugar in another mixing bowl until soft and fluffy. Add in the powdered sugar and extracts. Beat until thick and fluffy. Remember – if you used salted butter, omit the salt from the frosting.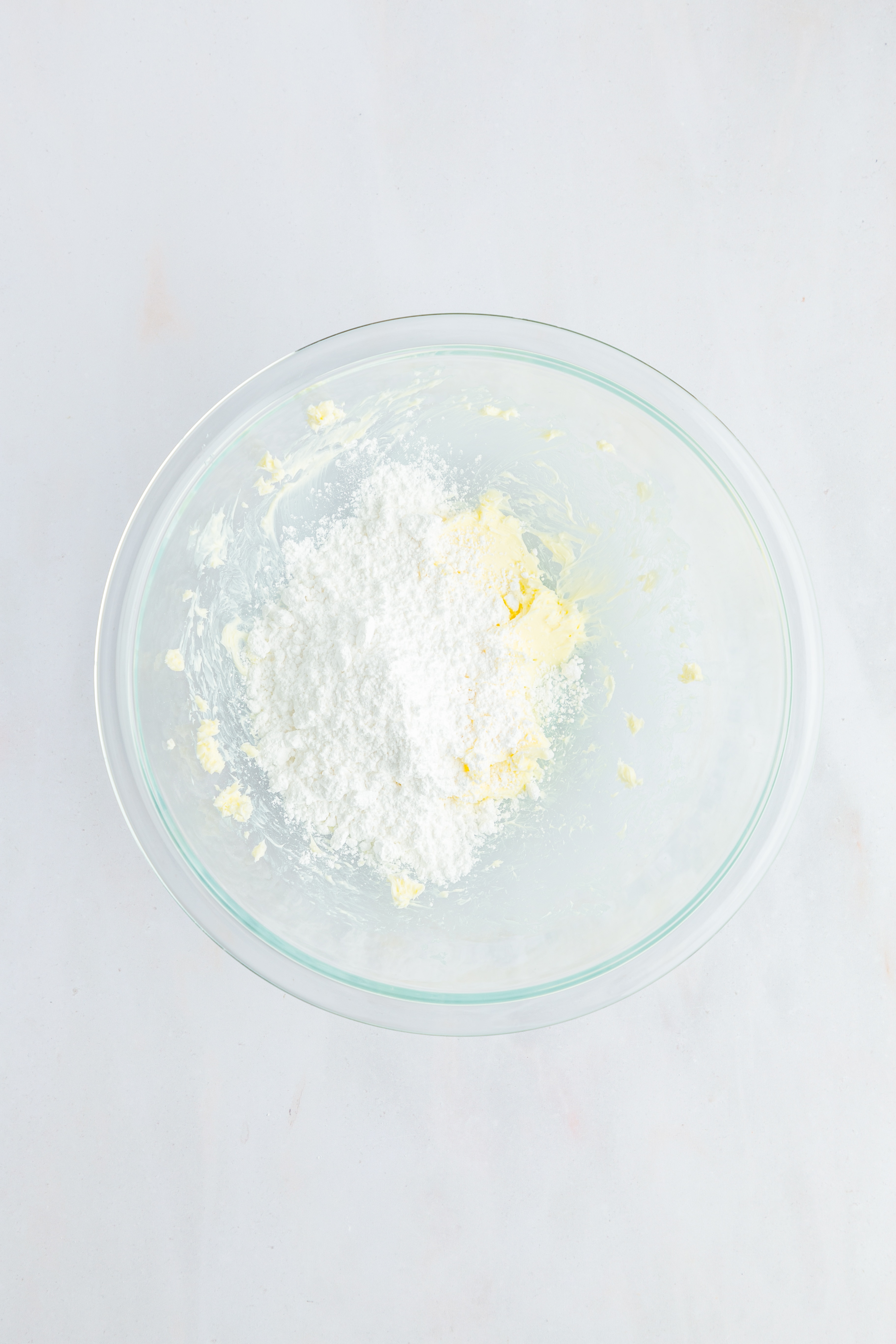 Step 6 Once the cookies are cooled, frosting the cookies with a spatula and top with the crushed candies.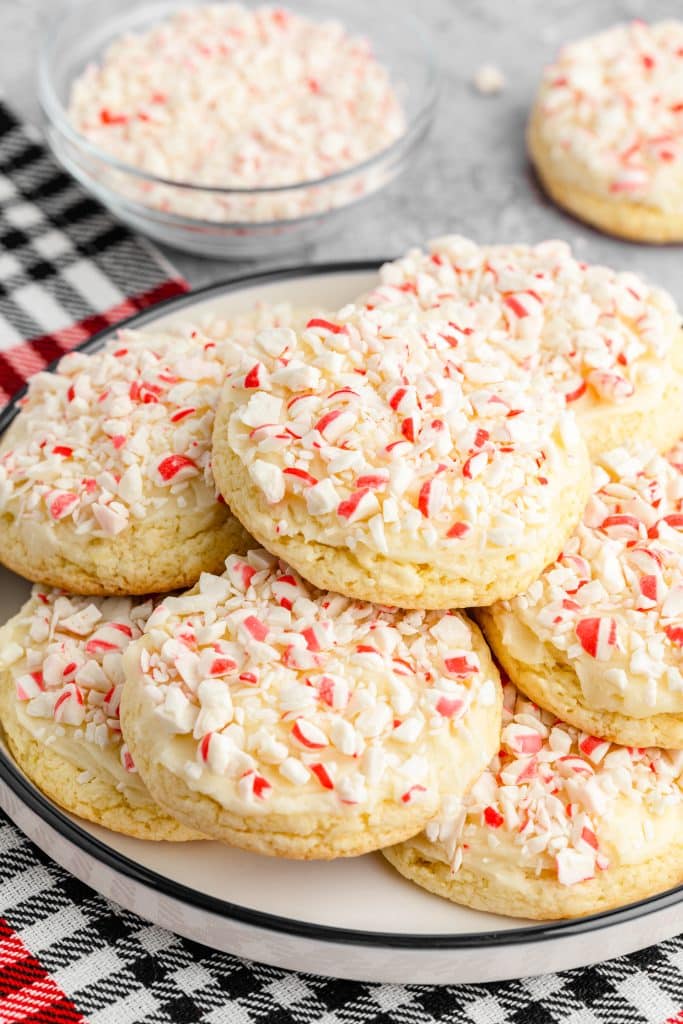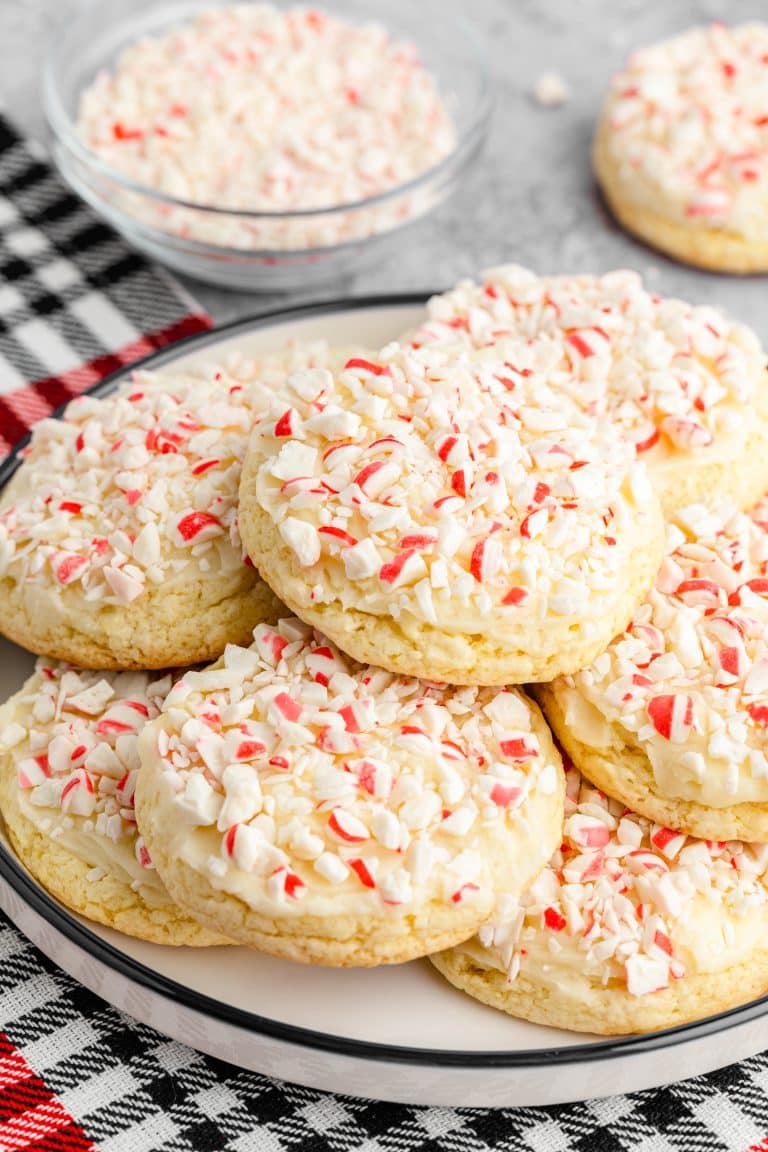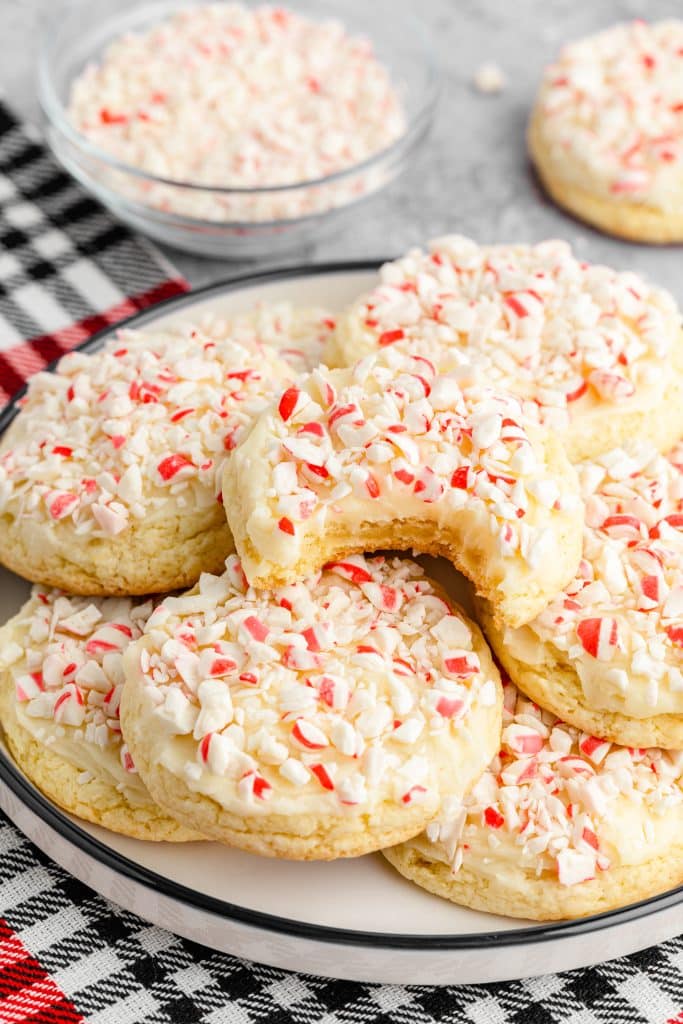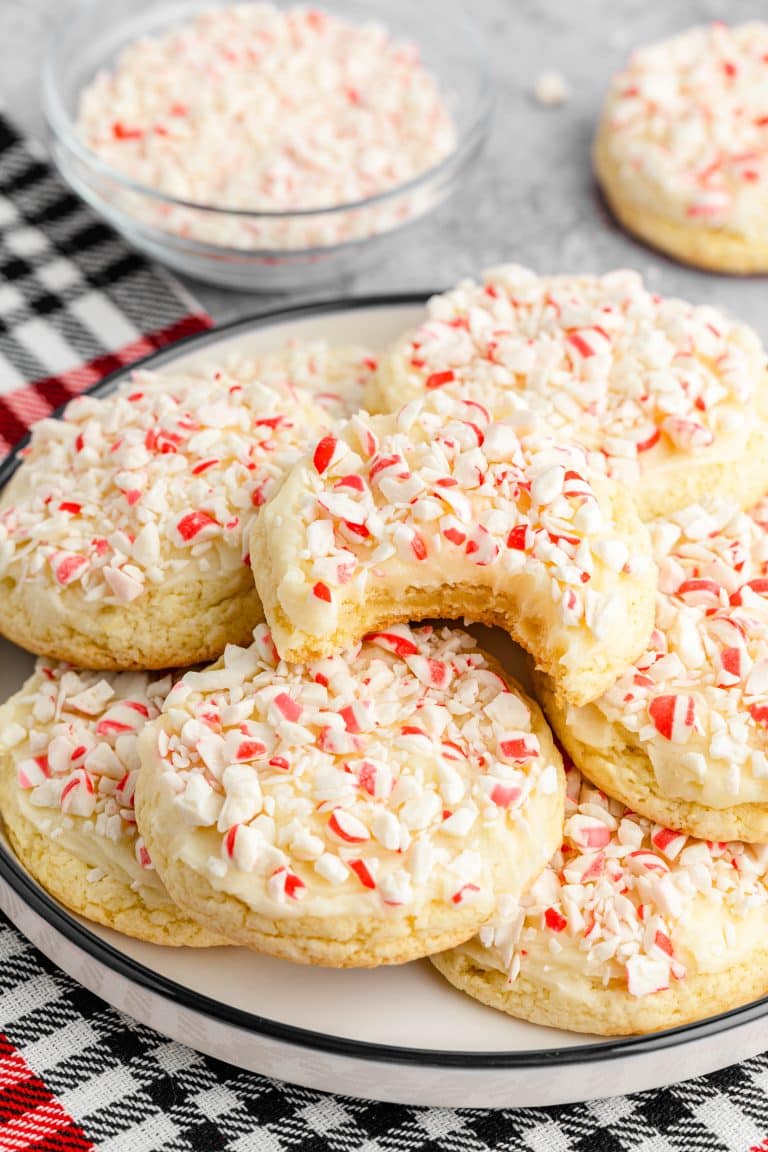 Do I have to use a cake mix for these cookies?
No, you don't! You can make homemade sugar cookies and then use the peppermint frosting for the topping. Here is a great homemade sugar cookie recipe that you can use if you want to skip the cake mix and make these cookies totally from scratch.
Are the cookies flavored peppermint?
Only the frosting is peppermint. The cookies have a vanilla flavor thanks to the cake mix and the frosting is peppermint.
Can I use a different cake mix?
You sure can! Feel free to use your favorite cake mix for these cookies. A chocolate cake mix would be wonderful! Peppermint and chocolate got really well together and would make a delicious cookie too!
Are the cookies soft and chewy?
Yes, they are! The cake mix helps keep these cookies soft as well as the lower bake time. If you want a crunchier cookie, add a few minutes when they are baking.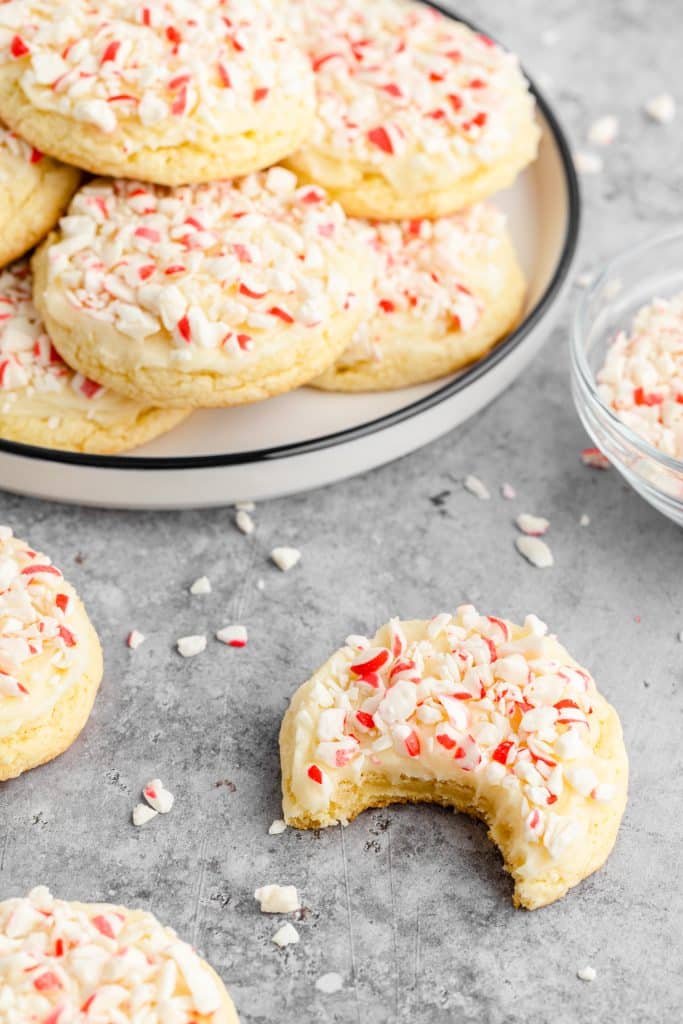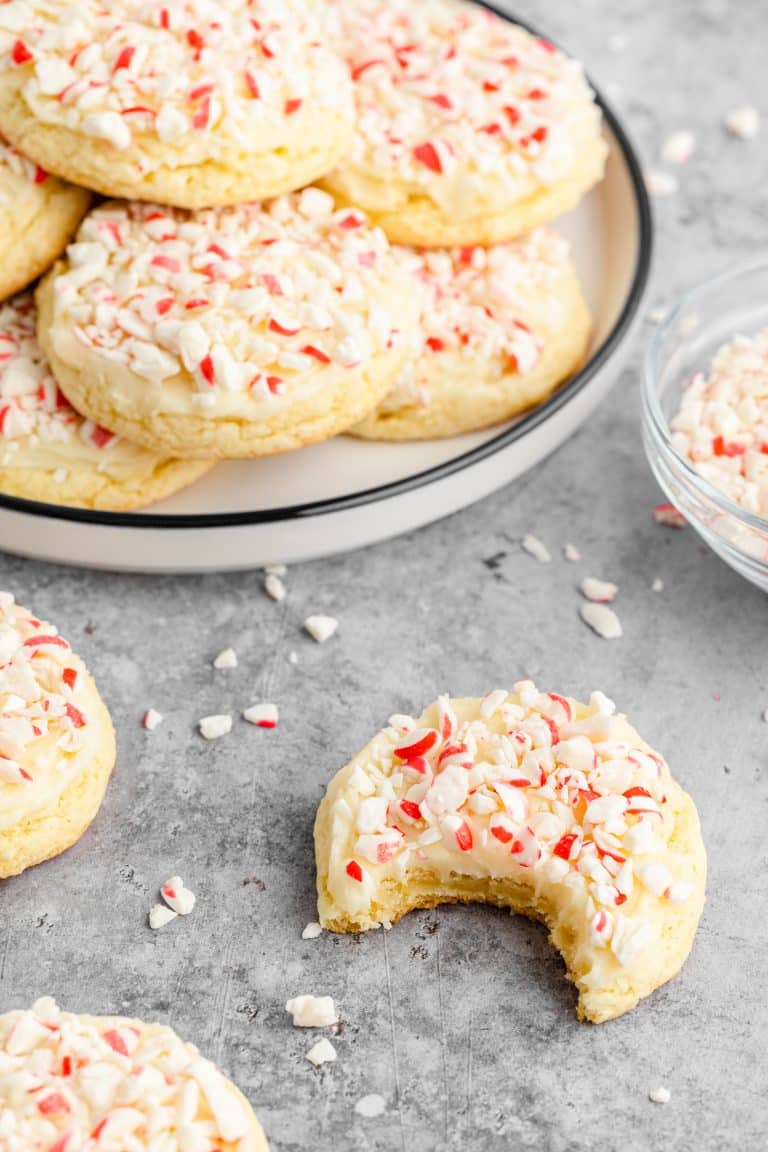 More cookie recipes to try
We love holiday baking! Some of our other favorite cookies to make during the winter months are:
How to store leftovers
Place leftover cookies in an airtight container on the counter. These cookies do not need to go in the fridge. They will stay fresh in an airtight container for up to 3 days.
Can I freeze them?
Yes, you can! You can either freeze the cookie dough or you can freeze the cookies, unfrosted. Place the cookie dough on a cookie sheet and flash freeze. Once hard, place in a Ziplock bag and back in the freezer. They will be ready to bake for up to 3 months this way. You can also place the baked and cooled cookies in a Ziplock bag for 3 months as well.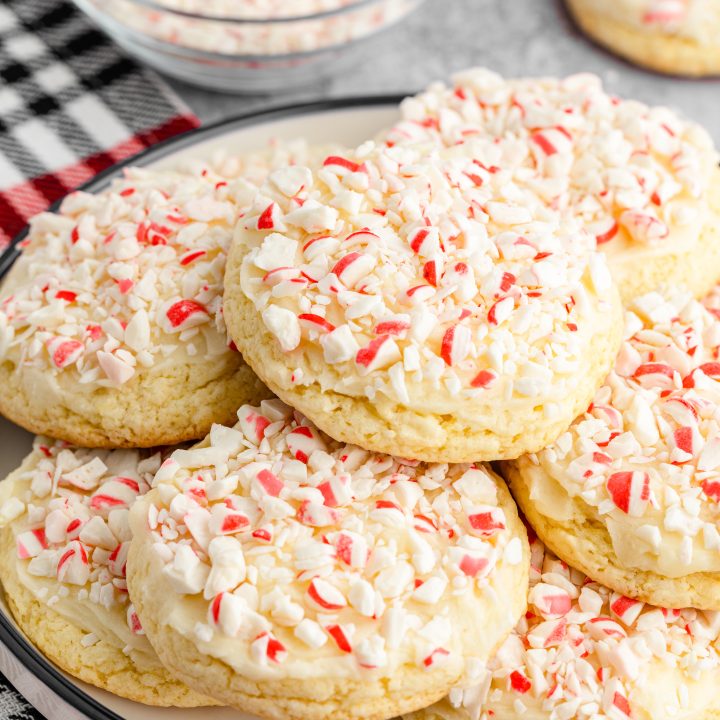 Peppermint sugar cookies
Make a soft and chewy sugar cookie topped with peppermint frosting and candies!
Ingredients
15 ounce box vanilla cake mix (I used Betty Crocker)
1 teaspoon baking powder
1/3 cup unsalted butter, melted
2 eggs, room temperature
Frosting:
½ cup unsalted butter, softened to room temperature
1-1 ¼ cup powdered sugar
½ teaspoon pure vanilla extract
¼ teaspoon peppermint extract (optional for more peppermint flavor)
⅛ teaspoon salt (optional to balance out sweetness)
¼ cup chopped peppermint candy
Instructions
Preheat the oven to 350℉ and line two baking sheets with parchment paper or silicone mats and set aside for later.
In a large mixing bowl, combine the cake mix and the baking powder. Then add the melted butter and eggs and beat on low with a hand mixer until fully incorporated. You can alternatively mix everything with a rubber spatula if you do not have a mixer.
Use a small cookie scoop or a spoon to drop 1 ½ tablespoon sized balls onto the baking sheets. Space them a few inches apart to leave room for the cookies to spread.
Bake at 350℉ for 8-10 minutes, until the tops are set and it reaches desired doneness.
Allow the cookies to cool in the pan completely before decorating.
As the cookies bake, you can prepare the frosting. In a mixing bowl, beat the butter until smooth and creamy. Then add the powdered sugar a little at a time and mix until combined. Add both of the extracts and salt and mix again until well incorporated and you have a smooth, easily spreadable frosting.
Once the cookies have cooled, use a small icing spatula to frost about 1 tablespoon of frosting on each cookie. Then sprinkle with the chopped peppermints.
Other peppermint treats
Love peppermint? Here are a few other peppermint goodies you may enjoy: