Have your pumpkin and drink it too! This pumpkin spice latte uses real pumpkin and is full of flavor. You can skip Starbucks and make this copycat pumpkin spice latte at home!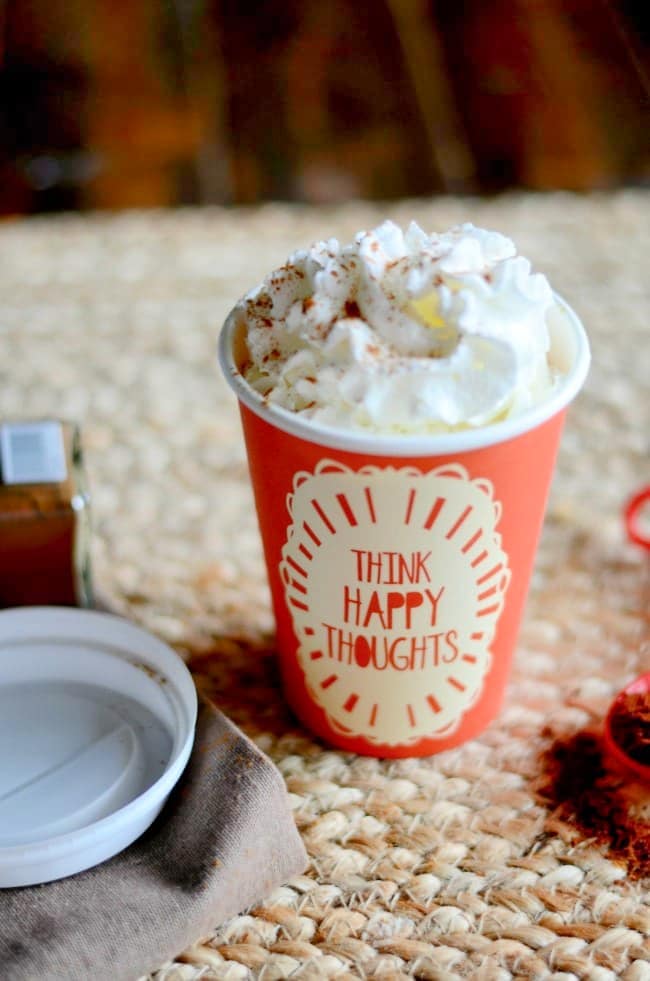 Did you know that my kids love to go to Starbucks as much as I do? Silly question really. Most people who go to Starbucks enjoy going. My kids get pink lollipops or pink cake pops as most people call them. If I pull into the drive thru for a quick coffee, they know it's cake pop time as well.
As convenient as it is to just drive up and grab a coffee to go, I don't enjoy spending the money on something I can make at home. That's why I try to make most Starbucks drinks at home, for a fraction of the cost and with healthier ingredients.
Starbucks copycat pumpkin spice latte
One of my all time favorite drinks from Starbucks is the pumpkin spice latte. There is just something about sipping your first PSL of the fall season. It makes me want to put on a sweater and boots and walk through a pile of leaves.The pumpkin spice latte was invented by a Stanford graduate who was working at Starbucks at the time. It debuted in 2003 and quickly became one of the most popular seasonal drinks.
The Starbucks pumpkin spice latte is combination espresso, steamed milk, fall spices and whipped cream. It's basically fall in a tall, grande or venti sized cup.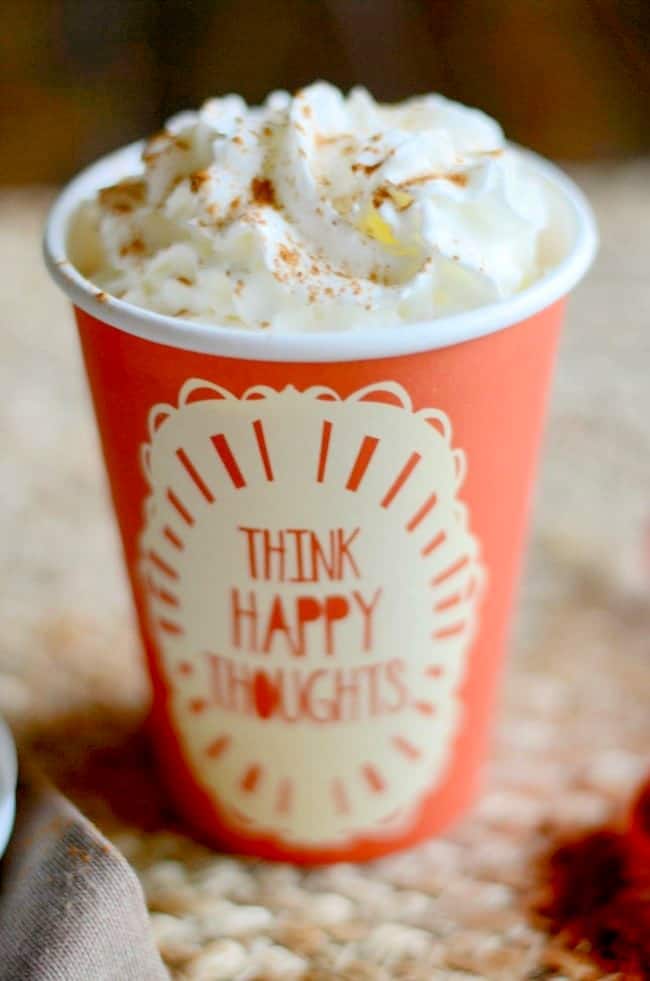 Pumpkin spice latte ingredients
The good news is that it is really easy to make this copycat pumpkin spice latte at home. You only need a few ingredients – five if you count the whipped cream and pumpkin pie spice mix on top. You need:
Pumpkin sauce or syrup
Coffee or espresso
Milk of choice (almond milk, coconut milk, etc.)
Pumpkin sauce – I use homemade pumpkin sauce in my lattes. It is really easy to make and once you have it on hand you can whip up a PSL anytime. You can get the recipe for homemade pumpkin sauce HERE.
Another option is to purchase pumpkin syrup. Torani has a yummy pumpkin spice syrup that works great with this copycat recipe. You can also try Torani's pumpkin sauce or this sugar free pumpkin spice syrup.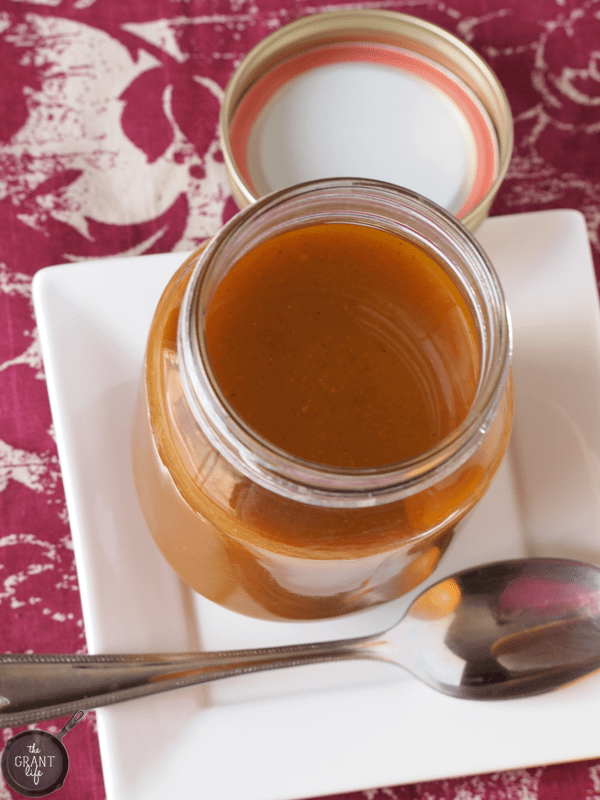 Coffee – You can use any type of coffee in your pumpkin spice latte. I normally use coffee we have on hand or instant espresso. The better quality of coffee you use the better your PSL will turn out. You can also use cold brew coffee or leftover coffee and make an iced pumpkin spice latte.
Milk– Now for the steamed milk you can use your milk of choice here. I prefer milk or half and half but almond milk or coconut milk will work as well.
Whipped cream – Top it all off with either homemade whipped cream or store bought plus a sprinkle of pumpkin pie spice and you are PSL ready.
How to make a Starbucks copycat pumpkin spice latte
Step 1 – Combine the sauce and coffee Once you have all your ingredients you just need to put them together in your favorite mug or cup. Start with the pumpkin sauce or syrup and then stir in your hot coffee. The hot coffee will help dissolve the pumpkin sauce.
Step 2 Add the steamed milk Steam your milk and then pour it over top of the coffee/syrup mixture. To do this you can bring milk to an almost boil on the stove top. Remove and froth with a milk frother. Top with whipped cream and a dash of pumpkin pie spice.
Pumpkin treats to try
Looking for a baked good to pair with your pumpkin spice latte? How about: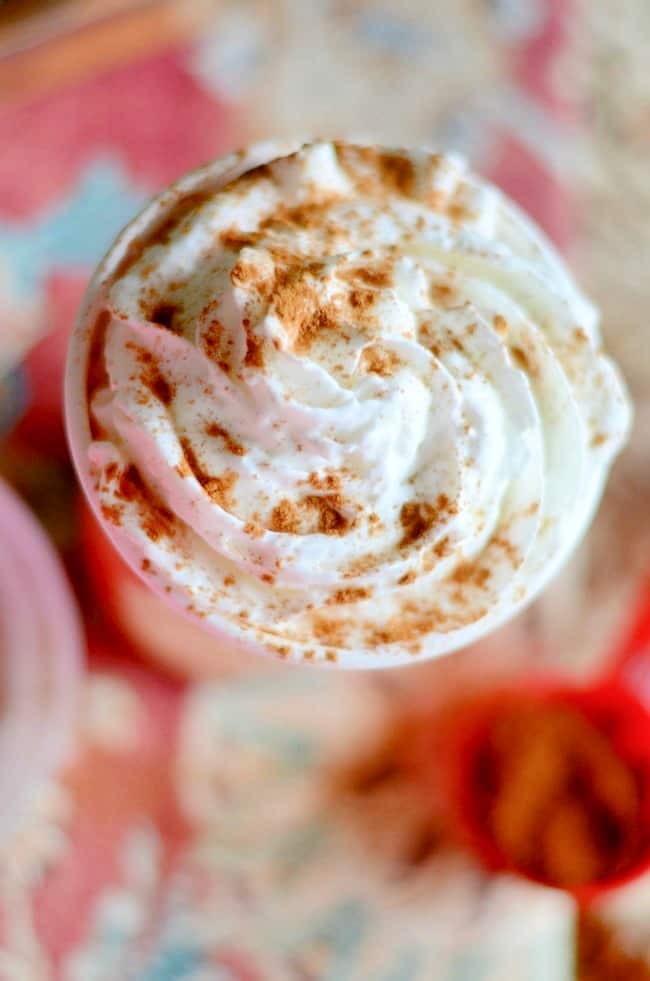 What is pumpkin spice latte made of?
A pumpkin spice latte is made of espresso mixed with pumpkin syrup, steamed milk and topped with whipped cream and a dash of pumpkin pie spice. This homemade version combines all of those things and tastes just like the Starbucks version.
When does Starbucks release it's pumpkin spice latte?
Starbucks releases it's PSL in August before fall officially starts. You can check their website for their official launch date of the pumpkin spice latte each year.
How do I order a skinny pumpkin spice latte?
You can reduce the calories in your Starbucks PSL by asking for nonfat milk and no whipped cream. This will reduce your calories by about 120 per drink.
Can I order a pumpkin spice latte out of season?
Unfortunately, you can not order a pumpkin spice latte from Starbucks outside of the fall season. They do not carry the syrup. The GOOD NEWS is that you can easily make one at home with my simple recipe! You can have a pumpkin spice latte in May if you'd like!
Like I mentioned, once you have the pumpkin spice sauce or syrup on hand it is really easy to make a Starbucks copycat pumpkin spice latte quick. You can literally toss everything together and dream about cooler weather. And sweaters. And leaves falling on the ground.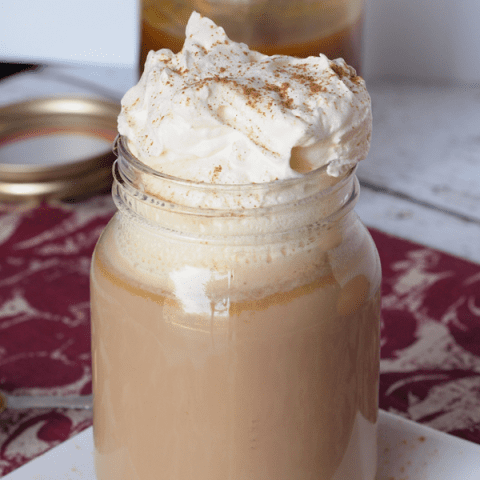 Pumpkin Spice Latte
Ingredients
4 tablespoons pumpkin sauce or syrup
1 shot of espresso or 1 cup strong coffee, hot
8 ounces of steamed milk
whipped cream
Instructions
Place the pumpkin sauce on the bottom.
Add the shot of espresso and stir together.
Top with steamed milk and whipped cream.
Enjoy!
Notes
You can use instant espresso similar to this one - amzn.to/1ANcj4j.
Pumpkin sauce recipe is here - http://bit.ly/1puq6ZT
Nutrition Information:
Amount Per Serving:
Calories:

150
Cholesterol:

23mg
Sodium:

110mg
Carbohydrates:

17g
Fiber:

2g
Sugar:

14g
Protein:

8g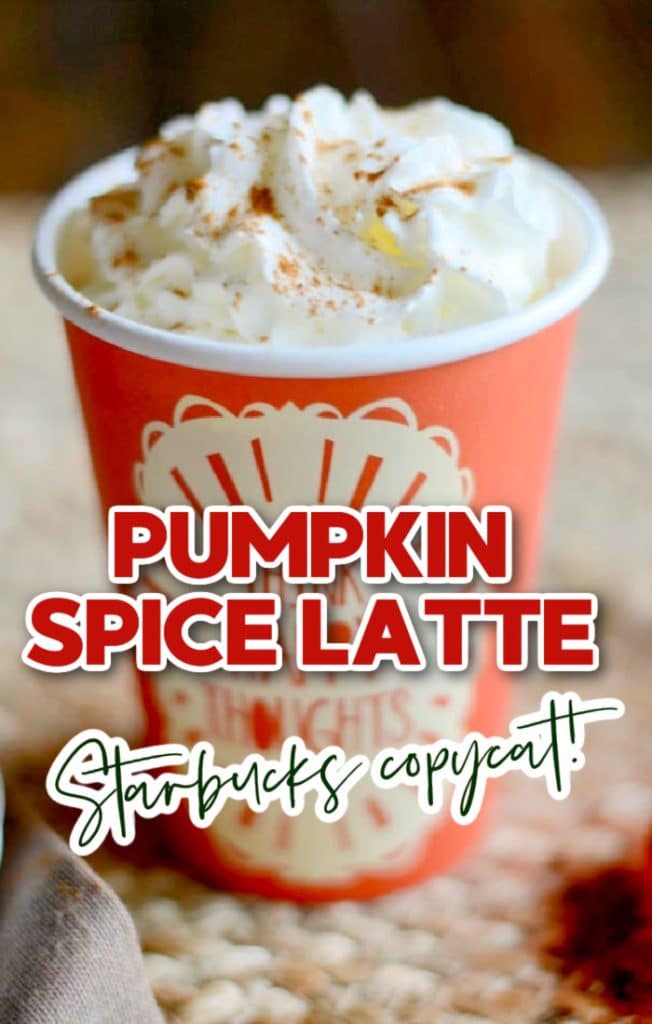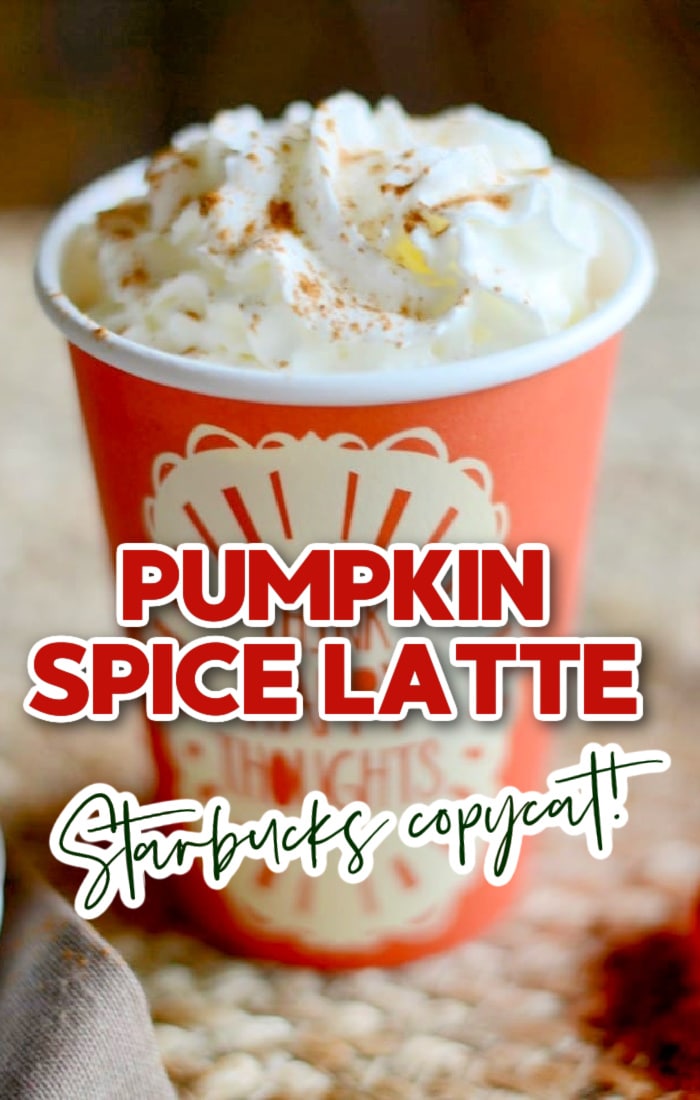 Other copycat coffee recipes to try
Like this copycat coffee recipe?  Be sure to check out: