Busy weeknight? These easy crock pot chicken tacos will become your new favorite dinner. Shredded Chicken Tacos combine juicy and flavorful shredded chicken with a mixture of canned beans and corn. The shredded chicken mixture is scooped into tortillas and can be topped with a choice of salsa, sour cream, or creamy guacamole!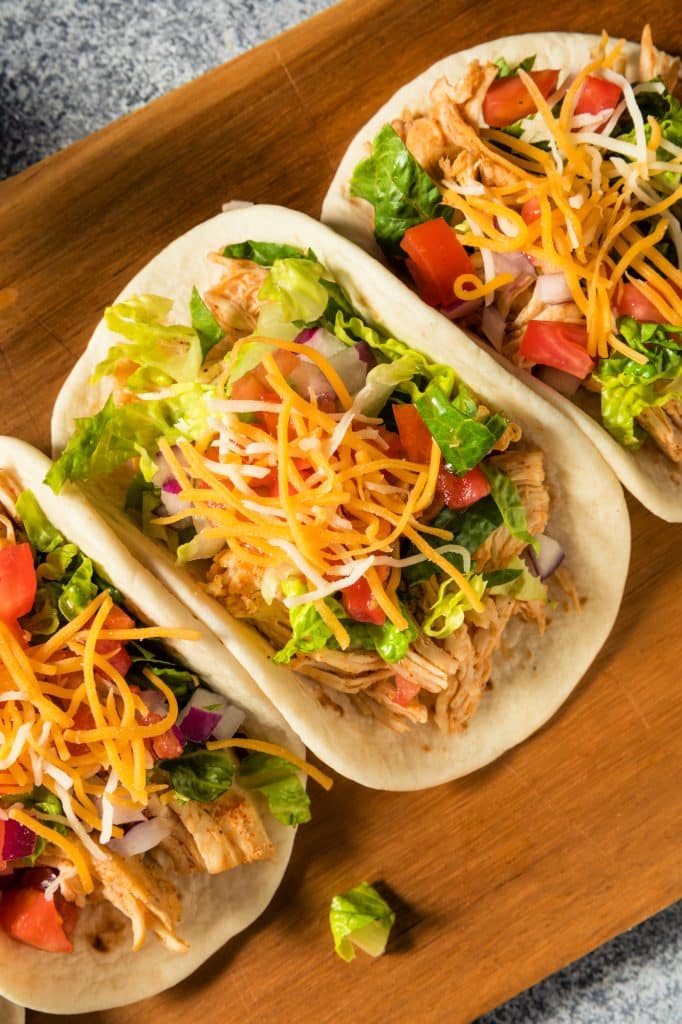 I have four kids and I work from home.  So, when Im not chasing them around or busy working, I somehow have to worry about dinner.  I love to throw everything in a crock pot and go about my day.  Plus, it is hot yall!  Like I don't want to turn my stove on hot.  I try to find ways during the summer to not use either to save on the electric bill and save my sanity.  [Momma doesn't like to be hot.]  My solution is to use my slow cooker more and these easy chicken tacos are my favorite. 
Im all about quick and delicious meals, so these easy crockpot tacos are my go to meal.  I call them my 'set them and forget them' tacos because I toss all my ingredients in and let them simmer all day.
This recipe is from 2013 so some of the pictures are from my phone – my old Blackberry phone. Yea. The recipe is solid – some of the pictures are old. I hope you enjoy!
What Are Slow Cooker Chicken Tacos?
Slow Cooker Chicken Tacos consist of a shredded chicken mixture cooked in a Crock Pot with canned beans and corn until fork tender and juicy.
Once the cooked chicken breasts have cooked through, they are moved, shredded, and returned to the Crock Pot mixture to be scooped into tortillas to make assembled shredded chicken tacos.
Top these delicious shredded chicken tacos with a dollop of sour cream, guacamole, or salsa!
Shredded Chicken Tacos Ingredients
2 chicken breast
2 Cans of beans of choice
1 Can of corn
1 Taco Seasoning packet or homemade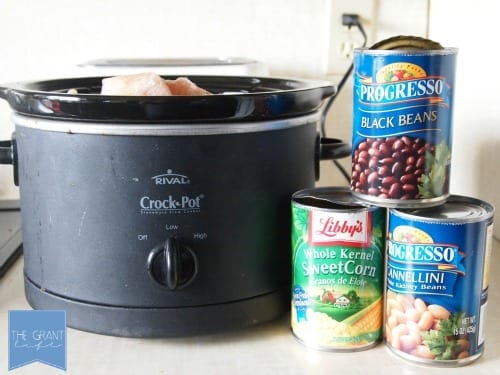 Ingredient Notes
Chicken – I like to use boneless, skinless chicken breasts for my chicken tacos. Chicken thighs also work great. You can use bone-in chicken, you just need to remove the meat from the bone before adding them to your tortillas.
Beans – Feel free to use whatever beans you'd like for your tacos. We like black beans and navy or kidney beans. Any beans work for some added flavor and protein!
Taco seasoning – You can use a packet of pre-made spices, or whip up a batch of homemade taco seasoning to have on hand!
How to Make Chicken Tacos in the Slow Cooker
Step 1: Cook the Chicken
Add the chicken to the Crock Pot with the beans and corn and cook on high or low, stirring occasionally.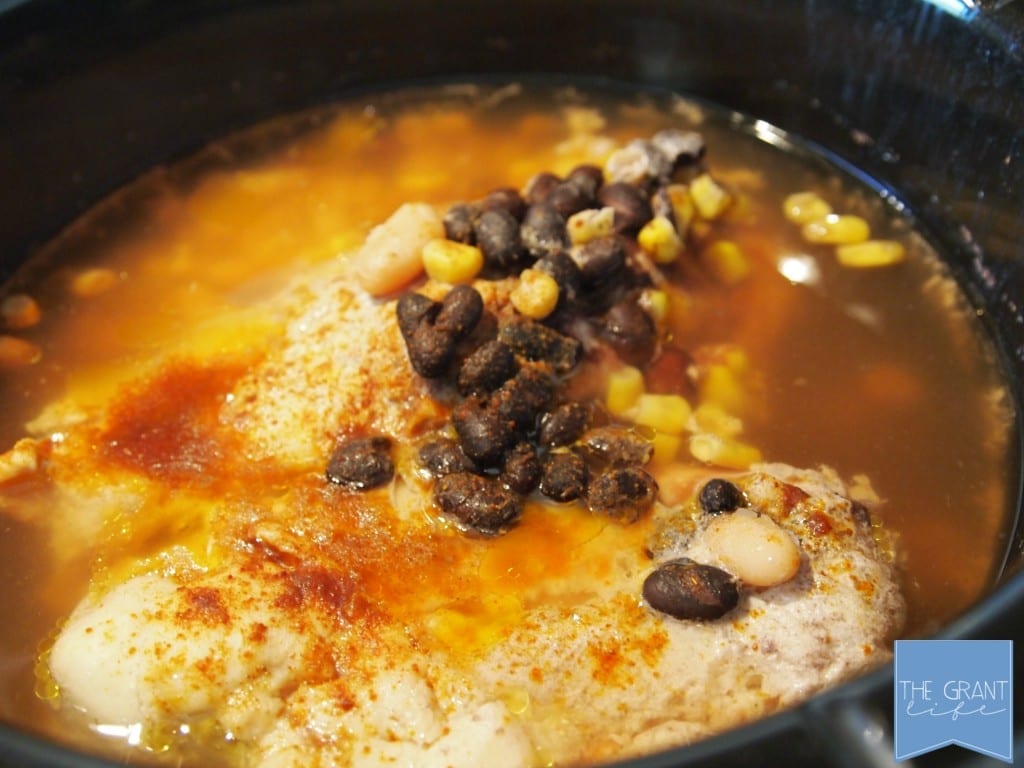 Step 2: Shred the Chicken
Remove the cooked chicken from the Crock Pot and shred it with two forks. Return the shredded chicken to the Crock Pot.
Step 3: Assemble the Chicken Tacos
Scoop the shredded chicken with the corn and bean mixture into tortillas and serve alongside your favorite Mexican side dishes!
How to make in the Instant Pot
While I love making these tacos in the slow cooker, sometimes I need them done a bit quicker. Enter my pressure cooker! Follow the directions below to make these chicken tacos in your Instant Pot:
Add the chicken to your inner pot.
Add the taco seasoning and corn with liquid.
Pressure cook on high for 7 minutes.
Allow pressure to release naturally.
Shred the chicken and add it along with the beans back to the pot.
Stir to warm up the beans.
Serve and enjoy.
Side Dish Recommendations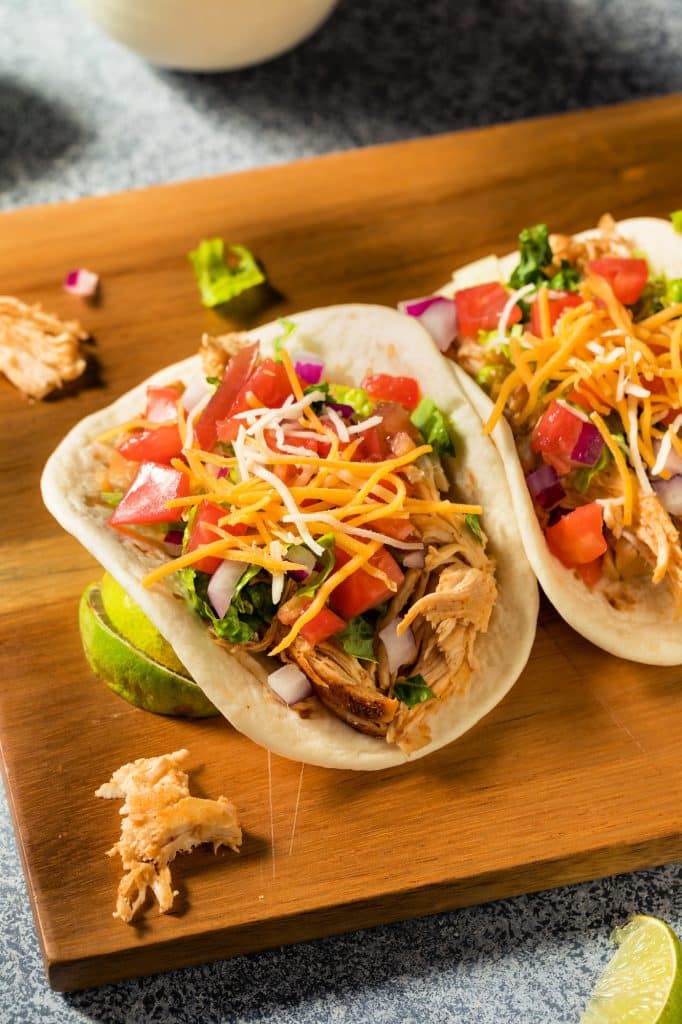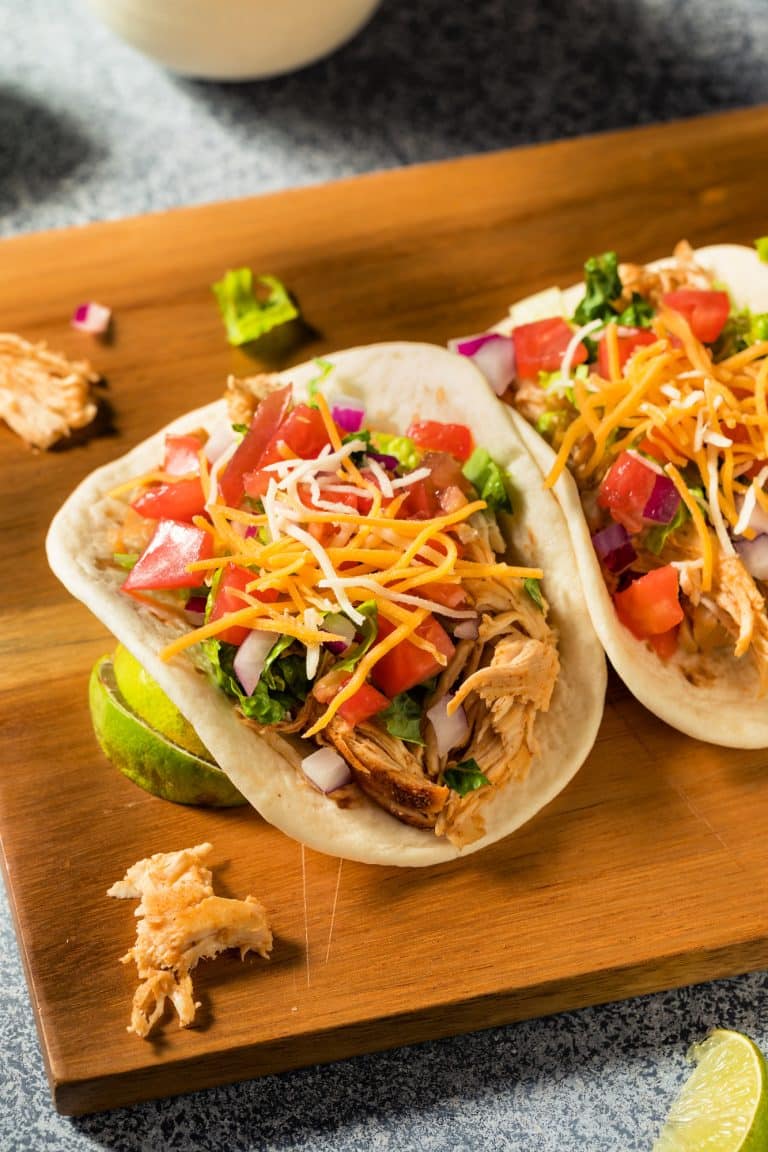 Recipe FAQs
What Cut of Chicken Works Best for This Recipe?
Chicken breast is the most popular cut of chicken when shredding for meals such as tacos, but you can use any cut of chicken. Skinless, boneless chicken thighs are a great alternative since they are lean, tender, and easy to shred.
Can I Use Pork Instead?
Yes! In fact, shredded pork is a great substitute. It will give you a similar result to these Crock Pot Pork Carnitas.
How Long Do You Need To Cook Chicken In The Crock Pot for Tacos?
You have the choice of cooking the chicken on HIGH for 4-6 hours in the Crock Pot or on LOW for 8 hours.
Can I Add Frozen Chicken In The Crock Pot?
Yes. When adding frozen chicken to the crock pot, increase the cooking time to ensure the chicken is cooked through. I would suggest adding an additional 2 hours to your cooking time.
How Do I Prevent The Chicken From Drying Out?
To keep your chicken juicy, stop cooking the chicken once the internal temperature of the meat reaches 165F. The cook times in this recipe are a good guide for ensuring that you get succulent chicken that won't overcook.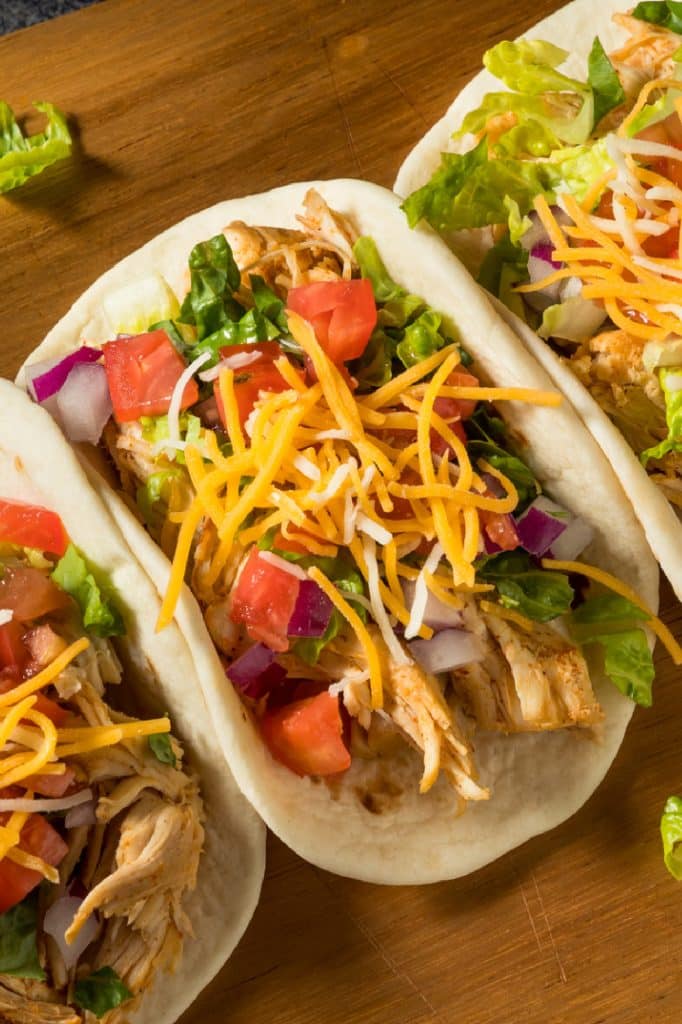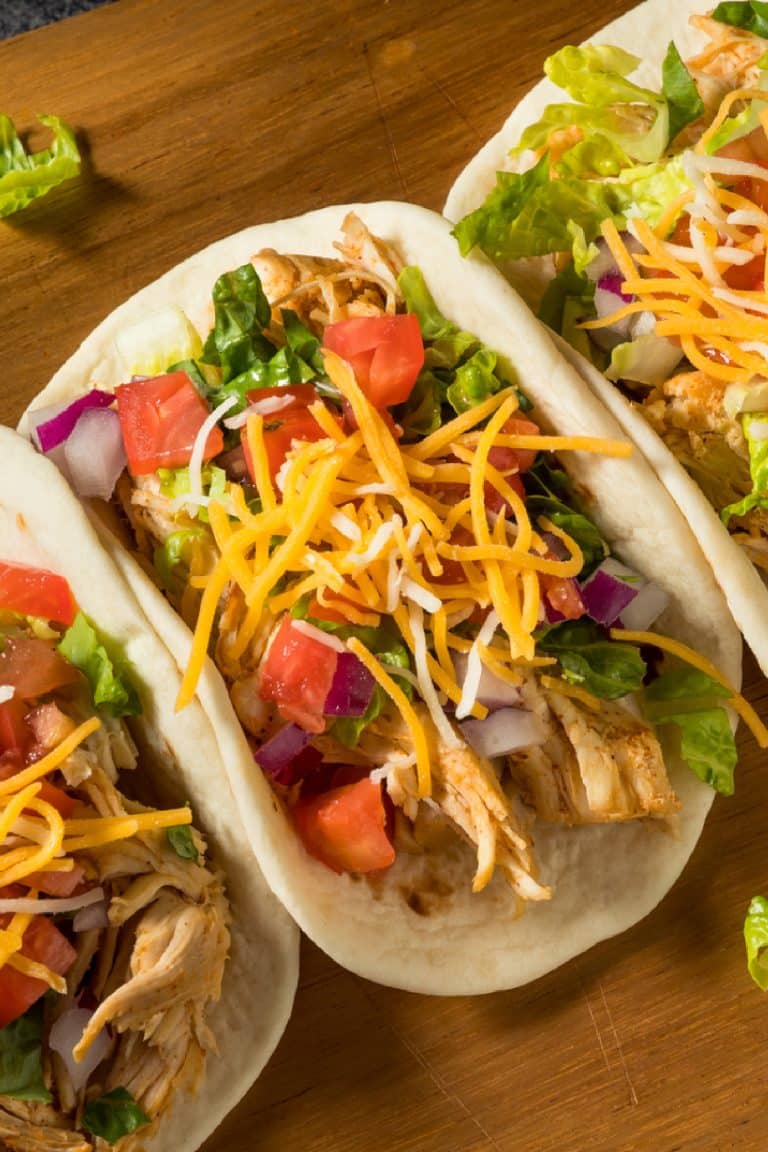 How Should I Store Leftovers?
Add leftover shredded chicken to an airtight container in the fridge for 3-4 days. The leftover shredded meat can be reheated in the microwave, on the stovetop, or in the oven, with a splash of liquid (water or broth) to prevent the chicken from drying out.
Can I Freeze Leftover Shredded Chicken?
Absolutely! Once completely cool, store leftover shredded chicken in an airtight container or Ziploc bag in the freezer for up to 3 months.
Thaw in the fridge and reheat before assembling into fresh tacos or using in other Mexican-inspired recipes that call for shredded chicken.
Can I Make Gluten-Free Shredded Chicken Tacos?
Yes! When assembling these tacos, make sure that you use gluten-free tortillas instead of regular flour-based tortillas. Corn tortillas are another option when catering to gluten sensitivities.
Other Taco Recipes To Try
Love tacos? We do too! Here are some of our other taco favorites: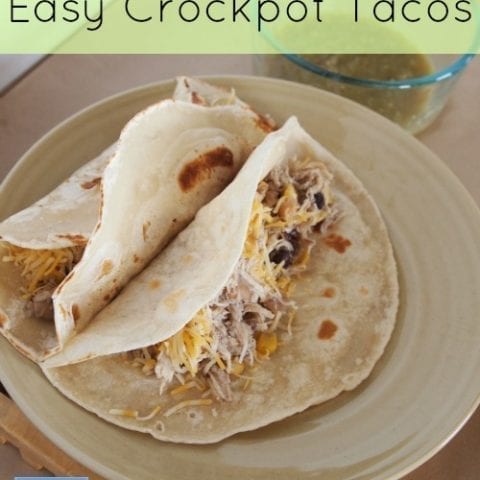 Easy CrockPot Chicken Tacos
Ingredients
2 Frozen chicken breast
2 Cans of beans of choice
1 Can of corn
1 Taco Seasoning packet or homemade
Instructions
Place the chicken breasts in the crock pot.
Sprinkle the taco seasoning over the chicken.
Pour in the beans and the corn.
Set on high for 4-6 hours or low for 8 hours.
Stir occasionally.
Remove the chicken and shred it with two forks. Return to crock pot.
Scoop into tortillas and enjoy!
Did you make this recipe? I'd love for your to leave a review in the recipe card above or the comments below. Want to make it later? Pin the image below to your favorite board. THANK YOU for the support!