Chocolate lovers will absolutely LOVE this easy chocolate truffles recipe! It only requires a handful of common ingredients and a few simple steps. The result is a silky smooth chocolate truffle that everyone will enjoy! Make a batch to give as gifts or keep in the house for a delicious dessert.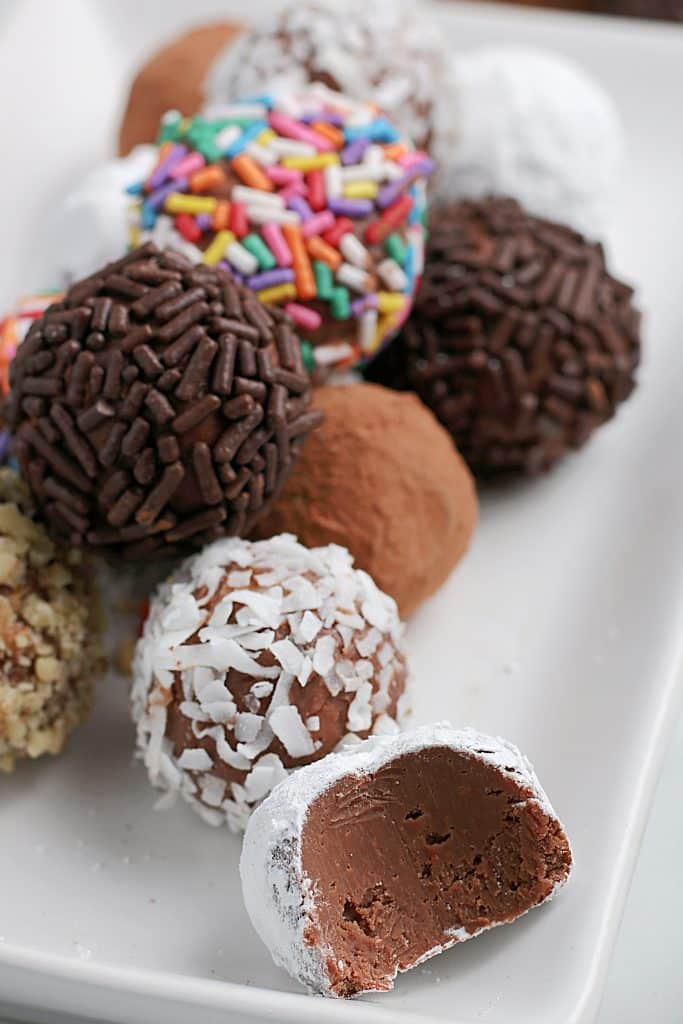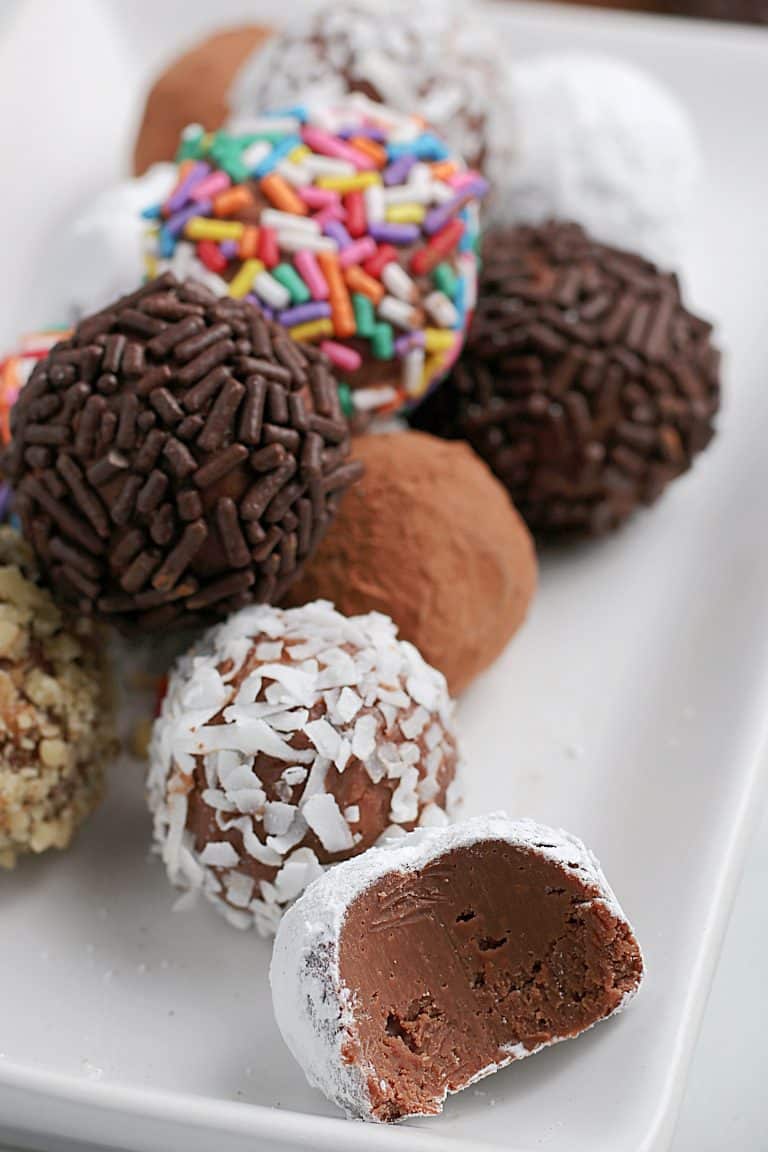 Chocolate truffles have been a staple dessert in our house for a long time. They are a silky smooth alternative to fudge and so easy to make. Some of the reasons that we love this easy truffle recipe is:
They are easy to make
Only need a handful of ingredients – 4 actually!
Kid friendly recipe
Great for gifting
Can add a variety of toppings
Truffles are great to give as gifts during the holiday season because they taste great and are presented as an expensive treat. They are actually a pretty cheap to make, but no one needs to know that!
What are chocolate truffles?
Chocolate truffles are similar to fudge, but rolled into a ball and coated in cocoa powder. Chocolate truffles can sometimes be called just truffles, although a truffle can also refer to a type of mushroom. Chocolate truffles actually get their name from the truffle mushroom because once dusted in cocoa powder, they resemble the fungi.
These easy chocolate truffles are made with a chocolate ganache type filling and then coated in a variety of different treats. They are a great no bake dessert that only requires a couple ingredients and a few minutes to make.
Chocolate truffle ingredients
You only need 5 common ingredients to make these fancy chocolate truffles. You will need: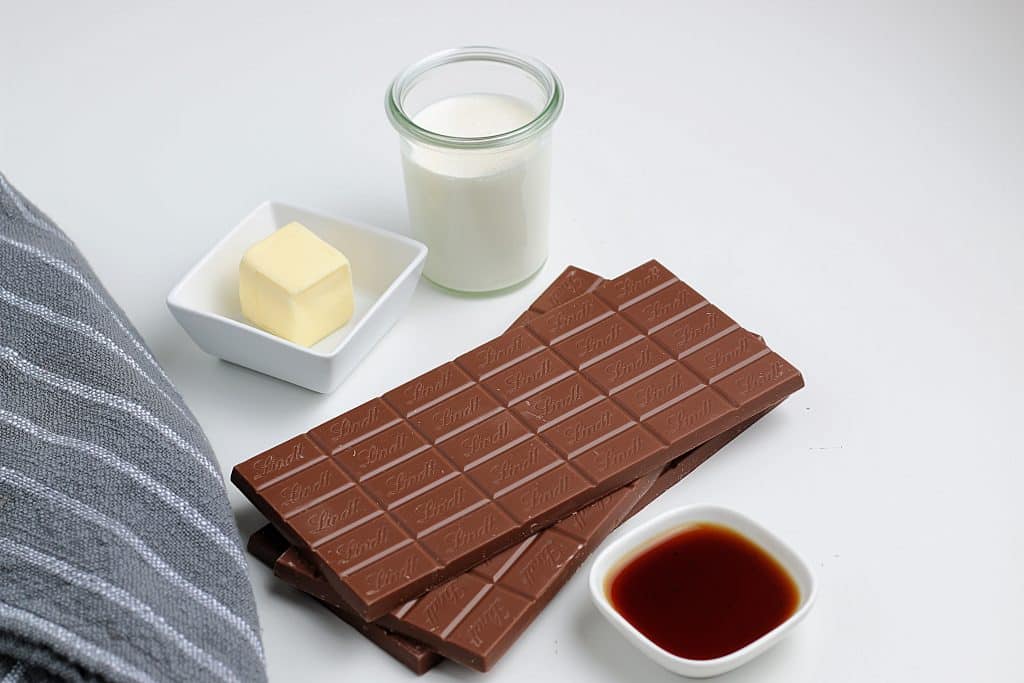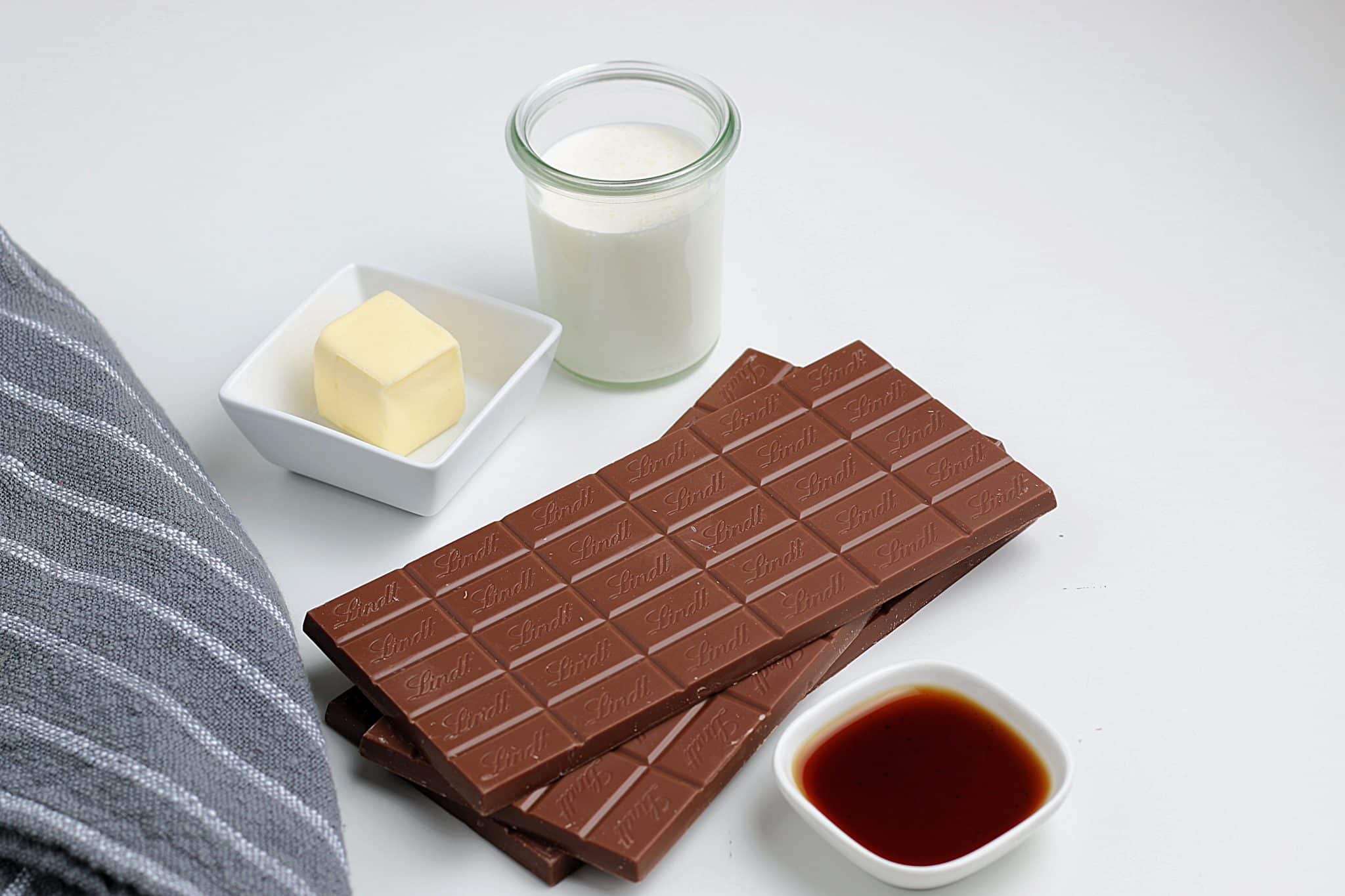 chocolate
heavy cream
butter
vanilla
Ingredient notes
Chocolate – You will need about 3 bars of chocolate or 10-12 ounces. You can use any chocolate that you like, but the better quality the chocolate, the better your chocolate truffles will turn out. Chocolate chips can also be used.
Heavy cream – This can be found in the milk aisle. You will want to use heavy cream and not half n half. The fats in the heavy cream help keep the truffles firm. If you find yourself without heavy cream, you can easily make it. Here is a homemade heavy cream recipe.
Butter – Unsalted butter is what you need.
Vanilla – Vanilla extract enhances the flavor of these truffles. You can use store bought or even homemade vanilla extract here.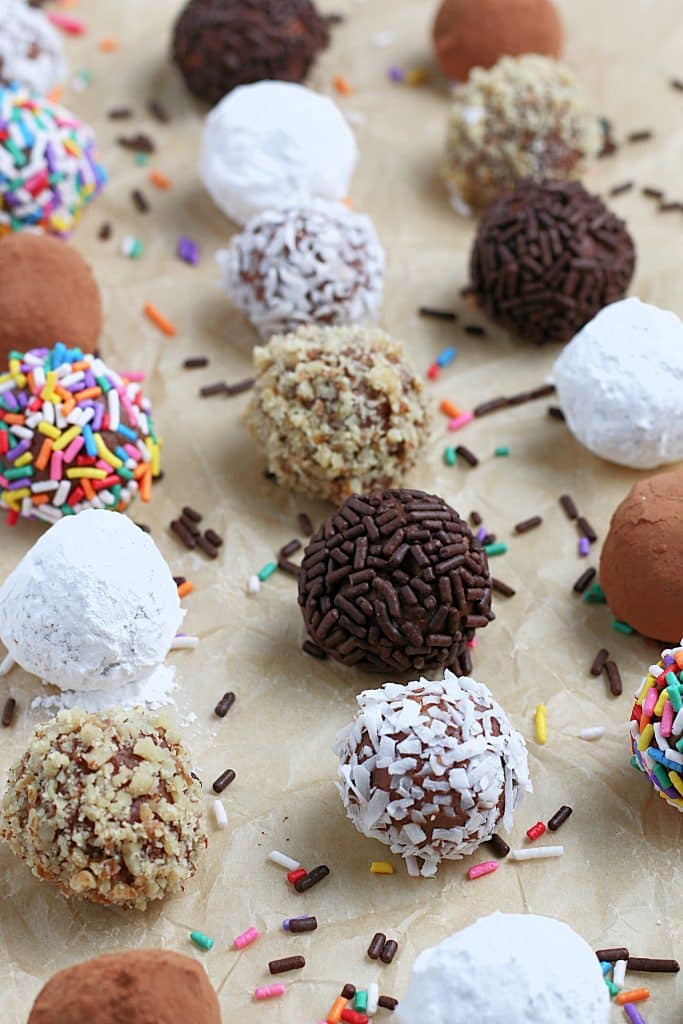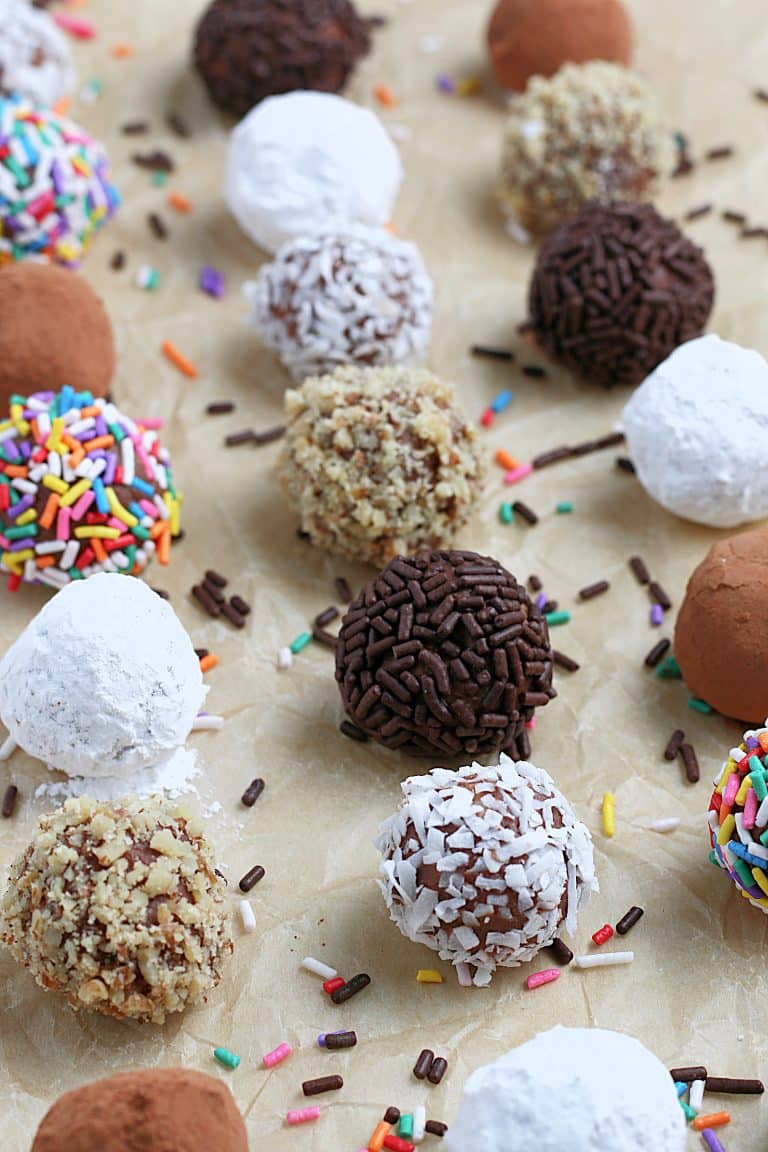 How to make easy chocolate truffles
You only need a couple of minutes to make these delicious no-bake chocolate truffles. Once you have gathered all your ingredients you will also need to grab:
knife and cutting board
saucepan
mixing bowls
measuring cups and spoons
plastic wrap
cookie scoop
baking sheet
Step 1 Cut up the chocolate and heat the cream Set your heavy cream in your saucepan over medium heat. Using your cutting board and knife, cut the chocolate bar into smaller pieces while your heavy cream is heating.
Step 2 Mix the chocolate and cream Place the chocolate in a mixing bowl and pour the heated heavy cream over top. Stir to melt the chocolate, about 3-5 minutes.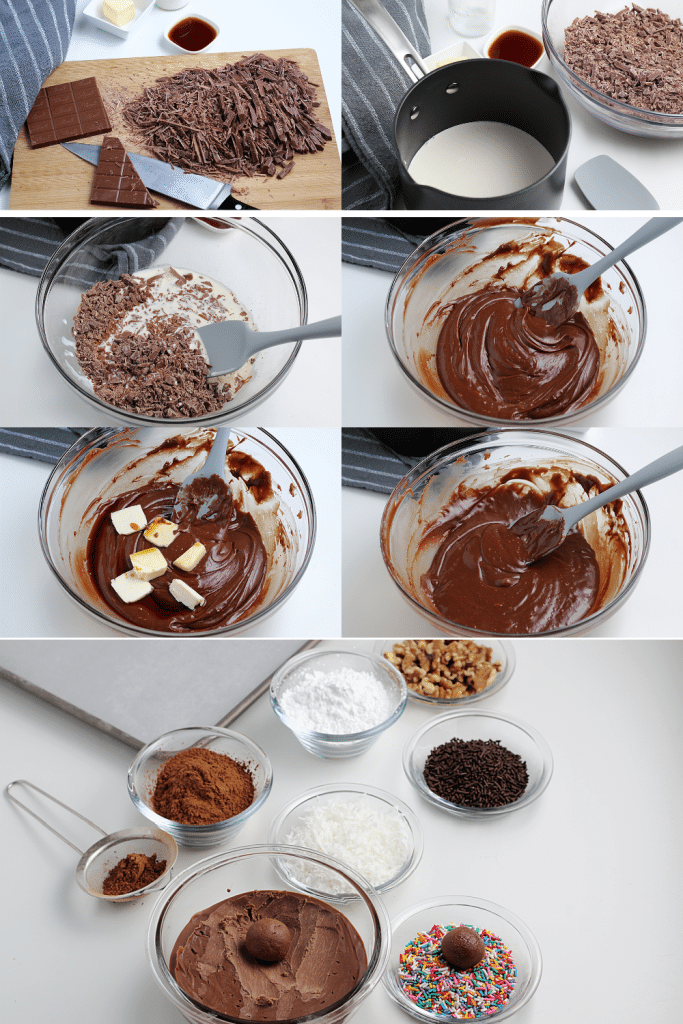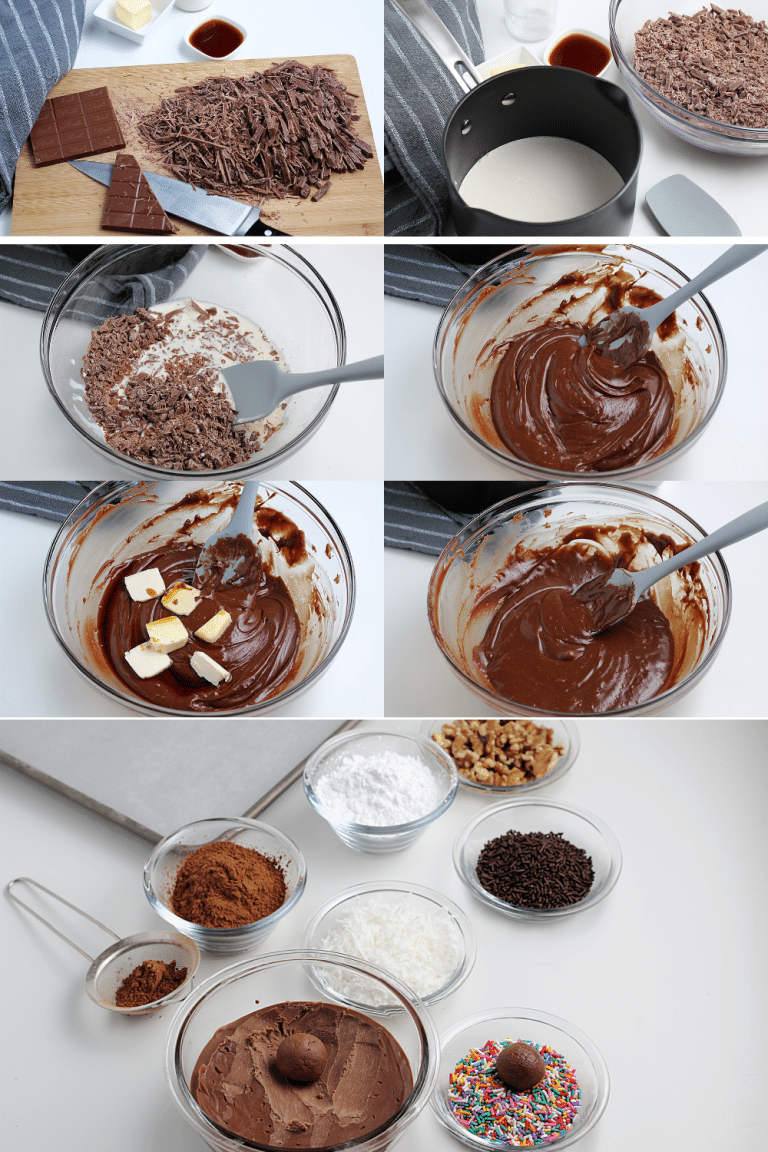 Step 3 Add the butter and vanilla Toss the butter and vanilla into the chocolate mixture and stir to combine.
Step 4 Chill the chocolate Place plastic wrap over the mixing bowl and put in the fridge. Allow the chocolate to firm up in the fridge for at least 2 hours.
Step 5 Roll and coat Once the chocolate has firmed up, scoop out balls using your cookie scoop. Roll the chocolate balls in your favorite toppings such as sprinkles, chopped nuts, shredded coconut or classic cocoa powder. Place in an airtight container and back in the fridge until ready to serve.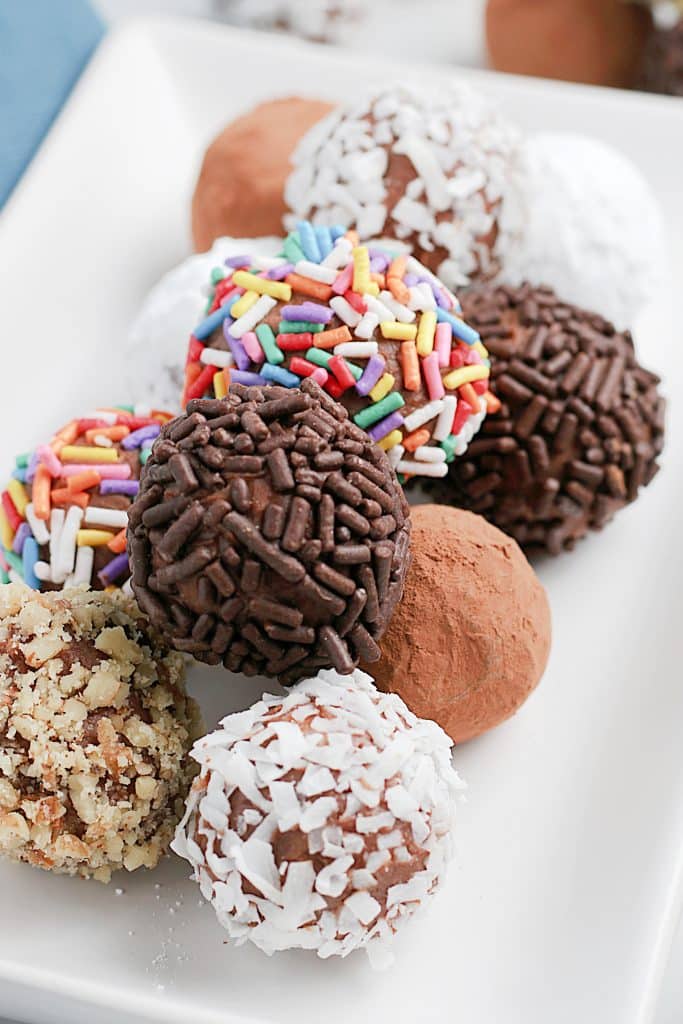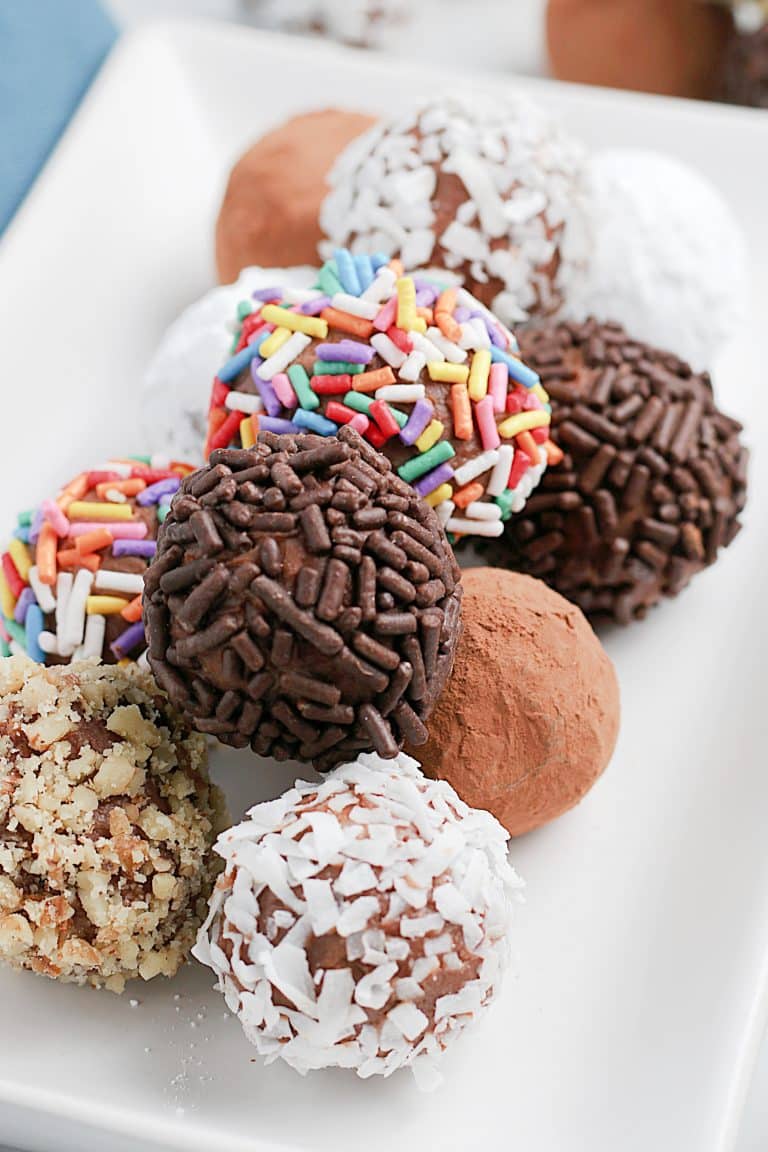 Frequently asked questions about truffles
What makes a chocolate truffle?
To make chocolate truffles you only need a couple of easy to find ingredients. You will need chocolate, heavy cream, butter and vanilla. You create a chocolate ganache with the ingredients, chill it and then roll the chocolate in your favorite toppings.
What is the taste of chocolate truffles?
These truffles taste like you are eating a piece of fudge! They are soft, chewy and full of chocolate flavor. They may have a bit of crunch depending on what you coat them with.
What toppings work best to coat truffles?
The fun part about these truffles is that you can pick the toppings to coat your chocolate with. Some toppings that work well are:
cocoa powder
powdered sugar
shredded coconut
sprinkles
crushed nuts
Can I use a different kind of chocolate?
Yes, you sure can! You can switch up the chocolate bars for chocolate chips too. Feel free to use dark chocolate, German chocolate or even white chocolate to make these easy chocolate truffles.
Can I use white chocolate?
White chocolate makes amazing truffles! You can follow my white chocolate truffle recipe if you want to use white chocolate instead.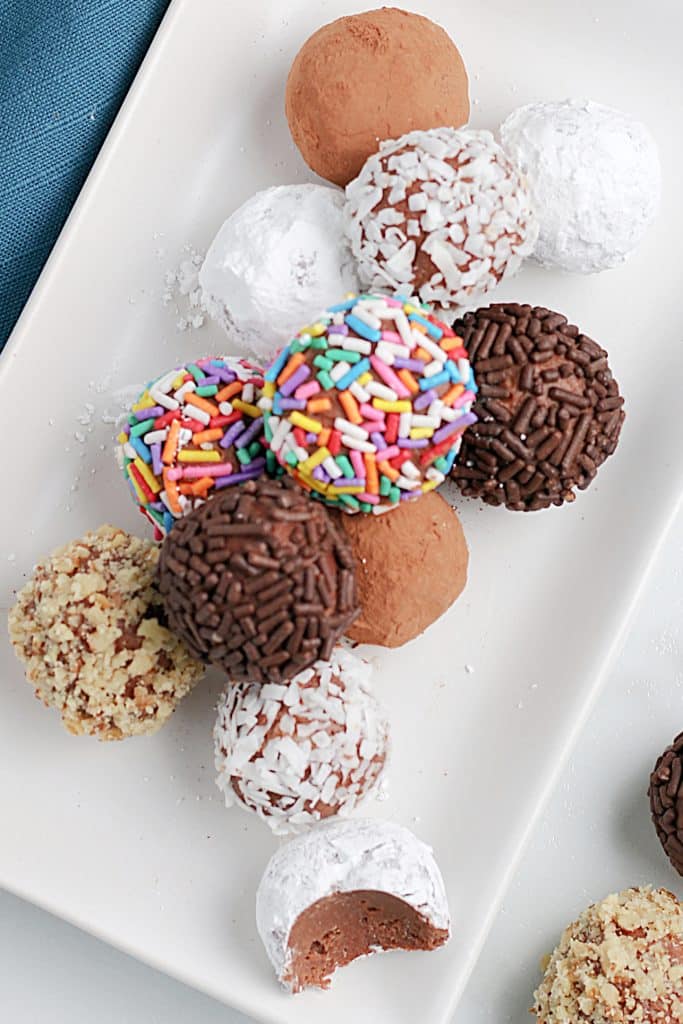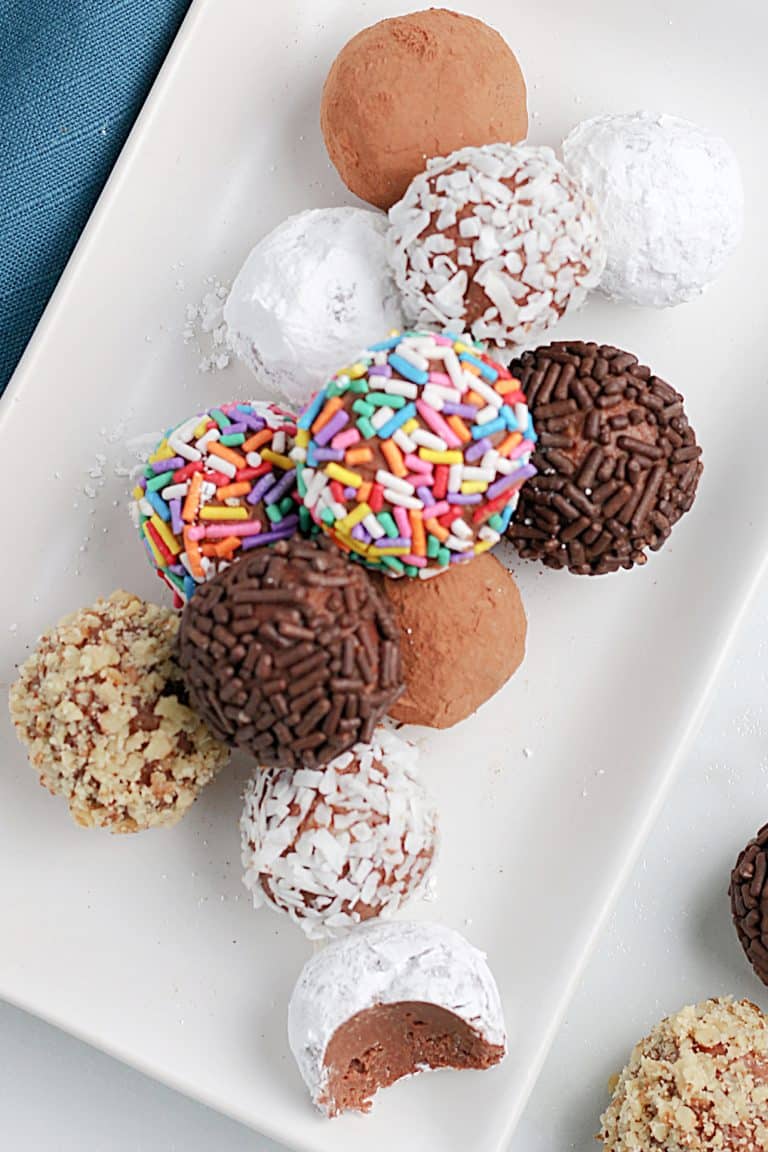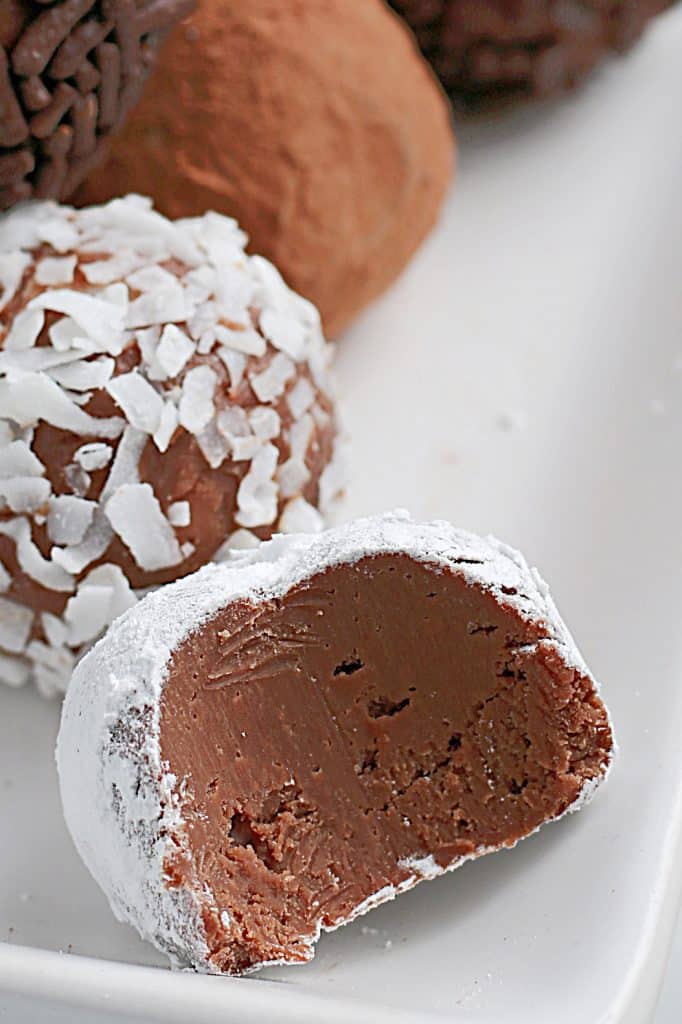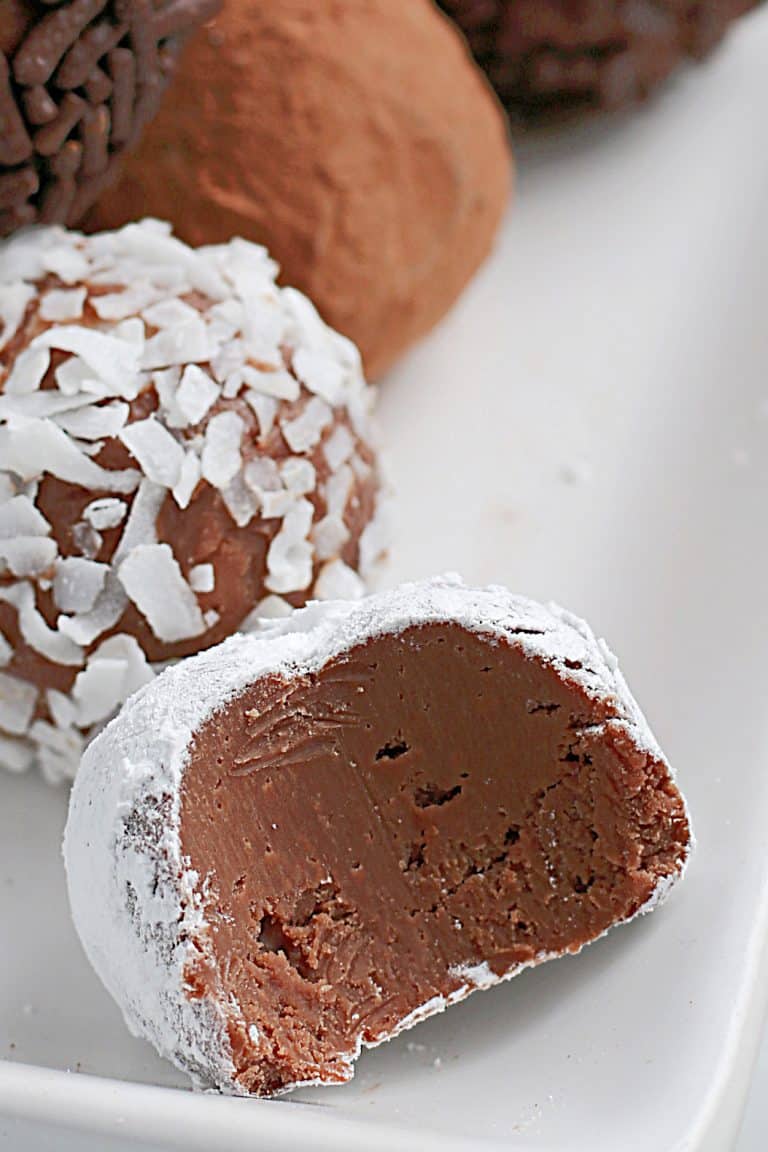 How to store chocolate truffles
These truffles need to be kept in the fridge for 2 reasons – they contain dairy and they will stay firmer longer. Since the truffles have cream in them, you want to keep them in the fridge when you are not eating them. The longer the truffles are kept out, the softer then become and they get harder to handle.
Can I freeze truffles?
Yes, you can freeze these truffles. Place them on a baking sheet so that you can flash freeze them for 2-3 hours. Then place them in a Ziplock bag and back in the freezer. They will stay fresh for 3 months in the freezer. Place them back in the fridge to thaw when you plan to eat them again.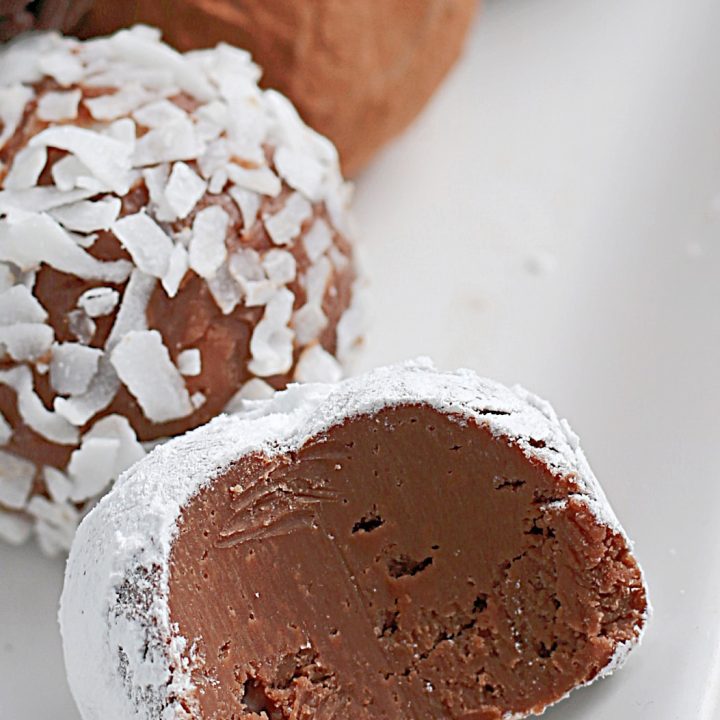 Easy chocolate truffles
Total Time:
2 hours
20 minutes
Make these super chocolatey truffles with only 4 ingredients!
Ingredients
10 -12 ounces chocolate, about 3 (4.4 oz) bars or 1 bag chocolate chips
½ cup heavy cream
2 tablespoons unsalted butter
1 teaspoon vanilla extractWEZ
Instructions
Chop chocolate and place in medium bowl.
In a small saucepan, heat cream just before it boils, about 1-2 minutes.
Carefully pour heated cream over chocolate and stir until smooth.
Add butter and vanilla extract and stir until chocolate is completed smooth.
Place plastic wrap on top of chocolate mixture and place in refrigerator to chill, several hours or overnight.
Using a cookie dough scoop, divide chocolate mixture and roll into balls.
Immediately roll in coating and place on baking sheet.
Store in airtight container in refrigerator until ready to serve, allow to come to room temperature

Other chocolate treats to try
Are you looking for other chocolate treats to make? I suggest trying: