Taco Tuesday doesn't have to take a back seat to busy weeknights! Whip up some ground beef tacos in your slow cooker and have dinner waiting for you when you get home. These slow cooker ground beef tacos are simple to make and full of flavor. Let me show you how to simplify dinner and make tacos in your Crock Pot.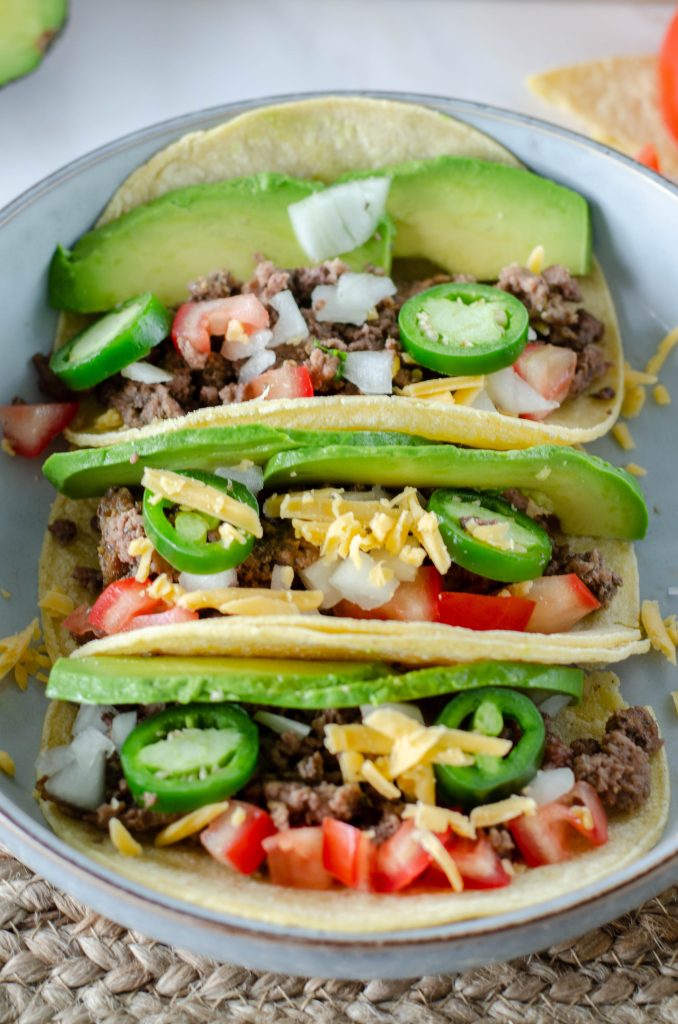 My family has 2 meals almost every single week – some sort of taco and spaghetti. (I prefer my one pot spaghetti!) Our tacos vary between chicken and beef and sometimes we switch it up and have fajitas. But tacos are a must every week in our house. That's why I love adding these slow cooker tacos to our menu! They are simple to make and everyone loves them.
You and your family will loves these ground beef tacos because:
Prep takes a few minutes.
Full of Mexican inspired flavors.
Your slow cooker does most of the work!
Come home to tacos on busy nights.
What are slow cooker ground beef tacos?
The name really gives it away – LOL! These tacos are made with ground beef and taco seasoning and slow cooked in your Crock Pot. They require very little prep and can be used in meal planning and prep. The best part of these tacos is that you can easily customize then to however your family likes! My family loves avocado in their tacos so we add extra when making them. Not an avocado fan? Feel free to omit them from your toppings!
Slow cooker ground beef taco ingredients
There are two parts to these ground beef tacos – the taco meat and the assembly. For the taco meat portion you will need:
ground beef
taco seasoning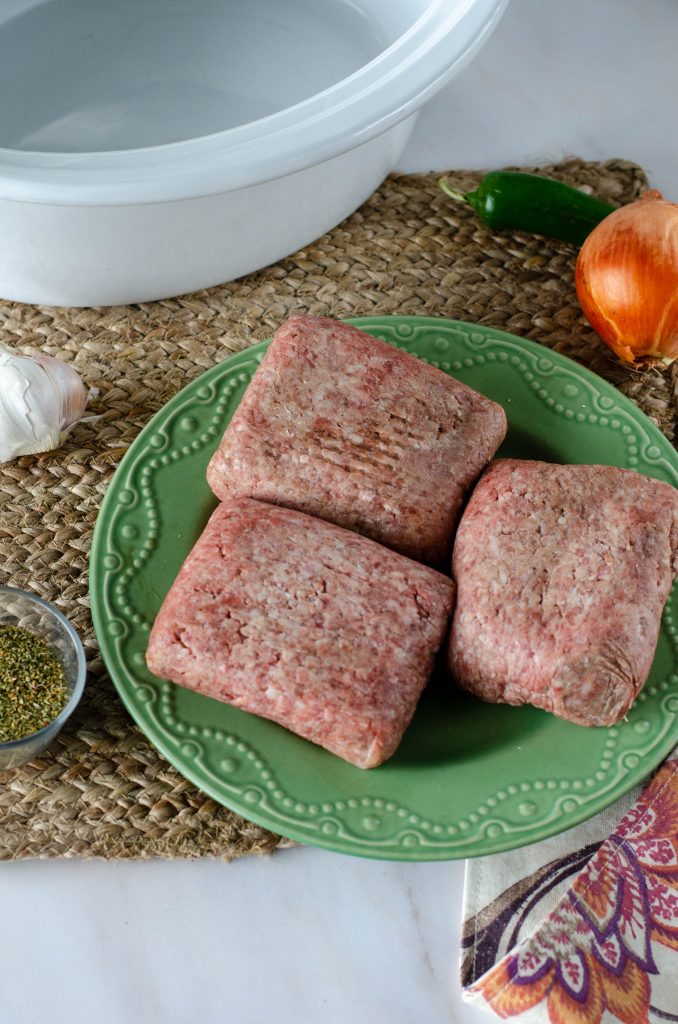 Ground beef – You can use your favorite ground beef here. I do suggest using at least 80/20 fat content so that you have some juice while it's cooking.
Taco seasoning – Feel free to use your favorite taco seasoning here. Stock bought or homemade will work. I love using my homemade taco seasoning for our tacos!
Taco topping suggestions:
jalapenos
avocado
onions
tomatoes
lettuce
cheese
sour cream
How to make ground beef tacos in the slow cooker
The best thing about these tacos is how easy they are to make! No standing over the store and browning ground beef – not here! Simply add your ingredients (all 2 of them!) to your slow cooker.
Step 1: Add your ground beef. Add your ground beef to your Crock Pot and break it apart into pieces with a fork or spatula.
Step 2: Add spices. Add your taco seasoning to your ground beef. Stir to combine.
Step 3: Cook. Cook on high for 2 hours or low for 4+ hours.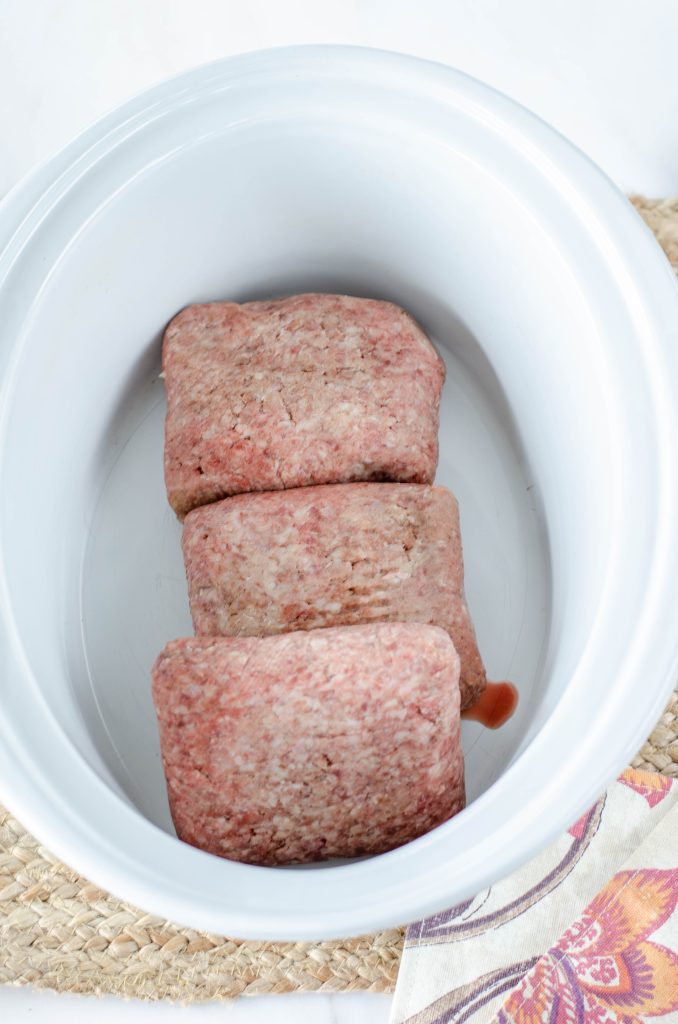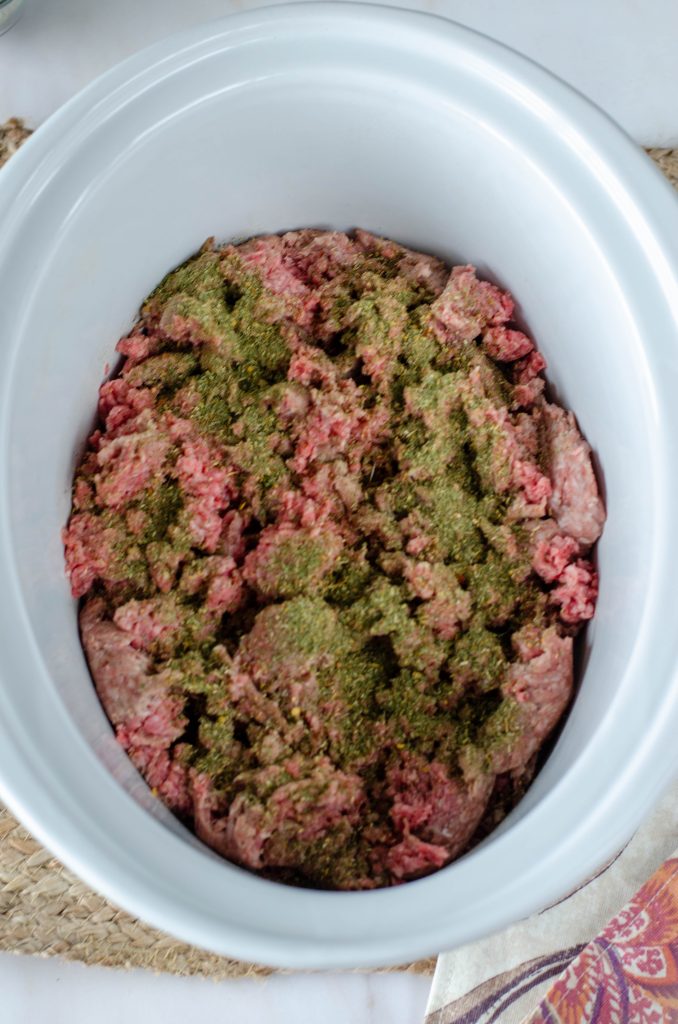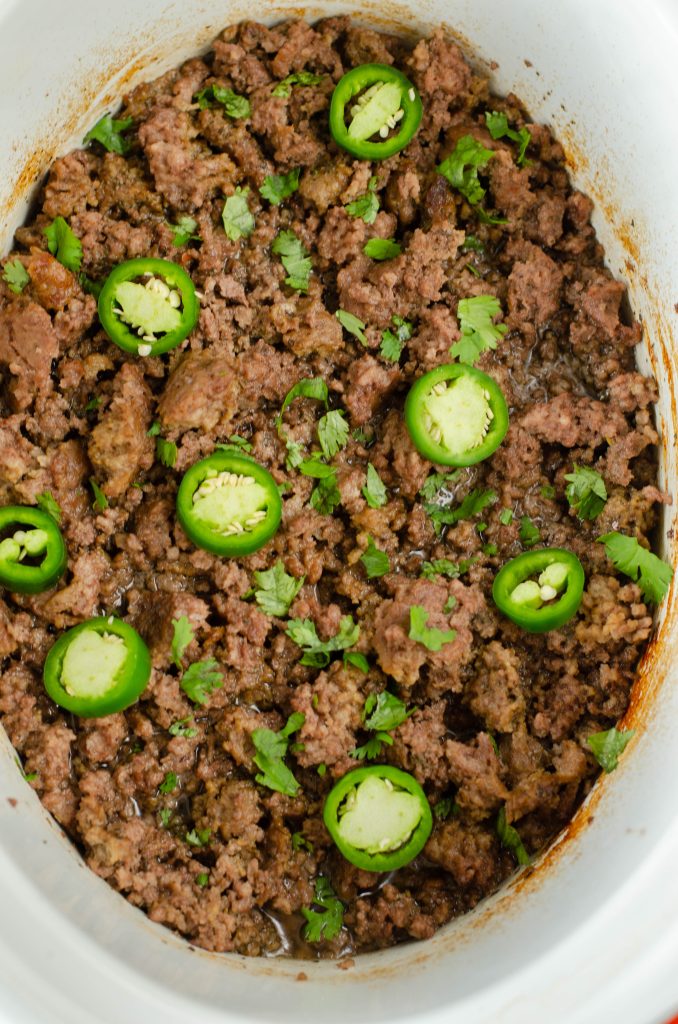 Step 4: Serve. Scoop the taco meat into your favorite tortillas and add your toppings.
FAQs about ground beef tacos
Is it safe to put raw ground beef in a slow cooker? Yes, it is. Slow cookers gradually cook the beef and as long as the internal temperature is 160 degrees and no pink remains, it is safe to eat.
Do I need to brown the beef before adding it? No, you don't have to brown it first. If you prefer to brown your ground beef, feel free.
What kind of tortillas do I need? Feel free to use your favorite tortillas for this recipe or even try your hand at homemade tortillas! We love corn tortillas but flour work too!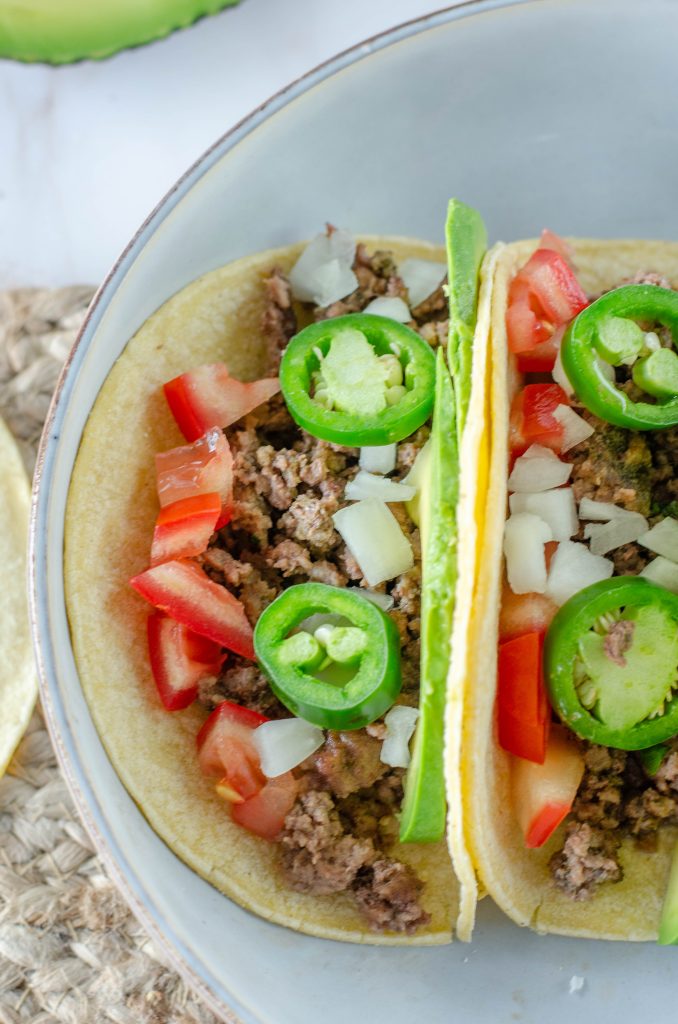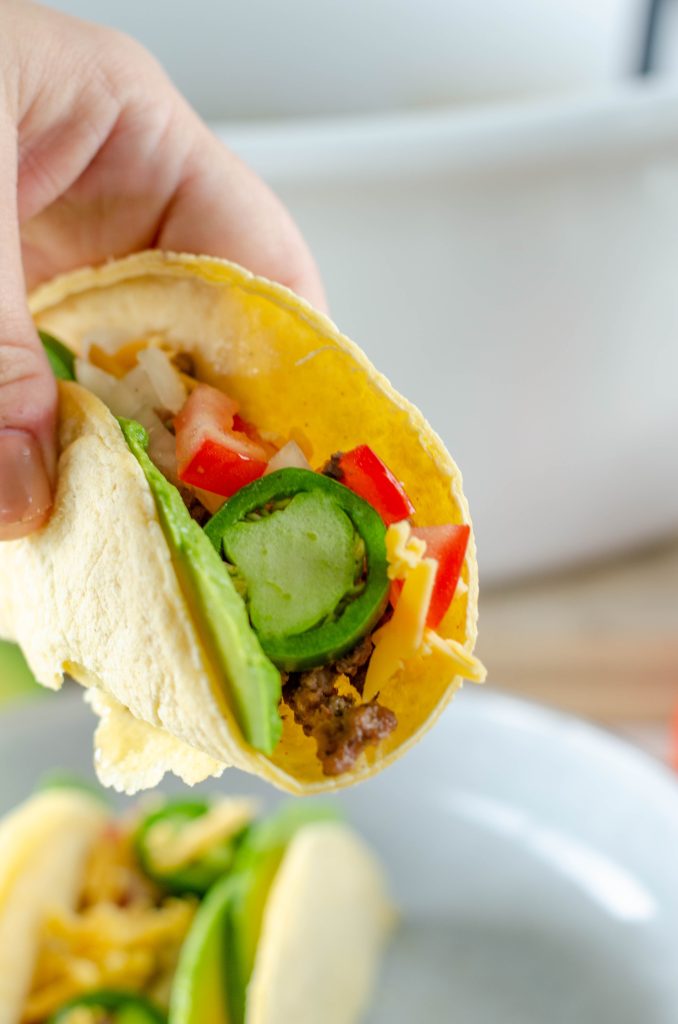 How many tacos will 3 pounds of ground beef make? This recipe makes a bunch of tacos! You can probably make 24 tacos if you fill each one with 1/4 cup of meat. The taco meat is great for meal prepping!
Do I need to add any liquid? No, no liquid is needed for these tacos. The ground beef will release some grease that can be drained later.
What toppings do I need? Whatever you like on your tacos! We love onions, avocados, tomatoes, cheese, jalapenos and sour cream! Feel free to add your favorite toppings.
Side dish recommendations
These tacos can be eaten alone or have a Tex-Mex inspired side dish added along with them! Some side dish suggestions are:
How to store leftovers
Place any leftover taco meat in an airtight container and keep in the fridge. The taco meat will keep for up to 5 days if stored properly. I do not suggest making the tacos and putting them in the fridge. The meat will make the tortillas soggy.
Can I freeze them? You can freeze the taco meat, but I do not recommend freezing pre-made tacos. To freeze the meat, place on a baking sheet and flash freeze for 1 hour. Transfer the frozen taco meat to a Ziplock bag and remove all the air. Place in the freezer for up to 6 months.
Other tacos to try
Who doesn't love a good taco? Some of our other taco favorites are: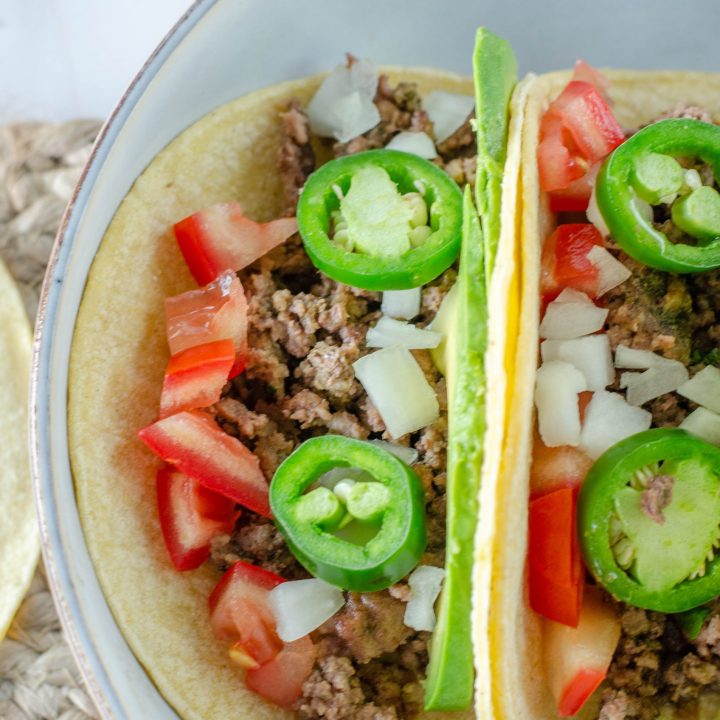 Slow Cooker Ground Beef Tacos
Cook Time:
2 hours
30 minutes
Total Time:
2 hours
35 minutes
How to make delicious ground beef tacos in the slow cooker.
Ingredients
3 pounds ground beef, thawed
3/4 cup taco seasoning
Instructions
Place the ground beef in the bottom of the slow cooker. Use a spatula to crumble it up.
Add the taco seasoning and stir to combine.
Cook on HIGH for 2.5 hours or LOW for 4 plus hours.
Use a slotted spoon to drain the grease.
Assemble the tacos and enjoy!
Did you make this recipe? I'd love for you to leave a review in the recipe card above or the comments below. Want to make it later? Pin the image below to your favorite board! THANK YOU for the support.