It's the most wonderful time of the year! Enjoy it with this delicious Starbucks peppermint mocha.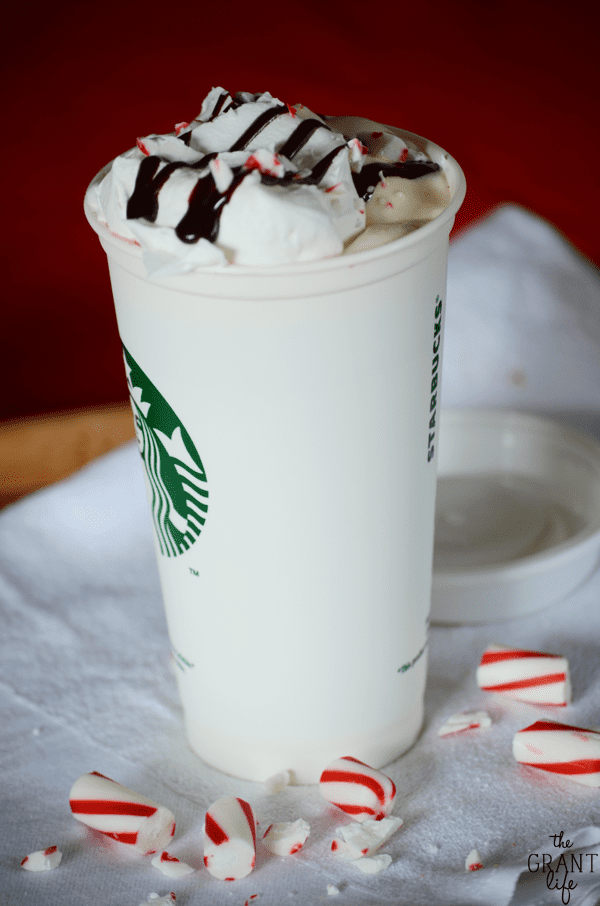 We took family pictures this past weekend! Might not seem like a big deal, but we haven't had family pictures taken since Avery was a few months old. He's almost 4 now.. so yea. It's been awhile.
We all had coordinating red outfits and headed off to Heritage Park downtown. It's this cool little historic section of the city that has old time-y houses. They are all centered around a small courtyard and even have a pretty rose garden on the side. It's really a neat place to take pictures.
Afterwards I was totally ready for a nap. The kids were running around like crazy and I was sweating by the end. Maybe I'll grab one of these peppermint mochas instead of nap.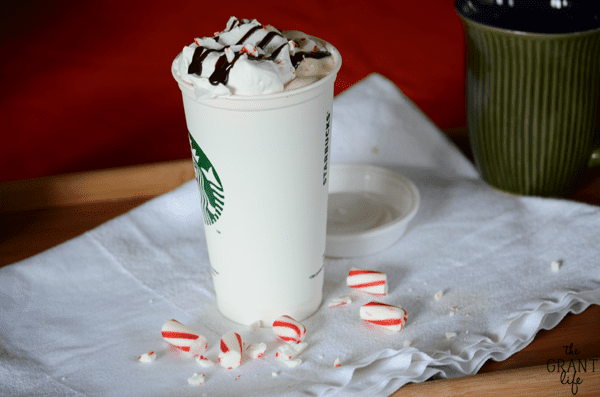 What is Starbucks peppermint mocha?
Each season Starbucks releases limited seasonal drinks and snacks. During the summer we get the passion fruit lemonade and lemon loaf. During the fall we get the pumpkin spice latte and salted caramel frappuccino. When it goes from fall to winter we get the peppermint mocha.
Mocha actually means high quality coffee but has been loosely translated around the world to mean a coffee with chocolate syrup or sauce. When you add in peppermint you get a peppermint mocha which is coffee plus chocolate and peppermint flavoring.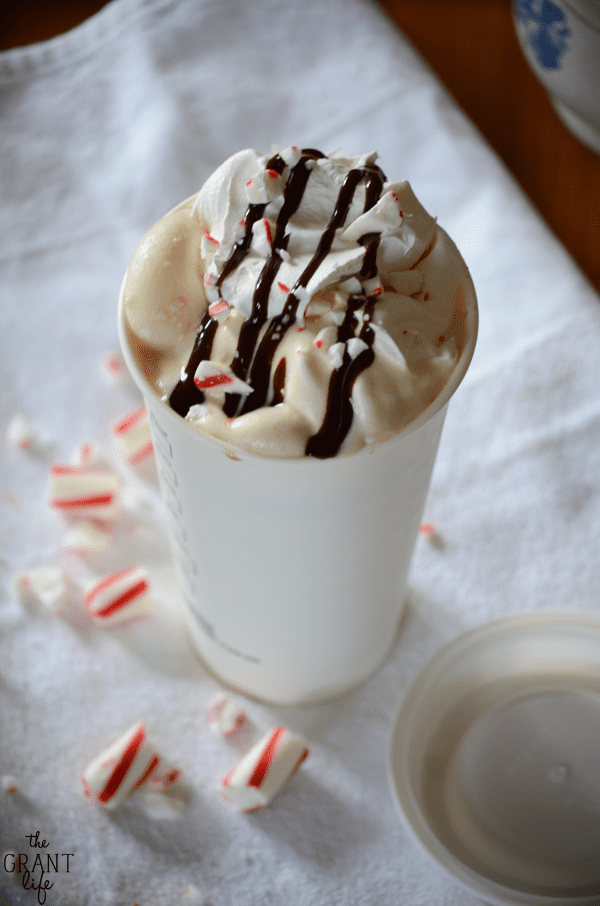 Starbucks peppermint mocha ingredients
The thing that I LOVE about the peppermint mocha is that is it so easy to make at home. Plus, there are a few different ways you can make it. When you take a look at the peppermint mocha's ingredients on the Starbucks website you see that you need:
mocha sauce
peppermint syrup
espresso
milk
whipped cream
Sounds easy enough, right? You have a few options when it comes to making your own peppermint mocha at home.
For the mocha sauce you can either buy chocolate syrup or make it homemade. I love homemade chocolate sauce because it's simple to make and you can adjust the ingredients to your preference. But something like regular Hershey's chocolate syrup works great in this recipe.
There are two ways to get the peppermint syrup as well – use a store bought version or make it homemade. Peppermint syrup is easy to make at home; it's basically a simple syrup plus peppermint extract.
Now if you want to commit to making more than one drink, you may want to make homemade peppermint mocha syrup. It's super easy and once you have it on hand you can make peppermint mochas whenever you want.
When it comes to your espresso you want a good quality. The better the quality of the syrup, the better your mocha will turn out. You can also use a strong hot coffee or instant espresso here as well.
Feel free to use whatever milk you like for this peppermint mocha recipe. If you are dairy-free, then an almond or coconut milk would be delicious in place of regular cows milk. Same goes with your whipped cream.
Another fun part of this recipe is that you get to top it with whatever you like. I used chocolate syrup and crushed peppermints on mine but shaved chocolate or even caramel would make great toppings too!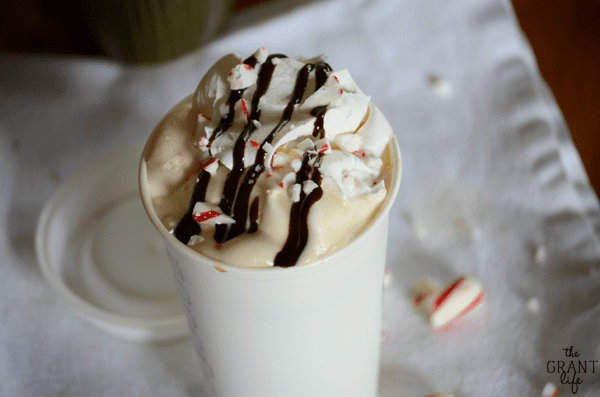 Starbucks peppermint mocha recipe
After you have all your ingredients, you need to assemble your mocha. Don't worry! It's super easy.
You start by brewing your espresso or strong coffee. Add your peppermint and chocolate syrup to a mug and mix in the hot coffee. You want the coffee to be hot enough to melt the syrups and make the drink silky smooth.
You can either steam your milk or add it in cold. Either way you choose, add it in to your coffee/syrup mixture and stir together. Top with whipped cream, chocolate syrup and crushed peppermints. Or whatever toppings you like!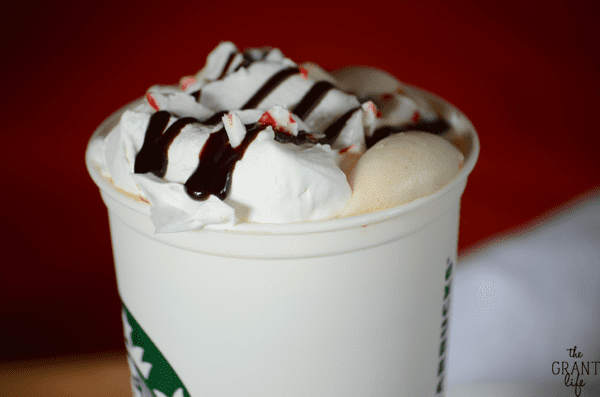 Making copycat coffee drinks at home is so much fun! Once you learn how to make one or two that you like you can start experimenting and come up with fun new drinks.
You can also start making your own homemade sauces to make your drinks cheaper too! It opens up a whole new world of coffee drinks.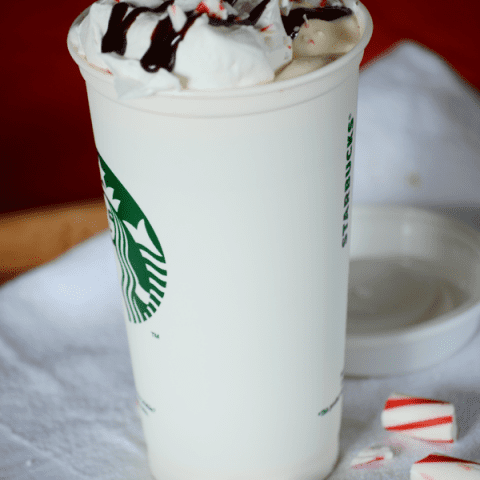 Peppermint Mocha
Copycat Starbucks peppermint mocha recipe.
Ingredients
2-3 tablespoons peppermint syrup
2-3 tablespoons chocolate syrup
1 cup hot coffee or 2 shots espresso
1 cup steamed milk
whipped cream for topping
Instructions
Add the syrups to the bottom of a coffee mug.
Pour the hot coffee or espresso over. Mix together.
Add the steamed milk and mix again.
Top with whipped cream and crushed candy canes.
Enjoy!
Nutrition Information:
Yield:

1
Amount Per Serving:
Calories:

521
Total Fat:

5.7g
Saturated Fat:

3.3g
Cholesterol:

20mg
Sodium:

160mg
Carbohydrates:

108.6g
Fiber:

1.5g
Sugar:

96g
Protein:

9.5g
Like this
copycat coffee recipe
? Be sure to check out:
White chocolate mocha