When the weather starts to cool down, the best way to warm up is a warm up of hot chocolate when you get inside. We love all kinds of hot chocolate, but this Starbucks peppermint hot chocolate copycat recipe has to be one of our favorites. It's sweet, creamy, delicious and has just the right amount of peppermint. Let me show you how to make this easy hot chocolate today!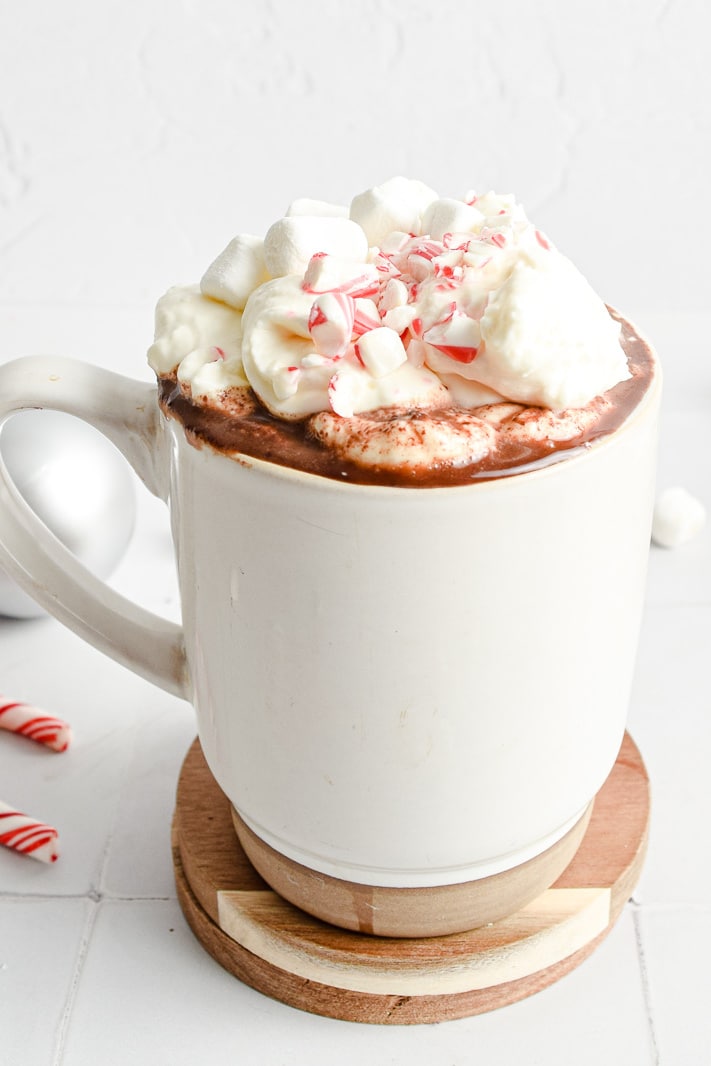 Hot chocolate is an essential winter time drink that everyone loves! It's creamy and decadent, plus full of chocolate flavor! The great thing about hot chocolate is that it's also a versatile drink. You can easily add your favorite extract, flavoring or even alcohol to it. No need to run to the 'bucks to make this peppermint hot chocolate. It's super easy to make right at home!
Starbucks peppermint hot chocolate
This peppermint hot chocolate is a classic Starbucks menu item that makes an appearance with the winter line-up. It is a creamy hot chocolate made with Starbucks oven peppermint mocha sauce. Hot milk is then added to the cup and it is topped with whipped cream and crushed peppermint candies. The best part is that you can easily make this Starbucks hot chocolate at home with a few common ingredients.
Peppermint hot chocolate ingredients
This peppermint hot chocolate is simple to make at home. First you create a simple peppermint mocha syrup and then you add in your hot milk. To do this you will need:
whole milk
heavy cream
granulated sugar
salt
semisweet chocolate chips – can substitute milk chocolate or dark chocolate chips as well
peppermint extract – can be found in the baking aisle with the other extracts such as almond or vanilla
Optional toppings: marshmallows, whipped cream, candy canes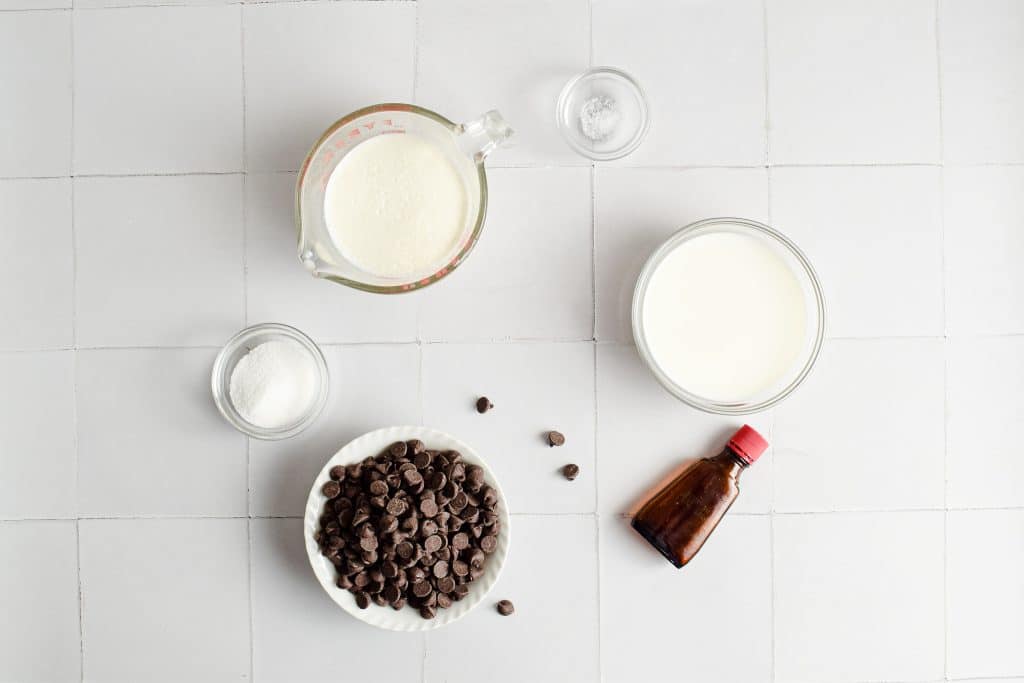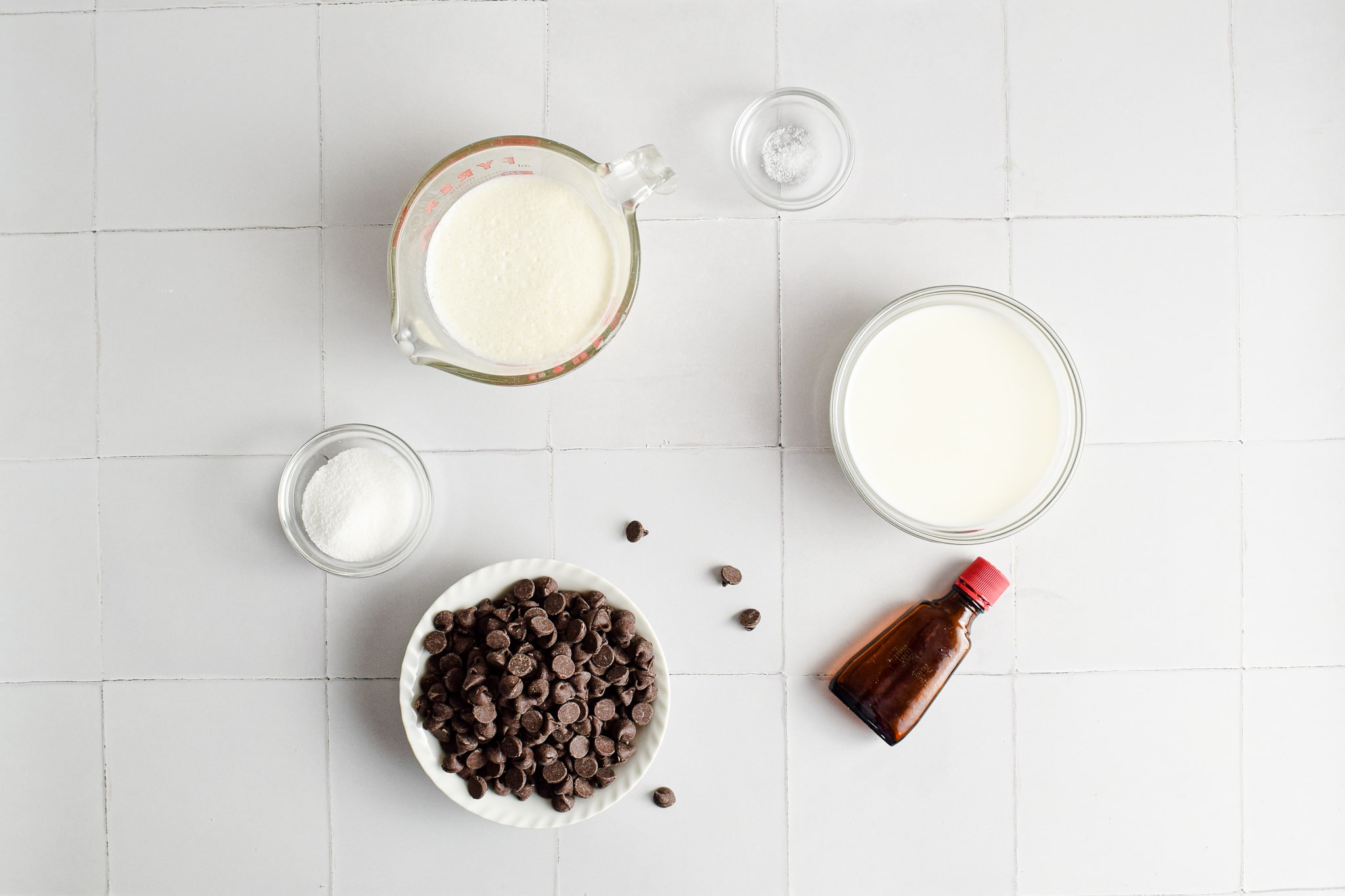 How to make a copycat Starbucks peppermint hot chocolate
Once you have gathered all your ingredients, you will also need to grab:
measuring cups and spoons
saucepan
spatula
Step 1 Heat the milk In your saucepan add your milk, heavy cream, sugar and salt. Stir to combine. Allow the milk mixture to begin to steam and heat through. There will be bubbles on the sides when it's hot enough.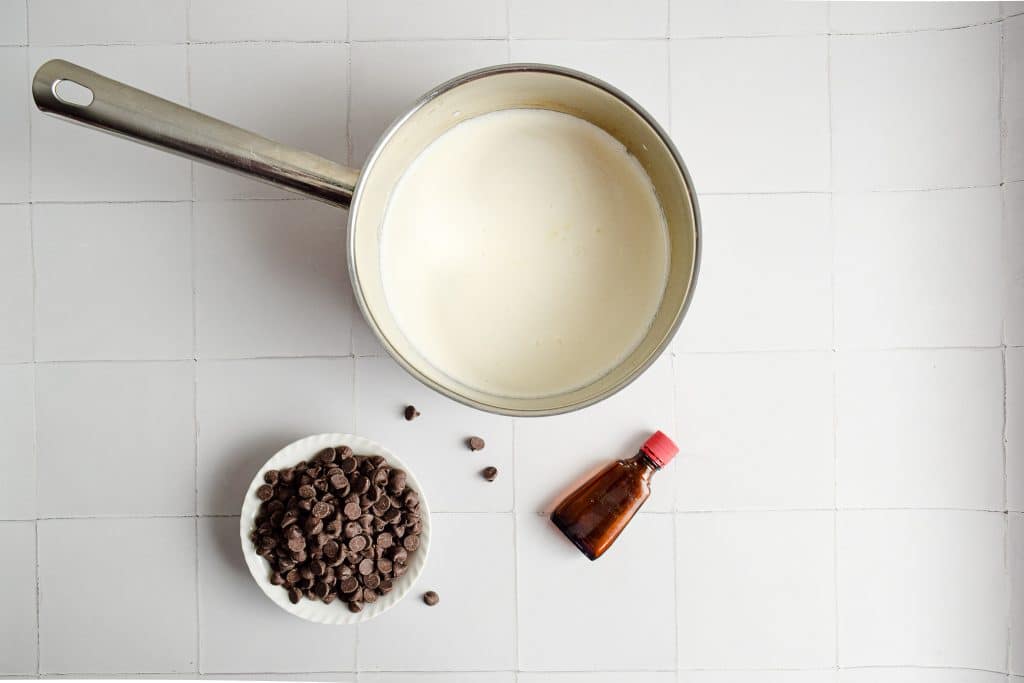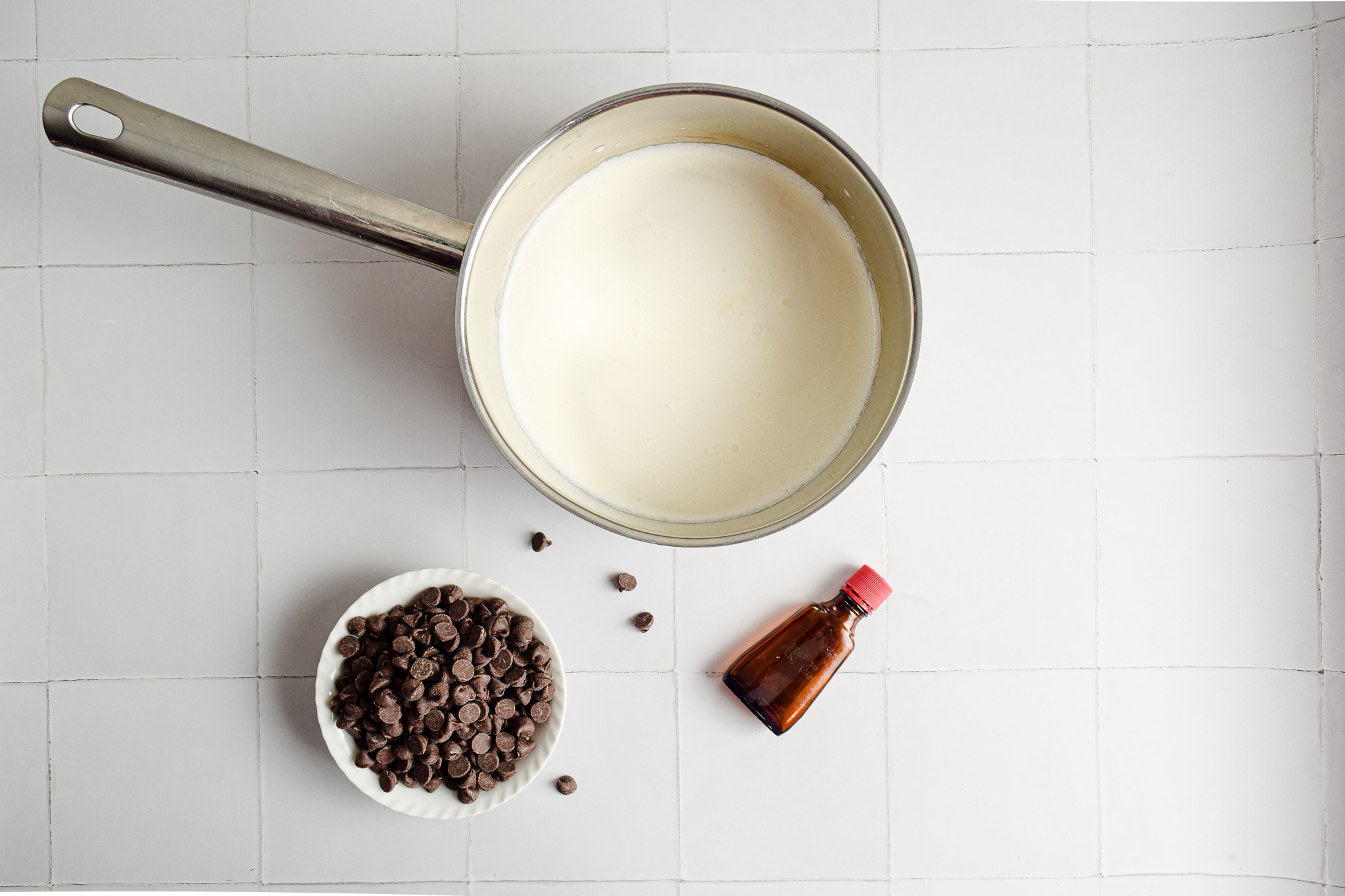 Step 2 Add in the chocolate and peppermint Stir in your chocolate chips and peppermint extract. Reduce the heat and allow the chocolate chips to melt. You will need to stir constantly so that none of it burns.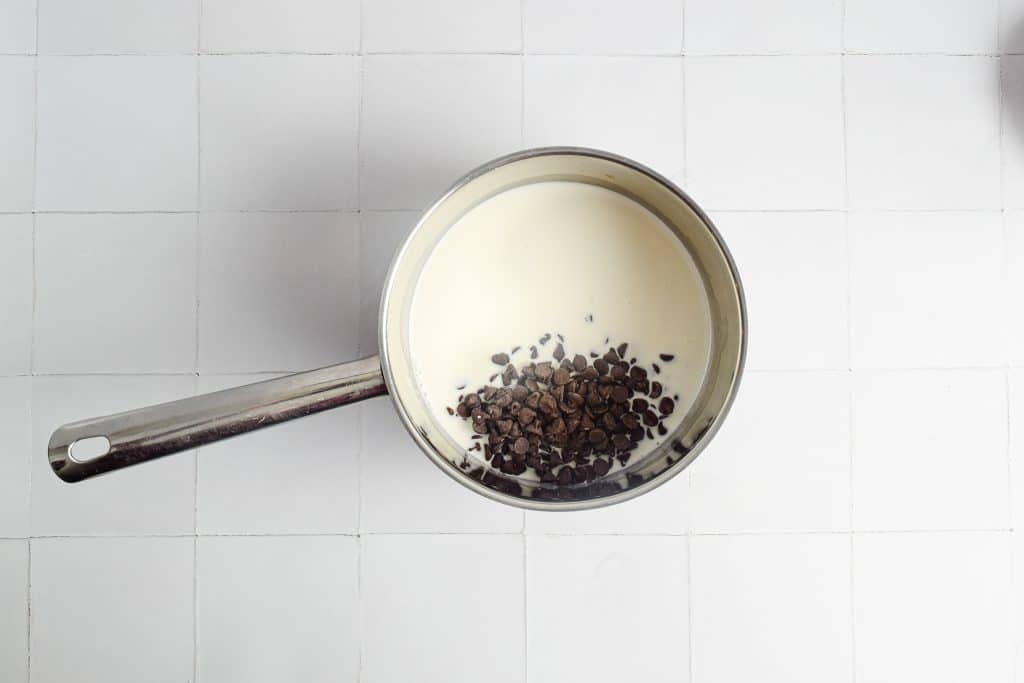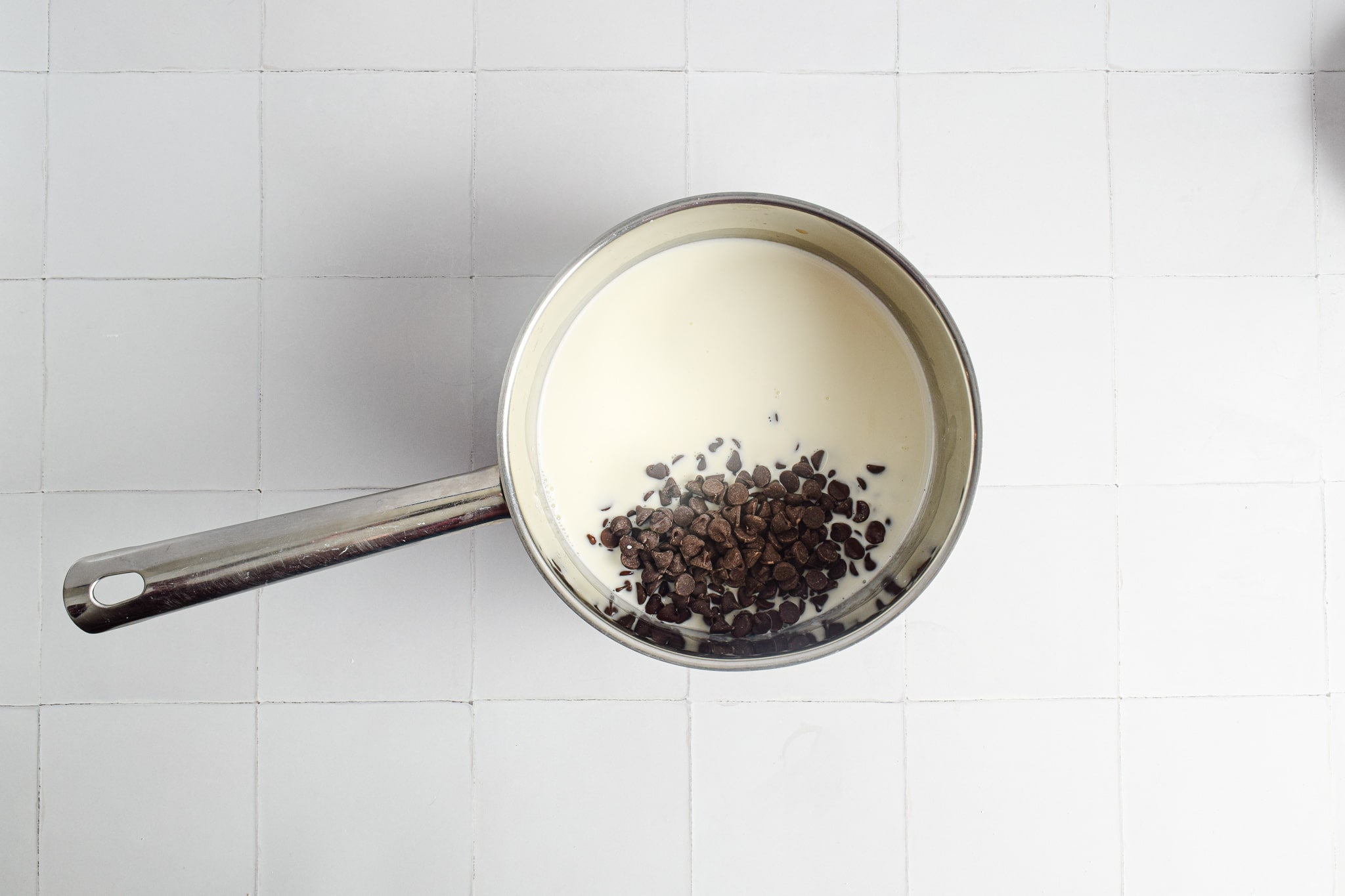 Step 3 Pour and enjoy Once your chocolate chips have melted, pour your peppermint hot chocolate into mugs. Top with whipped cream, crushed candy canes or even a drizzle of more chocolate. Enjoy your homemade copycat Starbucks peppermint hot chocolate!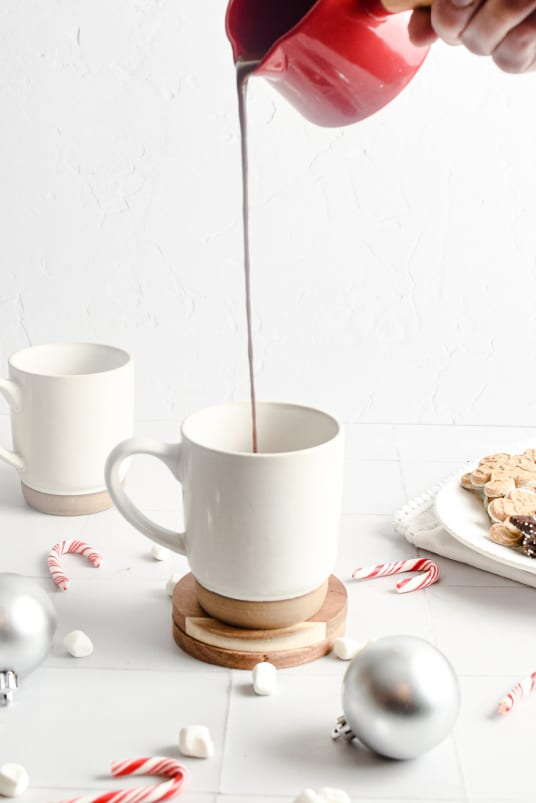 How to make in the slow cooker
This peppermint hot chocolate would be perfect in the slow cooker! You can follow my recipe for slow cooker hot chocolate, but add in the peppermint extract with the rest of the ingredients. Easy peasy!
How to make hot chocolate in the Instant Pot
Yup, this hot chocolate can even be made in the Instant Pot! My Starbucks zebra hot chocolate is made in the Instant Pot. You can follow the directions from the zebra hot chocolate, but add in the peppermint extract as well. Zebra hot chocolate is a combo of white and regular chocolate. Feel free to use whatever chocolate combination you'd like.
How much peppermint extract to add to hot chocolate?
Let me tell you – a little goes a long way. This recipe uses 1/8 teaspoon and makes 2 cups of hot chocolate. If you were to make a larger batch you could use a full teaspoon. Start small and add more as needed.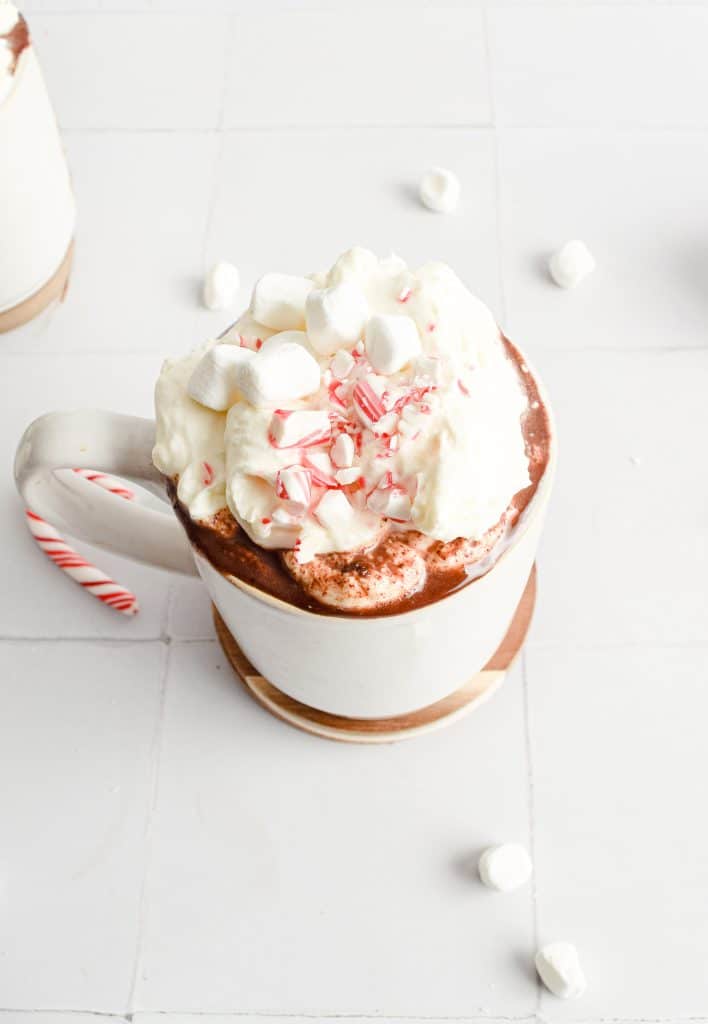 When does Starbucks start selling peppermint hot chocolate?
Starbucks releases their peppermint hot chocolate the same time they drop their winter menu – around the end of October. It comes out when they release their caramel brulee latte, chestnut praline latte and the new sugar cookie latte.
How much caffeine is in Starbucks peppermint hot chocolate?
There is some caffeine in a hot chocolate due to the chocolate, but far less than any other coffee drink. The amount of caffeine will depend on the type of chocolate used.
How do I order a peppermint hot chocolate at Starbucks?
To the best of my knowledge, Starbucks keeps the peppermint mocha syrup all year long. So you can ask your barista for a peppermint hot chocolate any time you'd like! Just say "can I have a grande peppermint hot chocolate?" Or whatever size you'd like. Tip – you can also order the salted caramel mocha all year too!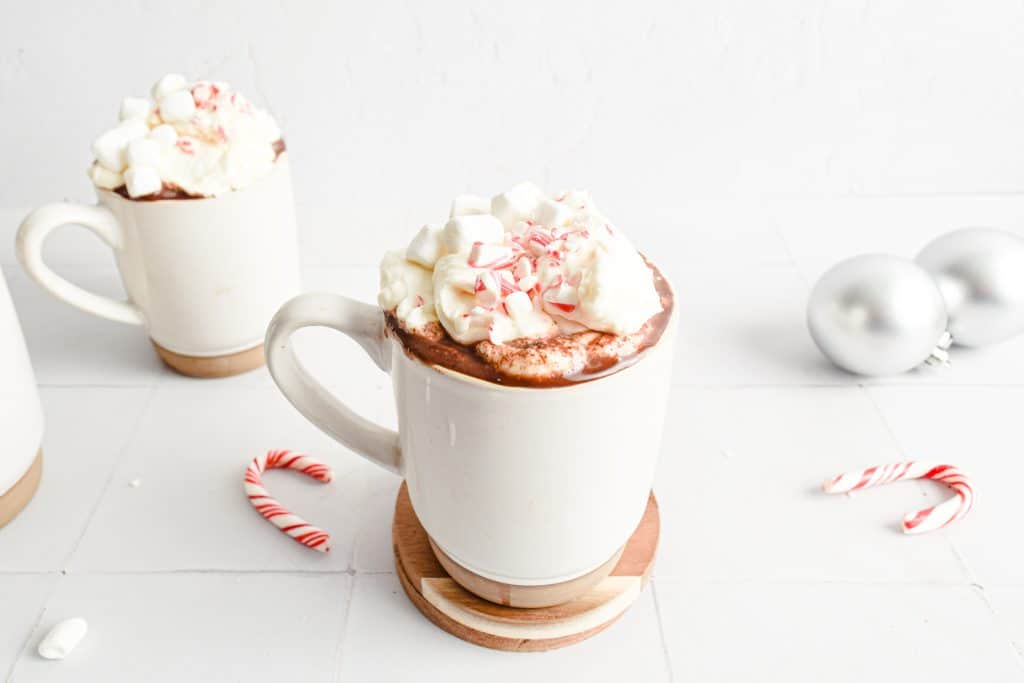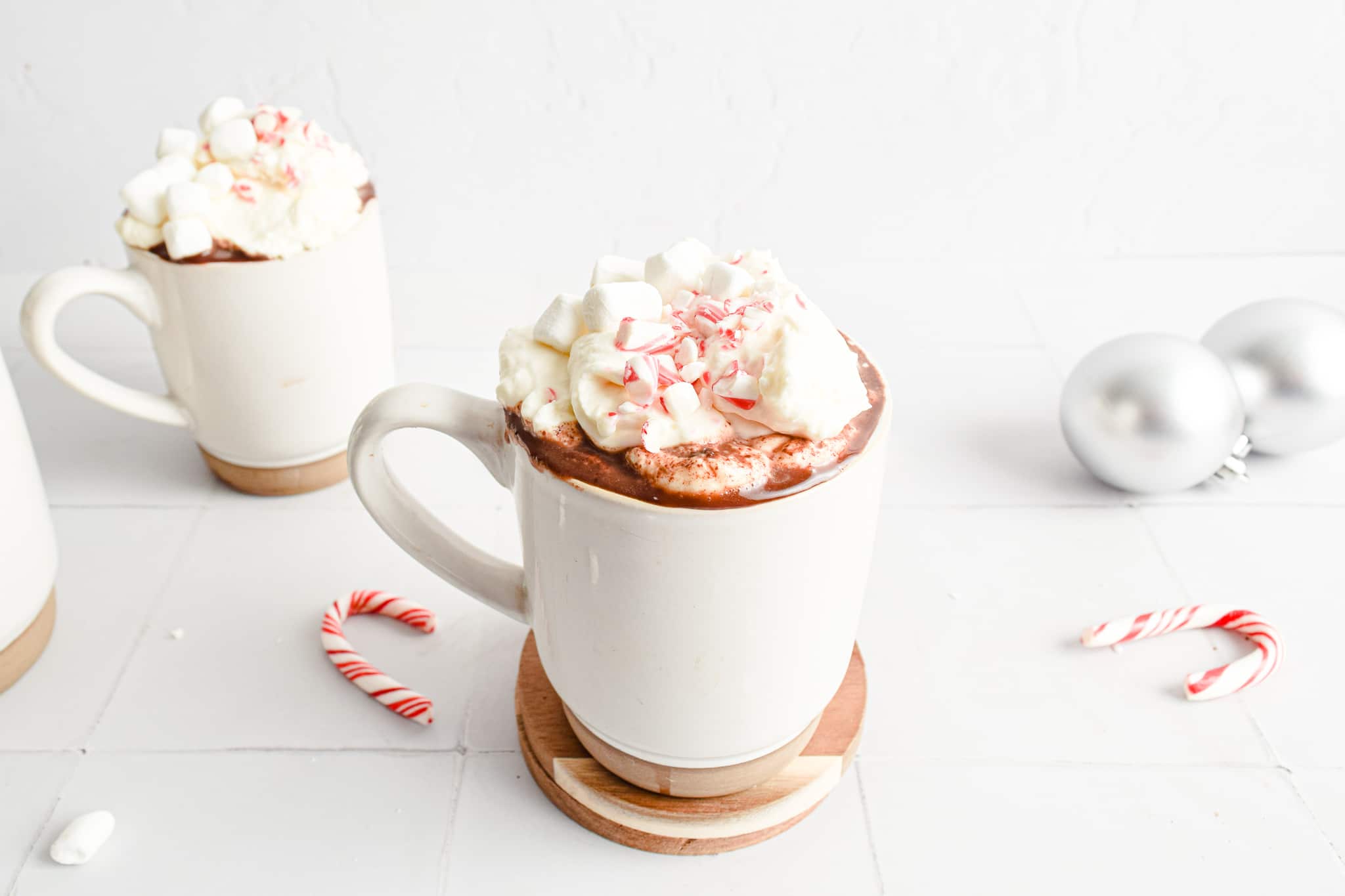 Tips and tricks
This recipe is pretty easy and you can have a copycat Starbucks peppermint mocha in no time. Some tips and tricks to make your drink are:
You can use any type of chocolate chips that you'd like. Dark chocolate make a great substitute.
Want a peppermint white hot chocolate? I got a recipe for that! Check out my peppermint white hot chocolate recipe here.
Don't have peppermint extract? You can use peppermint syrup, like Torani, instead. I would add 2 tablespoons in place of the extract.
Be sure to stir the milk and the chocolate chips often. This will help keep it from burning and make it nice and smooth.
This recipe makes 2 drinks – feel free to double or triple the recipe as needed.
Optional toppings
This hot chocolate is great on it's own, but the toppings make it over the top delicious. You can add:
whipped cream, homemade or store bought
crushed candy canes
marshmallows
chocolate curls
sprinkles
chocolate sauce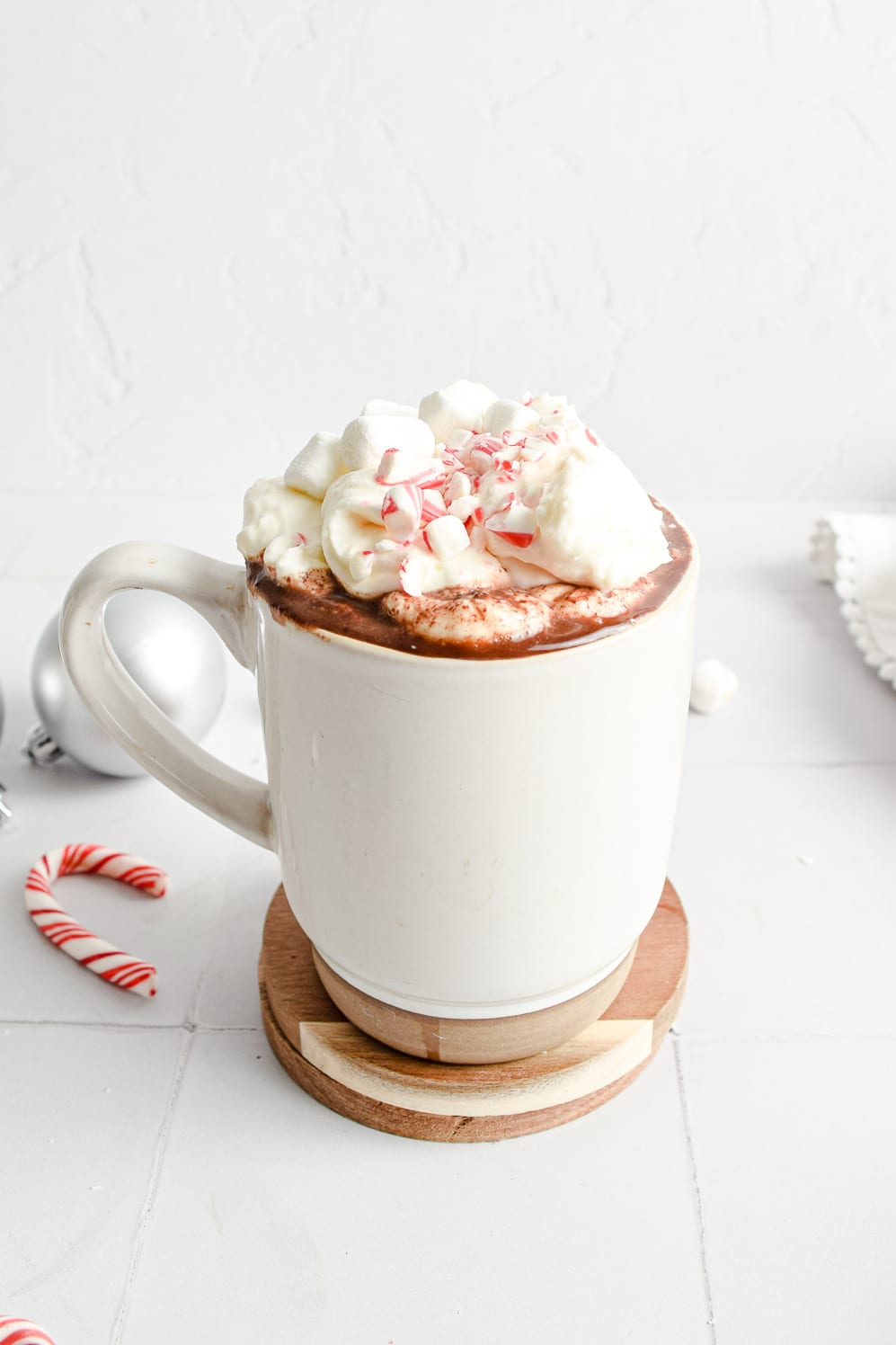 FAQs
How do I make sure my hot chocolate is smooth and silky? Using chocolate chips instead of cocoa powder gives a really rich and smooth hot chocolate. Make sure to only cook the cream mixture until it is just simmering and reduce the heat to low before adding the chocolate. Adding chocolate to cream that is too hot can cause the mixture to separate, which will make it grainy.
Can I make this hot chocolate without the peppermint extract? Definitely! You can make it plain hot chocolate by just leaving out the extract. You can also use it as a base for other flavors. Try out different extracts in place of the peppermint. Start small because you don't want to add too much. Taste as you go and add more to your preference.
Can I substitute chocolate bars for chocolate chips? Yes, you can. Semisweet chocolate has around 60% cocoa content, so choose a chocolate bar around that level for a similar taste. You can also use other percentages to make the hot chocolate a little more bitter or slightly sweeter.
Is peppermint oil the same thing as peppermint extract? No, they're not the same. Peppermint oil is much stronger, so do not add 1/8 tsp of it to this recipe. It would likely only need a couple of drops of peppermint oil, but I have not tested it with the oil.
Can I make this ahead of time? Yes, you can. It thickens as it cools, but it will return to the same texture after being heated up. I have heated it up in the microwave or back over the stove.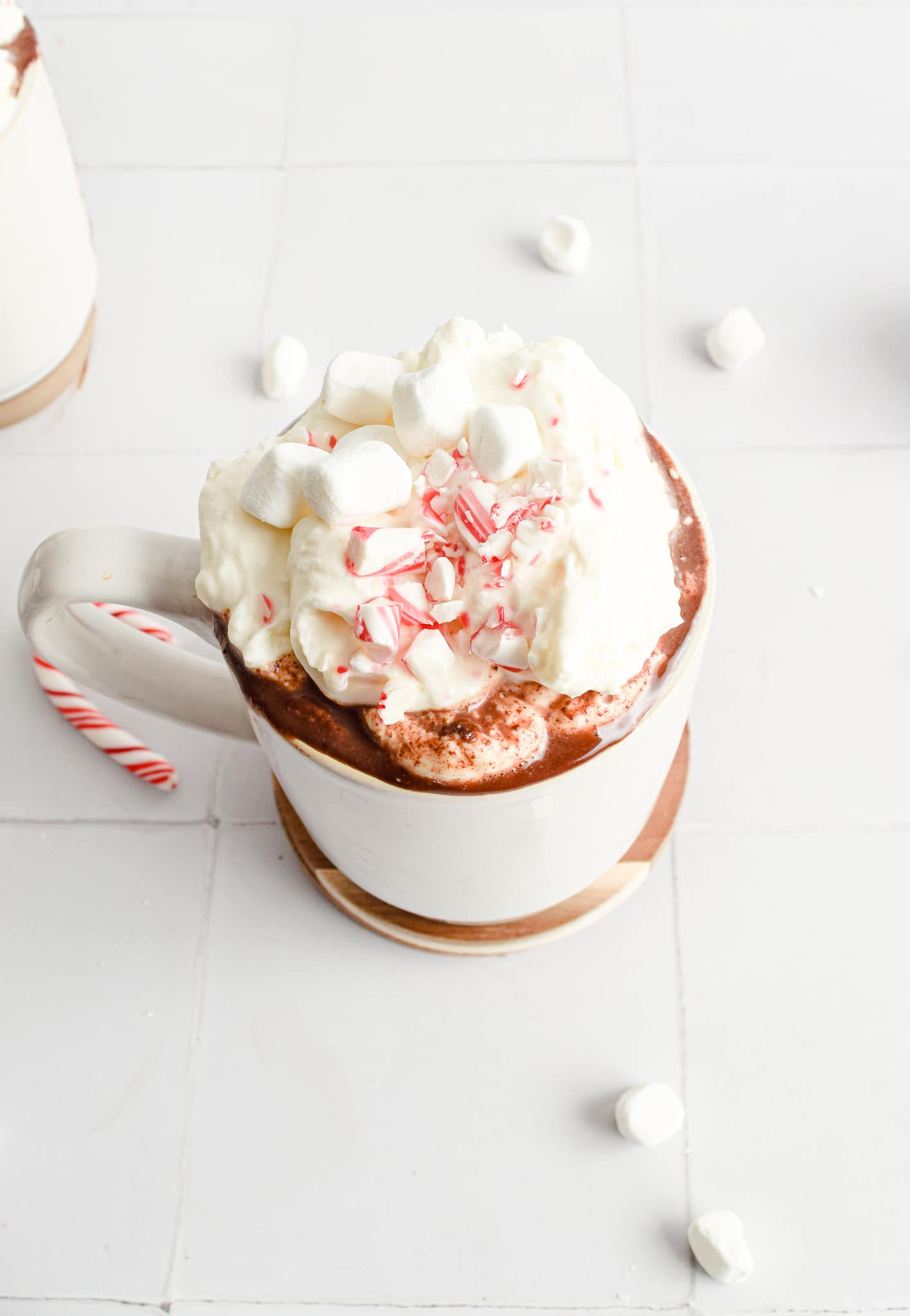 Peppermint hot chocolate
Make a copycat Starbucks peppermint hot chocolate at home!
Ingredients
1 cup whole milk
1 cup heavy cream
2 tbsp granulated sugar
pinch kosher salt
1 cup semisweet chocolate chips
1/8 tsp peppermint extract
Optional toppings: marshmallows, whipped cream, candy canes
Instructions
Combine milk, heavy cream, sugar, and salt in a medium saucepan over medium heat. Cook, stirring occasionally until the mixture begins to steam and there are small bubbles around the sides of the pan.
Reduce the heat to low and add the chocolate chips and peppermint extract, stirring until they are melted.
Divide the hot chocolate into mugs and top with whipped cream, crushed candy canes, or marshmallows.
Other Starbucks copycat recipes to try
This peppermint hot chocolate releases with other Starbucks winter drinks like the:
Did you make this recipe? I'd love for you to leave a review in the recipe card above or the comments below.
Want to make it later? Pin the image below to your favorite drink board! THANK YOU for the support!