Love Starbucks gingerbread latte? Let me show you how to easily make it at home!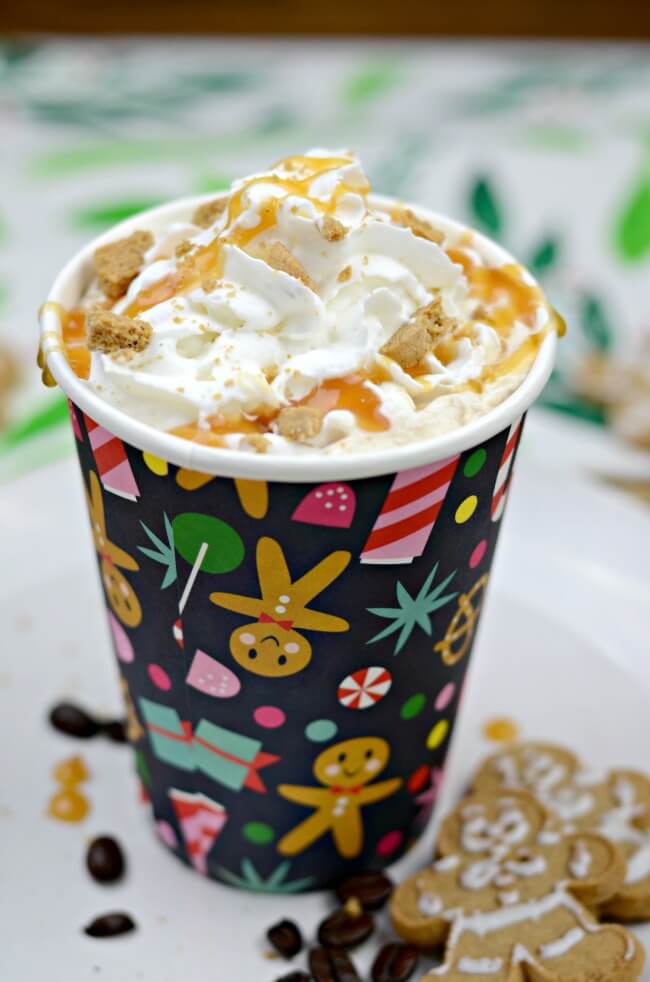 Yesss! It's starting to cool down and the radio stations have started to play Christmas music. It's officially y'all – we are in the Christmas season! I just love this time of year oh so much.
Do you know what my favorite part of the holiday season is? Spending time with family and friends over a meal. I love being able to talk to my people and just relax with good food.
Good food can be dinner, chips and queso, cookies, a veggie tray or even a hot cup of coffee. And what better coffee to share with friends and family this season than a cozy gingerbread latte?
Copycat gingerbread latte recipe from Starbucks
The gingerbread latte has long been a seasonal favorite at Starbucks. But why go out to a coffee shop when you can make this copycat Starbucks gingerbread latte at home?
This coffee recipe is super easy to make at home with a few common ingredients. It's made even easier with a pre-made syrup! The best part? It tastes just like a gingerbread cookie! You can even add crumbled gingerbread to the the top to make it extra festive.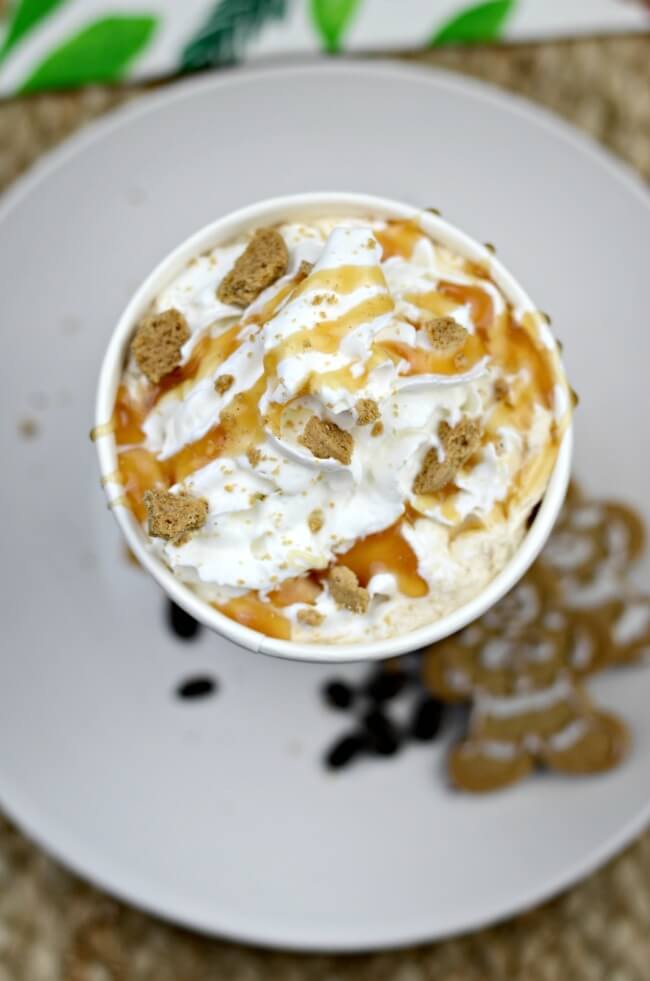 What is in the gingerbread latte at Starbucks?
Here is the cool thing – you can either make this latte 100% homemade or you can cheat a bit. Either way you choose, this gingerbread latte still tastes delicious! To make this latte homemade you will need:
espresso or hot coffee
sugar
water
ground ginger
ground cinnamon
ground cloves
ground nutmeg
vanilla
salt
milk
whipped cream
Although the ingredient list is longer, I bet you have at least half of those ingredients already. They are all pretty common and can be found at most local grocery stores.
When it comes to the espresso or hot coffee make sure to choose a good quality. You will get a better tasting latte with a better quality coffee.
Also, feel free to use any milk that you prefer. I love using almond milk in my coffee but you can use any milk you like here.
Now for the semi-homemade ingredients. You will need:
espresso or hot coffee
gingerbread syrup
milk
whipped cream
The list is shorter because the water, sugar, vanilla and spices are what you need to make homemade gingerbread syrup. It's really easy to make and makes a great addition to your morning coffee.
How do you make gingerbread syrup?
The key to this latte is the gingerbread syrup. The good news is that it is so easy to make at home! To make homemade gingerbread syrup start with the sugar and all the spices. Take your ground ginger, cinnamon, cloves and nutmeg and mix them together with your sugar in a small pot on the stove top.
Once you have mixed your sugar and spices together add in your water and stir to dissolve. Bring to a small boil and let simmer for 2-3 minutes. You want the sugar to dissolve and allow time for the syrup to thicken. Add in the salt and vanilla, stir in and remove from heat. Allow to cool before adding it to your coffee.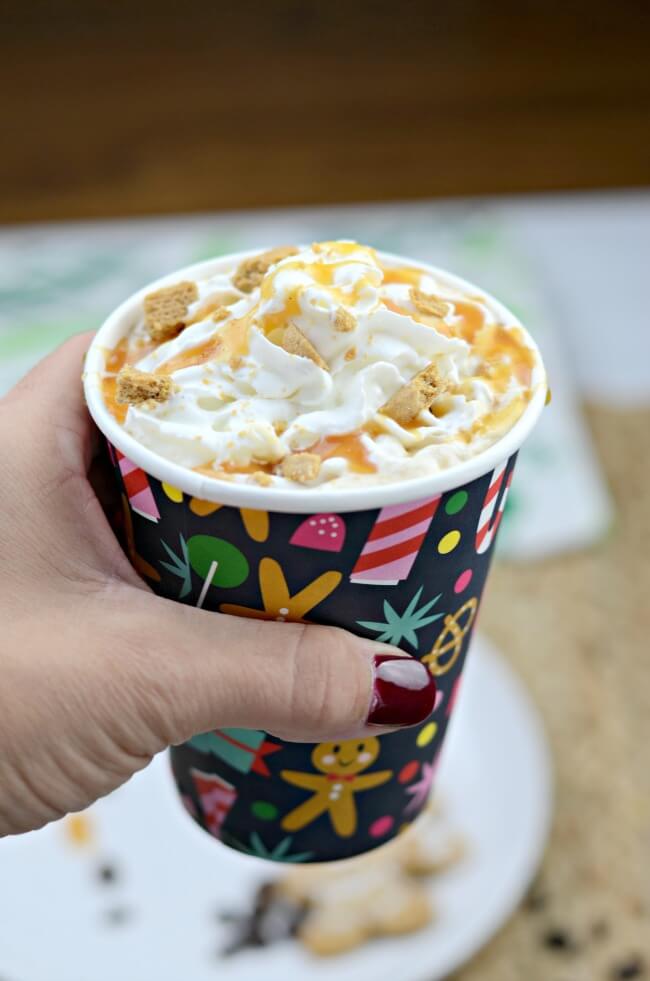 How do you make a gingerbread latte from Starbucks?
Once you have your syrup – either homemade or store bought – it's time to start assembling your gingerbread latte! You want to start with strong hot coffee or espresso. Brew whichever you'd like a pour it into a mug. Add in your gingerbread syrup and stir to combine.
Next comes your milk. You can either add it in cold, warm it up a bit or steam it completely. To warm it up, heat it in the microwave or in a small pot on the stove. If you want to steam it then warm it in a pot on the stove until frothy. You can also use a milk frother too. Allow to cool a bit before adding it to your drink.
Top your drink with whipped cream, caramel sauce and crushed gingerbread cookies. This step it totally optional but always make your drink more festive!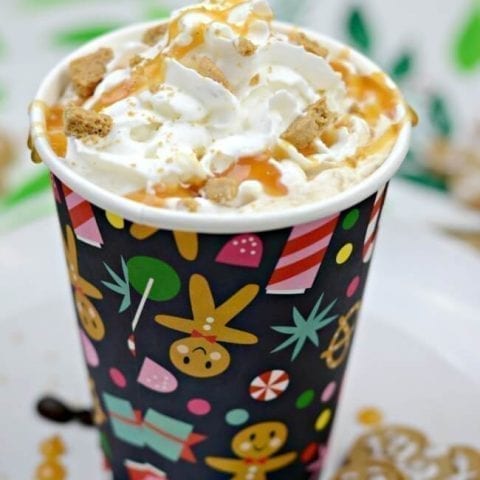 Gingerbread latte recipe
Make this copycat gingerbread latte at home with a few basic ingredients!
Ingredients
• 1 cup of hot coffee or 1 shot of espresso
• 2 tablespoons gingerbread syrup
• 1 cup of milk
• whipped cream, caramel and crushed gingerbread cookies for topping
Instructions
In a mug, place the hot coffee or espresso.
Stir in the gingerbread syrup. (See notes for homemade gingerbread syrup recipe.)
Add the milk - either cold, warmed or steamed. (See post for details.) Stir together.
Add whipped cream, caramel sauce and crushed gingerbread cookies on top.
Enjoy!
Notes
How to make homemade gingerbread syrup -
1/3 cup sugar
1/3 cup water
1/2 teaspoon ground ginger
1/2 teaspoon ground cinnamon
pinch ground cloves
pinch ground nutmeg
1/2 teaspoon vanilla
pinch salt
In a saucepan over medium heat add the sugar and all the spices. Stir together to combine. Add in the water and bring to a boil. Allow the sugar to dissolve completely. Mix in the vanilla and salt in. Remove from heat, allow to cool and store in an airtight container.
Nutrition Information:
Yield:

1
Amount Per Serving:
Calories:

324
Total Fat:

5.1g
Saturated Fat:

3g
Cholesterol:

20mg
Sodium:

200mg
Carbohydrates:

58g
Sugar:

57g
Protein:

8.3g
You may also like these other
copycat coffee recipes
: