Make the new must have holiday coffee house menu item at home.  In your pajamas.  [Like I did.]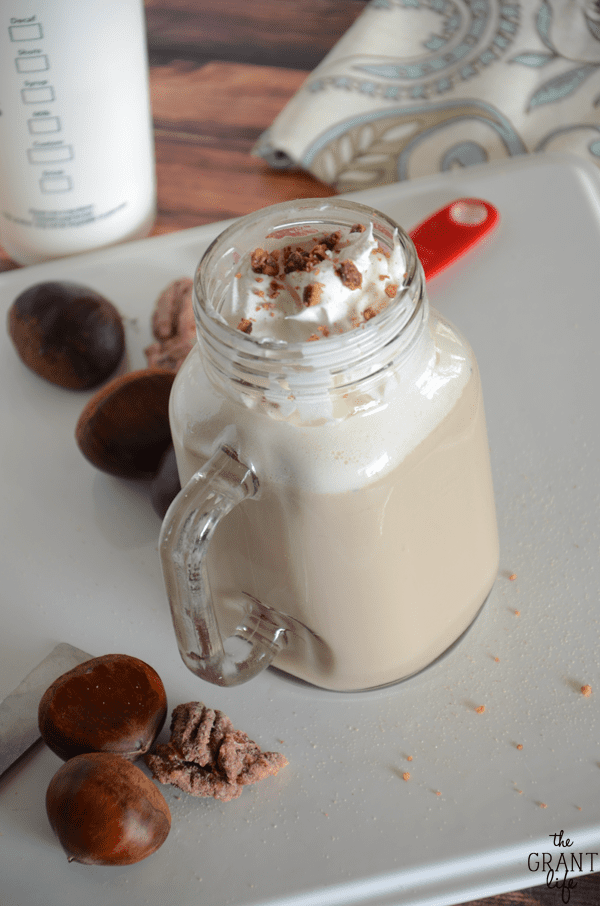 Recently Starbucks came out with a new drink.  Its their first new drink in over 5 years.  [Which makes me sort of sad that I have been drinking the same old drinks for that long.  Naw.. not really.]  I heard somewhere that its the pumpkin spice latte of the Christmas season.  Which is a tall order to fill because, hello, pumpkin spice latte.  I mean its just tradition.  So I was skeptical.  This chestnut praline latte was not be trusted. 
Hey there!  Would you like a free coffee ebook?  PERFECT!  Sign up below and I'll send it right over!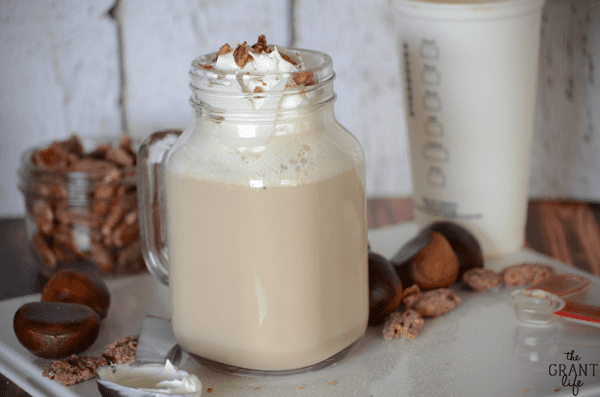 But of course I waited in line and ordered one.  I wanted to knowww what it tasted it.  Was it full of holiday cheer?  Could it dethrone the beloved pumpkin spice latte?  Will my kids ever let me go to Starbucks without buying them cake pops ever again?  [That last one remains unanswered.]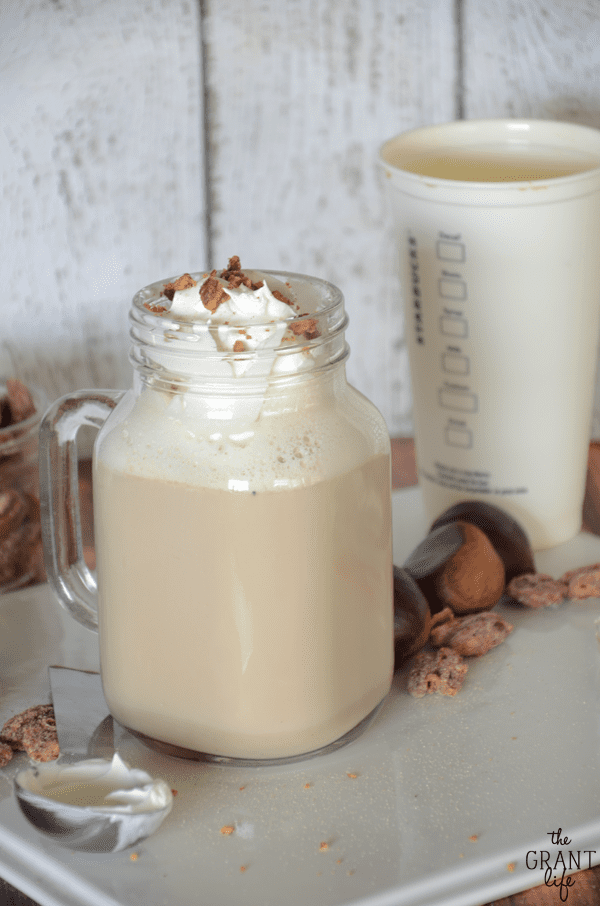 It was tasty.  It was cheery.  It was in a red holiday cup.  It was like the trifecta of holiday drinks.  But could it be made at home, in the comfort of your lazy day clothes?  You know the ones, the yoga pants that might or might not have a hole on the butt.  And the tank top that you may or may not wear a bra with around the house.  And TOMs.  [Because duh, comfortable.]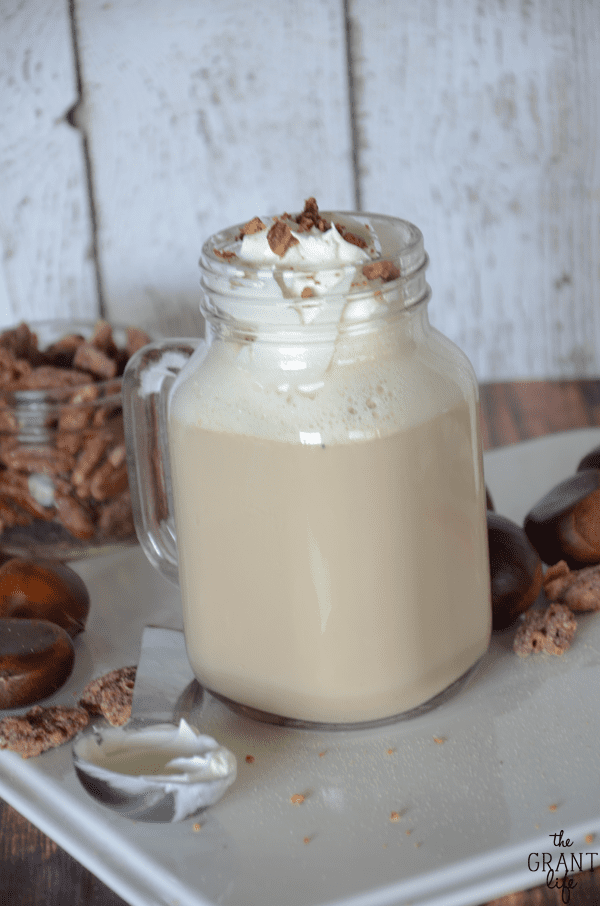 The first thing I had to do was find some chestnuts.  Ryon swore that I wasn't going to find them.  He made up some story about the trees and it not being peak chestnut season.  I'm still not sure if he was messing with me or not.  But after checking 2 stores, I found some.  [Boom!]  I immediately went home, turned on a Christmas Pandora station and started roasting chestnuts.  [In my oven, not an open fire.  It was like 75 degrees here.]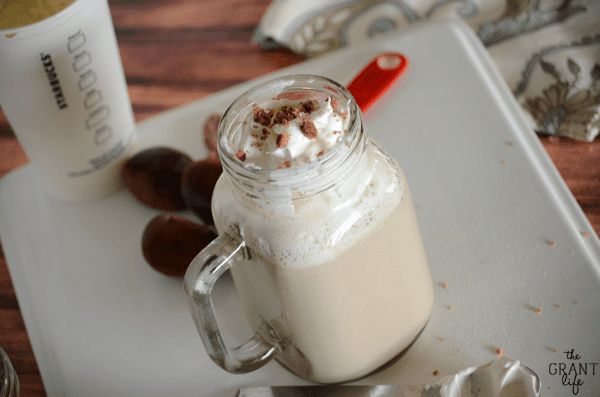 I then praline'd some pecans while the chestnuts were roasting.  [By the way, my 14 year old self made tons of jokes about nuts during the process.  Just thought that should be noted.]  I made chestnut syrup after they were done roasting.  Syrup.  Out of a nut.  Yea, it wasn't easy.  And its honestly not high on my "must do again" lists either.  [Just thought that should be noted too.] 
So here is my verdict on the make at home version of the chestnut praline latte – get in your car and go to Starbucks.  Buy their version and enjoy Christmas Pandora in your hole-y yoga pants and no bra tank top afternoon outfit.  It'll make you feel a lot more cheery.  But in case you want to DIY your own, the recipe is below.  [Ps.. it was good.  WAY good.  I drank two.  But making syrup from a nut and praline-ing pecans is just a lot of work.]  You win this time Starbucks. 
Ps.. or you can buy chestnut syrup.  I found some of Amazon but have yet to try it. 

Chestnut Praline Latte
Ingredients
For the syrup
5-6 chestnuts, in the shell
¾ cup of sugar
1 tablespoon vanilla extract
1¼ cup water
For the praline crumble
½ cup pecans, shelled
¼ cup brown sugar
¼ cup sugar
¼ cup water
2 shots of espresso, or strong coffee
8 ounces of steamed milk
whipped cream
Instructions
For chestnut syrup: cut ¾ way around the nut, not cutting all the way through. Place them on a baking sheet and bake for 35-40 minutes at 350 degrees. The shell will start to separate from the meat inside when they are ready. Let them cool and pull off the shell. Coarsely chop them and put them in a food processor. In a small saucepan add the sugar and water. Once the sugar is dissolved, add the cooled mixture to the food processor along with the vanilla extract. Puree until smooth-ish. Filter it through a mesh sieve and set aside.
For the praline crumble
In a saucepan, dissolve the sugar and water together. Toss the pecans in the water mixture and coat. Remove from the saucepan and place them in a 350 oven for 10 minutes, or until the liquid hardens. Add the praline pecans and the brown sugar to a cleaned food processor and pulse until coarse. Set aside.
Assemble the coffee: Add 3-5 tablespoons of chestnut syrup to a cup. Add the hot espresso and steamed milk. Stir, add the whipped cream and then the praline crumble topping. Enjoy!
Nutrition Information
Calories:
1604
Fat:
42g
Saturated fat:
7g
Unsaturated fat:
33g
Carbohydrates:
299g
Sugar:
273g
Sodium:
141mg
Fiber:
7g
Protein:
14g
Cholesterol:
23mg
Like this copycat recipe? Be sure to check out:
And be sure to sign up for emails!  You'll get a free ebook – top 5 Starbucks copycat recipes just for signing up!  Score!