Make the must have holiday coffee house menu item at home. You are going to love this copycat Starbucks chestnut praline latte.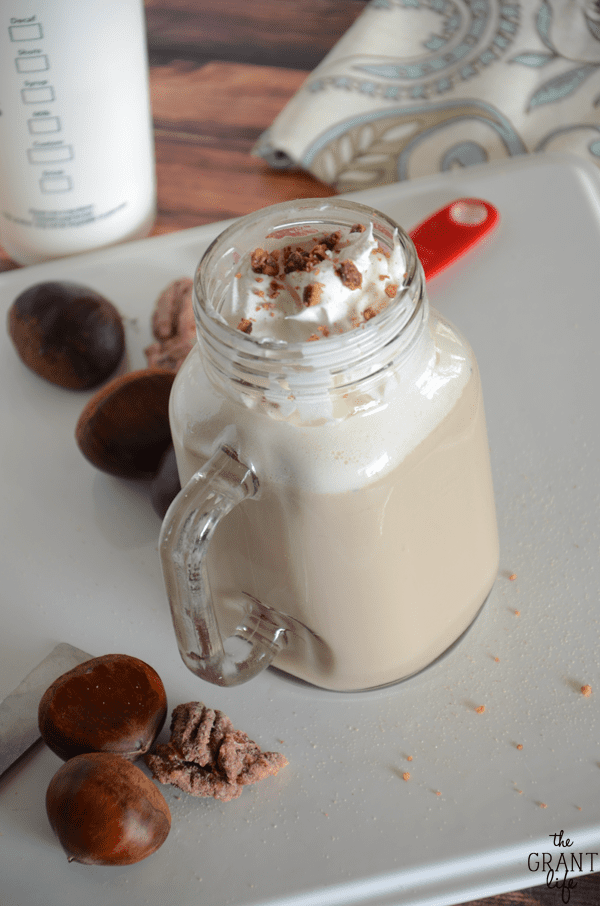 Recently Starbucks came out with a new drink.  Apparently, its their first new drink in over 5 years. I heard somewhere that its the pumpkin spice latte of the Christmas season.  Which is a tall order to fill because, hello, pumpkin spice latte.  I mean its just tradition.  So I was skeptical.  This chestnut praline latte was not be trusted.
But of course I waited in line and ordered one.  I wanted to knowww what it tasted it.  Was it full of holiday cheer?  Could it dethrone the beloved pumpkin spice latte?  Will my kids ever let me go to Starbucks without buying them cake pops ever again?  (That last one remains unanswered.)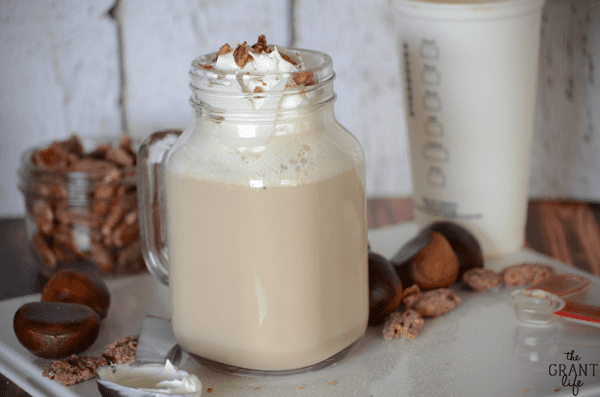 Starbucks chestnut praline latte
I sipped the new chestnut praline latte and fell in love. It was smooth and sweet with a nutty flavor that reminded me of Christmas morning. It made me smile and I realized it was in fact the PSL of the winter time.
Starbucks describes their new winter drink as espresso with steamed milk, caramelized chestnut flavor, whipped cream and praline crumble. It's basically the holiday season in a cup. Sounds easy, huh? Of course I immediately wanted to make a copycat version of this new beloved drink.
Good news! I tested two ways to make the chestnut praline latte at home and they are BOTH delicious!

What is in the chestnut praline latte?
If we check the ingredient list from Starbucks website, we see that they list milk, brewed espresso, chestnut praline syrup, whipped cream and praline topping. Those ingredients are pretty basic and make it easy to copy this recipe at home.
There are two ways that you can make this copycat chestnut praline latte – with homemade or store bought syrup. Both work and taste just like the 'bucks. To make the latte ALL homemade you will need:
whole chestnuts
pecans
sugar, brown and white
vanilla extract
water
espresso or strong coffee
milk
whipped cream
If you want to skip making homemade chestnut syrup and sugared pecans, you will need:
chestnut syrup
espresso
milk
whipped cream
pecan crumble
It's totally up to you on how to make this chestnut praline latte. Homemade or semi-homemade. I'm going to talk about my adventure in making it 100 percent from scratch.

How do you make a chestnut praline latte?
The first thing I had to do was find some chestnuts.  I checked two stores and found them at my local grocery store. I don't believe chestnuts are available year round.
I immediately went home, turned on a Christmas Pandora station, and started roasting chestnuts.  (In my oven, not an open fire.  It was like 75 degrees here.)
You have to score the nuts before you roast them and then carefully pull away the shell to get the "meat". Once you have that you process it or finely chop it and then make a syrup. To do this you add the chopped chestnuts, water and sugar to a sauce pan. It's basically a simple syrup plus the chestnuts.
I then praline'd some pecans, similar to my cinnamon sugar version, while the chestnuts were roasting. Those get added to a food processor along with some brown sugar to make the crumble.
Once you have the chestnut syrup and the pecan crumble you can start assembling your latte. Add your syrup to the bottom of a glass or coffee mug. Stir in the hot espresso or strong coffee. Add in your steamed milk. Top with whipped cream and the pecan crumble.
Ta-da! Perfect homemade chestnut praline latte goodness.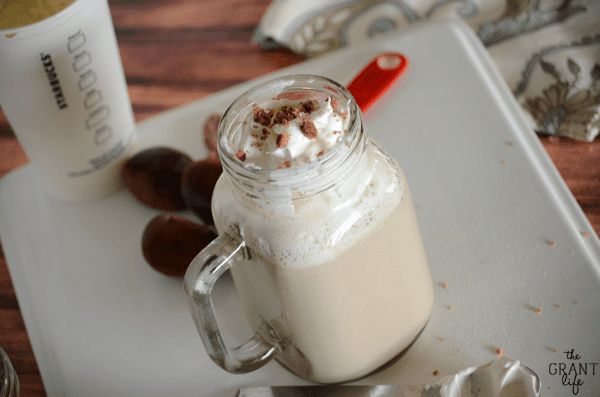 What syrup is in the chestnut praline latte?
This is the question I should have asked before I started making syrup from a nut. To make the Starbucks chestnut praline latte you need two syrups:
And for the pecan crumble, something like store bought pecan pralines will work great. Trader Joe's has a yummy version that would be perfect atop your latte.
But in case you want to DIY your own, the recipe is below.  (Ps.. it was good.  WAY good.  I drank two.  But making syrup from a nut and praline-ing pecans is just a lot of work.)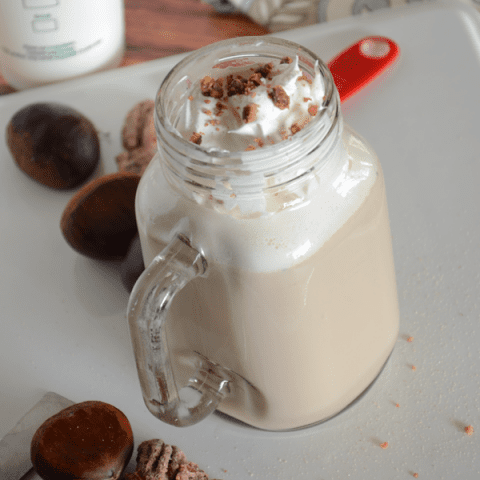 Chestnut Praline Latte
Make this copycat chestnut praline latte at home! Homemade and semi-homemade versions below.
Ingredients
For the syrup
5-6 chestnuts, in the shell
3/4 cup of sugar
1 tablespoon vanilla extract
1 1/4 cup water
For the praline crumble
1/2 cup pecans, shelled
1/4 cup brown sugar
1/4 cup sugar
1/4 cup water
2 shots of espresso, or 1 cup strong coffee
8 ounces of steamed milk
whipped cream
Instructions
For the chestnut syrup
Cut 3/4 way around the nut, not cutting all the way through.
Place them on a baking sheet and bake for 35-40 minutes at 350 degrees. The shell will start to separate from the meat inside when they are ready.
Let them cool and pull off the shell.
Coarsely chop them and put them in a food processor.
In a small saucepan add the sugar and water. Once the sugar is dissolved, add the cooled mixture to the food processor along with the vanilla extract.
Puree until smooth-ish. Filter it through a mesh sieve and set aside.
For the praline crumble
In a saucepan, dissolve the sugar and water together.
Toss the pecans in the water mixture and coat.
Remove from the saucepan and place them in a 350 oven for 10 minutes, or until the liquid hardens.
Add the praline pecans and the brown sugar to a cleaned food processor and pulse until coarse. Set aside.
Assemble the chestnut praline latte
Add 2-3 tablespoons of chestnut syrup to a cup.
Add the hot espresso or hot coffee and stir to combine.
Pour in the steamed milk.
Top with the whipped cream and then the praline crumble topping.
Enjoy!
Notes
To make this using store bought syrups and crumble -
Add 1 tablespoon of each syrup to a cup.
Add in your hot coffee or espresso and stir to combine.
Pour in the steamed milk.
Top with whipped cream and the praline crumble.
Enjoy.
Nutrition Information:
Yield:

8
Amount Per Serving:
Calories:

1604
Cholesterol:

23mg
Sodium:

141mg
Carbohydrates:

299g
Fiber:

7g
Sugar:

273g
Protein:

14g
Like this
copycat coffee house recipe
? Be sure to check out: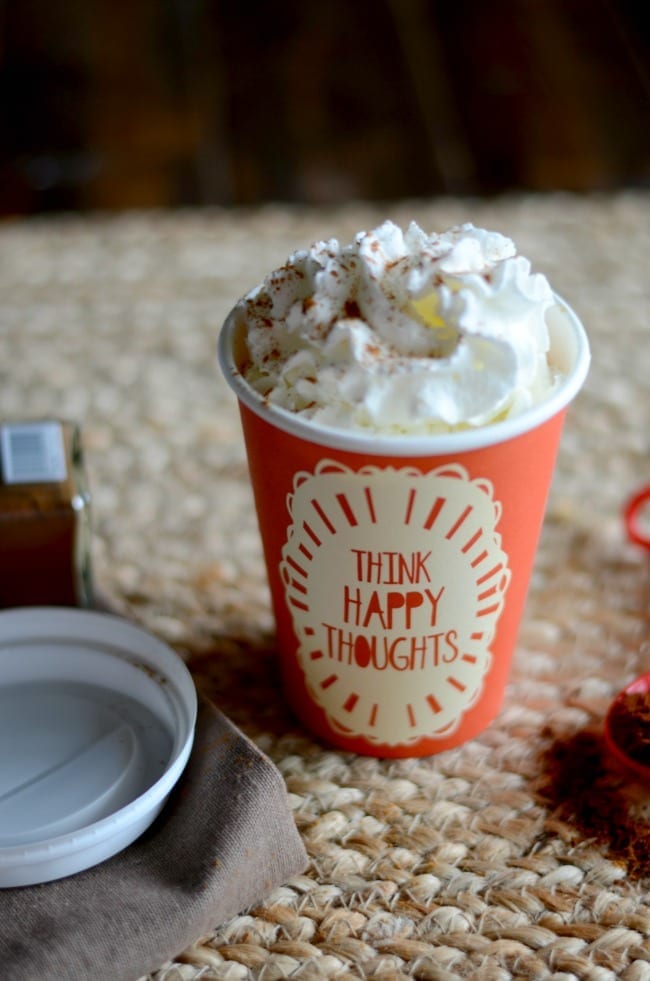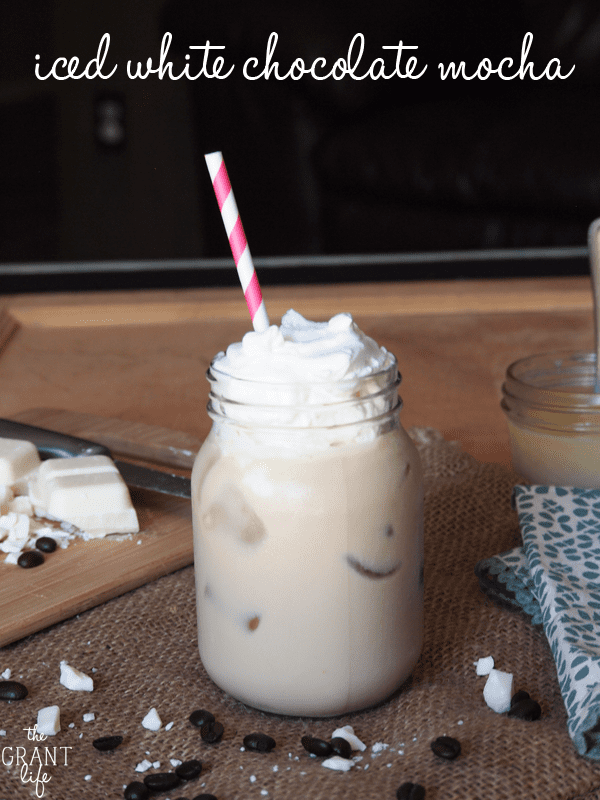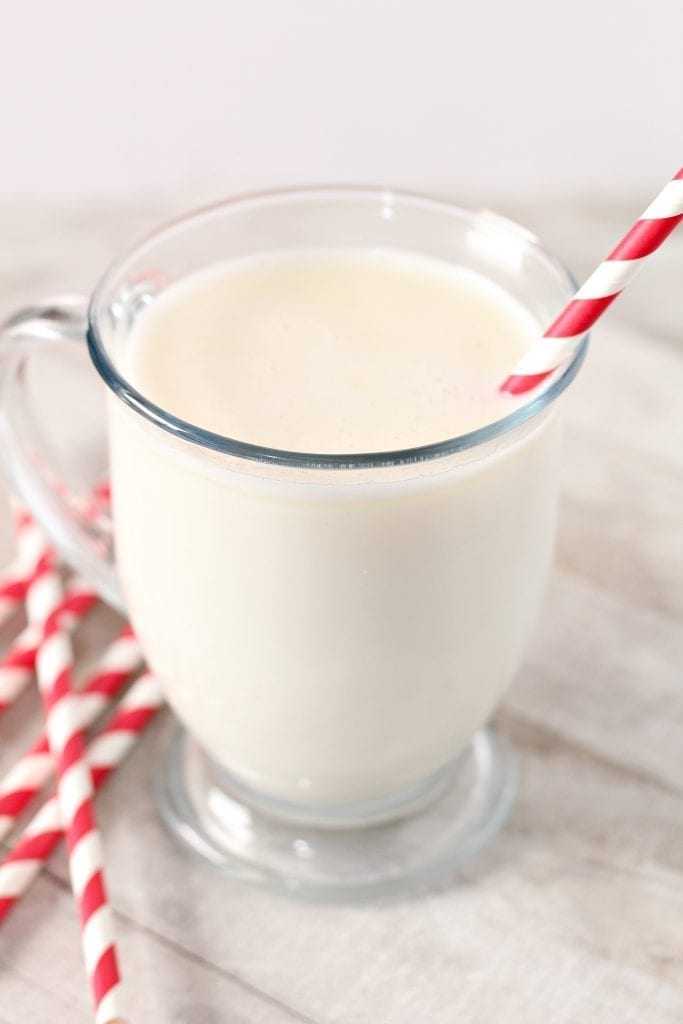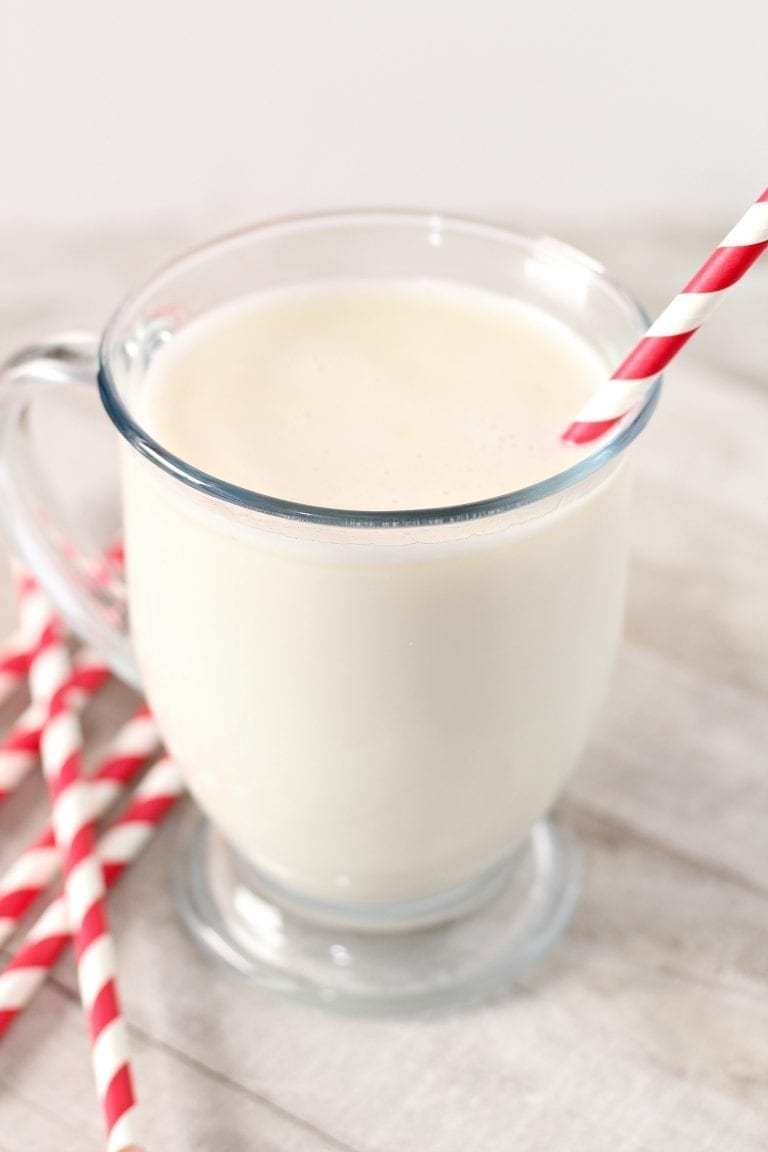 And be sure to sign up for emails!  You'll get a free ebook – top 5 Starbucks copycat recipes just for signing up!  Score!