Nothing beats a fancy sounding coffee that you can easily make at home! This caramel brulee latte is a Starbucks copycat drink that is easy to make in the comfort of your home. No more running to the coffee shop to get your fix! I have the best caramel brulee latte recipe to share with you.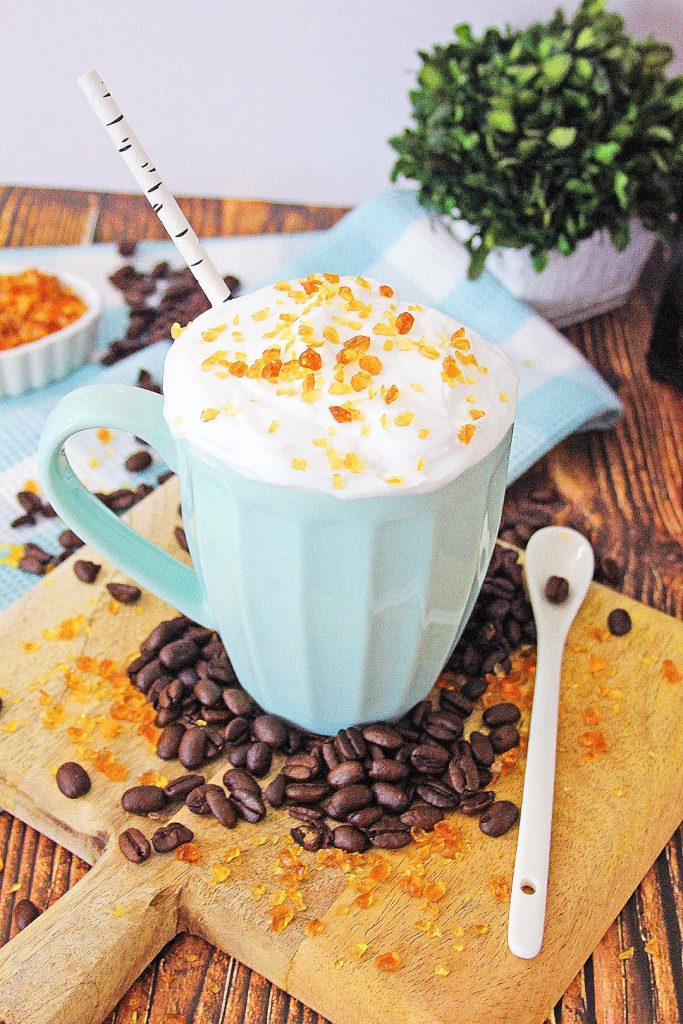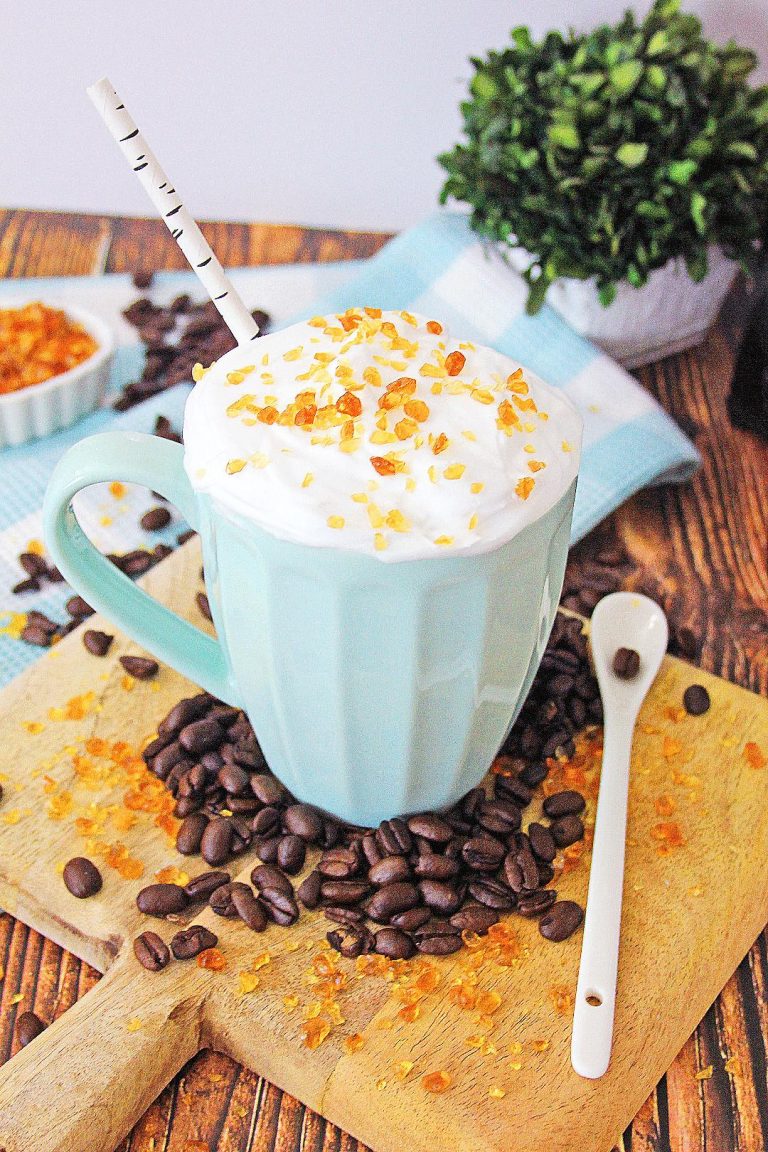 You know, I hate to admit it, but I'm the type of person that every time a new coffee comes out I have to try it. I'm not like that with other things – I normally wait to see how other people react to new things. But coffee? Oh I'm the first in line to try a new coffee.
Of course when Starbucks came out with caramel brulee latte, I was right up there in line with all the other coffee lovers.
No shame in my coffee game.
What is the caramel brulee latte?
The caramel brulee latte is an espresso based drink that is full of caramel deliciousness. It is normally released in the fall and carried at Starbucks until the spring. It starts with espresso or hot coffee, caramel brulee sauce, milk and then is topped with whipped cream and a caramel brulee crumble.
Sounds pretty perfect, right? Let me show you how to make it at home and save some dough.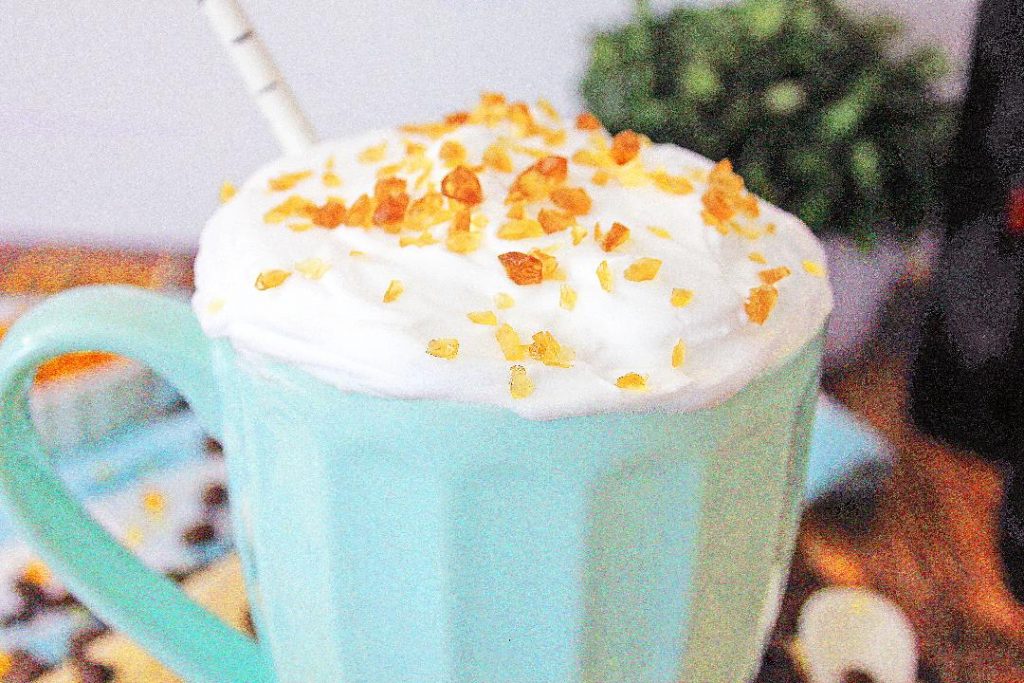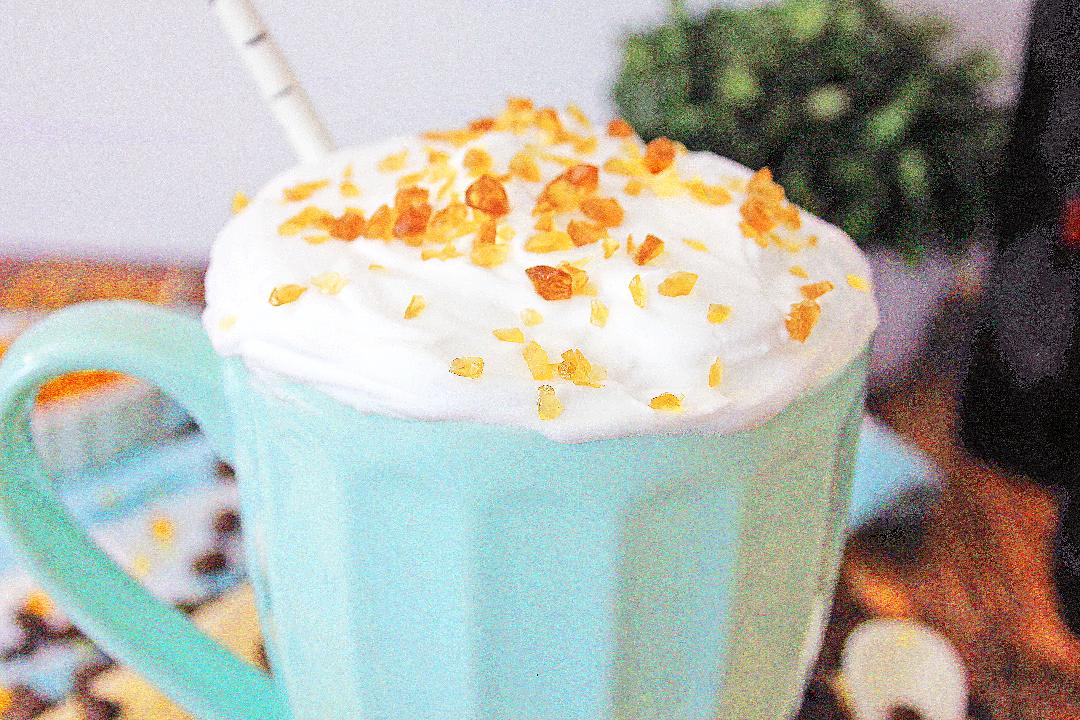 Caramel brulee ingredients
The best part about this diy coffee drink is that there aren't too many ingredients and it's easy to make. To make this caramel brulee latte you will need:
Espresso or strong coffee
Caramel brulee sauce
Milk
Whipped cream
Sugar
Salt
Coffee – You have a few options when it comes to the type of coffee you use for this drink. Espresso is preferred but any strong coffee will do. I suggest a a smooth, dark roast here but any coffee will do. Don't buy new coffee just for this drink! Use what you have in the house.
Caramel brulee sauce – The key to this drink is the caramel brulee sauce! The caramel brulee sauce that I use is a combination of two different syrups. I use Torani caramel plus Torani French vanilla. You can also try out this caramel brulee syrup as well. (I like to combine the two because the two sauces can be used in other drinks like my vanilla latte or caramel macchiato.)
Milk – You can use any kind of milk that you prefer or have on hand. If you are wanting to make this dairy-free, use an unsweetened almond or coconut milk.
Whipped cream – You can use any whipped cream you'd like here. Homemade, store bought or dairy-free! The whipped cream is optional but oh so delicious.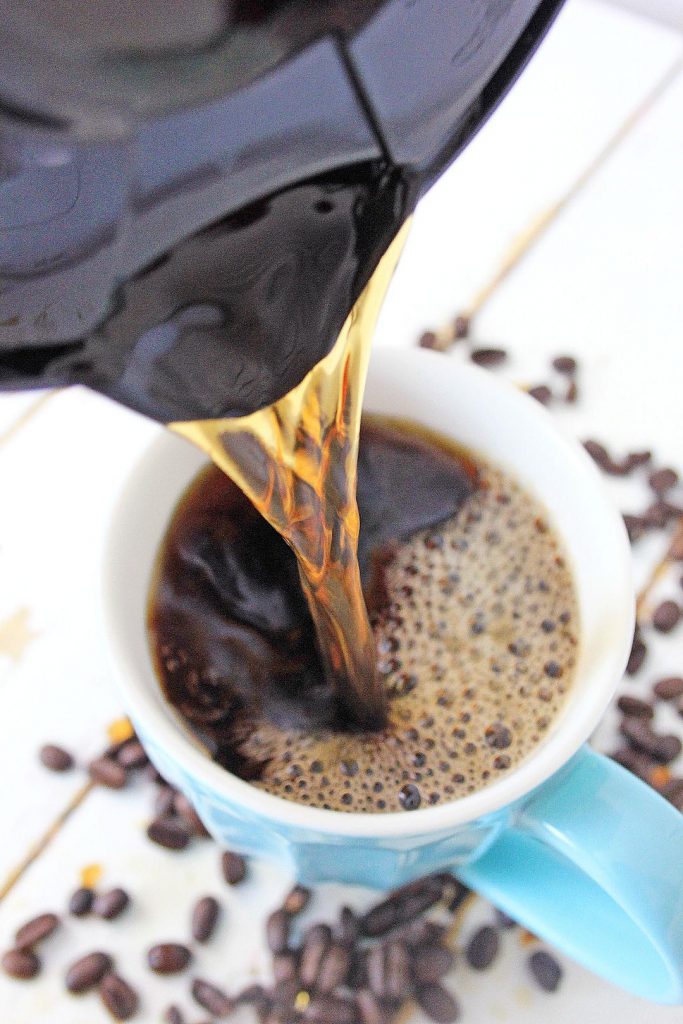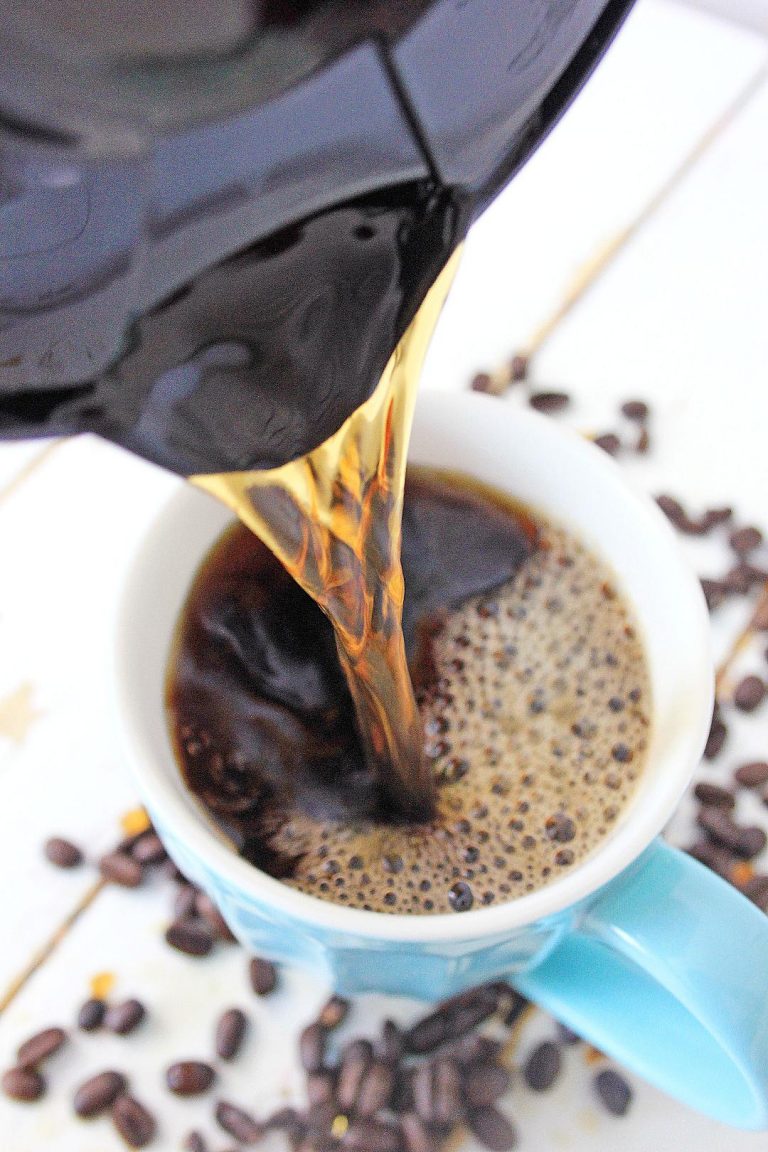 How to make a caramel brulee latte at home
Once you have gathered all your ingredients you should also grab:
a coffee mug
spoon
cookie sheet
spatula
Step 1 – While you are brewing your coffee or espresso, start by making the sugar crumble that goes on top of the coffee. This is optional but it gives the coffee an extra special touch a nice crunch.
Preheat the oven to 450 degrees. Spread the sugar onto the parchment paper and sprinkle the salt over top. Mix to combine using a spatula.
Pro tip – Take your piece of parchment paper and crumble it into a ball. Then pull it smooth again and lay it on the cookie sheet. This will stop the parchment paper from flipping up on the sides and burning.
Step 2 – Bake the sugar/salt mixture making sure to watch it very carefully! The sugar can burn really quickly so you are going to want to flip it at least once and remove it when parts start to turn golden brown. Allow to cool and then break into pieces.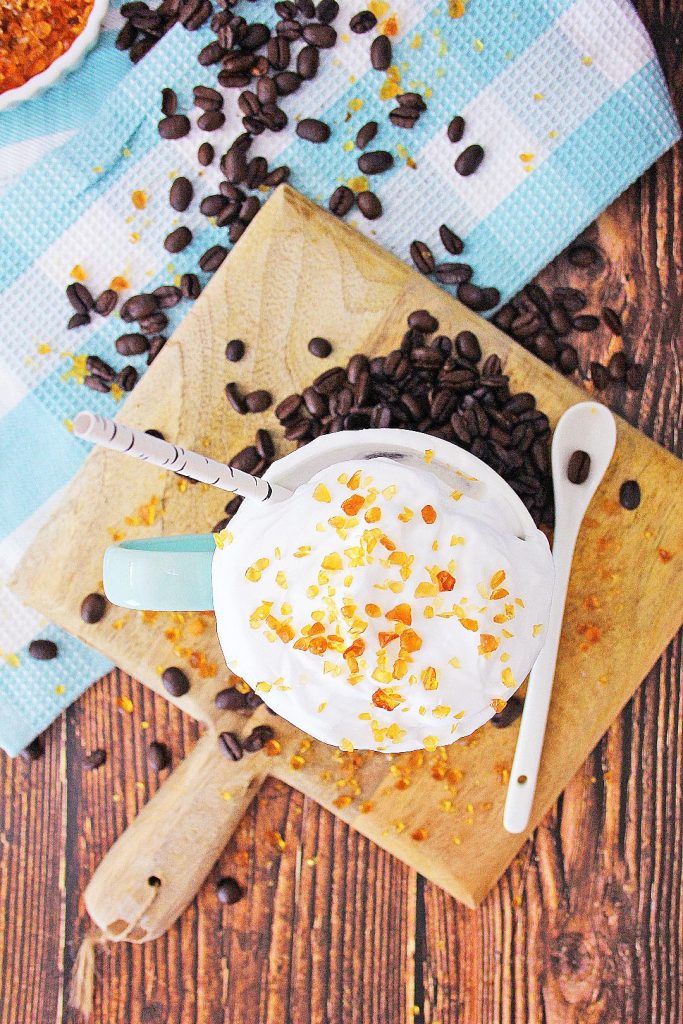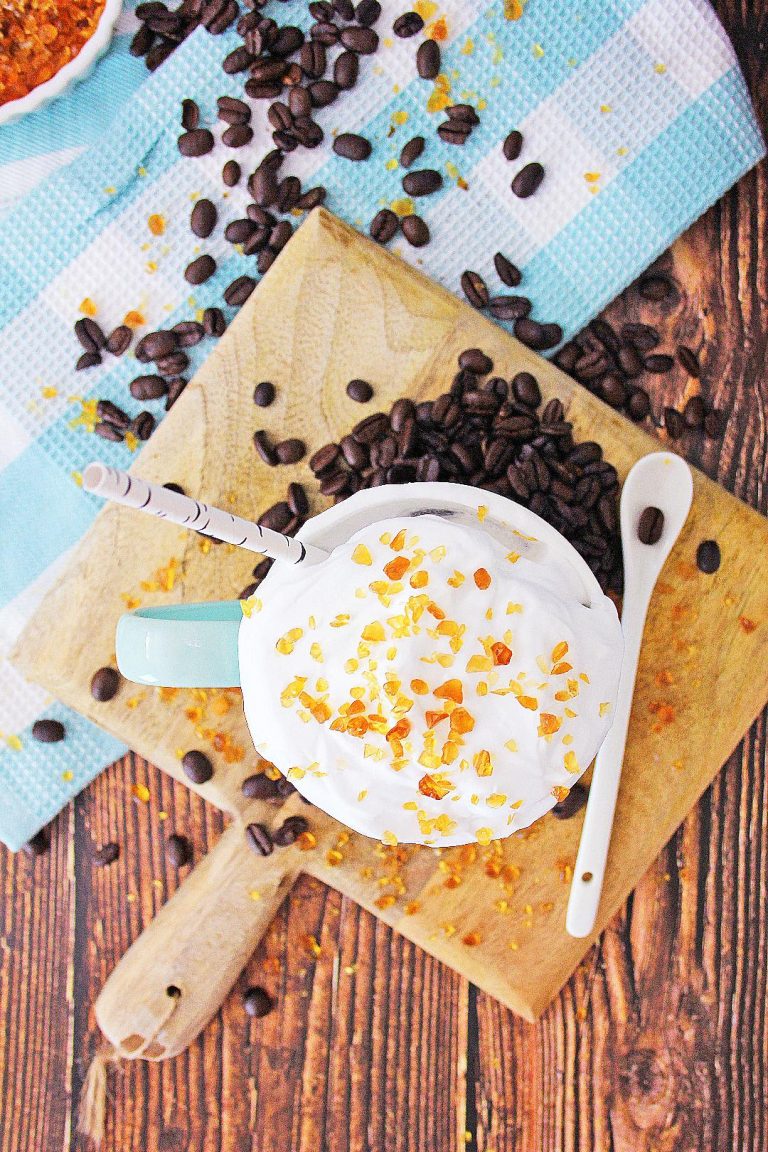 Step 3 – It's time to make your latte! Start by pour your syrup/s into the bottom of a coffee mug. Next pour in your hot coffee or espresso and stir to combine.
The milk comes next and you have a few options here. You can just pour in the cold milk and stir it all together. You can warm up your milk and add it in. Or you can steam and froth your milk in true latte fashion before adding it to your coffee.
If you choose to steam and froth your milk you can use a milk steamer or heat the milk on the stove top and use a hand held frother.
Step 4 – Top with whipped cream and the homemade caramel brulee crumble.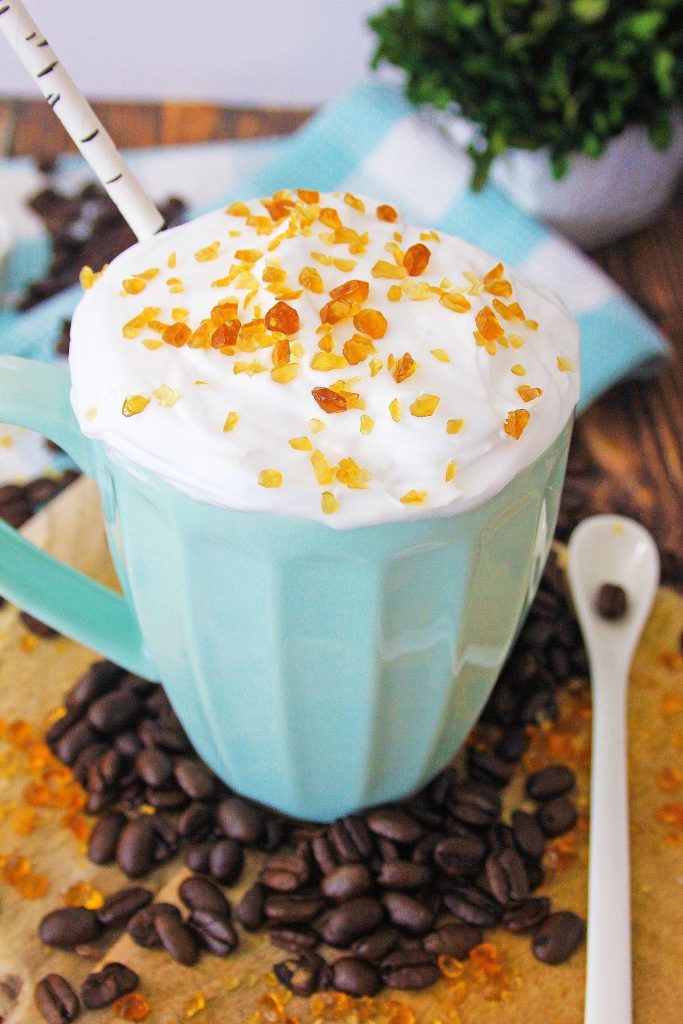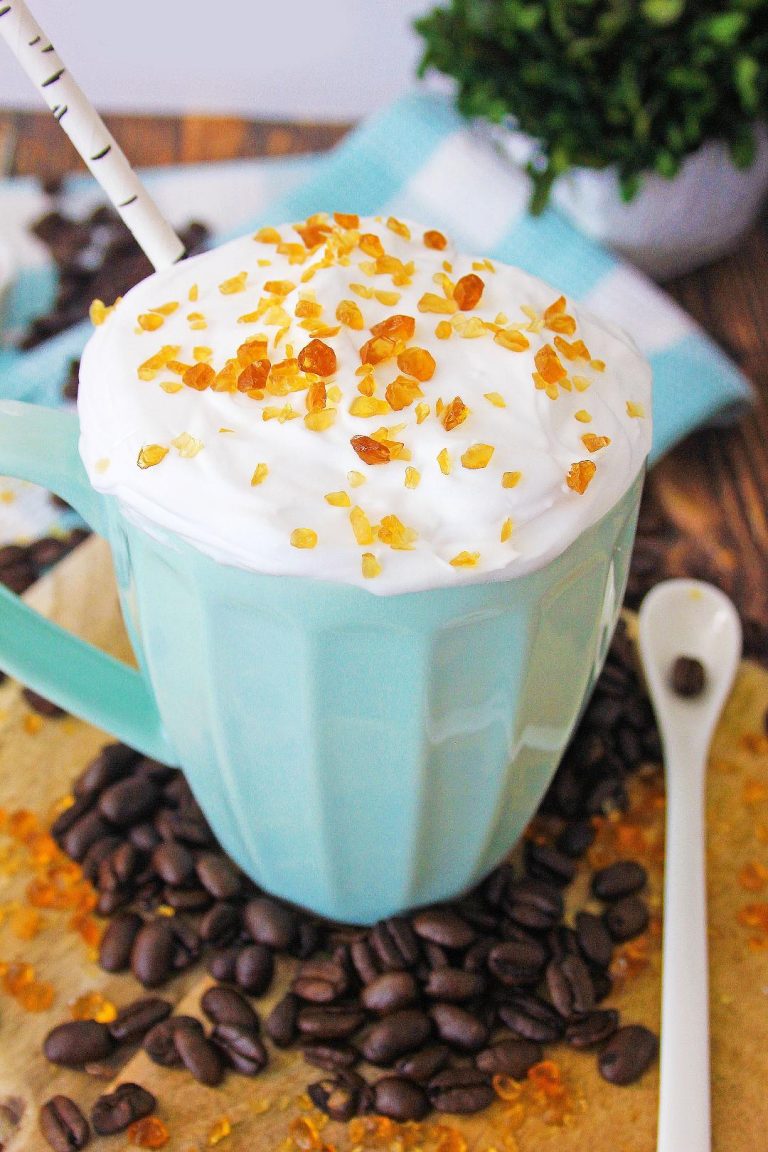 Other DIY Starbucks coffee drinks
As much as I enjoy grabbing a coffee from the 'bucks, I love making copycat versions at home even more. My favorite Starbucks copycat drink recipes are:
Caramel brulee latte recipe: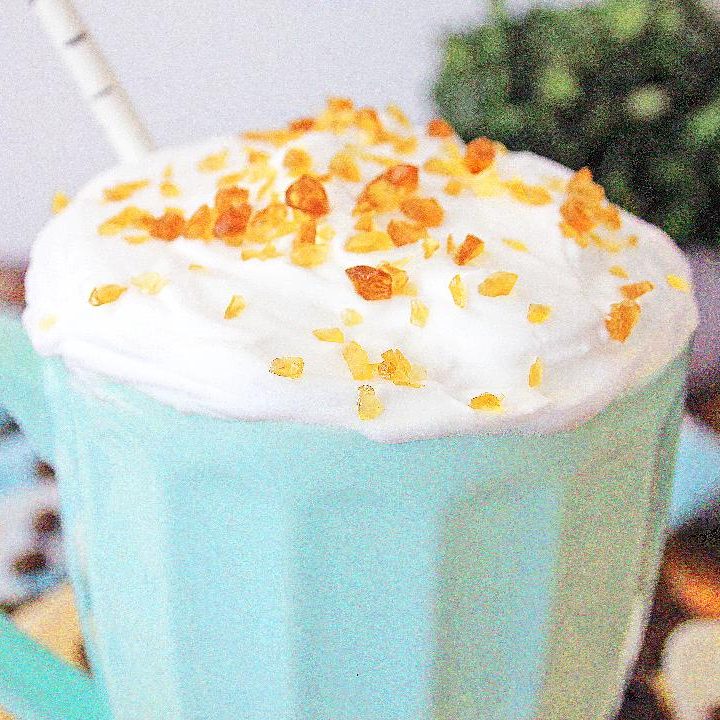 Caramel brulee latte
This copycat coffee recipe is impossibly easy to make and full of caramel brulee goodness.
Ingredients
1 cup sugar
1/8 teaspoon salt
1 tablespoon caramel sauce
1 tablespoon French vanilla syrup
1 cup of hot coffee or 2 shots of espresso
1 cup milk of choice
whipped cream
Instructions
Make the sugar crumble - preheat the oven to 450 degrees and line a cookie sheet with parchment paper.
Spread the sugar over the parchment paper and sprinklr the salt on top. Mix with a spatula to combine.
Cook the sugar in the oven making sure to watch it carefully! Once it starts to brown it can burn fast so stay near by and toss the sugar at least once.
Once it's golden brown remove from the oven, allow to cool and break into pieces.
Assemble the coffee - brew your coffee or espresso. Start by adding the caramel sauce and syrup to a mug. Pour the hot coffee over top and stir to combine.
Add your milk (see notes above on milk options) and top with whipped cream.
Sprinkle the crumble over the whipped cream and enjoy!
Notes
See notes above on how to make this dairy-free.
See notes on how to steam/froth your milk above.
Iced caramel brulee latte
Love this recipe but wish it was iced? No problem! Skip the hot coffee and use cold brew coffee instead. Add ice and enjoy! You can also use day old coffee or allow your hot coffee to cool.
More coffee recipes to try
more coffee to try
Love coffee? Me too. Here are some more coffee recipes to try!
Be sure to PIN this recipe!