If you are looking for an easy and budget friendly dessert, you have got to try these chocolate almond clusters! They only require a handful of ingredients and are always a welcomed treat!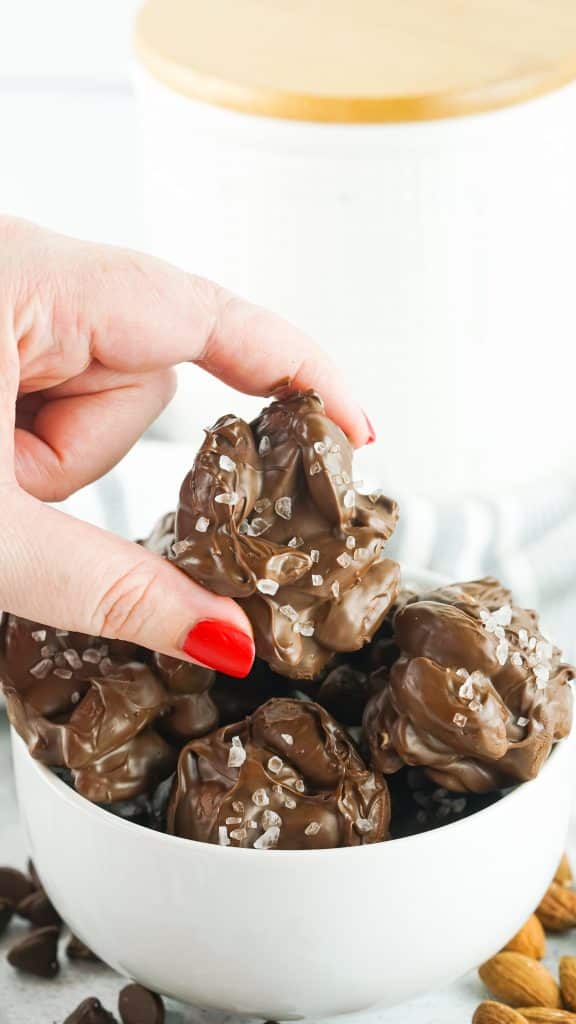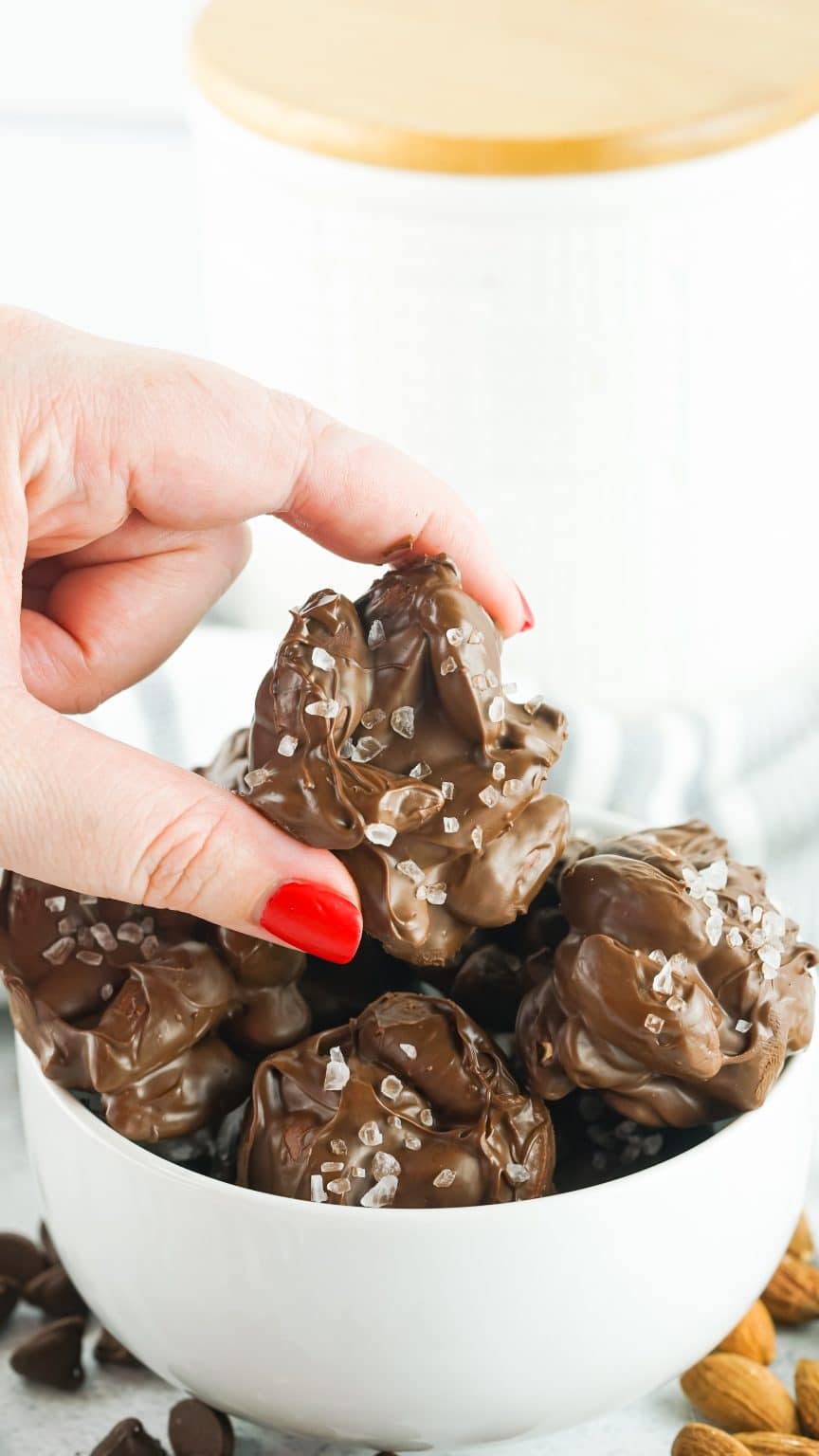 We always have a neighbor that comes around during the holiday season and drops off a plate of homemade treats. It's the best! She has an assortment of goodies on there like peanut butter blossoms and chocolate crinkle cookies. But my all time favorite is her homemade chocolate almond clusters!
What are chocolate almond clusters?
These clusters are considered a candy cluster made of a few simple ingredients. They are chocolate and almonds plus a little bit of sea salt on top. They are called clusters because you mix everything together and scoop them out to harden. They are candy perfection!
Chocolate almond cluster ingredients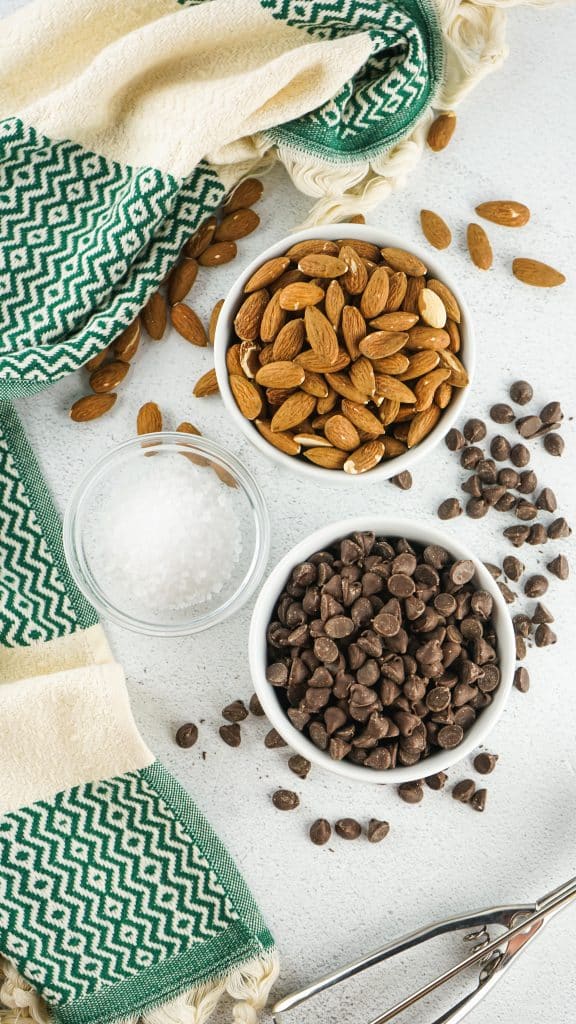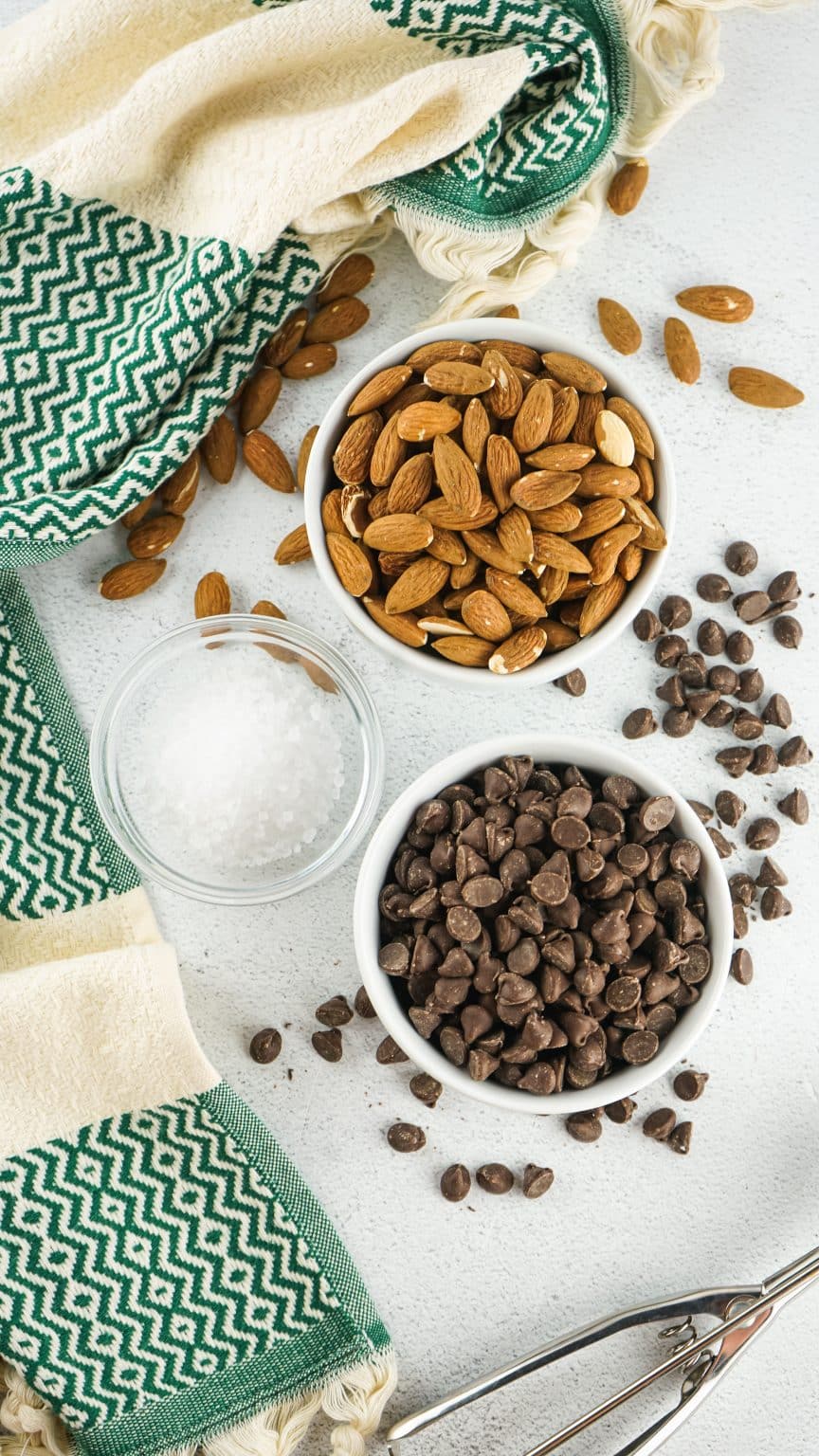 When I said you only needed a few common ingredients, I wasn't kidding! You only need 3 –
Chocolate chips
Almonds
Sea salt
Chocolate chips – I use semi-sweet chocolate chips for these almond clusters. You can use any kind of chocolate chips you prefer, including dark chocolate! Want to make them sugar free? Grab your favorite sugar free chocolate chips!
Almonds – Whole roasted almonds work best for this recipe. Since you are adding sea salt to the top, I do not suggest salted almonds.
Sea salt – Use flaky sea salt or Himalayan pink salt for the tops of your almond clusters.
How to make chocolate almond clusters
These almond clusters could not be easier to make! You just need to melt, mix and set. Once you grab all your ingredients you will also need – measuring cups, mixing bowls, a cookie scoop, cookie sheet and parchment paper.
Step 1 Melt the chocolate Place your chocolate in a medium mixing bowl and into the microwave for 2 minutes. Remove and stir. Keep heating in 30 second intervals and stirring after until your chocolate is smooth. You can also create a double boiler on the stove to melt it as well.
Step 2 Add the almonds Pour your almonds into the melted chocolate and stir to coat them evenly.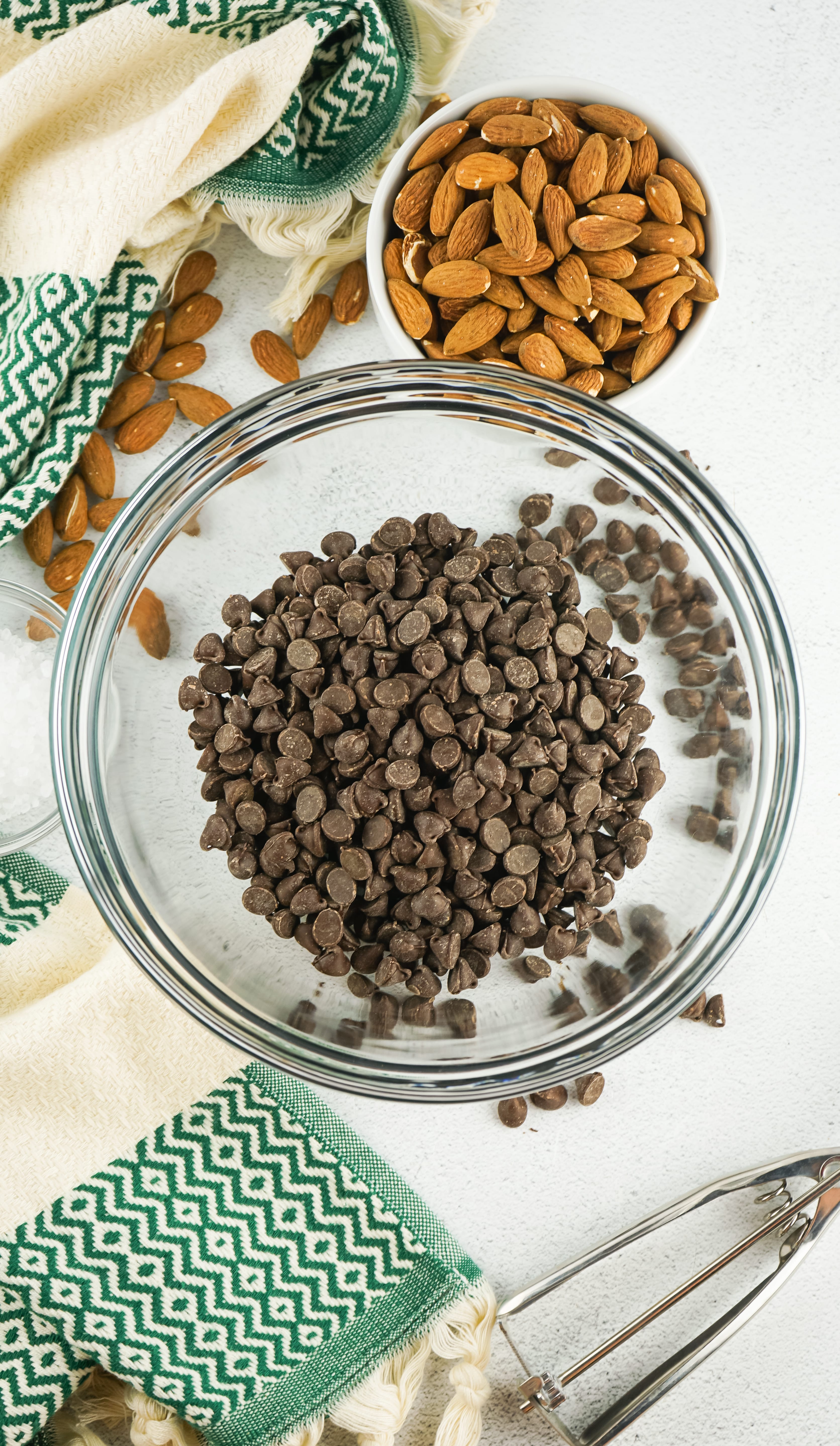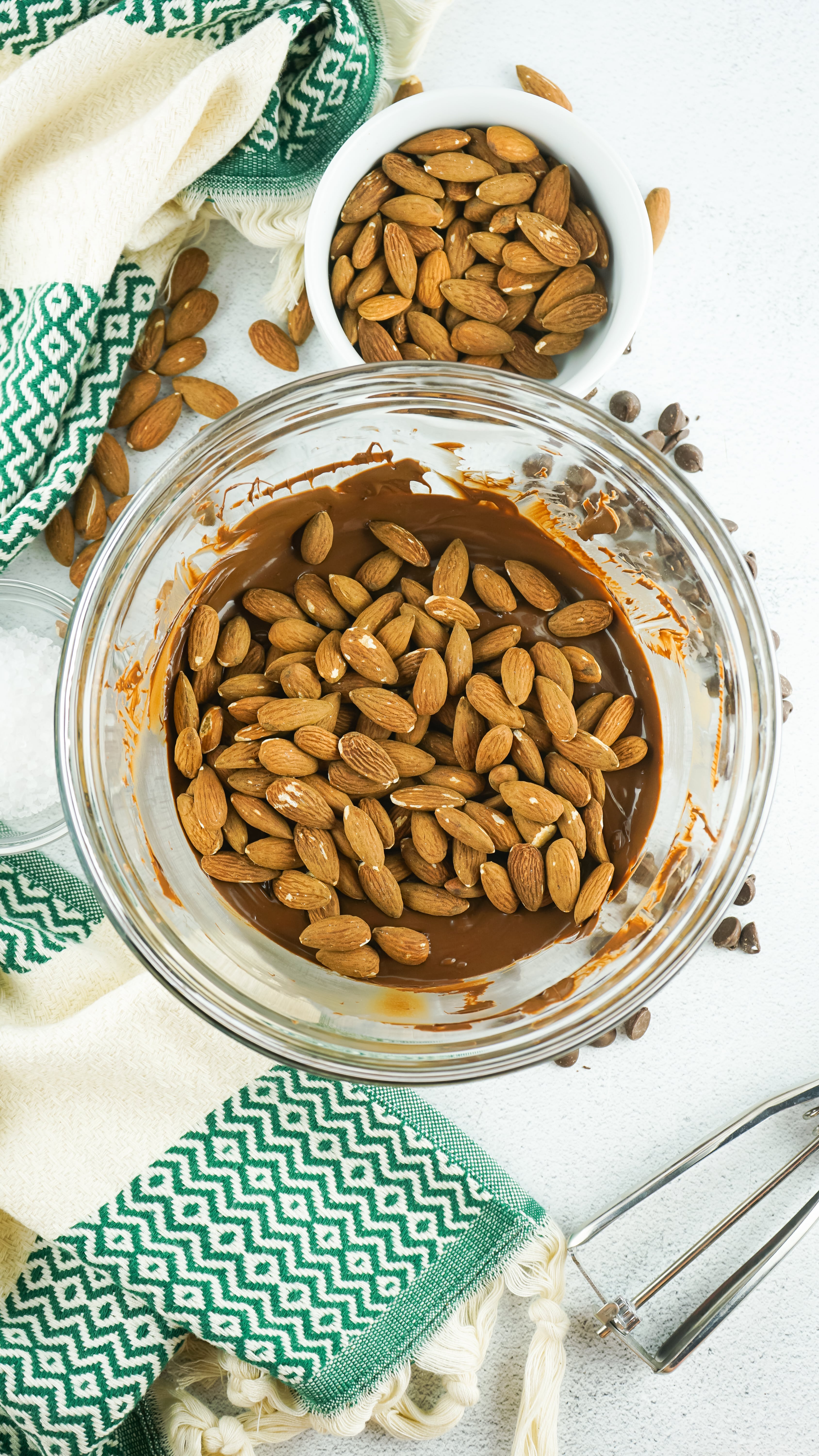 Step 3 Let harden Using your cookie scoop, scoop out 1 inch clusters onto a parchment lined baking sheet. Sprinkle a pinch of salt on the top of each almond cluster before it starts to harden. Place the cookie sheet in the fridge for 20 minutes to allow the clusters to firm up.
Remove from the parchment paper once set and enjoy!
How to make in the slow cooker
These almond chocolate clusters are an easy one to make in your slow cooker or Crock Pot as well! It seems to be a holiday tradition to make "Crock Pot candy" around the winter-y months. It's a great one to make with the kids too! To make these almond clusters in the slow cooker –
Place the almonds on the bottom of the slow cooker.
Cover with the chocolate.
Cover and cook on low for 2 hours.
Stir every 30 minutes to coat the almonds.
Once fully melted, scoop out the almonds with your cookie scoop onto parchment lined paper.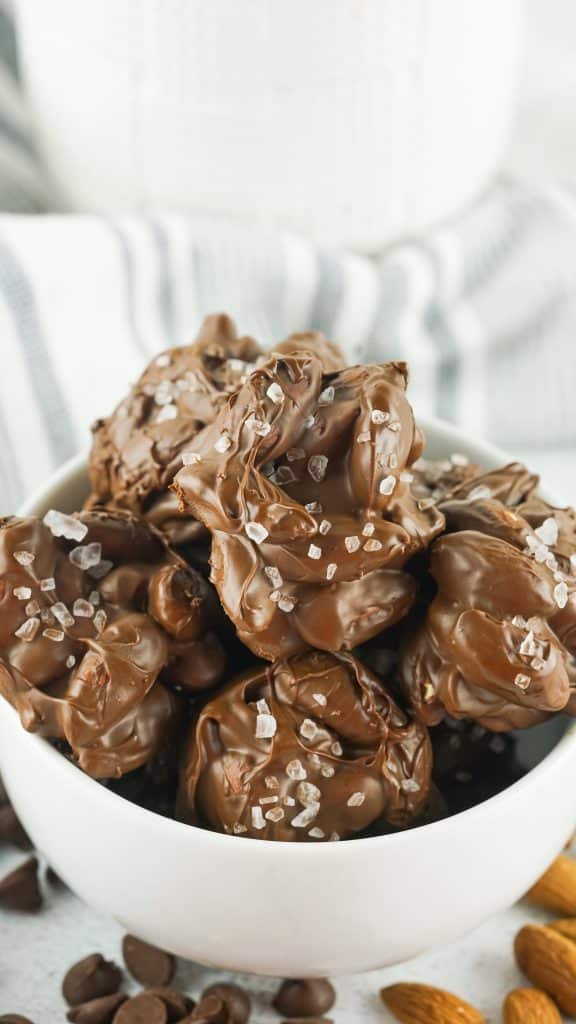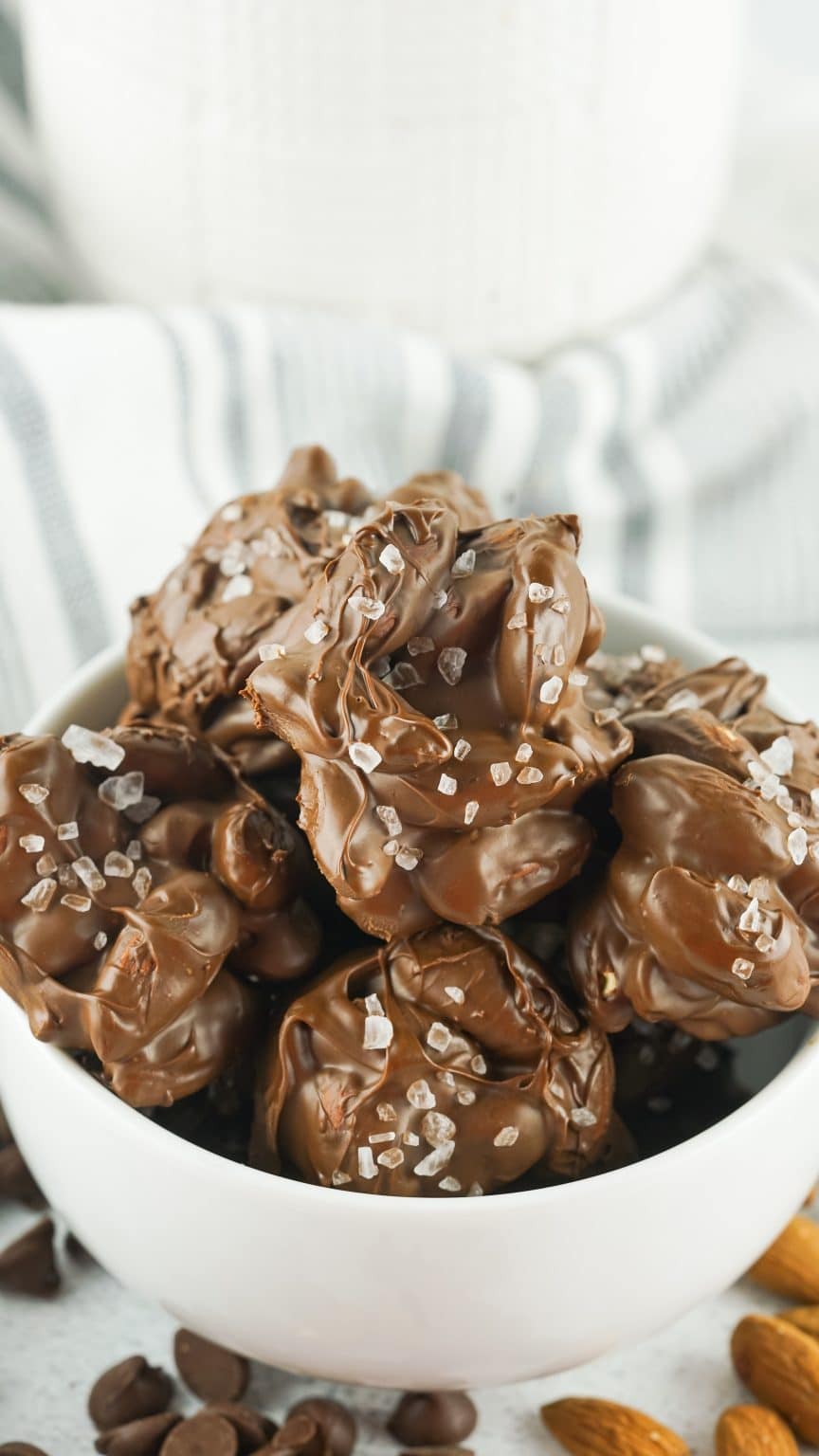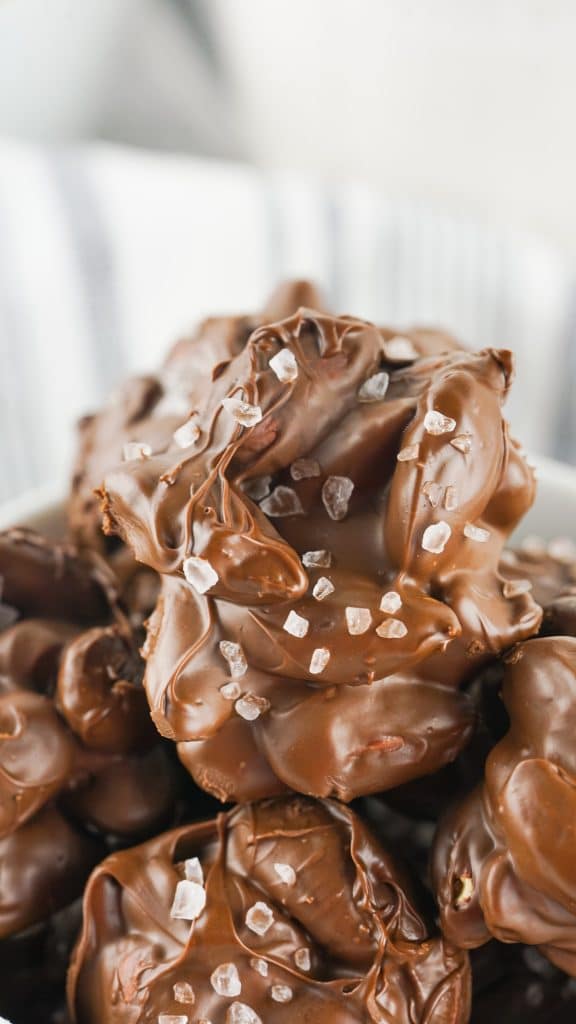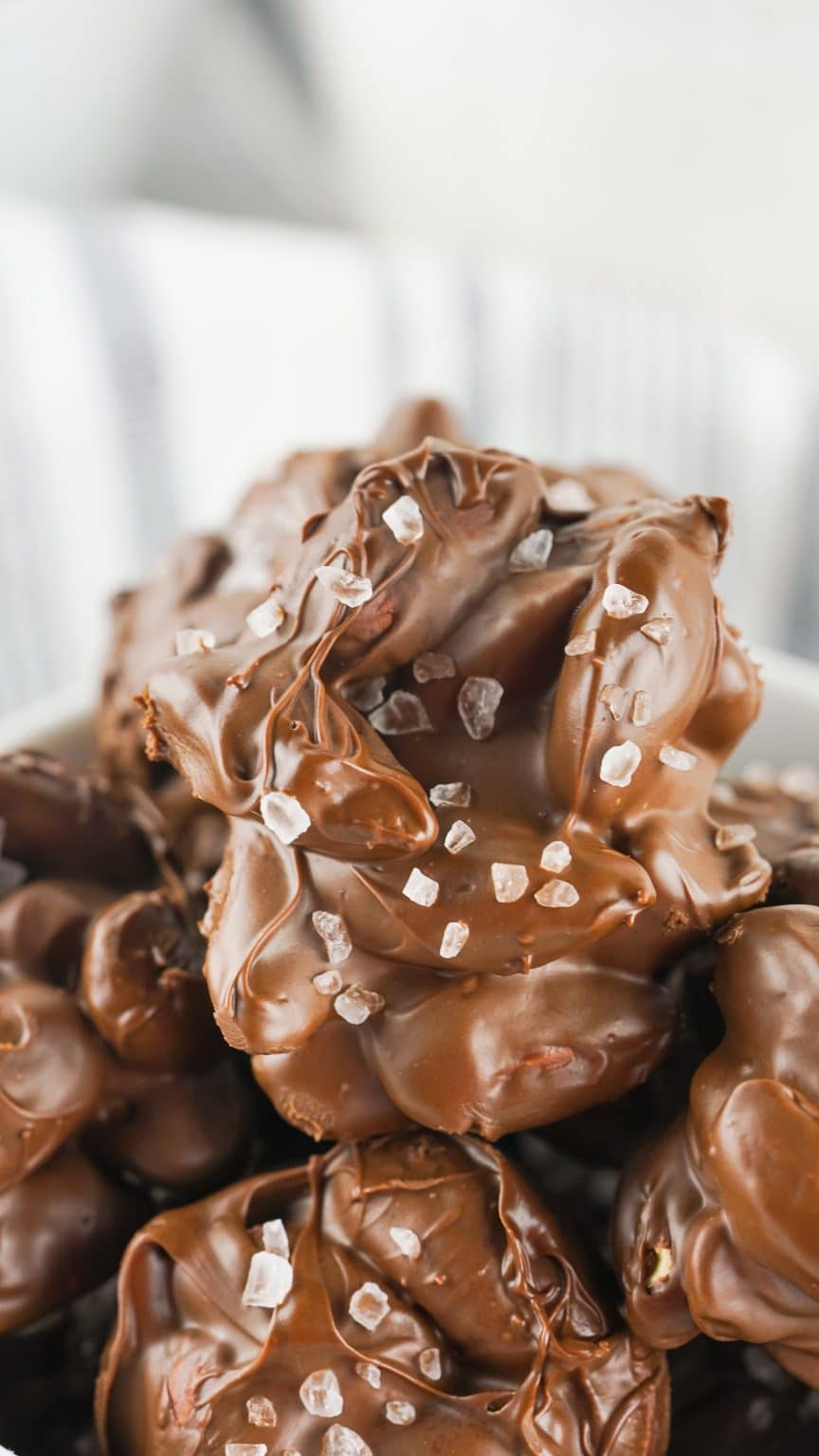 Can I use different nuts for this candy?
Yes! You absolutely can use your favorite nuts for this recipe. This recipe is very versatile and any nut will work. Feel free to use peanuts, cashews or even walnuts in place of the almonds.
Can I use different chocolate?
Of course! You can use any type of chocolate you'd like for this recipe. We enjoy semi-sweet chocolate but dark chocolate, German chocolate or even white chocolate would work as well.
How many clusters does this recipe make?
Depending on the size that your clusters end up being, this recipe should make at least 2 dozen chocolate almond clusters. You can make them any size you'd like, but with a 1 inch cookie scoop, you should get at least 24 clusters.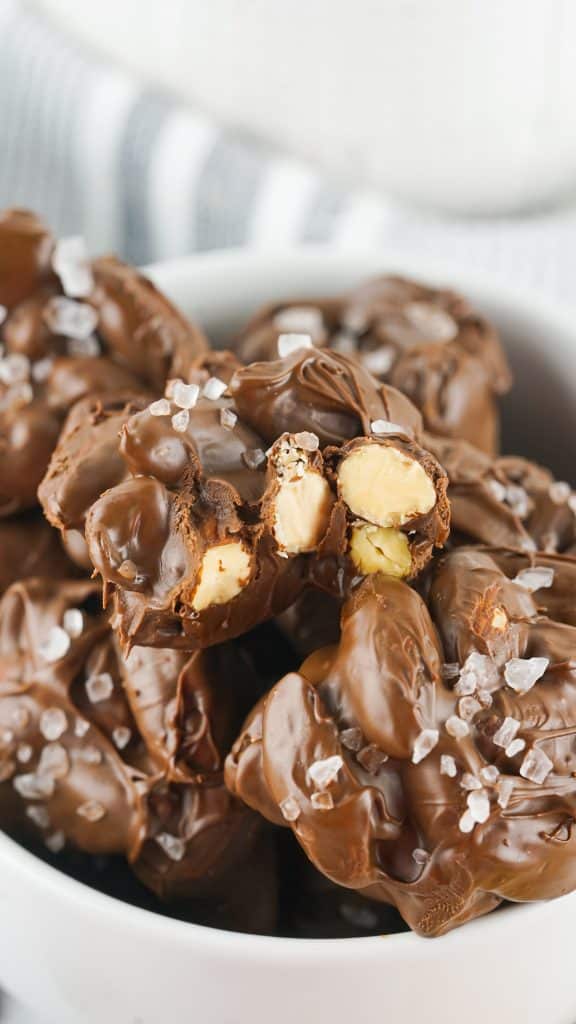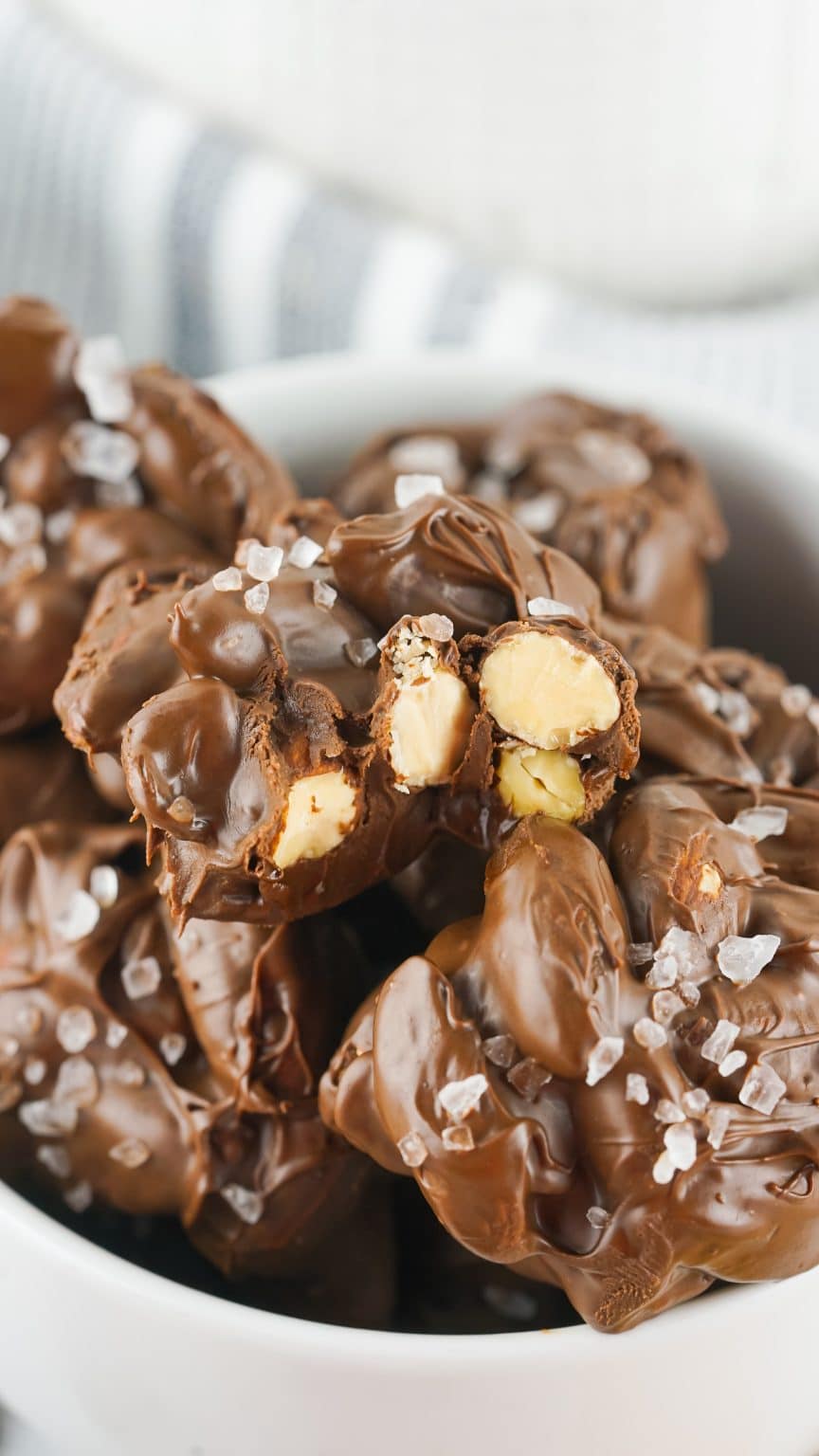 How to store leftovers
These chocolate candies store beautifully in an airtight container in the fridge. They will last for up to a week in a Ziplock bag, mason jar or even a Tupperware.
Can I freeze chocolate clusters?
You sure can! In fact, if you want to harden them up quicker, you can stick them right in the freezer after scooping them out. They will stay fresh in an airtight container for 2-3 months in the freezer.
Tips for making chocolate candy clusters
If you leave the clusters out of the fridge, they will definitely need a cooler room to harden. If not, they will remain tacky. I tend to use the freezer if I'm in a hurry.
You can swap out the almonds for another favorite nut.
I used unsalted almonds because the sea salt adds enough saltiness for me. However, if you like things a touch saltier, salted almonds would be just fine.
You can make bigger clusters if preferred. I just found the 1-inch cookie scoop to make the perfect size.
Other chocolate treats to try
Love a good dose of chocolate? Me too! Some of other yummy chocolate treats to try are: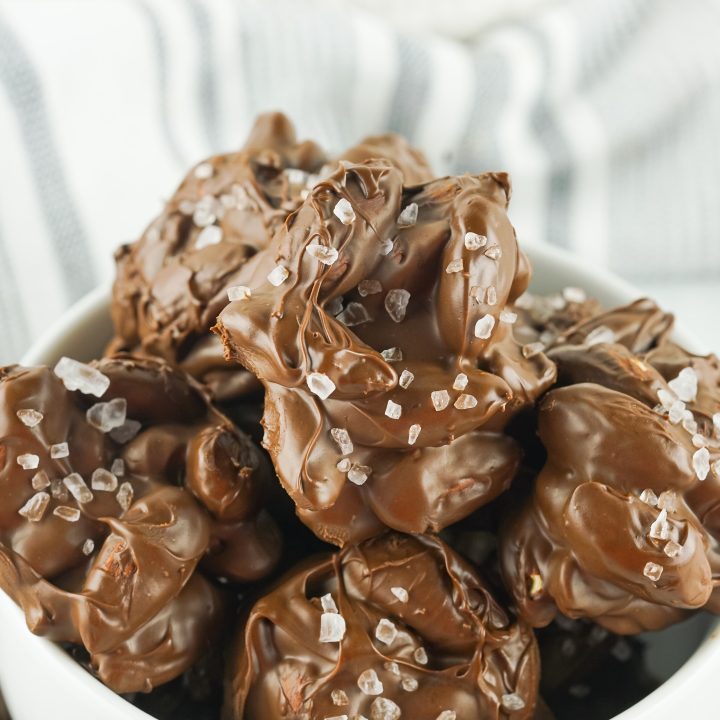 Chocolate Almond Clusters
Additional Time:
20 minutes
How to make the best chocolate almond clusters!
Ingredients
1 Bag Semi-Sweet Chocolate Chips (12 ounces)
2 ⅓ Cups Salted or Unsalted Almonds
Coarse Sea Salt
Instructions
1. Line a baking sheet or another moveable flat surface with parchment paper.
2. Add the chocolate chips to a medium mixing bowl and microwave for 2 minutes, pausing every 30 seconds to stir. Microwave until the mixture is smooth and creamy when stirred.
3. Add the almonds to the mixing bowl and fold them in until they're fully coated.
4. Using a 1-inch cookie scoop, fill the scoop until perfectly full and place on the prepared sheet.
5. Repeat until all the mixture has been used.
6. Immediately sprinkle each cluster with a bit of sea salt.
7. Place in the fridge for 20 minutes or until set. Enjoy!
More candy recipes for sharing
Here are some other great candy recipes that would be perfect paired with these candy clusters on a plate for sharing during the holidays.. or whenever!