If you are looking for all the flavors of fall in one drink – you've found it! This Starbucks copycat Pumpkin Cream Chai Latte is a delicious fall inspired drink. The best part? You can easily make this coffee house coffee at home any time you want. So curl up under a blanket, watch the leaves trickle down and let me show you how to make this easy pumpkin cream chai.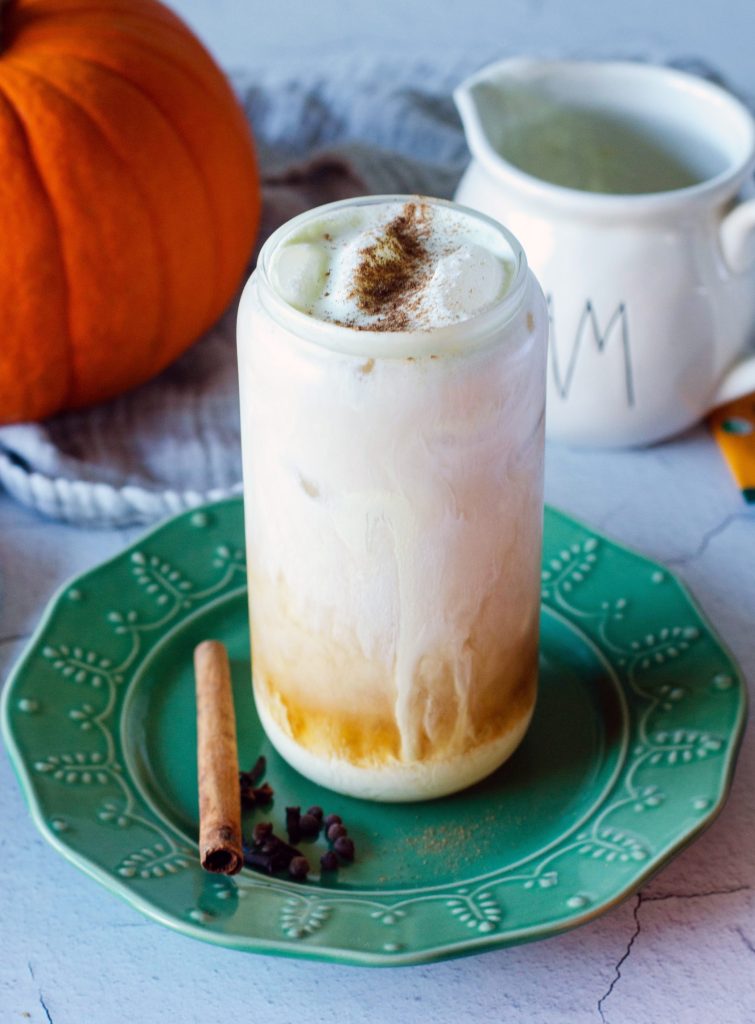 I love when Starbucks comes out with new seasonal drinks – especially when they are chai ones! I feel like chai drinks are making a comeback so I was super excited to hear about the new pumpkin cream chai latte. It combines some of my favorite things all into one drink!
You will love this fusion drink because:
It's easy to make
Uses simple ingredients
Saves money by making it at home
What is a pumpkin cream chai latte?
One of my first ever chai drinks was this pumpkin chai latte – almost 13 years ago! I loved the combination of classic pumpkin this the flavors of chai.
This pumpkin cream chai latte combines those two things together, just in a different way. The iced chai latte is sweetened with a basic vanilla syrup, has milk added and then is topped with a pumpkin cream cold foam. Starbucks had become popular for their deliciously addicting cold foam and this fall version is no exception.
Pumpkin cream chai ingredients
The great thing about this drink is that you don't need a laundry list of ingredients. In fact, the ingredients are pretty basic and you probably already have some in your kitchen. To make a pumpkin cream chai at home you will need:
chai tea
vanilla syrup
milk
pumpkin puree
heavy cream
pumpkin pie spice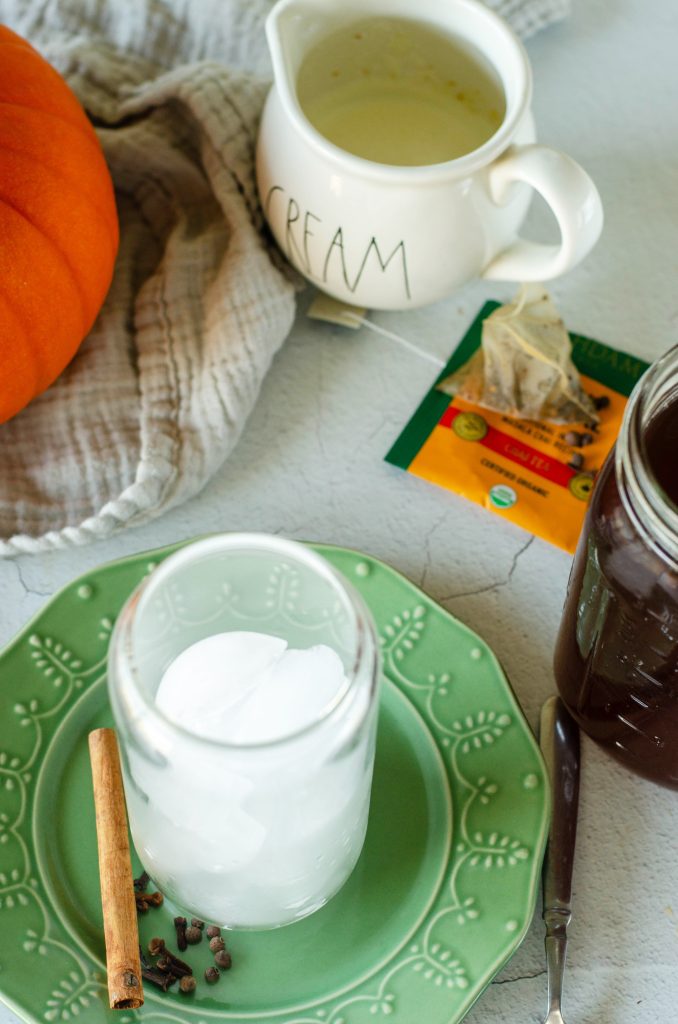 Chai tea – There are a couple different options for chai tea when it comes to making lattes at home. You can make it completely from scratch with homemade chai spice mix, you can use pre-made chai tea, or you can even use a chai concentrate. I like using chai tea bags so that I can control the strength of my chai.
Vanilla syrup – You will need a sweetener for the chai tea. If you use the concentrate, double check that it's not sweetened before adding something else in. I love using my homemade vanilla syrup here, but store bought is great too.
Milk – Any type of milk will work in the chai latte portion of the drink. I like to use heavy cream in mine, but regular milk or your favorite milk alternative works too.
Pumpkin puree – A small amount of pumpkin puree will be needed to make the pumpkin cream. Save the rest for another yummy pumpkin recipe.
Heavy cream – This makes the best cold foam! Half and half can be used but won't be as creamy.
Pumpkin pie spice – Pumpkin pie spice is used in the cold foam. Homemade pumpkin pie spice is always great to have on hand.
If you want to make an iced version like I did, you will also need ice.
How to make a Starbucks pumpkin cream chai at home
There are a few easy steps to make the perfect pumpkin cream chai at home. Start by gathering all your ingredients as well as a glass, measuring spoons and a milk frother.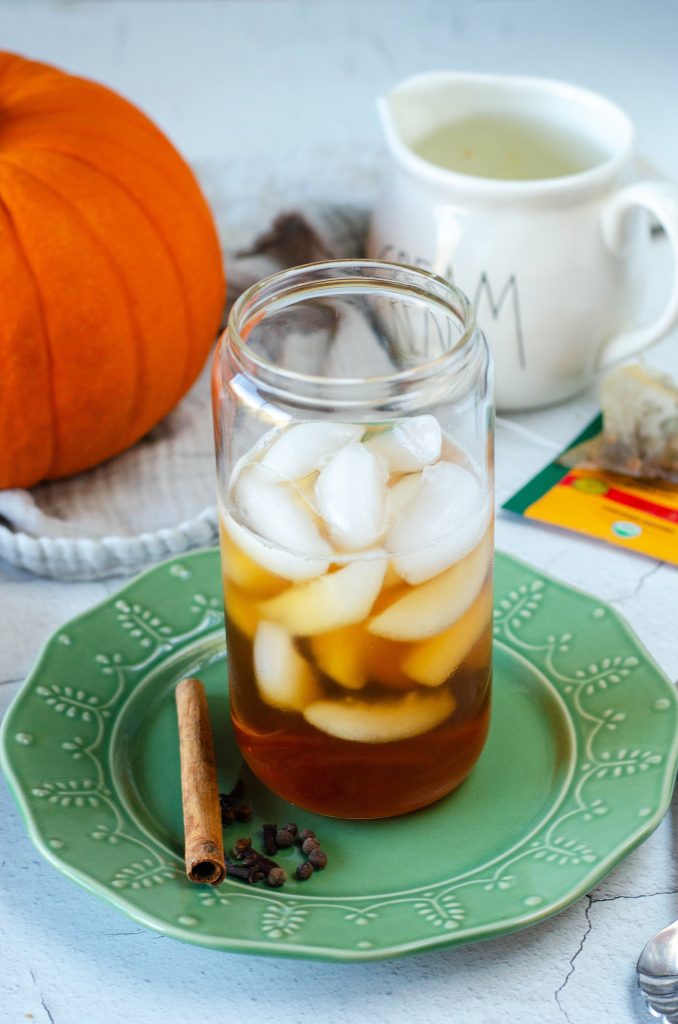 Step 1: Brew your chai. If you are using tea bags, brew and steep your chai. Mix in your vanilla syrup while it's hot. Allow to cool if you want to make an iced version.
Step 2: Add your milk. Pour your chai mixture over ice and then add your milk. Take a minute to enjoy the chai swirls and then mix it all together.
Step 3: Make the pumpkin cream. In a small glass, add the heavy cream, pumpkin, pumpkin pie spice and vanilla syrup. Use your milk frother to whip it together. You want it to be thinner than whipped cream. You can also use a high powdered blender. Sprinkle the top with additional pumpkin pie spice.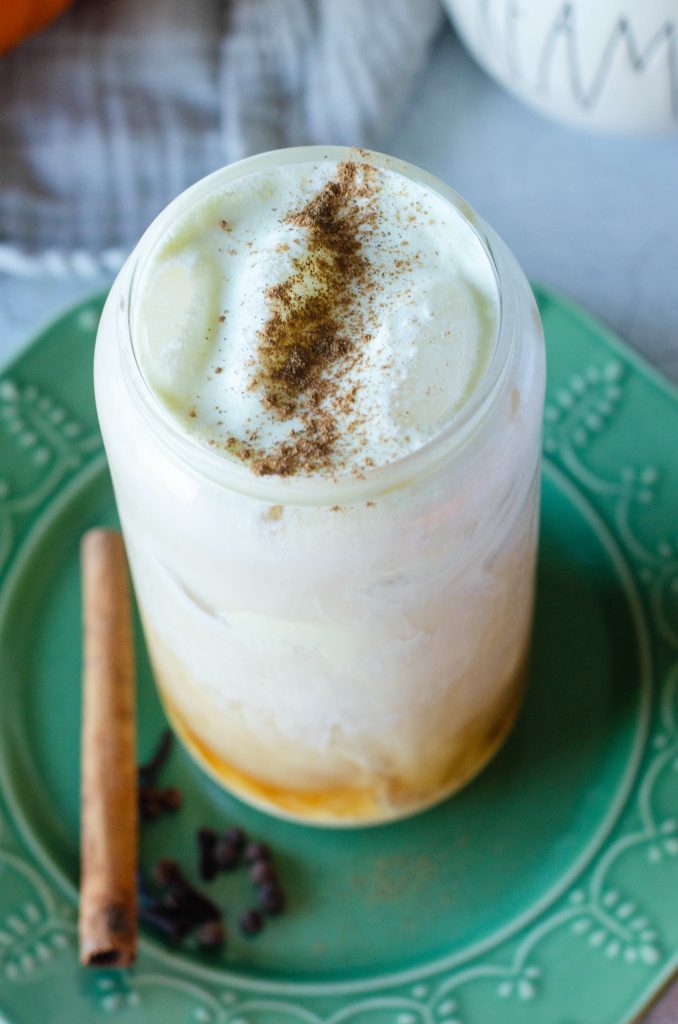 FAQS about pumpkin cream chai latte
How do you order a pumpkin chai latte from Starbucks? The great thing about Starbucks adding these drinks to their menu is that they are easy to order! You can ask your barista for a pumpkin cream chai and they will know what you want. Ask for it hot or iced.
What does pumpkin cream chai latte taste like? It's a combo of a pumpkin spice latte and a chai latte. The chai doesn't have pumpkin in it so the chai flavor shines through. The pumpkin is in the cold foam on top.
Does pumpkin cream chai latte have coffee? No, there is no coffee in this drink but there is a good amount of caffeine. Chai has about 60mg of caffeine per 8 oz cup.
How do I make pumpkin cream? Pumpkin cream is a almost whipped cream but a little thinner. You can use a milk frother, handheld mixer or even a blender to thicken up the heavy cream mixture.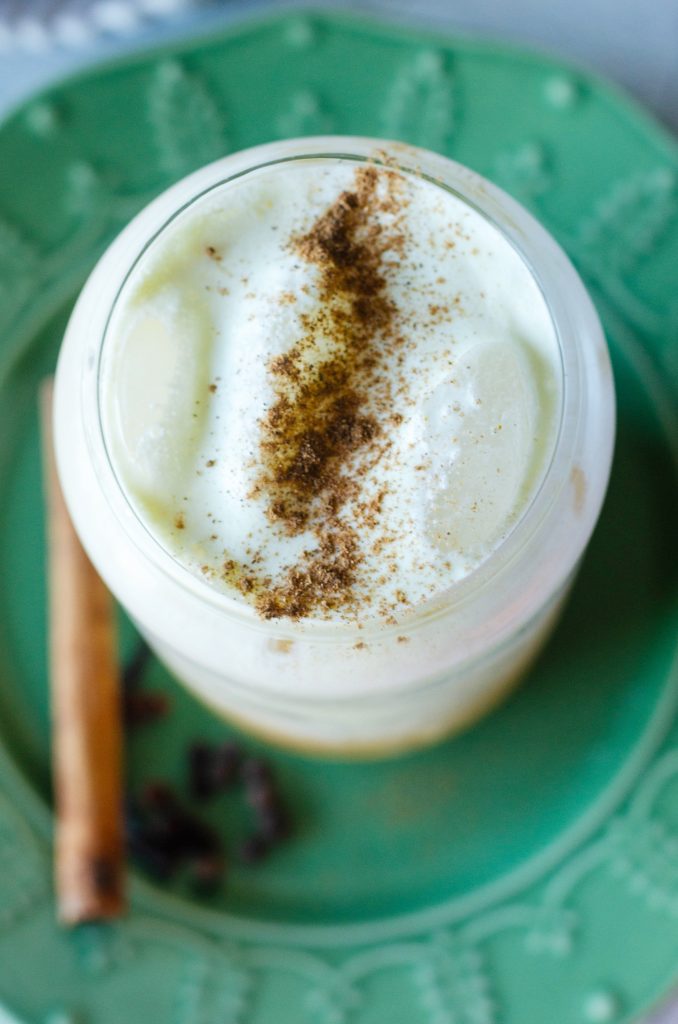 Can I double the recipe? Sure can! You can double or triple the recipe to make more than 1 drink at a time. I suggest making a pitcher of the chai drink portion and making the pumpkin cream as needed to top the drinks.
Can I make a coffee version? Already got you covered! Try my pumpkin cream cold brew version if you are not a fan of chai or if you want to switch it up.
Other Starbucks pumpkin copycat recipes to try
I love fall and I love making fall copycat drinks and eats! Here are some others to try this fall: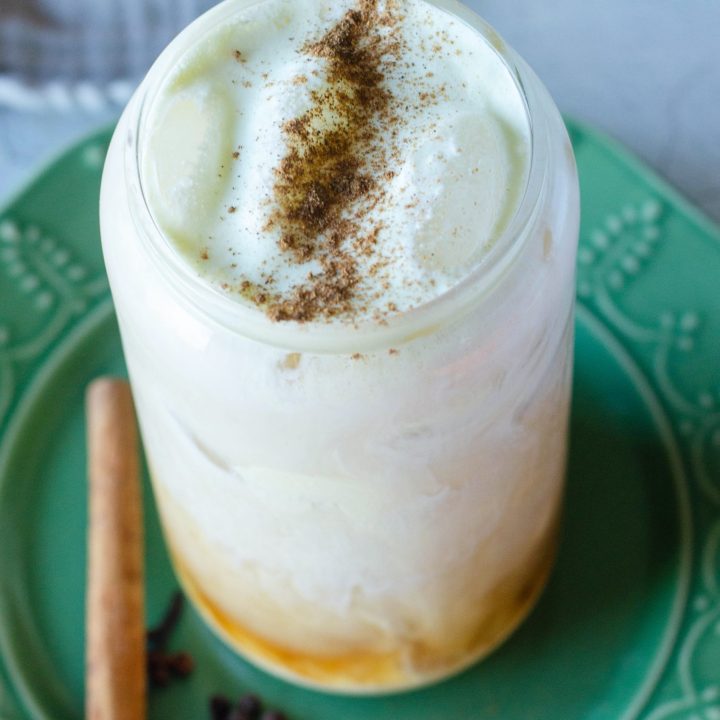 Pumpkin Cream Chai Latte
Make a creamy and delicious pumpkin cream chai latte.
Ingredients
1/2 cup of chilled chai
1/2 cup of milk
3 tablespoons vanilla syrup, divided
3 tablespoons of heavy cream
2 tablespoons of pumpkin purée
1 teaspoon pumpkin pie spice
Instructions
Brew your chai tea and allow to cool (if doing the iced version). Chai concentrate can also be used here.
Add 2 tablespoons of the vanilla syrup to the warm chai and stir to combine.
Add ice to your glass and pour the chai mixture in.
Add your milk and stir.
Make the pumpkin cream by combining the pumpkin puree, 1 tablespoon of vanilla syrup, heavy cream and the pumpkin pie spice to a blender or milk frother. Froth until thickened.
Pour over the top of the chai and top with pumpkin pie spice.
Enjoy!
Did you make this recipe? I'd love for you to leave a review on the recipe card or in the comments. Want to make it later? Pin the image below to your favorite board. THANK YOU for the support!