What better way to start a Monday then with coffee?  And not just any coffee.  Its like, the best coffee.  Its cafe coffee that you can make at home – for a fraction of the cost!  Seriously.  It's so much cheaper and man is it good!  Iced white chocolate mocha, I think I love you.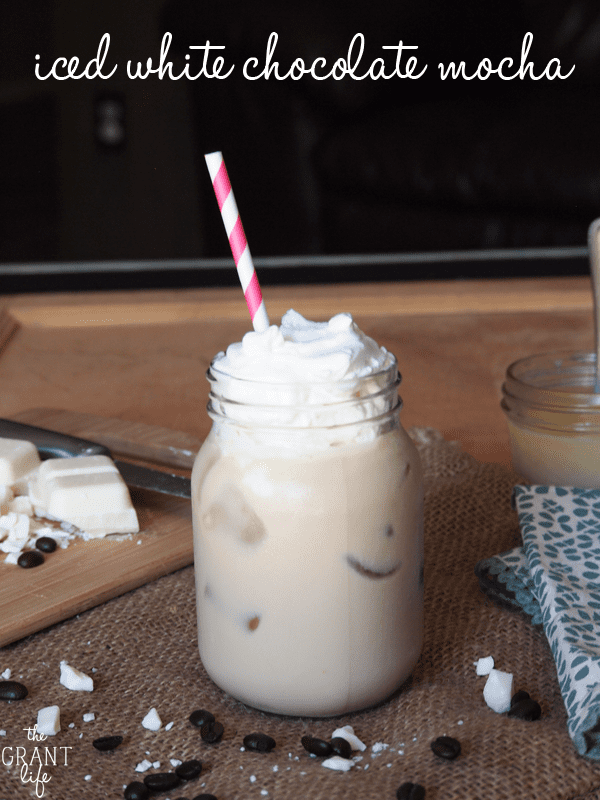 Have I mentioned that Ryon makes me coffee every morning?  [And that I love him very much for it?]  Well, both are true.  As much as I love coffee, I don't need that much to get me going in the mornings.  I normally drink one cup [with lots and lots of creamer] and Ryon finishes the rest of the pot.  I guess I should say Ryon makes coffee for himself in the mornings and saves me a cup. 
PSSSST.. do you love copycat drinks or coffee in general?  Sign up for my weekly emails to get new recipes delivered to your inbox!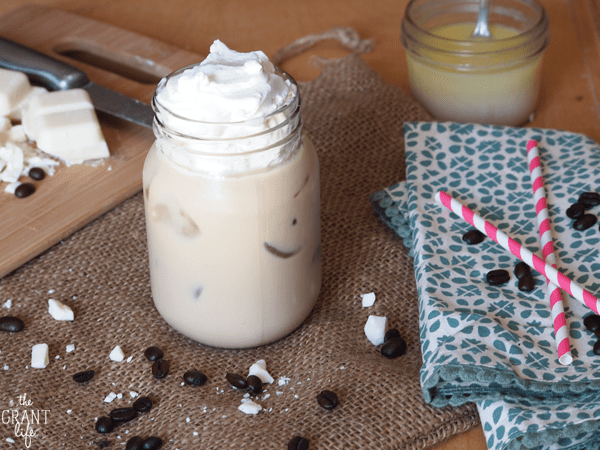 He drinks a whole pot because he got use to it while he was in the Navy.  He would have 24 hour duty shifts and just chug coffee to stay awake.  Now its just habit to drink a whole [minus one cup] pot of coffee in the morning.  Black.  He drinks his coffee black.  Which is totally weird to me. 
I like my coffee to be super sweet.  I'm pretty sure its the sugar that gets me going more then the caffeine in the mornings.  But I'm ok with that.  Whatever works, right?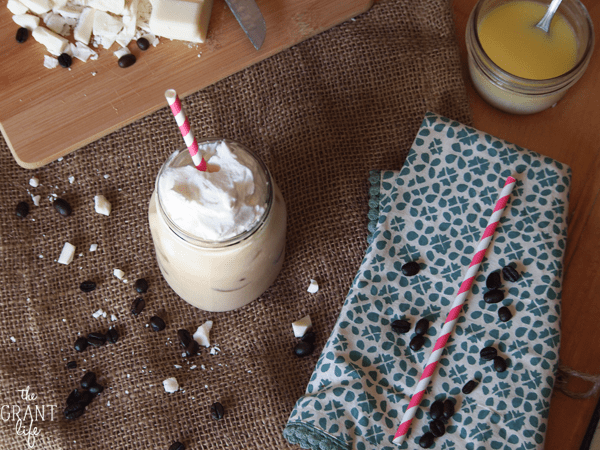 And this, this iced white chocolate mocha, it totally works.  Its homemade white chocolate sauce mixed with milk and coffee, topped with whipped cream.  It seriously couldn't be easier, cheaper or tastier then that.  It actually makes Mondays not look so bad.  And that my friends, is a beautiful thing.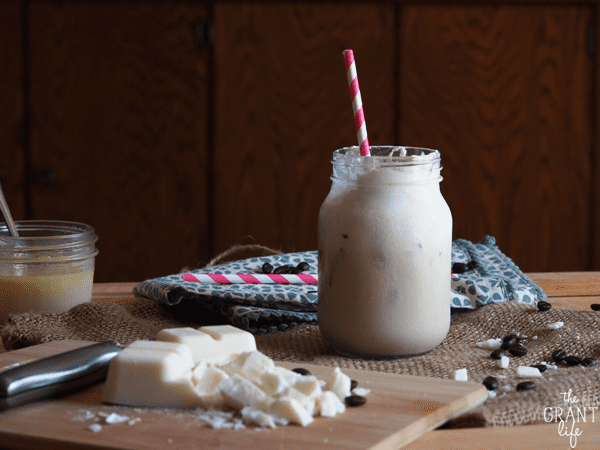 I used homemade white chocolate sauce in my iced mocha drink but you can buy white chocolate sauce to make it even easier.  I suggest the Ghiradelli white chocolate sauce (affiliate link) since I used Ghiradelli chocolate in my homemade sauce.  [So I know its good!]  Ok thats all.  Back to your recipe now. 
Ps.. I totally taste tested this with a Starbucks iced mocha.. and its almost identical.  It might be even better since I used homemade whipped cream.  [And seriously, nothing beats homemade whipped cream.]  Ok I'm really done now.  Carry on to the recipe. 
Pps.. Want a free coffee e-book?  Snag one here –

Iced white chocolate mocha
Ingredients
2 tablespoons white chocolate sauce
2 tablespoons cold coffee or 1 tablespoon instant espresso + 2-3 tablespoons of water
1 cup milk
ice
whipped cream
Instructions
Mix the white chocolate sauce, coffee and milk together.
Add the ice.
Top with whipped cream.
Enjoy!
Nutrition Information
Calories:
343
Fat:
17g
Saturated fat:
9g
Unsaturated fat:
7g
Carbohydrates:
42g
Sugar:
26g
Sodium:
270mg
Fiber:
2g
Protein:
7g
Cholesterol:
43mg
Like this recipe?  Be sure to check out:
Or sign up for our emails and have tasty recipes delivered to your inbox!