What better way to start a Monday than with coffee? And not just any coffee. Its like, the best coffee. Its cafe coffee that you can make at home – for a fraction of the cost! It's one of my absolute favorite white chocolate recipes! Let me show you how to make an iced white chocolate mocha.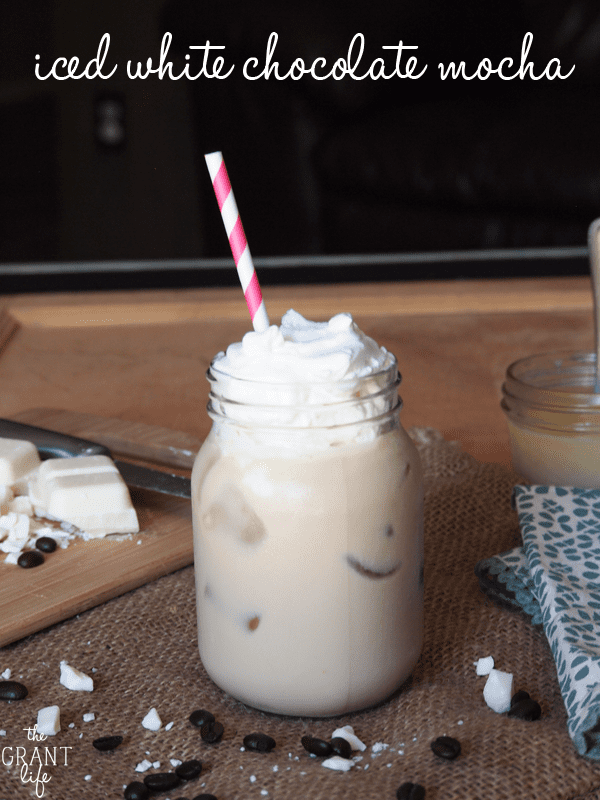 Have I mentioned that Ryon makes me coffee every morning? (And that I love him very much for it?) Well, both are true. As much as I love coffee, I don't need that much to get me going in the mornings. I normally drink one cup (with lots and lots of creamer) and Ryon finishes the rest of the pot. I guess I should say Ryon makes coffee for himself in the mornings and saves me a cup.
PSSSST.. do you love copycat drinks or coffee in general? Sign up for my weekly emails to get new recipes delivered to your inbox!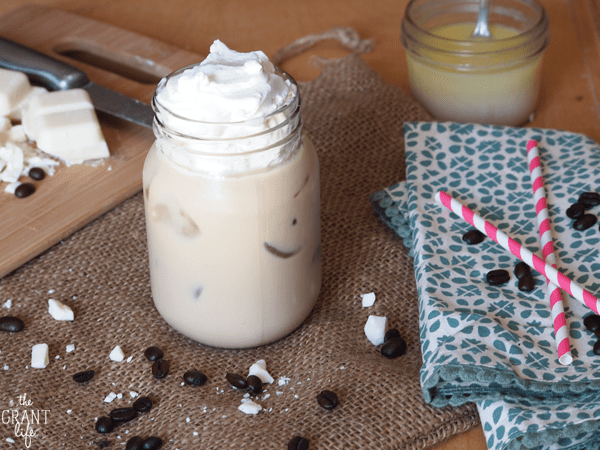 Is there coffee in a white chocolate mocha?
Yup! A white chocolate mocha is a combination of espresso or strong coffee, white chocolate sauce or syrup and milk. The best thing about this copycat coffee drink is that once you have the basic ingredients on hand, it takes less than 5 minutes to make at home.
Iced white chocolate mocha ingredients
To make this easy coffee drink at home you will need:
espresso or strong coffee
white chocolate sauce
milk
whipped cream
You are going to need either a strong coffee or an espresso for this iced white chocolate mocha recipe. I suggest a medium roast coffee or an instant espresso. Medium roast coffee beans have a strong but mild flavor, perfect for this drink. You can also use cold brew coffee or even leftover coffee as well.
When it comes to the white chocolate part of the white chocolate mocha, I highly suggest using homemade white chocolate sauce. It's easy to make and can make a dozen white chocolate mochas. You can also purchase white chocolate syrup as well. My favorite one to use is Torani white chocolate syrup.
Feel free to use any type of milk that you like for this recipe. I enjoy almond milk in my lattes, but regular milk or even coconut milk work well.
Whipped cream is an additional topping, but so delicious. I love homemade whipped cream, but any whipped cream on top of this white chocolate mocha is good!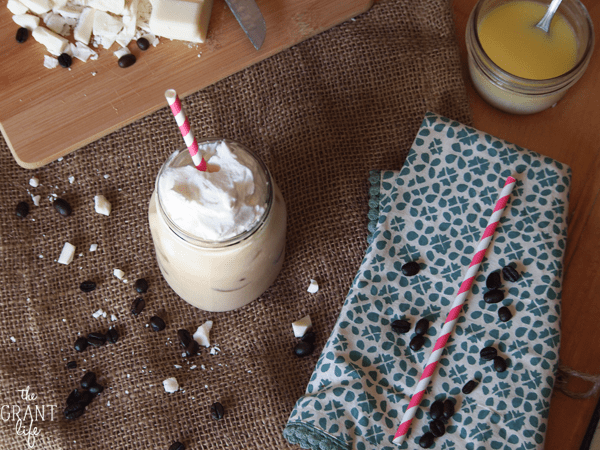 How to make an iced white chocolate mocha at home
Once you have all your ingredients, you will also need to grab a glass or mug, a spoon and some ice. I like to start with my white chocolate sauce or syrup on the bottom and add in my coffee. This way I can make sure it's all mixed together before adding my milk.
Pour in the milk, give it another quick stir and then add in your ice. Your whipped cream goes on top last and your iced white chocolate mocha is ready!

How does an iced white chocolate mocha taste?
When I started making these at home I totally taste tested this with a Starbucks iced mocha to make sure the flavor was right. And guess what?? It's almost identical. It might be even better since I used homemade whipped cream and white chocolate sauce.
Iced white chocolate mocha FAQs:
-What brand of coffee do you recommend?
Any brand of coffee works. I would suggest a higher quality coffee or instant espresso though.
-What is the ratio of instant coffee/espresso to water?
Mix together 1 tablespoon instant coffee with 2-3 tablespoons of water.
-Is it as easy as mixing everything together?
Yup! Layer your ingredients and then mix together. Easy peasy!
-How do you make a skinny white chocolate mocha?
I suggest using sugar free white chocolate syrup for a lower calorie treat!
Pps.. Want a free coffee e-book? Snag one here –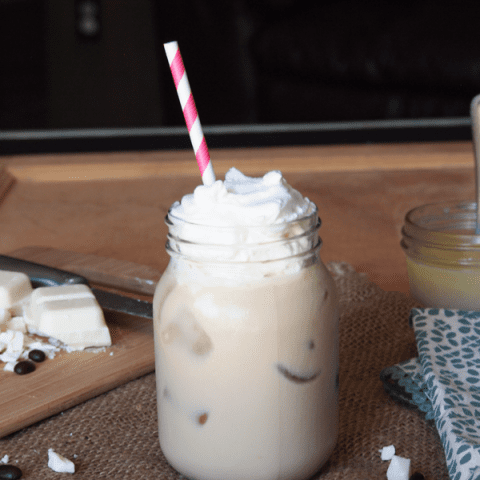 Iced white chocolate mocha
Ingredients
2 tablespoons white chocolate sauce
2 tablespoons cold coffee or 1 tablespoon instant espresso + 2-3 tablespoons of water
1 cup milk
ice
whipped cream
Instructions
Mix the white chocolate sauce, coffee and milk together.
Add the ice.
Top with whipped cream.
Enjoy!
Nutrition Information:
Amount Per Serving:
Calories:

343
Cholesterol:

43mg
Sodium:

270mg
Carbohydrates:

42g
Fiber:

2g
Sugar:

26g
Protein:

7g
Like this recipe? Be sure to check out:
Or sign up for our emails and have tasty recipes delivered to your inbox!