Hold onto your pumpkins, this Starbucks Apple Crisp Macchiato will become your new fall favorite drink. The flavors of this hot coffee are perfect for browsing the pumpkin patch or snuggling under a blanket. Grab your favorite pair of Ugg boots and let's make this easy copycat apple crisp macchiato at home!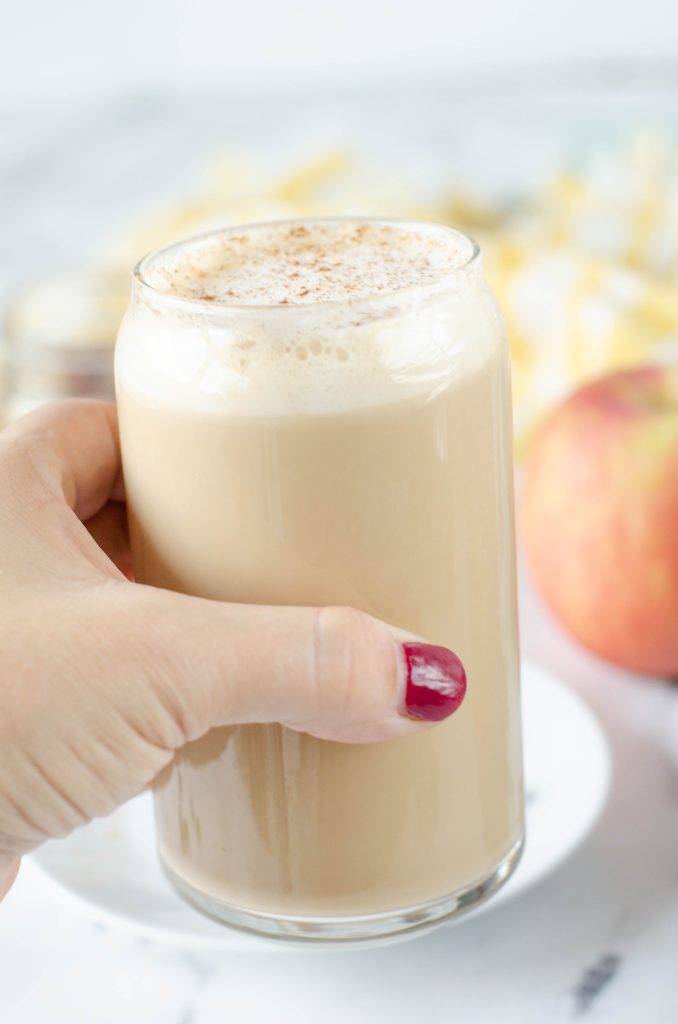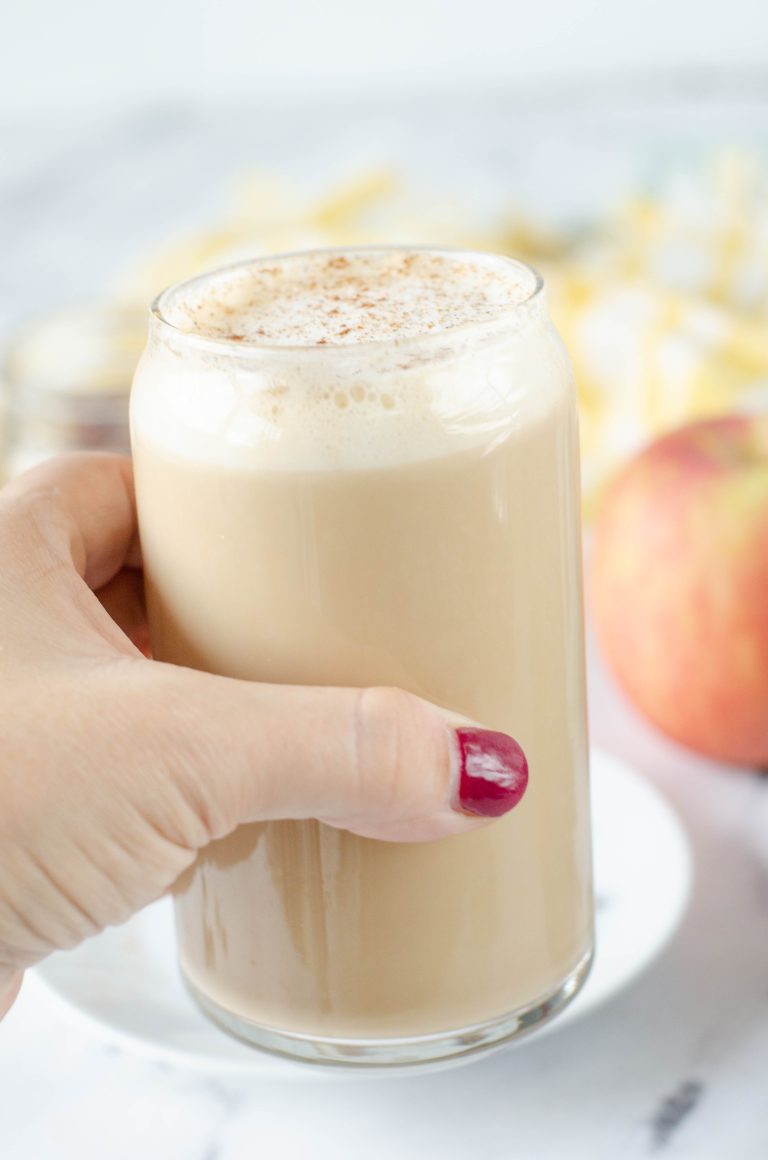 Starbucks released their fall menu and it had a few new drinks on it! Of course this makes me squeal because I love trying their new releases. The new drink that may be a regular on the fall menu is the Apple Crisp Macchiato! I tried it out and it's so good! You know I had to recreate this easy copycat drink at home though. Let me introduce you to your new favorite fall coffee!
What is an apple crisp macchiato?
This drink combines a shot of espresso with an amazing apple brown sugar syrup. It's similar to a caramel macchiato, but without the caramel. "Macchiato" means stained as the espresso "stains" the milk to make it look marked. My homemade apple crisp macchiato is made with real ingredients like apple cider and brown sugar!
Apple crisp macchiato ingredients
I love this drink because once you make the apple brown sugar syrup, you can have this drink whenever you want! To make your own macchiato you will need:
Apple cider
Brown sugar
White sugar
Vanilla extract
Cinnamon
Cloves
Espresso
Milk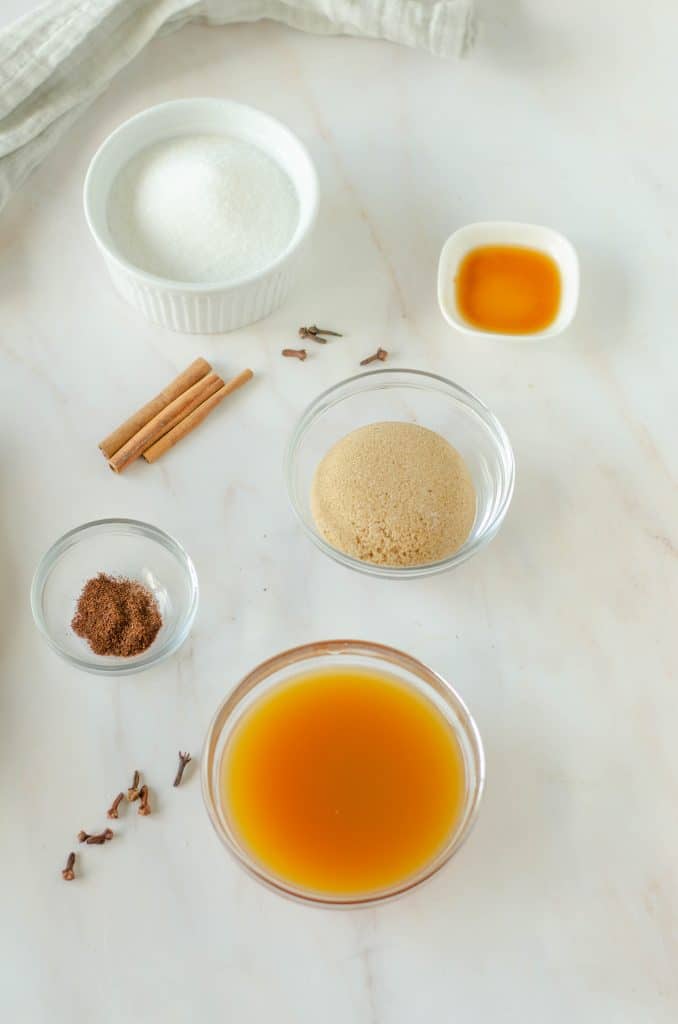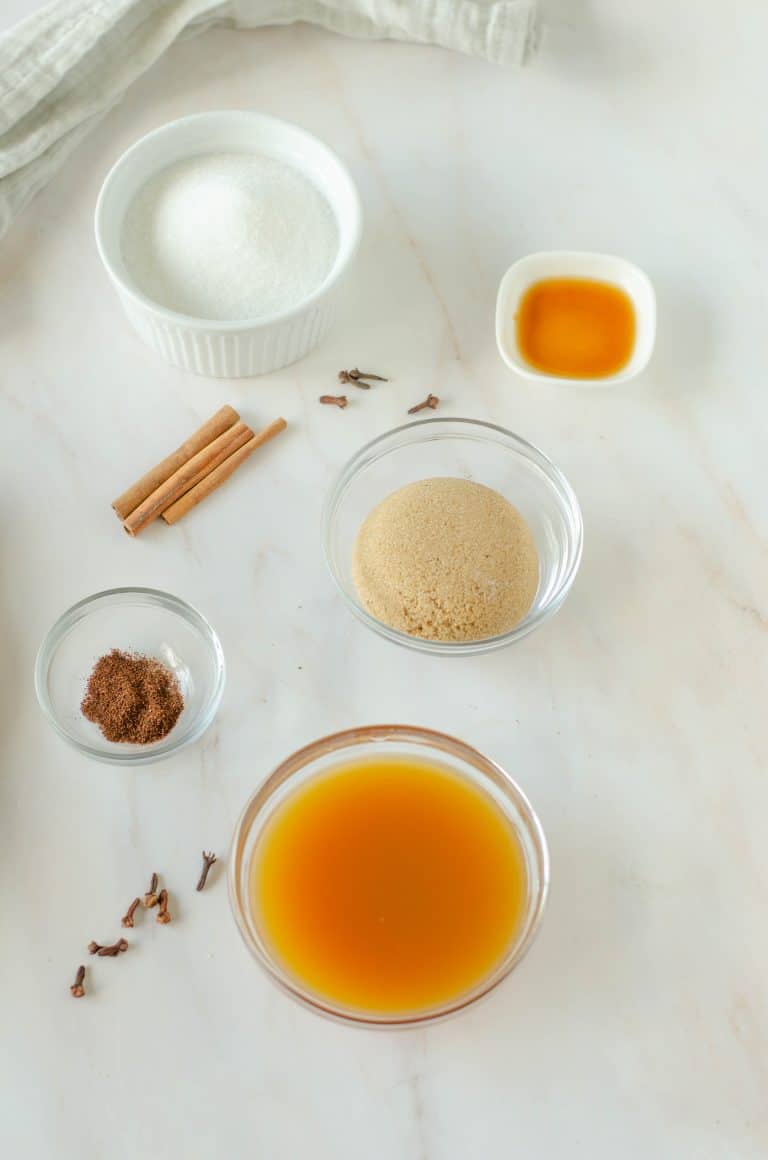 Apple cider – This is what gives the macchiato it's apple flavor! I do suggest getting apple cider over apple juice as it's a richer flavor.
Brown sugar – Gives this drink a great depth of flavor and kind of caramelizes when making the syrup.
Cinnamon – You will need cinnamon sticks and ground cinnamon. The cinnamon sticks go in the syrup the drink is topped with a sprinkle of cinnamon. You can also use apple pie spice!
Cloves – Whole cloves are used when making the syrup.
Espresso – You will need fresh espresso or strong coffee. Use whichever you prefer but a better quality coffee or espresso will make this drink taste more like Starbucks!
Milk – Any milk you like will work here. I love using heavy cream as it gives the drink a thicker consistency.
How to make an apple macchiato
This recipe can be broken into two steps – making the syrup and then assembling the macchiato. Let's start with making the apple crisp syrup.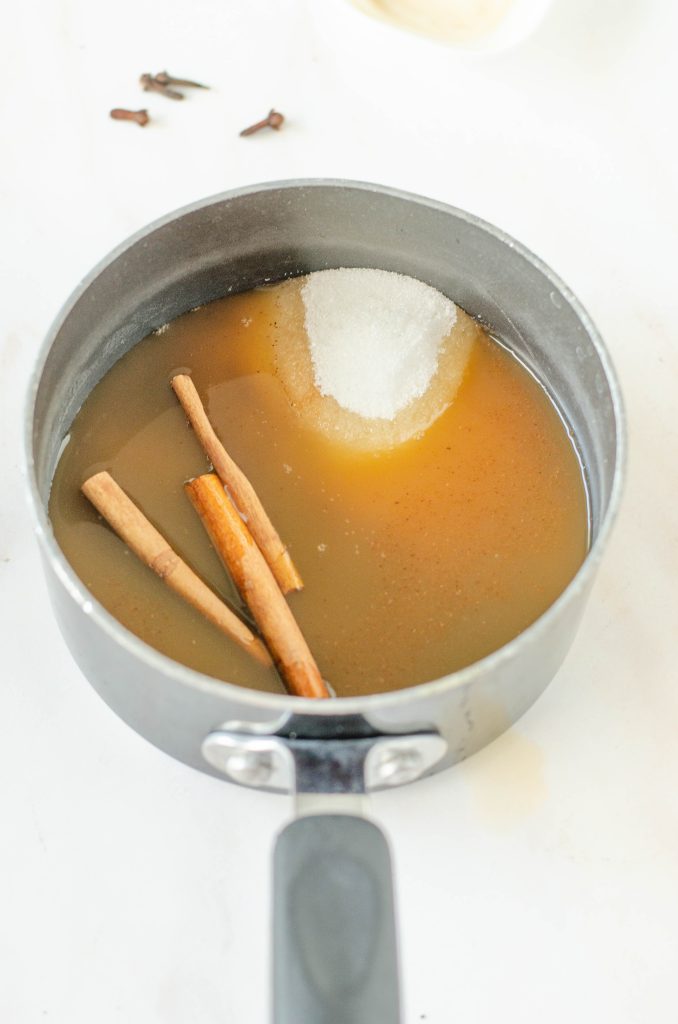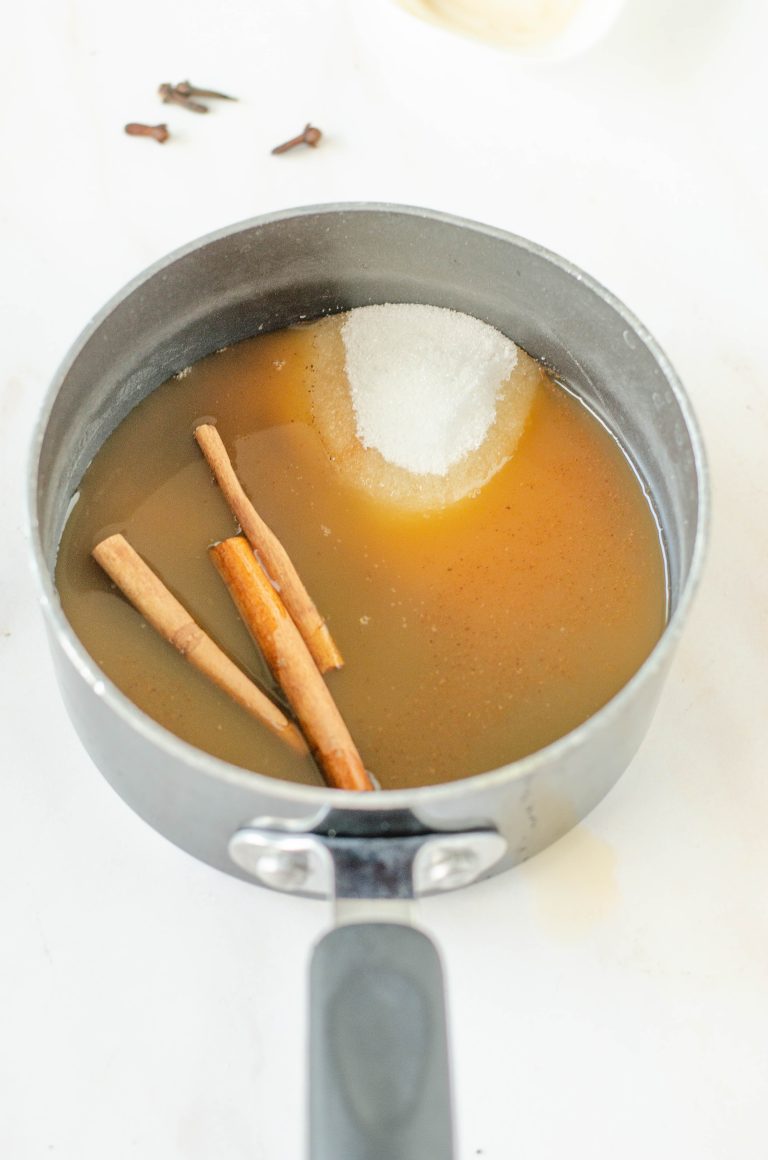 How to make apple syrup
Place all of your ingredients in a middle pot on medium heat.
Bring the mixture to a soft boil, stirring often.
Allow the sugars to dissolve and then bring to a simmer.
Simmer for 10 minutes or until the syrup has thickened and coats the back of a spoon.
Remove from heat and allow to cool.
Pour the syrup into a mason jar and seal with a lid.
Store in a cool, dry place for up to 2 months. (Crystallization is normal.)
Assemble the apple crisp macchiato
Once you've made your syrup, you can make your macchiato! I love making the syrup and having it on hand because then I can make this drink whenever I want!
Add your syrup to the bottom of a glass.
Brew your espresso or coffee and pour it over the syrup. Stir to combine.
Steam your milk and pour it over the coffee mixture. Take a second to enjoy the coffee swirl action.
Top with frothed milk and a sprinkle of cinnamon.
Sip and enjoy!
How many drinks does this make?
The recipe below makes one apple crisp macchiato but makes a 1/2 pint of the syrup. You can easily follow the steps below to make the drink over and over again once you've made the apple syrup.
How do I steam my milk?
You can easily steam you milk on the stove over medium heat. Stir the milk while it heats up until it's frothy and warm. Add that to your drink. You can also use a coffee steamer attachment if you have an espresso or coffee maker that has one.
How can I froth my milk?
I use a milk frother to easily froth my milk for my DIY coffee drinks. You can use a milk frother or you can steam it and then whip it with an electric mixer. It's an extra step and I suggest investing in a milk frother if you like making copycat coffee drinks at home. This Instant Pot milk frother is my favorite one!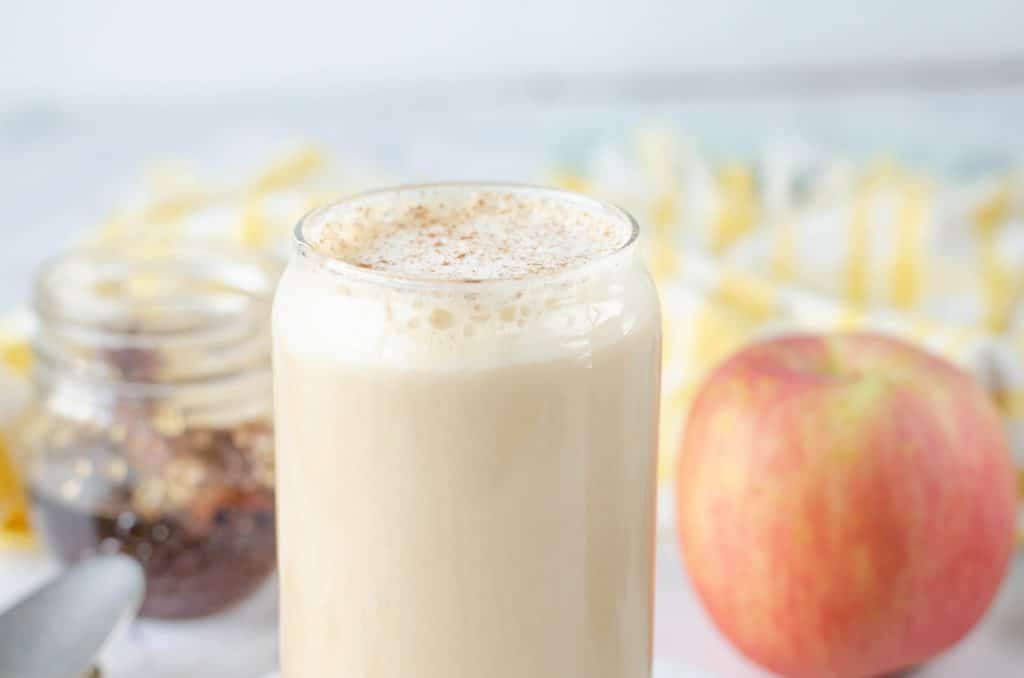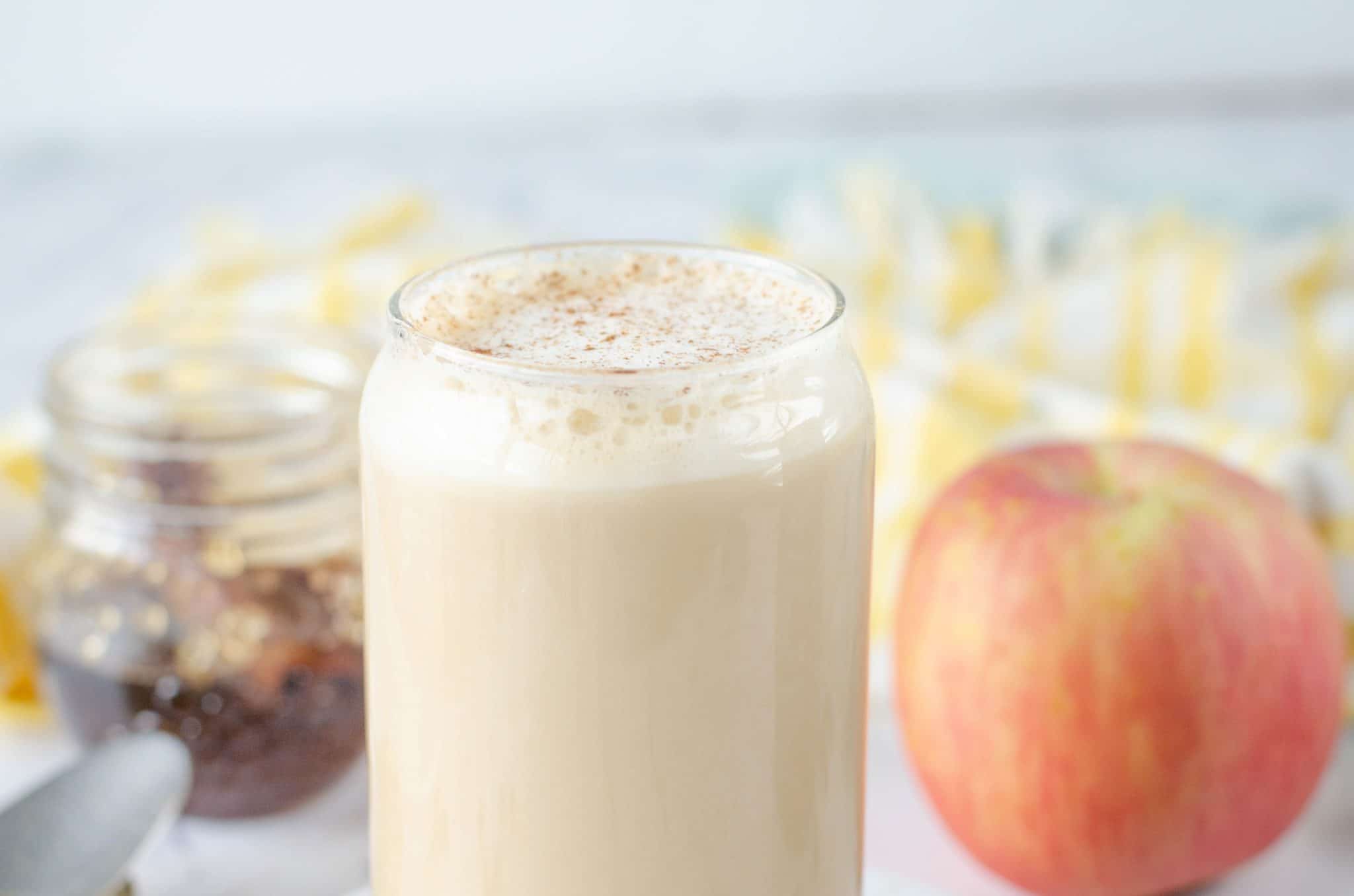 How do I order an apple crisp macchiato at Starbucks?
The great thing is that during the fall and winter months you can simply ask for an apple crisp macchiato. You can do hot, iced or as a frapuccino. It gets a little tricky to order after it's removed from the seasonal menu. I would ask your barista if they can still make it and if not, ask for something similar. My guess is they will give you a combination of a brown sugar oatmilk latte and a caramel macchiato.
How to store leftover apple syrup
Since this recipe only makes one macchiato, you only need to store the apple syrup for later. Place your apple syrup in a mason jar and screw the lid tightly. Keep it in the pantry where it is cool and dry. Some crystallization is normal when this syrup sits for a bit. It's still good to use!
Fall treats to pair with your macchiato
When you have such a delicious drink, you are going to want to pair it with a delicious treat! Some of my favorite fall treats that go well with this macchiato are: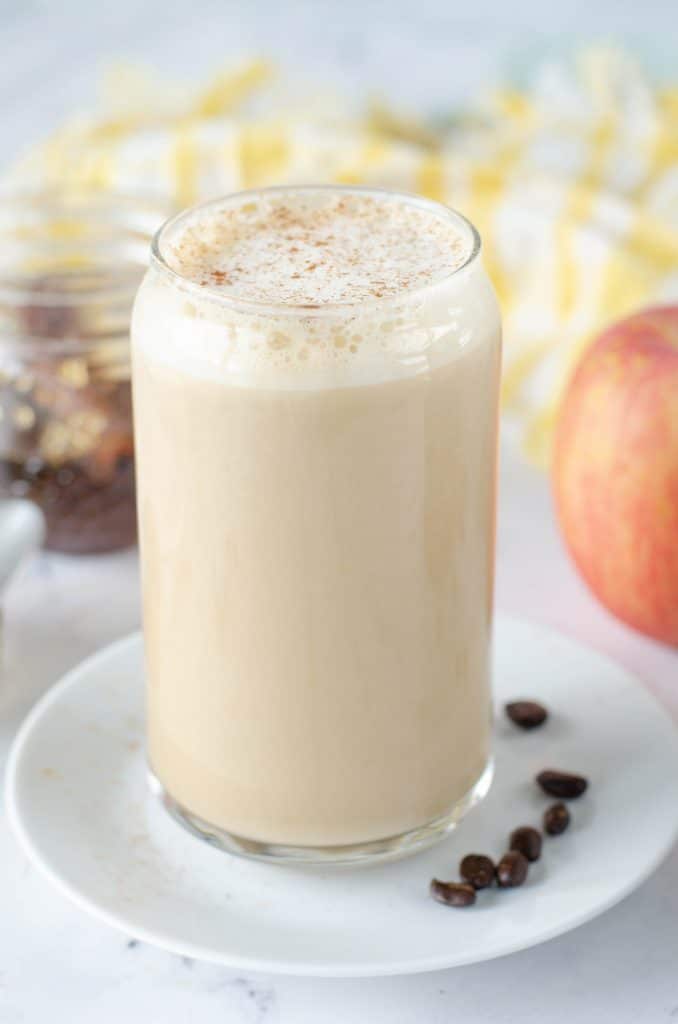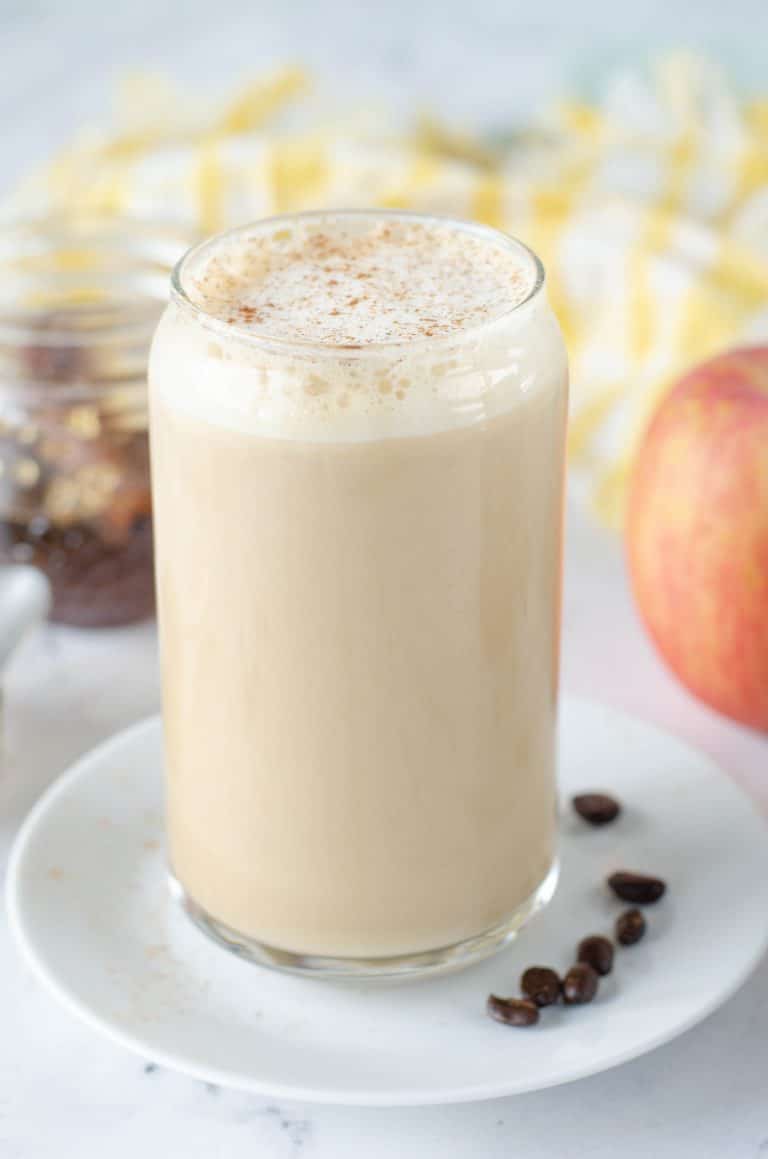 Helpful tips and tricks
This recipe is pretty easy but follow my tips below to make it as simple as possible.
Don't walk away from the syrup. Stay close to your stove when you are making the syrup so that it doesn't burn. You need to stir it often too.
Use freshly brewed espresso. You will want to use fresh brewed coffee or espresso for this drink. It will give this macchiato the best flavor.
Get a milk frother. I love the Instant Pot milk frother and use it daily! If you like to make fancy coffee drinks at home, this milk frother is a MUST!
Make it iced. Use cold brew coffee to easily make an iced version of this macchiato.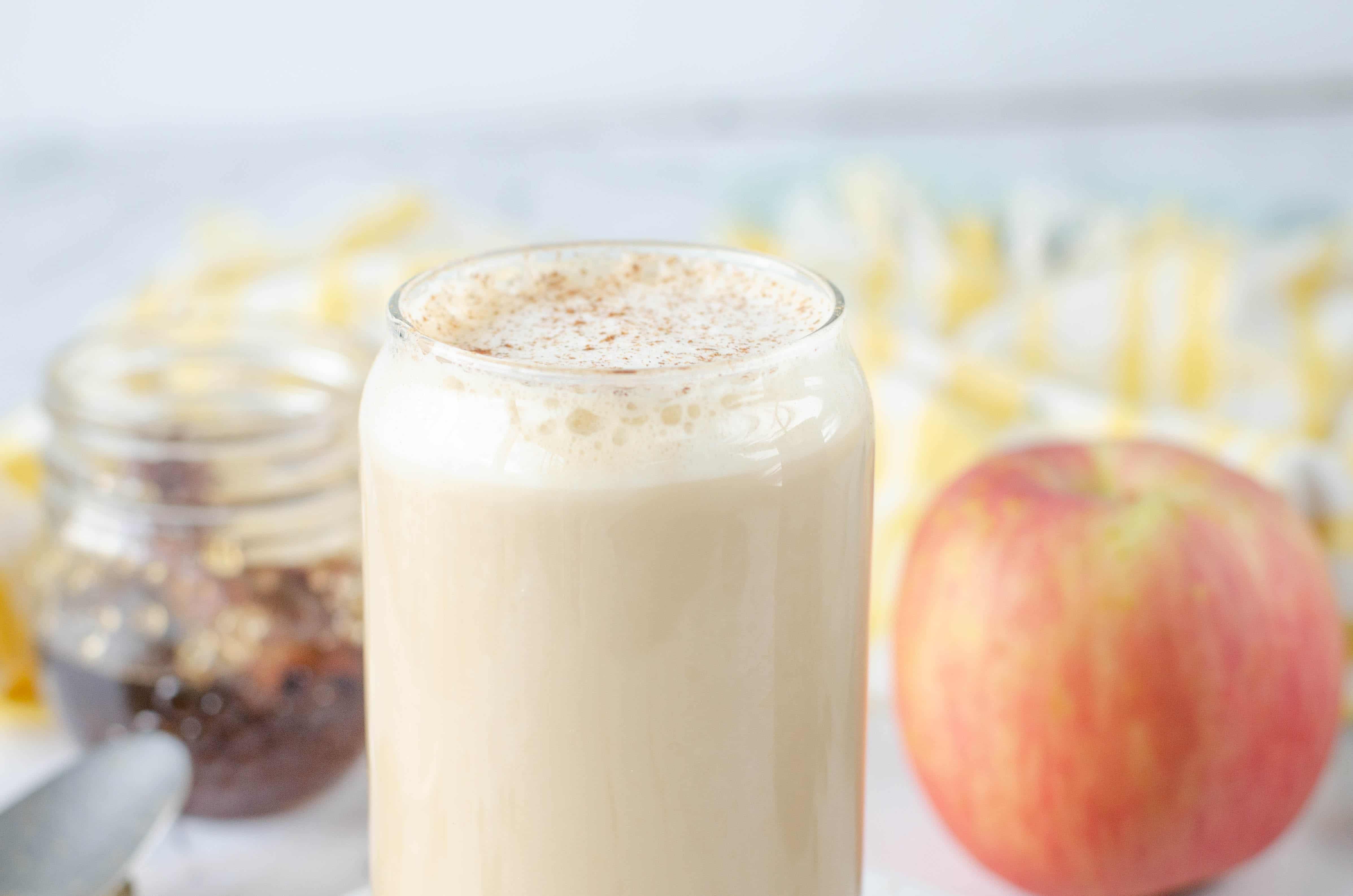 Starbucks copycat Apple Crisp Macchiato
Yield:
1 drink plus syrup
Make an amazing copycat apple crisp macchiato at home for a fraction of the cost!
Ingredients
For the apple crisp syrup:
1 cup Apple cider
1/2 cup Brown sugar
1/2 cup White sugar
1 teaspoon Vanilla extract
2-3 Cinnamon sticks
2-3 Cloves, whole
For the macchiato
1 shot of Espresso or 1 cup of hot coffee
1 cup of Milk, divided
sprinkle of ground cinnamon
Instructions
Place the apple cider, brown sugar, white sugar, vanilla, cinnamon sticks and cloves in a medium sauce pan. Bring to a boil.
Reduce the heat and allow to simmer for about 10 minutes or until the syrup has thickened and coats the back of a spoon.
Remove from heat and allow to cool.
Brew your espresso or coffee.
Add a tablespoon or two of the apple syrup to a glass.
Pour in the coffee and stir to combine.
Steam 1/2 of your milk on the stove top and add it to your coffee.
Froth the other half of the milk and pour it on top.
Top with a sprinkle of cinnamon.
Enjoy!
Other copycat Starbucks recipes to try:
You know I love a good copycat Starbucks drink. Here are some others to try out:
Did you make this recipe? I'd love for you to leave a review in the recipe card above or the comments below.
Want to make it later? Pin the image below to your favorite Pinterest board!