No time to make a coffee run? Make this iced caramel macchiato at home!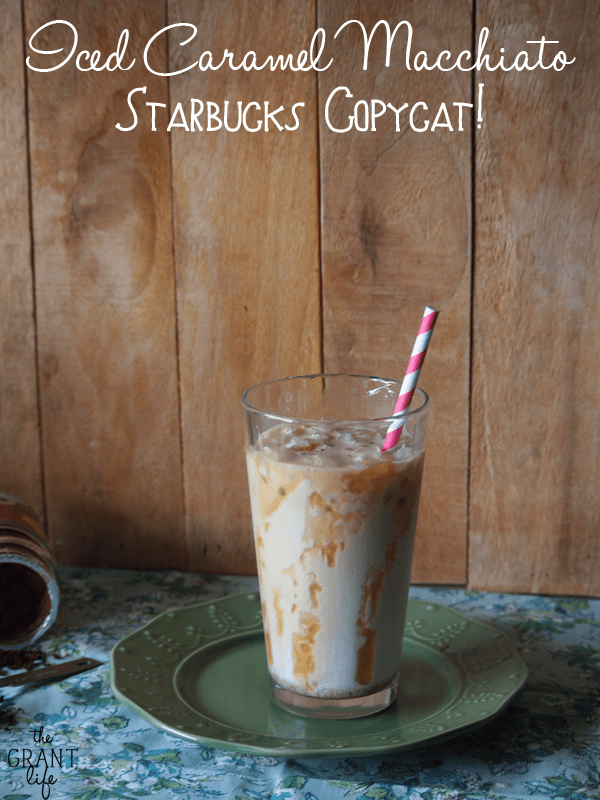 When we go out to eat, I tend to always order the same thing. I'm what I like to call a "create of habit." I'll patiently sit while everyone looks over the menu deciding what they want to eat or drink. Not me. I know going in what I want. [Heck, I know before we go in what I want.] Local pizza place? The Jack special, please. Italian food? Bowtie pasta with white sauce, artichokes and sun dried tomatoes. [Please and thank you.] Starbucks? Iced caramel macchiato. And as much as I love indulging by going to Starbucks every once and a while, I decided to create my own. So ya know, I can have it at home. All the time.
I think we've established that I am a lover of coffee. I like it in my ice cream and my pancakes, and I even like it plain. [And by plain you know I mean with lots of creamer right? Cool.] Both of the kids know what coffee is and are just as excited for a Starbucks run as mama. I get coffee, they get pink lollipops. [Or birthday cake pops as most people call them.]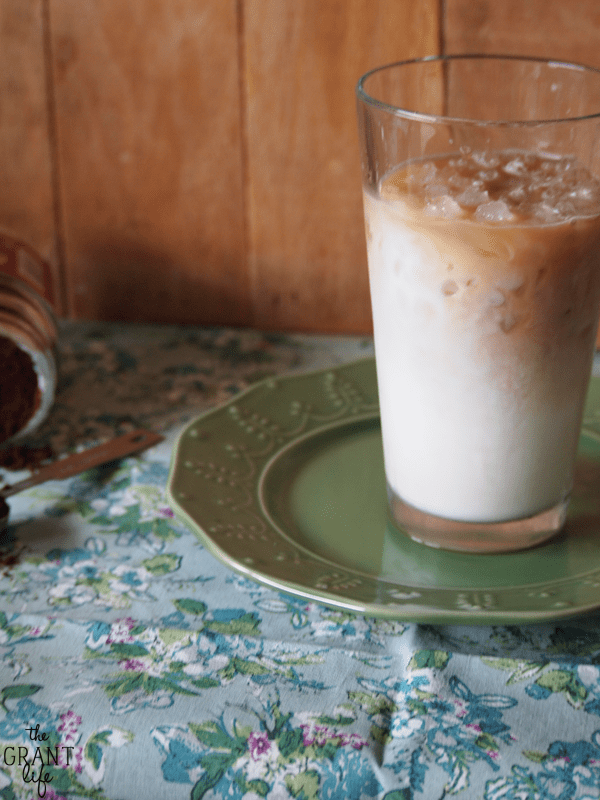 I have to warn you though – once you find out how easy this is to make you may never want to buy one again. [Seriously.] And its so quick to make too. I can whip one up in under a minute now. My kids are starting to wonder if they will ever have another pink cake pop. [Maybe I should figure out how to make those too?!]
As much as I love grabbing a drink from Starbucks, it is nice to be able to make my favorite drink at home. In my pajamas if I so choose. Which may happen from time to time. [shhhh.]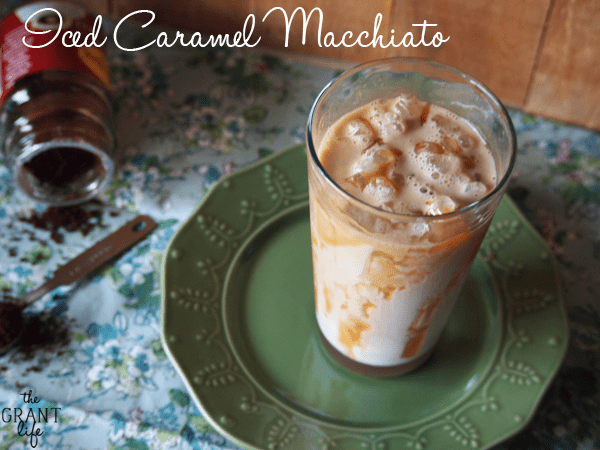 It's super easy to make this iced caramel macchiato at home. In fact, you may have most of the ingredients on hand already! [Score!]
Here is the ingredient list to make your own:
I linked to the espresso and the syrup to share the brand that I used. You can use any kind, or if you have an espresso maker – use that! So gather up all your ingredients and let the magic begin. Or as I call it "going to my happy place". No waiting in line required!
A few helpful hints about the caramel macchiato you are about to make:
Do you stir it?
"I'm a barista at Starbucks, so if you want this to be just like the caramel macchiato we serve, don't stir it. The word "macchiato" means "marked" in Italian, so the espresso and caramel drizzle are supposed to "mark" the top of the drink. This is part of what makes the drink different from an iced vanilla latte, which would have the espresso on the bottom so it mixes with the syrup and milk right away." – from reader Amber
Is the caramel macchiato sweet?
Yes. It gets its sweetness from the caramel and vanilla syrup.
Is there coffee in it?
Yup. Or espresso. You can use cold brew coffee or fresh espresso instead of the instant.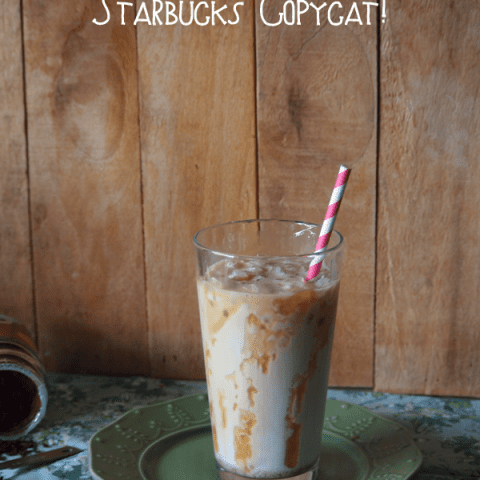 Iced Caramel Macchiato
Ingredients
1 teaspoon instant espresso
1/4 cup of cool water
1 tablespoon vanilla syrup
1 cup of milk (of choice)
1 cup of ice
caramel for drizzle
Instructions
Layer the drink from the bottom up as follows -
vanilla syrup
milk
ice
expresso + water mixture
Mix all together.
Add caramel on top.
If you want to get fancy, drizzle the caramel down the side of the cup first.
Enjoy!
Nutrition Information:

Amount Per Serving: Calories: 170Cholesterol: 20mgSodium: 143mgCarbohydrates: 24gSugar: 17gProtein: 8g


Want more coffee flavored posts? Check out: