No time to make a coffee run? Make this iced caramel macchiato at home! This easy copycat coffee recipe has to be one of my favorite DIY Starbucks drinks. It's easy to make and you can save some serious dough by skipping the coffee shop.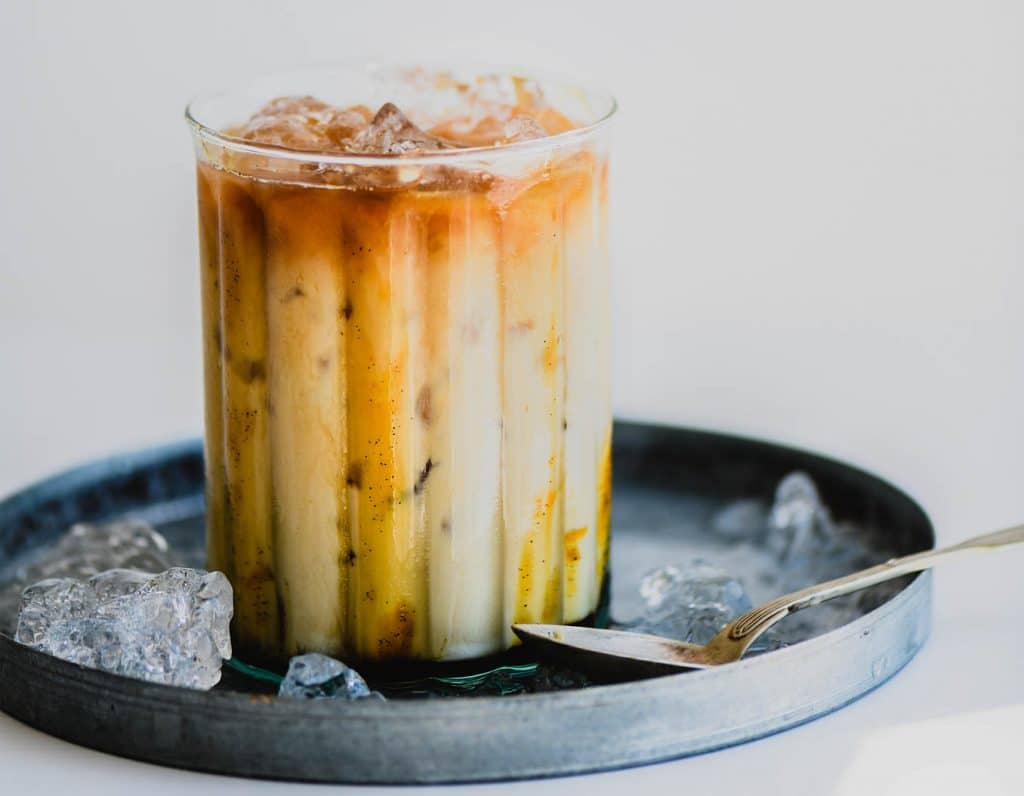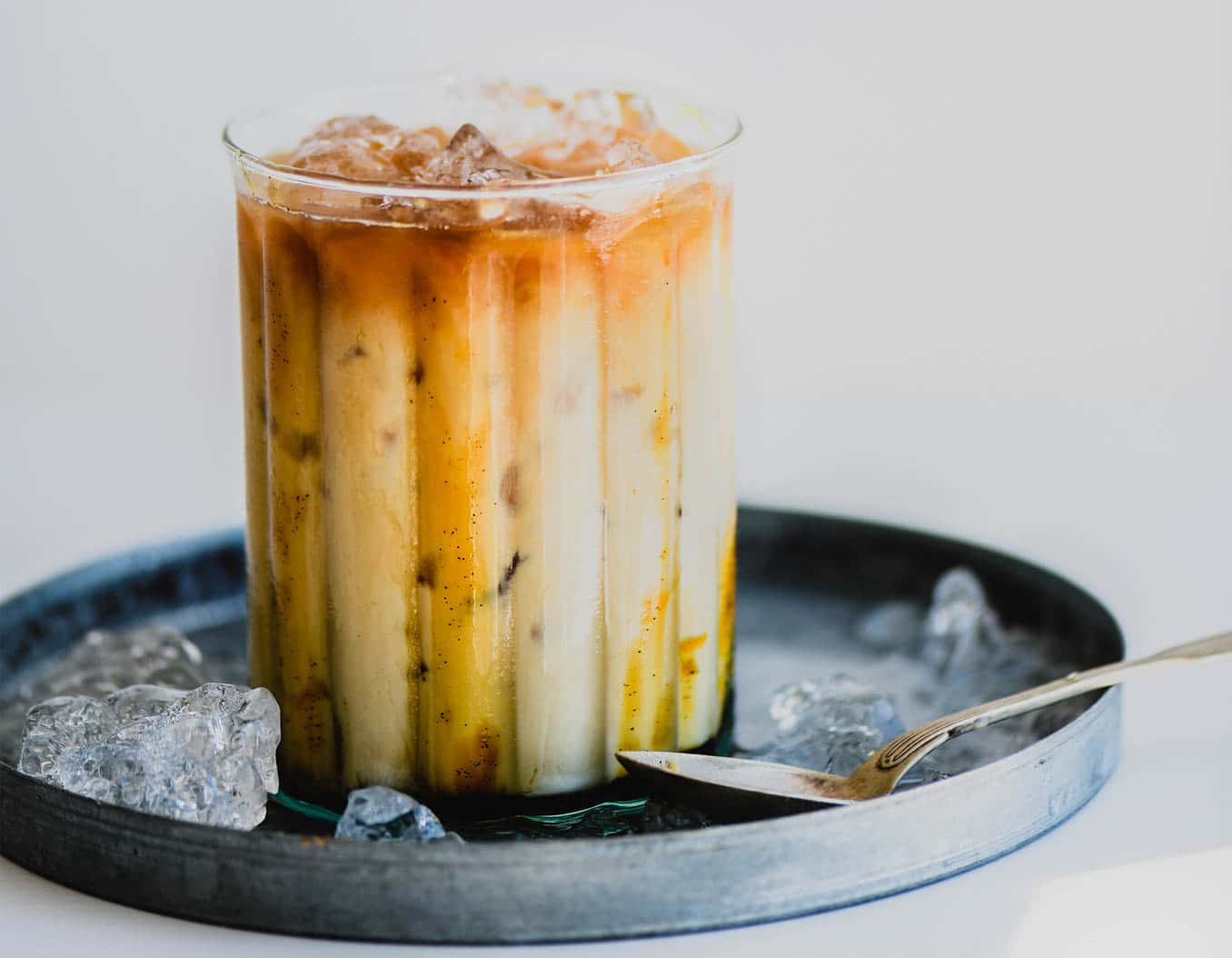 When we go out to eat, I tend to always order the same thing. I'm what I like to call a "create of habit." I'll patiently sit while everyone looks over the menu deciding what they want to eat or drink. Not me. I know going in what I want. [Heck, I know before we go in what I want.]
Local pizza place? The Jack special, please. Italian food? Bowtie pasta with white sauce, artichokes and sun dried tomatoes. [Please and thank you.] Starbucks? Iced caramel macchiato.
As much as I love indulging by going to Starbucks every once and a while, I decided to create my own. So ya know, I can have it at home. All the time.
What is a caramel macchatio?
A caramel macchiato is an espresso based drink that is topped with steamed milk and caramel sauce. Macchiato means "marked" in Italian so the espresso (or coffee) marks the top of the steamed milk. This is a popular drink at Starbucks and one that is really easy to make at home. You don't need fancy equipment or ingredients to make this iced caramel macchatio. In fact, you only need 6 common ingredients.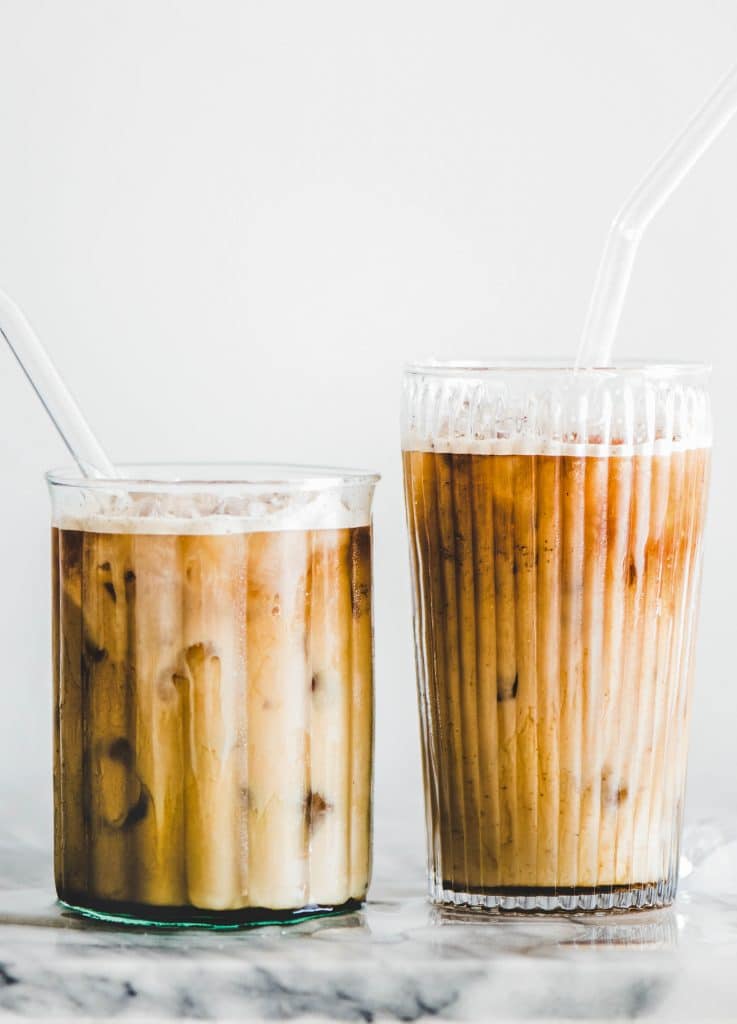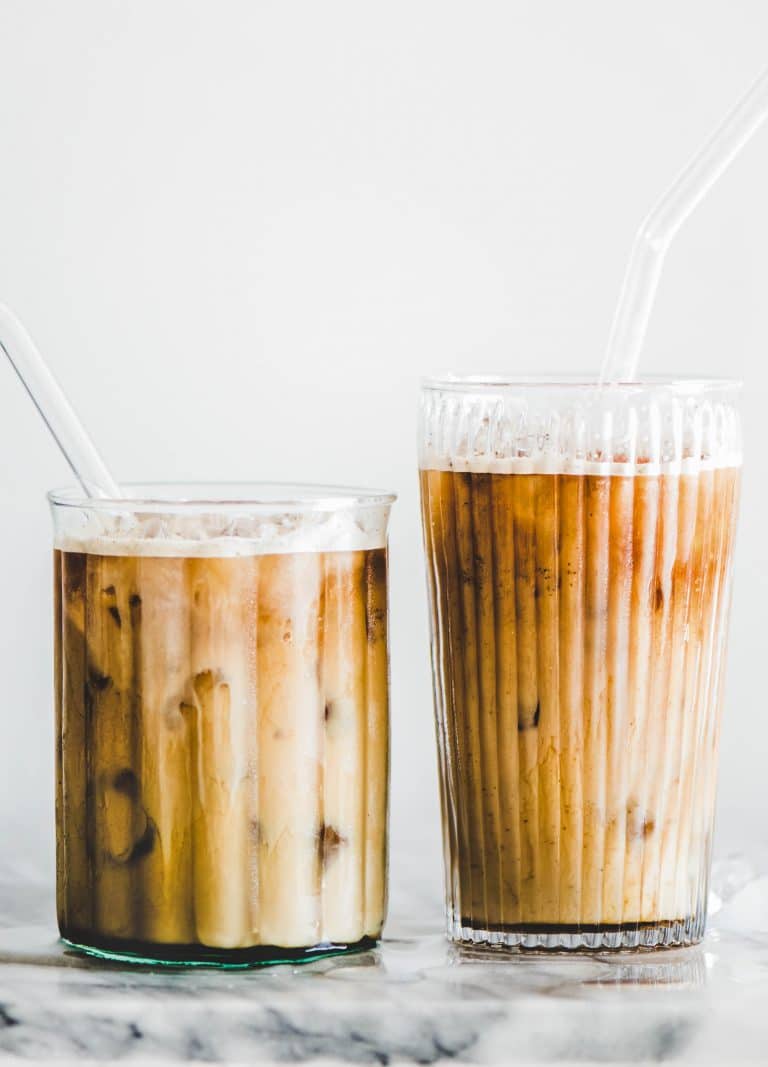 I have to warn you though – once you find out how easy this is to make you may never want to buy one again. [Seriously.] And its so quick to make too. I can whip one up in under a minute now. My kids are starting to wonder if they will ever have another pink cake pop. [Maybe I should figure out how to make those too?!]
As much as I love grabbing a drink from Starbucks, it is nice to be able to make my favorite drink at home. In my pajamas if I so choose. Which may happen from time to time. [shhhh.]
Iced caramel macchiato ingredients
It's super easy to make this iced caramel macchiato at home. In fact, you may have most of the ingredients on hand already! [Score!]
Here is the ingredient list to make your own: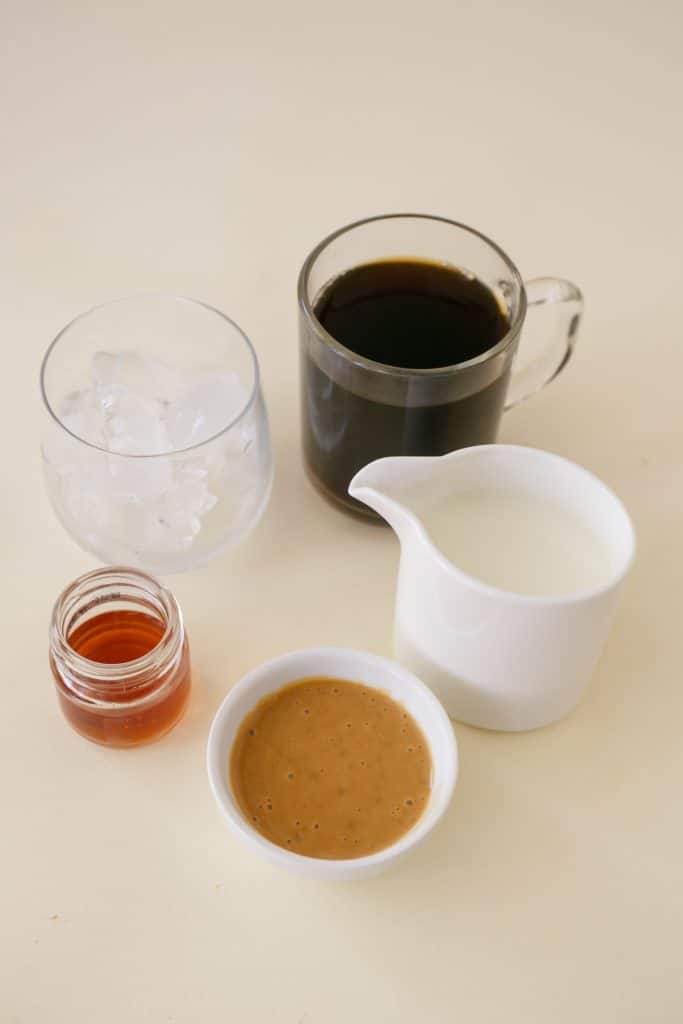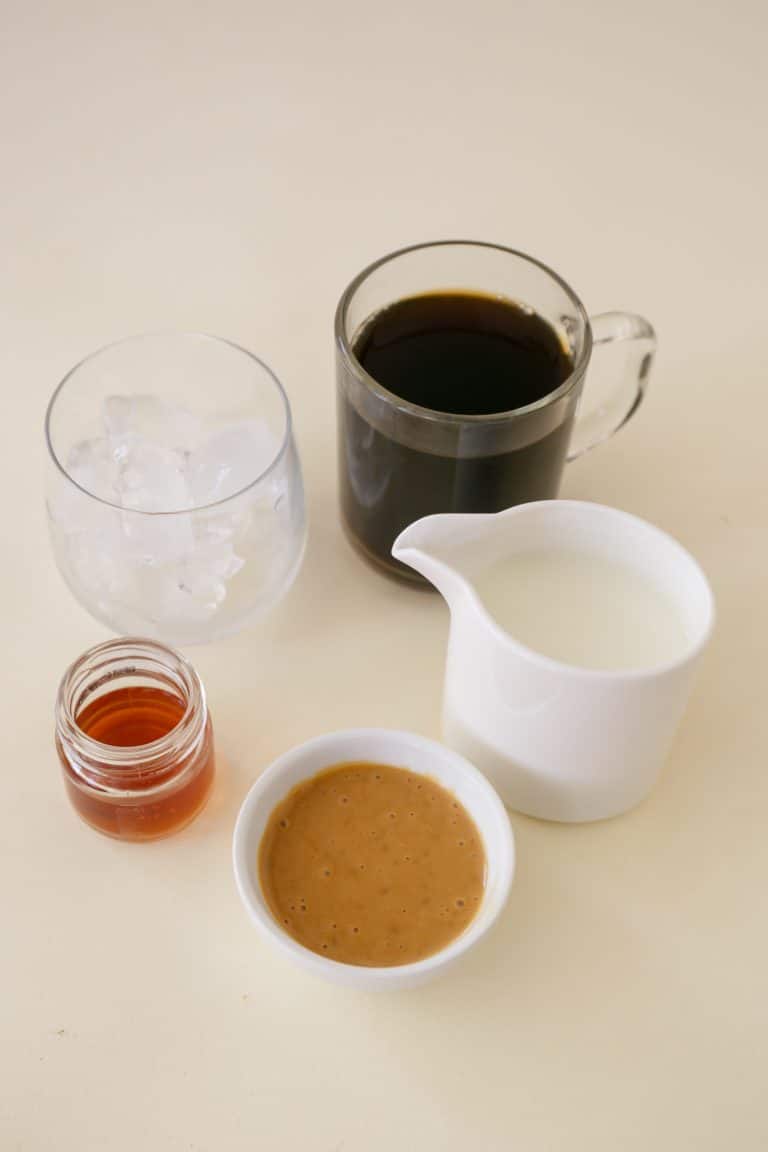 Espresso – You can use fresh espresso if you have an espresso maker. You can also use an espresso coffee pod or any other version of fresh espresso you like. I like using instant because it cools faster, which means I get my drink faster. You can also use a strong coffee.
Vanilla syrup – This syrup, along with the caramel sauce, is used to sweetener the caramel macchatio. You can use your favorite store bought syrup, or make your own vanilla syrup! It's pretty simple and great to have on hand.
Milk – Feel free to use your favorite milk in this recipe. You can also make it dairy-free by using coconut or almond milk as well.
Caramel – Of course you need a caramel sauce for this caramel macchatio! I love using my homemade caramel sauce with cream for this recipe. You can also use you store bought caramel sauce as well. Just pick a good quality sauce to improve the flavor of your drink.
How to make an iced caramel macchiato
Once you have gathered your ingredients you will want to –
Step 1 Make your espresso. If you are using instant espresso, combine the instant with your water and stir. If you are using fresh hot espresso, make it and let it sit for a bit so it cools. If you use hot espresso and add the ice to it, it will water down the coffee.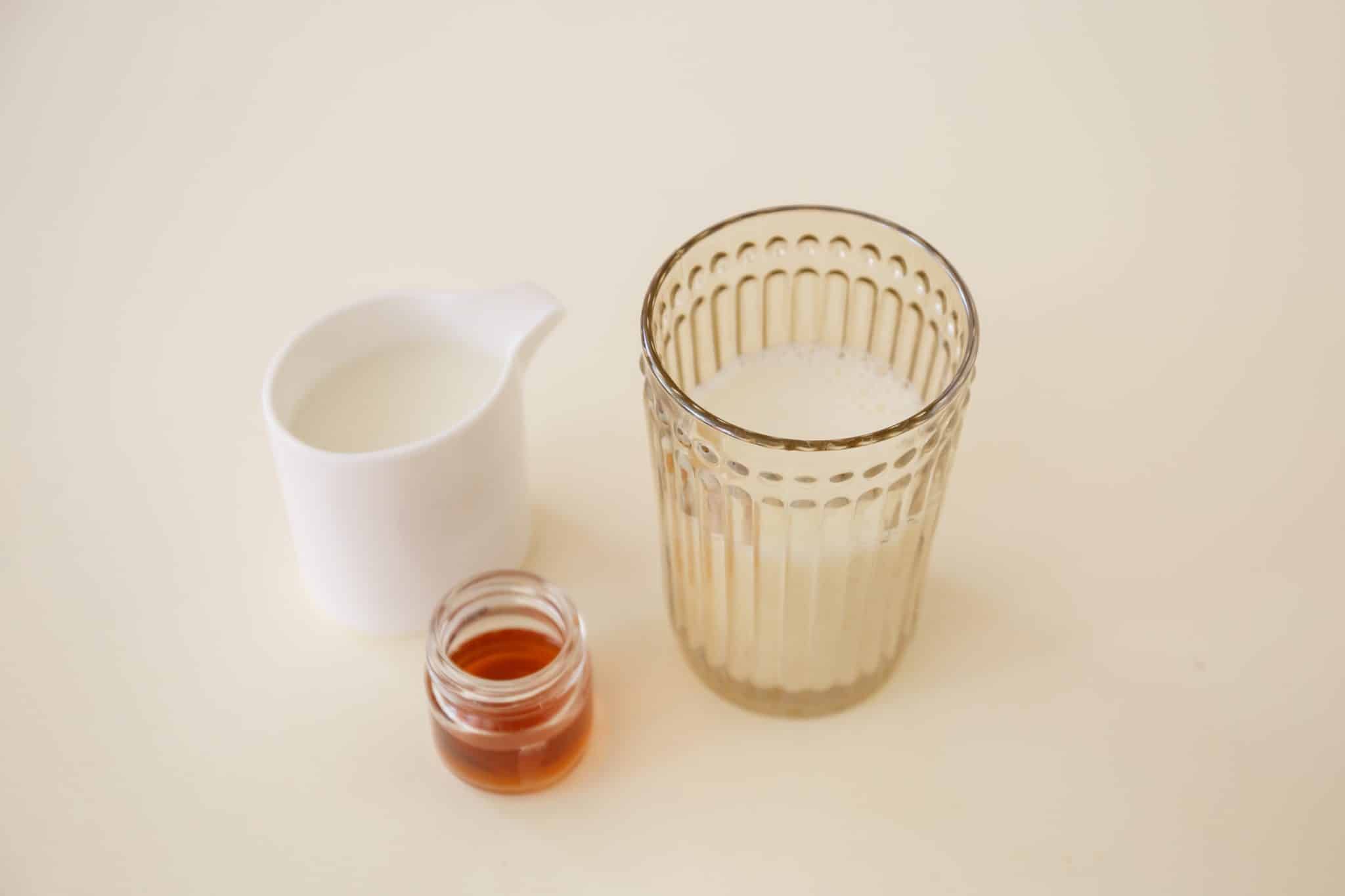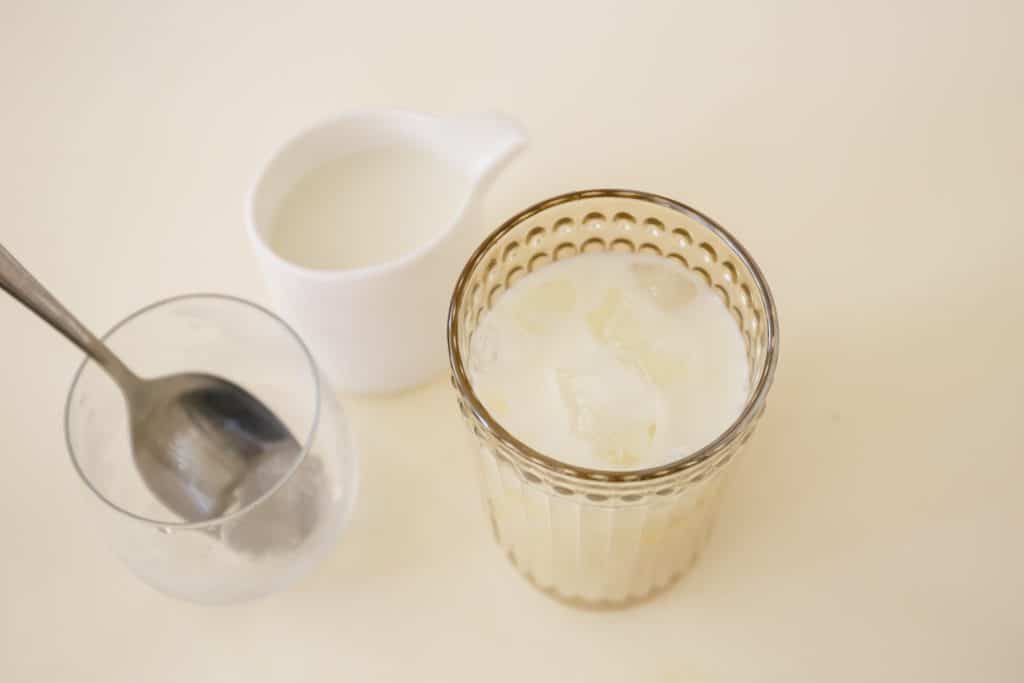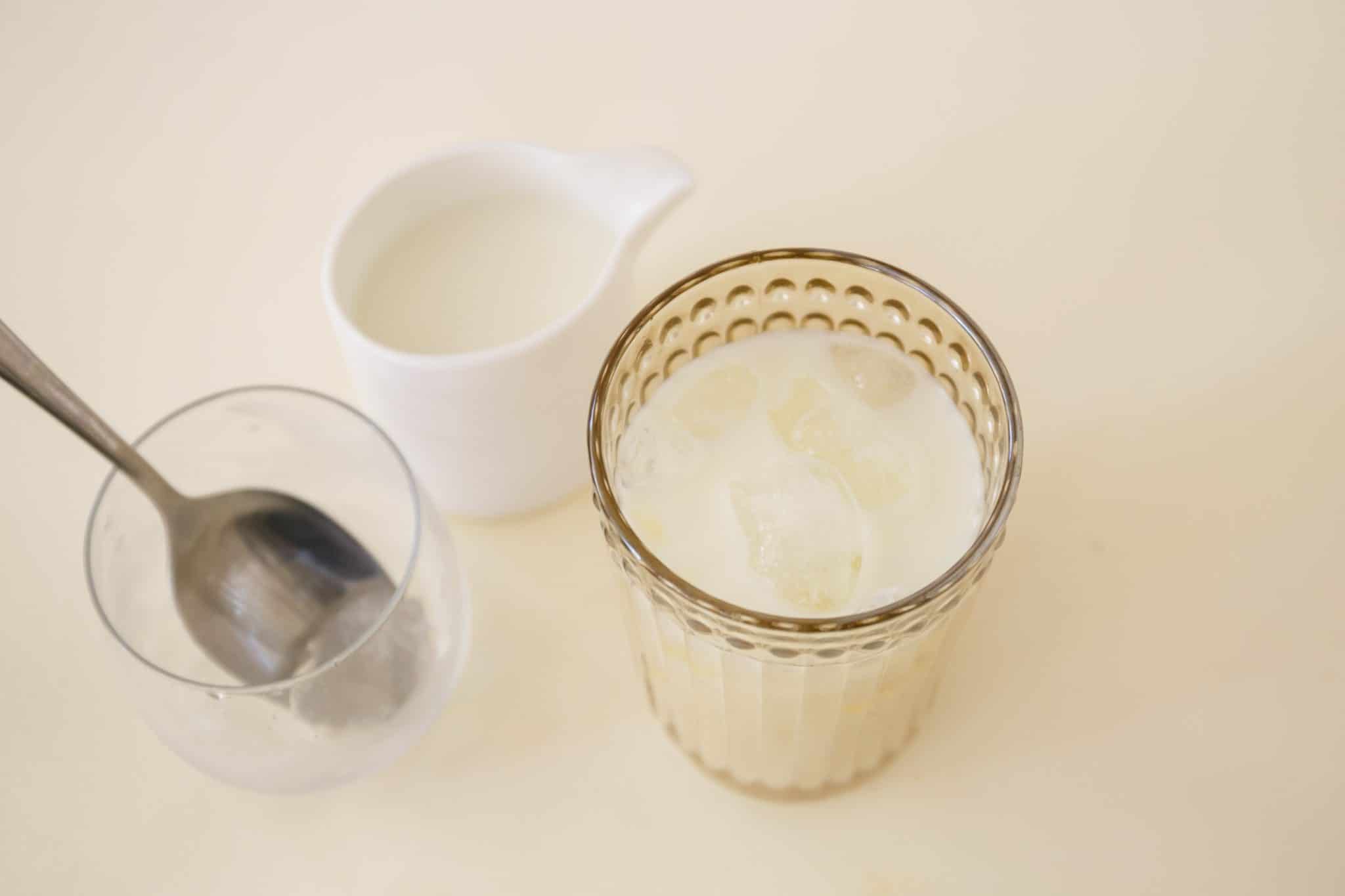 Step 2 Assemble the drink. Add your vanilla syrup to the bottom of your cup. Add in your milk and ice next. Pour the cooled espresso over top, add caramel sauce on top and enjoy!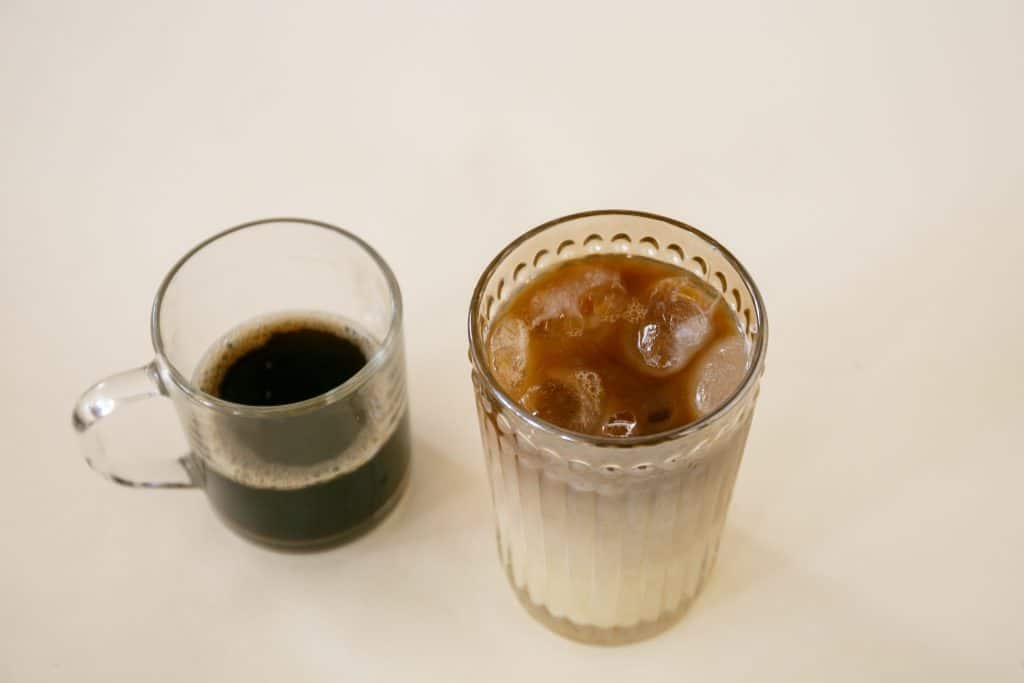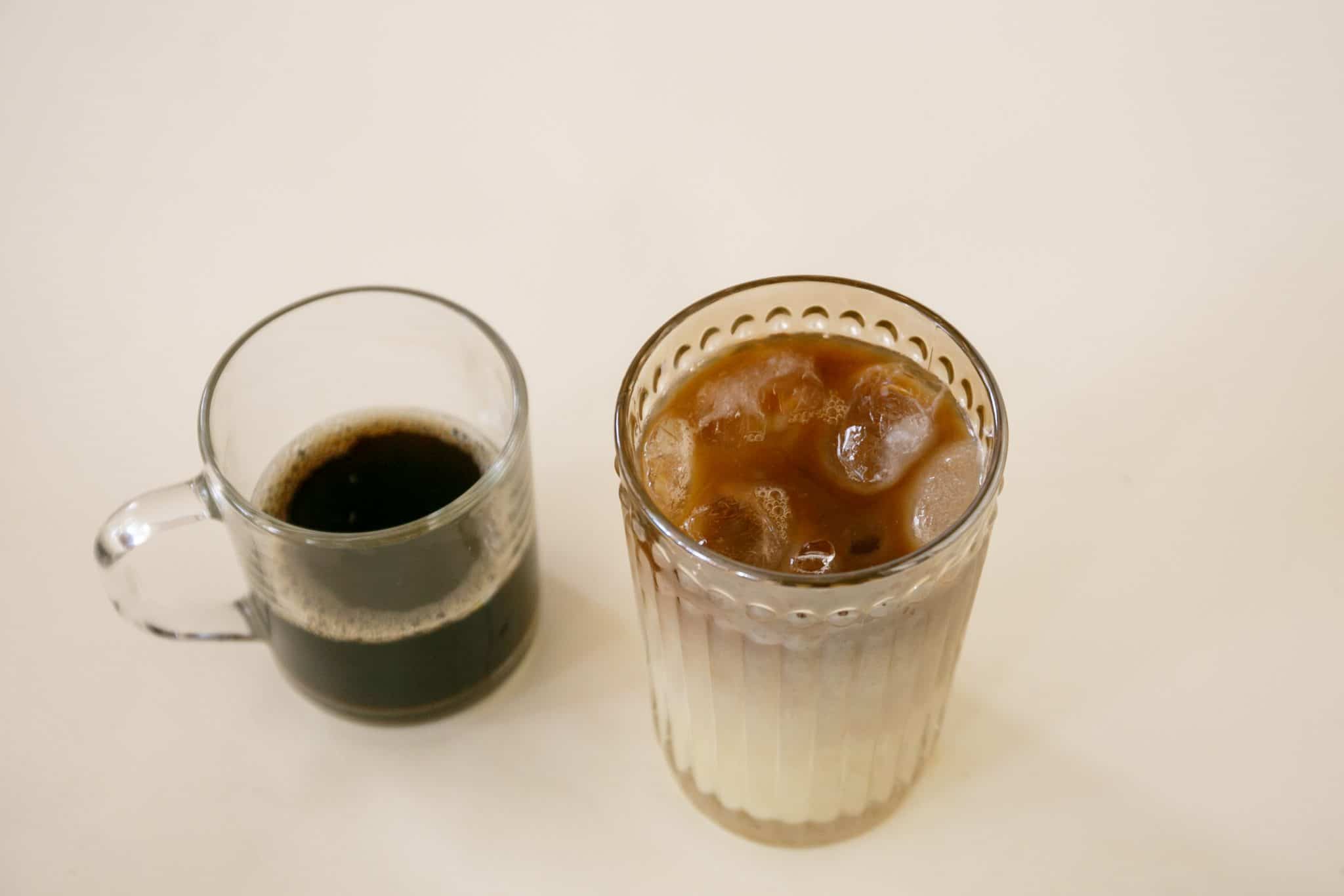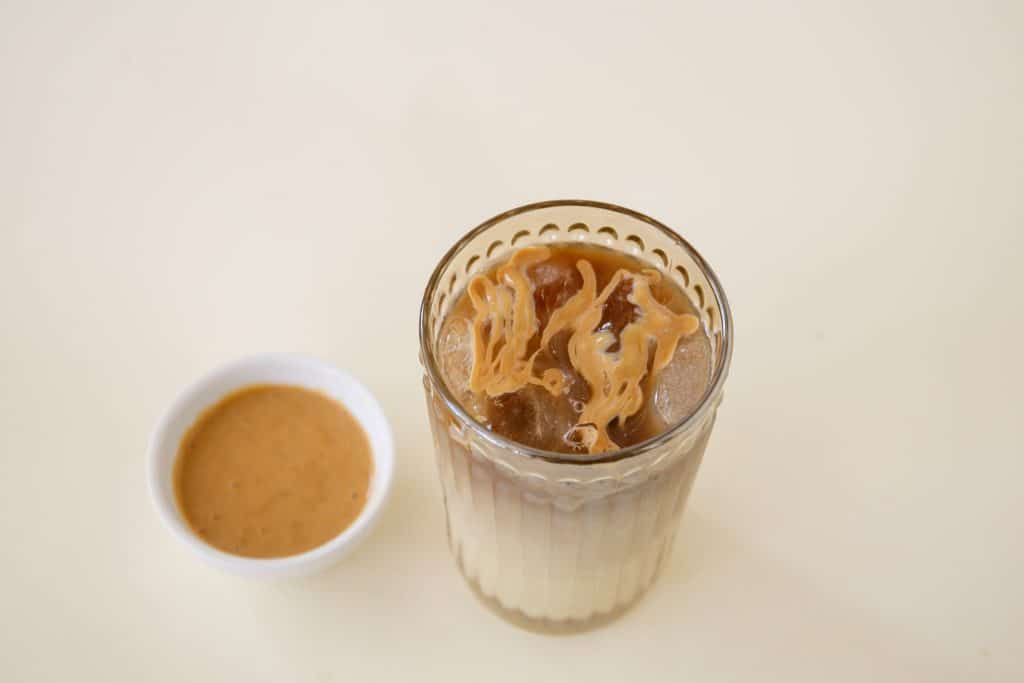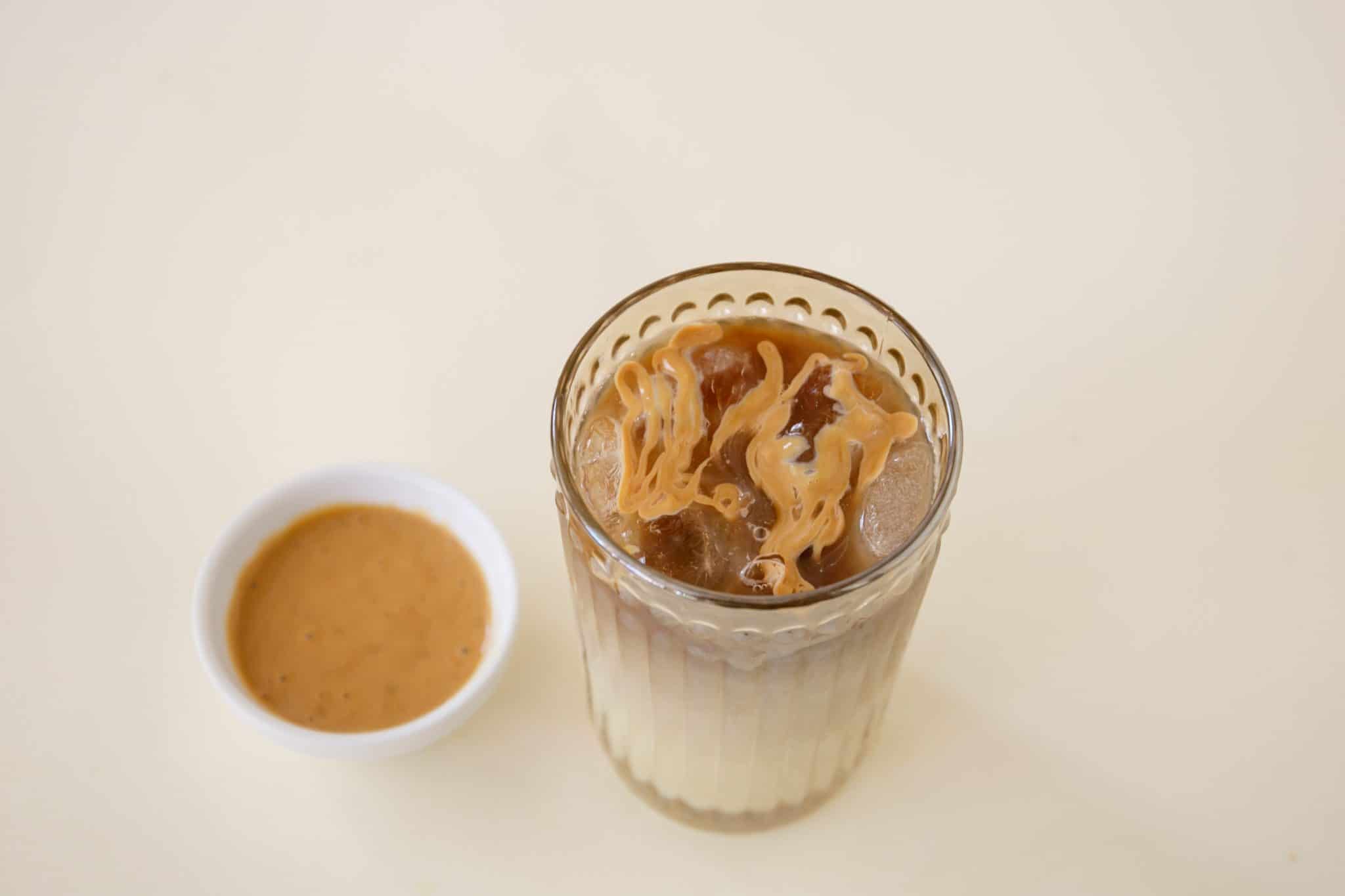 Tips and tricks
A few helpful hints about the caramel macchiato you are about to make:
Do you stir it?
"I'm a barista at Starbucks, so if you want this to be just like the caramel macchiato we serve, don't stir it. The word "macchiato" means "marked" in Italian, so the espresso and caramel drizzle are supposed to "mark" the top of the drink. This is part of what makes the drink different from an iced vanilla latte, which would have the espresso on the bottom so it mixes with the syrup and milk right away." – from reader Amber
Is the caramel macchiato sweet?
Yes. It gets its sweetness from the caramel and vanilla syrup.
Is there coffee in it?
Yup. Or espresso. You can use cold brew coffee or fresh espresso instead of the instant. Basically, any type of coffee works great in this Starbucks copycat iced caramel macchatio recipe!
Do I have to steam the milk?
Since this is an iced caramel macchatio, you do not need to steam the milk. If you make a classic hot caramel macchatio, you can steam the milk. Cold milk works perfect in this recipe.
How do I make a hot caramel macchatio?
You can follow my easy recipe for how to make a hot caramel macchiato here. It's just as easy as the iced version!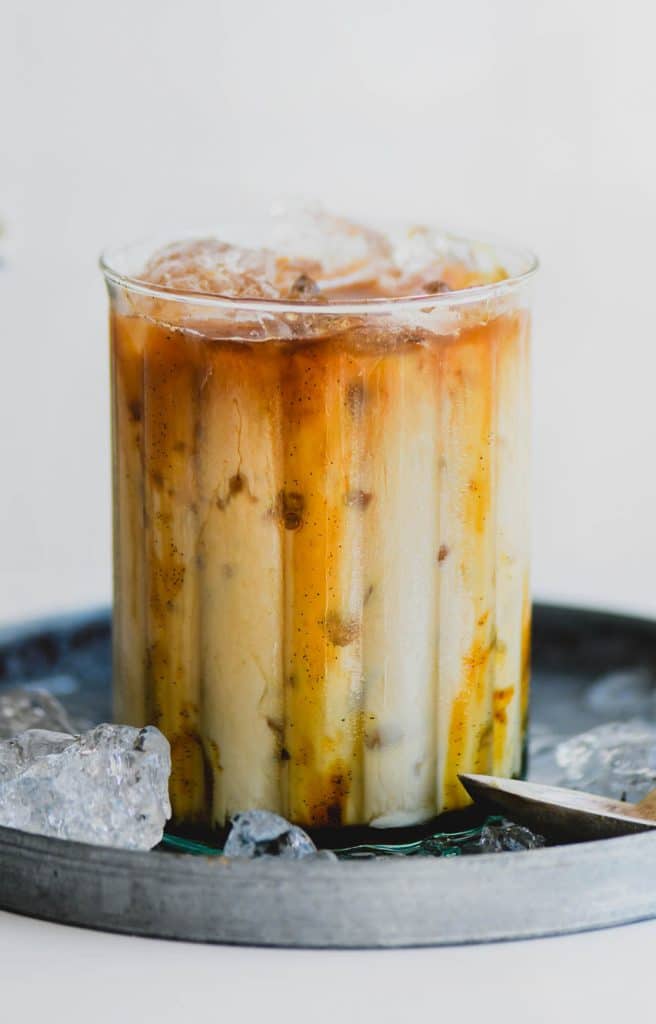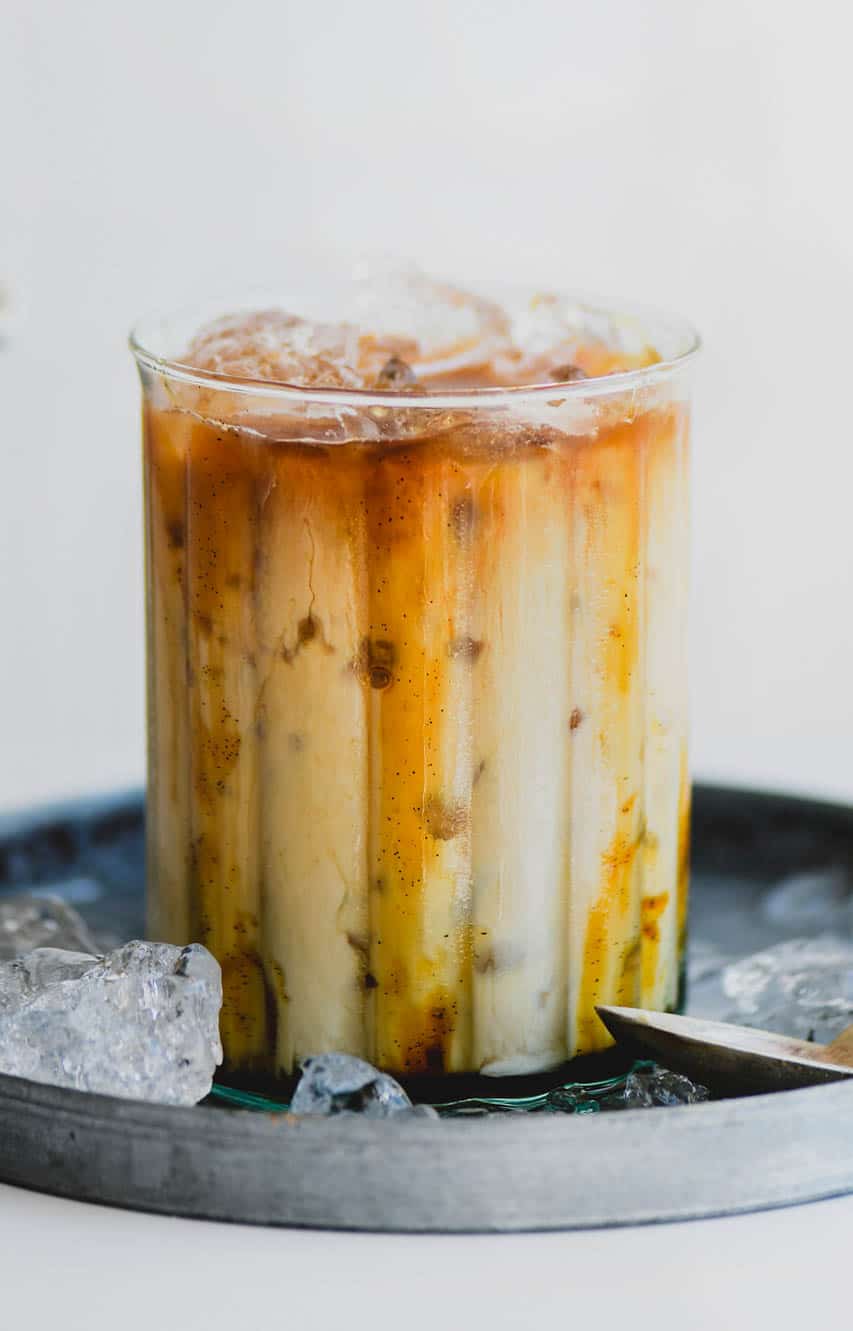 How to order an iced caramel macchiato at Starbucks
This one is super easy to order at Starbucks and most other coffee shops. Caramel macchiatos are common drinks so simply ask your barista "Can I please have an iced caramel macchiato?" and be sure to tell them your size.
Want to try a different version of this iced caramel macchiato? Ask for it upside down when you order and they will combine it all together. I love doing it this way because the caramel sauce get evenly distributed in the drink. SO GOOD!
Want more coffee flavored posts?  Check out: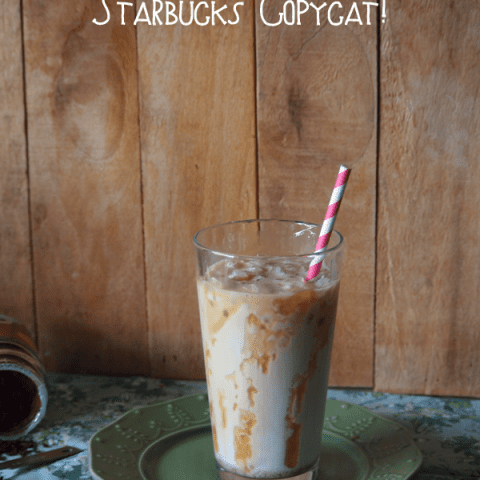 Iced Caramel Macchiato
Ingredients
1 teaspoon instant espresso
1/4 cup of cool water
1 tablespoon vanilla syrup
1 cup of milk (of choice)
1 cup of ice
caramel for drizzle
Instructions
Layer the drink from the bottom up as follows -
vanilla syrup
milk
ice
expresso + water mixture
Mix all together.
Add caramel on top.
If you want to get fancy, drizzle the caramel down the side of the cup first.
Enjoy!
Nutrition Information:
Amount Per Serving:
Calories:

170
Cholesterol:

20mg
Sodium:

143mg
Carbohydrates:

24g
Sugar:

17g
Protein:

8g
Like this DIY Starbucks recipe? Be sure to pin it to your coffee board!