These Apple Cider Scones are one of my favorite fall-inspired treats! They're soft and fluffy with tender pieces of chopped apples throughout, finished off with a topping of cinnamon nutmeg sugar and chopped pecans. They pair perfectly with a nice cup of hot coffee on a cool morning.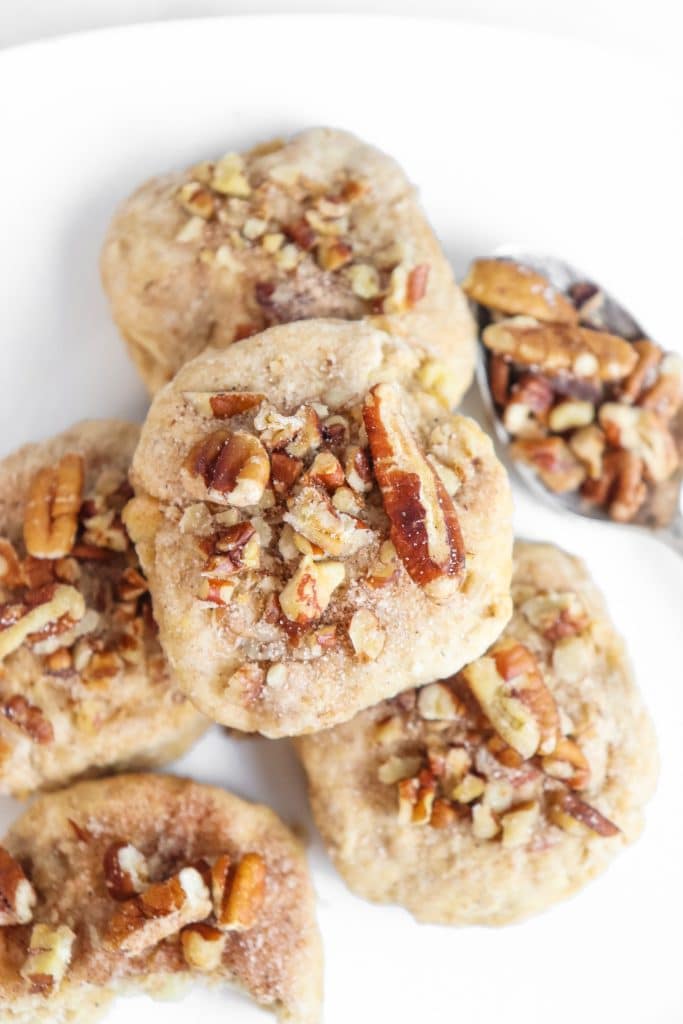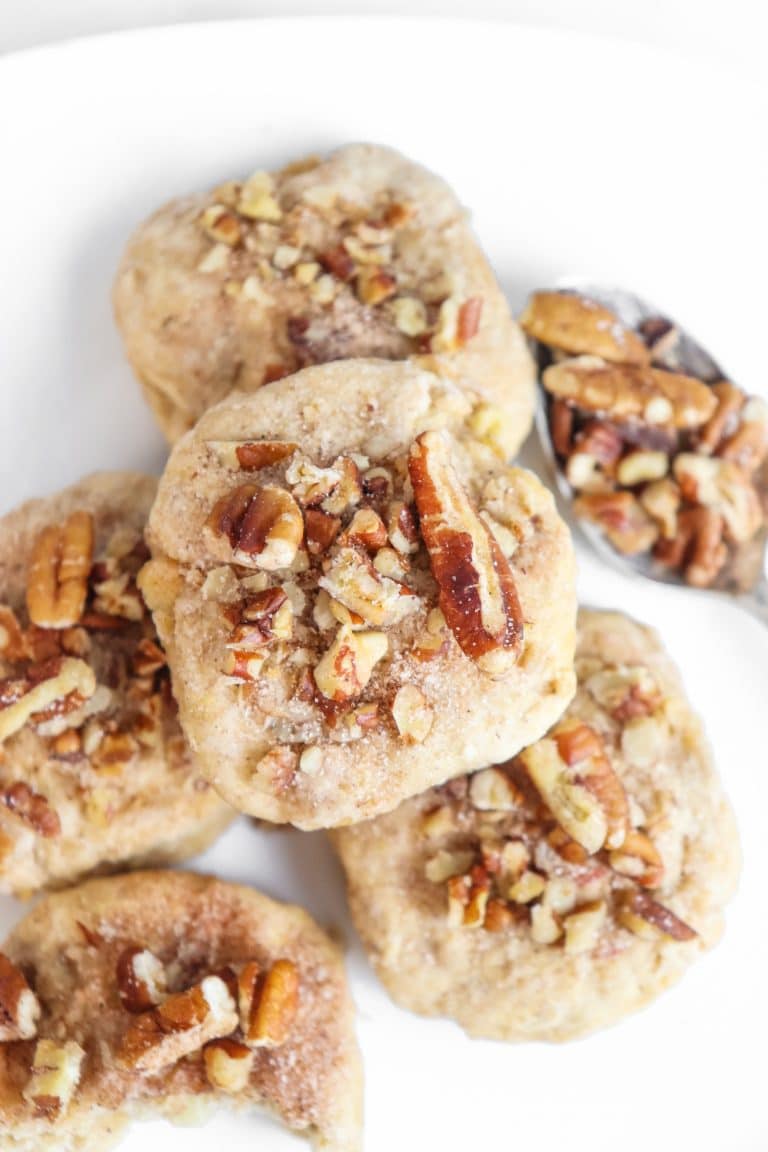 Serve these scones warm from the oven as is or with a side serving of softened butter, apple butter or jam, and whipped cream (if you're in the mood for a little more decadence!).
They're a great addition to the breakfast table or to be enjoyed as a snack throughout the day!
What Are Scones?
You may think of scones as something similar to a biscuit, and in fact, they are very similar from the perspective of American baking. However, scones actually originate from Scotland and have since become an integral part of British high tea, traditionally shaped in rounds and served plain with butter, jam (usually strawberry jam), whipped cream and grated cheddar cheese!
Those countries that stem from British colonialism such as South Africa and Australia, still revere these baked treats with a sense of national pride. Interestingly enough, if you were to ask the British what they considered a biscuit, they would quickly point out a cookie, so terminology can sometimes be misleading and the "scone" illustrates that point well.
Apple Cider Scone Ingredients
These fall-inspired Apple Cider Scones are the perfect addition to your breakfast table or as a delicious sweet treat without being overly decadent. Here's what you'll need to whip up a fresh batch of these baked scones:
all-purpose flour
sugar
butter
chopped apple
egg
apple cider
chopped pecans
baking powder
cinnamon
nutmeg
Scroll down for tips on picking the best ingredients for these scones.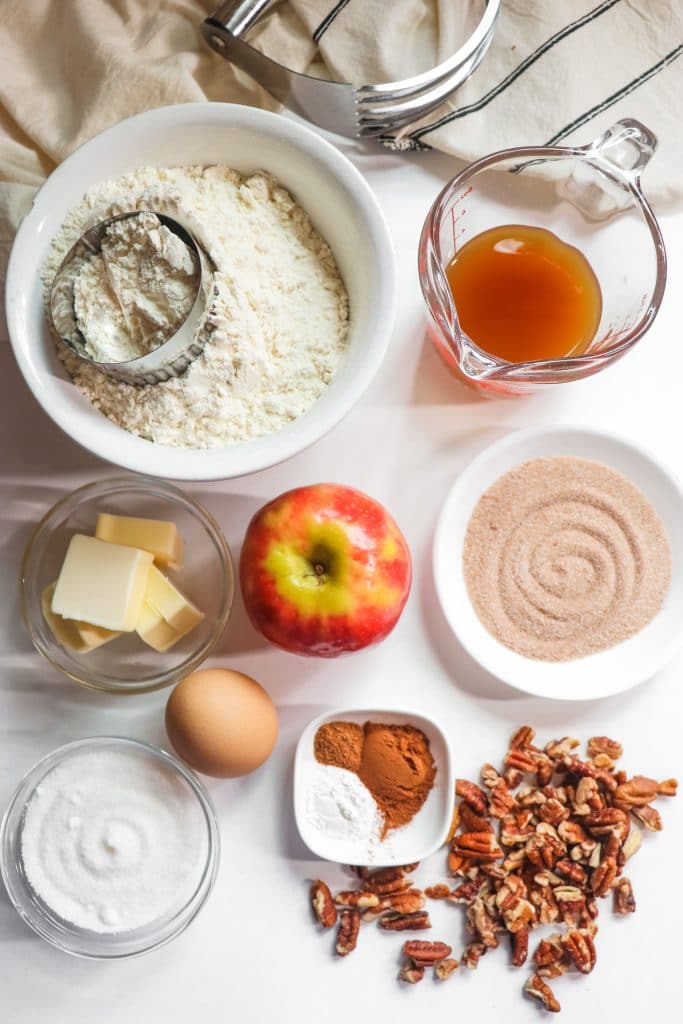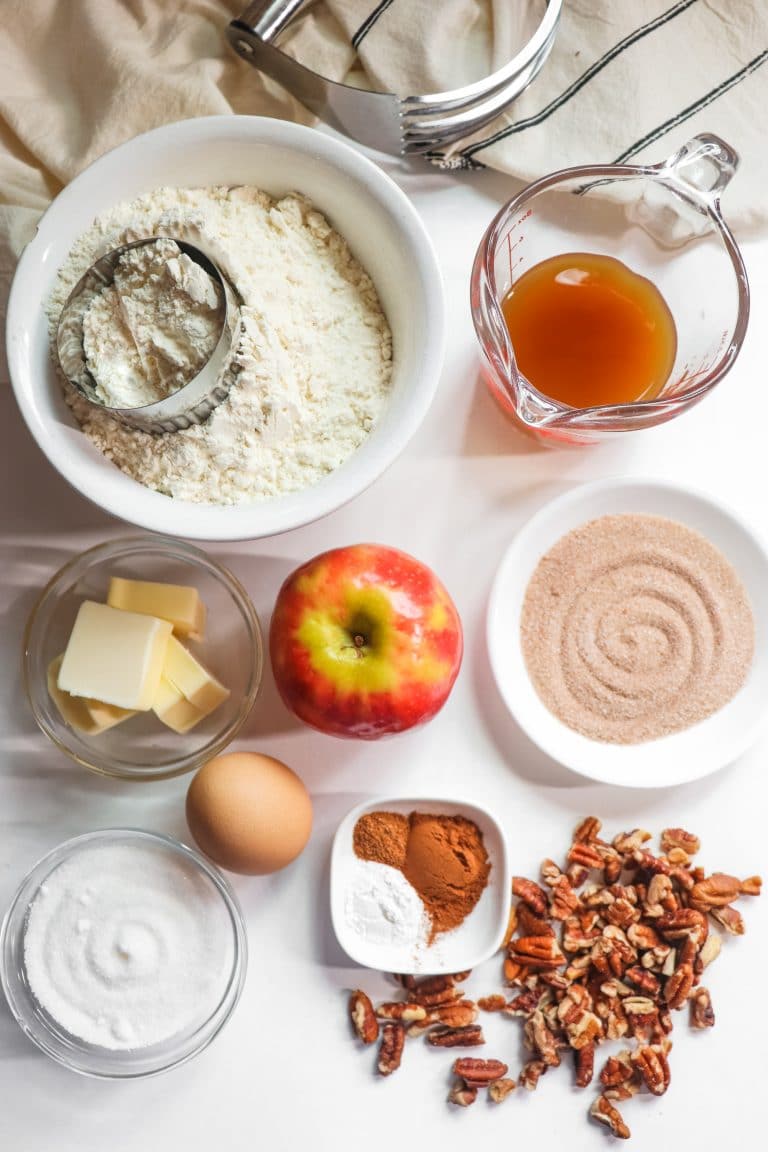 Apple cider – Make sure you grab apple cider and not apple juice. Apple cider is slightly thicker and has a distinct flavor. Some grocery stores have the apple cider mixed in with the apple juice and some have it up front in the refrigerated drink section.
Butter – You need cold butter for this recipe. The cold butter is cut into the flour mixture and it helps gives the scone the flaky texture.
Apples – Use any apples that you like for this recipe. I have found that a red delicious holds up the best when baked.
How To Make Apple Cider Scones
Even if you're new to baking, there's nothing complicated about making these baked Apple Cider Scones. Here are the simple steps to follow for making these treats:
Step 1: Preheat Oven and Prepare the Baking Sheet
Preheat your oven to 400? and prepare a baking sheet by spraying it with oil. You're also welcome to use these silicone mats instead.
Step 2: Mix the Dry Ingredients and Butter
In a medium sized bowl, combine the flour, baking powder, cinnamon, and nutmeg. Once these dry ingredients have been mixed, use a pastry blender, cutting the butter into the flour mixture until it resembles coarse crumbs.
Step 3: Add the Wet Ingredients and Apple
Add the egg, apple cider, and chopped apple into the coarse crumbs and blend until it forms a dough mixture.
Step 4: Prepare the Scone Dough
Place the scone dough onto a lightly floured board and pat it into a 1/2" thick circle. Cut the dough using a 2" biscuit cutter into scone shapes. Re-roll any remaining dough to flatten and be recut into additional scones.
Arrange your freshly cut scones on a baking sheet (either oiled or lined with a silicone mat), making sure that they have enough peace between them.
Step 5: Add Cinnamon Nutmeg Sugar Topping and Bake
Once your scones have been assembled, melt the butter and make the cinnamon nutmeg sugar mixture in a small dish. Brush the tops of the scones with melted butter and then sprinkle them with the cinnamon sugar mixture and chopped pecans.
Place your scones in the oven to bake for 12 minutes.
Step 6: Cool and Serve
When your scones have finished baking, transfer them from the baking sheet to cool before serving with warm butter, jam, or whipped cream and enjoy with your favorite hot beverage!
What Is The Topping On These Scones?
I've used a very simple cinnamon and nutmeg sugar mixture to coat the tops of these scones as well as adding some chopped pecans for some delicious contrasting crunch! Feel free to omit the pecans or use a different chopped nut of your choice.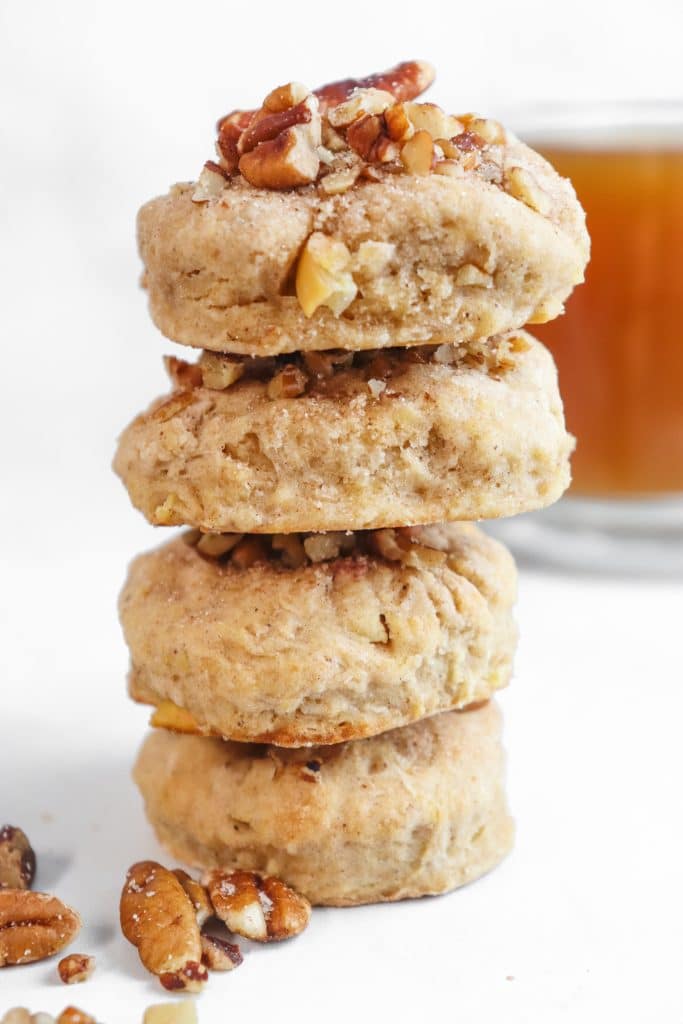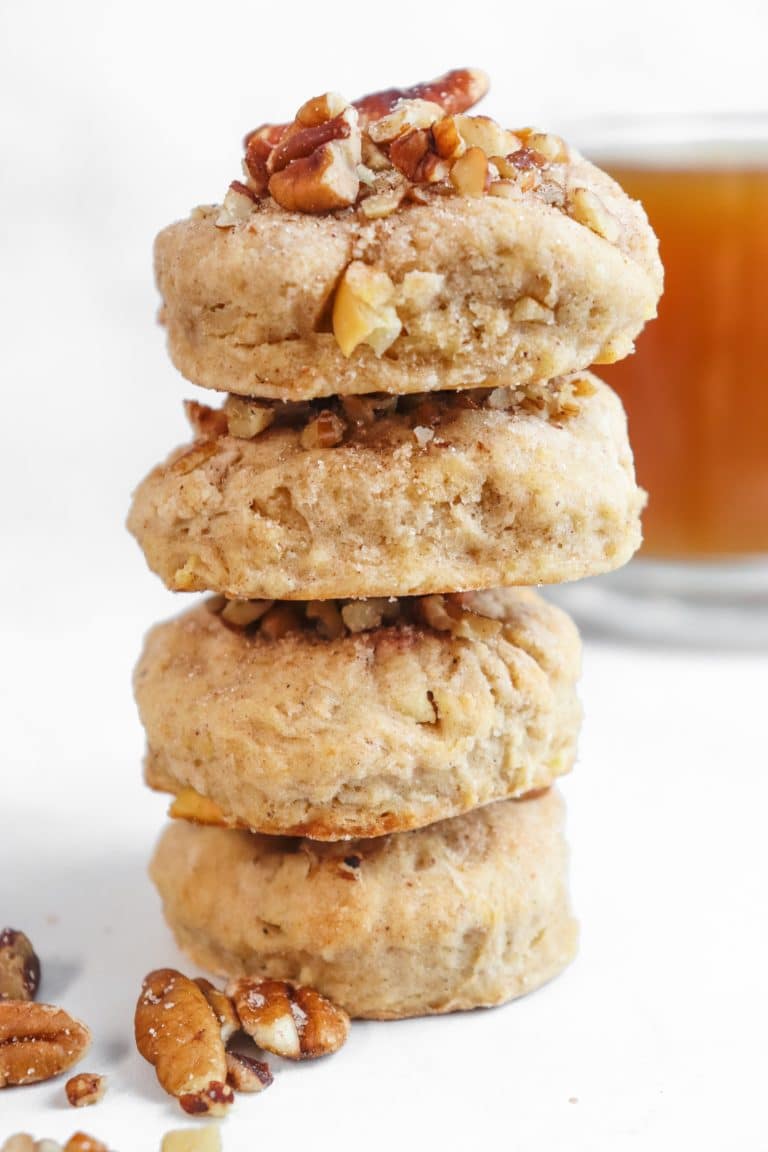 How Long Do You Bake Scones?
These Apple Cider Scones only need to be baked for 12 minutes at 400?. Since all ovens heat differently, you can check for the readiness of your scones by inserting a toothpick into the center which should come out clean. If not, leave your scones for a few more minutes, watching that they don't burn.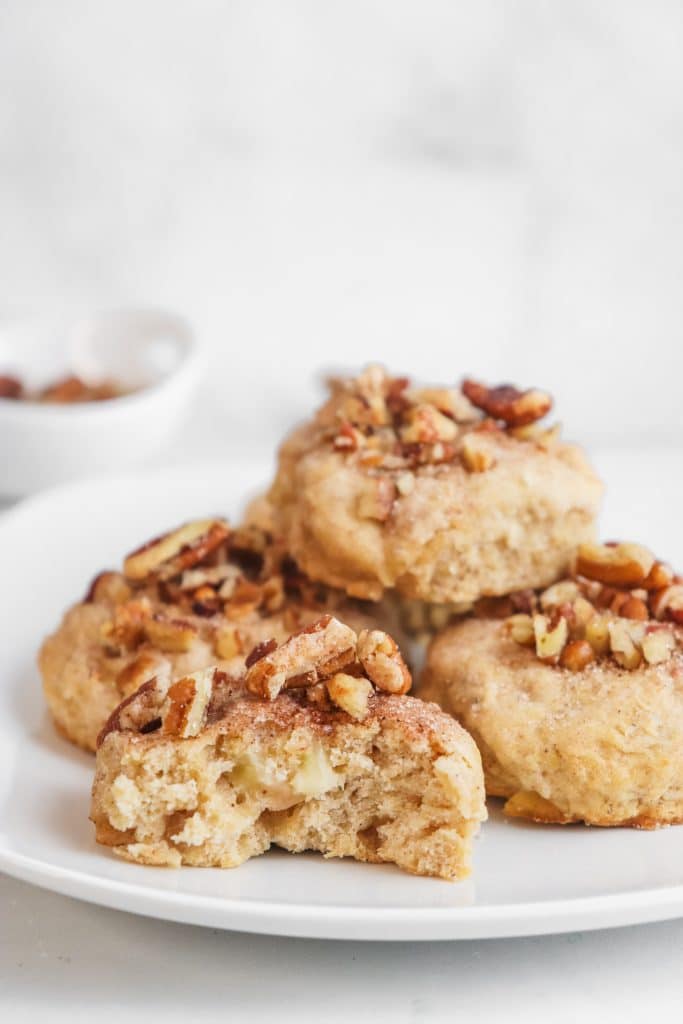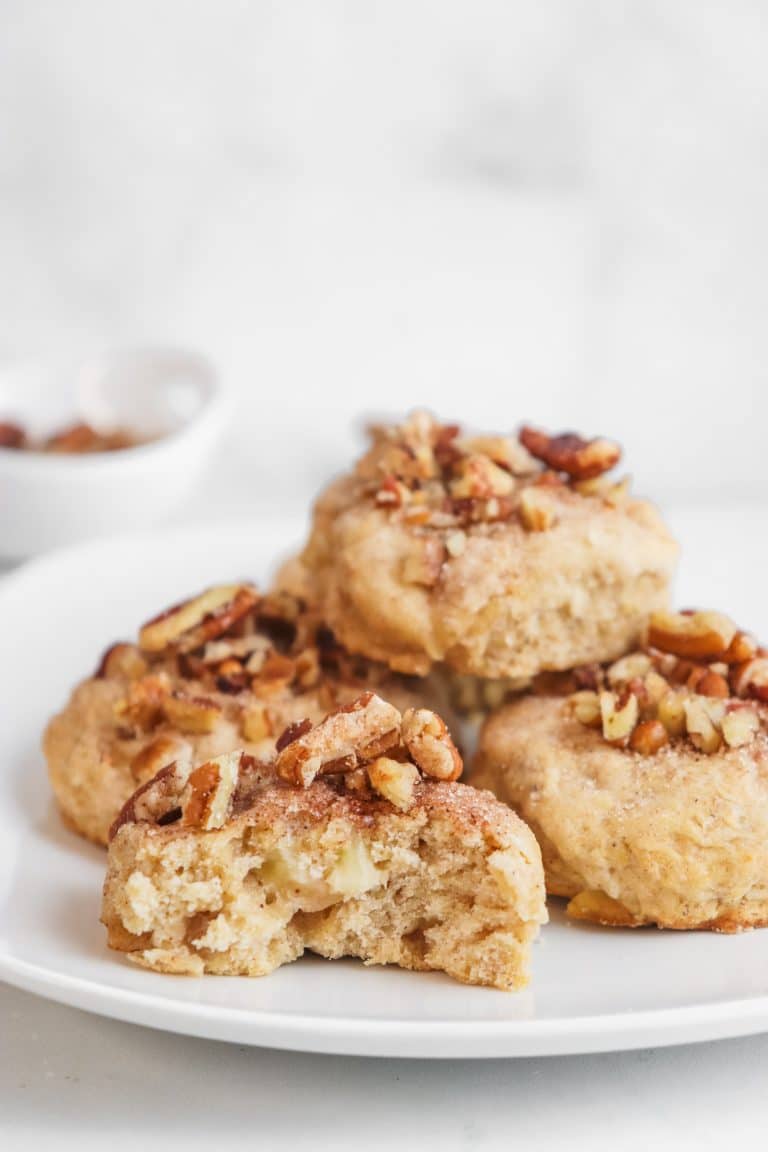 How To Store Leftovers
Leftover scones can be stored in an airtight container for 2-3 days, either at room temperature or in the refrigerator.
Can I Freeze Them?
Yes, you can! These scones can be stored in the freezer for up to 1 month! I recommend that you first flash freeze them till hardened and then wrap them individually in plastic wrap to be stored in an airtight container – that way, their topping is less likely to come off and you then also have the option of transferring them to a Ziploc bag.
Thaw overnight in the refrigerator or at room temperature and heat them up for 10 seconds or so in the microwave.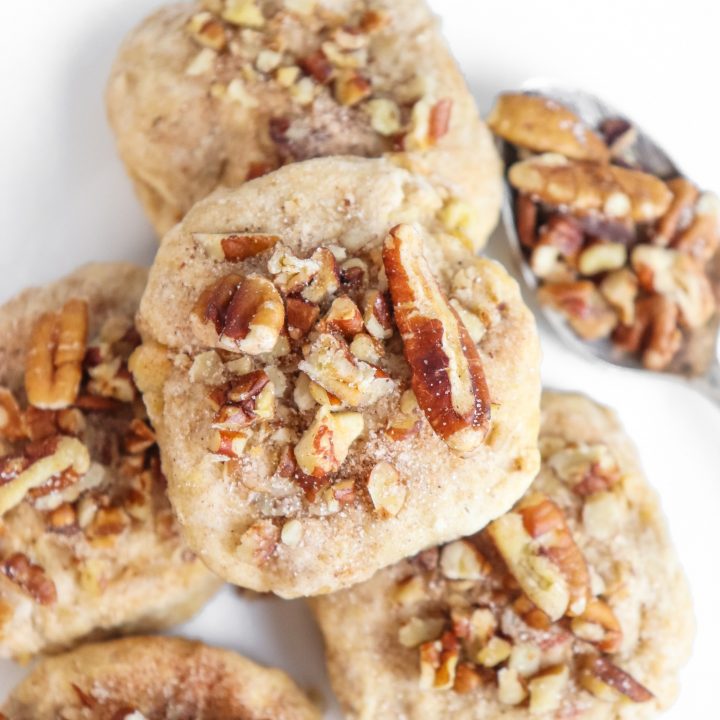 Apple Cider Scones
Make extra flaky scones that are perfect for fall!
Ingredients
2 cups all-purpose flour
1⁄4 cup sugar
1⁄4 cup firm butter
1/3 cup chopped apple
1 egg
1/3 cup apple cider
1⁄2 cup chopped pecans
1 1⁄2 tsp baking powder
1 tsp cinnamon
1⁄2 tsp nutmeg
Topping:
2 tbsp sugar
2 tbsp butter
1 tsp cinnamon
Instructions
• Set oven to 400°
• Spray baking sheet with oil.
• In a medium sized bowl, combine flour, baking powder, cinnamon, and nutmeg.
• Using the pastry blender, cut butter into flour mixture until it resembles course crumbs.
• Mix in egg and apple cider.
• Chop apple and blend into dough mixture.
• Turn dough onto lightly floured board.
• Pat dough into a 1/2" thick circle.
• Use 2" biscuit cutter to cut scones. Re-roll and flatten to use all the dough.
• Arrange on a baking sheet, touching each other.
• Melt butter and make topping by mixing sugar and cinnamon in a small dish.
• Brush the tops of the scones with melted butter.
• Sprinkle tops with cinnamon sugar.
• Sprinkle chopped pecans on top.
• Bake for 12 minutes.
• Place on a wire rack to cool or serve warm with butter.
Notes
• Store in a sealed container for 3-4 days or place in a freezer.
• Enjoy with coffee, tea, or better yet...apple cider!
Other Scone Recipes To Try
Looking for another scone recipe to try? Some of my favorites are:
Did you try this recipe? I'd love for you to leave a review above in the recipe card or below in the comments. Want to try it later? You can pin the image below. I appreciate your support!