You are going to want to try this delicious fall Starbucks copycat drink! Pumpkin cream cold brew is the best transition from fall to summer drink. Skip the drive thru – this cold brew with pumpkin sweet cream foam is so easy to make at home!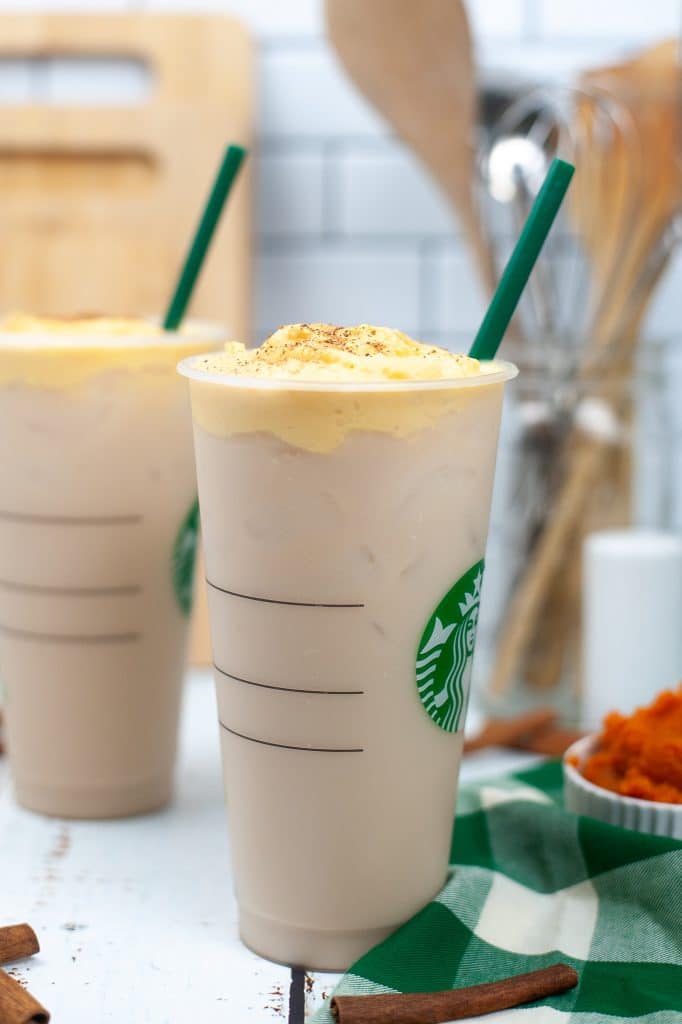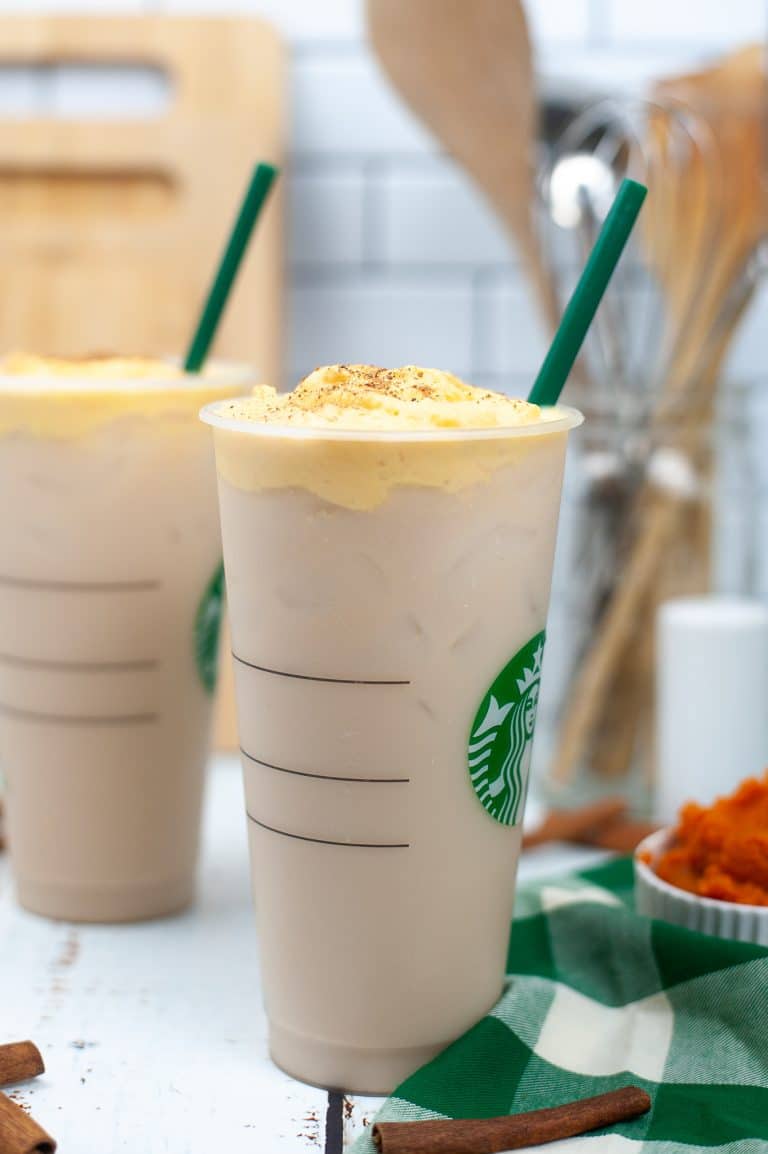 It's baaaack! Pumpkin everything has officially arrived and I am here for it. I love when Starbucks fall menu drops and I can grab some of my seasonal favorites again. I'm talking apple fritters, pumpkin spice latte, pumpkin bread and scones. I'm sad they are removing the salted caramel mocha from their menu, but new additions like this pumpkin cream cold brew make up for the loss.
What is cold foam?
So cold foam has gained popularity over the past few years and can be seen on the top of many a Starbucks drink. Cold foam is like whipped cream, but not as dense. It's the foam from a hot latte, chilled, and poured over the top of a cold drink. You can get it in an flavor you'd like. Starbucks does a pumpkin cold foam during the fall months and it's pretty delicious!
Pumpkin cream cold brew ingredients
The best part of this delicious drink? You only need a handful of pretty common ingredients. In fact, I bet you have most of them in your pantry already! To make your copycat Starbucks drink you will need:
cold brew coffee
milk
sweetener
heavy cream
pumpkin puree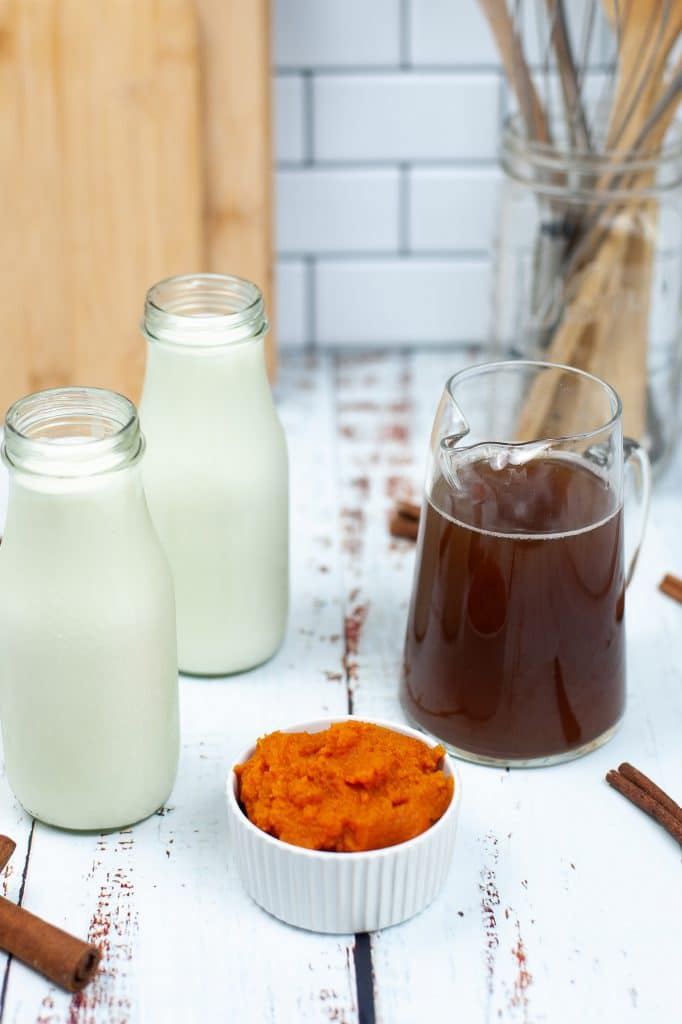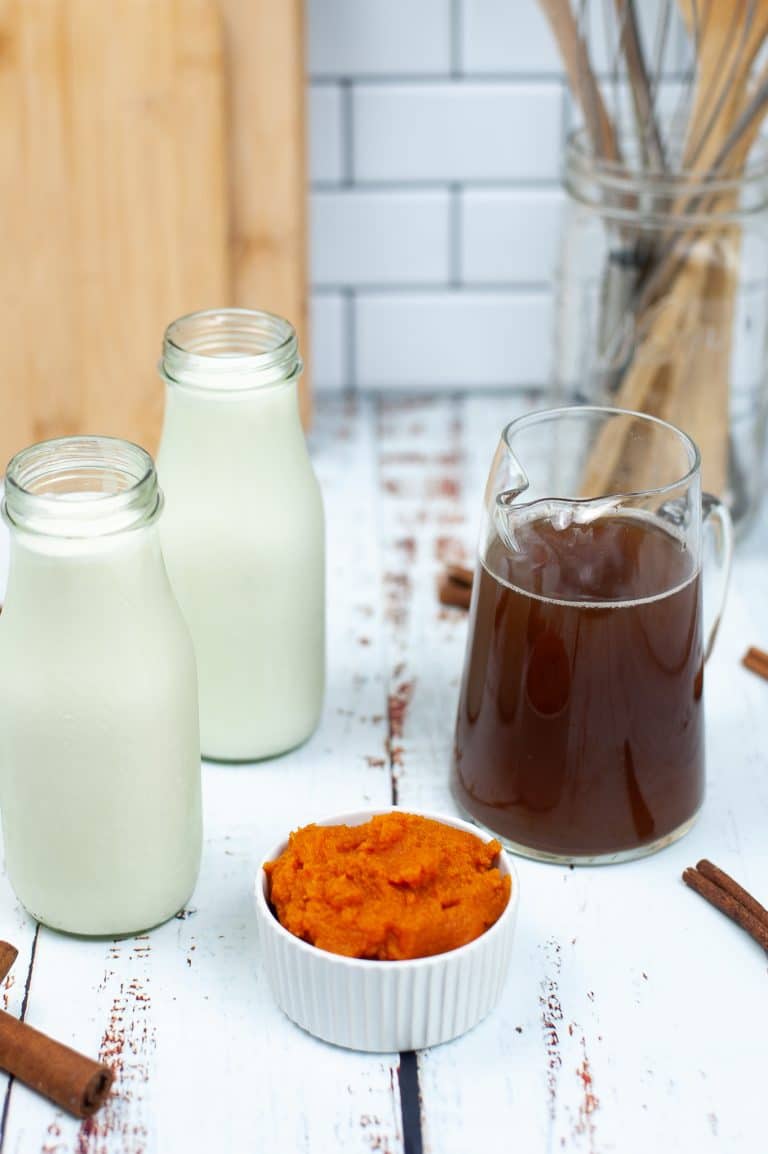 Cold brew coffee – You can make your own cold brew coffee (it's really pretty easy!) or you can use a concentrate. You can find cold brew concentrate near the dairy section of the grocery store. Another substitution is to use iced coffee.
Milk – Use your favorite milk here. You can make this pumpkin cream cold brew dairy free by using coconut or almond milk.
Sweetener – If your cold brew is unsweetened, you will want to add some sort of sweetener to it. To make it a true copycat you will want to use vanilla syrup.
Heavy cream – This is for the pumpkin cold foam topping. If you want to do a completely dairy free drink, use coconut cream here. Coconut cream is the semi-solid part in a can of coconut milk.
Pumpkin puree – Grab a can of plain pumpkin puree from the baking aisle.
Pumpkin cream cold brew recipe
You will need a few kitchen tools to make this drink. Once you have gathered all your ingredients you will also need to get:
glass with ice
blender or milk frother
Let me take a second to talk about making the best cold foam possible. I stumbled upon the Instant Pot milk frother awhile ago and I fell in love. It has a few different options, one of which is to make a cold foam! You simply add your ingredients and press the cold button and it makes a homemade cold foam for you. Boom – done. It's pretty inexpensive for a milk frother too. While the Instant Pot milk frother makes it easier to make cold foam, it's not a necessity. You can use a high powered blender or handheld frother.
Step 1 Make the cold brew
You will want to make homemade cold brew the night before you plan on having this pumpkin cream drink. Don't worry – it's super easy! It also saves you a ton of money. You can also use cold brew concentrate or iced coffee here. Make sure whatever option you choose, you add a bit of sweetener to your coffee.
Step 2 Make the pumpkin cream cold foam
Place the heavy cream and the pumpkin puree in a blender or the Instant Pot milk frother. Blend until foam forms. You can also add a bit of sweetener to your cold foam. Use either a liquid sweetener such as vanilla syrup or a powdered sugar so that it dissolves evenly.
Step 3 Assemble the cold brew with pumpkin cream
Pour your cold brew in your glass with ice. Add your sweetener if you haven't already. Top with the homemade pumpkin cold foam. Garnish with pumpkin pie spice, nutmeg or cinnamon and enjoy!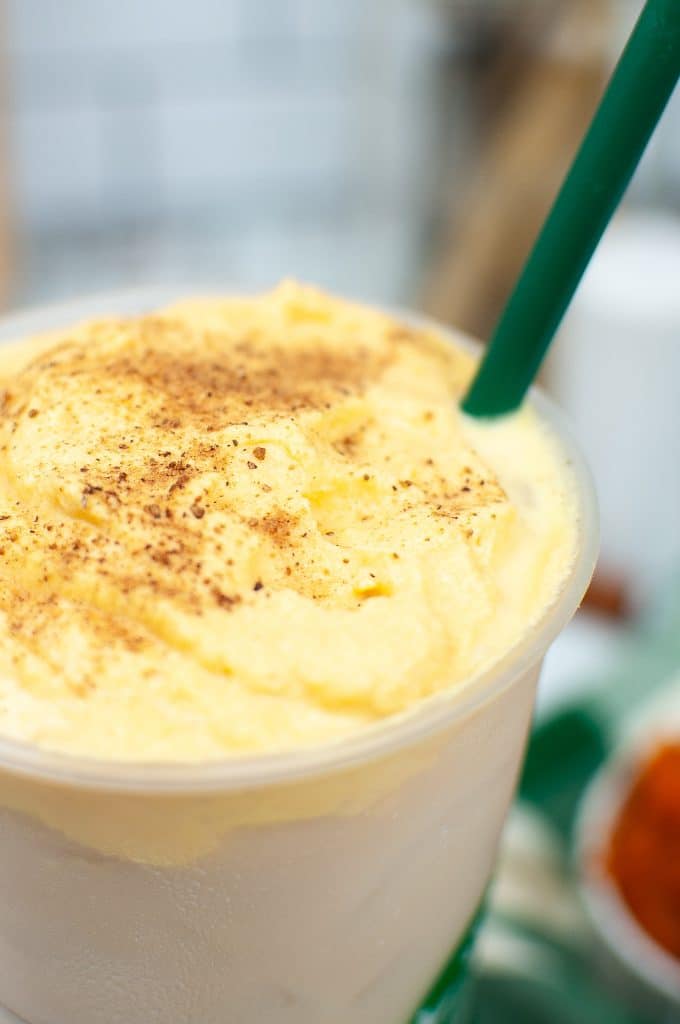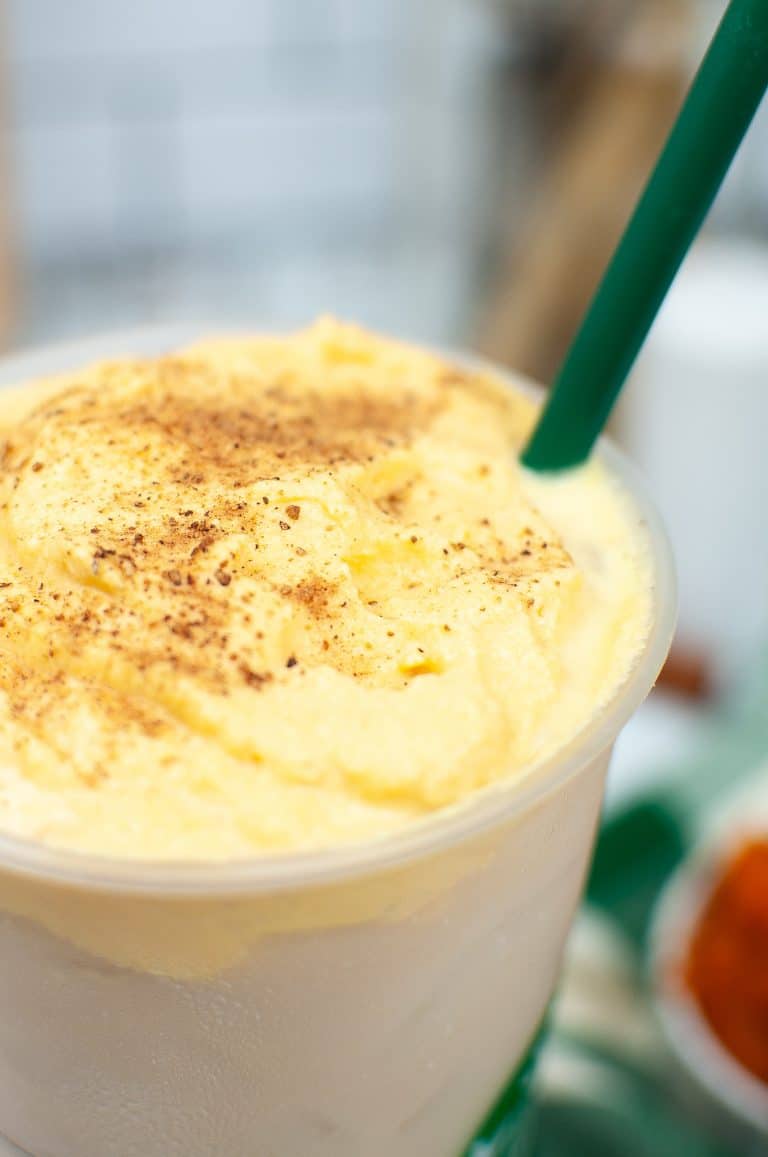 How to make a dairy free pumpkin cream cold brew
This recipe can easily be made dairy free for my friends with dairy sensitivities. Replace the milk with coconut or almond milk in the cold brew recipe. You will also want to replace the heavy cream with coconut cream. You are all set to enjoy this dairy free Starbucks copycat recipe!
How many calories in pumpkin cream cold brew
This drink is relatively low in calories when you order it from Starbucks. Per their website, it has 250 calories in a grande, which is a medium. This homemade version has calories, making it a healthier option. You can even make this drink keto by using a keto vanilla syrup in the cold brew and the cold foam.
How to order at Starbucks
If the fall menu is still out you can ask for a pumpkin cream cold brew at the window. Easy peasy. If the fall menu is gone, you can ask for a cold brew coffee with pumpkin cold foam. Starbucks keeps their pumpkin flavoring all year so you can easily enjoy this drink year round.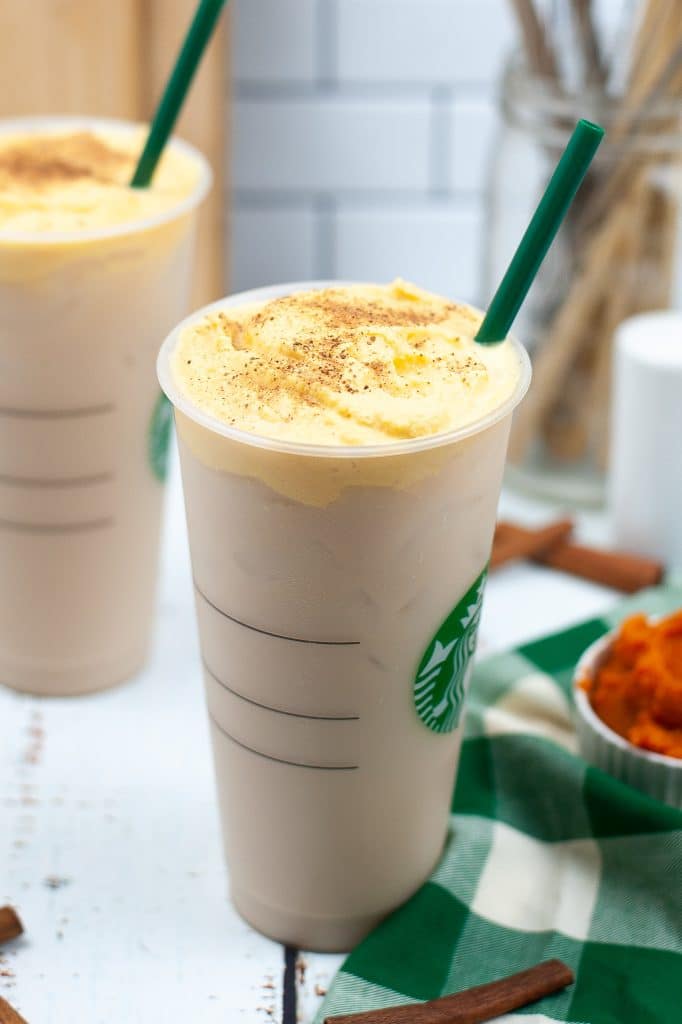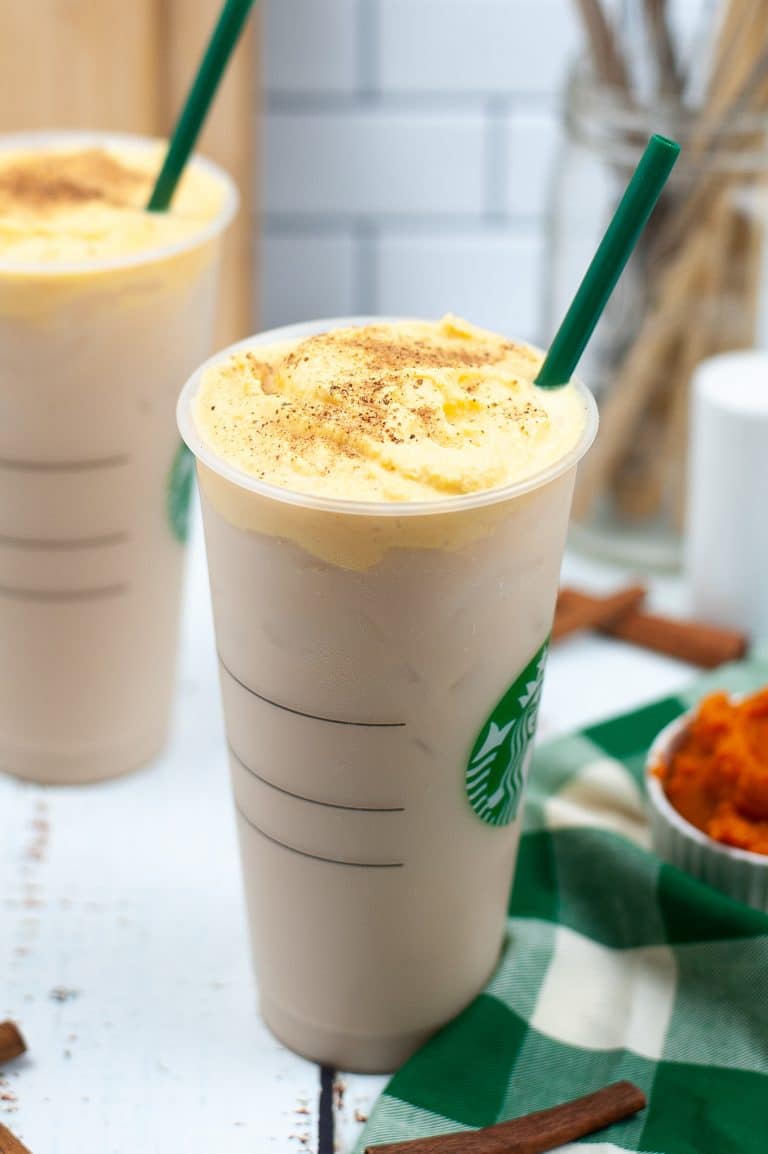 Tips and tricks
This drink is pretty straightforward and easy to make but to make it the best pumpkin cream cold brew copycat, follow these simple tips:
Use a good quality cold brew coffee. If you can make cold brew at home, even better. Cold brew has a smoother taste than iced coffee so it really allows the pumpkin cold foam to shine in this recipe.
The cold foam milk frother is a game changer if you plan to make cold foam at home often.
A high powdered blender or handheld frother will work just as well though.
Want your cold brew sweeter? Add another tablespoon of the vanilla syrup.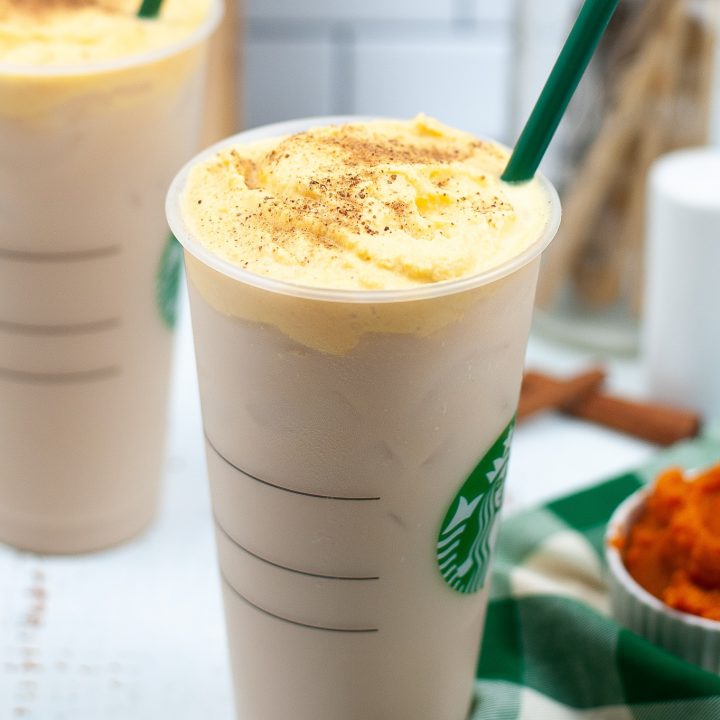 Starbucks Pumpkin Cream Cold Brew
Make a copycat pumpkin cream cold brew at home with a few simple ingredients!
Ingredients
1/2 cup of cold brew coffee
1/2 cup of milk
3 tablespoons vanilla syrup, divided
3 tablespoons of heavy cream
2 tablespoons of pumpkin purée
Instructions
Add the cold brew coffee, milk and 2 tablespoons of sweetner to a glass with ice. Stir to combine.
In a blender or milk frother with cold foam setting, add your heavy cream, pumpkin puree and 1 tablespoon of the vanilla syrup. Blend or froth until foamy.
Pour the pumpkin cold foam over top of the cold brew.
Top with pumpkin pie spice or nutmeg and enjoy.
Nutrition Information:
Yield:

1
Serving Size:

1 drink
Amount Per Serving:
Calories:

183
Total Fat:

9g
Sodium:

71mg
Carbohydrates:

26g
Protein:

5g
Other Starbucks fall menu copycats to try
Do you love the fall menu from Starbucks? ME TOO! Here are my favorite homemade fall menu items:
Did you try this recipe? I'd love for you to leave a review above in the recipe card or below in the comments. Want to try it later? You can pin the image below. I appreciate your support!