This copycat Starbucks Caramel Frappuccino tastes just like the real thing, with the added benefit of being able to easily whip up this sweet and creamy beverage from the comfort of your home whenever the craving hits! Let me show you how to make this delicious Starbucks caramel frappuccino at home!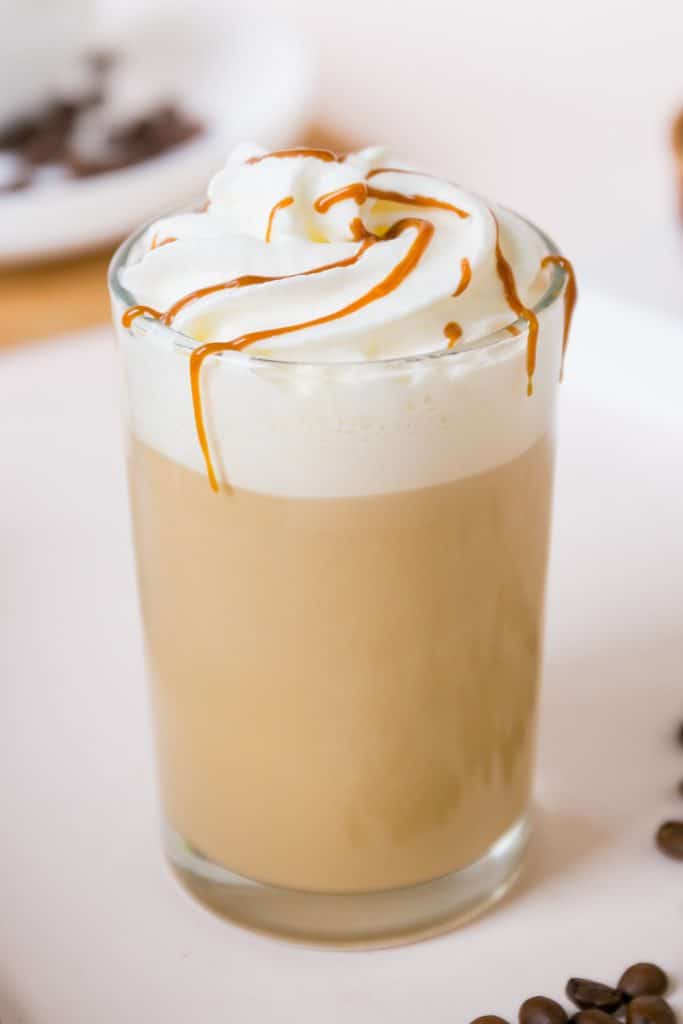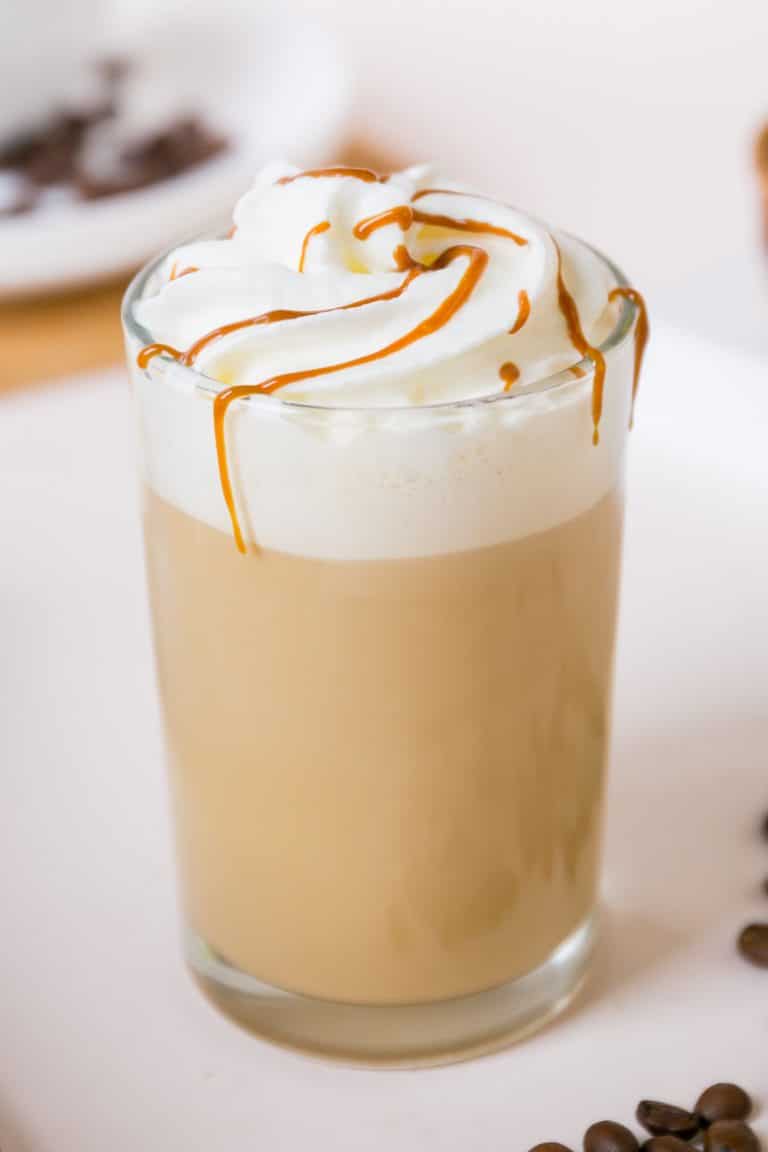 If there is one drink that my daughter requests from Starbucks the most, it would be the caramel frappuccino. She absolutely loves the sweet drink! I love that I am able to make it at home and save some serious dough.
This delicious homemade caramel frappuccino consists of blended ice, milk, sugar, vanilla extract, caramel sauce, and strongly brewed coffee. The icy coffee beverage is topped with whipped cream and a drizzle of caramel sauce or syrup for added flavor and decadence!
Enjoy this Starbucks Caramel Frappuccino to kickstart your morning or a sweet treat to end the day.
What Is A Caramel Frappuccino?
Caramel Frappuccino is a chilled coffee-based beverage that's a popular drink sold by Starbucks. It typically consists of strongly brewed coffee, milk, ice, caramel sauce (or syrup), vanilla extract, and sugar.
This drink is topped with whipped cream and a drizzle of caramel sauce to be enjoyed as a sweet and creamy treat. Starbucks offers its caramel frappuccino in tall, grande, and venti.
Making this copycat caramel frappuccino gives you the flexibility of controlling the ingredients used and the quantity to make depending on your personal preferences and needs while tasting just as good as the real thing!
Copycat Caramel Frappuccino Ingredients
ice
strongly brewed coffee
milk
caramel sauce
vanilla extract
whipped cream and any caramel sauce for garnish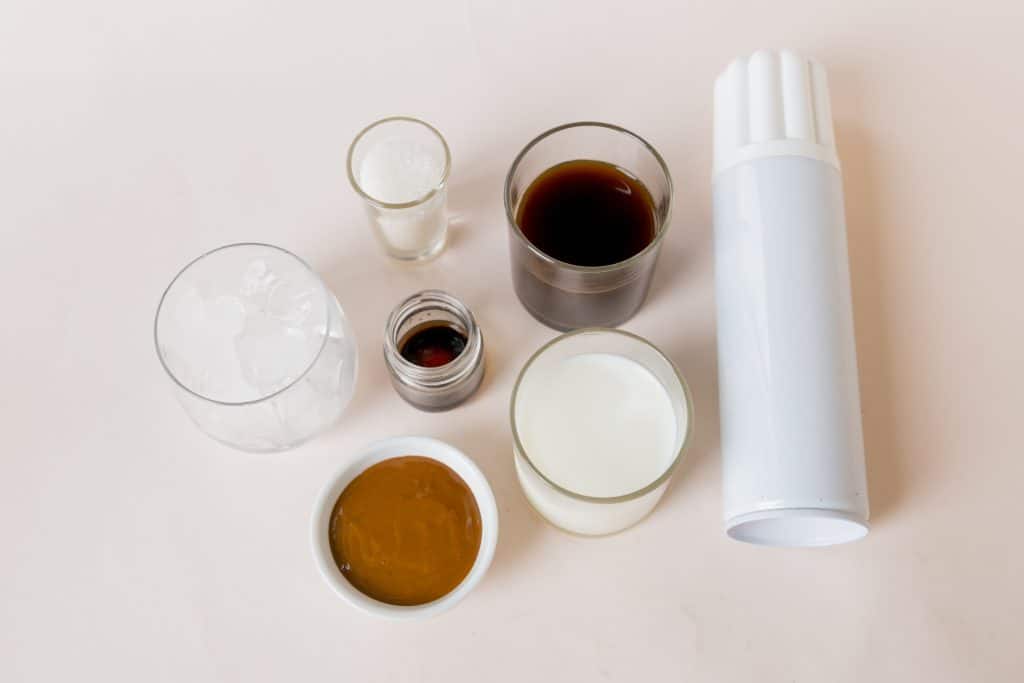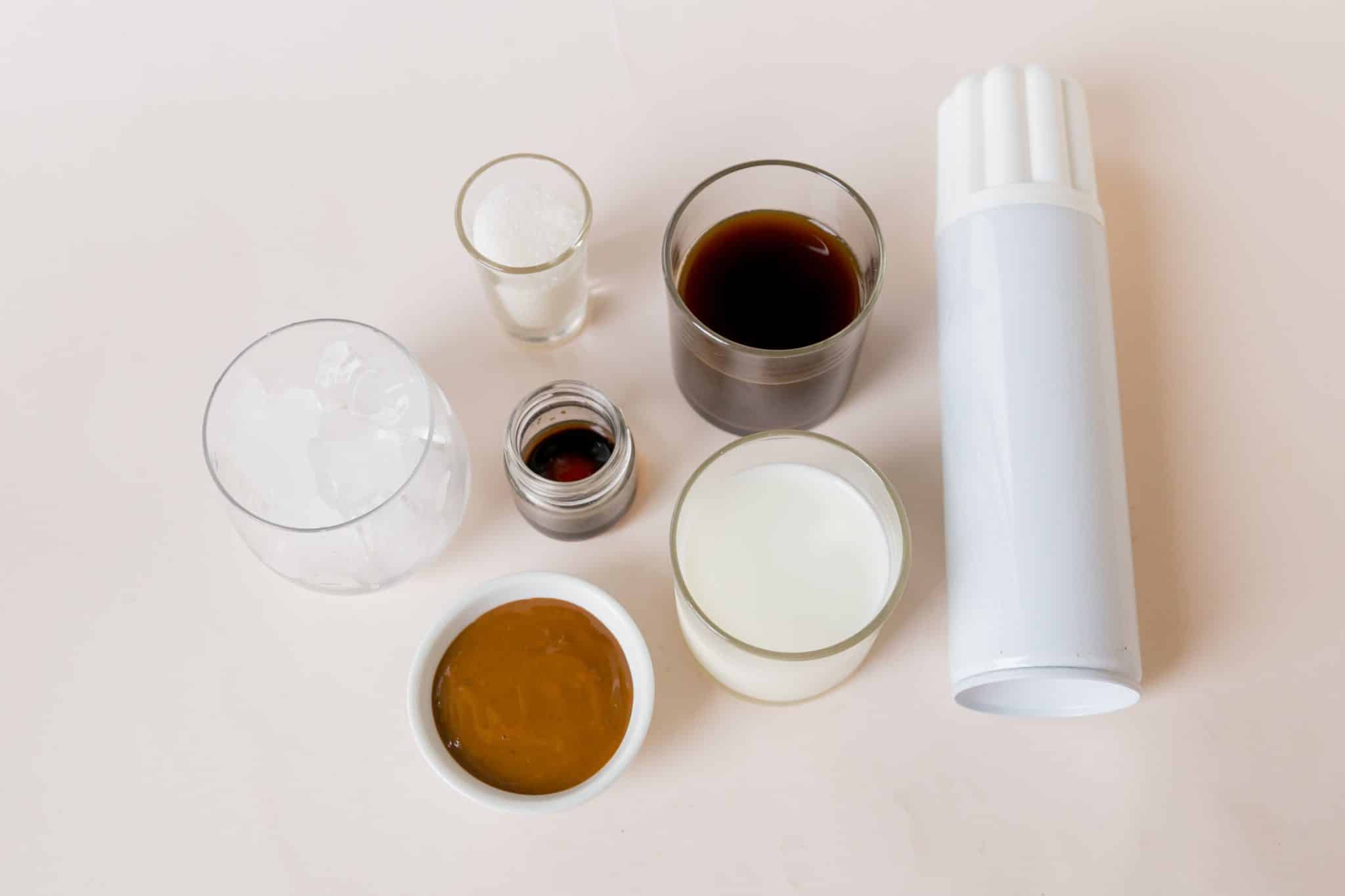 Ice – You will need up to 2 cups of ice for your frappuccino. You can use less if you like a thinner frappuccino.
Coffee – You want a strong coffee or even an espresso for this caramel frappuccino. You can use hot coffee or go for a cold brew or even instant espresso.
Milk – Use your favorite milk in this recipe. Want to make it dairy-free? Use almond, coconut or oat milk.
Caramel – You can use store bought caramel sauce or take it up a notch a make a batch of my homemade caramel sauce! Adds some time but it's totally worth it!
How To Make A Starbucks Caramel Frappuccino At Home 
Step 1: Blend the Ingredients
Add the ice, brewed coffee, milk, caramel sauce, vanilla extract, and sugar to a blender and blend on high speed until smooth.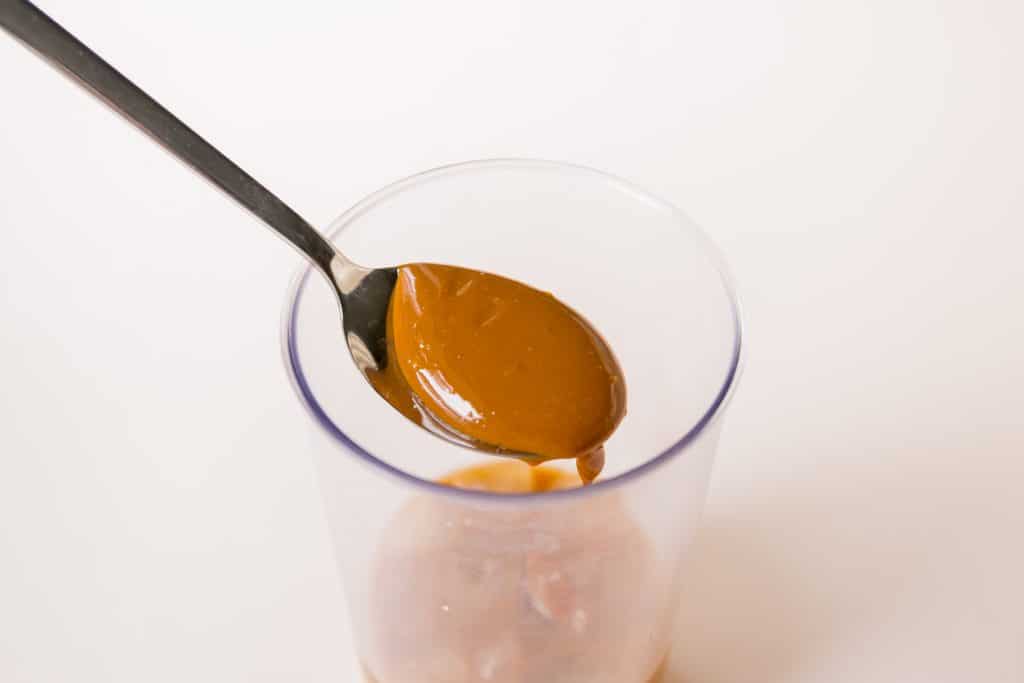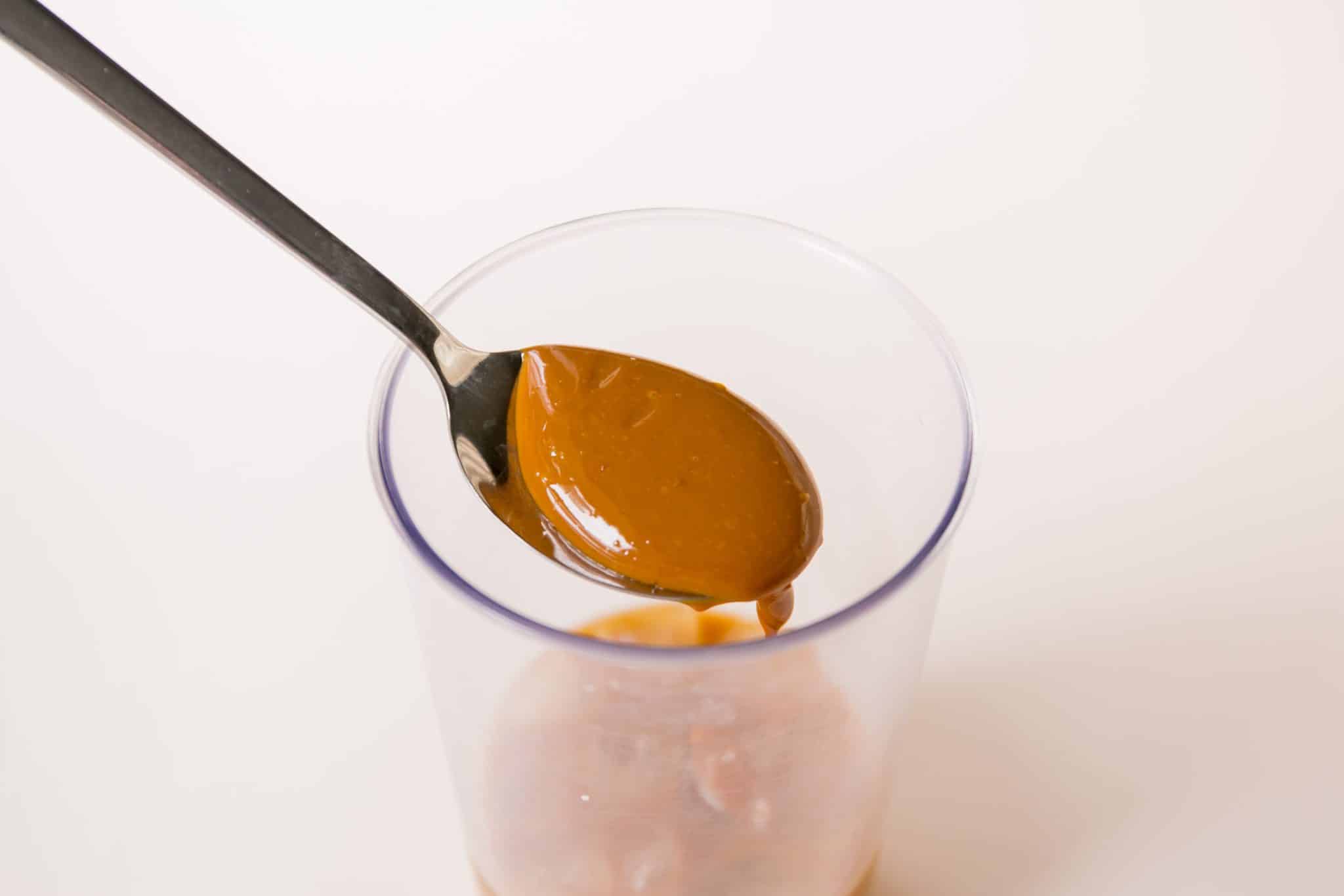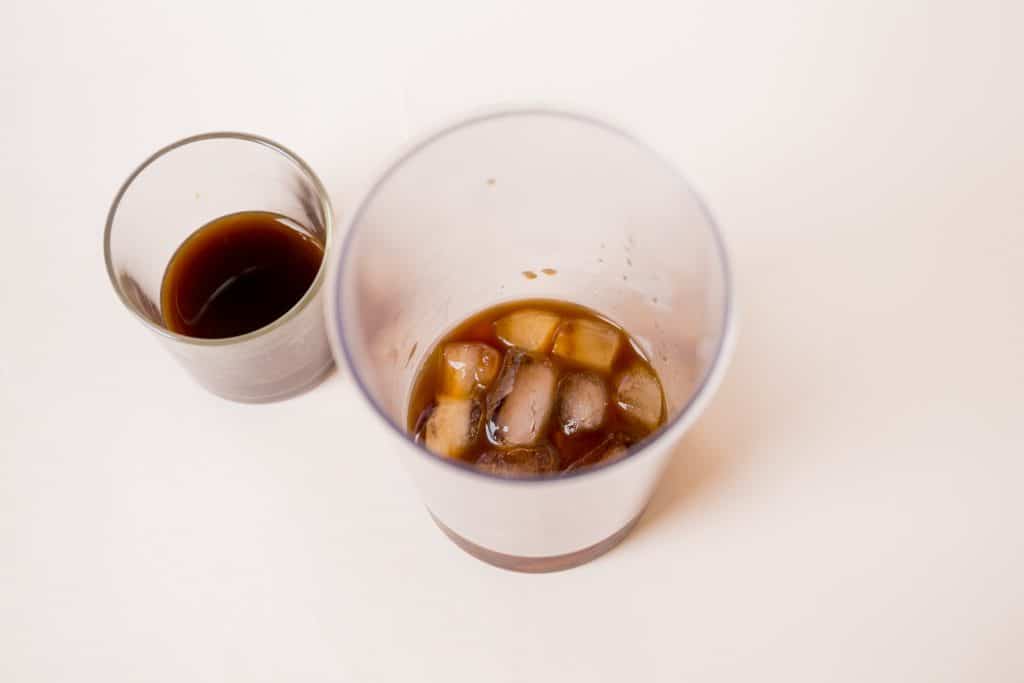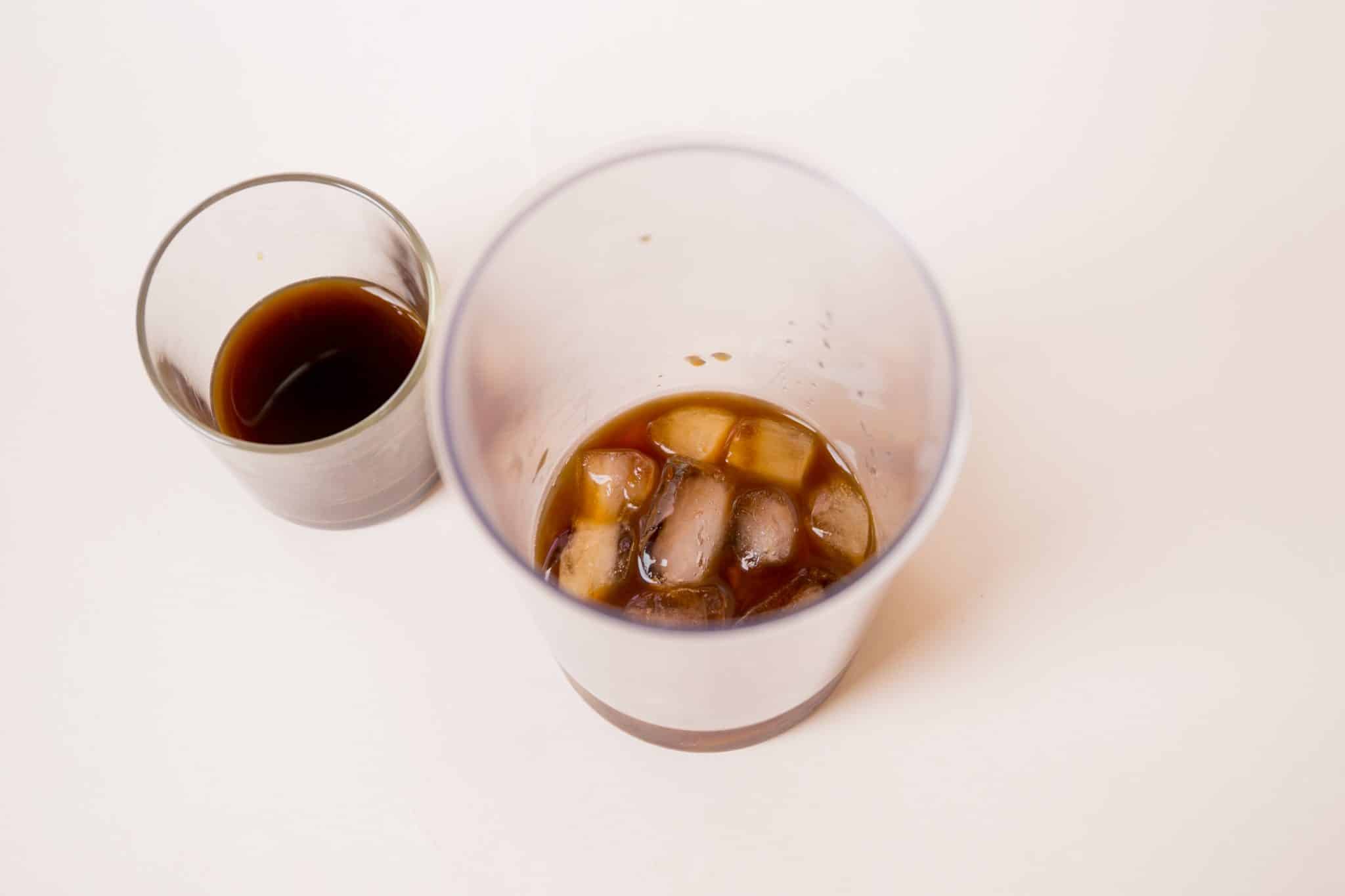 Step 2: Serve
Pour the freshly blended caramel frappuccino into two tall glasses and top with whipped cream. You could also line both glasses with caramel sauce if you wish.
Other Frappuccinos To Try
We love a good copycat frappuccino around here! Some of our favorites are: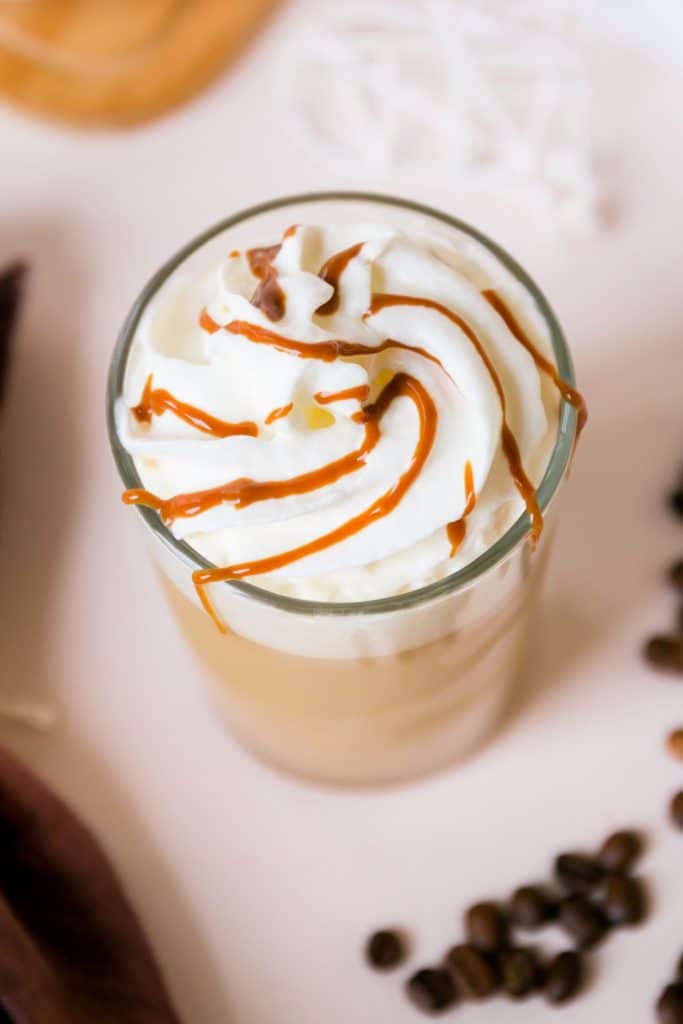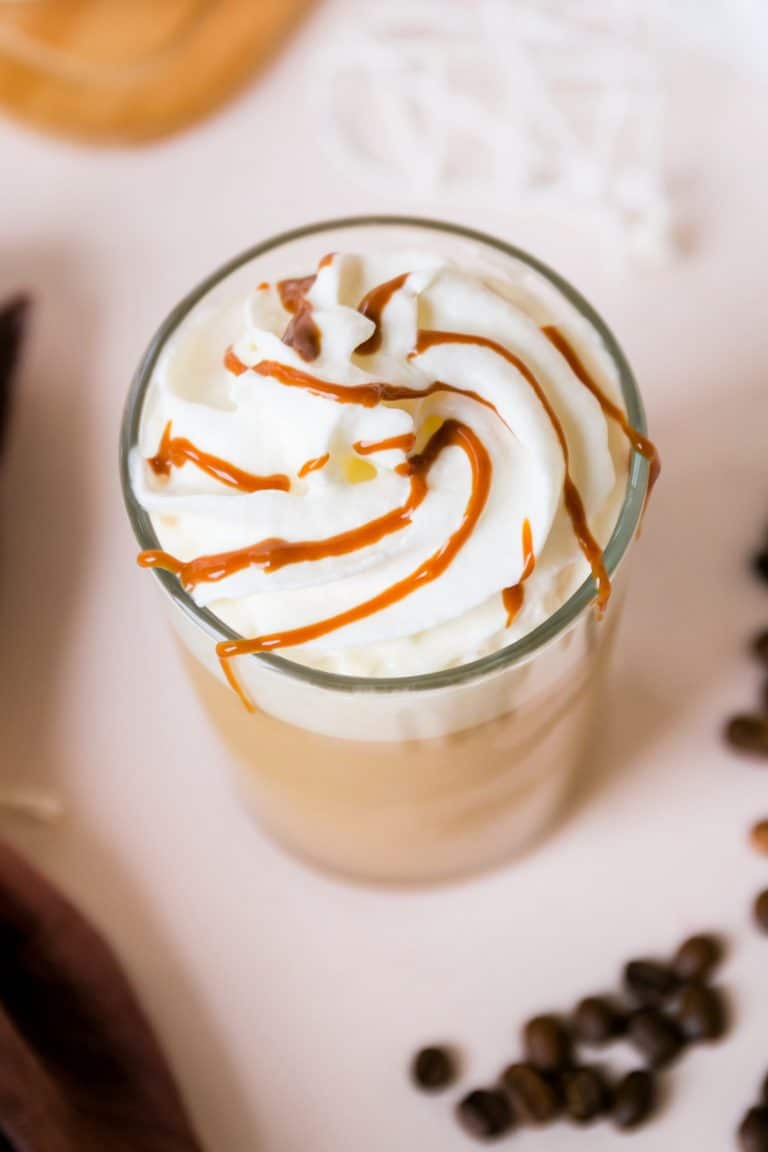 Recipe FAQs
What's In A Caramel Frappuccino At Starbucks?
The Starbucks Caramel Frappuccino consists of a blend of espresso, caramel syrup, milk, and ice. A swirl of whipped cream is added to the top of the drink with a drizzle of caramel sauce for added decadence. Feel free to use espresso in yours to make it just like the original!
Does A Caramel Frappuccino Have Coffee In It?
Yes! Coffee is a key ingredient in a caramel frappuccino and helps to balance the sweetness and creaminess of the rest of the ingredients.
Is Starbucks Caramel Frappuccino Healthy?
Despite being loaded with blended ice, Starbucks caramel frappuccino still contains a lot of sugar and fat content from the rest of the ingredients used. To reduce the sugar and fat content, ask the barista to use fat-free milk, leave off the whipped cream, and skip the caramel drizzle. Like any treat, enjoy your caramel frappuccinos in moderation.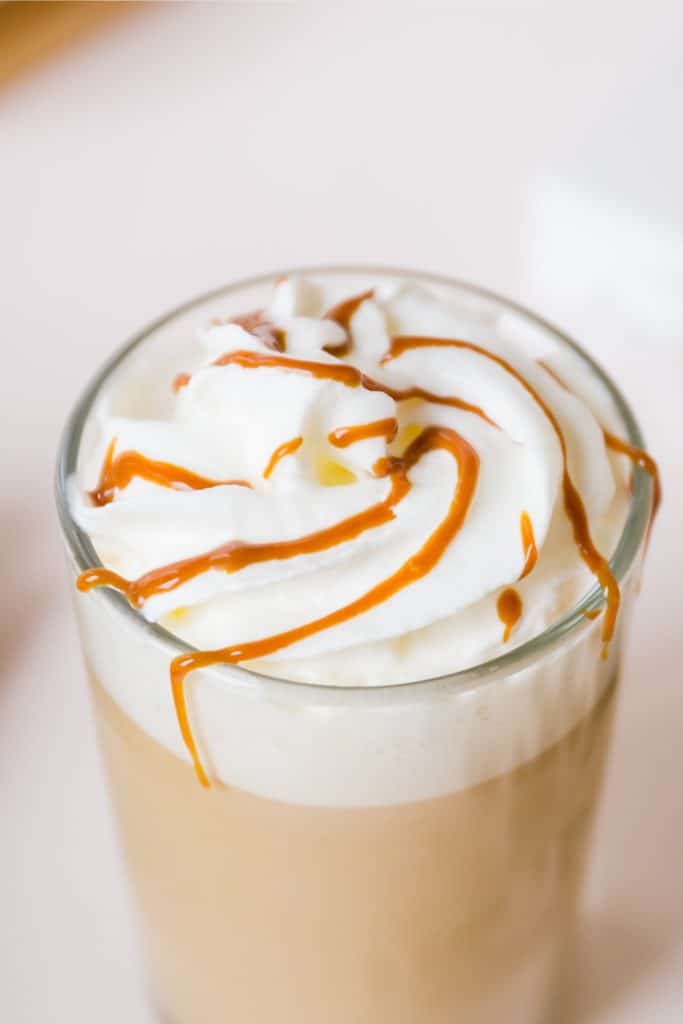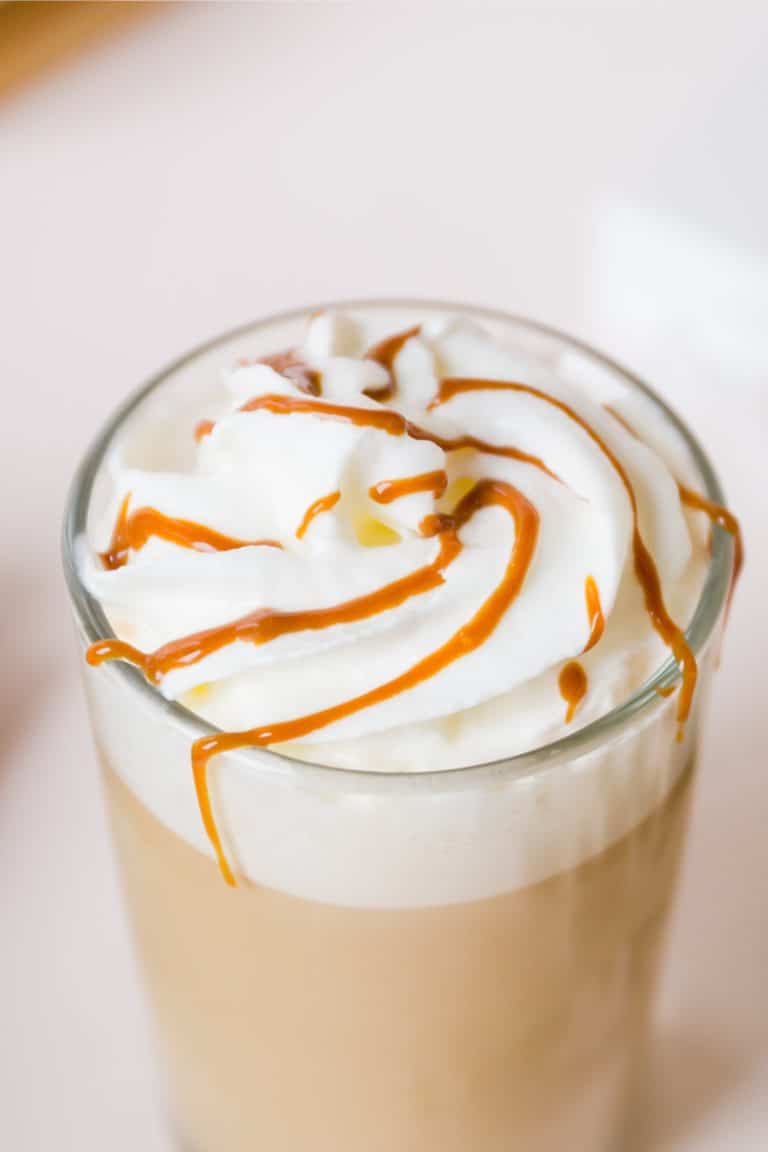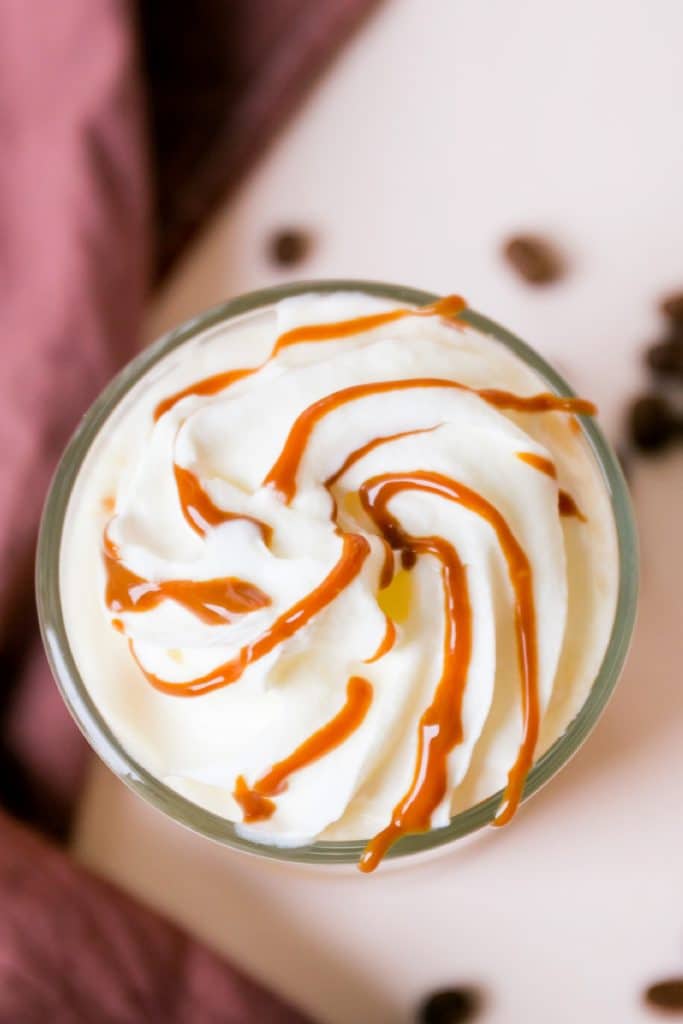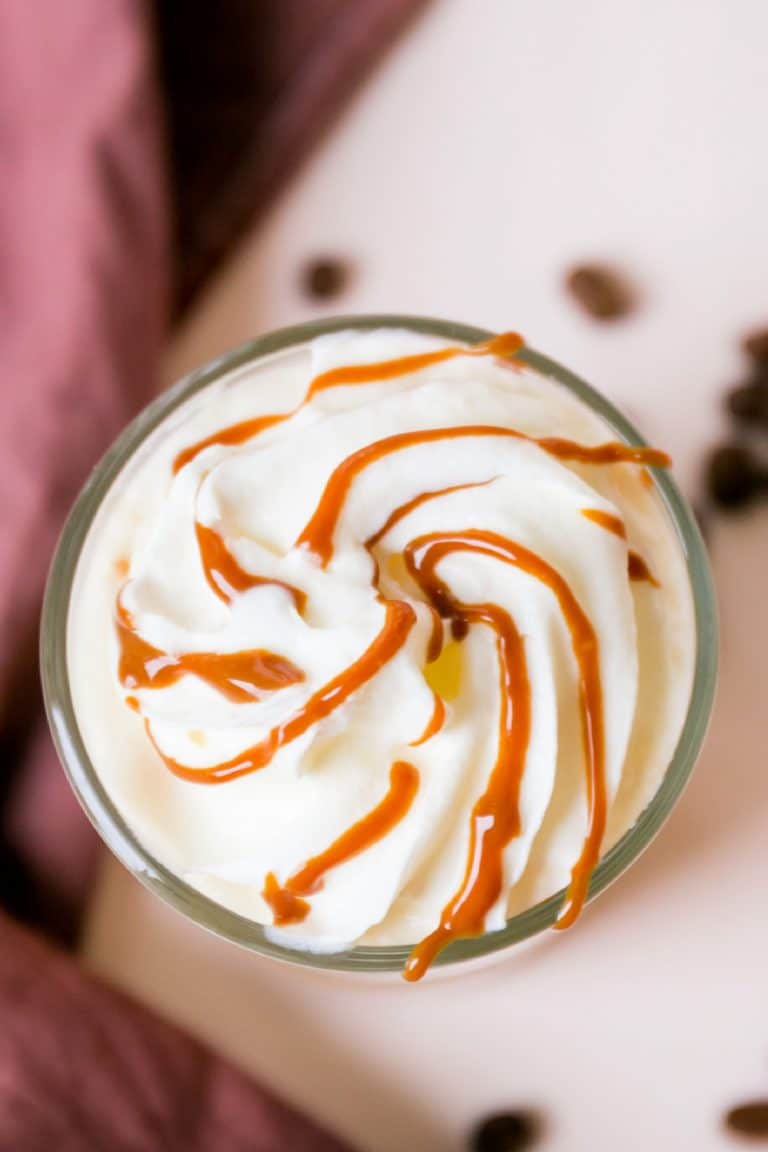 Is Caramel Frappe And Caramel Frappuccino The Same Thing?
Both these drinks are cold blended coffee beverages that include caramel flavoring (from caramel sauce or syrup), milk, and ice, and topped with whipped cream and a drizzle of caramel sauce.
The difference between these two drinks has more to do with the fact that they are proprietary products made by different companies and less about the ingredients used. The Caramel Frappe is made and sold by Mcdonald's, while the Caramel Frappuccino is made and sold by Starbucks. 
How do I order at Starbucks?
This one is super easy to order since it's a staple on their everyday menu. Just ask the barista for a "caramel frappuccino" and pick your size. You can adjust the milk and if you'd like to use sugar-free syrups when ordering.
Other Starbucks Copycat Drinks to Try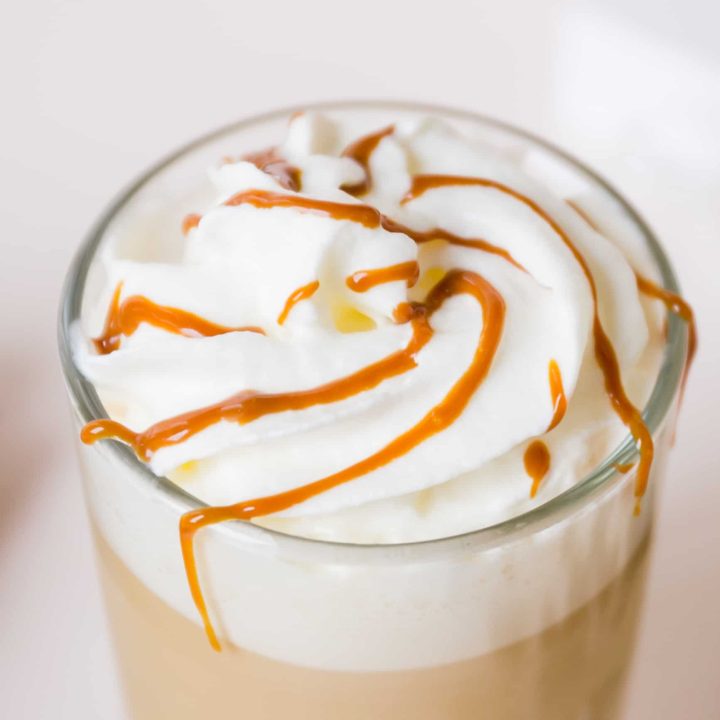 Caramel frappuccino
Make a decadent Starbucks copycat caramel frappuccino at home!
Ingredients
1.5-2 cups of ice
1 cup strongly brewed coffee
3/4 cup milk
1/4 cup caramel sauce
1 teaspoon vanilla extract
whipped cream and caramel for topping
Instructions
Brew your coffee and allow it to cool to room temperature. You can also use cold brew.
Place everything except the topping into a high powered blender.
Blend until smooth. Add more ice if, needed.
Pour into a cup and add whipped cream and caramel on top.
Enjoy!
Did you make this recipe? I'd love for you to leave a review in the recipe card above or the comments below. Want to make it later? Pin the image below to your favorite board. THANK YOU for the support!