If you enjoy a classic cream cheese danish, you are going to love this caramel apple version. This caramel apple danish recipe uses simple ingredients (you only need 6!) that come together to make one delicious breakfast treat. Grab a baking dish and let's make these caramel apple danishes today!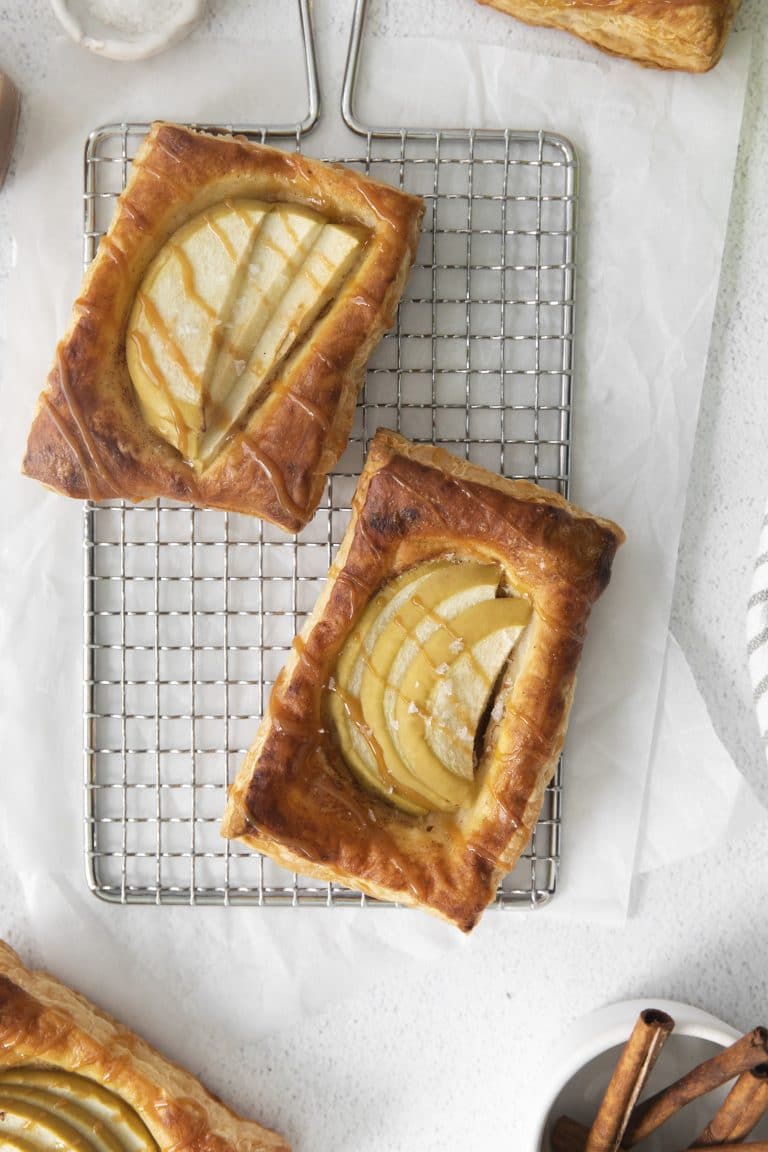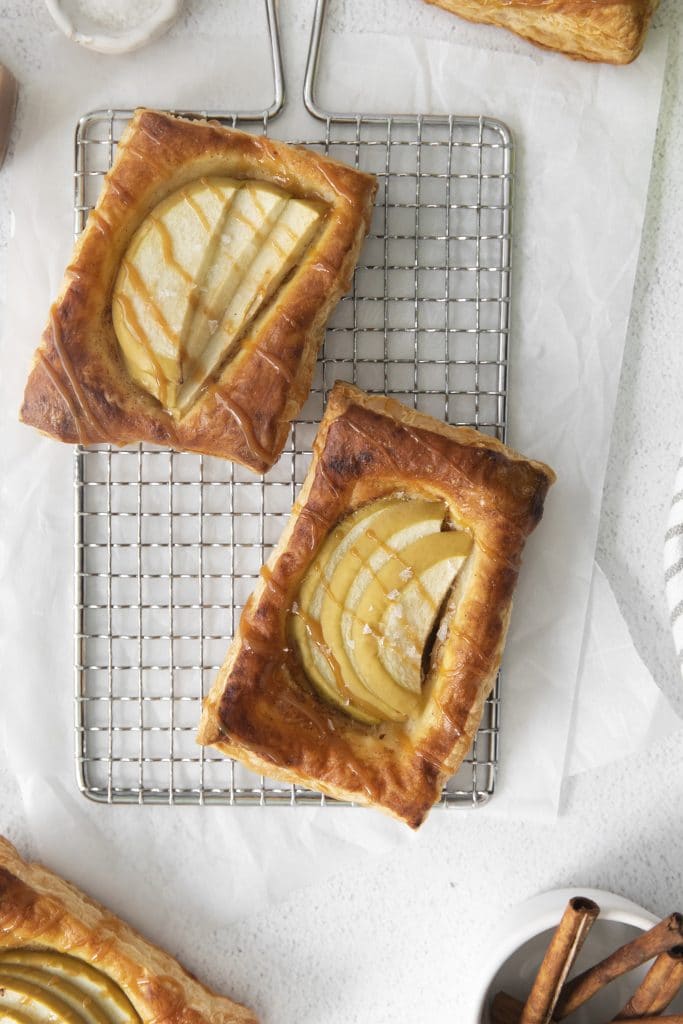 I'm not sure if I love danishes because they pair so well with coffee, or because they are deliciously sweet treat on their own. Either way, they are a truly decadent breakfast recipe that are super easy to make. Once I learned how to make the Starbucks copycat cheese danish, I was ready to up my danish making game. These caramel apple danishes are just another flavor combo that I know you'll love.
What are danishes?
Danishes are a soft, flaky pastry that is filled with a fruit and cream cheese center. They are sometimes called danish pastries, but more often than not, they are referred to as danishes. They are made of flaky layers of puff pastry, with a deliciously sweet topping in the center.
Apple danish ingredients
I love how simple it is to make these danishes. You only need a handful of ingredients to make apple danishes at home. You will nee:
puff pastry
granny smith apples
brown sugar
ground cinnamon
egg
caramel sauce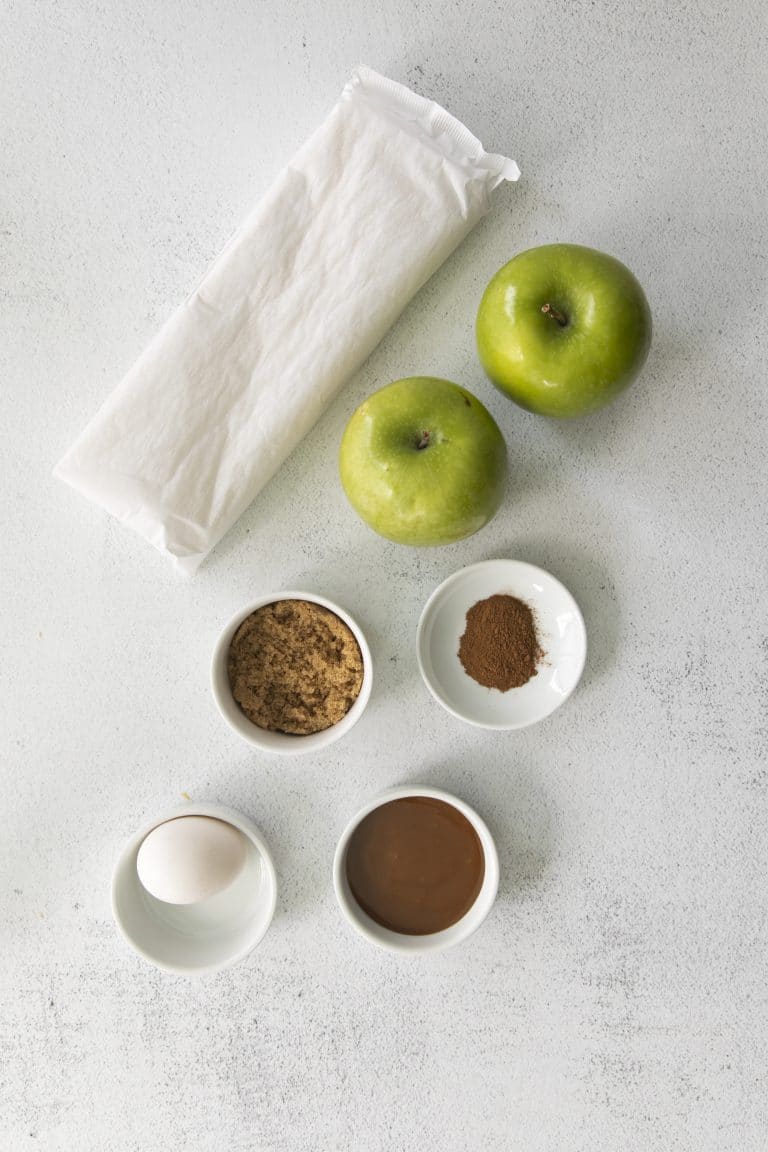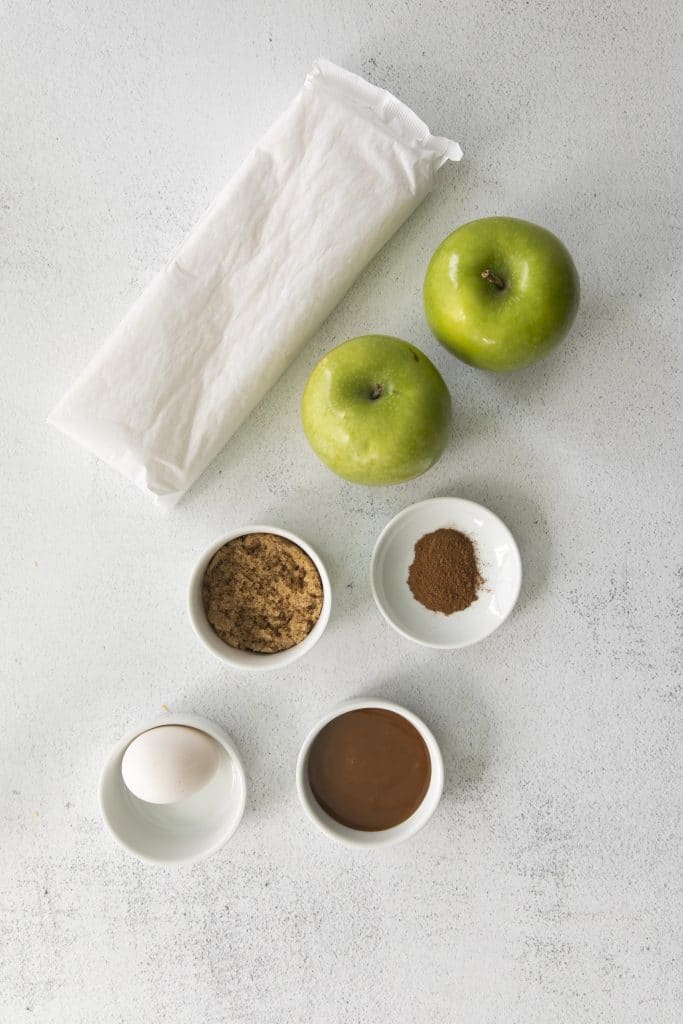 Puff pastry – You will need 1 sheet of frozen puff pastry for this recipe. You can made and use homemade puffy pastry, if you'd like.
Apples – Granny Smith apples work best in this recipe. The tartness from the apple pairs well with the brown sugar and the caramel sauce. You can use any apple you like or have on hand though.
Caramel sauce – You can use your favorite caramel sauce for this recipe. I love using my homemade caramel sauce with cream, but any caramel will work here.
How to make apple danishes with caramel
Once you have gathered all your ingredients, you will also need to grab:
baking sheet
parchment paper
knife
measuring cups and spoons
cooling rack
Step 1 Prepare the puff pastry Place the puff pastry on a floured surface or a cutting board. Unfold it and cut it into 6 rectangles. This is easy to do if you have the frozen puff pastry as it is already folded into 3 sections. Cut along each fold and then cut those in half.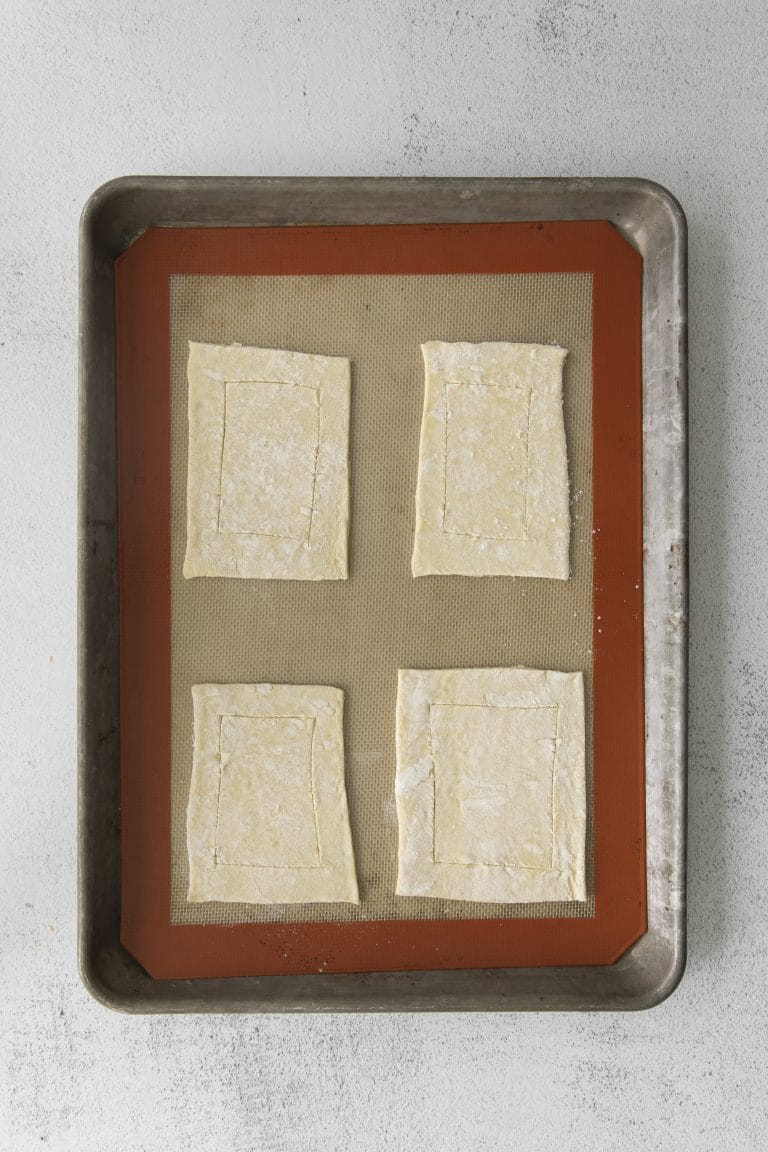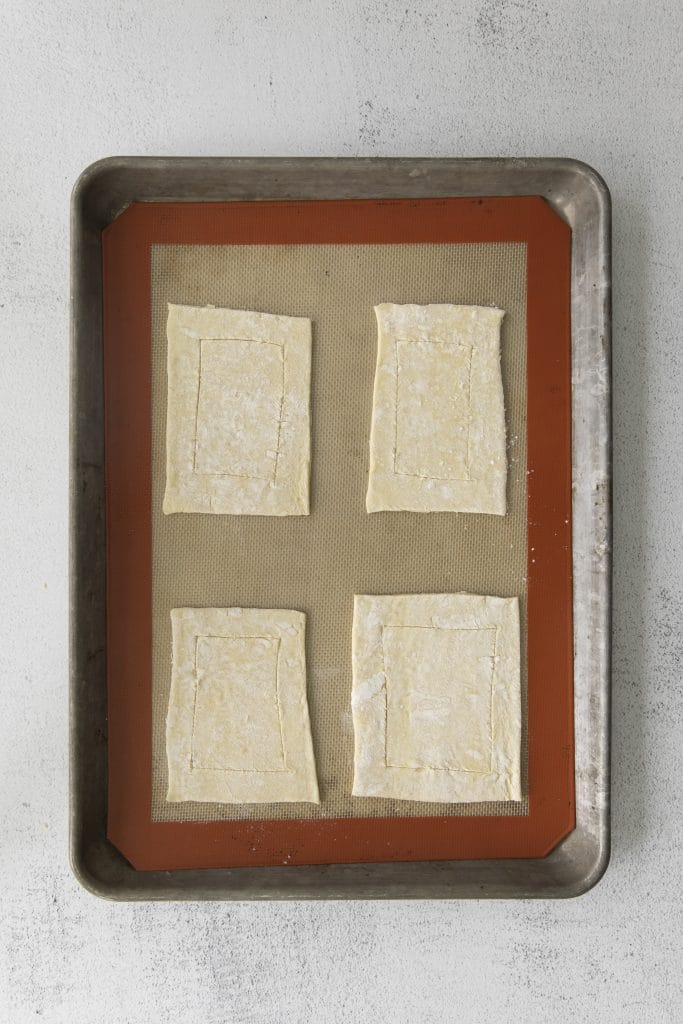 Step 2 Score the pastry Using a pairing knife, score the puff pastry in the center, creating a rectangle. This is where you will place the filling.
Step 3 Add the filling Place 3-4 apple slices in the center of the puff pastry, where you just made your rectangle. Mix together the brown sugar and the cinnamon and sprinkle it over the top of the apple slices.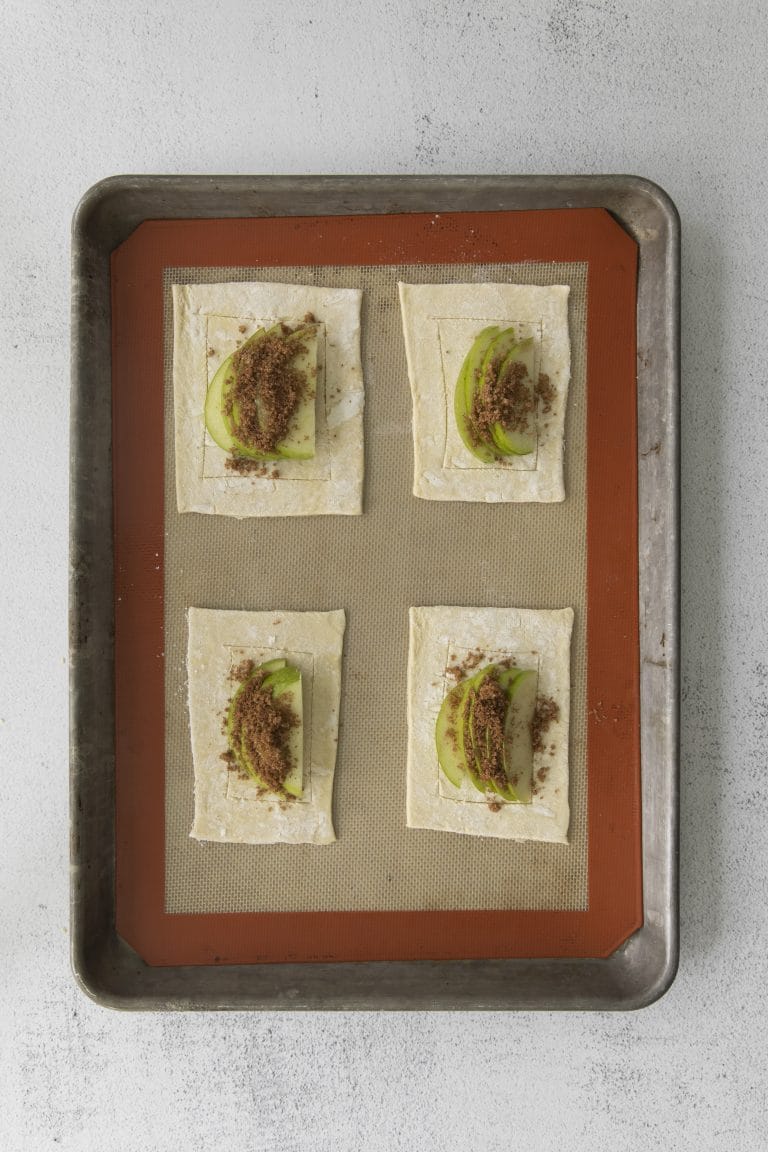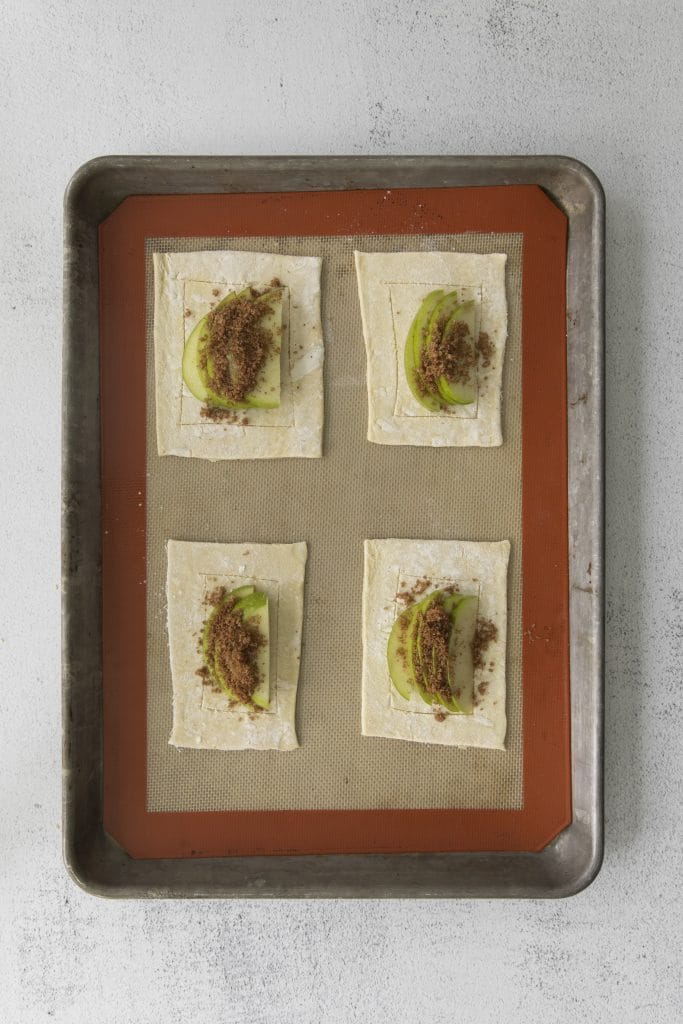 Step 4 Bake Brush your egg wash over the sides of the pastry. This is optional, but will give the edges of the pastry a nice crispy texture. Add the baking sheet with the prepared danishes to the oven and bake for 15-17 minutes.
Step 5 Add caramel sauce After the apple danishes are done baking, drizzle caramel sauce over the top. You can also add flaky sea salt as a finishing touch. Allow to cool on a cooling rack.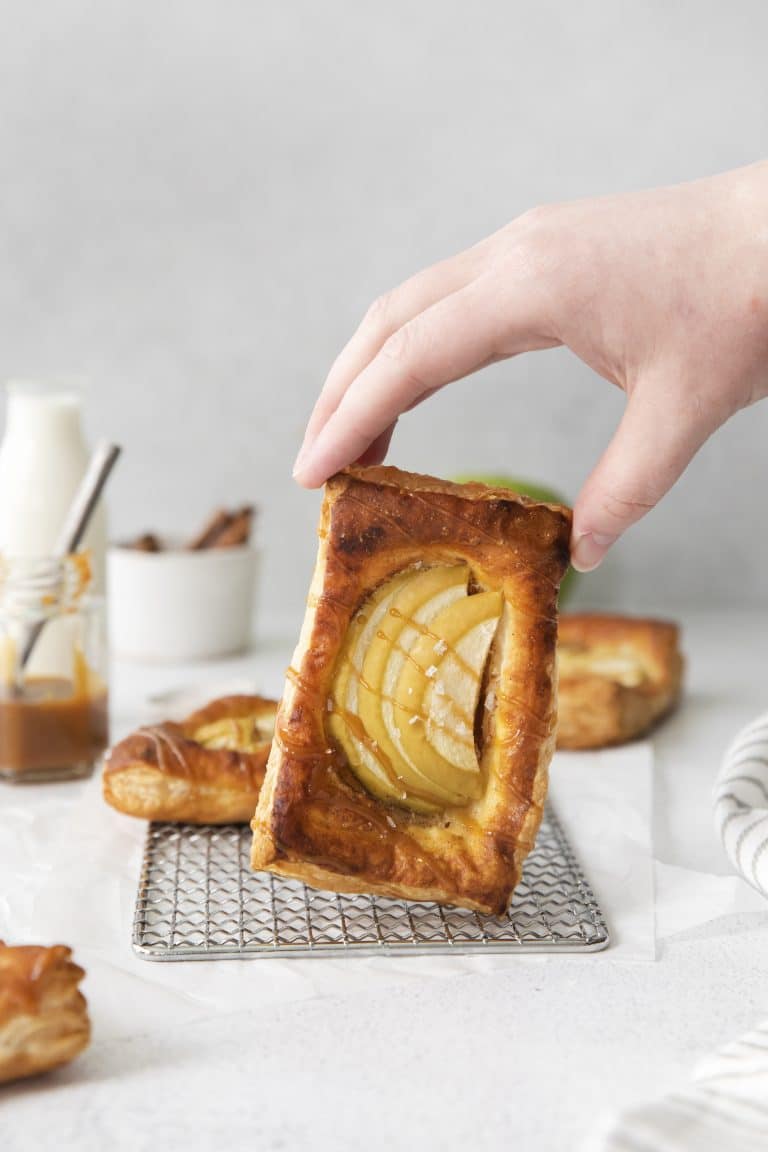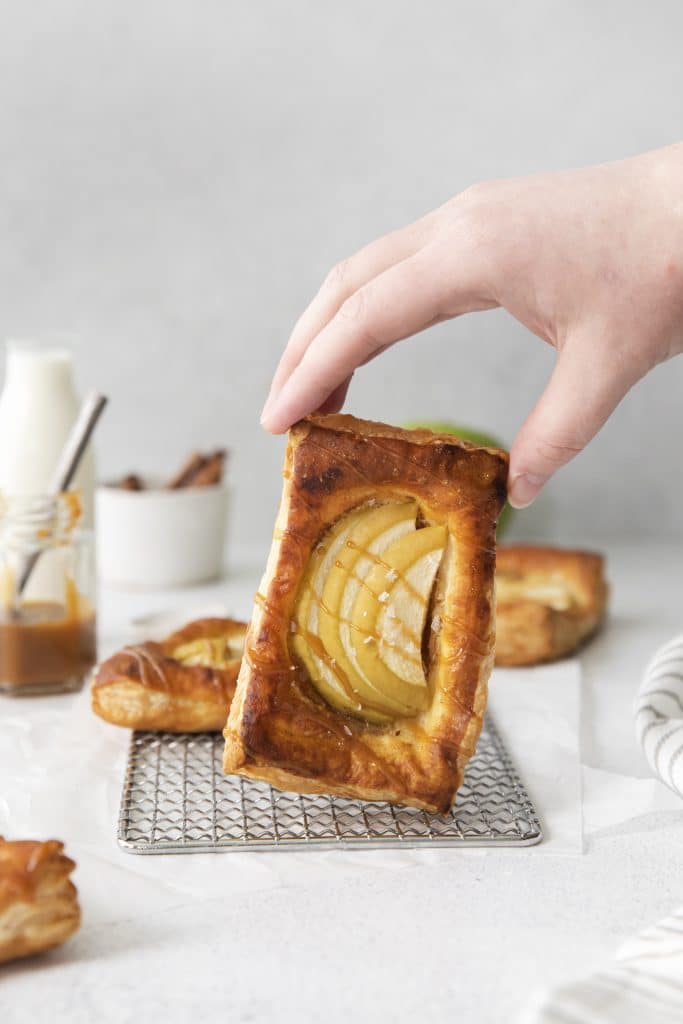 Can I use homemade puff pastry?
Yes! You can! Homemade puff pastry uses a few common ingredients and you can easily make it at home. Follow this recipe for puff pastry.
What kind of apples do I need?
You can use any type of apples that you like. I love the combination of sweet and tart that comes with using Granny Smith apples, but you can use any variety that you love.
Other danish recipes to try
Homemade danishes are super easy to make and great for breakfast, snacks or dessert. Some of my other danish recipes are: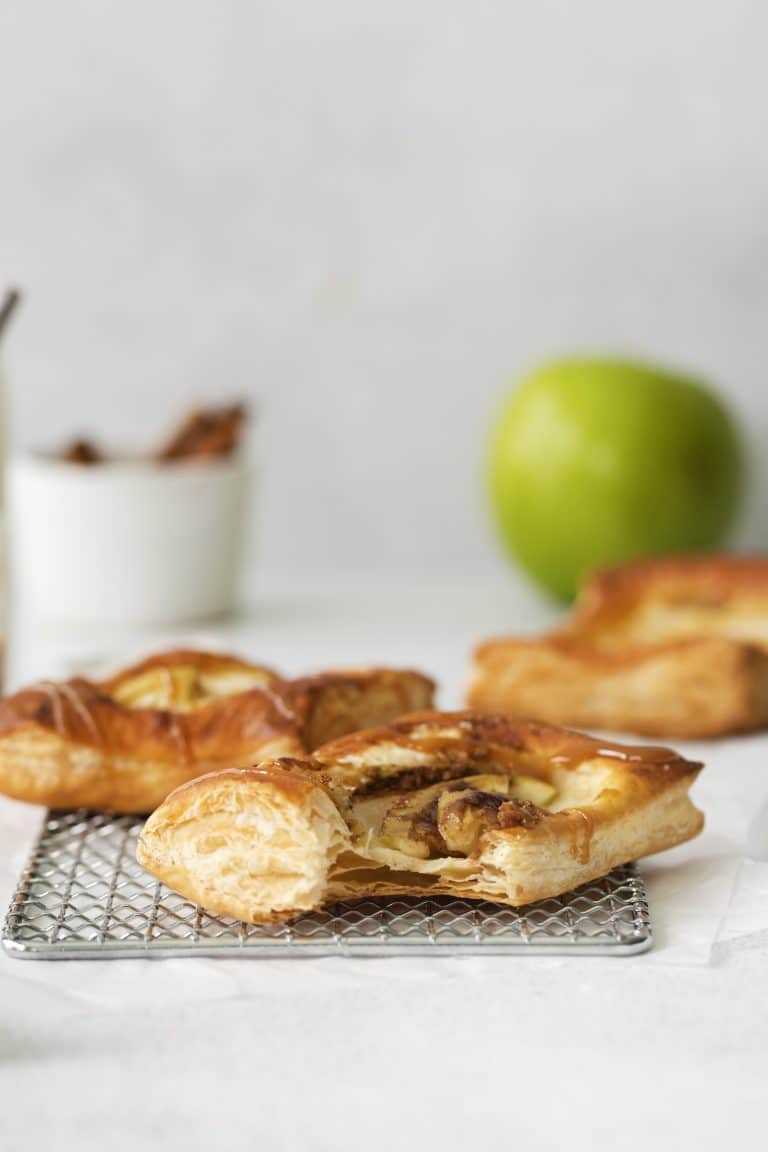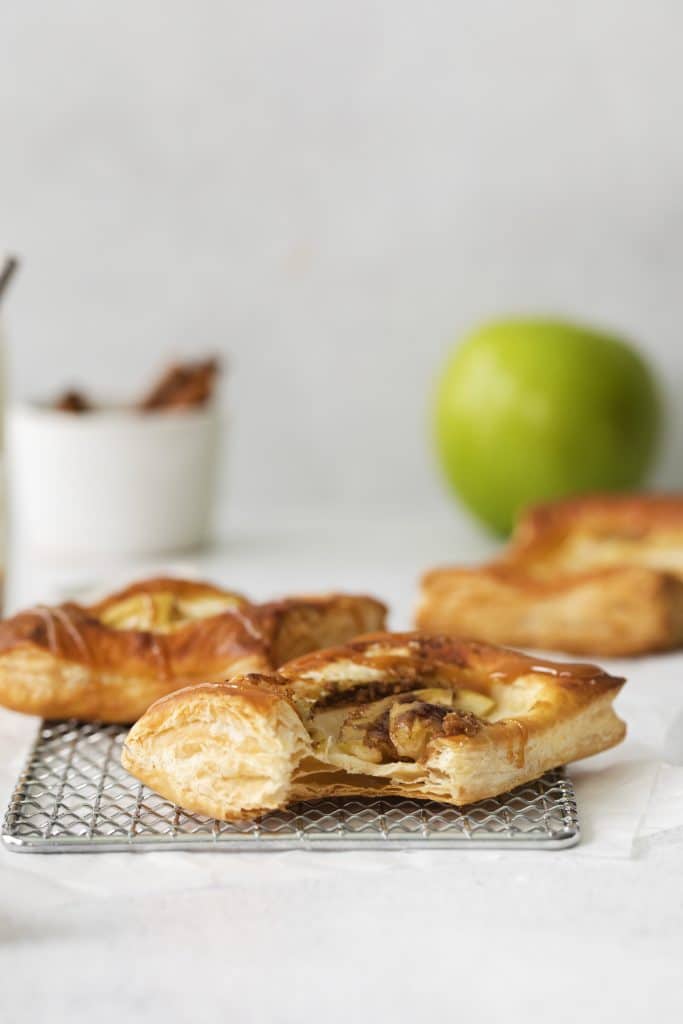 How to store leftovers
Place any leftover danishes in an airtight container in the fridge. You can also leave them on the counter, but they will last longer if stored in the fridge.
Can I freeze danishes?
Yes! You can! Place the cooked danishes in a Ziplock bag in the freezer. Make sure to remove any air. They will keep for 3 months. Thaw in the freezer and enjoy!
Tips and tricks
Make sure to use puff pastry sheets, not shells or phyllo dough. It's also important to thaw your dough according to the package directions. You want it to be cold, but not frozen.
I love granny smith apples with caramel but feel free to use any tart baking apple.
Light brown sugar pairs perfectly with apples but granulated sugar will also work if that's what you have on hand.
An egg wash helps the puff pastry brown and crisp in the oven. You can make an egg wash by whisking an egg and adding a bit of water to it.
Make sure to use a good quality caramel sauce in this recipe! It really makes a difference.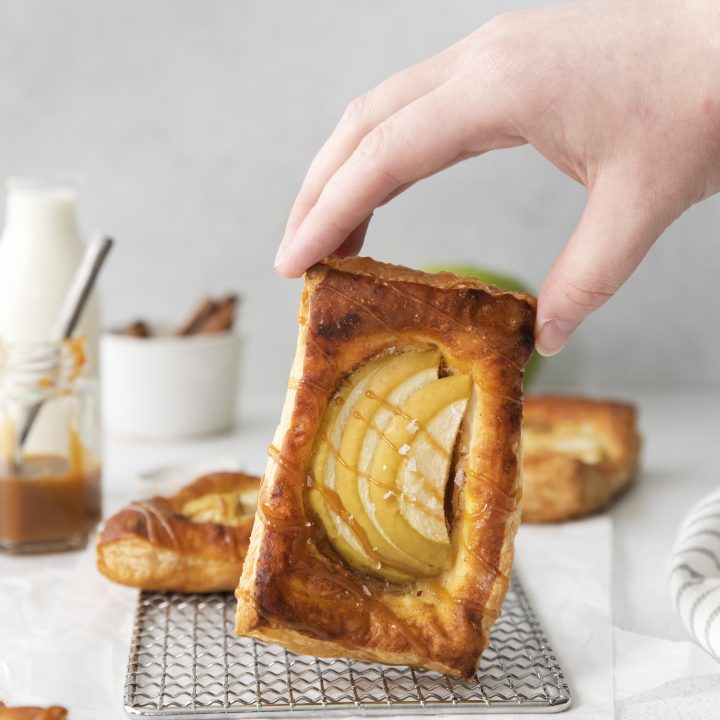 Caramel Apple Danish
Make a super flaky pastry topped with tart apples and sweet caramel sauce.
Ingredients
1 sheet puff pastry, thawed
2 large granny smith apples, thinly sliced
¼ cup light brown sugar
1 teaspoon ground cinnamon
1 large egg, beaten with a splash of water
¼ cup caramel sauce
Flakey sea salt, optional
Instructions
Preheat your oven to 425F and line a baking sheet with parchment paper.
Roll the puff pastry on a lightly floured surface until it is 1/4" thick.
Cut the puff pastry into six rectangles. Use a paring knife to gently slice a ¼" thick border around the edge-- make sure not to cut all the way through the puff pastry!
Fill the center of the puff pastry with sliced apple.
In a small bowl stir together the brown sugar and cinnamon. Sprinkle the mixture over the Danishes.
Brush the border of the Danishes with egg wash.
Bake the Danishes for 15-17 minutes or until the edges of the pastry are golden brown.
Allow the pastry to cool on the pan and then drizzle over the caramel sauce. Top with a sprinkle of flaky salt, if desired.
Did you make this recipe? I'd love for you to leave a comment below. Want to make it later? Pin the image below to your favorite recipe board.