Have I told you how much I love this series?  I have?  Well can I tell you again?  I cant?  What?  Too many questions?  [Can I write a whole post in questions?  Should I try?  No?]  Ok Im done.  And yall know I love love LOVE this series!  [If you're new.. each week the amazing ladies from
Ma Nouvelle Mode
send out a style inspiration email.  We get a few days to shop our closest and create our version. Post about it and then link it up Thursday.  Wam bam.. done.]  
Natalia and Christie gave us these fun outfit inspirations and the theme is weekend away.  
I know.  Gorgeous.  Both ladies look amazing!  You dont have to copy the outfit exactly.. but I like to. So when I saw Natalia's outfit I got super excited.  Red pants – check.  Black shirt – check.  Hair in a bun – [everyday] check!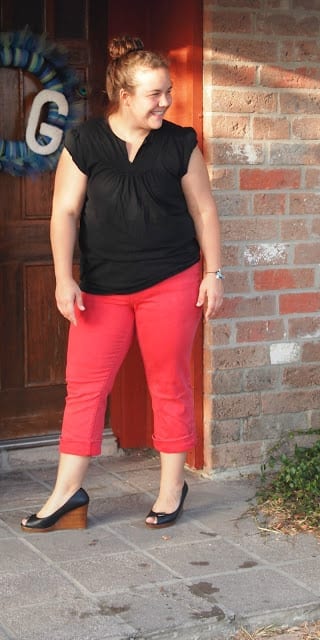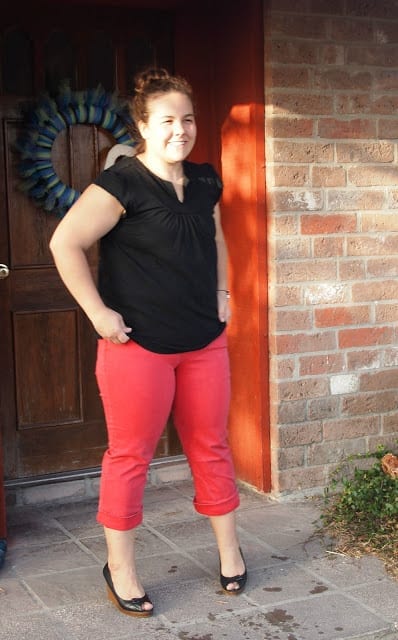 If I had a scarf we would be twinsies.  Kinda like when I copied her
leopard skirt
and we looked identical.  Ok.. guys I know I look nothing like Natalia.. and how do I know this?  Because when my mother read my
leopard skirt post
she bust up laughing that I said we were twins.  I think her exact words were 'Here's this tall, beautiful woman.. and then there's you.'  Gee thanks mom!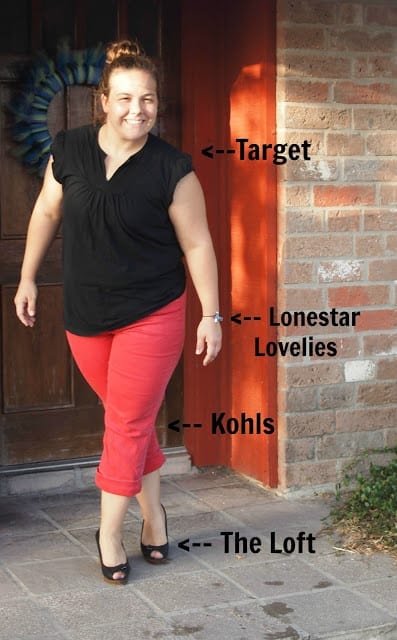 Aside from that, I actually have worn this outfit before.  [Check them out in my
faux TOMS refashion post
.]  The red capris are so comfy and the shirt is nice and flowy.  And that super cute wreath is a gift from my friends over at
Natural Nesters
.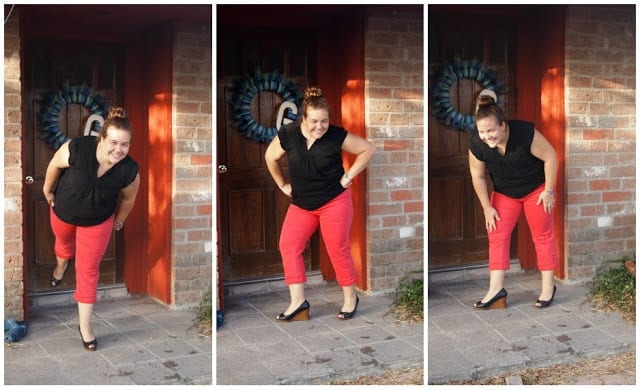 Classic Kelley.  There are more pictures of me goofing around then of me 'modeling'. Have I mentioned I love this series?  I have?  Ok.. seriously Im done.  
If you want to join in on the fun enter your email in this little box.  You will LOVE it!  
What did you create with Natalia and Christie's inspiration?  Link it up below!
-[Lovely August Sponsor]-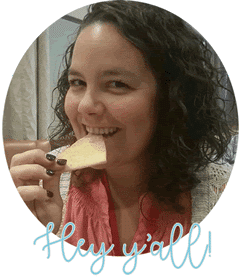 Hey y'all!I'm Kelley. I'm a recipe making, picture taking, coffee drinking momma to 3 crazy kiddos. Join me as I share our family favorite dinners and my copycat coffee drinks too!