This key lime pie poke cake is the best of both worlds – cake and pie!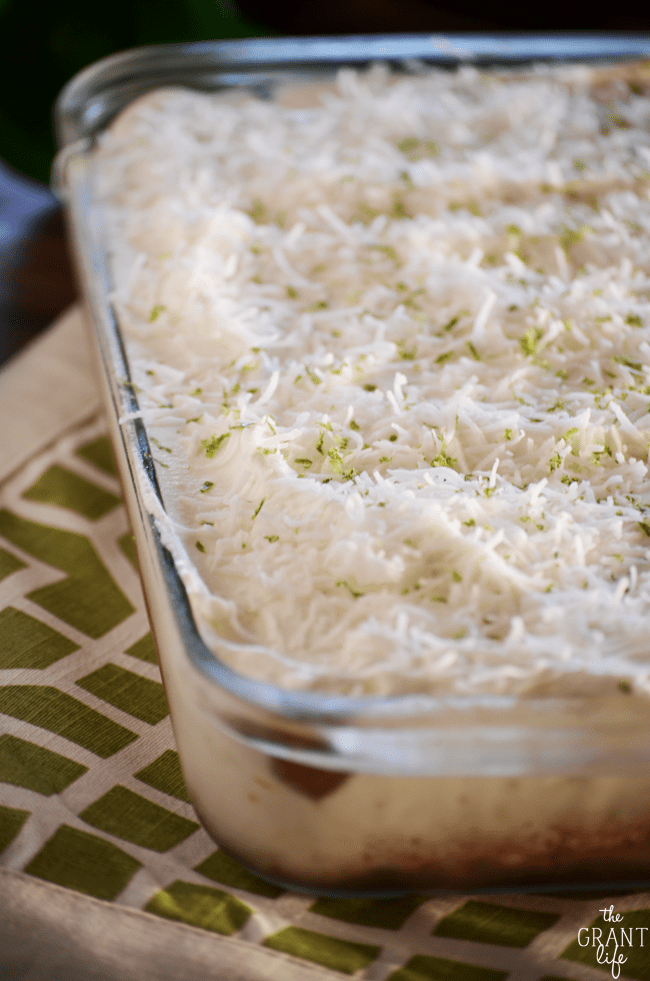 I talked a little bit about our crazy whirlwind of a weekend but I didn't go into much detail about Easter. [You can read about it all here, if you're interested!] After cooking for an army, cleaning like a maniac and attending the longest Easter vigil ever, I was pretty pooped when Sunday rolled around. I had planned to make cinnamon rolls for the church Easter breakfast, but half way through Saturday decided to make loaded breakfast totchos instead.
So after the 4 hour service I stopped at the grocery store to buy all the ingredients.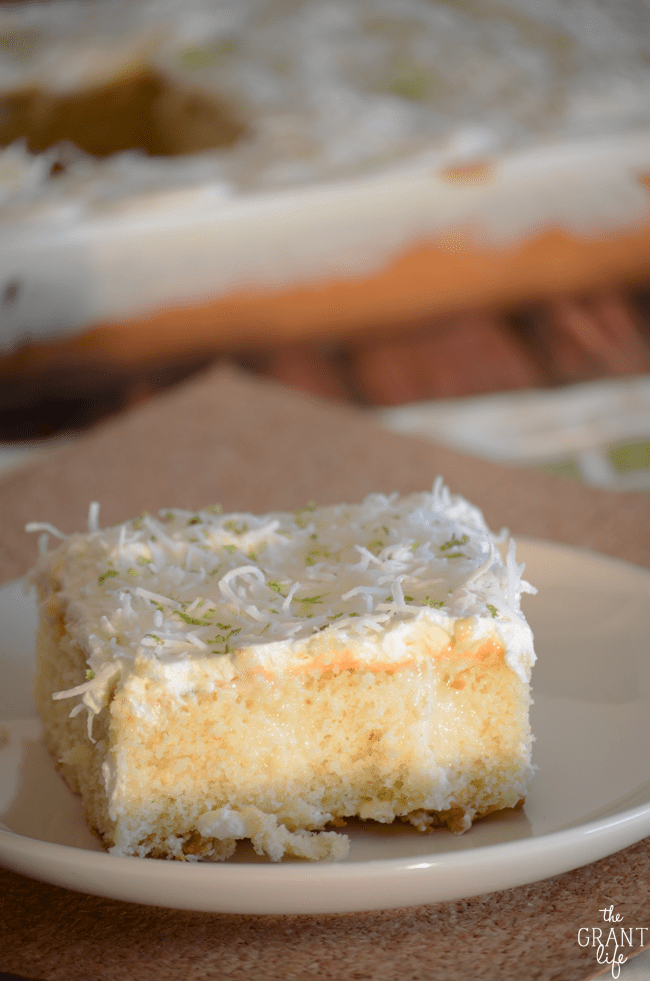 And then we all woke up late the next day. Yup. No totchos for church. I was throwing everything together to make them and Ryon comes up and tells me "Uhh, we don't have time for that." Whaaaa? No time for totchos? Sigh.
Don't tell anyone at church, but I totally made them and then ate them as we ran out the door. We just didn't have enough time to make them, let them cool, pack them up and then take them to church. Shhhh.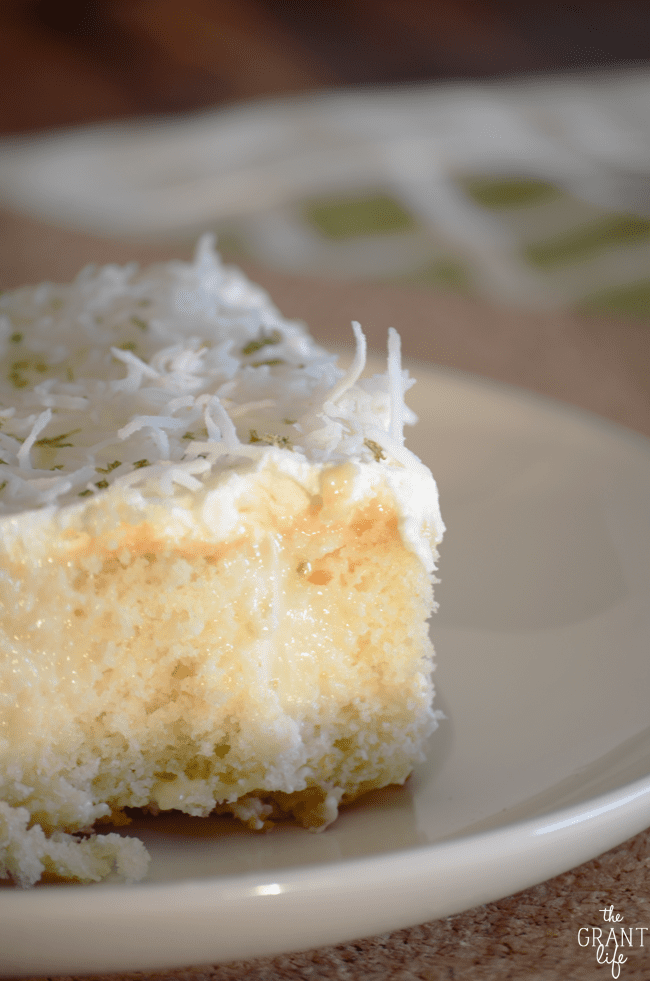 Our church is pretty small. I mean way small. Our kids are the only 2 kids there most of the time and they are the only ones in Sunday school. But we had a few families that were visiting from Minneapolis and there were 15 extra kids on Easter Sunday. Which means there were 15 extra kids during the egg hunt. Which means I am SO VERY GRATEFUL to those kids!
They always hid so many eggs that my kids end up with massive amounts of candy each year. But since the playing field was smaller this year we only have slightly massive amounts of candy leftover. There were still tons of eggs, just a few extra kids to compete with this year.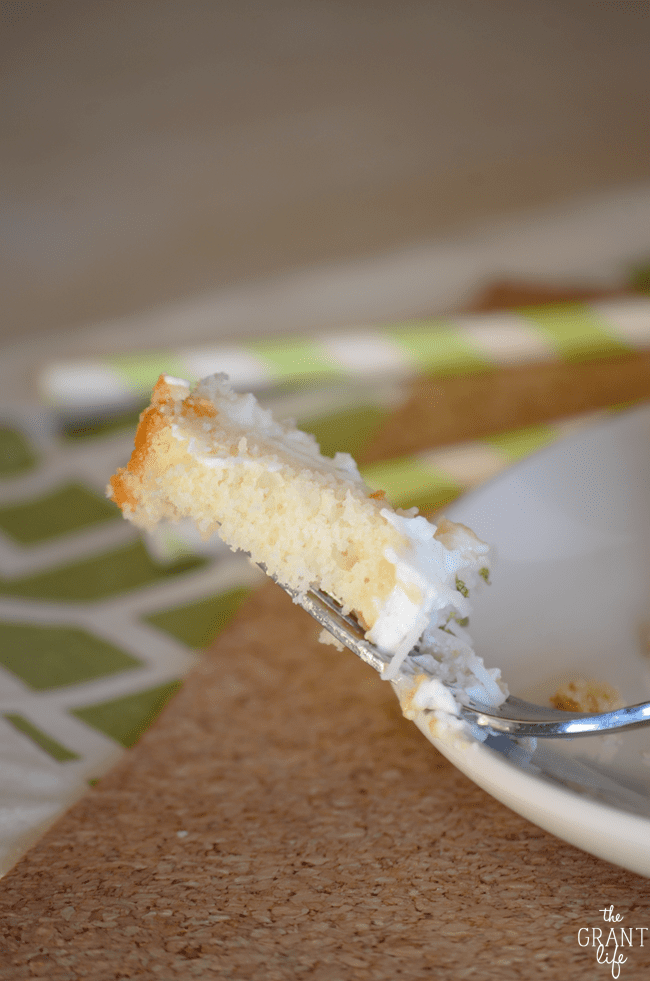 Once we wrapped up at church we headed over to my parents house and did a second hunt for the day. Instead of candy though, we filled the eggs with Shopkins for Ryley and Trashies for Avery. [Trashies are the boy version of Shopkins. They are little figurines just a grosser version. Like snot rocket and sewer rat.] And we color coordinated the eggs so they had to look for their own instead of having a free for all. It worked out really good and the kids were super excited once they opened the eggs.
After alllll that, my momma and I went to work in the kitchen. Of course I started with the dessert first. Duh. I made a chocolate coconut layer cake with cream cheese frosting. It was good. It was stick to your ribs good. And we had ham and green bean casserole and sweet potatoes and rolls. Before the cake. Because we have to set a good example for the kids. Or so my husband tells me.
All in all, it was a great Easter. Lots of Jesus, lots of family and lots of food. Just the way I like it!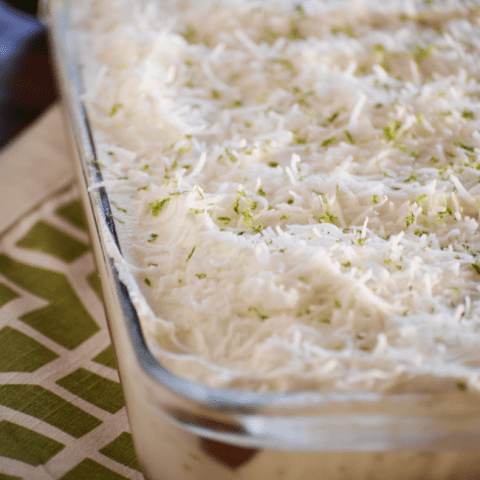 Key Lime Pie Poke Cake
Ingredients
For the cake:
2 1/4 cups all-purpose flour
1 stick butter, softened
1 1/2 cups granulated sugar
3 1/2 tsp baking powder
1 tsp salt
3/4 cups milk
2 tablespoons oil
1 tbsp vanilla extract
3 large eggs
For the cream filling:
1 (14 ounce) can of sweetened condensed milk
1 (13.5 ounce) can unsweetened coconut milk, divided
10 tablespoons Key lime juice, fresh or bottled
For the topping:
2 cups heavy whipping cream
2 tablespoons sugar
1 teaspoon vanilla extract
lime zest and flaked coconut for topping
Instructions
Preheat oven to 350.
Cream the butter and the sugar.
Add eggs one at a time, beating in between.
Add the vanilla, oil and milk.
Add the flour, baking powder, and salt to the wet ingredients.
Mix until all lumps are gone.
Spray pans with cooking spray.
Pour mixture into pans.
Bake for 20-25 minutes or until a toothpick comes out clean in the center.
While the cake is baking prepare the cream filling by mixing the sweetened condensed milk, 1 cup of coconut milk and the Key Lime juice.
Using the handle of a wooden spoon, poke holes all over the warm cake.
Pour the coconut milk mixture over the holes. Cover and refrigerate until chilled.
For the topping, whip the heavy cream until fluffy, about 5 minutes. Add the sugar and vanilla extract.
Spread the whipped cream topping over the cooled cake and garnish with the lime zest and the flaked coconut.
Enjoy!
Like this easy dessert? Be sure to check out:
And sign up for our recipe updates! I'll send fresh recipes right to your inbox!