Jazz up your iced chai latte with a splash of vanilla and pinch of love. This Iced Vanilla Chai Latte is a delicious drink to enjoy on a hot day! This latte is made with chai tea, milk, and vanilla syrup. It's easy to make and just perfect for satisfying a sweet tooth.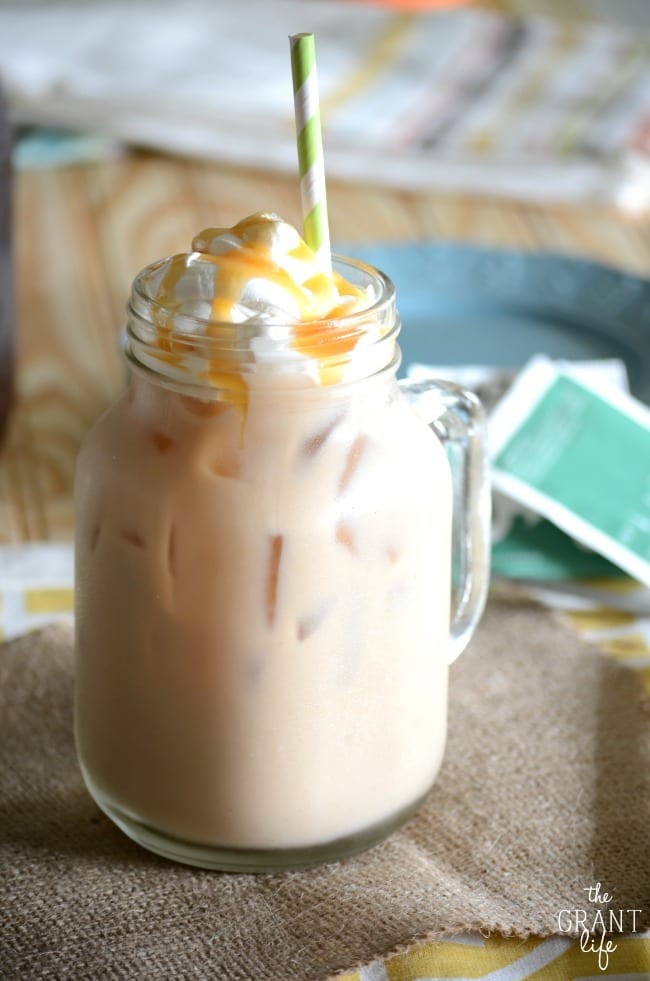 Chai flavors have to be one of my favorite combinations. The spices are comforting and warm you up from the inside out. I started my chai journey with a classic iced chai latte and have expanded and shared many chai latte recipes! It's just such a great flavor combo that I want to share them all with you!
What is a Vanilla Iced Chai Latte?
A Vanilla Iced Chai Latte is a type of iced tea drink that is popular among coffee-lovers. It is made with a sweetened black tea concentrate that is mixed with milk and then flavored with vanilla and spices. The drink is often served over ice and topped with whipped cream.
Vanilla Iced Chai Lattes are a refreshing and tasty way to enjoy a cup of tea, especially on a hot day. This vanilla chai is a Starbucks copycat recipe and SO easy to make at home! You only need a few common ingredients and you are on your way to making the best homemade iced vanilla chai!
Vanilla Iced Chai Latte Ingredients
For this recipe, you only need a few simple ingredients. Here's what you'll need to get started:
Chai tea bags– I used Tazo Chai Black Tea bags, but you can use any chai tea that you prefer. You will also need water to brew the tea. 
Vanilla syrup– You can easily buy vanilla syrup from your local grocery store, or you can make your own homemade vanilla syrup. 
Milk– Whole milk will give you a thicker latte whereas 2% will make it thinner. You can do whichever you prefer. 
Ice– You will need ice cubes to make this an iced chai latte. Let the tea cool before adding the ice. 
Toppings– I used whipped cream as a topping, but you could also add some caramel too. 
How to Make a Vanilla Iced Chai Latte
This vanilla iced chai latte is super quick and easy to make. Just follow the steps below:
Step 1: Brew the Tea
To brew tea, start by boiling the water. Then, add the tea bags  to the water, and let them steep (sit) for 5-minutes. (I also like make a bigger batch of tea in my Instant Pot.)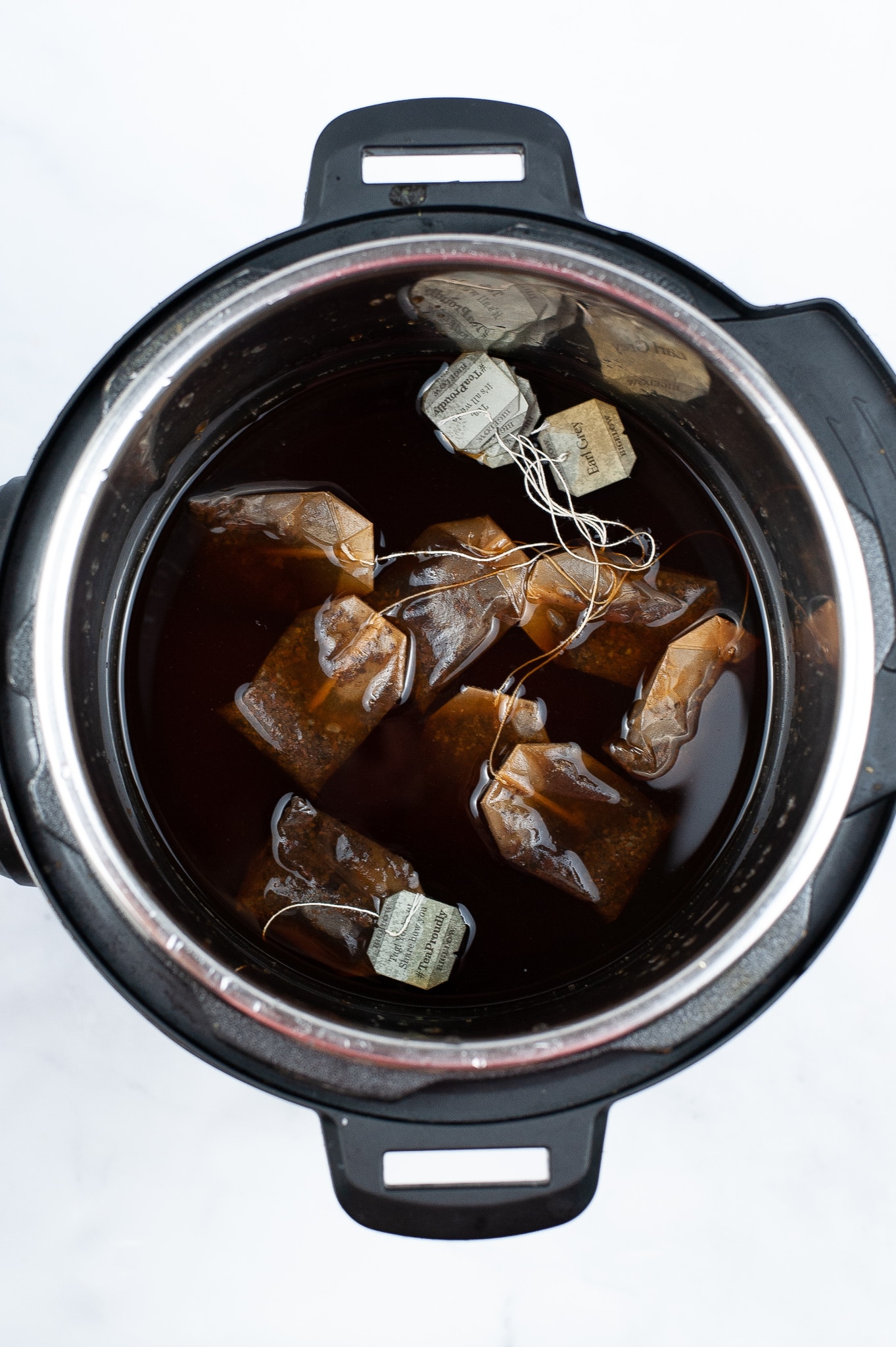 Step 2: Add the Vanilla Syrup
Once the tea has steeped for 5-minutes. Stir in the vanilla syrup for flavoring.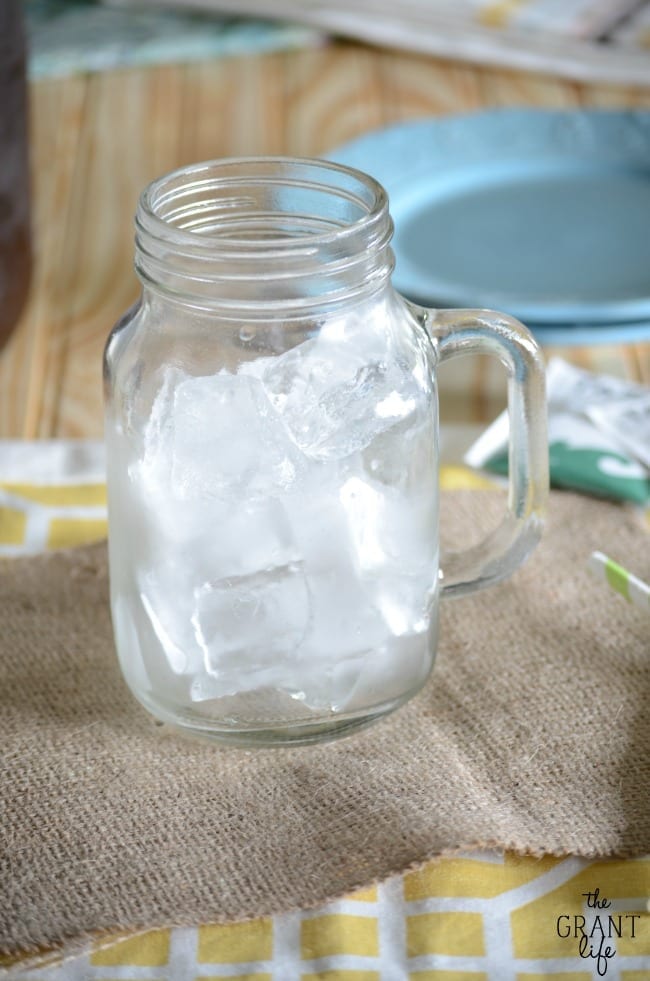 Step 3: Let the Tea Cool
Allow the chai tea to cool to room temperature.
Step 4: Add All the Ingredients
Next, place the ice in a glass. Then, add the chai tea and milk. Stir to combine.
Step 5: Add the Toppings
Top with whipped cream, caramel drizzle, or any toppings you prefer.
Enjoy!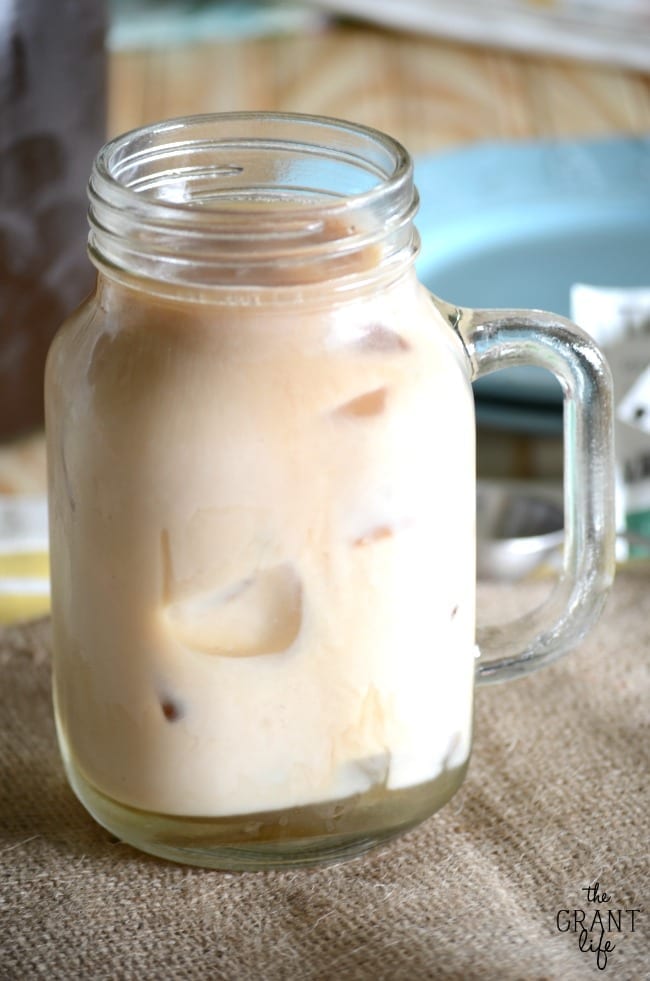 How to Order a Vanilla Iced Chai Latte at Starbucks
If you're looking to treat yourself to a Vanilla Iced Chai Latte of your own, here's what you need to know. Firstly, make sure you order a "Grande." That's the medium size – any smaller and you won't get enough Vanilla Iced Chai Latte goodness, any larger and you'll be swimming in it (trust me, I've made this mistake before). Secondly, be specific when ordering – don't just say "chai latte," ask for a "Vanilla Iced Chai Latte." That's it! Easy peasy.
Tips for Making an Iced Chai Latte
Steep the tea. To get the most flavor, be sure to steep the tea for 5-minutes.
Add syrup while hot. Add the vanilla syrup when the tea is hot. This will combine the tea and syrup flavors better than if it's cool.
Let it cool before adding ice. Allow the tea to cool before you add the ice. If you don't, the ice will melt and make a watered down drink.
Can I Use Chai Concentrate?
Yes, Chai concentrate is a great way to make a delicious Vanilla Iced Chai Latte. If you choose to use the concentrate, you would just need to add the vanilla syrup to the it along with the milk. I love using the Tazo chai concentrate with my homemade vanilla syrup and whipped cream.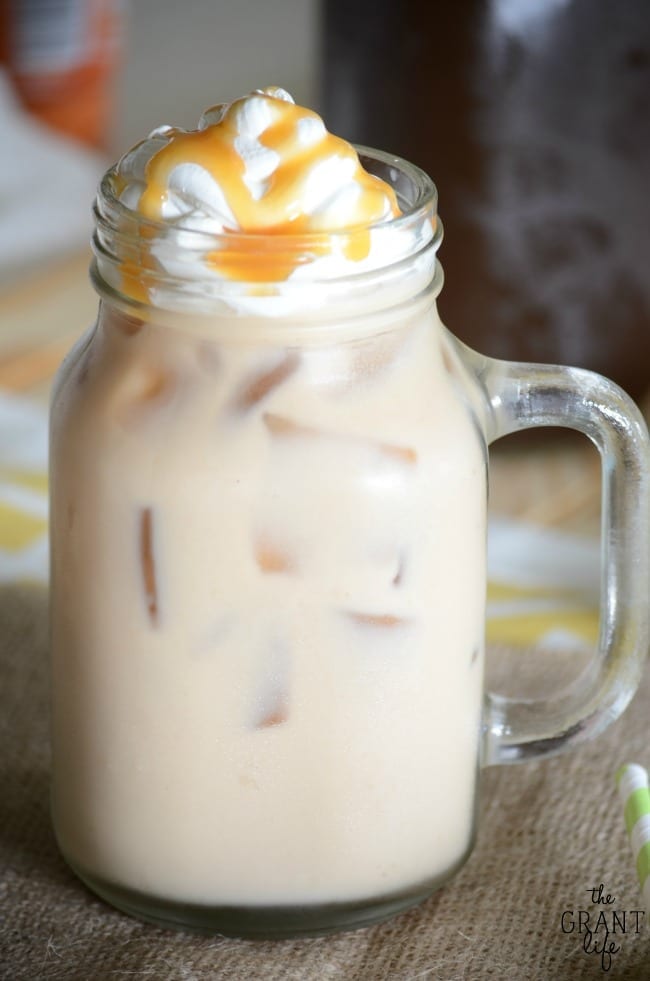 Is There Caffeine in This Drink?
Yes! Chai tea generally contains caffeine, but the amount can vary depending on how it's prepared. When made with tea bags or loose-leaf tea, chai will contain more caffeine than when made with instant tea powder.
What is a Dirty Chai Latte?
A Dirty Chai Latte is a delicious twist on the classic Chai Latte. It's made by combining a strong brewed cup of black tea with a traditional masala chai spice mix, and then adding steamed milk and a shot of espresso. The result is a rich, creamy drink that has all the flavor of a Chai Latte but with an added boost of caffeine. A Dirty Chai Latte is the perfect drink for any coffee lover who is looking for something new to try.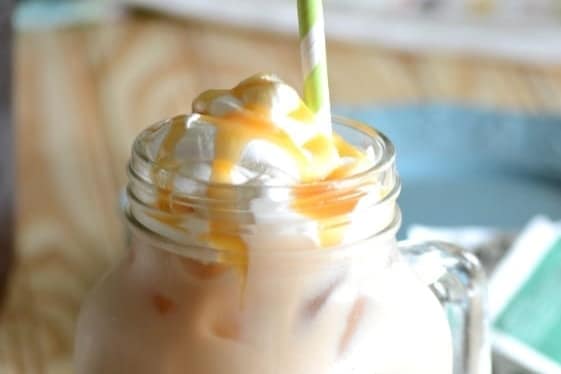 Can I Double the Recipe?
Absolutely! If you know you'll want more than 1, go ahead and double the recipe. But, don't add the ice until you are ready to drink the second glass.
Other Chai Drinks to Try
I have so many other delicious chai tea recipes! Here are a few of my favorites: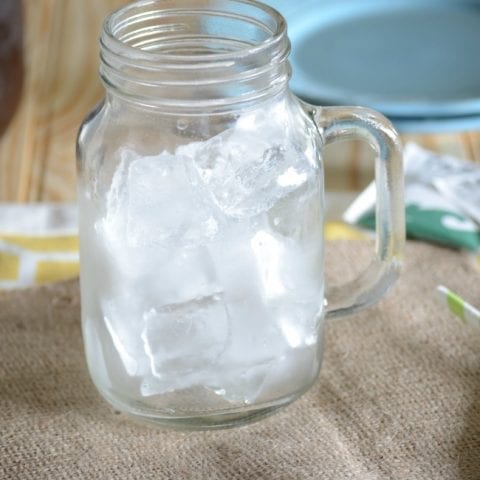 Vanilla Iced Chai Latte
Ingredients
1 chai tea bag
1 cup of water
2 tablespoons vanilla syrup
1 cup of milk
handful of ice
whipped cream and caramel for topping
Instructions
Brew the tea bag and let seep for 5 minutes.
Allow the chai tea to cool to room temperature.
Place the ice in your glass, followed by the vanilla syrup, chai tea and milk.
Stir together, top with whipped cream and enjoy!
Other Copycat Starbucks Recipes to Try
Making Starbucks copycat drinks at home is one of my favorite things to do! This Starbucks copycat iced vanilla chai latte is only one of many other recipes on mom makes dinner. Some other great ones to try are:
Did you try this recipe? I'd love for you to leave a review in the recipe card above or the comments below. Want to make it later? Pin the vanilla iced chai latte image below to your favorite board. THANK YOU for the support!