Jazz up your iced chai latte with a splash of vanilla and pinch of love.
Ryley has been asking us for awhile to take her training wheels off her bike. We have been putting it off for a bit because, well, I'm not sure why. She is the only one on our street that has training wheels. All the other kids (all 10 of them) have big kid bikes and whiz up and down the street. The boys even have credit cards in their back wheels so it makes noise when they go by.
She just learned how to use her brakes on her bike so I was like "Whoa girlfriend, slow down."
Side note – sign up for a FREE coffee ebook today!
All the bikes were out riding their bikes this weekend and of course the kids wanted to join in. Ryon was outside with them, so I went inside to do something for a bit. I came back out and he was taking off her training wheels in the garage. I just stopped and said "Are you ready for this?" talking to Ryon but Ryley answered "Yup!"
After he got the training wheels off Ryley thought she could just get up and go. Except she couldn't figure out how to get the bike steady to get on the seat. She was getting frustrated before she was even on her bike.
I ran beside her and held her handlebars and tried to explain that she needed to balance herself while peddling. And then I had to tell her to peddle faster because she was too busy trying to balance that she forgot to peddle. Then she wanted me to just let her go after she started moving, but I knew she would just tip over.
She fell quite a few times. Well, almost fell. She would feel herself going down and jump off her bike before it hit the ground.
Her little friend from two doors over was there and would try and help too. It was sweet to watch her tell Ryley "Now lean this way, now balance." She was very patient with her and even said "Let me show her how I do it" and demonstrated on her bike what Ryley should do. Although she was nice and helpful, I think her being there frustrated Ryley even more. She just wanted to jump on her bike and go and she wasn't able to do it like her friend.
After about 15 of me trying to help and then 10 minutes of dad trying to help, she was hot, red faced and done.
So we got a drink of water and played with our Shopkins outside. I told Ryon that I think this is the first time that something hasn't come nature to her. She wasn't able to just pick up riding her bike as quick as she has done other things and that upset her. I know she'll figure it out but it's tough to watch her want to do something so badly and not be able to yet.
Ryon asked if she wanted her training wheels back on and she just took a drink of water and said "No daddy, not yet." So we will try some more this week and see how it goes.
Anyone have like some magic bike riding wand I can wave over her? Or some words of advice on how you taught your kiddo? This is all new to me – help is appreciated!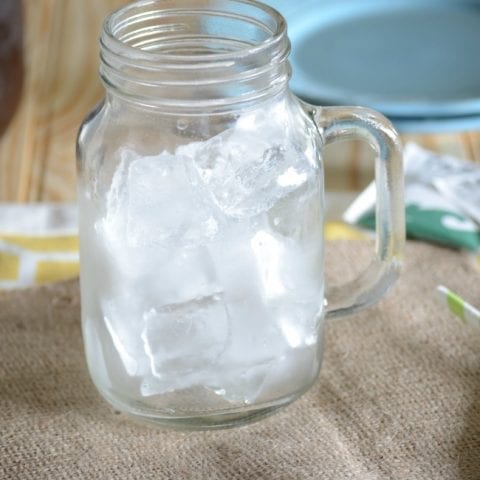 Vanilla Iced Chai Latte
Ingredients
1 chai tea bag
1 cup of water
2 tablespoons vanilla syrup
1 cup of milk
handful of ice
whipped cream and caramel for topping
Instructions
Brew the tea bag and let seep for 5 minutes.
Allow the chai tea to cool to room temperature.
Place the ice in your glass, followed by the vanilla syrup, chai tea and milk.
Stir together, top with whipped cream and enjoy!
Like this easy drink recipe? Be sure to check out:
Get a free coffee ebook by signing up below!