Monkey bread is a classic sweet treat, enjoyed for breakfast or a delicious sweet snack any time of the time. These monkey muffins are individual muffins that are convenient to serve and store! They are portable monkey bread that everyone will love. Let me show you how to make monkey muffins today!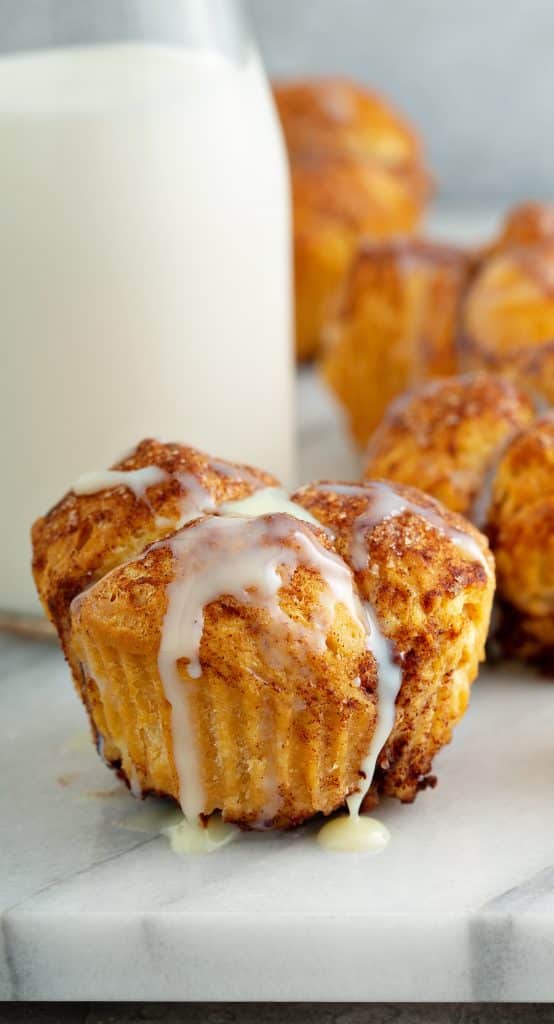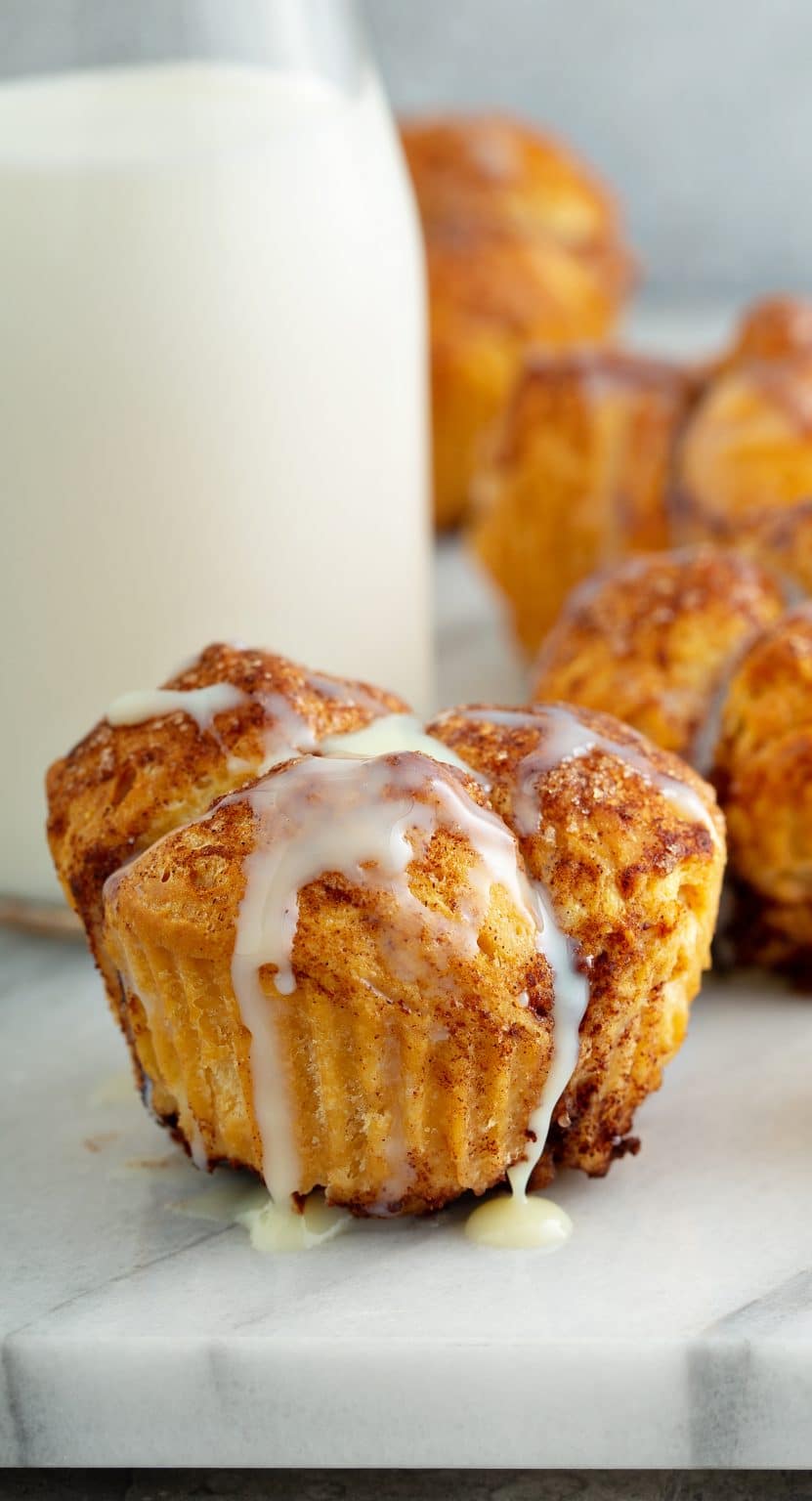 Can I tell you about the absolute best breakfast? It started with these monkey muffins. That's it. That's the breakfast. But seriously – everyone LOVES these decadent muffins. My kids go crazy for them and honestly, so do I!
These Monkey Muffins are incredibly easy to make, using canned biscuit dough that's topped with butter, sugar, and cinnamon. Once baked, these pull-apart monkey muffins are slathered in sweetened condensed milk for an extra dose of sweetness and finger-licking stickiness! 
What are Monkey Muffins?
Monkey Muffins are essentially monkey bread in muffin form. Instead of baking sweet yeast dough in a cake pan after covering it with melted butter and cinnamon sugar, I've assembled biscuit dough in a greased muffin tin, topped with melted butter, sugar, and cinnamon before baking. Easy peasy!
Once baked, these warm monkey muffins get a generous dollop of sweet condensed milk poured over them for extra flavor and decadence. Monkey muffins are a great sweet breakfast food or treat, conveniently baked and served in individual portions. 
Monkey Muffin Ingredients
1 can biscuit dough
3 tablespoons butter
3 tablespoons sugar
1 tablespoon cinnamon
Sweetened condensed milk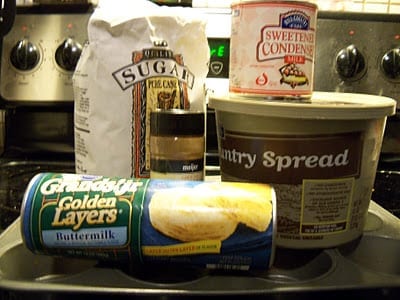 Recipe Notes
Biscuit dough – You can use any dough that you'd like. I love the buttermilk dough with layers!
Butter – Butter or margarine can be used in this recipe. Feel free to use your favorite.
Sweetened condensed milk – You only need a small amount drizzled over the tops of the muffins. Make sure to save it and make a batch of homemade vanilla sweet cream creamer!
*My ingredient and how-to photos are older. We have been making this recipe for a loooong time.
How to Make Monkey Muffins
Step 1: Prepare
Cut each biscuit into six equal pieces, placing 3 of those pieces into an individual greased muffin tin. Repeat this for 10-12 muffins, depending on how big you make the dough pieces.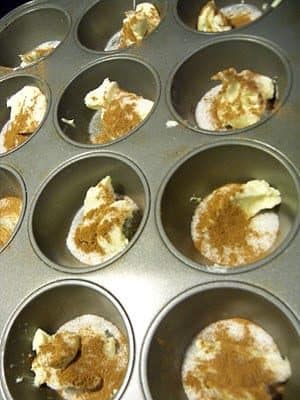 Step 2: Top the Muffins
Top each muffin with melted butter, sugar, and cinnamon. Or put all that in first. Both ways work!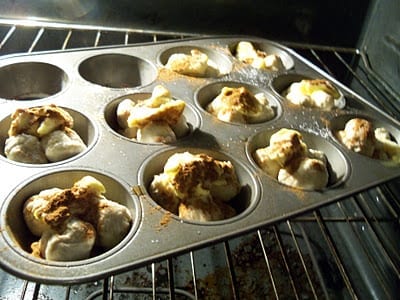 Step 3: Bake
Bake the muffins for 15 minutes at 375F. Remove the baked muffins from the oven and pour a dollop of condensed milk over the muffins while still warm.
Coffees to Pair with Your Muffins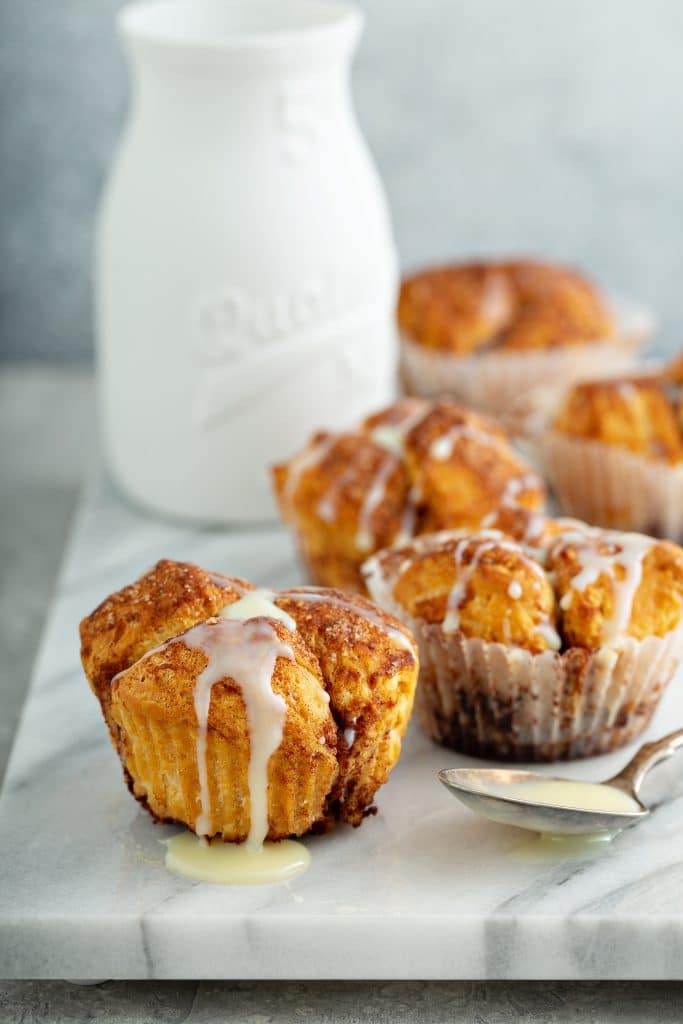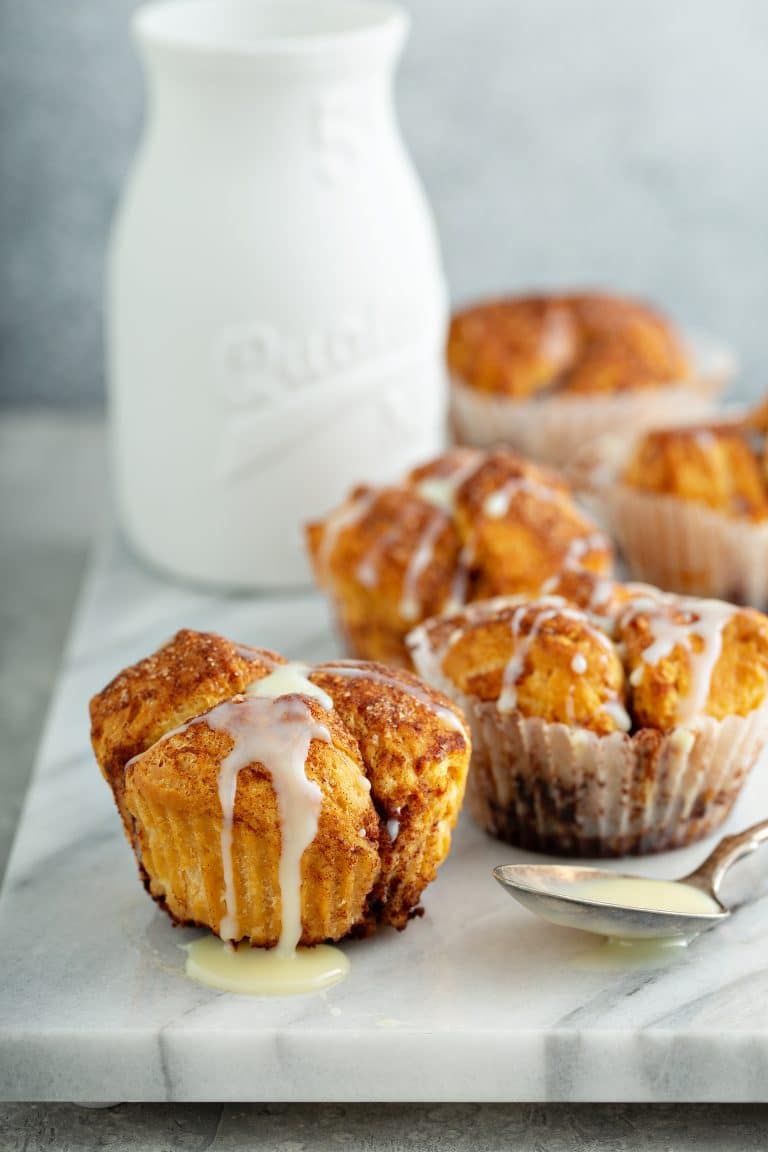 Recipe FAQs
Is this Like Monkey Bread?
Yes! These monkey muffins are just like monkey bread but smaller! While I haven't added chopped pecans to these monkey muffins, that is a topping that could be used, which you're likely to find in most monkey bread recipes.
What Type of Pan Do I Need?
I've used a regular muffin pan to make these monkey muffins. Make sure to grease the individual muffin tins with non-stick spray or butter to help remove these monkey muffins once baked.
How Many Monkey Muffins Does This Make?
This recipe makes 10-12 muffins. You could easily halve this or double it by increasing the ingredients and baking the muffins in batches. 
What Can I Serve with Monkey Muffins?
Enjoy these scrumptious breakfast monkey muffins with a side of fresh fruit, yogurt, freshly squeezed orange juice, or your favorite brand of brewed coffee.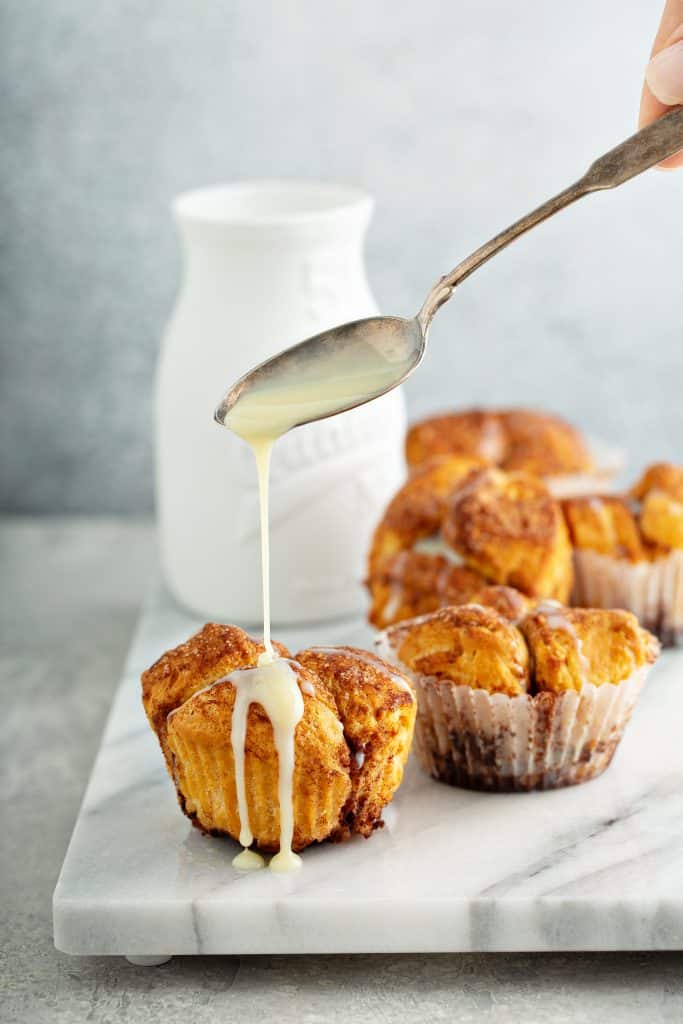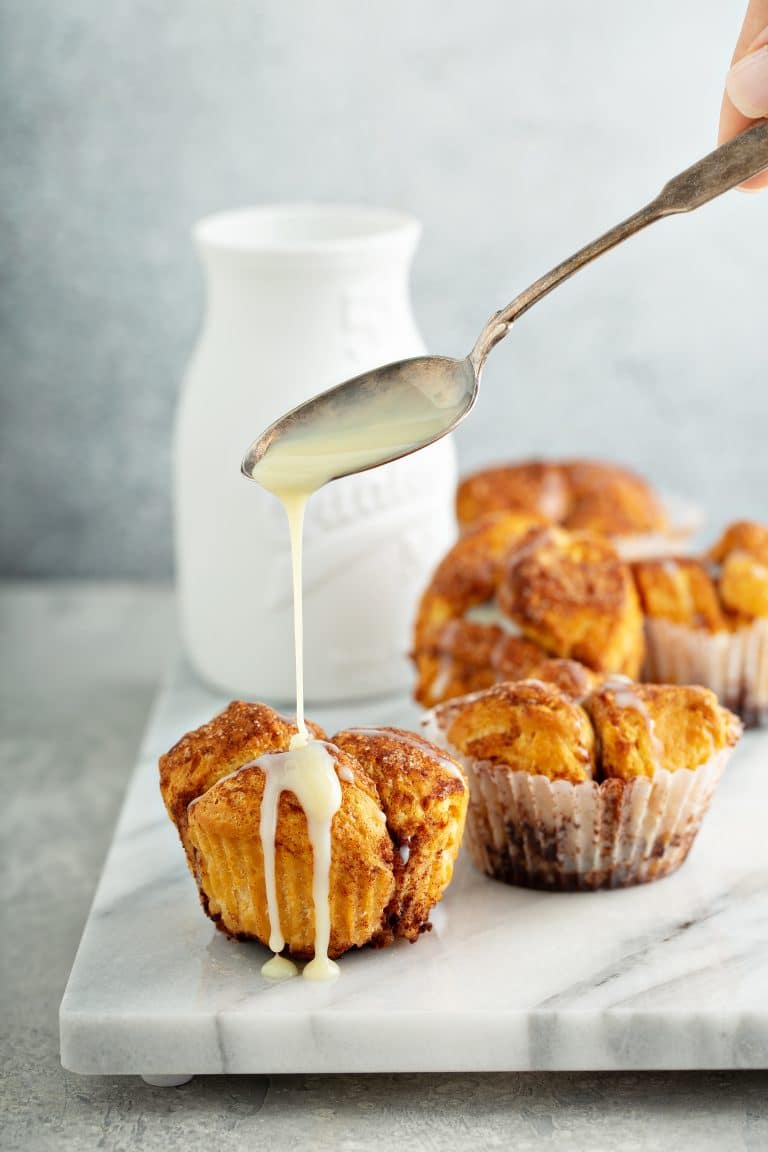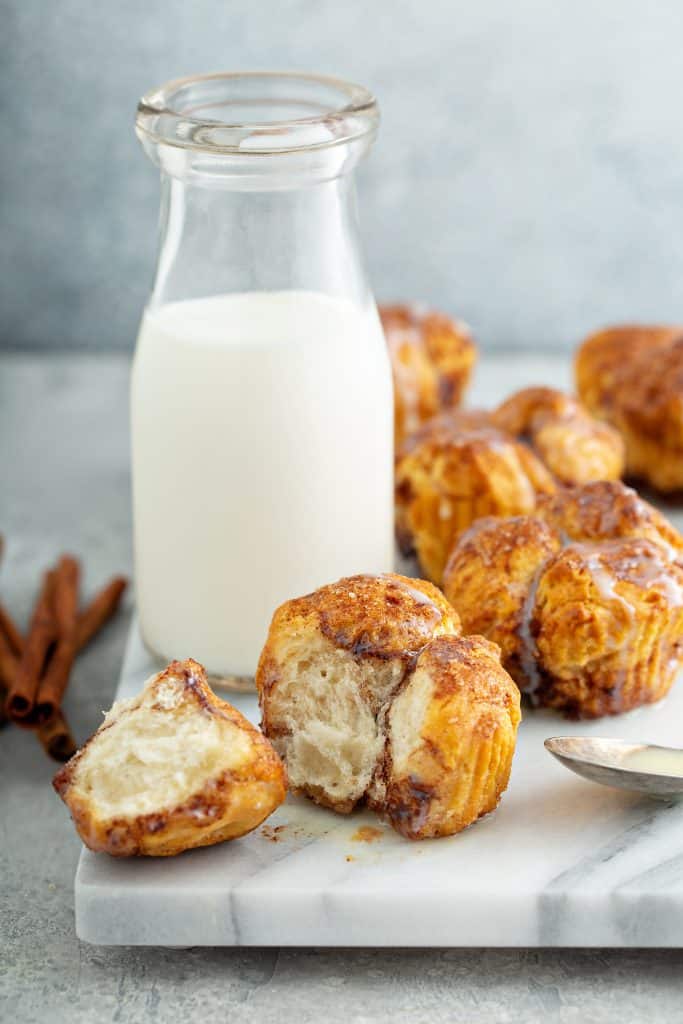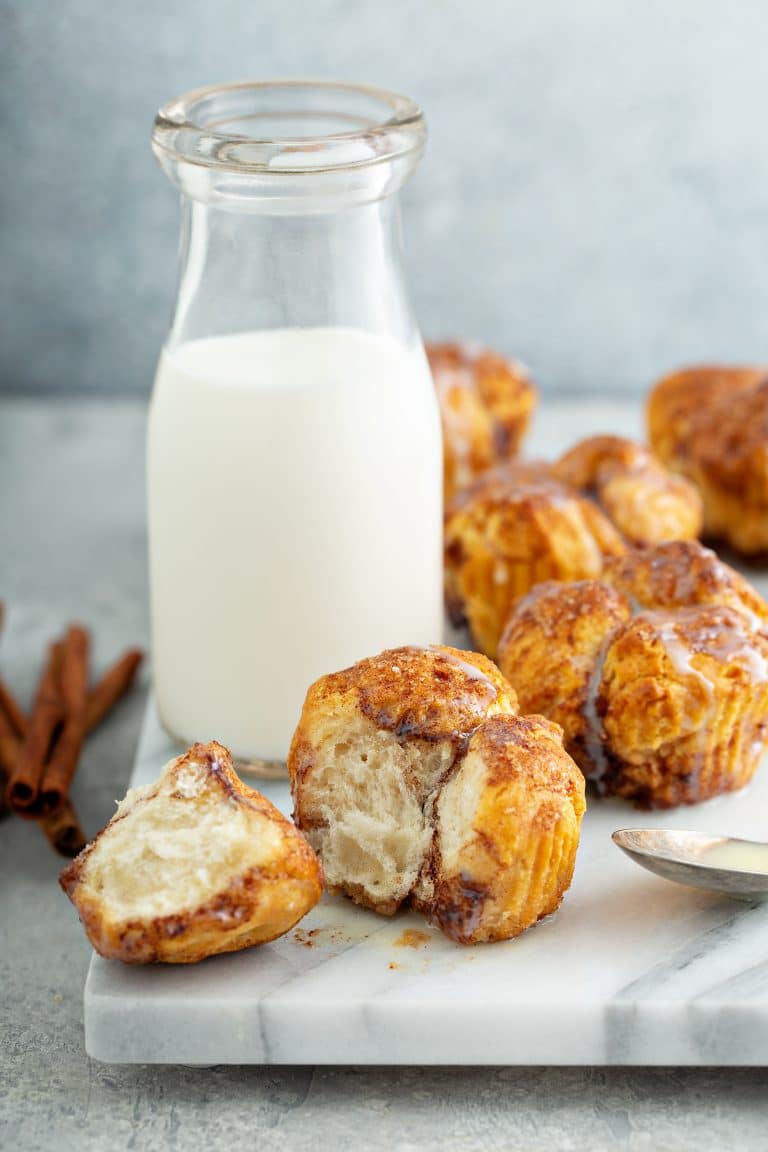 What Variations Can I Make to This Recipe?
Instead of sweetened condensed milk, you can drizzle frosting or caramel over top!
Add chopped pecans to the top of the muffins over the condensed milk or sugar glaze.
Make chocolate chip monkey muffins by using canned chocolate chip biscuit dough, similar to my Reese's monkey bread!
Storage and Freezing
How Should I Store These Monkey Muffins?
These monkey muffins should be stored in an airtight container at room temperature. Similar to larger monkey bread, these monkey muffins will start to turn stale and hard if stored in the refrigerator.
Can I Freeze Leftover Monkey Muffins?
Yes! These monkey muffins can be stored in the freezer, wrapped tightly with plastic wrap, and stored in an airtight container or Ziploc bag for one month. Remember that the sticky condensed milk topping may come off when wrapping the muffins.
These muffins should never be thawed from frozen and then frozen for a second time as this ruins the texture of the muffins.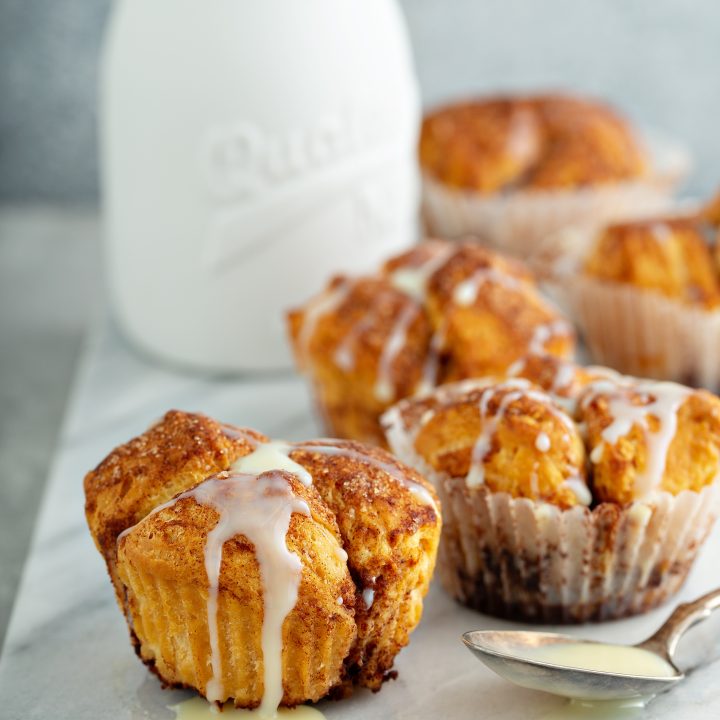 Monkey Muffins
Make these decadent monkey muffins for your next breakfast or brunch!
Ingredients
1 can biscuit dough
3 tablespoons butter
3 tablespoons sugar
1 tablespoon cinnamon
Sweetened condensed milk
Instructions
Cut the biscuit dough into thirds and roll each piece into a ball.
Place the dough in a prepared muffin tin (or use muffin liners).
Add a teaspoon of butter and sugar to each muffin.
Add a pinch of cinnamon on top.
Bake at 350 for 15 minutes.
Drizzle sweetened condensed milk over the tops of the muffins.
Serve and enjoy!
Notes
Use as little or much sweetened condenesed milk over the tops as you'd like.
Other Breakfast Treats to Try
Did you make this recipe? I'd love for you to leave a review in the comments below or via the recipe card. Want to make it later? Pin the image below to your favorite board!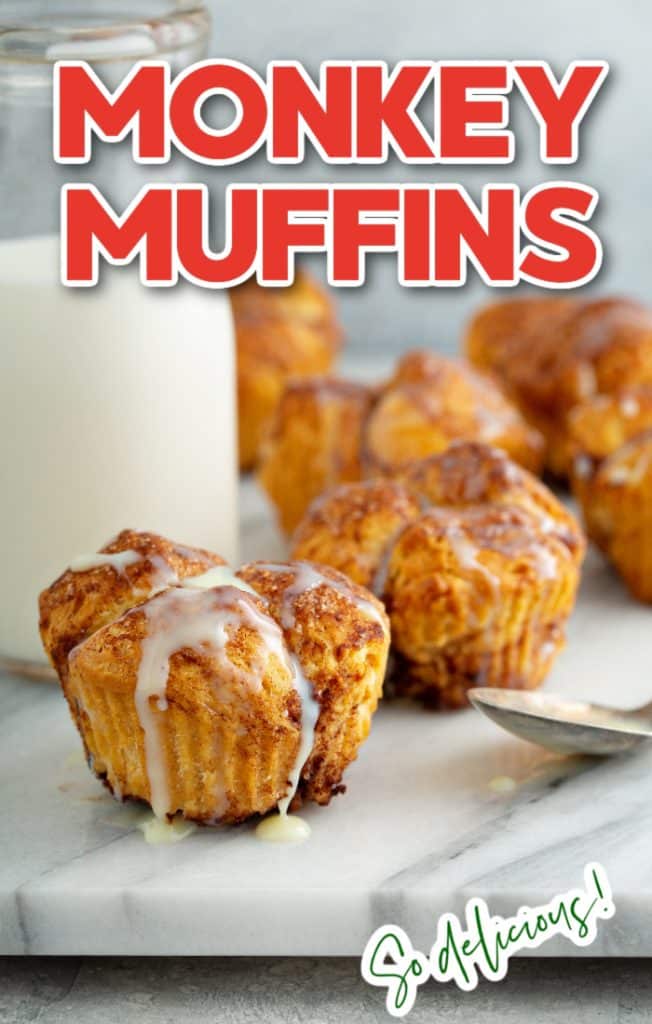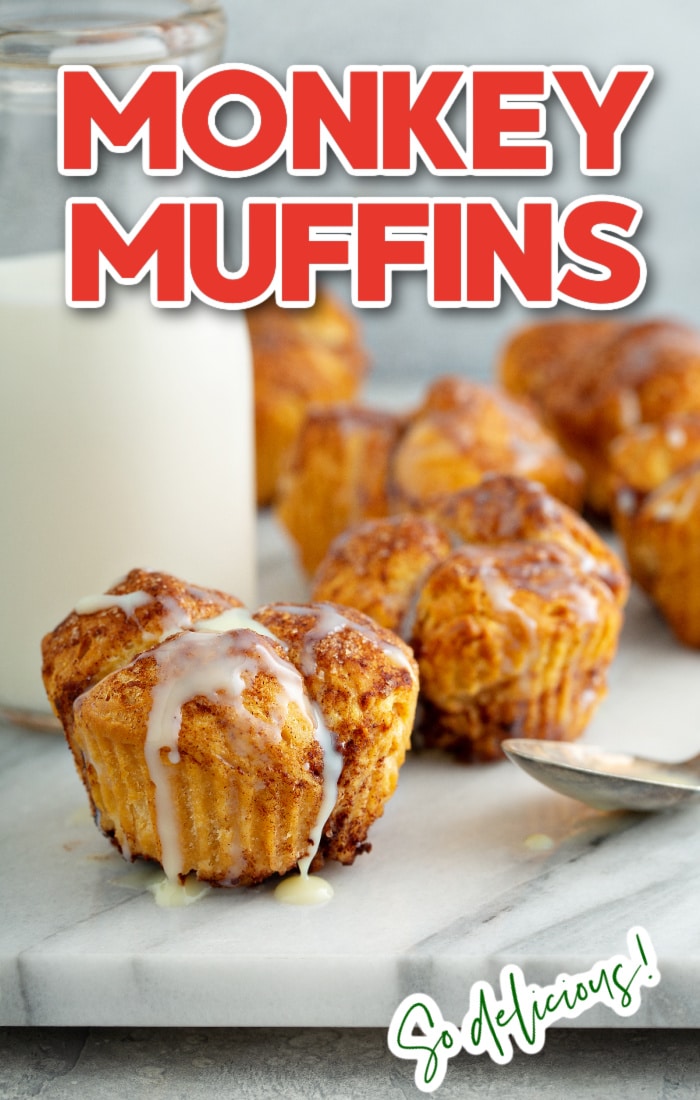 Enjoy these original images of our monkey muffins and my kiddos grabbing one.