The quickest way to get in the holiday spirit?  An eggnog latte! This Starbucks copycat eggnog latte combines fresh espresso with the delicious eggnog. It's a holiday favorite that is sweet with a kick of caffeine. Let me show you how to make this easy DIY coffee recipe today!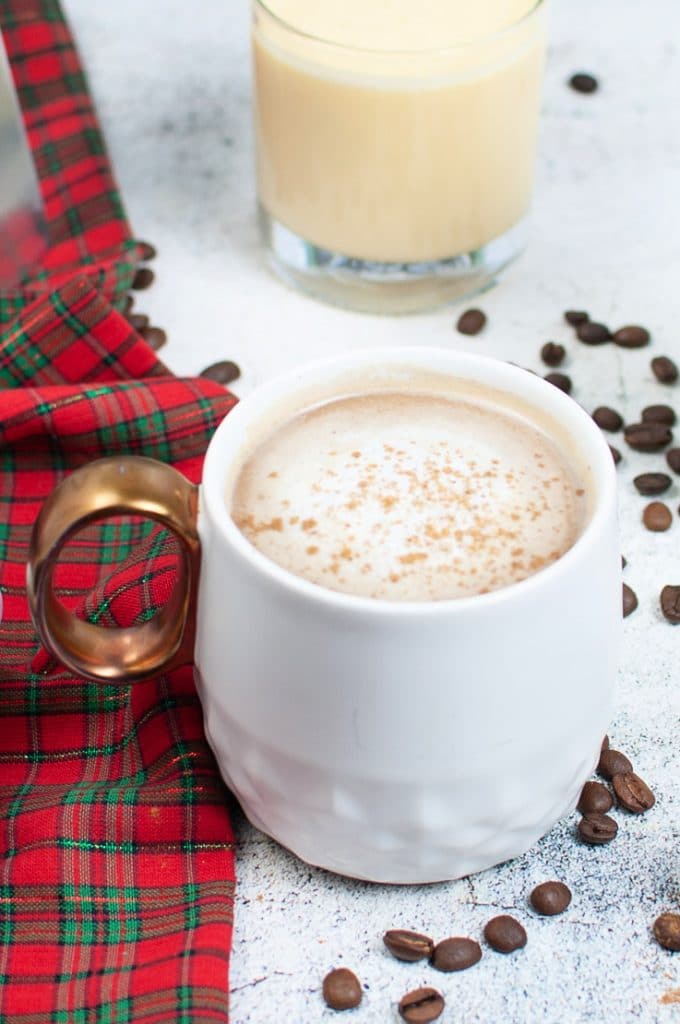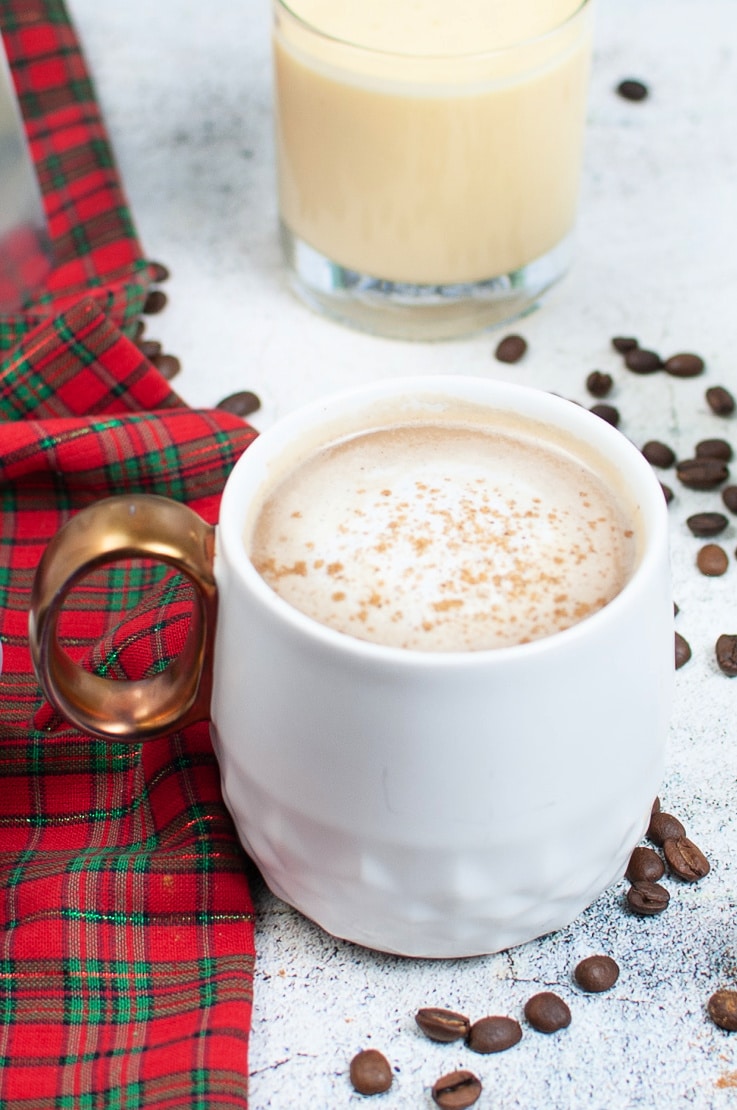 When the winter months roll around, one of my favorite things to do is make hot drinks. I'm a sucker for a good hot drink when the temperature starts to drop. There is nothing better than being wrapped up in a blanket with a cup of white hot chocolate or homemade eggnog. Of course, I like to add coffee to my drinks so the eggnog latte is on rotation during the holidays.
Starbucks Eggnog Latte
This eggnog latte starts with fresh brewed espresso and then has eggnog and milk added to it. That's it. It's a super simple Starbucks copycat that you can easily make at home. Starbucks did not bring back the eggnog latte in 2021 because they released new drinks, like the sugar cookie latte. The good news is that you can make this latte at home anytime you want!
Eggnog Latte Ingredients
This is probably one of the easiest lattes to make. You only need 3 ingredients to make this copycat eggnog latte at home! You will need:
You can also add whipped cream and a sprinkle of nutmeg on top, but those are optional.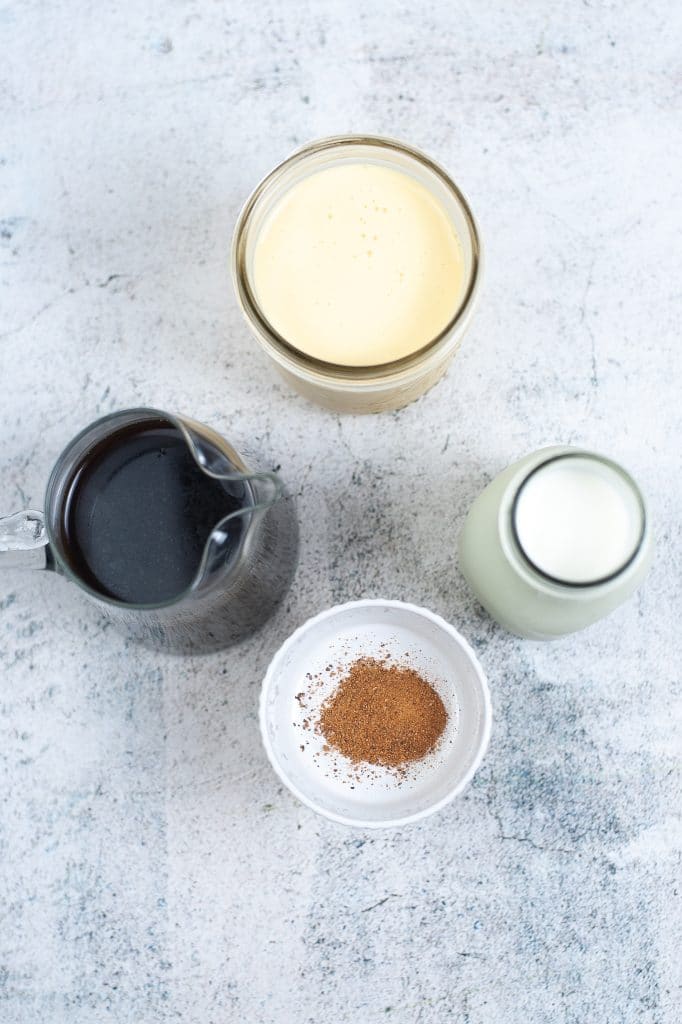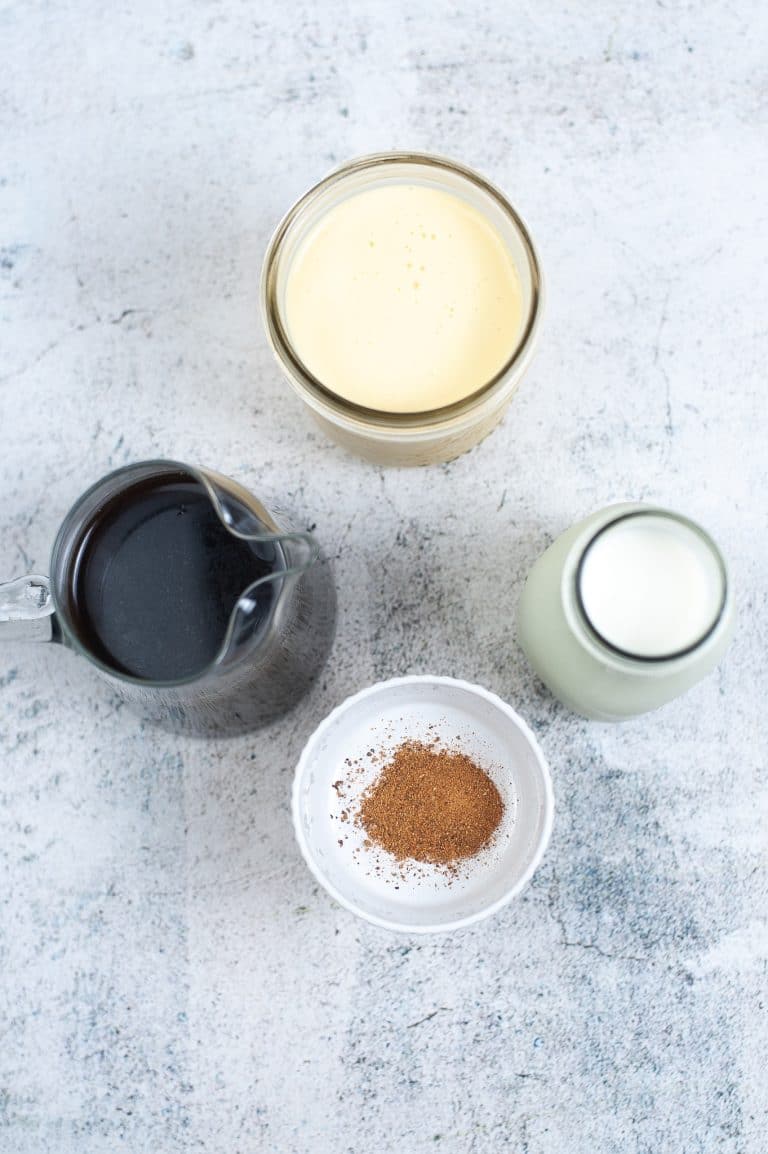 Espresso – You will need hot, fresh espresso for this recipe. You can use instant espresso or strong coffee as well.
Eggnog – Feel free to use homemade eggnog for this recipe! You only need a cup of it so save some from your homemade batch. Store bought works too!
Milk – Use your favorite milk for this recipe. 
Whipped cream – You can use whipped cream from the can, the tub or make your own whipped cream for this latte.
Want to make this eggnog latte dairy free? Use a dairy free eggnog and a milk alternative such as coconut or almond milk.
How to make an eggnog latte
Once you have gathered your ingredients, you will also want to grab your coffee machine, milk frother and coffee mug.
Step 1 Brew the espresso Make your espresso or strong coffee and place it in a coffee mug.
Step 3 Froth the eggnog and milk Place your milk and eggnog in the milk frother and heat until warmed through and frothy. You can do this with a counter top milk frother like the Instant Pot frother. It makes quick work of frothing the milk and eggnog for this latte. (It's also great for other drinks and I HIGHLY recommend it if you like to make coffee at home.)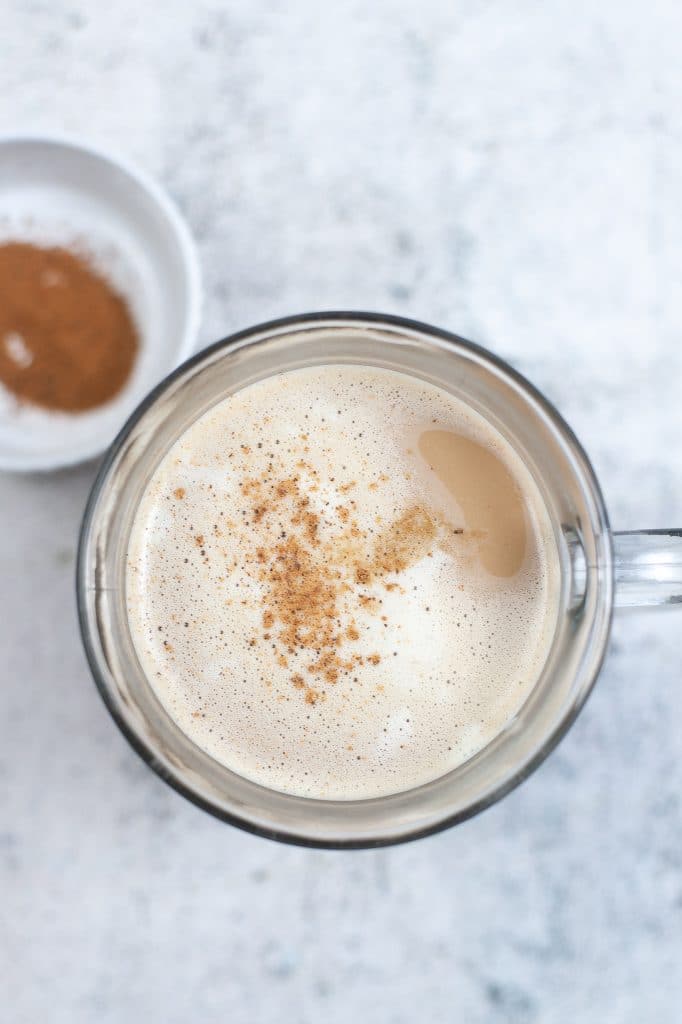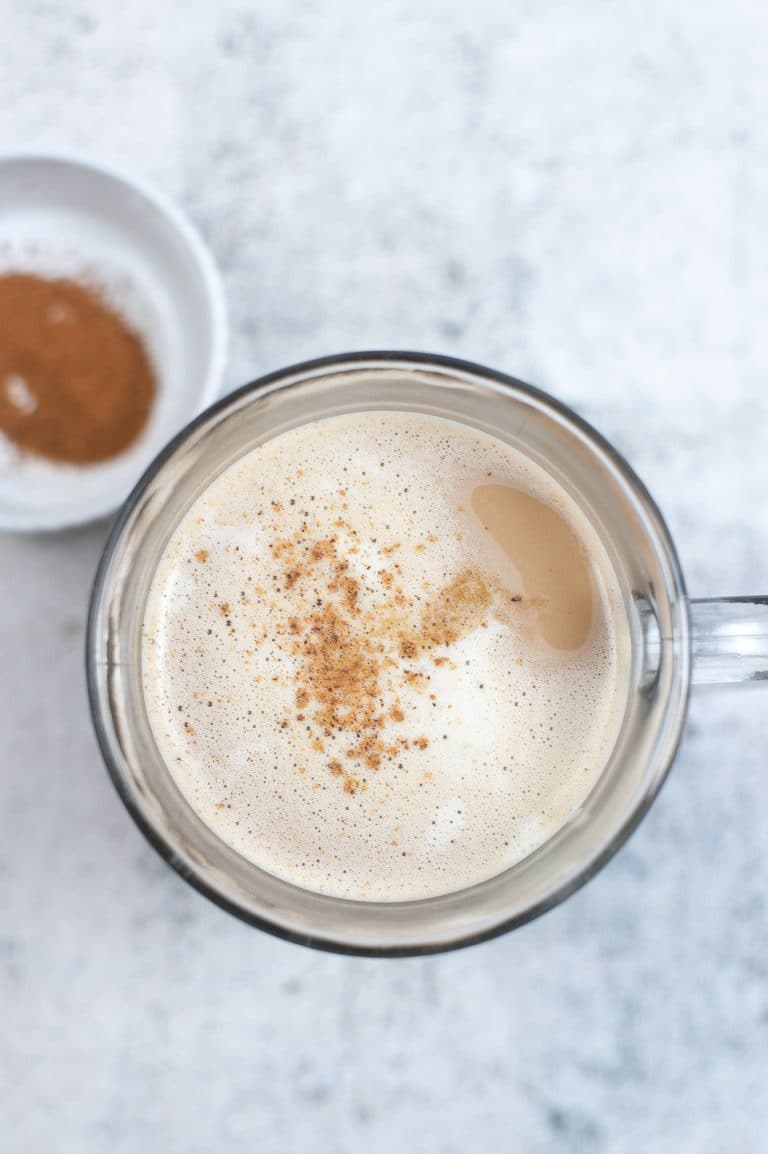 Step 3 Top your latte You can add your whipped cream and sprinkle of nutmeg or cinnamon. This is optional but adds a great depth of flavor to your homemade latte.
FAQS about homemade eggnog lattes
Can I use coffee instead of espresso? Yes, you can use fresh, hot coffee instead of the espresso. The classic Starbucks eggnog latte uses shots of espresso, but coffee work just as well.
Can I use homemade eggnog?
Of course you can! Homemade eggnog only makes this DIY latte even better! Check out my recipe for homemade eggnog. Just keep in mind, homemade eggnog needs a few hours to overnight to chill.
How do I froth eggnog?
You can froth your eggnog and milk a few different ways.
You can heat it in a saucepan and then use a handheld frother to make the eggnog/milk foamy.
You can use a blender bottle and add the eggnog and milk to the bottle. Heat it in the microwave and then add the blender ball back in. (Do NOT microwave it with the blender ball in the bottle!) Add the top and shake until frothy.
My favorite way to froth milk is using my Instant Pot milk frother. You can pour the milk and eggnog into the frother and use the warm froth setting. This will warm your eggnog/milk and make it frothy at the same time. It's pretty awesome.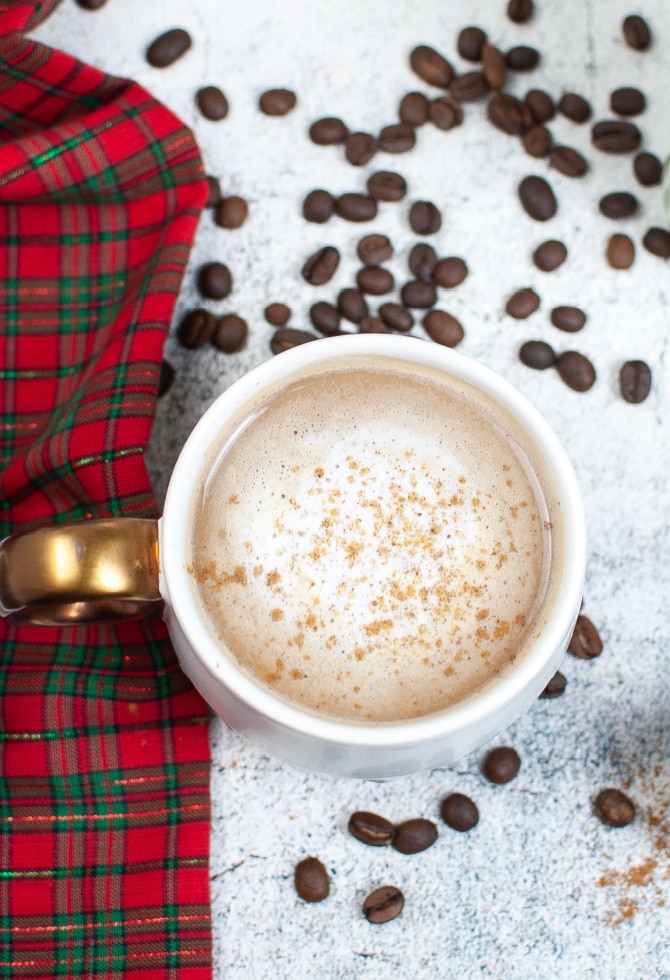 Can I make a pitcher of lattes?
Yes! You sure can! If you want to make a pitcher, brew a fresh pot of coffee and then double, triple or quadruple the amount of milk and eggnog needed to heat up. You can pour a cup of coffee and then top it with the frothed eggnog mixture.
Can I add sugar to my latte?
The eggnog has sugar in it, but if you would like it sweeter, feel free to add sugar to your latte. I suggest using brown sugar for even more holiday flavor.
How do I order an eggnog latte at Starbucks?
Unfortunately, Starbucks did not bring back the eggnog latte to their winter drink menu. They replaced it with other drinks, like the sugar cookie latte. The good news is that you can easily make this latte at home with a few simple ingredients.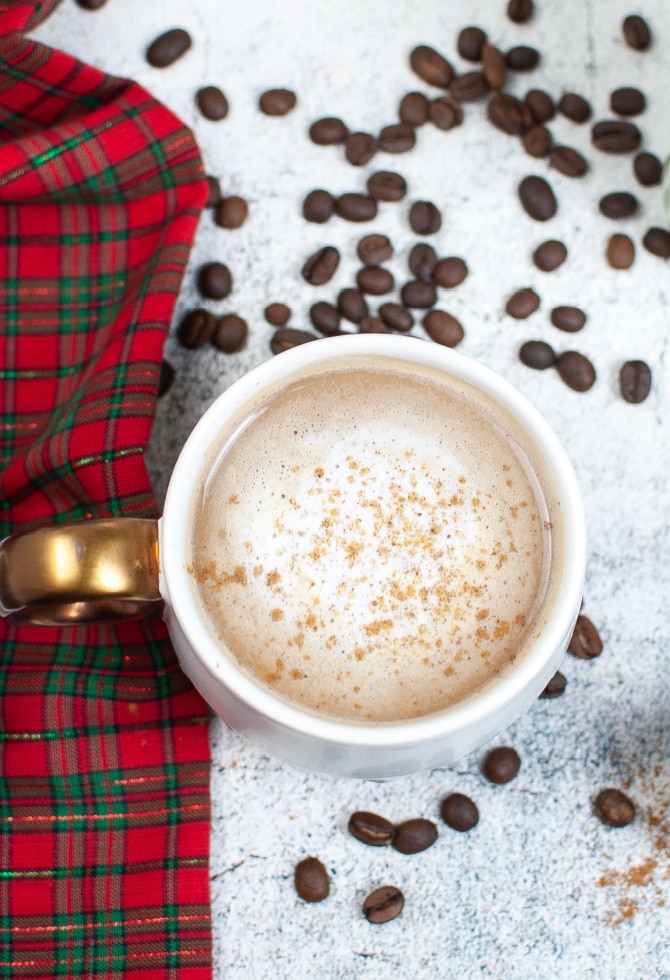 Eggnog Latte
How to make a creamy copycat Starbucks eggnog latte at home!
Ingredients
1/2 cup eggnog
1/4 cup milk
1/4 – 1/2 cup espresso (depending on how strong you like your latte)
sprinkle of nutmeg
whipped cream, optional
Instructions
1. Mix together your eggnog and milk in a milk frother. Heat until warm and frothy. (See notes for options on frothing your eggnog and milk.)
2. Add espresso shots.
3. Add whipped cream.
4. Sprinkle with nutmeg garnish.
Nutrition Information:
Amount Per Serving:
Calories:

361
Cholesterol:

174mg
Sodium:

252mg
Carbohydrates:

33g
Sugar:

33g
Protein:

20g
Other Starbucks copycat recipes to try
If you liked this recipe, be sure to check out:
Did you try this recipe? I'd love for you to leave a review in the recipe card above or the post below.
Want to make it later? Pin the eggnog latte image below to your favorite coffee board. THANK YOU for the support!