Boozy white hot chocolate is the ultimate winter drink for adults. It's warm, it's sweet and it's spiked with your favorite booze. This spiked hot chocolate is always a hit at holiday parties and family get togethers. Let me show you how to make this super easy spiked hot chocolate recipe today.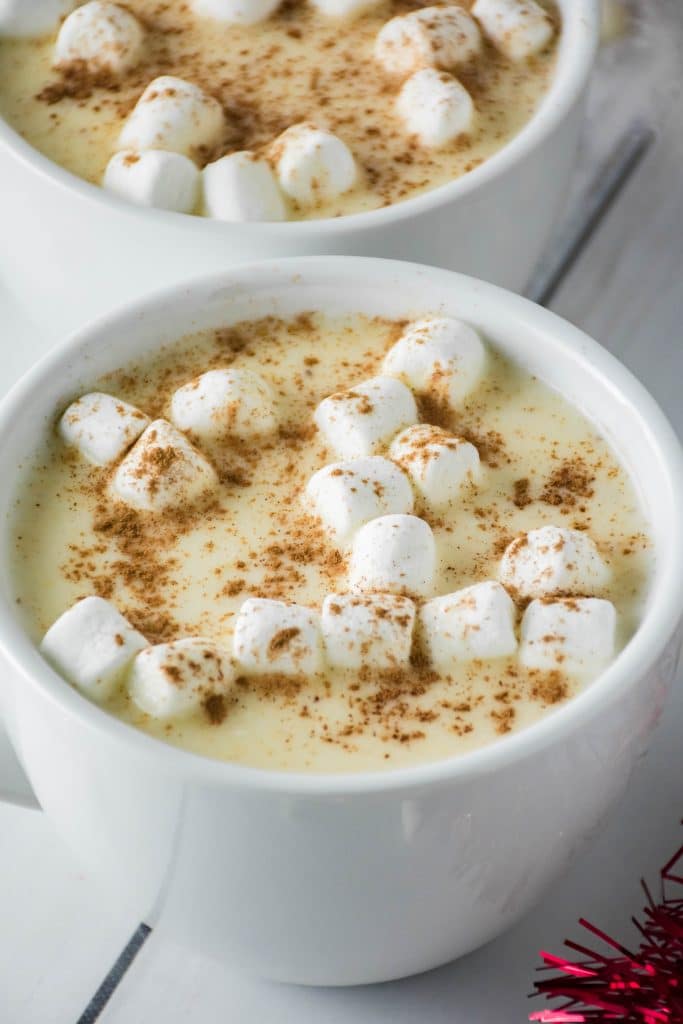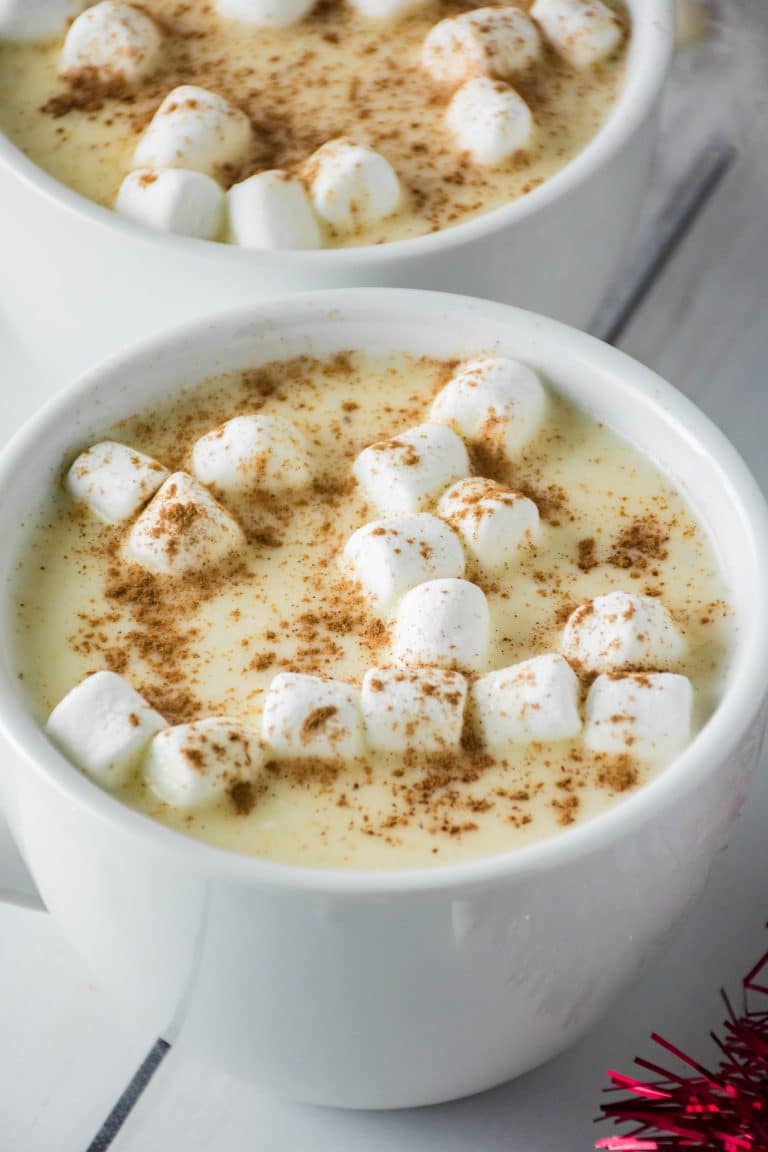 White hot chocolate is my jam. It's been my go to drink for years now. I love white chocolate in general, so being able to drink a big mug of creamy white chocolate is a no-brainer. My classic white hot chocolate recipe is amazing, but this spiked version is even better!
Spiked white hot chocolate
Spiked white hot chocolate is an adults only winter drink that consists of white chocolate, milk and your favorite liqueur. You can make it on the stove top or in your crock pot. It's creamy, warm and the perfect way to warm up with friends and family.
Boozy hot chocolate ingredients
This hot chocolate recipe is super easy to make and only requires 5 ingredients! To make boozy white hot chocolate you will need:
white chocolate chips
milk
heavy cream
vanilla extract
white chocolate liqueur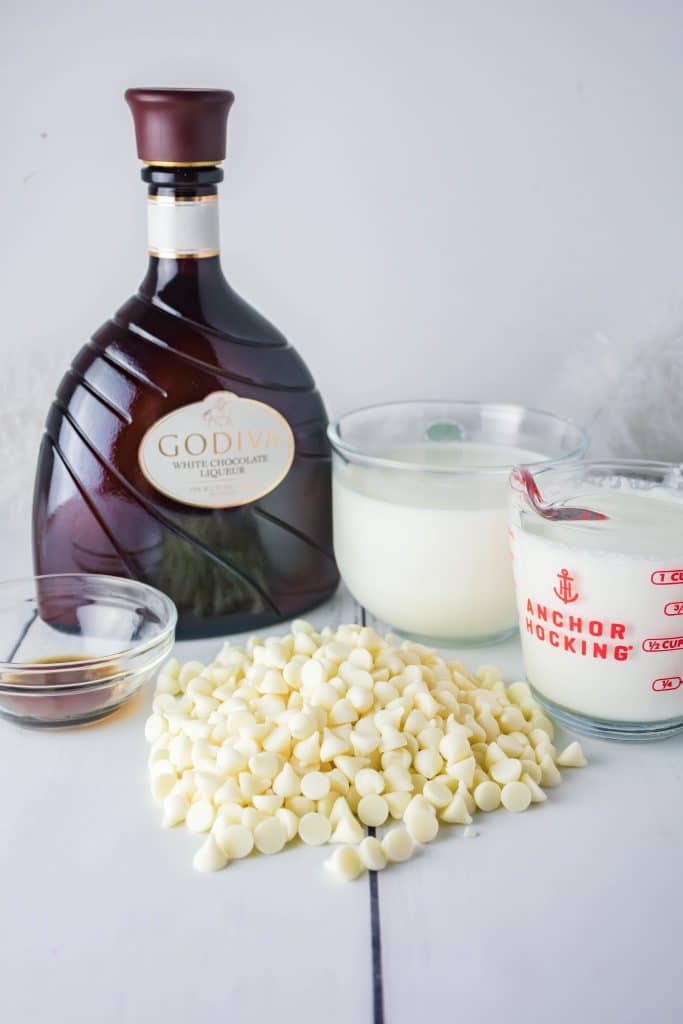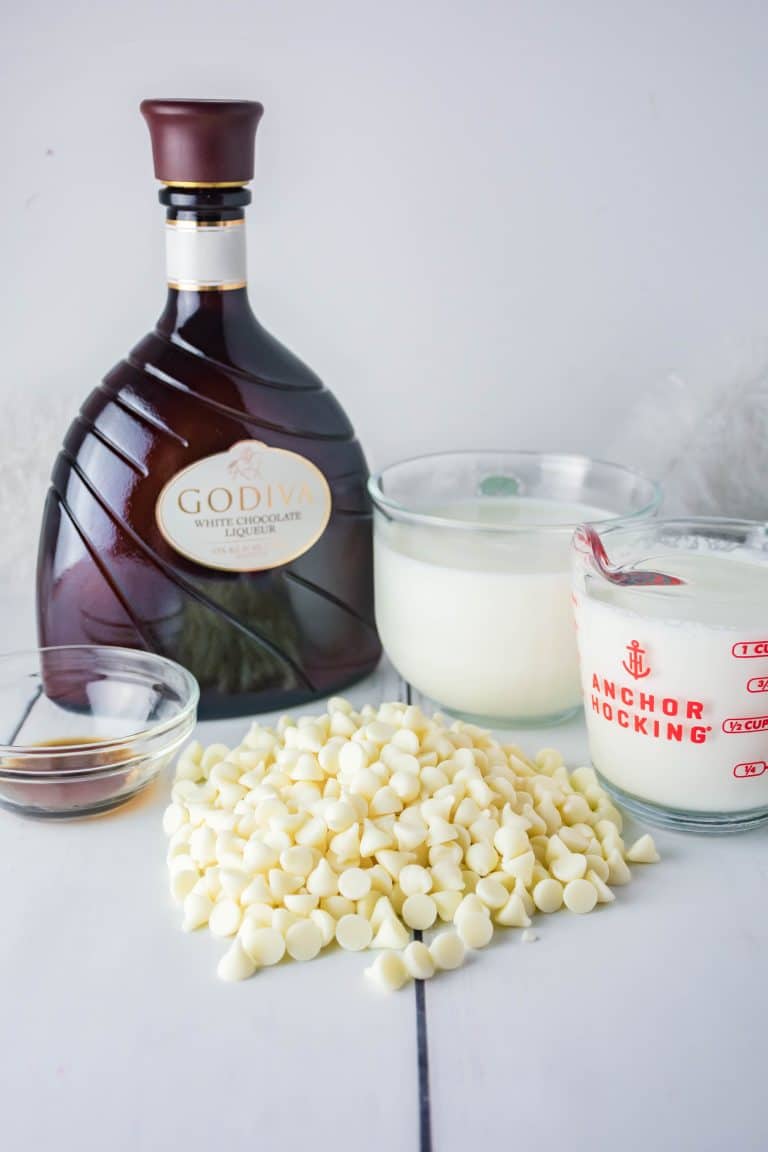 White chocolate chips – You will want to use a good quality white chocolate chip for this recipe. The better your white chocolate, the better your hot chocolate will taste. I love using Ghiradelli white chocolate chips.
Milk – Use your favorite milk for this recipe. I love using whole milk as it makes for a creamier hot chocolate.
Heavy cream – Heavy cream also helps make this hot chocolate creamy and delicious.
Vanilla extract – Use homemade vanilla extract (this makes a great gift too!) or store bought extract.
White chocolate liqueur – Godiva has a yummy white chocolate liqueur that works great in this recipe. Feel free to use your favorite alcohol here. You can sub it out for marshmallow vodka or even an Irish whiskey. The possibilities are endless!
How to make boozy white hot chocolate
This white hot chocolate is super simple to make in the crock pot! I love using my crock pot for hot chocolate because you can make a lot of hot cocoa and it frees up your oven for other holiday goodies.
Step 1 Add the white chocolate chips and the milk Turn your slow cooker onto LOW. Put the chips and all of the milk in the bottom of your crock pot. Stir to combine. Allow the white chocolate to start melting before adding the heavy cream and vanilla extract. Stir and place the lid on.
Step 2 Cook Allow the white hot chocolate mixture to cook for 2 and 1/2 hour. Make sure to stir every 15-30 minutes to ensure that the chocolate won't stick to the bottom. Once everything is combined and heated through, turn off your slow cooker.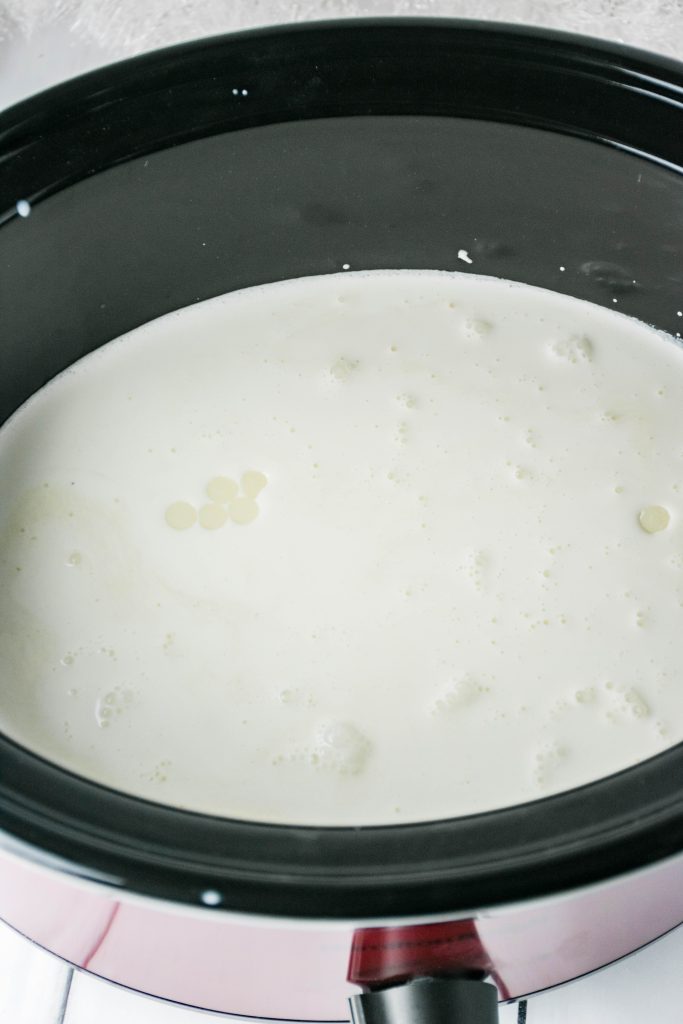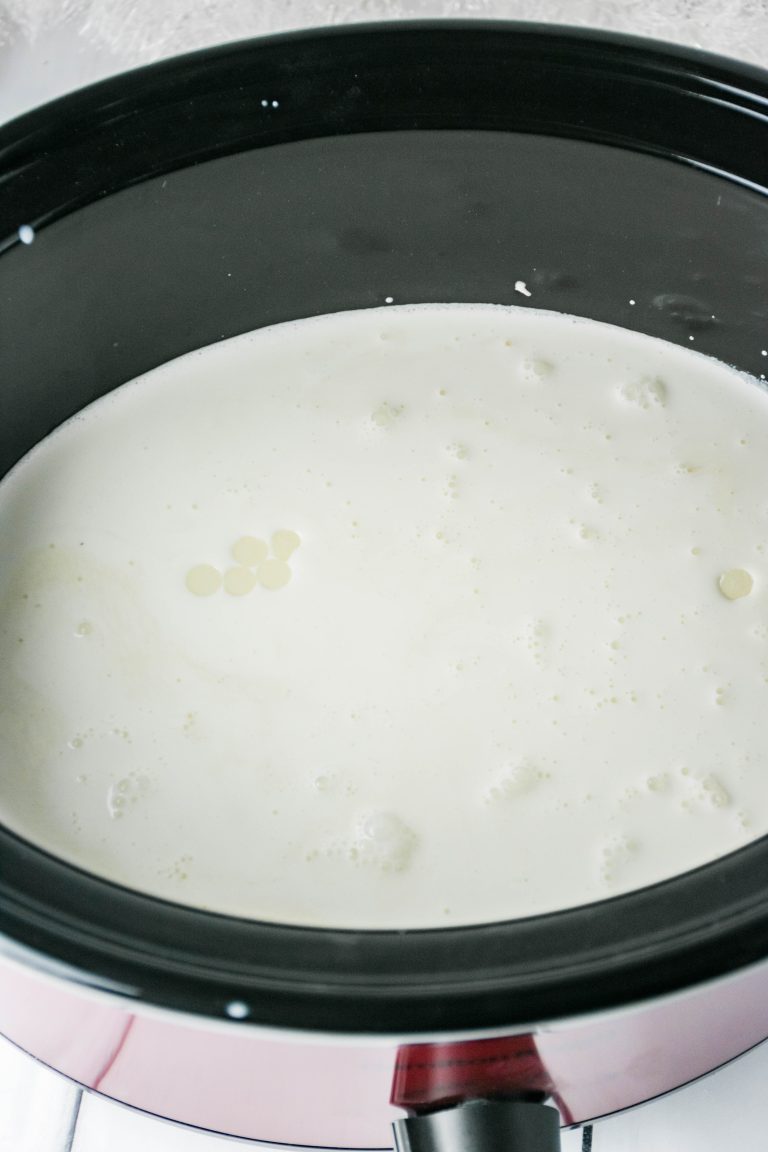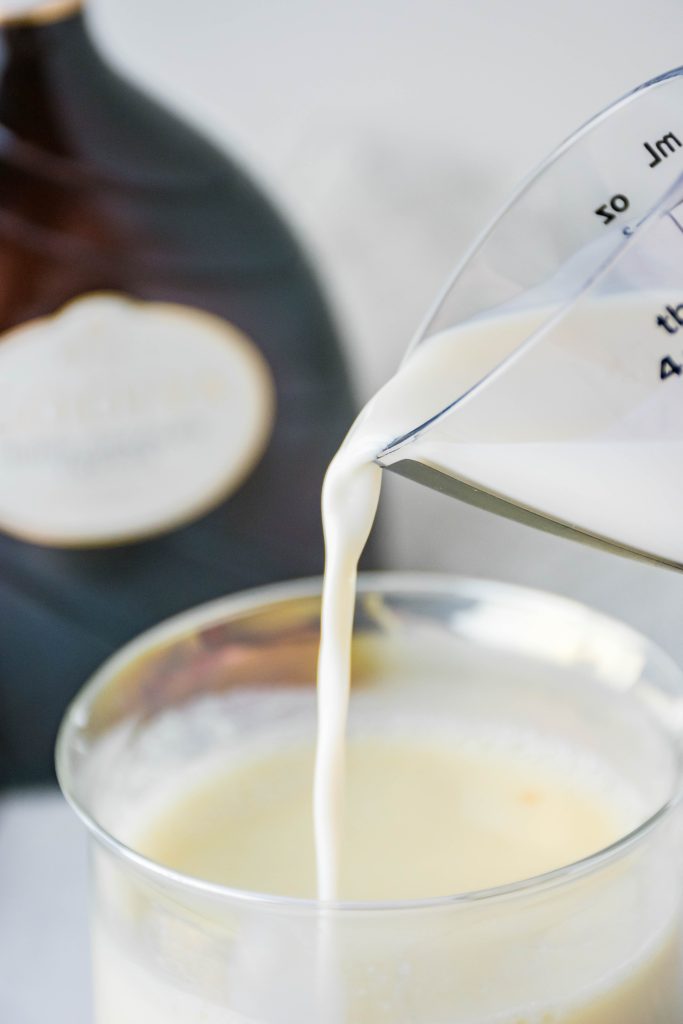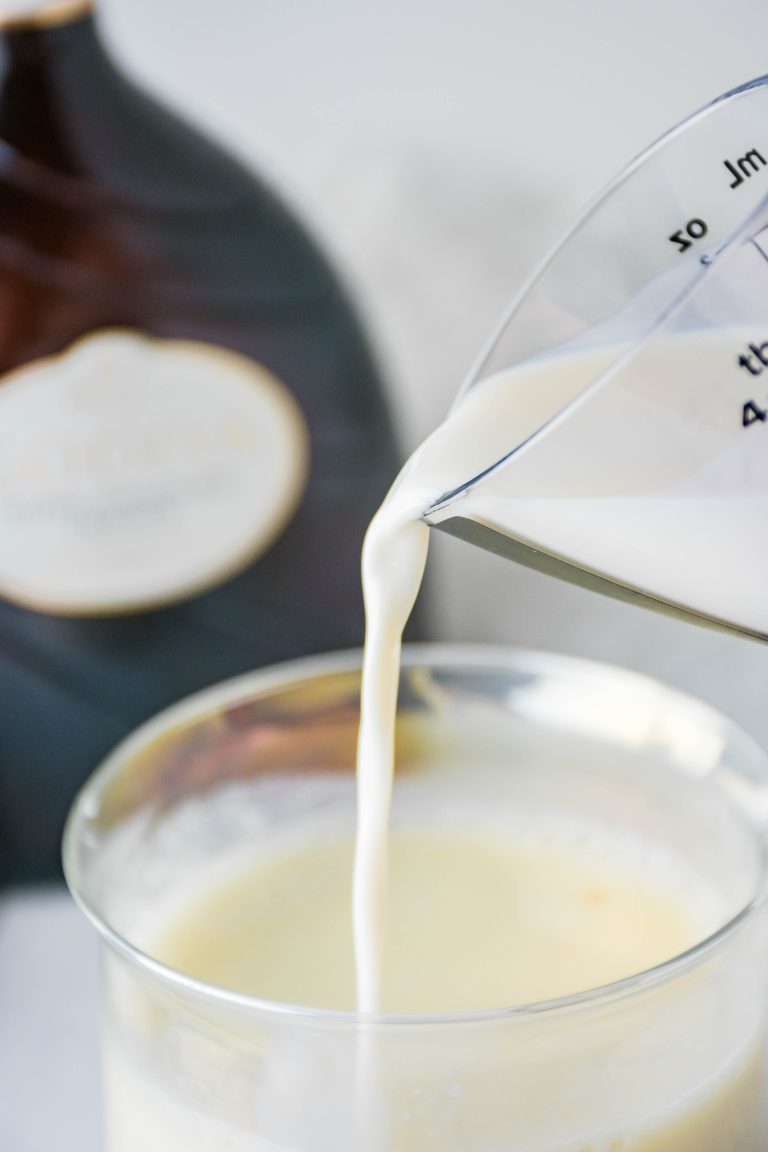 Step 3 Add the booze Pour in your white chocolate liqueur and stir to combine. You can then use a ladle to place your boozy white chocolate drink into individual mugs.
Add some marshmallows, whipped cream and a dash of nutmeg or cinnamon.
How to make on the stove top
Want to make this boozy drink on the stove top? Follow my classic white hot chocolate recipe and add your liqueur at the end. It's a great way to enjoy this drink even faster!
Instant Pot instructions
You can also make this white hot chocolate in your pressure cooker! Check out my Instant Pot hot chocolate recipe for pressure cooking instructions. (This recipe uses white and milk chocolate, but you can use all white chocolate if you'd like.)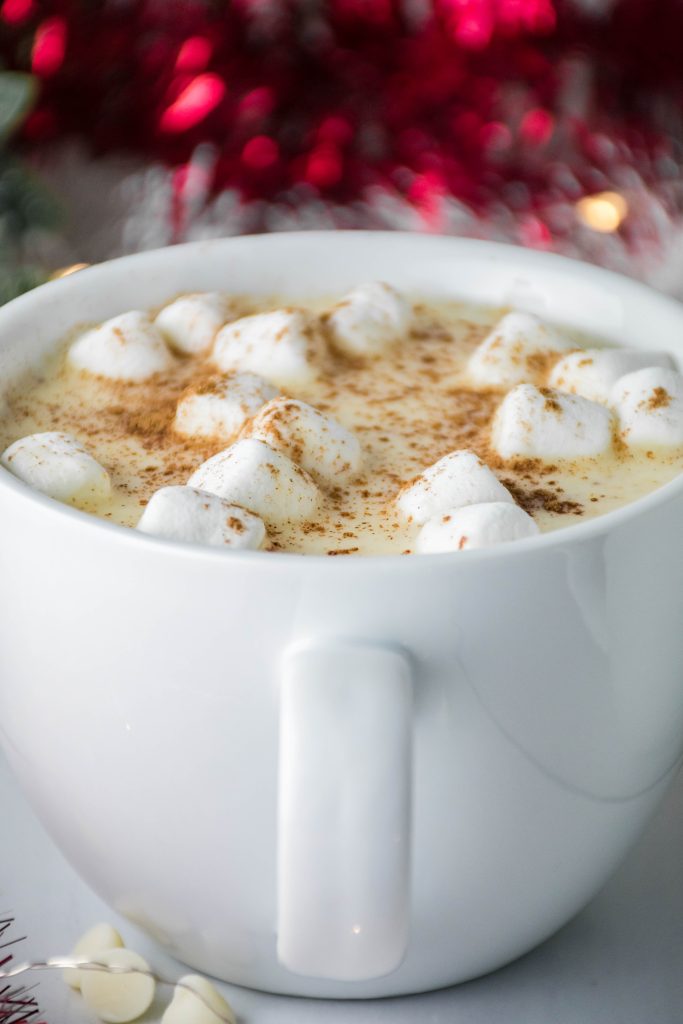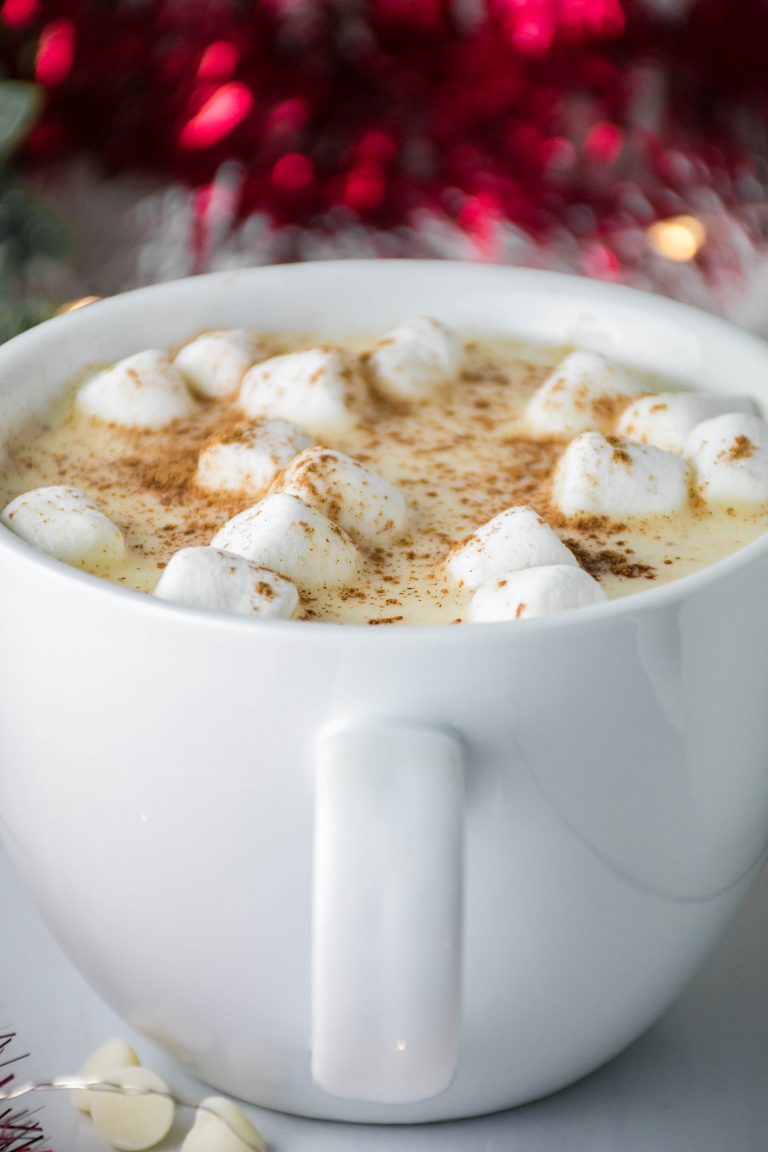 Do I have to add booze?
Nope! You don't have to add any type of alcohol if you don't like. You can easily make this a family friendly recipe by omitting the booze altogether. I do suggest adding sugar, like my classic white hot chocolate recipe, to account for the lose of the flavored liqueur.
You can also leave the alcohol out and add it to individual glasses. After the hot chocolate has been poured into individual mugs, add one shot to each cup.
Can I use different liquor?
Yes! You sure can! You can add any of your favorite hard liquors to this hot chocolate. Some great substitutions would be:
Smiranoff marshmallow vodka
Rum Chata peppermint bark liqueur
Bailey's Irish cream
Amaretto
Kahlua
rum
whiskey
If you add a liquor that isn't sweetened, I suggest adding 1 cup of sugar to the crock pot. This will ensure that your white hot chocolate is still sweet enough.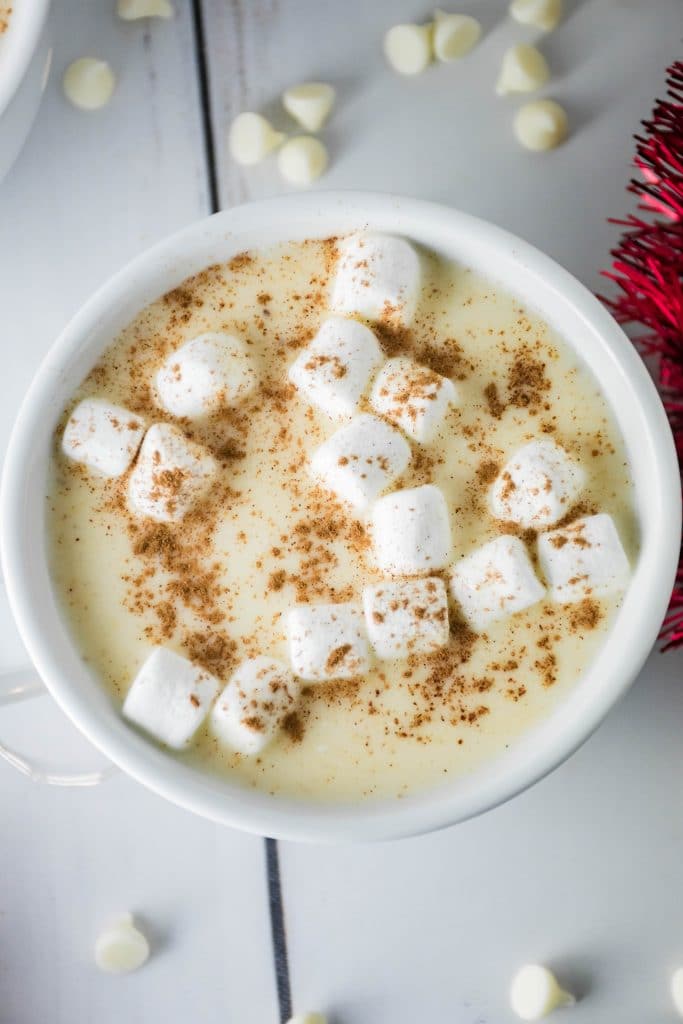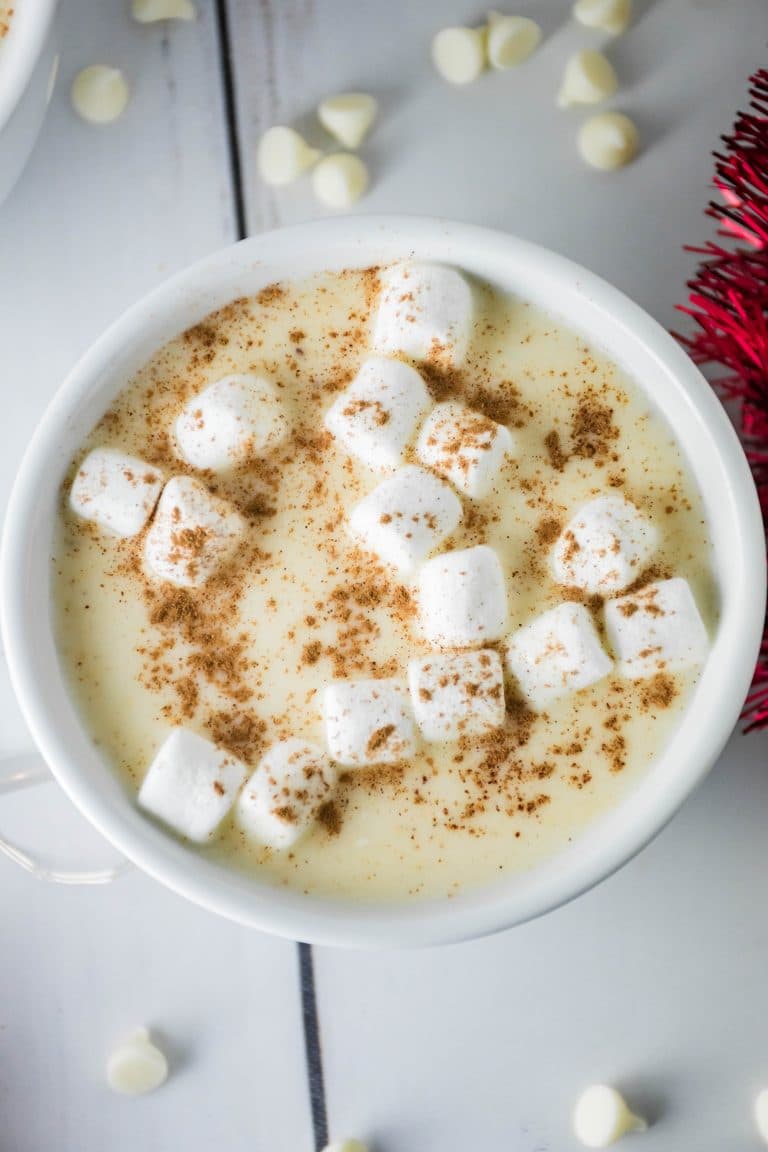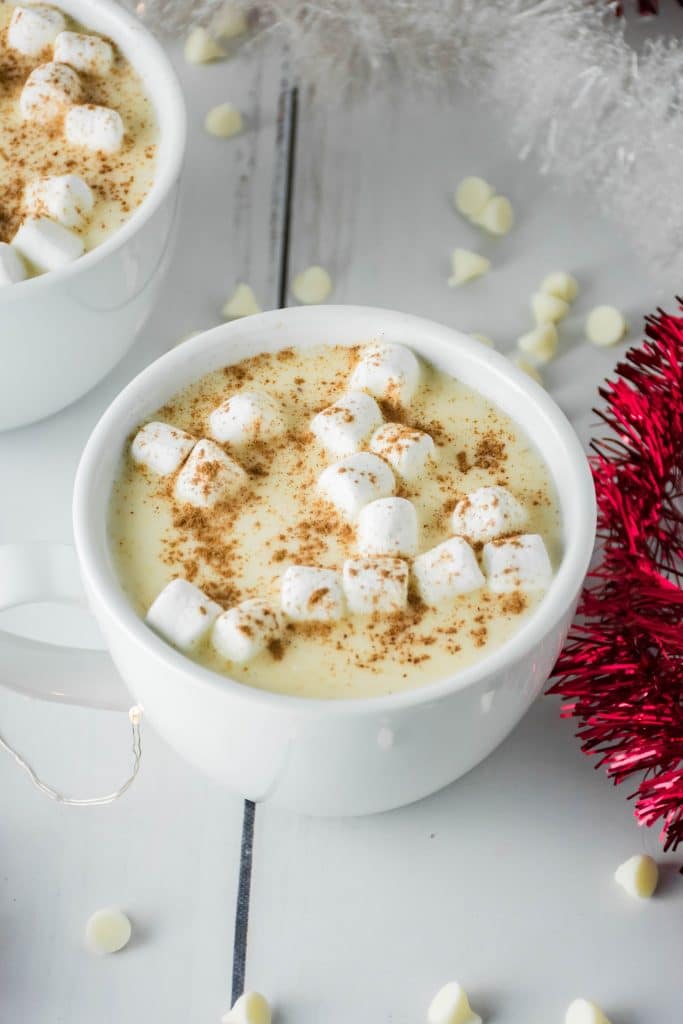 Boozy white hot chocolate FAQs
Is this hot chocolate creamy?
You better believe it is! The whole milk, heavy cream and the cream liquor make this a super creamy white hot chocolate recipe. Want to make it even creamier? Add in about 1/4 cup sweetened condensed with the white chocolate chips.
What size cup do I need?
I like to use an 8 or 12 ounce coffee mug for my hot chocolate. Feel free to use whatever size you'd like! Just note, that when you add the 1.5 oz, it's to a 12 ounce cup.
How to store leftovers
Pour any leftover hot chocolate into a pitcher with a lid or a large Tupperware. Place it in the fridge for up to 3 days. To reheat, pour into a saucepan and heat until warmed through.
Other hot chocolate recipes to try
Hot chocolate is one of the best cold weather drinks. Some other variations to this boozy white hot chocolate are:
I even have a hot chocolate cheesecake and a hot chocolate bundt cake too!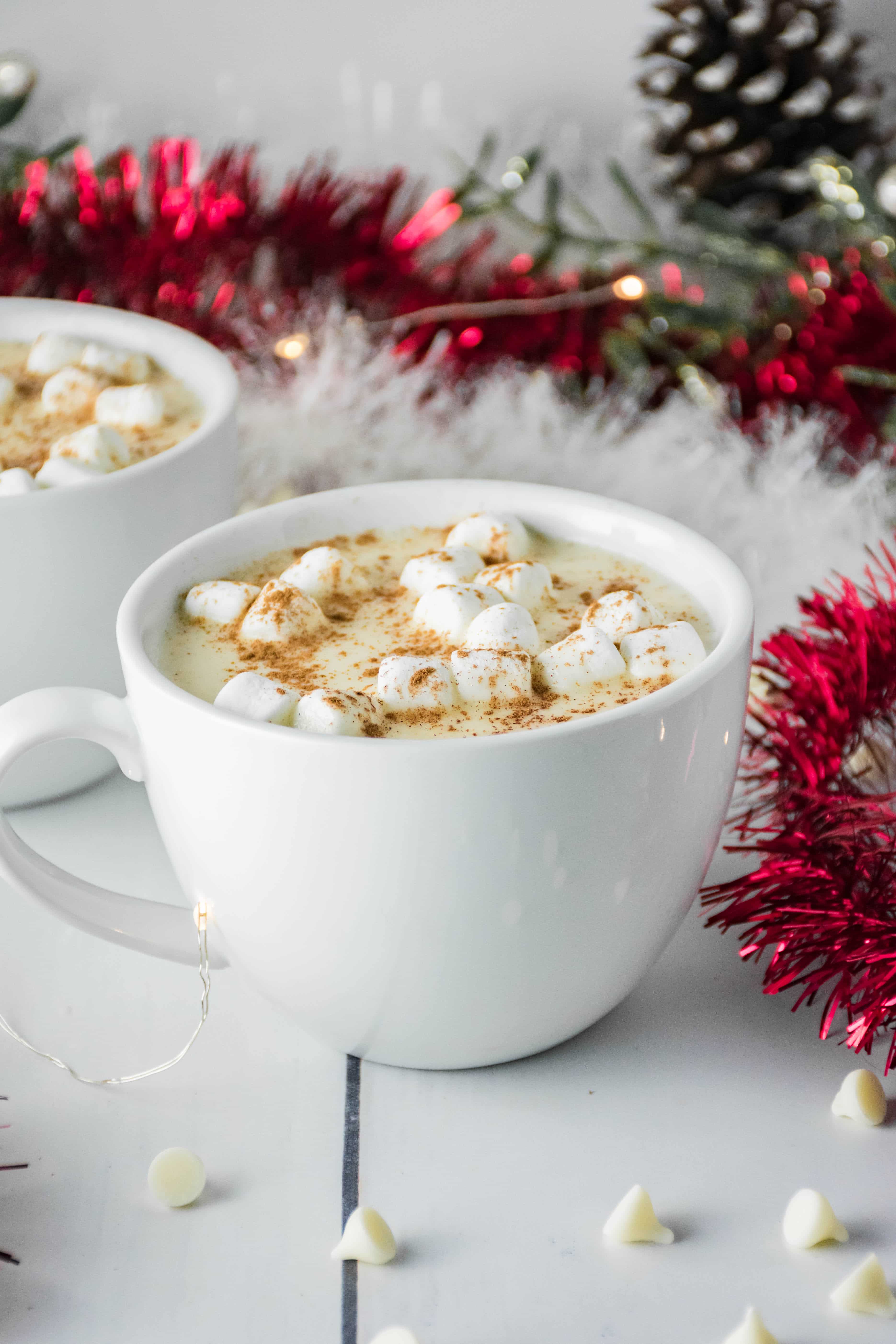 Boozy white hot chocolate
Cook Time:
2 hours
30 minutes
Total Time:
2 hours
35 minutes
Make a boozy white hot chocolate in your slow cooker!
Ingredients
12oz. White Chocolate chips (1½ cups)
4 cups Milk
1½ cups Heavy cream
1tsp Vanilla extract
9oz. White chocolate liqueur
Instructions
In a crockpot, add in white chocolate chips and milk.
Set crockpot to low and stir until white chocolate starts to melt.
Once melting, add in heavy cream and vanilla extract.
Stir and place on lid.
Allow to cook for 2 hours 30 minutes.
Stir every 15-30 minutes so chocolate wont stick to the bottom and burn.
Once cook time is over, turn off crockpot.
For the white chocolate liqueur, you can add all 9oz. into the crockpot or add 1.5oz. to each individual serving.
Pour into a mug and top with some whipped cream or ground cinnamon.
Other white chocolate recipes to try
Looking for more great white chocolate recipes? You may like:
Did you make this recipe? I'd love for you to leave a review in the recipe card above or in the comments below.
Want to make it later? Pin the image below to your favorite drink board. Either way THANK YOU for the support!