Eggnog is a classic Christmas-time drink that is creamy and full of flavor. This easy homemade eggnog recipe uses real ingredients and is simple to make. If you are looking for the perfect Christmas drink, try my homemade eggnog today!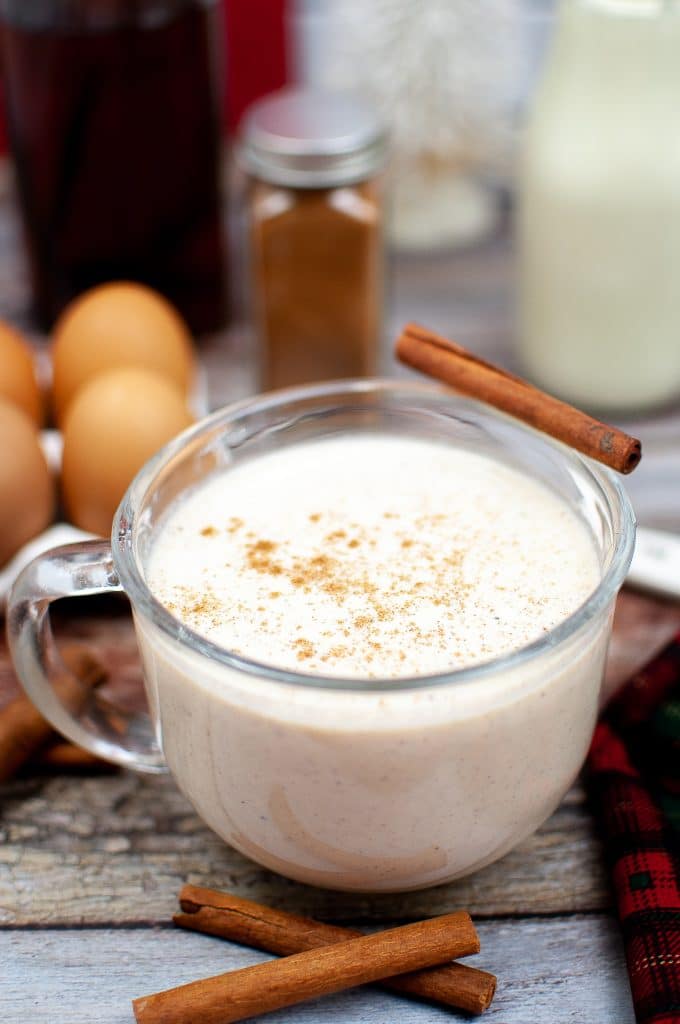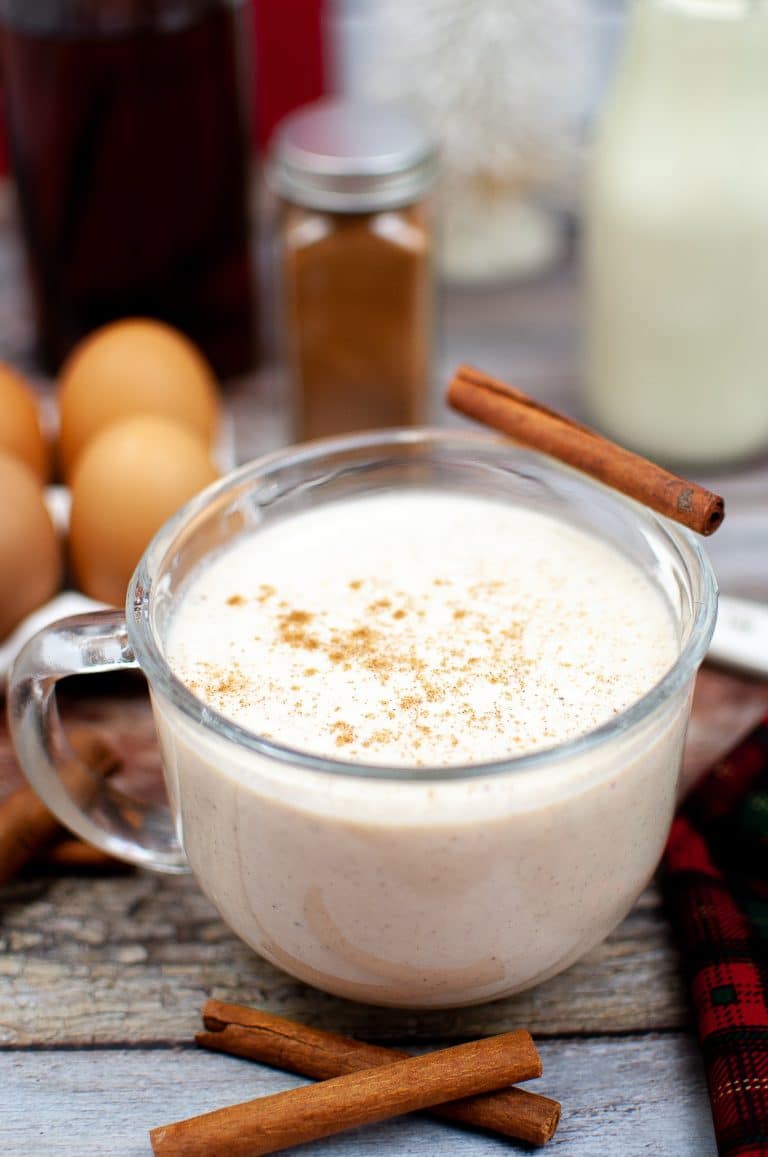 Eggnog is one of those recipes that people either really love or they don't care about it at all. I feel like there is no in between when it comes to eggnog. No one kinda likes eggnog. They either live for it during the holiday season or wish it didn't exist. If you live for homemade eggnog, you are my people. Team eggnog all the Christmas day!
What is eggnog?
Eggnog is a seasonal drink that consists of eggs, milk, sugar and spices. It originated in Britain and has become the drink to share during the Christmas holiday. You can purchase eggnog at most grocery stores during the winter months, but homemade eggnog is by far the better tasting option. Plus, it's easy to make at home! This is a non-alcohol version but you can easily add alcohol to your entire batch or in your glass. You can serve eggnog warmed or chilled.
Homemade eggnog ingredients
The wonderful thing about this homemade eggnog recipe is that you only need a handful of common ingredients. No preservatives in this easy eggnog! Just fresh ingredients that you can find at most grocery stores. To make eggnog at home you will need:
eggs
sugar
whole milk
ground nutmeg
ground cinnamon
vanilla extract
heavy cream
salt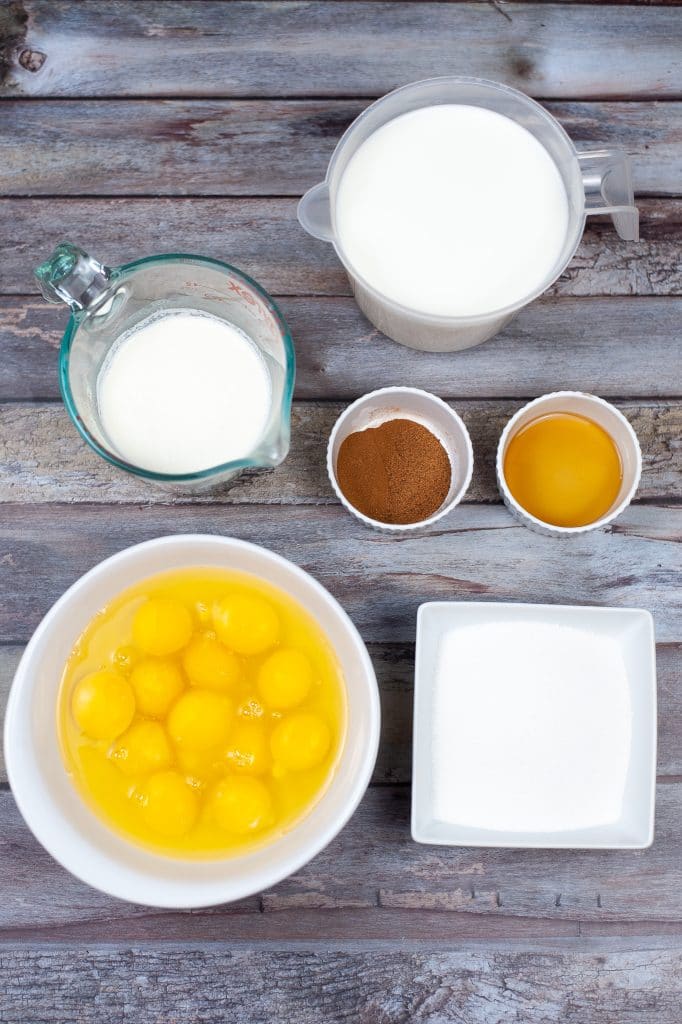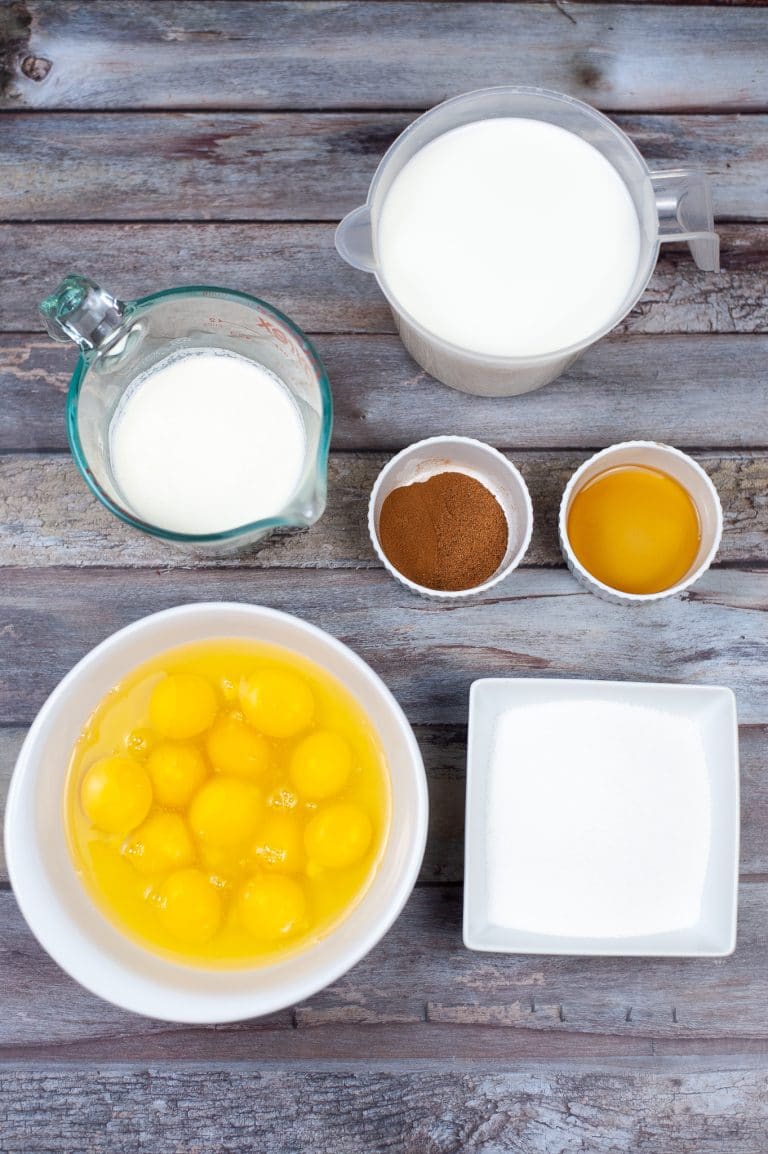 Eggs – You will need a solid dozen eggs for this eggnog recipe. Yup. 1 dozen eggs. It wouldn't be eggnog without the eggs, right? Grab a dozen the next time you are at the grocery store.
Sugar – White granulated sugar works best for this recipe. You can use a sugar substitute such as stevia or monk fruit to keep it low carb.
Whole milk – Four cups of whole milk are needed for this recipe. I don't suggest using low-fat, skim or 2% for this recipe. You want full fat whole milk.
Spices – Ground nutmeg and cinnamon are needed for this homemade eggnog recipe.
Heavy cream – This helps give the eggnog the creamiest texture. I would not suggest substituting half and half for the heavy cream. Trust me, you want the heavy cream.
Scroll down to see a full list of ingredients needed.
How to make homemade eggnog
Once you have grabbed all of your ingredients, you will also need to grab:
measuring cups and spoons
mixing bowl
whisk
saucepan
candy thermometer
airtight container such as a large Tupperware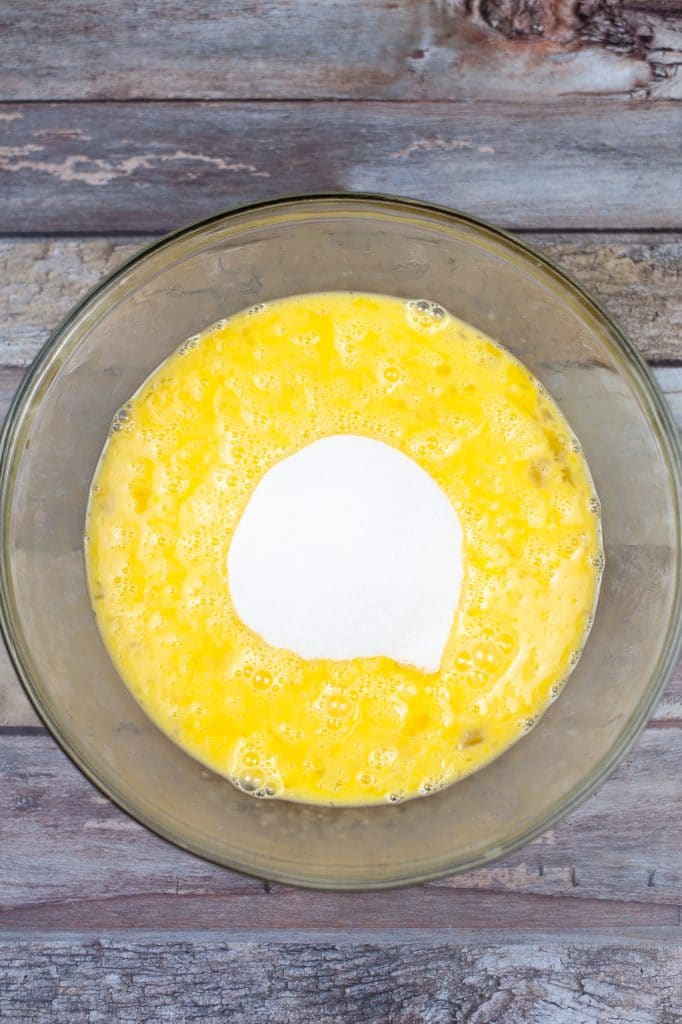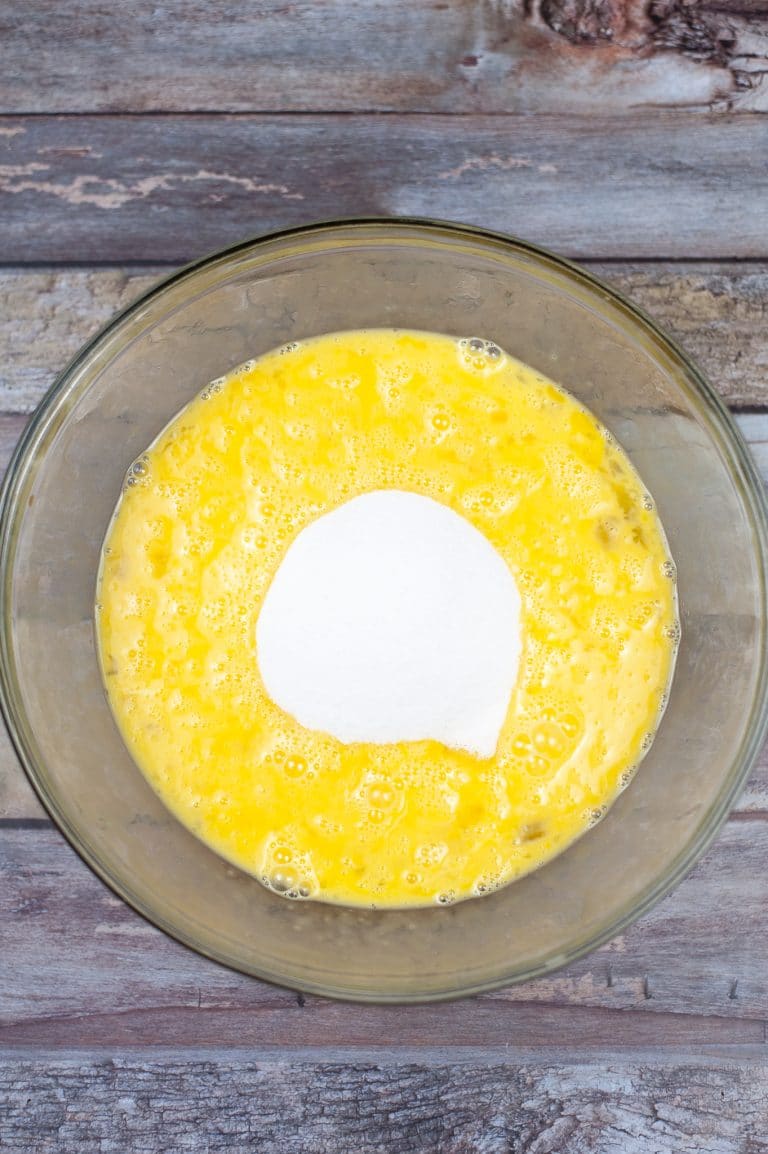 Step 1 Combine eggs and sugar
In a large mixing bowl, whisk together the eggs and the sugar until fully combined. You want to make sure that the sugar starts to dissolve into the eggs. The mixture will be gritty.
Step 2 Add to saucepan
Place the egg mixture along with the milk, cinnamon and nutmeg in a saucepan over medium low heat.
Step 3 Heat the egg mixture
Heat the egg, sugar and milk mixture over medium low heat, stirring constantly with a whisk. You do not want the milk to scorch or the eggs to scramble in the saucepan. A whisk or a fork will work for stirring the mixture to prevent this from happening.
Step 4 Stir in heavy cream and vanilla
Remove the eggnog mixture from the heat once it reaches 160 degrees. You can use a candy thermometer to read the temperature. Slowly whisk in the heavy cream and the vanilla extract. Stir to combine and allow to cool before testing. Feel free to add more spice to your homemade eggnog, if needed.
Step 5 Store and cool
You can serve the eggnog warm, if desired. If you want to serve chilled eggnog, place it in an airtight container in the fridge for at least 6 hours. The eggnog will thicken as it cools.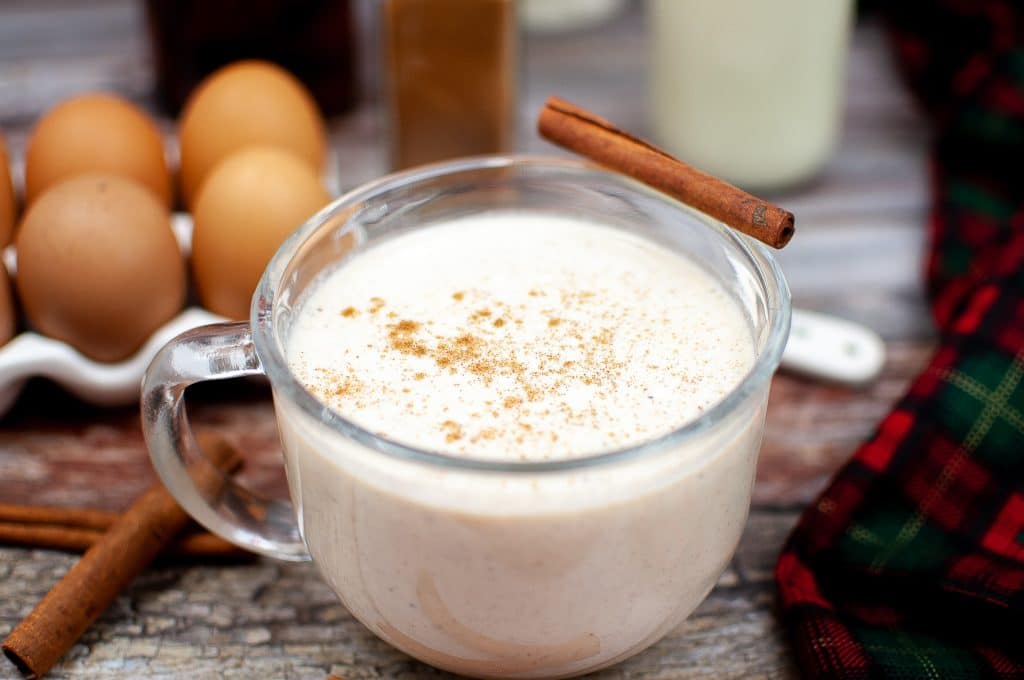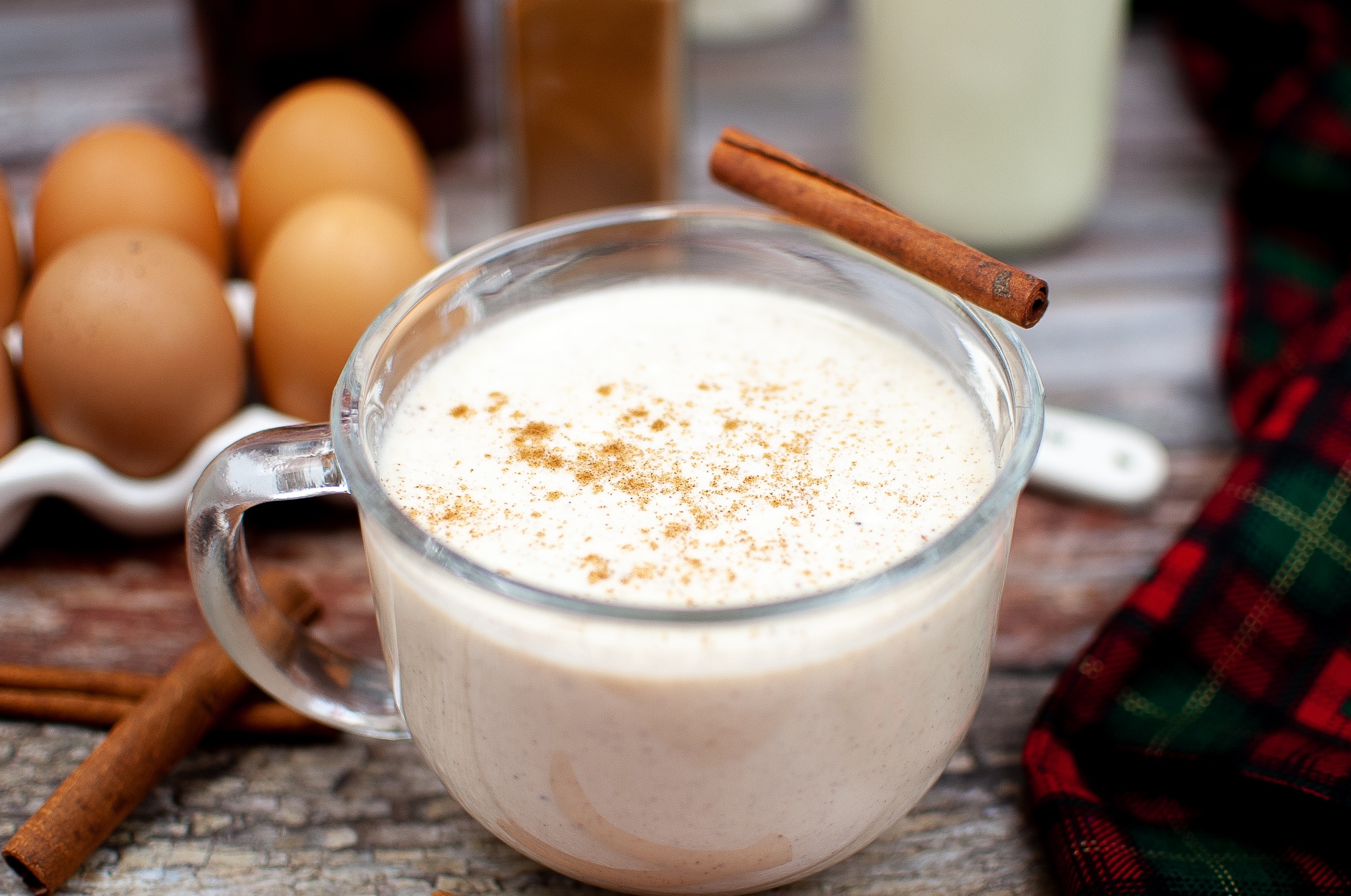 Step 6 Serve
Ladle your chilled eggnog into glasses and top with whipped cream and a dash of nutmeg. Pour in a shot of your favorite rum to enjoy a spiked glass of nog.
Is homemade eggnog safe to drink?
Yes! Homemade and store bought eggnog is safe to drink. You heat the eggs to 160 degrees before removing it from the heat. Eggs are safe to consume once they reach 145 degrees, so yes, homemade eggnog is safe to drink.
Why don't they sell eggnog year round?
Because consumers tend not to buy it after the holidays. It has solidified its status as a winter or Christmas drink. But don't worry! Now that you have this easy homemade eggnog recipe, you can make it year round!
What alcohol goes best with eggnog?
My recipe is alcohol free, but you can always add alcohol to the entire bowl for an adults only treat or add a shot to your glass. The best alcohol to add in with your eggnog is bourbon, rum or whiskey. Feel free to use your favorite brand, responsibly.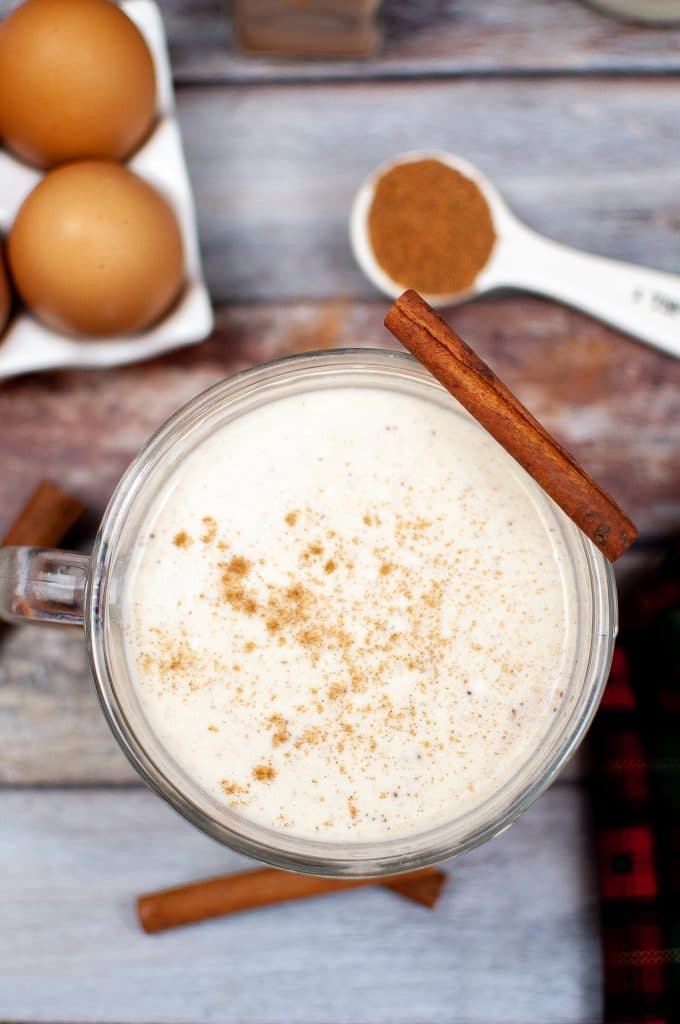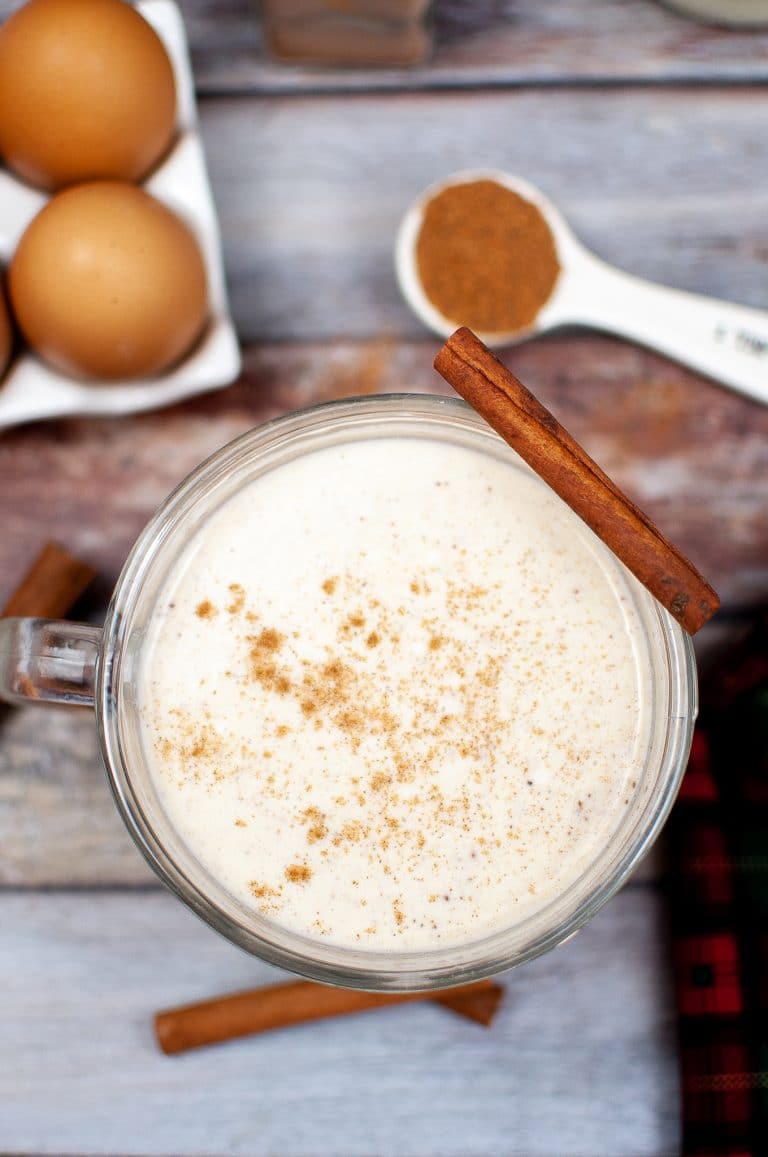 Can I make this in the Instant Pot or Slow Cooker?
You can make it in both, but when you use the Instant Pot, you aren't using it like a pressure cooker. You use the Instant Pot on the saute function and not the pressure cook function. So yes, you can use it but it's almost the same as using your stove top. You can use your Crock Pot or slow cooker though! Follow this easy crock pot eggnog recipe for more details.
Tips and tricks
This homemade eggnog recipe is pretty easy and I'm confident that even beginner cooks will be able to master it. Some of my tips to make it even easier are:
Make sure to completely combine the eggs and the sugar. This will help it cook evenly.
Use a large enough saucepan to combine all of your ingredients. I suggest a 6 or 8 quart saucepan.
Once you start to warm up the egg mixture, you will want to whisk constantly to ensure your milk and eggs don't burn or scramble.
Feel free to adjust the spices and sugar to liking.
Use a large Tupperware or add cling wrap to the saucepan before adding the cooled eggnog mixture to the fridge.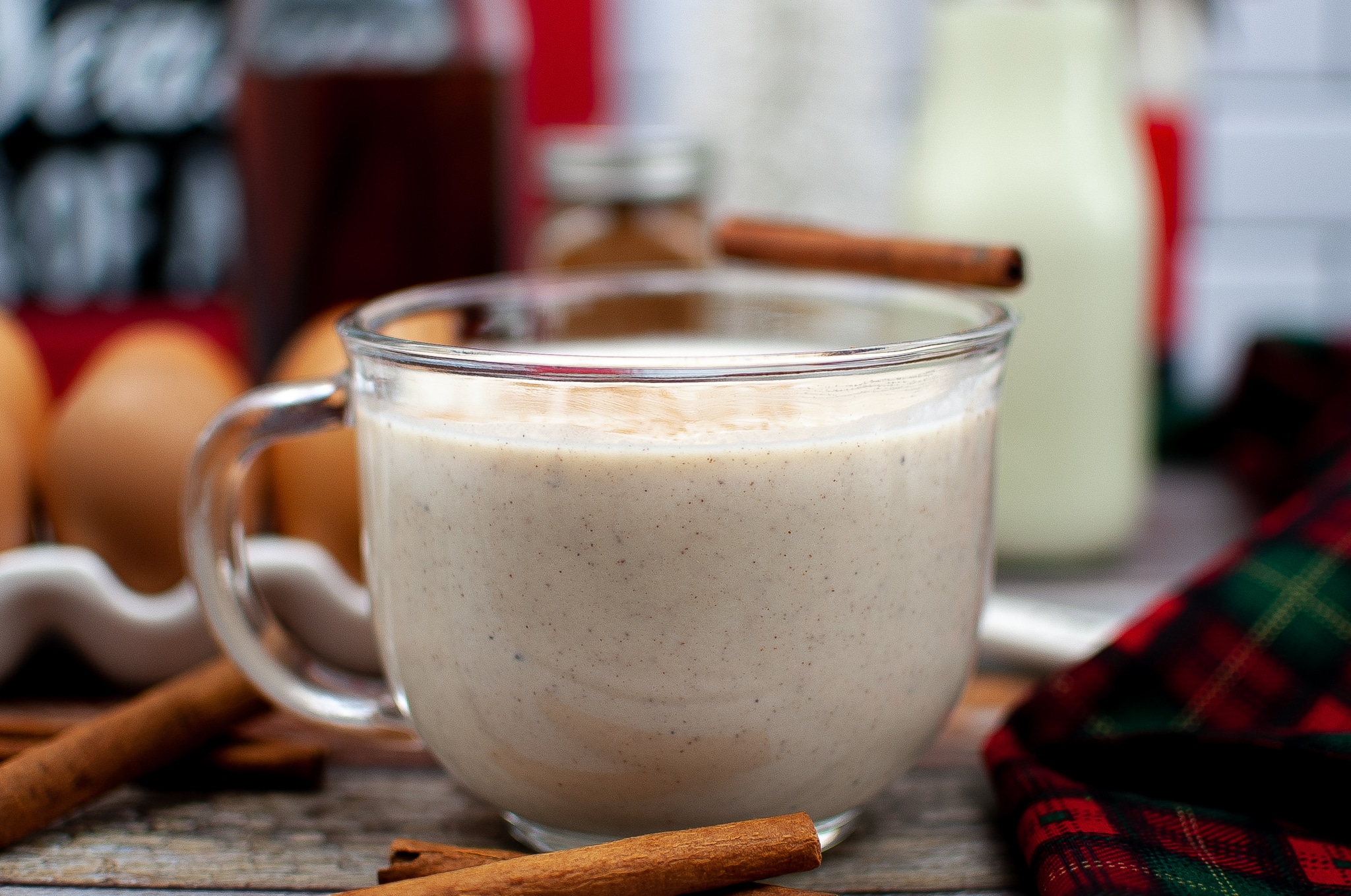 Homemade Eggnog Recipe
Total Time:
6 hours
35 minutes
Make an incredibly creamy homemade eggong for the holidays!
Ingredients
12 eggs
1 1/4 cup sugar
4 cups whole milk
1 tsp ground nutmeg
1 tsp ground cinnamon
2 tsp vanilla extract
1 cup heavy whipping cream
pinch of salt
dash of cinnamon for topping
Instructions
1. Combine eggs and sugar in a medium glass bowl and whisk until thoroughly combined.
2. Transfer to a saucepan and stir in whole milk, ground cinnamon, and ground nutmeg.
3. Heat egg mixture over medium-low heat while stirring constantly with a whisk to prevent the milk from scorching or the eggs from scrambling. As the mixture heats up, it will thicken slightly.
4. When mixture reaches 160 degrees on a candy thermometer, remove from heat and slowly whisk in the heavy whipping cream and vanilla extract.
5. Cool slightly before tasting. Add more sugar or spices, if desired, before ransferring to an airtight container.
6. Mixture will continue to thicken as it cools.
7. Refrigerate overnight or until thoroughly chilled.
8. Serve in mugs and garnish with whipped cream, cinnamon sticks, or a dash of nutmeg.
Other Christmas themed drinks to try
Looking for other winter holiday drinks to try? Some of my favorites are:
Did you make this recipe? I'd love for you to leave a review in the recipe card above or in the comments.
Want to try it later? Pin the image below to your favorite holiday board! THANK YOU for the support!