We've all heard of the pink drink from Starbucks by now. But have you seen the violet drink? It's a similar concept and ingredient list as the Starbucks pink drink, but with a few key changes turns violet! Let me show you how to make a copycat Starbucks violet drink at home! Plus how to order it at Starbucks.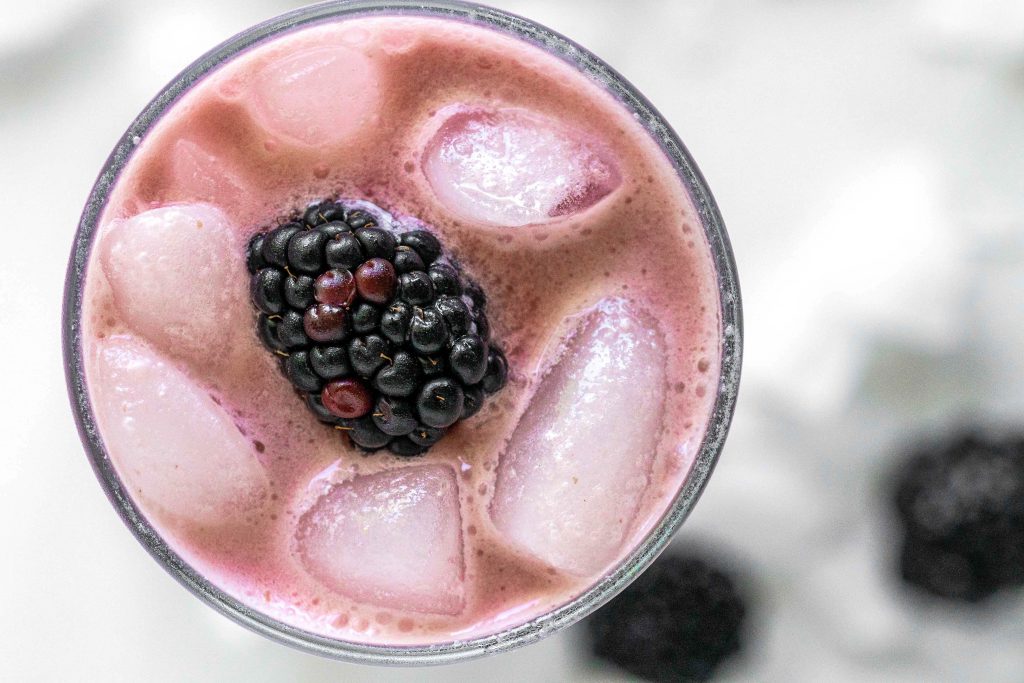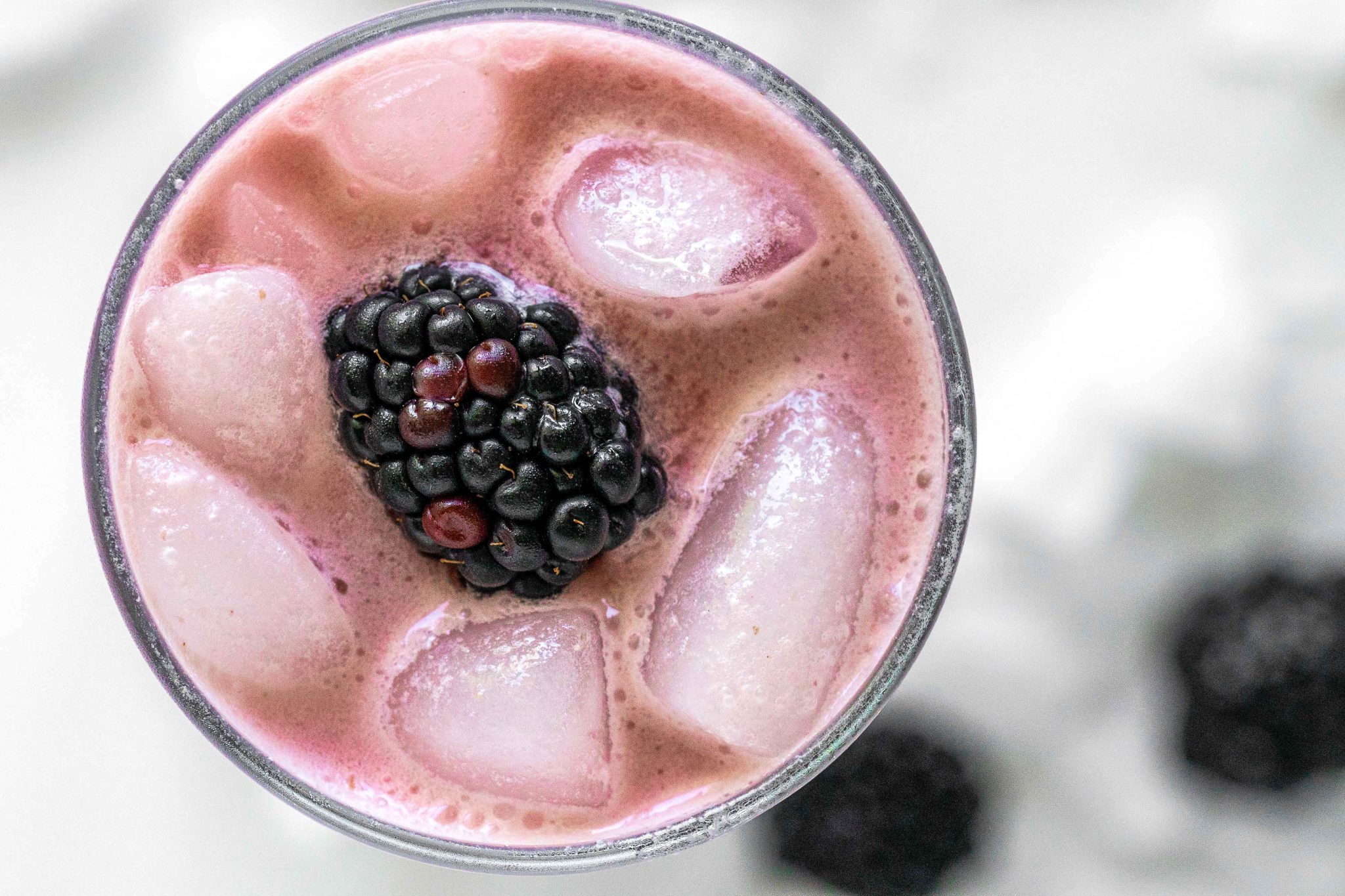 I have to admit that it took me a really long time to try the violet drink from Starbucks. I am a creature of habit and I tend to always get the same drink over and over. I was on a serious pink drink kick before I decided to try the violet drink.
Holy moly.
I am so glad I did! It's such a light and refreshing drink that rivals the pink drink for sure. Of course, I had to recreate it at home. (If you're new around here – HI! – I love creating copycat Starbucks drinks at home for a fraction of the price!)
What is the violet drink?
This is a legit question that I had when I first saw it popping up on social media. What is this new purple (or violet) drink that I keep seeing? Turns out, it's super similar to the pink drink, except instead of using strawberries you use blackberries! The violet drink is a combination of Starbucks very berry hibiscus refresher, blackberries and coconut milk. The blackberries and the coconut combine to create a violet colored drink!
What does it taste like?
This is a common question that people ask when they first find out that the violet drink exists. And the answer is that the violet drink tastes a lot like the pink drink, except with a blackberry flavoring. The pink drink is strawberry flavored while the purple (or violet) drink has notes of blackberries. The pink drink also uses the strawberry acai refreshed base while the violet drink uses the very berry hibiscus refresher.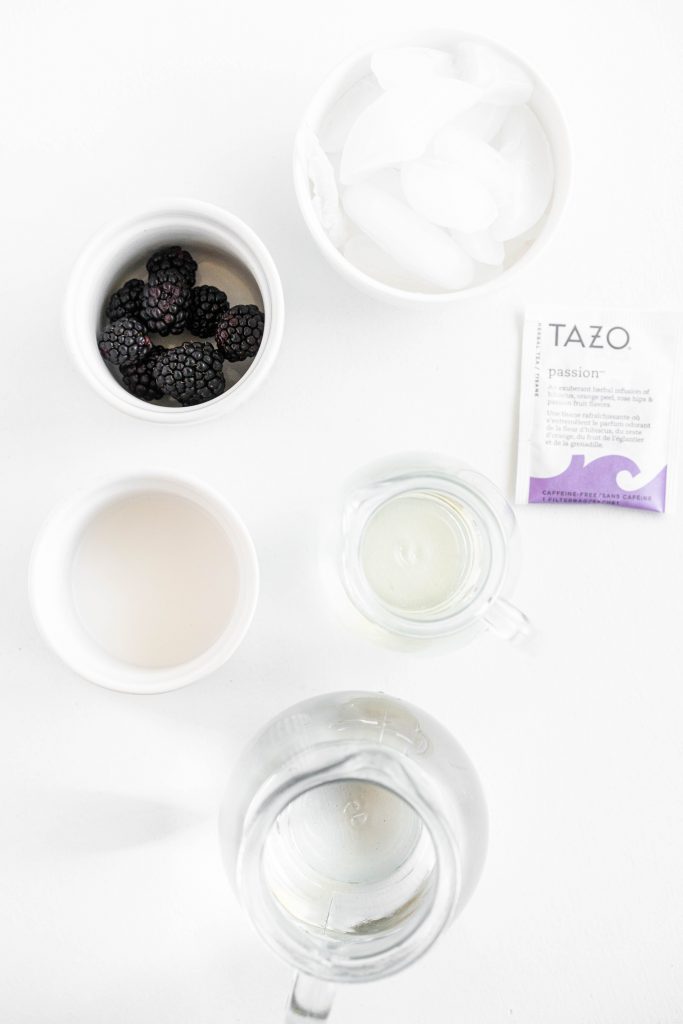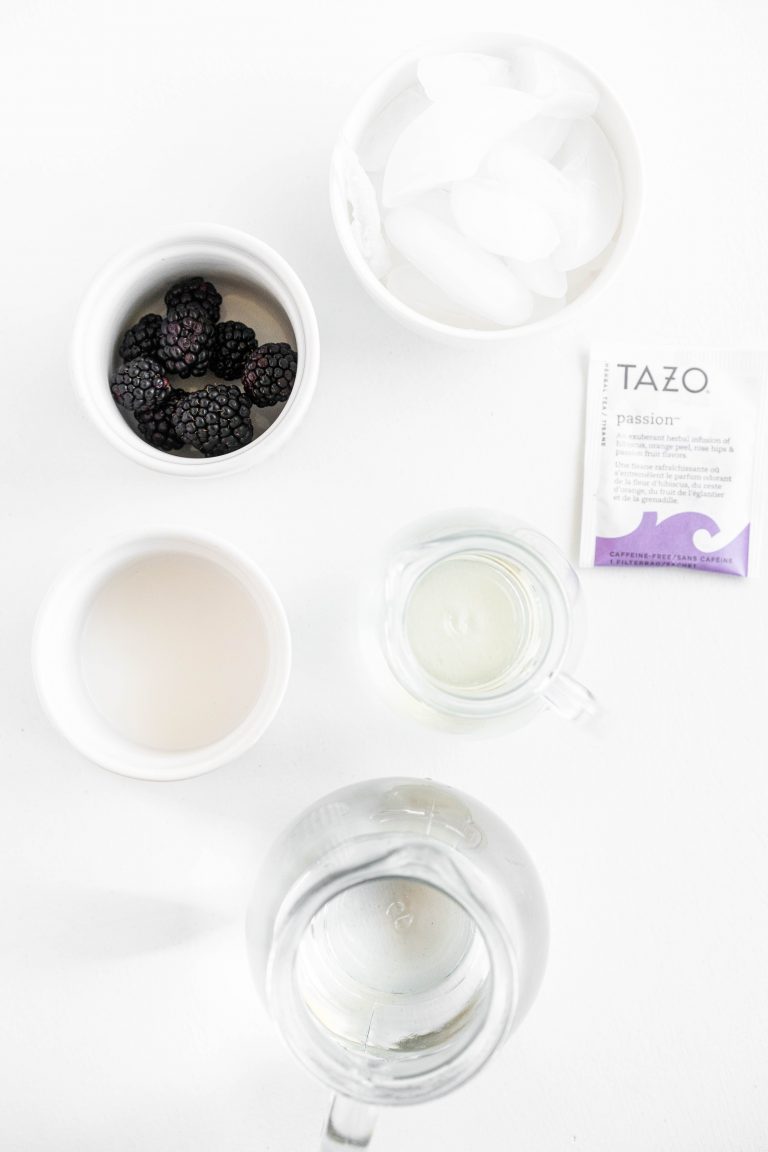 Starbucks violet drink ingredients
The best part about this drink recipe is that you don't need a lot of ingredients to make it. The fewer ingredients needed to make a copycat Starbucks drink, the better! To make this violet drink you will need:
Tazo Passion Tea
Canned coconut milk
Simple Syrup
Fresh Blackberries
Ice
Water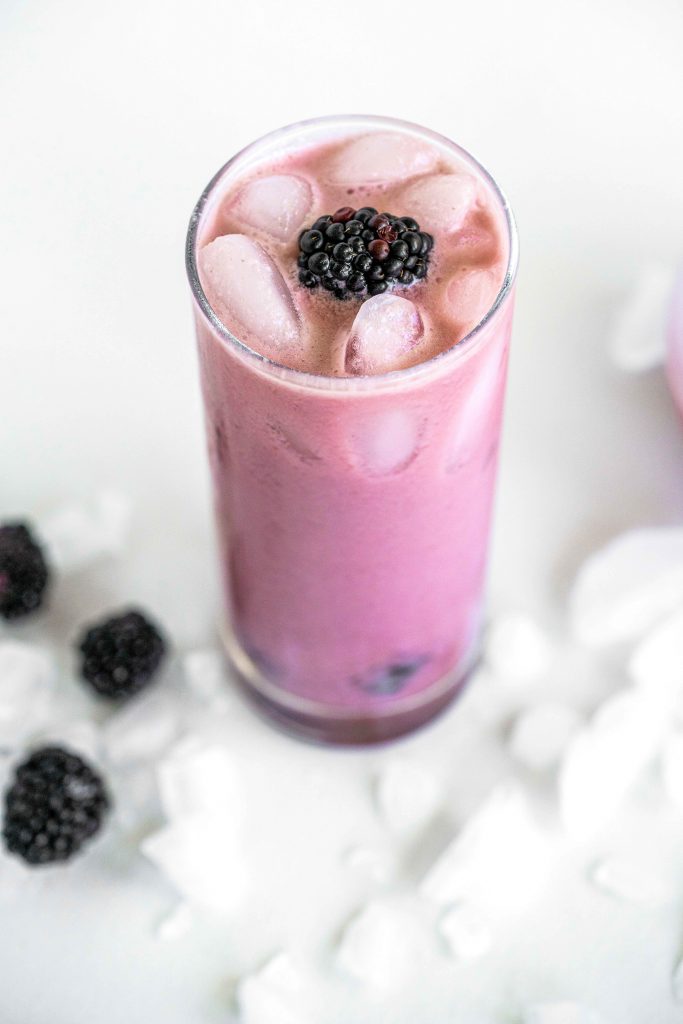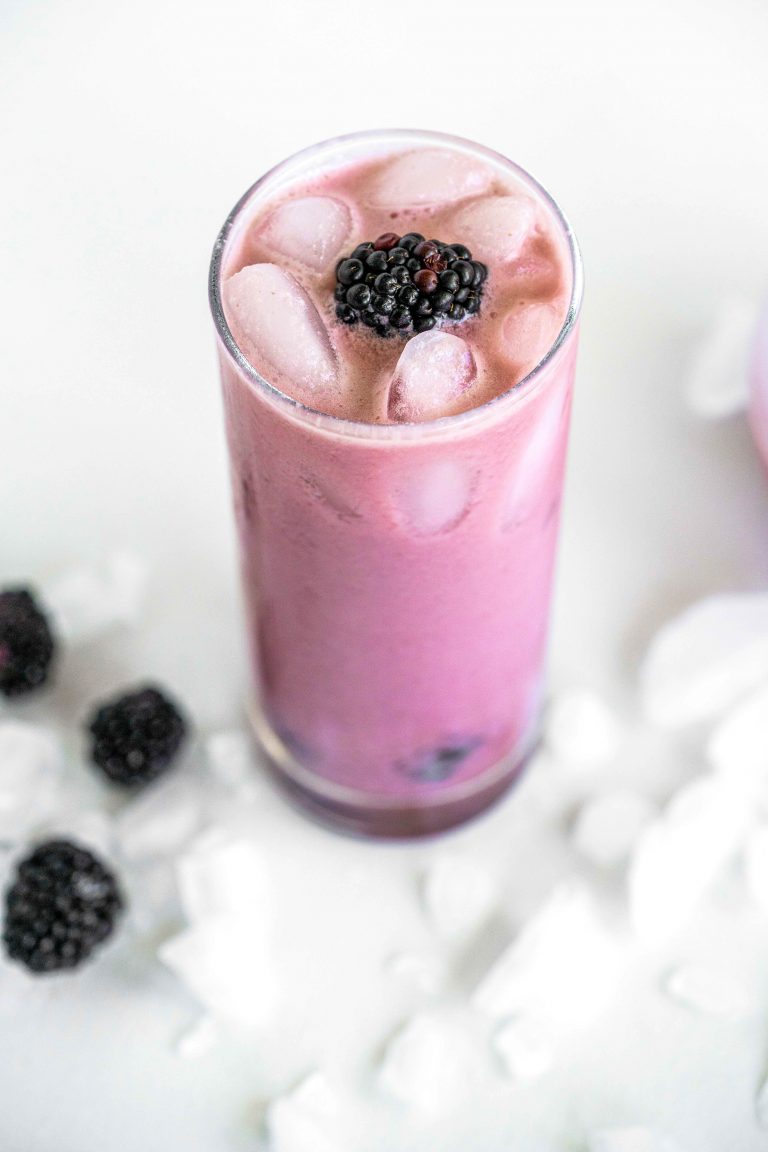 Passion tea – You can find this in the coffee and tea aisle of most grocery stores. You can also use the very berry hibiscus refresher instant tea as well. Both yield the same tasting drink in the end.
Canned coconut milk – You want to get a can of unsweetened coconut milk from the grocery shelves. Make sure to shake it before you use it so that you can combine the cream on top with the liquid below. You can also use regular unsweetened coconut milk from the milk aisle, but it won't be as creamy.
Simple syrup – You can pre-made simple syrup at the store, or you can easily make a batch of it at home. Simple syrup is just equal parts water and sugar dissolved together to create a liquid sweetener. You can follow this recipe for homemade simple syrup.
Fresh blackberries – I used fresh blackberries for my violet drink because it's hard to find freeze dried blackberries. You can use either as the will produce the same flavor in the end.
Starbucks violet drink recipe
The best part of this recipe is that it's SUPER easy to make! Once you have all your ingredients you will want to grab a blender or food processor, strainer or mesh sieve and a glass. This purple drink recipe makes 1 drink, but can easily be double or tripled!
Step 1 Brew the tea
Place one tea bag in a pitcher or directly in your glass. Add boiling water over top of the tea bag and allow to steep for 5 minutes. Discard the tea bag and let the tea cool.
Step 2 Blend ingredients
In your food processor or blender, add the cooled tea, coconut milk, simple syrup and 2 tablespoons of the fresh blackberries. Blend until smooth-ish.
Step 3 Strain the blackberry mixture
Place your mesh sieve over your glass and strain out the seeds and any coconut solids. Press with the back of a spoon to get all the juice.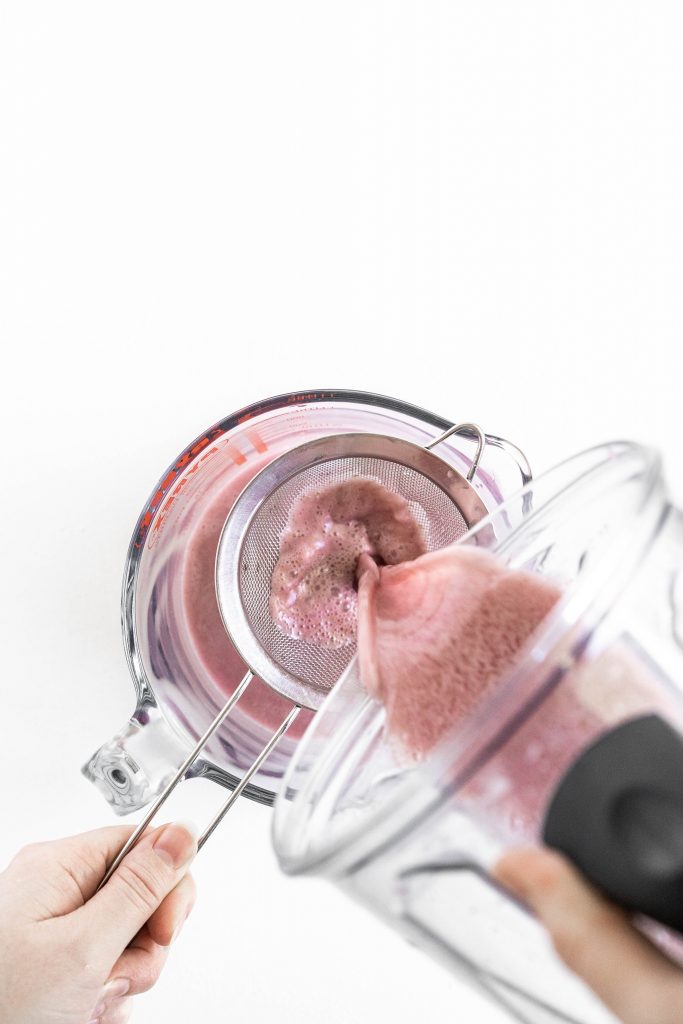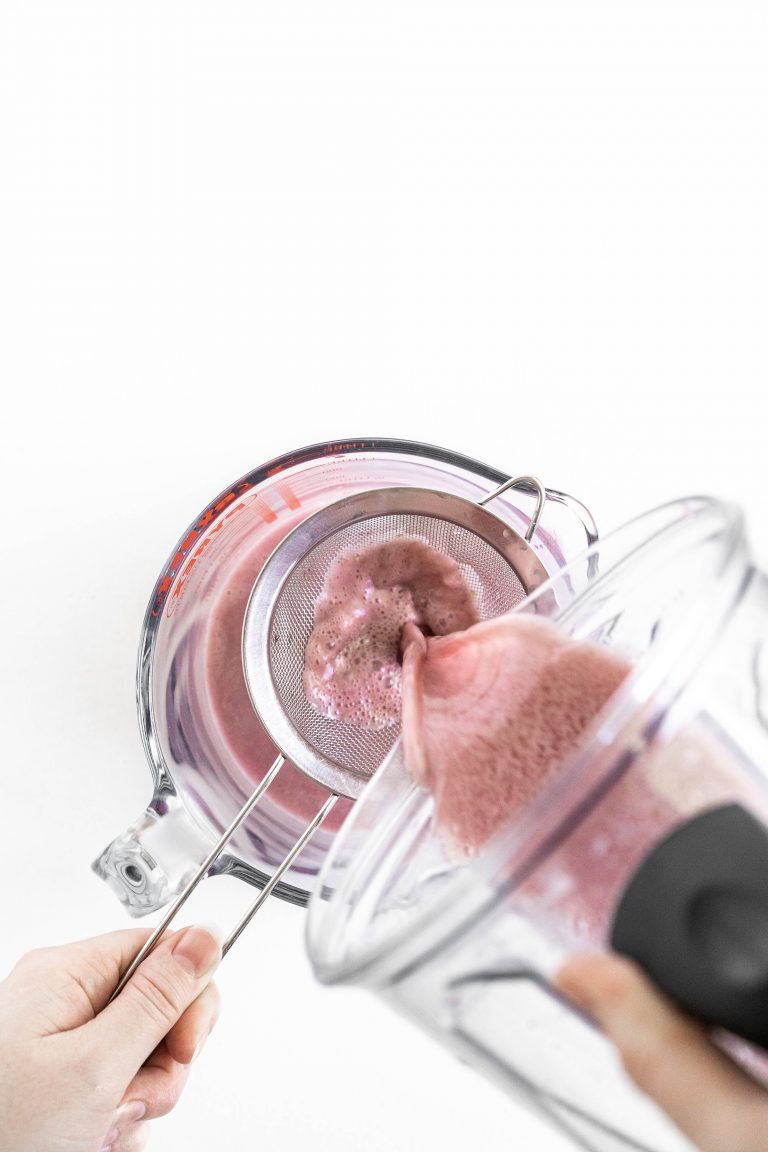 Step 4 Assemble drink
Add ice to your cup and fresh blackberries and enjoy!
Starbucks violet drink nutrition
Wondering the nutritional information or the macros of the purple drink? One homemade purple drink contains –
Calories 536 Total Fat 48 grams Carbohydrates 29 grams Fiber 2 grams Sugar 20 grams Protein 5 grams
Want to lower your calories or macros? Try using a low-carb sweetener when you make your simple syrup. I love Besti Monk Fruit with Allulose blend for my drinks. It dissolves perfectly and has the right amount of sweetness.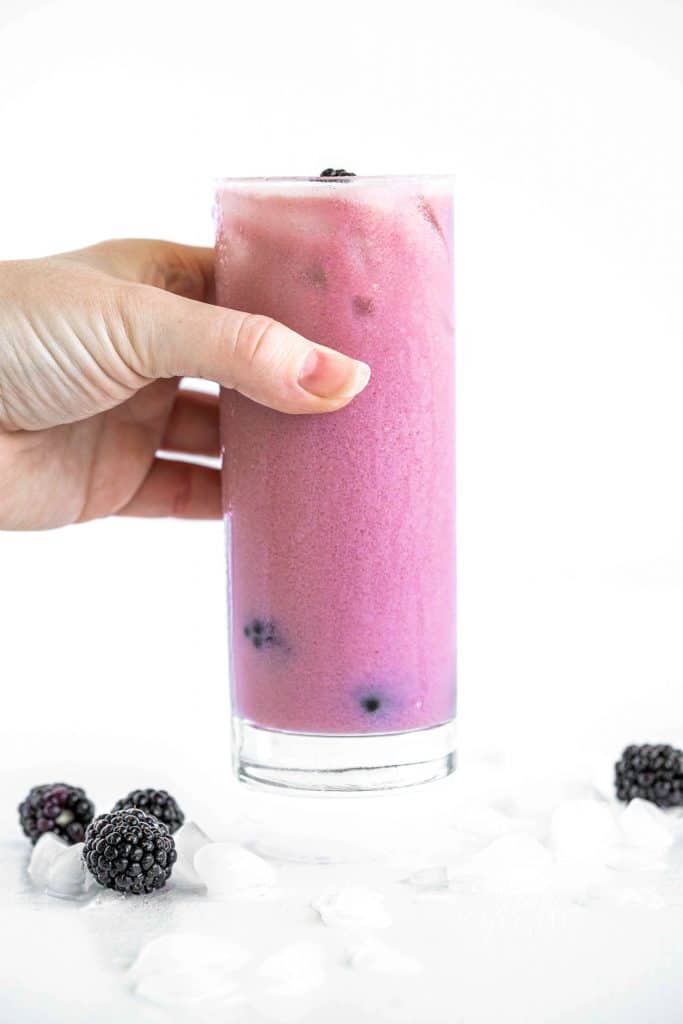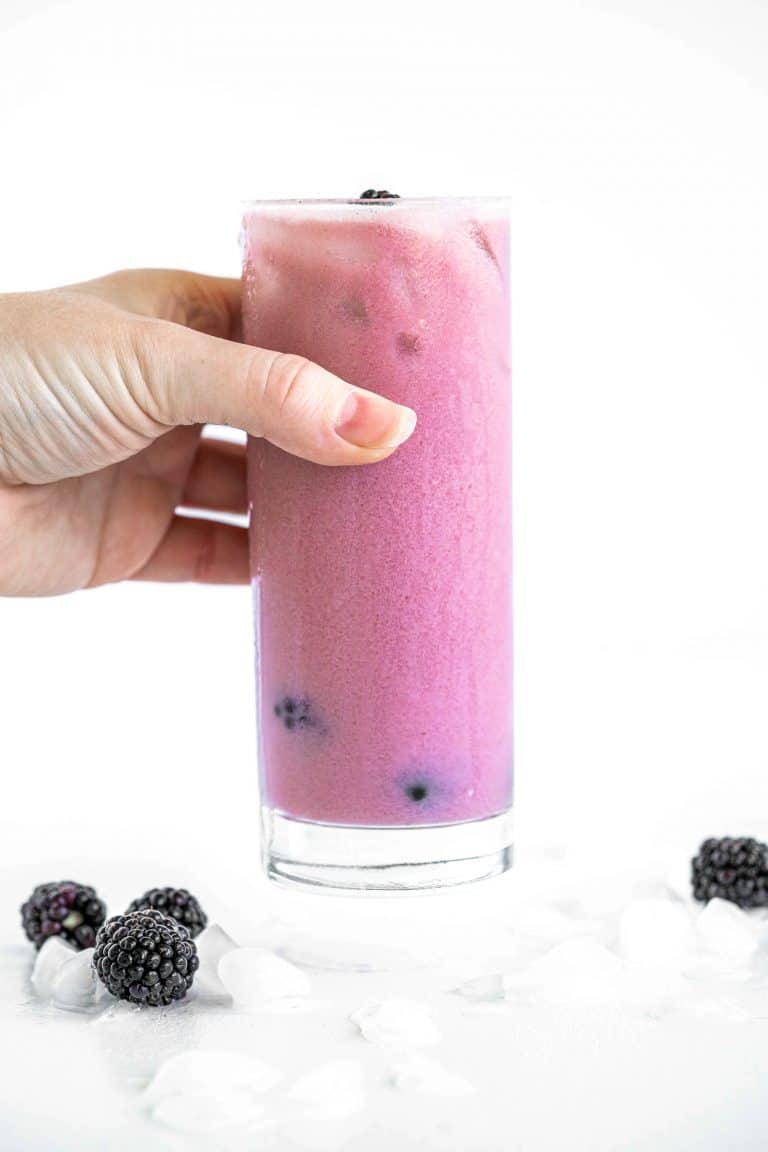 How to order a violet drink at Starbucks
So it's super simple to order a violet drink at Starbucks. When you go to the drive-thru window or walk up to the counter, simply ask for a violet drink. The baristas at Starbucks are very familiar with the violet drink so if you just say that's what you want – they will whip it up for you. You can also ask for the purple drink. It's the same thing.
If you get a barista that doesn't know about the violet drink, you can ask for a very berry hibiscus refresher. Add coconut milk and add a scoop of fresh dried blackberries. Easy peasy!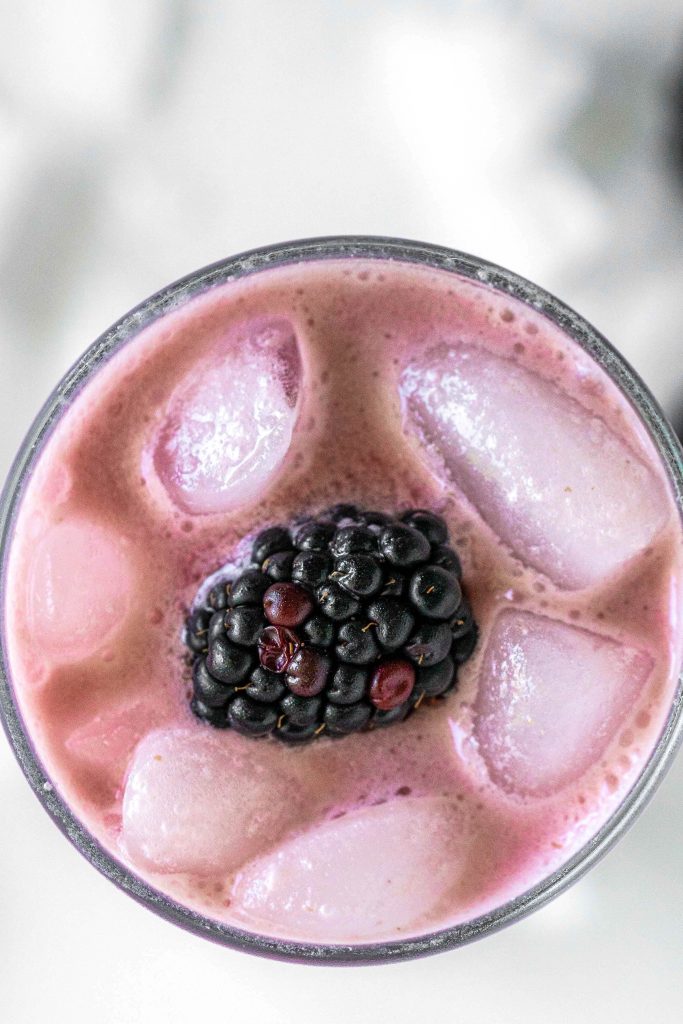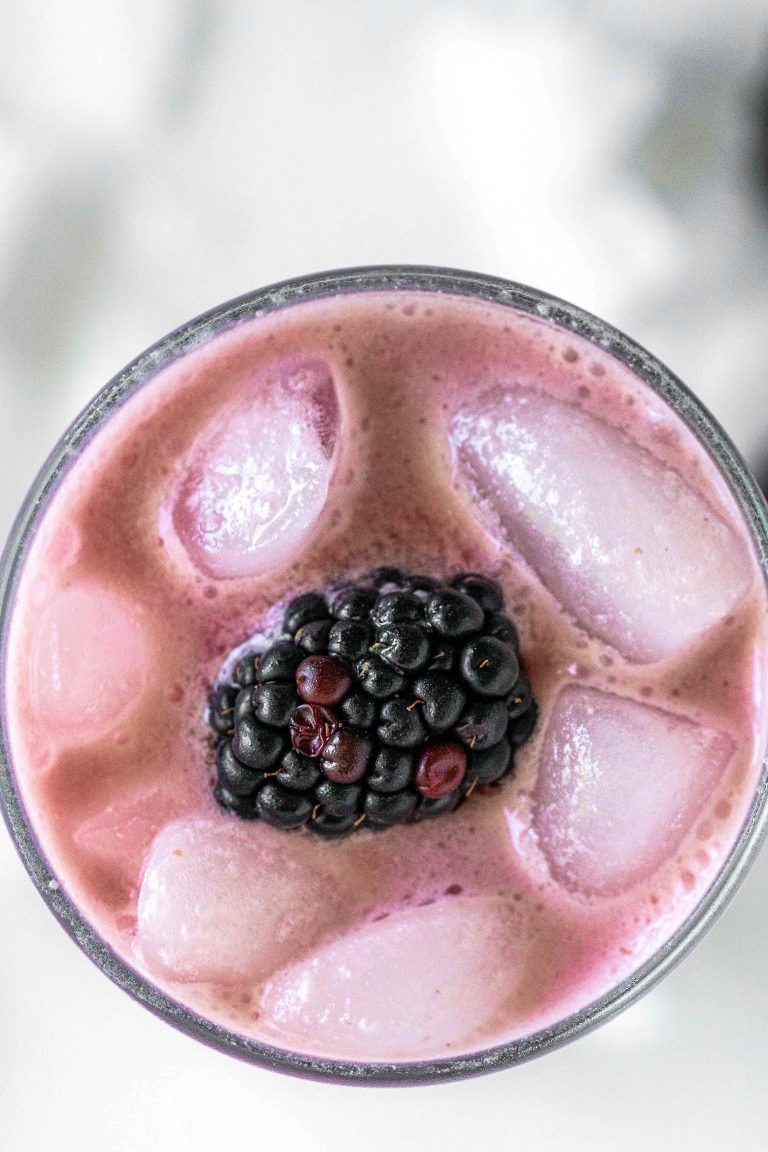 Have I mentioned before that I love recreating Starbucks drinks at home? Oh, I have? Perfect! Here are some of my other favorite Starbucks copycat drinks to make at home –
Or check out my whole list of iced Starbucks coffee recipes that you can make at home!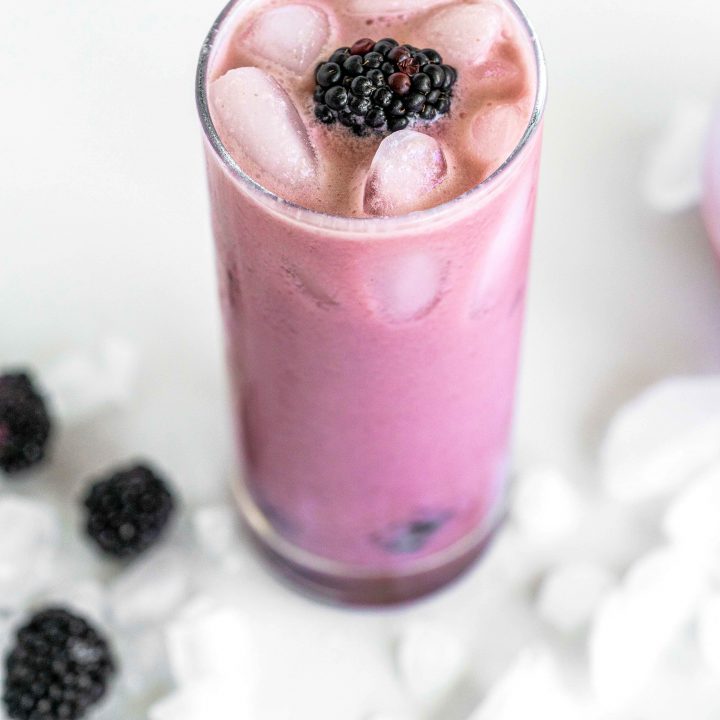 Starbucks Violet Drink
How to make a copycat Starbucks purple drink at home!
Ingredients
1 1/4 cups TAZO passion tea, brewed and cooled
1/4 cup full-fat unsweetened canned coconut milk, shaken before measuring
2 tablespoons simple syrup
4 tablespoons fresh blackberries, divided
3/4 cup ice cubes
Instructions
Add the tea, coconut milk, simple syrup, and 2 tablespoons blackberries to a blender and process until smooth. Strain the liquid through a fine mesh sieve and discard the solids (it'll be blackberry seeds).
Pour the tea mixture into a tall glass and add the ice and remaining 2 tablespoons blackberries.
Serve.
Nutrition Information:
Yield:

1
Serving Size:

1
Amount Per Serving:
Calories:

536
Total Fat:

48g
Saturated Fat:

43g
Trans Fat:

0g
Unsaturated Fat:

3g
Cholesterol:

0mg
Sodium:

32mg
Carbohydrates:

29g
Fiber:

2g
Sugar:

20g
Protein:

5g
Other copycat recipes to try
Want even more copycat recipes? GREAT! Here are a few more to try:
Love this recipe? Be sure to pin it to your Starbucks board!