Look! I made you copycat Starbucks chocolate chunk cookies! And they are spot on taste wise. Plus, these Starbucks cookies are super simple to make at home. Let me show you how to make these copycat Starbucks chocolate chip cookies.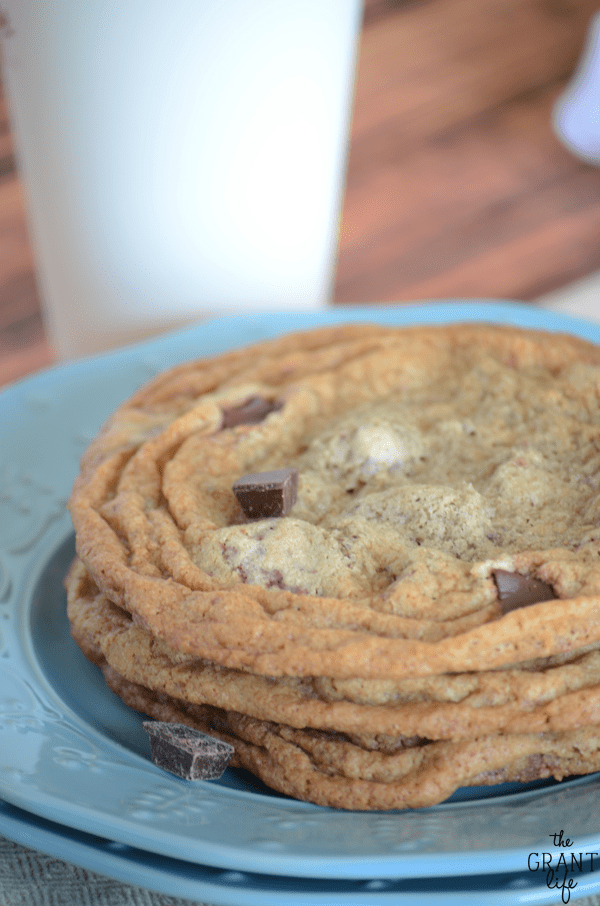 To be completely honest I made them for me. And I made them in no-spend January because all I wanted last month was Starbucks cookies. Like I needed these cookies! No, I'm not pregnant and was having cravings. I just really love these cookies and when you can't have something you want – you want it even more, right? Right. So I wanted these cookies pretty much daily. I thought about them, I wondered if breaking my no-spend was worth it, I might have even dreamed about them.
Which would be completely and totally crazy, but it might have happened.
What are Starbucks chocolate chunk cookies?
Only the best cookie in the world. Ok, maybe that's being a bit dramatic. But if you love the chocolate chip cookies you can get from Starbies, than these are the best thing ever. They are almost a classic chocolate chip cookie but have a few extra ingredients that make them even more delicious. The chocolate chunks add a great depth of flavor to these cookies and the wheat flavor is a nice change in texture.
Starbucks chocolate chip cookie ingredients
You don't need a bunch of fancy ingredients to make these cookies. In fact, you probably already have everything you need at home! I made sure to pick up the extra ingredients when I went shopping next. Which really wasn't much – some whole wheat flour and dark chocolate chunks. To make your own Starbucks chunk cookies you will need:
2 sticks of unsalted butter
1 cup of sugar
1 cup of brown sugar
2 eggs
1 teaspoon vanilla
1 cup whole wheat flour
1 cup all purpose flour
1 teaspoon baking soda
1 teaspoon baking powder
1 cup dark chocolate chunks
1 cup semi-sweet milk chocolate chips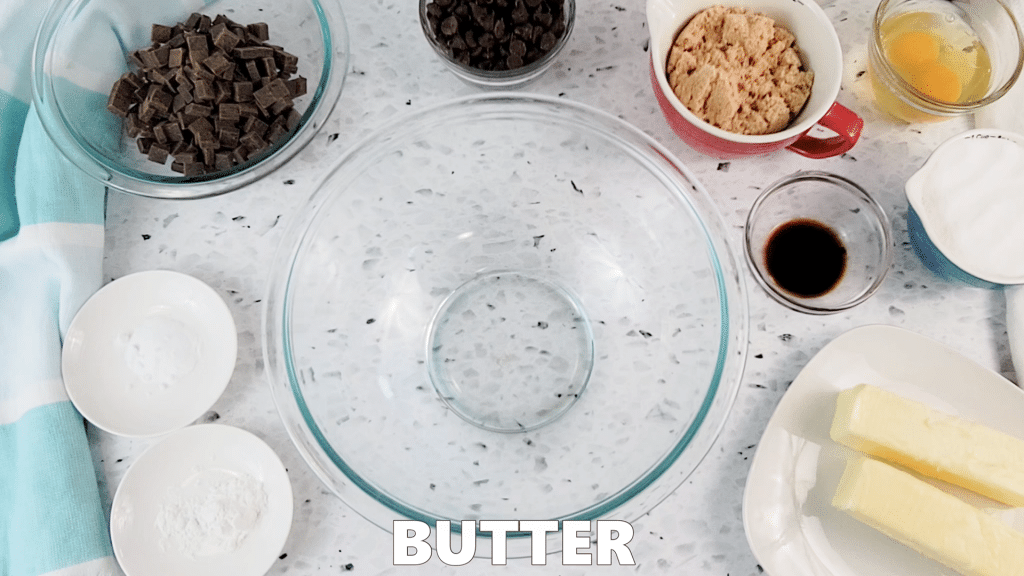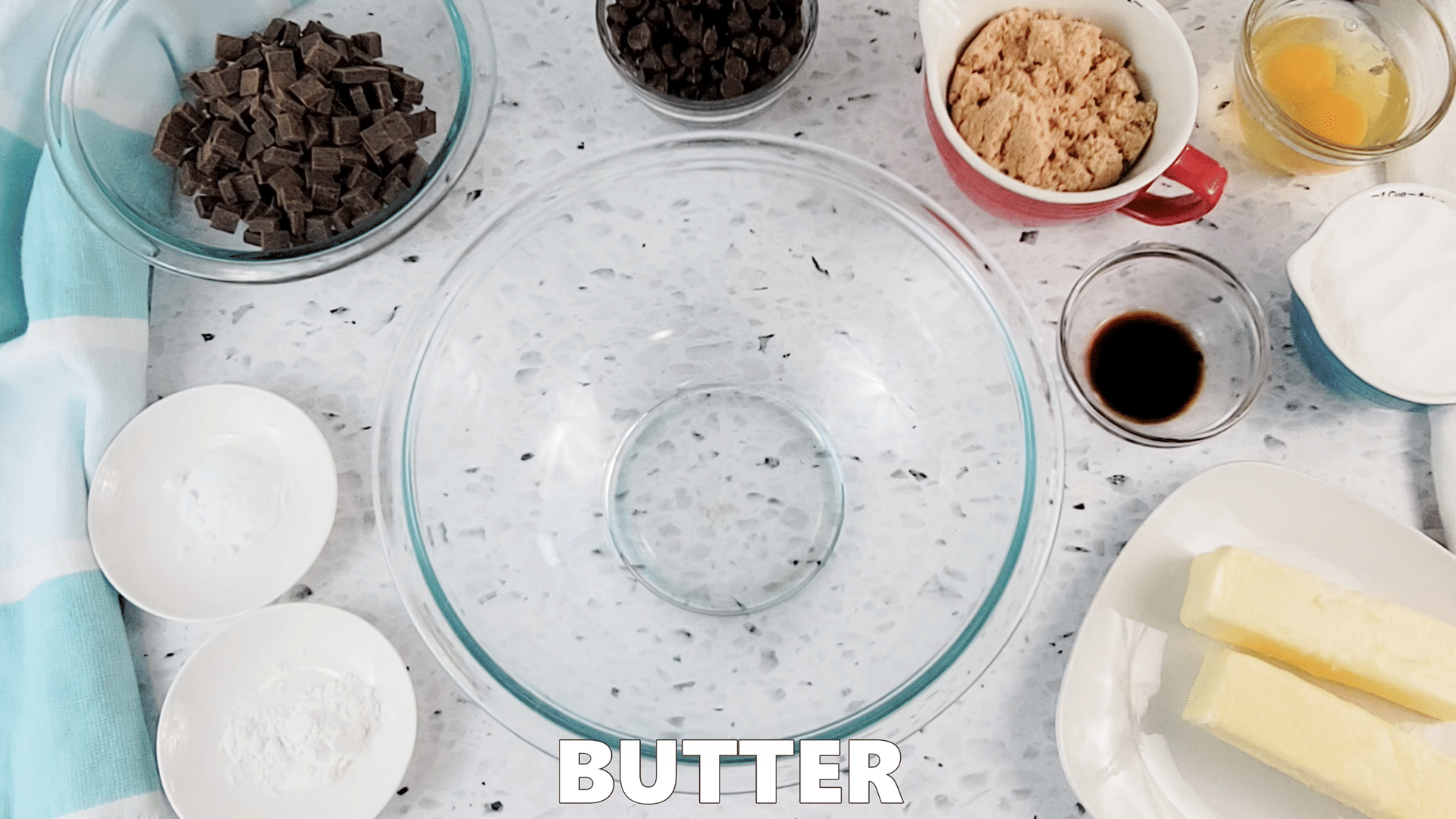 Butter – You will want to use unsalted butter for these cookies. Also make sure that it is softened before you get started. Leave it on the counter for 30 minutes to an hour prior to make these double chocolate chip cookies.
Sugars – Both white and brown sugar are needed for these cookies.
Vanilla extract – You know I love using my homemade vanilla extract when I'm baking. It's nice to have a big homemade jar on hand. Store bought vanilla works just fine.
Wheat flour – This is one of the ingredients that makes these cookies so good. It adds a great texture to these soft and chewy cookies.
Chocolate chunks – These cookies wouldn't be chocolate chunk cookies without the added chunks! I use dark chocolate because it goes well with the milk chocolate chips, but feel free to use whatever chocolate chunks you'd like.

How to make Starbucks chocolate chunk cookies
With my assistant by my side, we started taste testing cookies one night. I tried different amounts of baking soda and baking powder to see if they fluffed up enough. I tried chilling the dough to see if that made a difference. I tried eating the dough straight from the bowl just to see if that helped. (It did.) Together, we came up with these easy directions on how to make the best chocolate chunk cookies.
Step 1 Cream the sugars
Place your softened butter and the sugars together in a large mixing bowl. Using a hand held mixer or a stand mixer, cream the butter and the sugar together until light and fluffy. Your butter will be pale yellow when it's readys.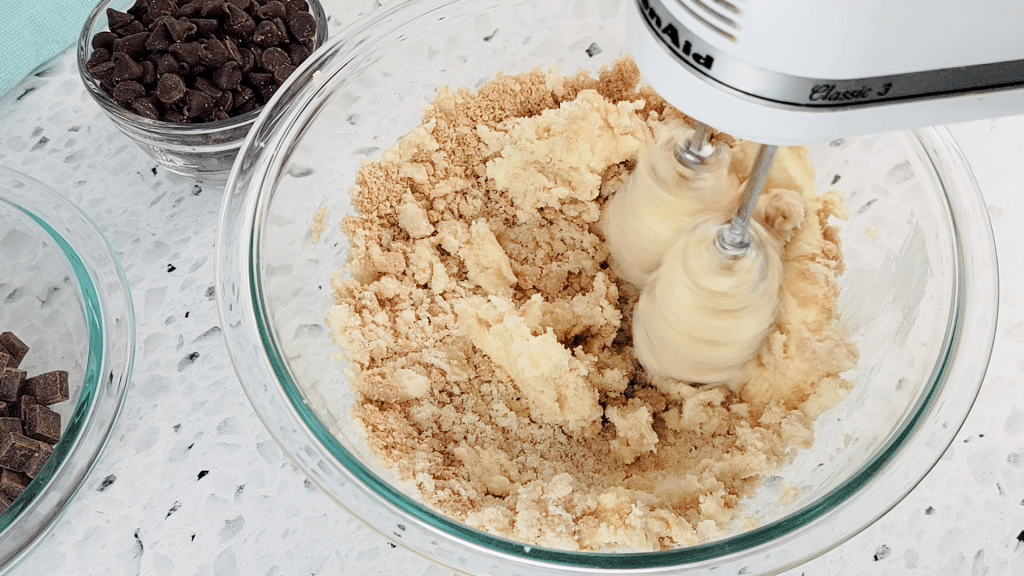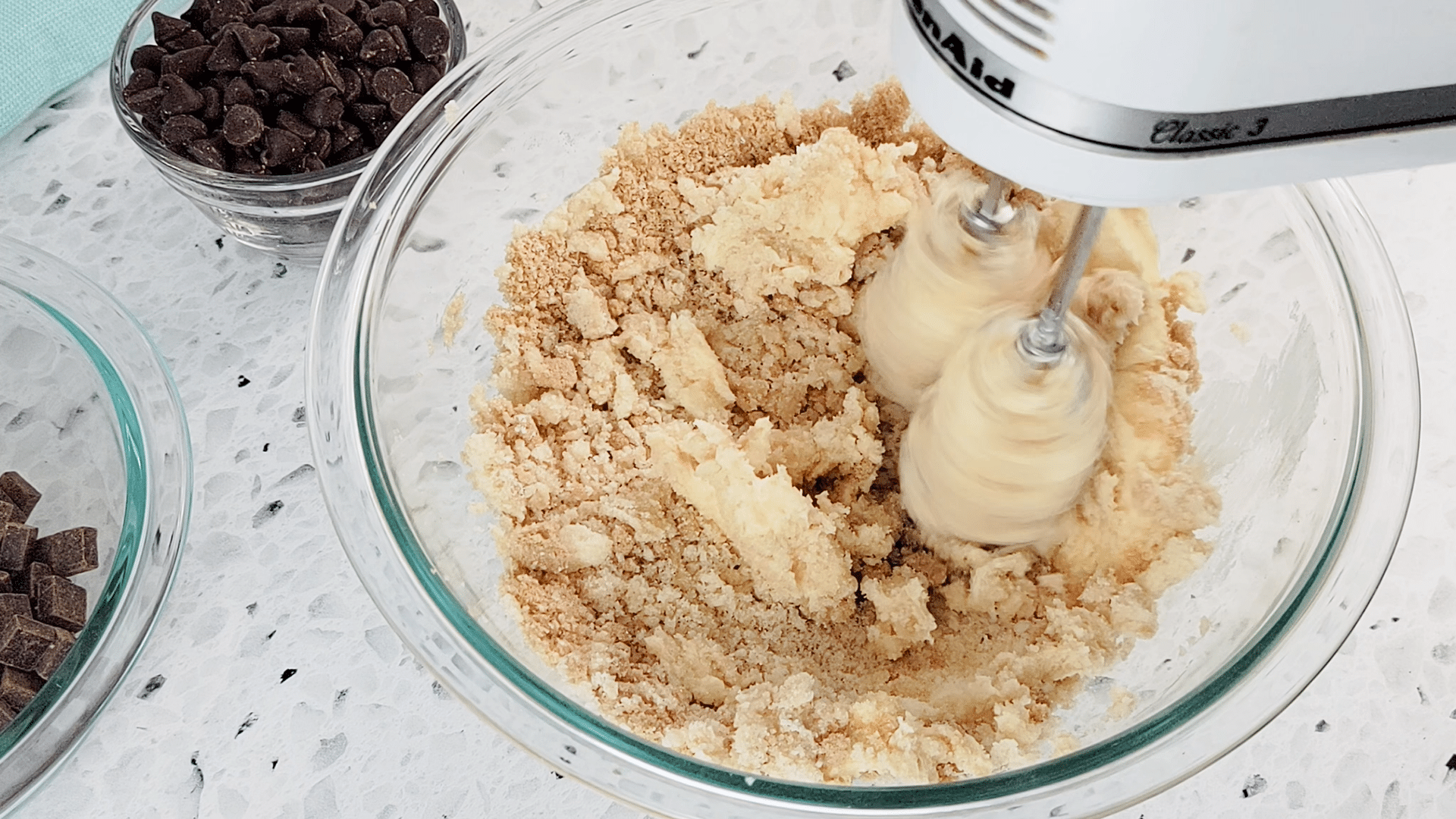 Step 2 Add the vanilla and eggs
In the same bowl, add in the vanilla extract and the eggs. You will want to add the eggs one at a time to make sure they are fully incorporated into the batter. Mix together until smooth.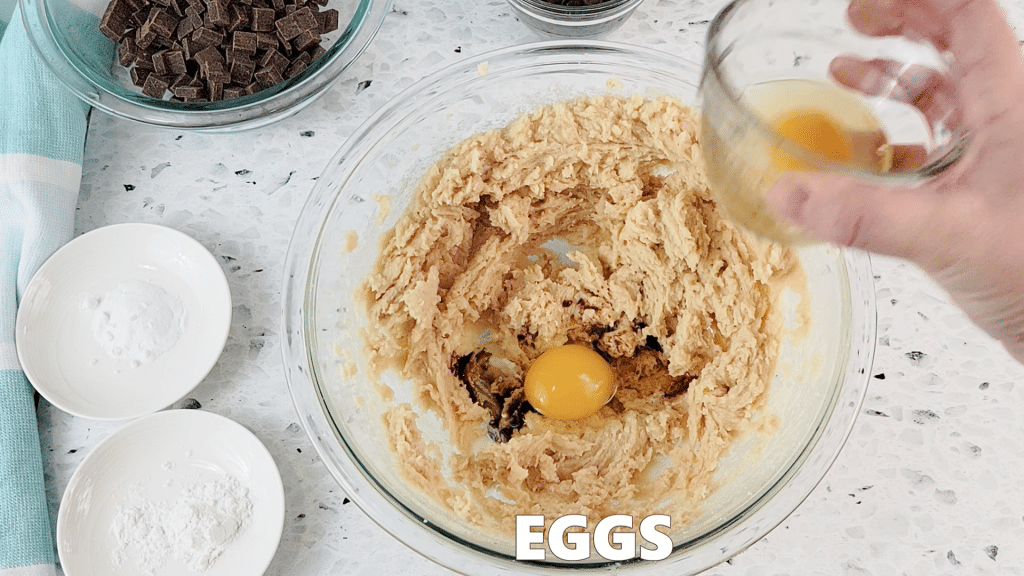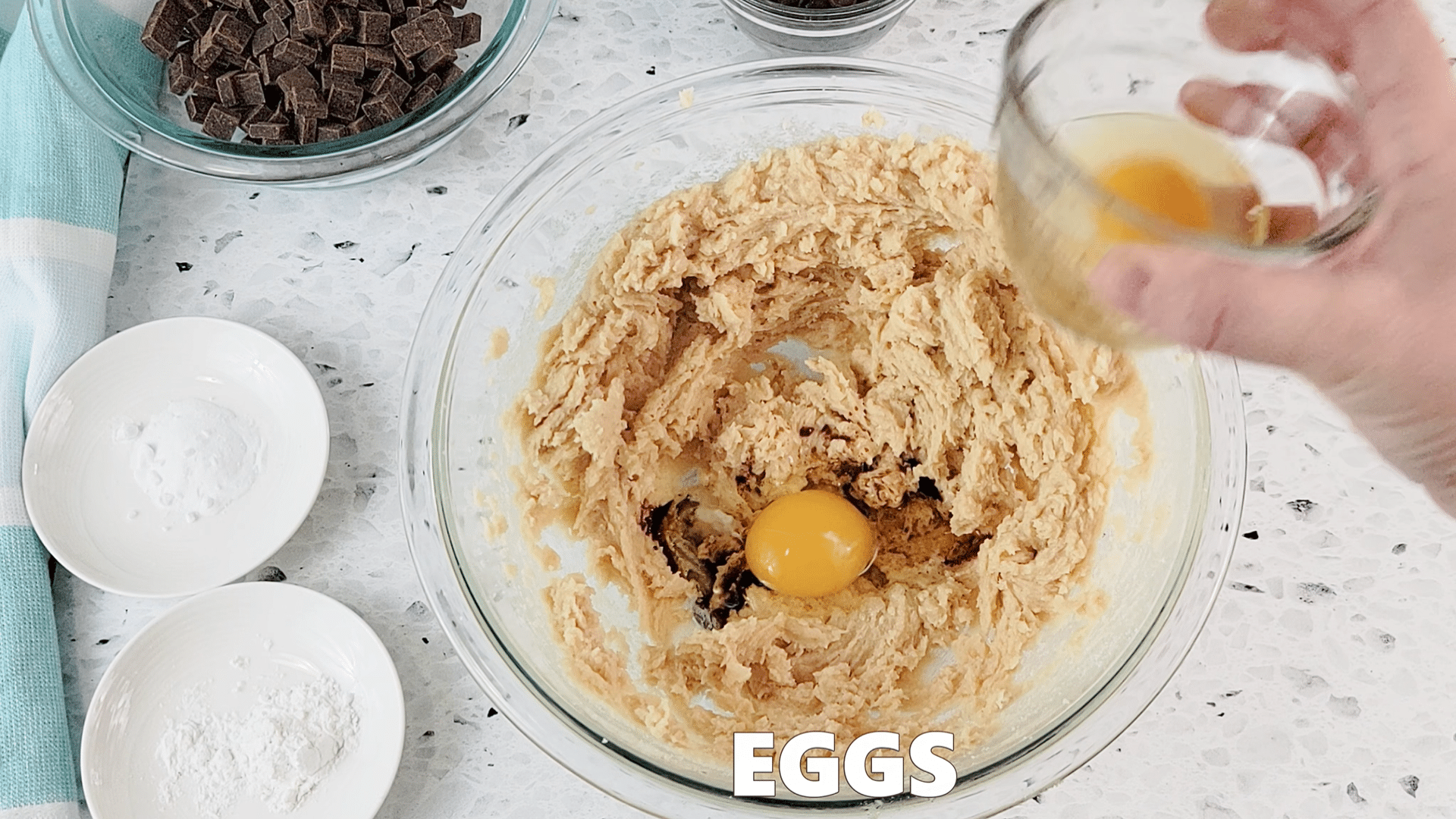 Step 3 Mix together the dry ingredients
In a separate bowl, mix together your regular flour, wheat flour, baking soda and baking powder. You can use a whisk to mix everything together. If you have a sifter in your kitchen, you can use that as well.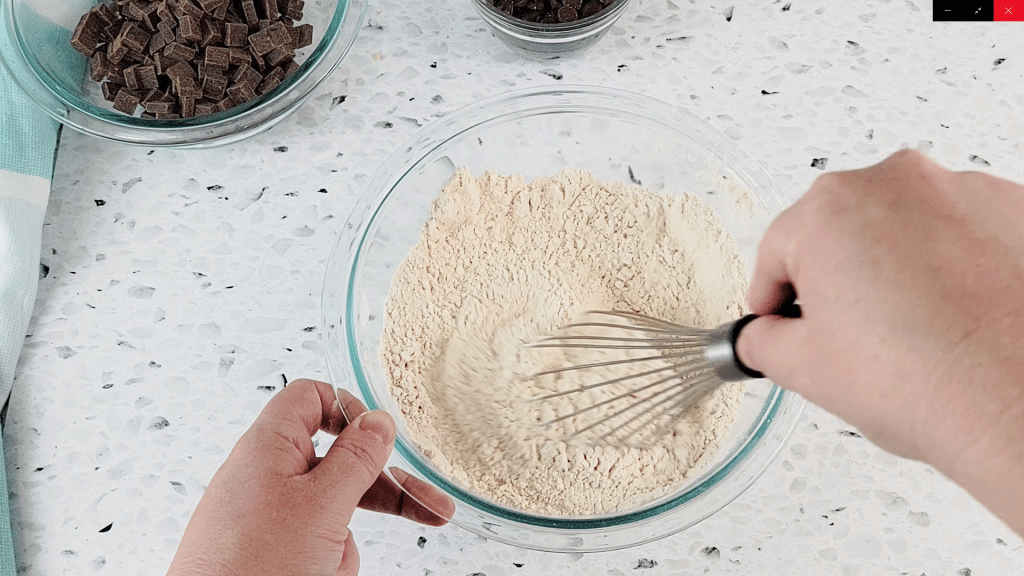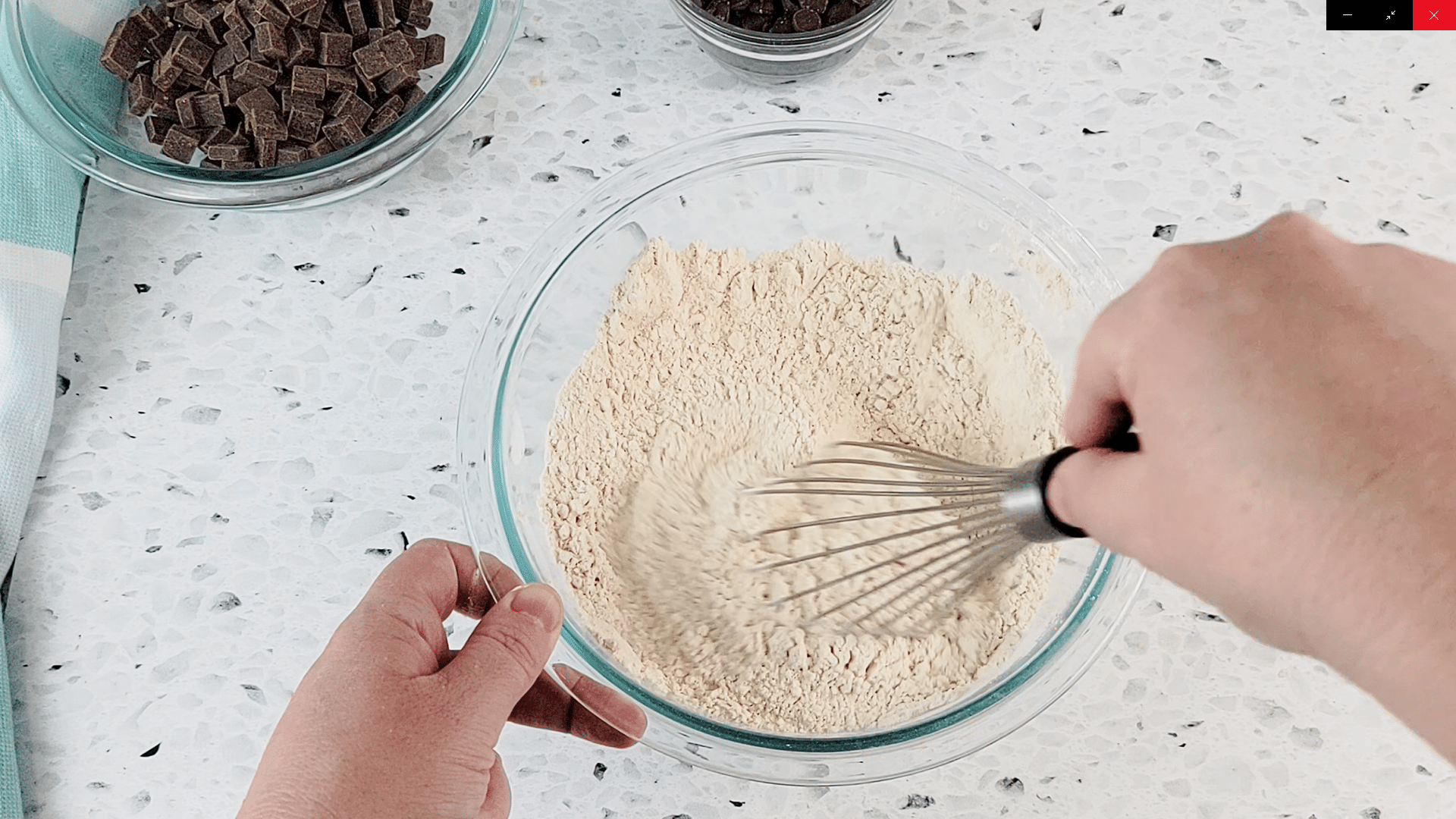 Step 4 Add the dry to the wet ingredients
Add your dry ingredients to your wet ingredients and stir well. You may want to add the flour mixture in batches so that you get everything evenly mixed.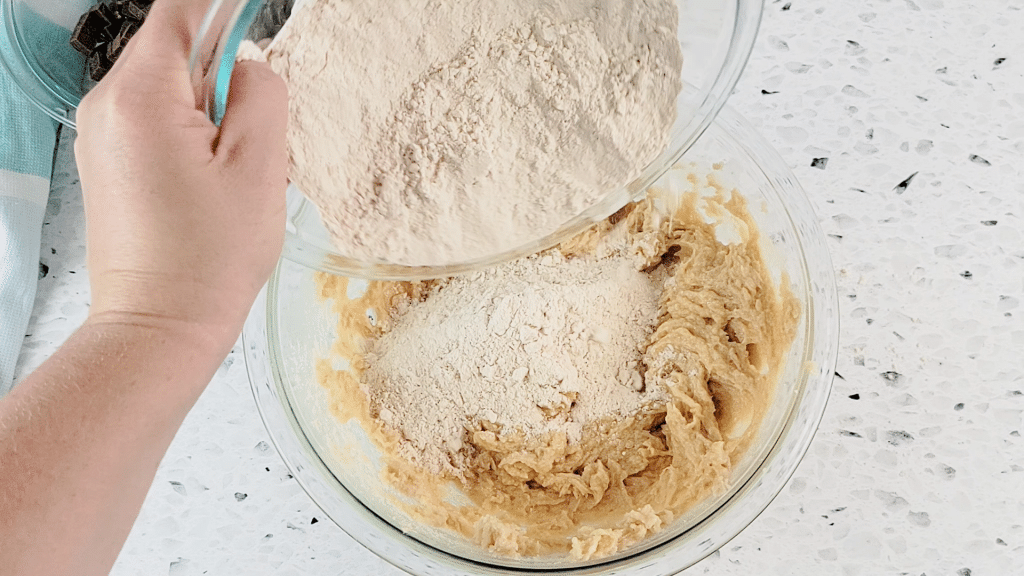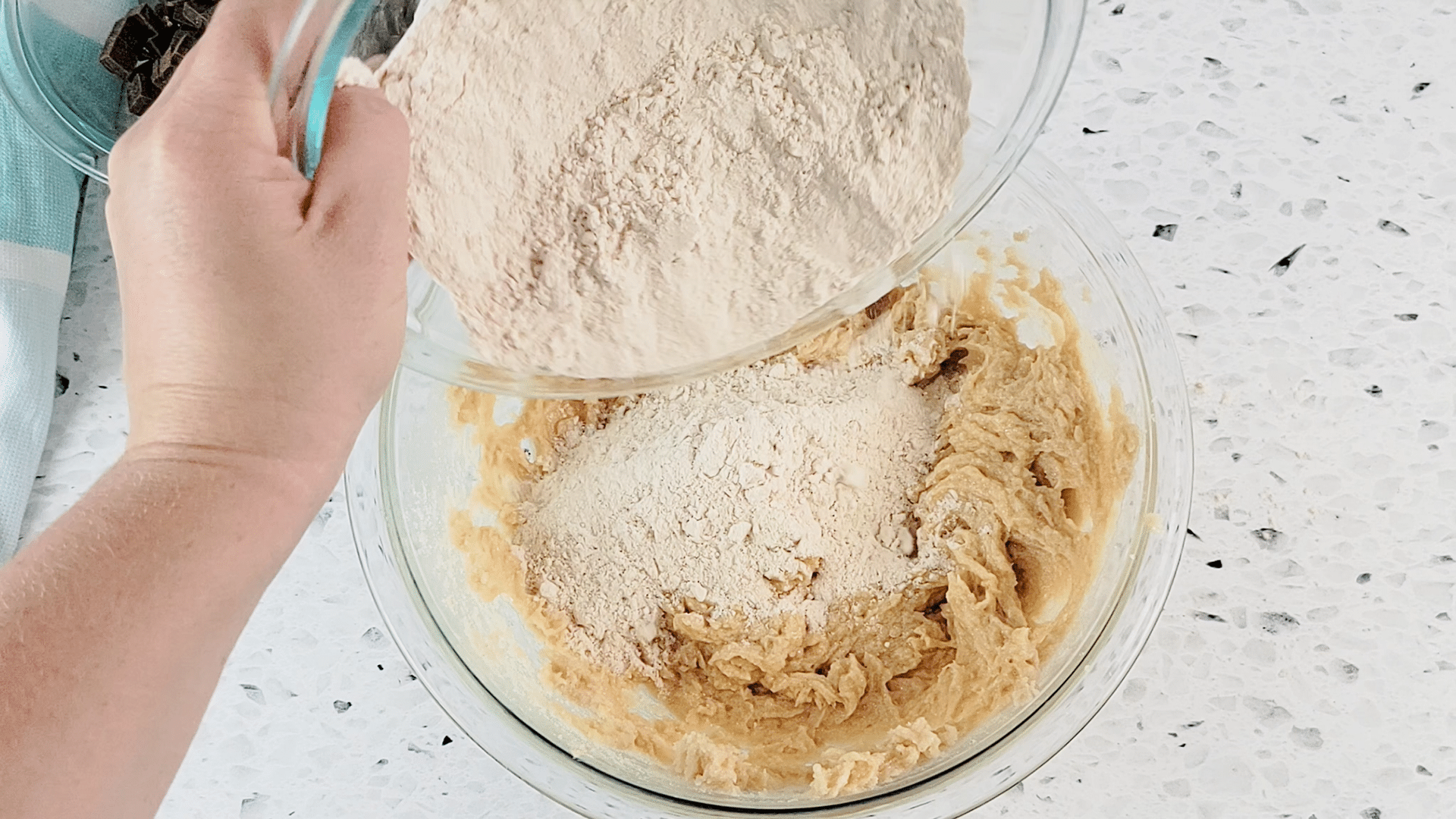 Step 5 Add the chocolate
Now for the best part! Add both of your chocolate chips to the cookie dough. Use a silicone spatula to fold in the chocolate chips. I have found that a silicone spatula works the best for folding in the chocolate chips.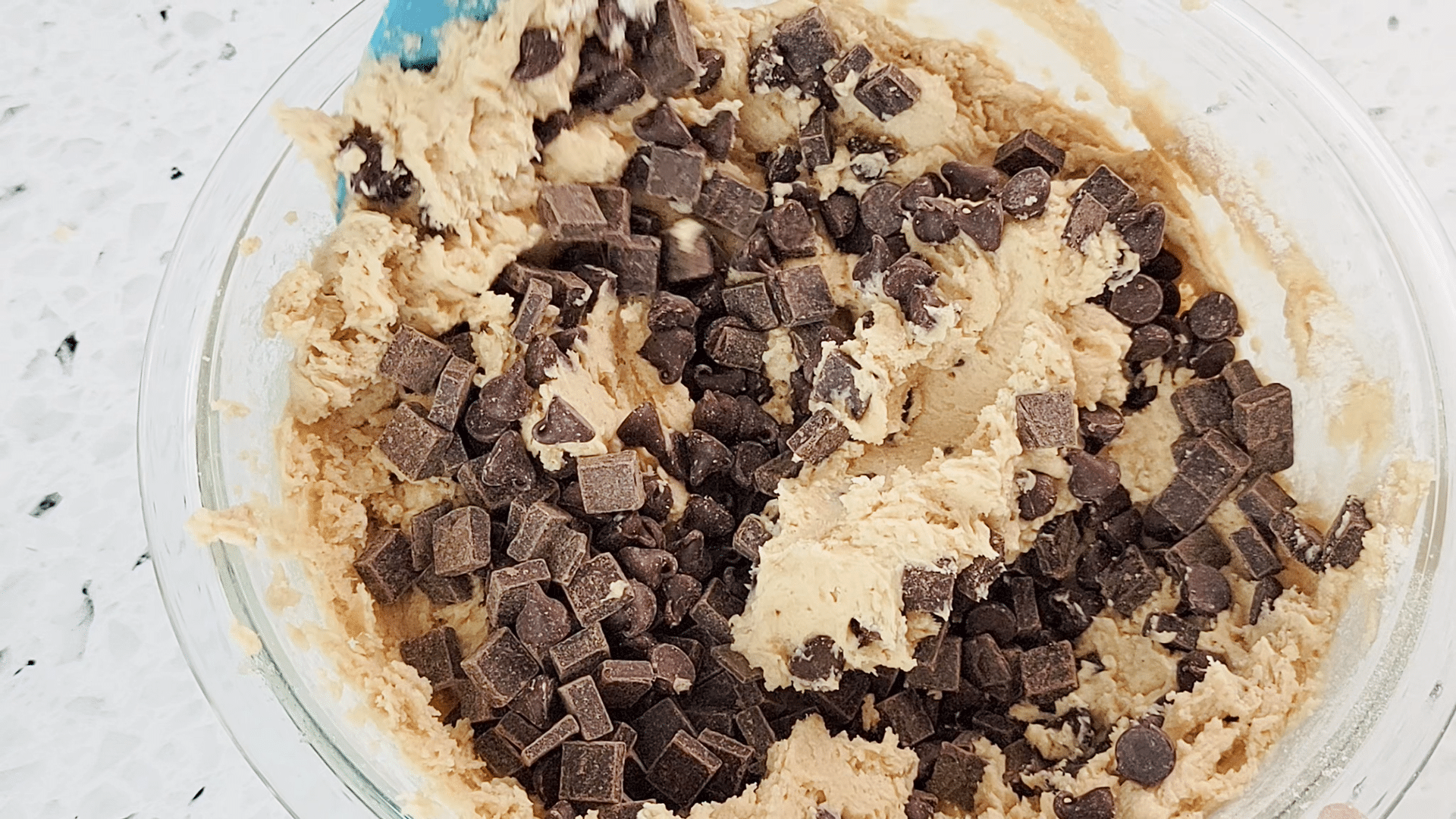 Step 6 Bake
Scoop 1/3 cup of the batter on your prepared baking sheet. Bake the cookies for 10-12 minutes. The edges will be slightly brown when they are ready.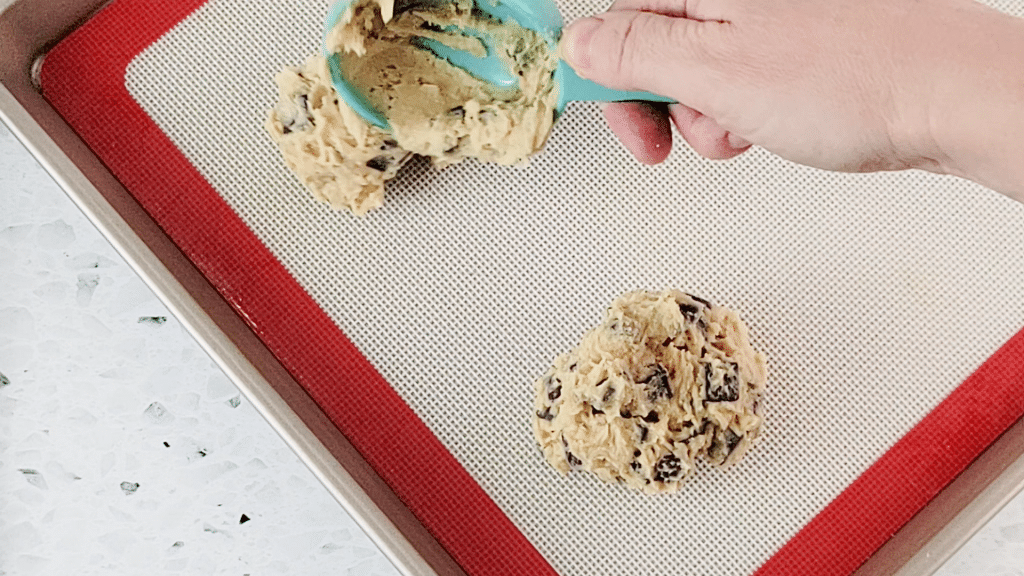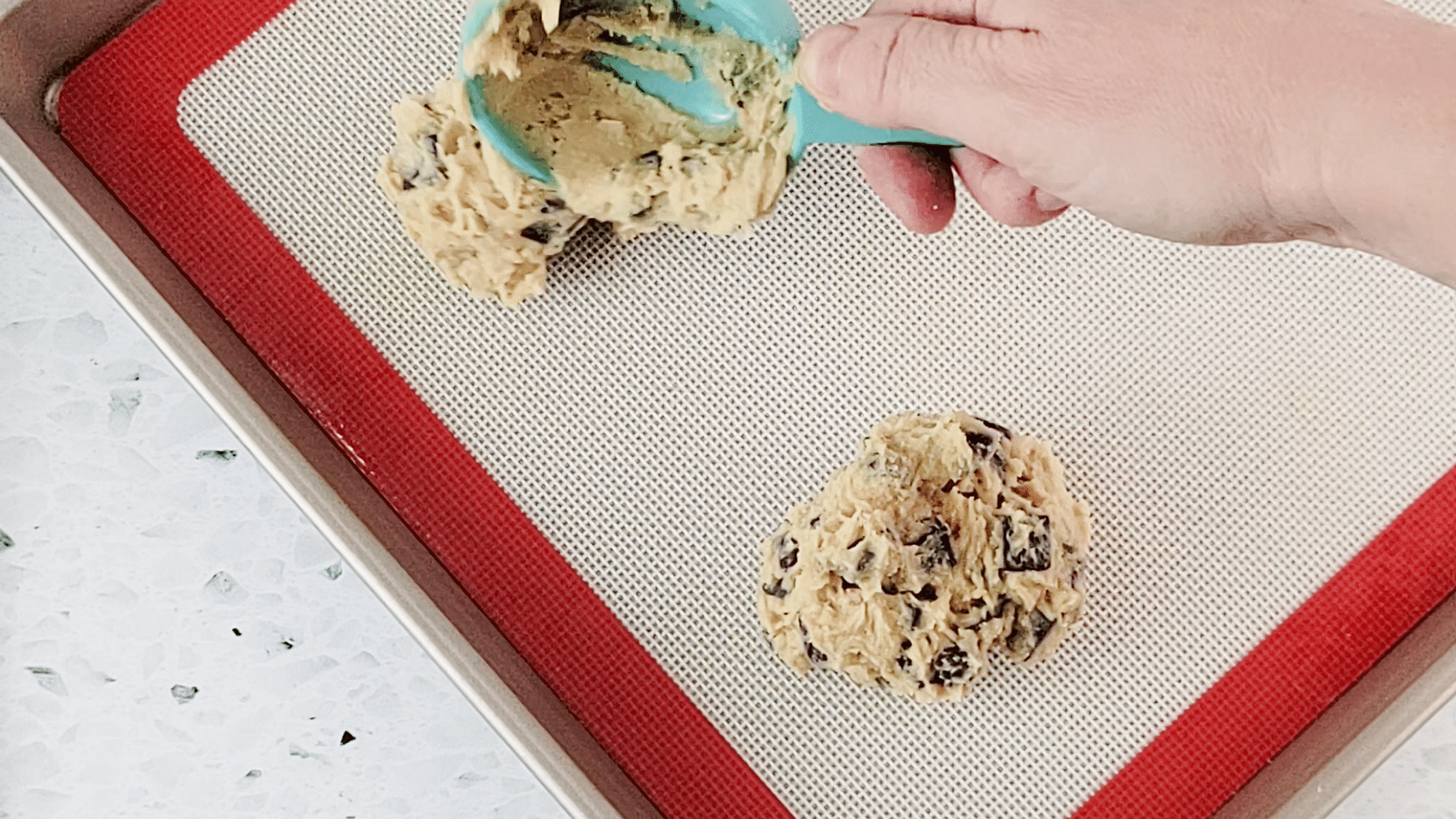 Step 7 Cool and enjoy
Remove the chocolate chunk cookies from the baking sheet and place them on a wire rack to cool.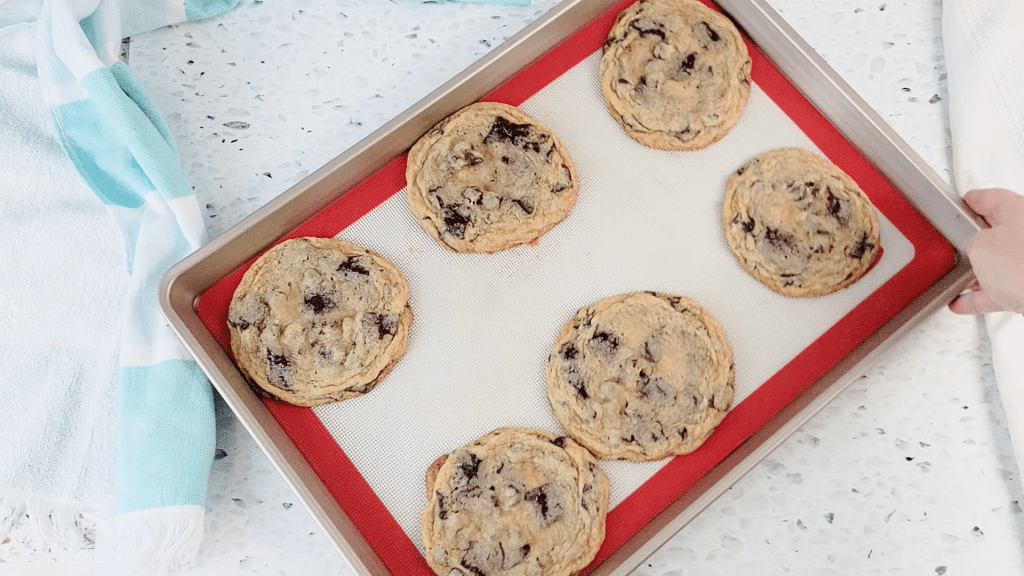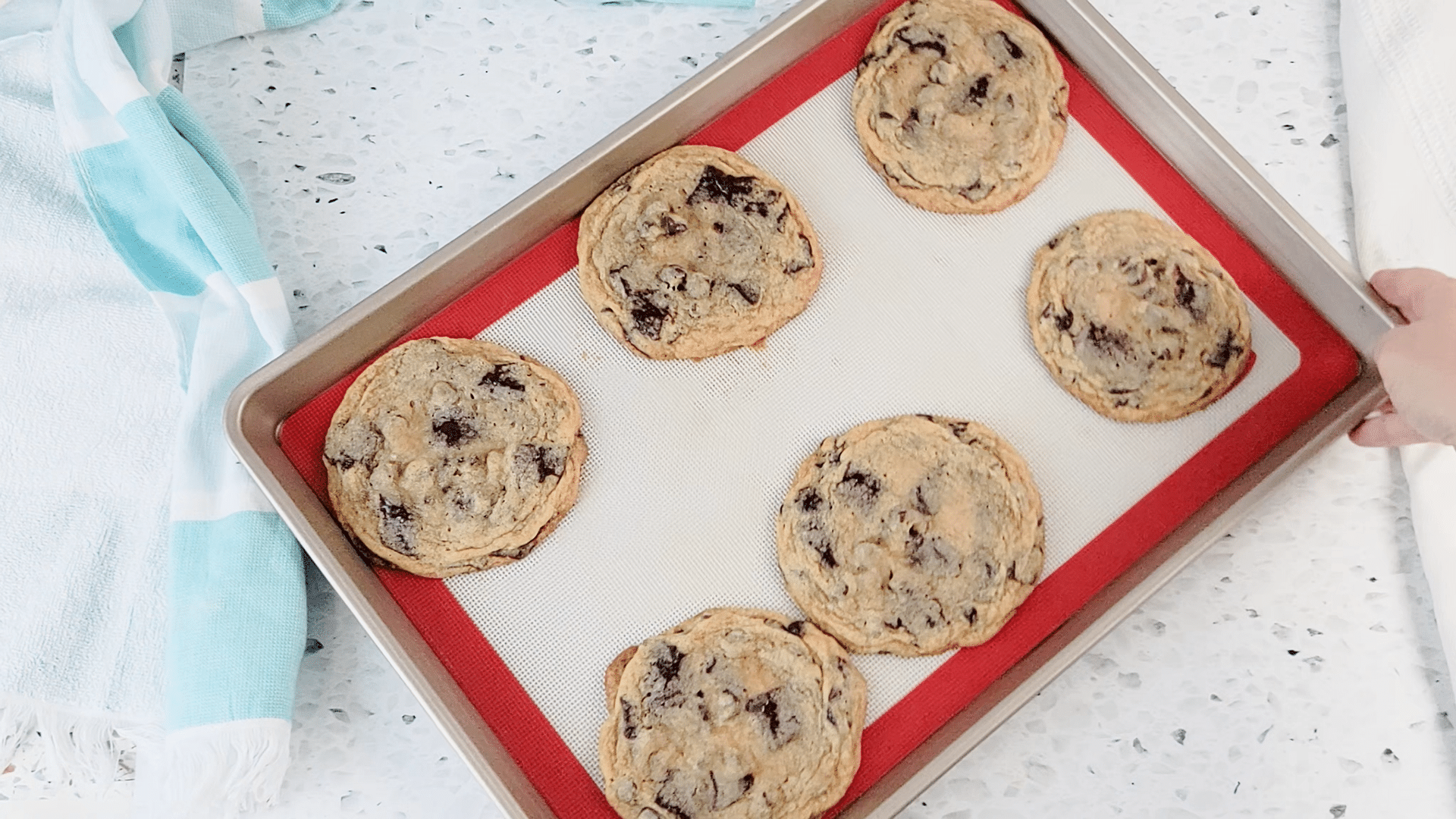 Chocolate chunk cookie consistency
Although these are not as thick as the Starbucks version, they do have the same consistency. They are slightly crisp on the outside and chewy on the inside. And they are a spot on copycat taste wise. The wheat flour really helps with the texture and flavor of these copycat Starbucks cookies.
Does this really taste like the Starbucks version?
Yup! It sure does! I actually checked the Starbucks website for the ingredients before making these cookies. I had to figure out the amounts on my own, but using the same ingredients they use in the store really helps.
Tips and tricks
These cookies are pretty easy to make, but I have a few tips that can make them easier.
Make sure your butter is left out for at least a half hour before you start baking. You can also softened your butter in the microwave if you have a softened function.
If you don't want to use two bowls, you can sift the flour mixture right in with the butter mixture. It won't affect the texture too much.
A silicone spatula works best for folding in the chocolate chips and chocolate chunks into the dough.
I love using a silicone baking sheet when I make cookies. I know that they won't stick when they are done baking.
How to store leftovers
Place any leftover cookies in an airtight container, such as a Tupperware of Ziplock bag. You can leave these cookies on the counter, but I like to keep them in the fridge. Both will work and these cookies will stay fresh for 3-4 days.
Can I freeze these chocolate chunk cookies?
Yes! You can. You can freeze the cookies after you bake them or you can freeze the dough before baking the cookies. Place the baked cookies in a Ziplock bag and remove all the air. Stick them in the freezer for up to 3 months
. If you want to freeze the dough, scoop out 1/3 cup of the batter onto the cookie sheet and place it in the freezer. Allow the dough to flash freeze for an hour and then transfer the frozen dough to a Ziplock bag to go back in the freezer. Thaw the dough in the fridge and bake as directed.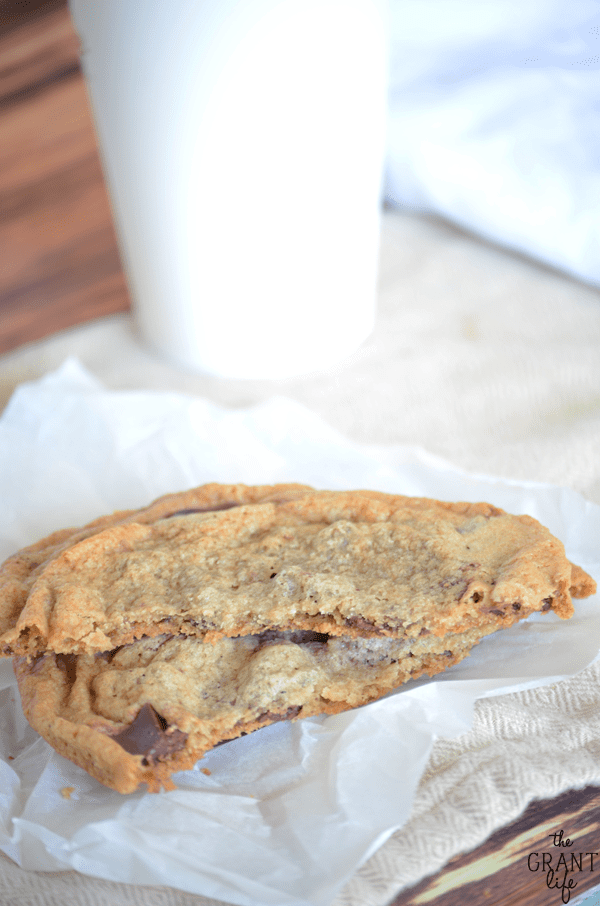 FAQs about these Starbucks chocolate chunk cookies
How many cookies does the recipe make?
The recipe below should make 12 large cookies. Feel free to use less dough per cookie and make smaller ones. Or make larger ones! It's your call but using 1/3 cup of dough will give you 12.
Can I use a metal baking sheet for these chocolate chunk cookies?
Yup! You can! I would suggest using a silicone baking sheet or a little baking spray. There is nothing worse then a cookie that sticks to the cookie sheet!
Pair a Starbucks chocolate chunk cookie with:
These cookies are great on their own, but why not pair them with a great copycat Starbucks drink too? Some of my favorites are: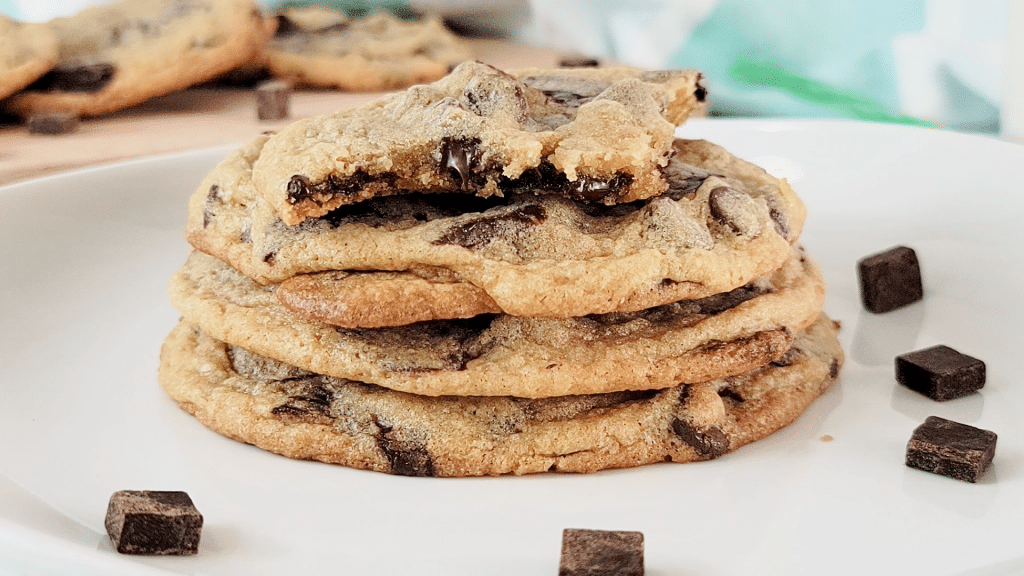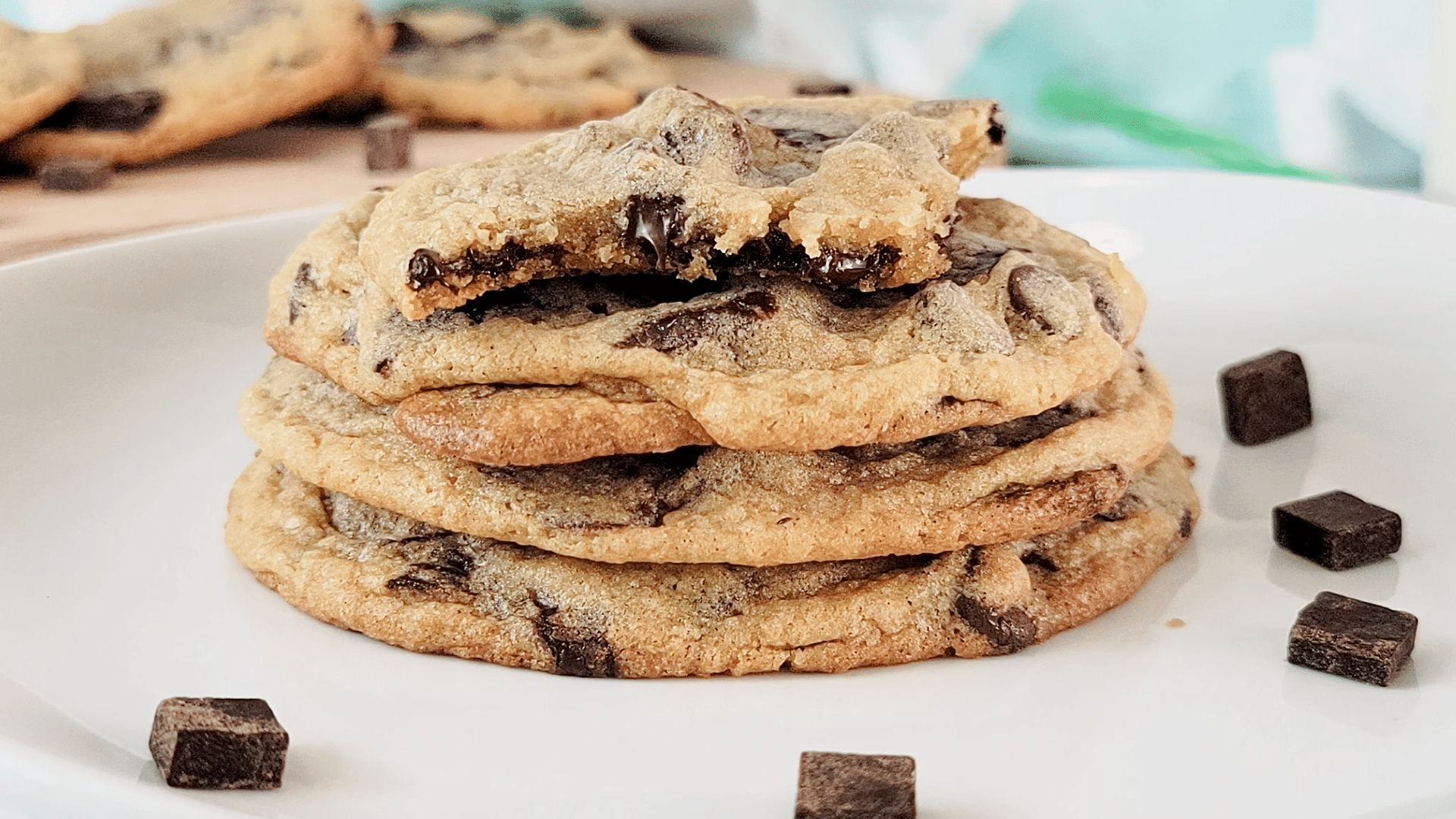 To recap – I spent a month trying not to spend money. That included trips to the motherlands; Target and Starbucks. To cope with said restrictions I holed up in my house in my pajamas and made a copycat version of the cookie I may or may not have dreamed about. This is that cookie. This should be made as soon as possible and drink it with a huge glass of milk or a dirty iced chai latte. That last part is your call.
Starbucks Chocolate Chunk Cookies
Make these delicious copycat Starbucks chocolate chunk cookies at home!
Ingredients
2 sticks of unsalted butter, softened
1 cup of sugar
1 cup of brown sugar
2 eggs
1 teaspoon vanilla
1 cup whole wheat flour
1 cup all purpose flour
1 teaspoon baking soda
1 teaspoon baking powder
1 cup dark chocolate chunks
1 cup semi-sweet milk chocolate chips
Instructions
Preheat oven to 350.
Cream the butter and the two sugars together until light and fluffy.
Add in the vanilla and the eggs, one at a time.
Mix together all the dry ingredients - both flours, baking soda and baking powder.
Add the dry ingredients to the wet ingredients and mix well.
Add in both chocolate chips and stir until combined.
Drop 1/3 cup spoonfuls of dough on a silicone baking sheet and bake for 10-12 minutes, or until the edges are golden brown.
Remove from oven and place on a wire rack to cool.
Enjoy!
Nutrition Information:
Yield:

12
Amount Per Serving:
Calories:

415
Cholesterol:

71mg
Sodium:

238mg
Carbohydrates:

59.4g
Fiber:

1.1g
Sugar:

41.4g
Protein:

4.9g
Other desserts to check out
Like this recipe? Be sure to check out:
Like it? Pin it!
Did you make this recipe? I'd love for you to leave a review in the recipe card above or the comments below.
Want to make it later? Save the image below to your favorite dessert board!