Cranberry Bliss Bars are one of my favorite winter treats! They are sweet with a bit of tartness thanks to the cranberries. You can buy these bliss bars from Starbucks or you can make them at home. Seasonal treat made at home for a fraction of the cost?  Check and check!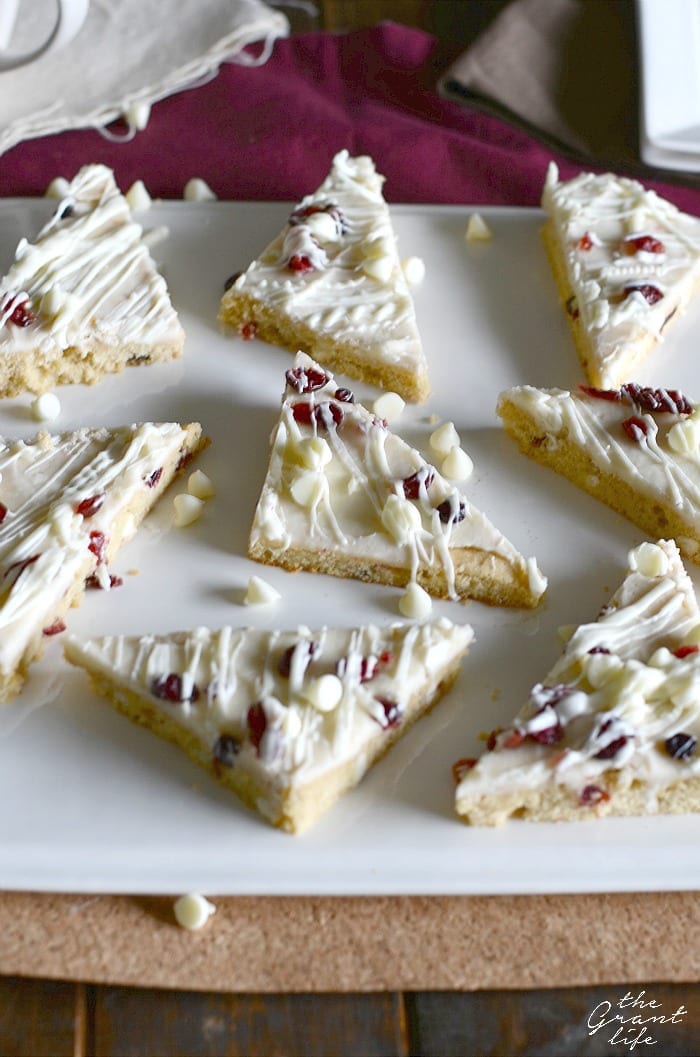 Yesss!!  It's officially cranberry and eggnog and peppermint season!  I don't think I need to explain that I classify my seasons based on food and not their temperatures.  I'm that person.  And I have no shame.
We have moved from the pumpkin spice and apple cinnamon season into holiday baking and comfort foods.  Seriously – my favorite time of year.  Bring on the cranberry bliss bars and peppermint mochas!
What are cranberry bliss bars?
Cranberry bliss bars are bakery treat that is on the Starbucks seasonal menu. It comes out around November and runs through January. The bliss bar is a shortbread based cookie that has cranberries mixed in. The bars are then topped with frosting and white chocolate drizzle. It is sweet with a slight tart bite from the cranberries. It's a great winter snack!
Cranberry bliss bar ingredients
To make your own Starbucks cranberry bliss bars at home you will need:
butter
brown sugar
sugar
eggs
vanilla extract
fresh orange zest
flour
baking powder
dried cranberries
white chocolate chips
cream cheese
powdered sugar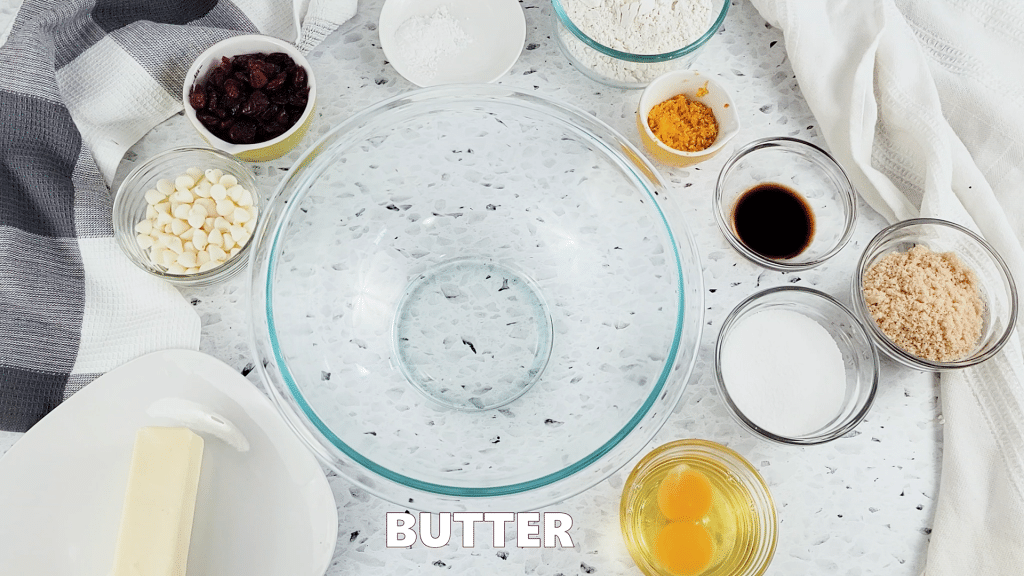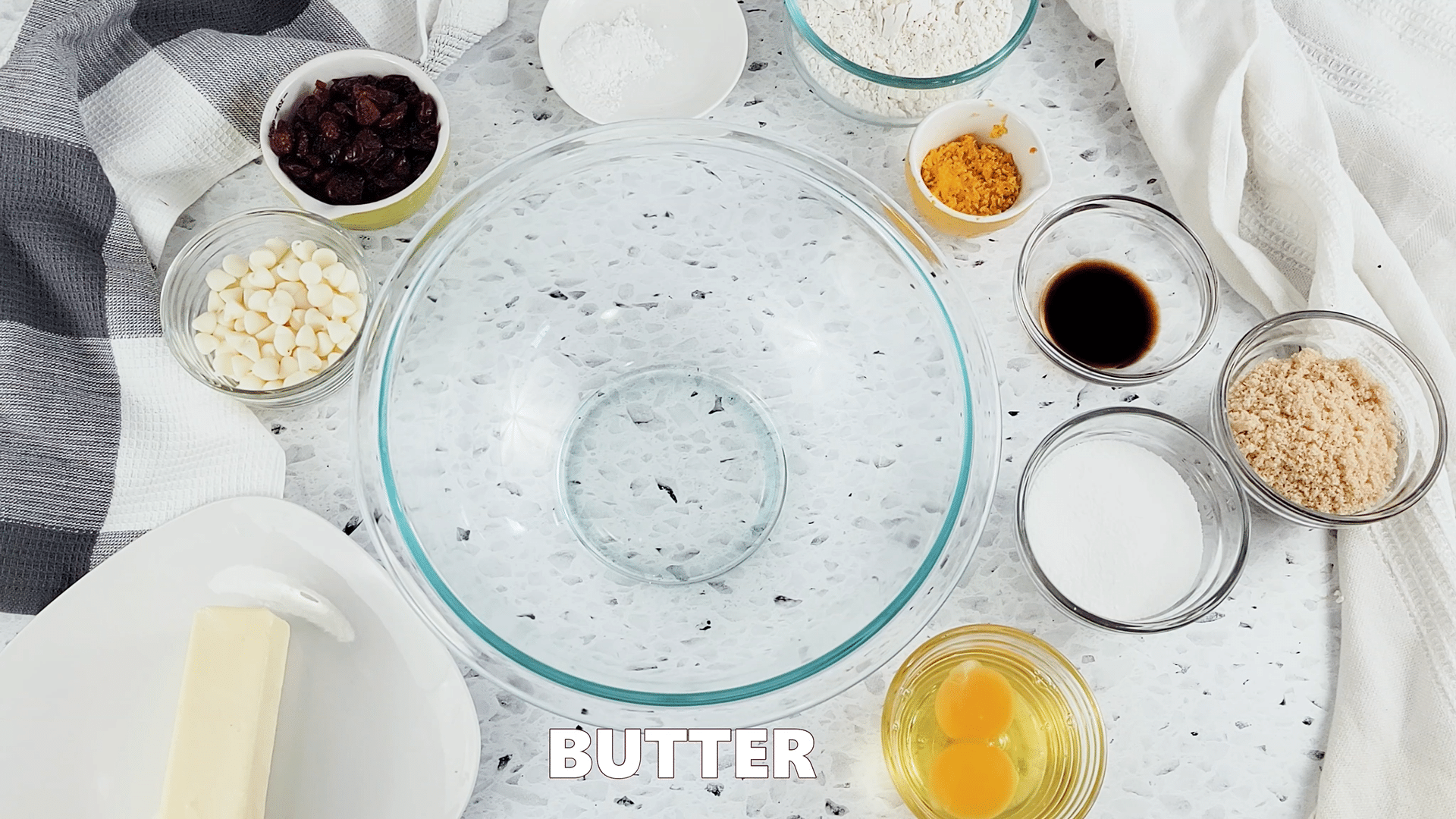 Butter – I prefer salted butter in this recipe, but you can use unsalted as well. You can not substitute margarine or anything other alternative butter here.
Orange zest – You can use a zester to easily zest the outside of an orange. This will produce the best flavor for these cranberry bars.
Dried cranberries – You can find dried cranberries in the baking aisle. You can get sweetened or unsweetened, whichever you prefer. The cranberries will go in the base of the bars and on top.
White chocolate – Grab a bag of white chocolate chips for these cookie bars. You will need them for the base of the bar, sprinkled on top and melted as well. I love using Ghiradelli white chocolate chips as they are a good quality but not too expensive.
Cream cheese – Any brand cream cheese will work, just be sure to left it soften before using it to make the frosting.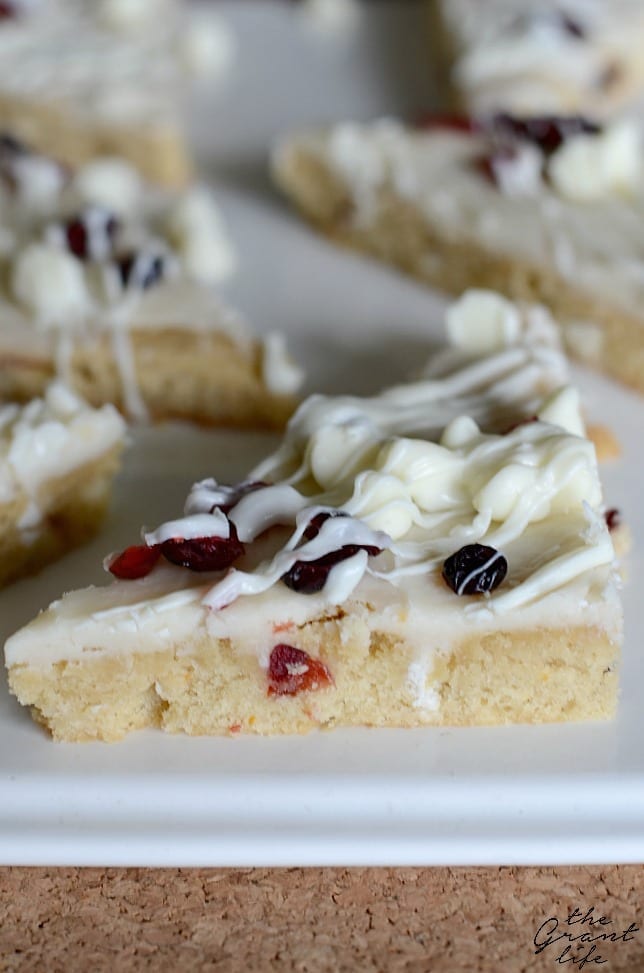 How to make Starbucks copycat cranberry bliss bars
These bars are super easy to make. They are a basic cookie bar that is topped with frosting, melted chocolate along with cranberries and white chocolate chips. Once you have your ingredients you will also need to grab:
mixing bowls
measuring cups and spoons
spatula
hand or stand mixer
baking sheet
Step 1 Cream the sugars In a large mixing bowl, cream together the butter and the 2 sugars. Use your hand held mixer and mix until light and fluffy. You can also do this in your KitchenAid stand mixer with the paddle attachment.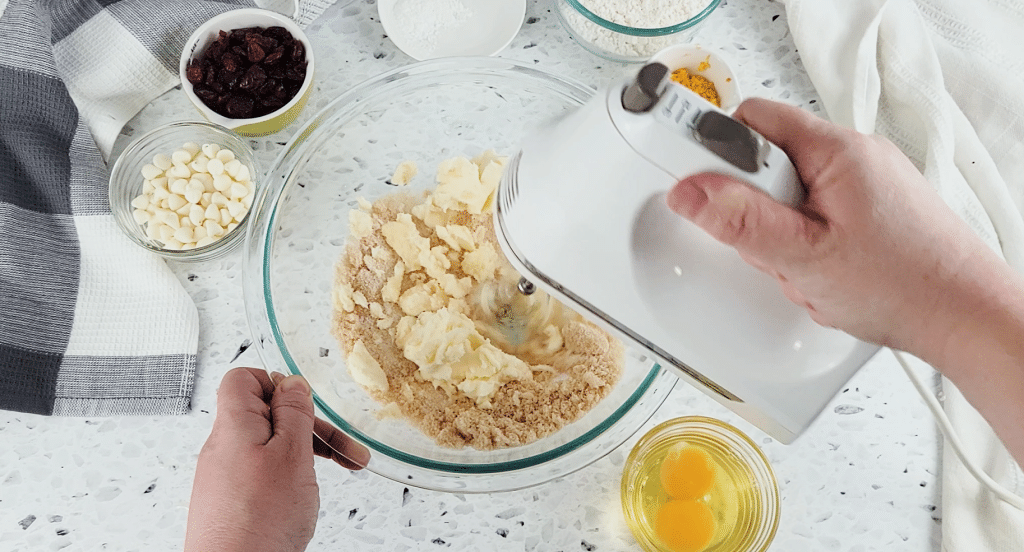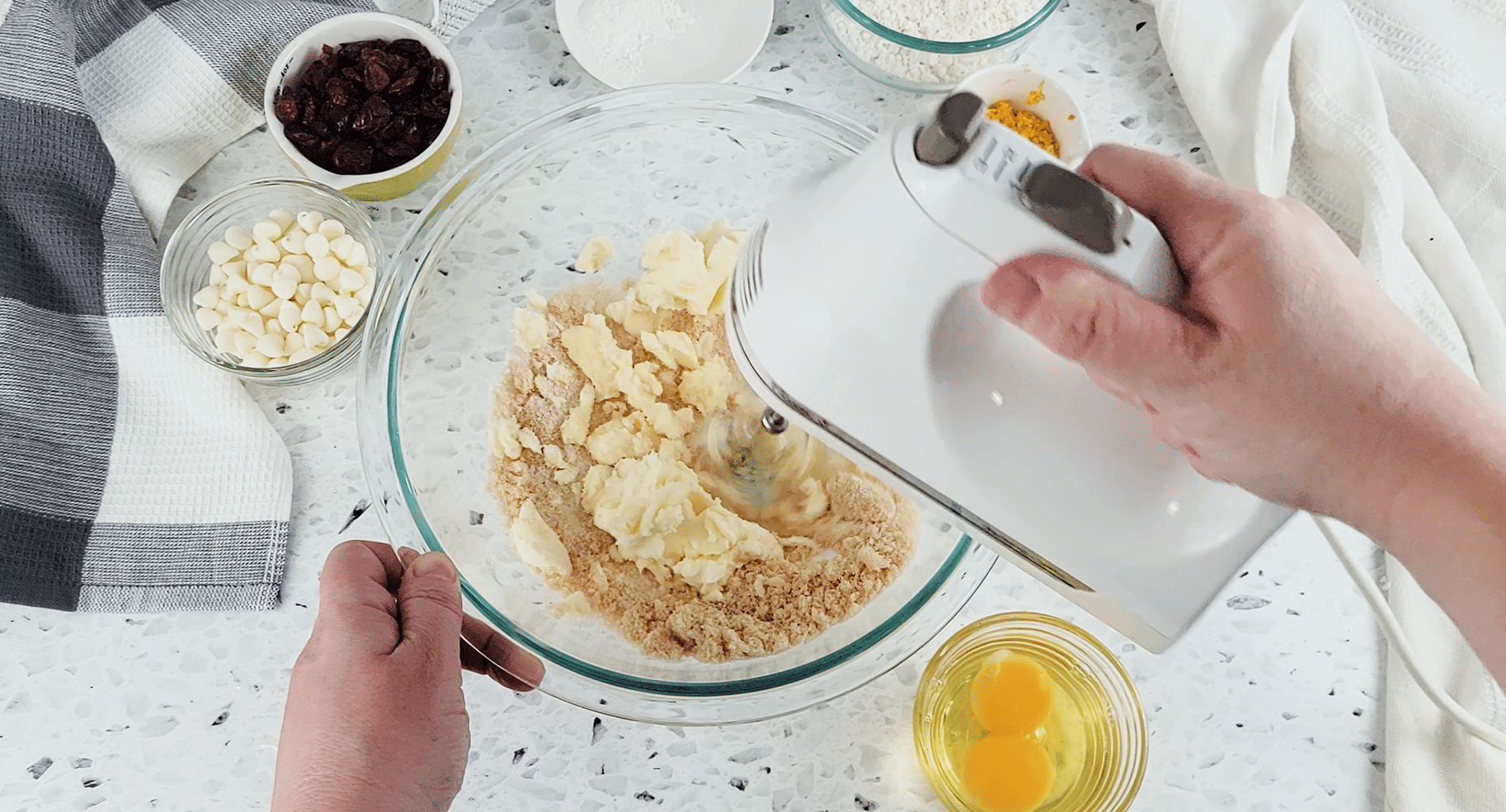 Step 2 Add eggs and vanilla Add your eggs to the butter mixture, one at a time and mix well. Pour in your vanilla and combine. Fold in the orange zest and do not overmix it.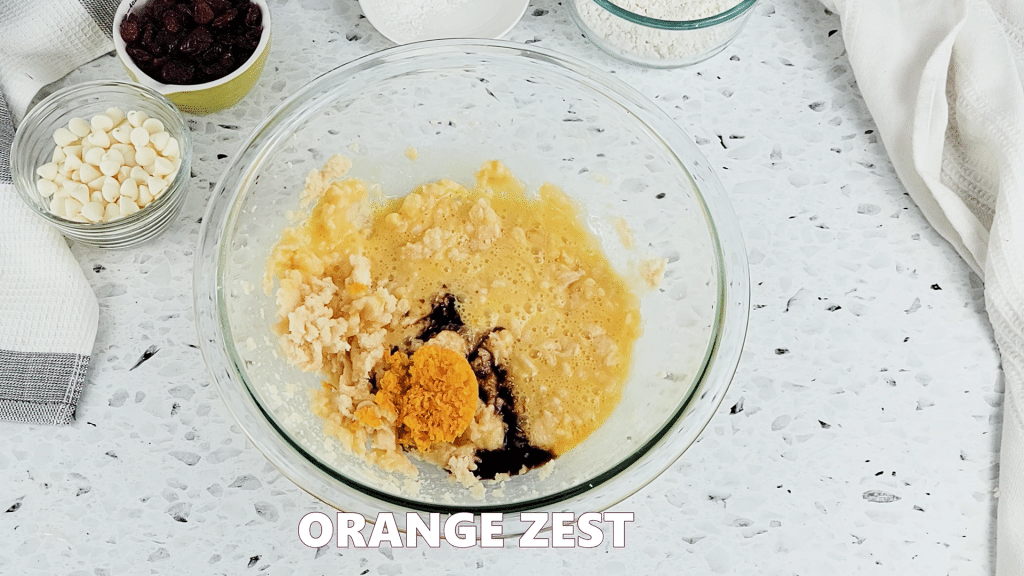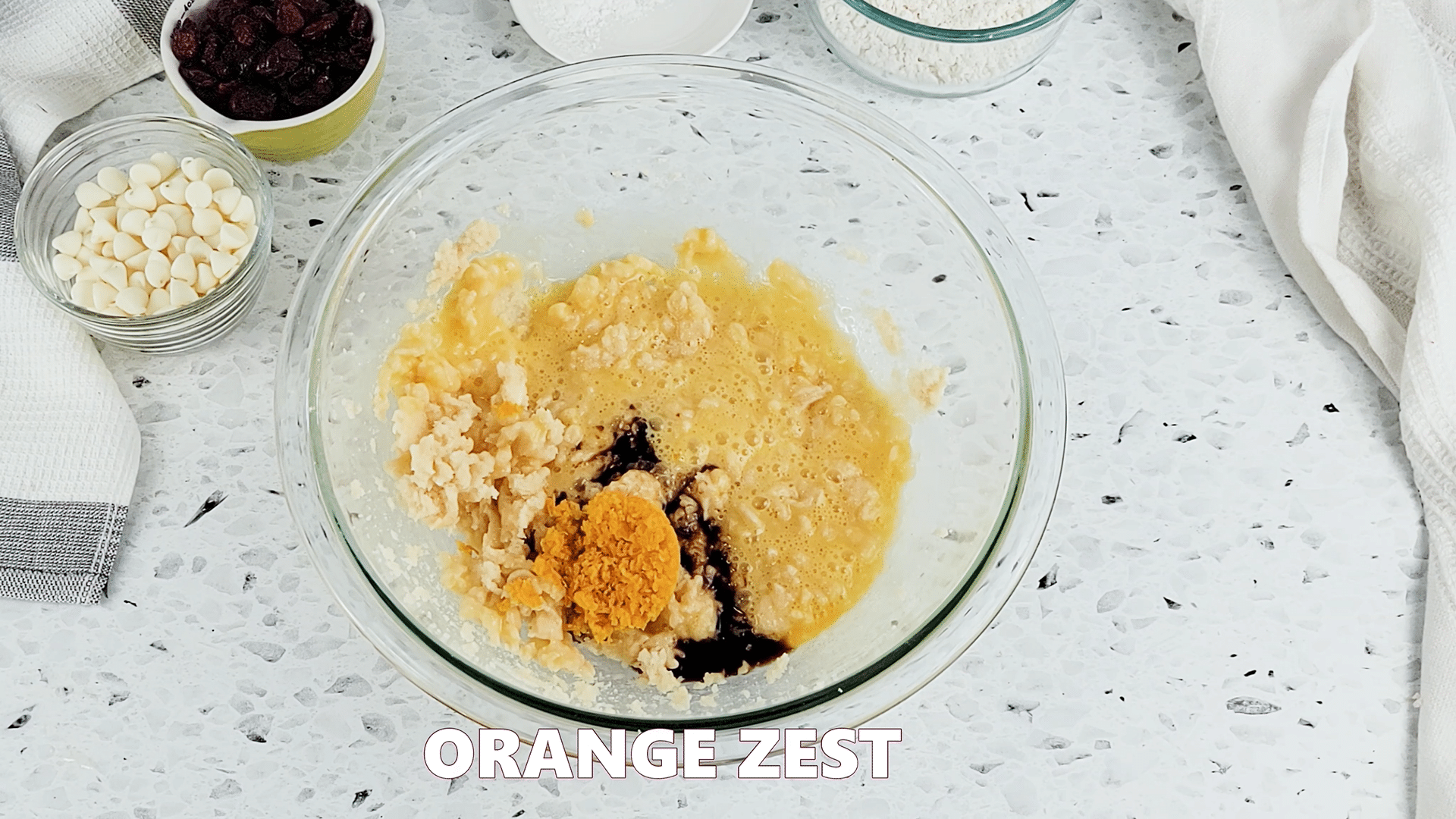 Step 3 Mix the flour and add-ins Add the flour and mix using the hand held mixer. Fold in the white chocolate chips and the cranberries. Again, do not overmix the ingredients.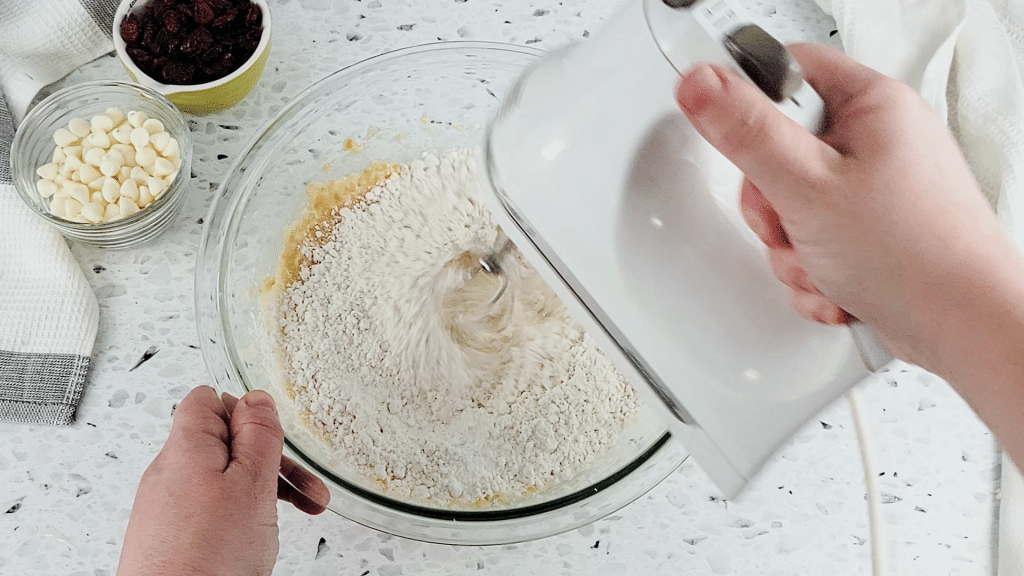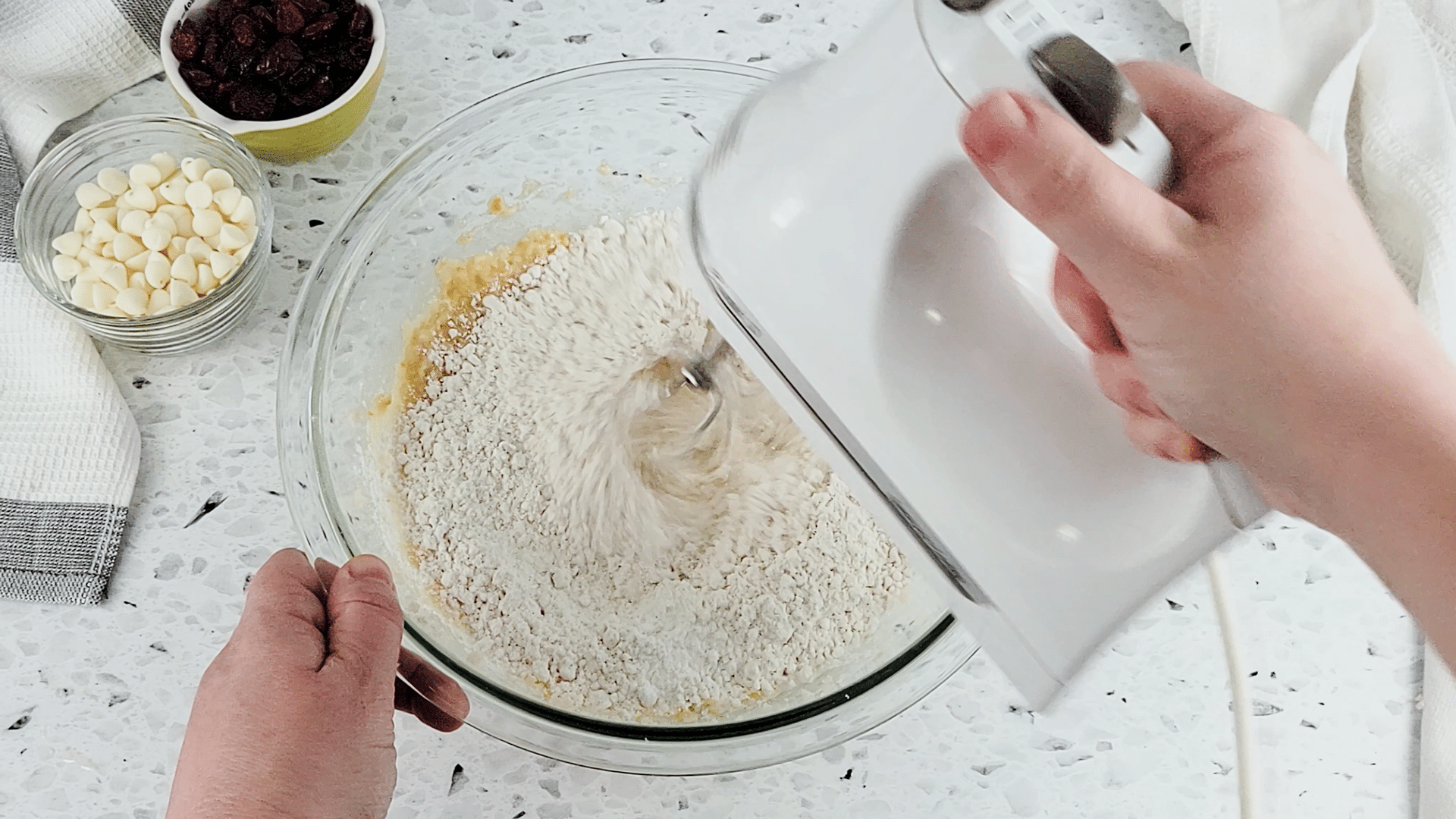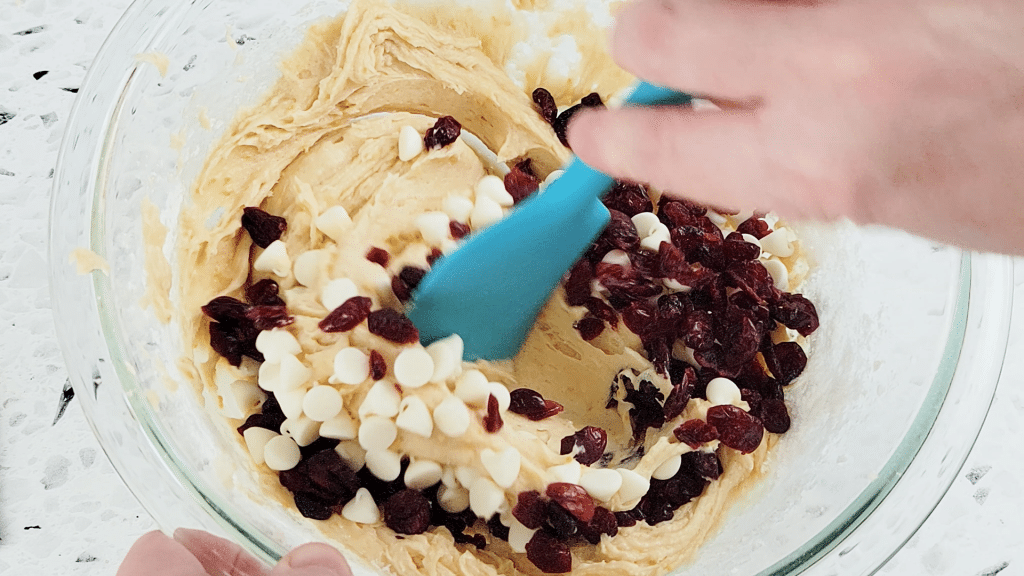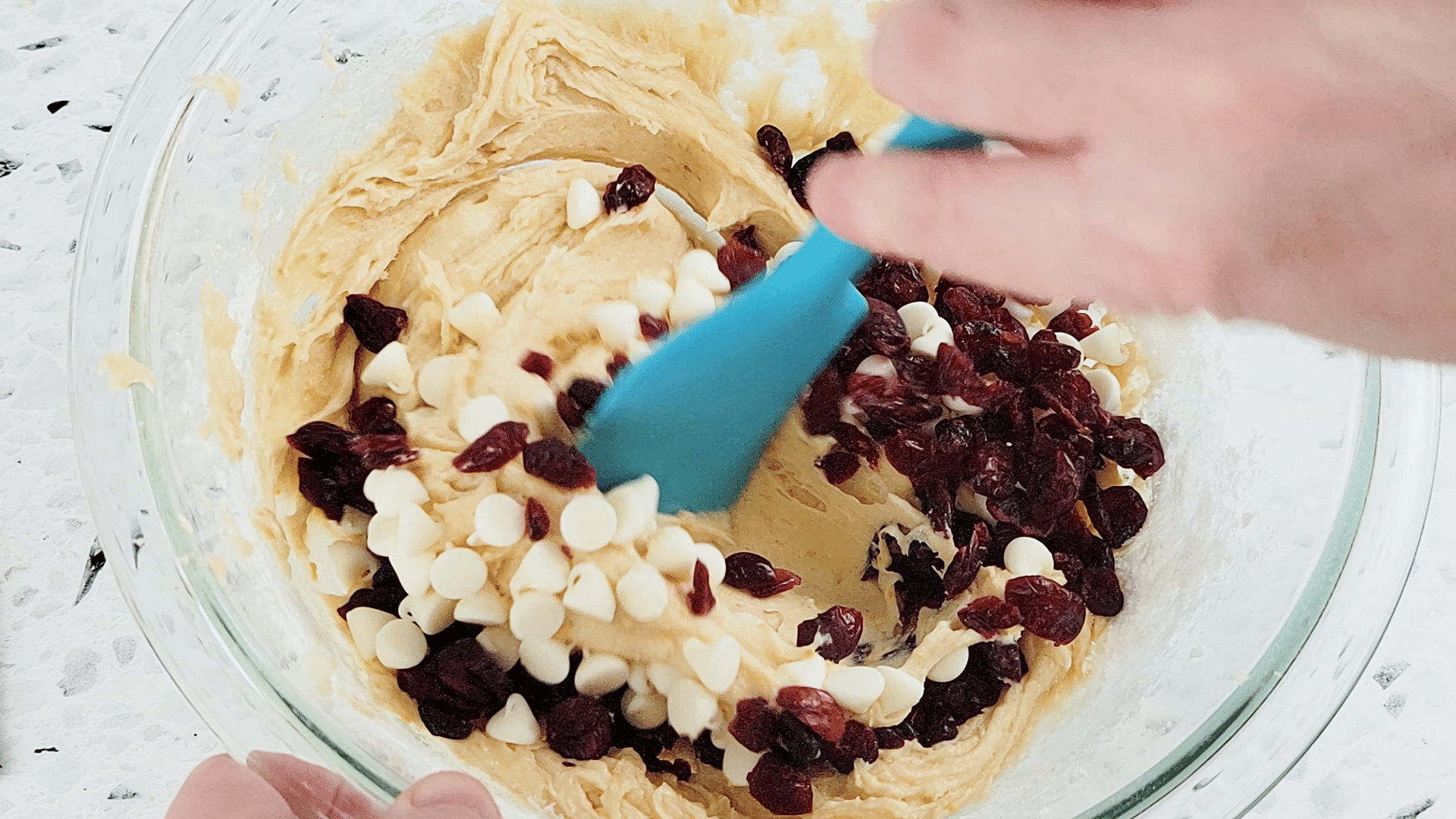 Step 4 Bake Pour the batter on a prepared baking sheet or a 9×13 baking dish. Spread the batter out evenly. Bake for 20-25 minutes or until the edges just start to brown and a toothpick comes out clean in the center.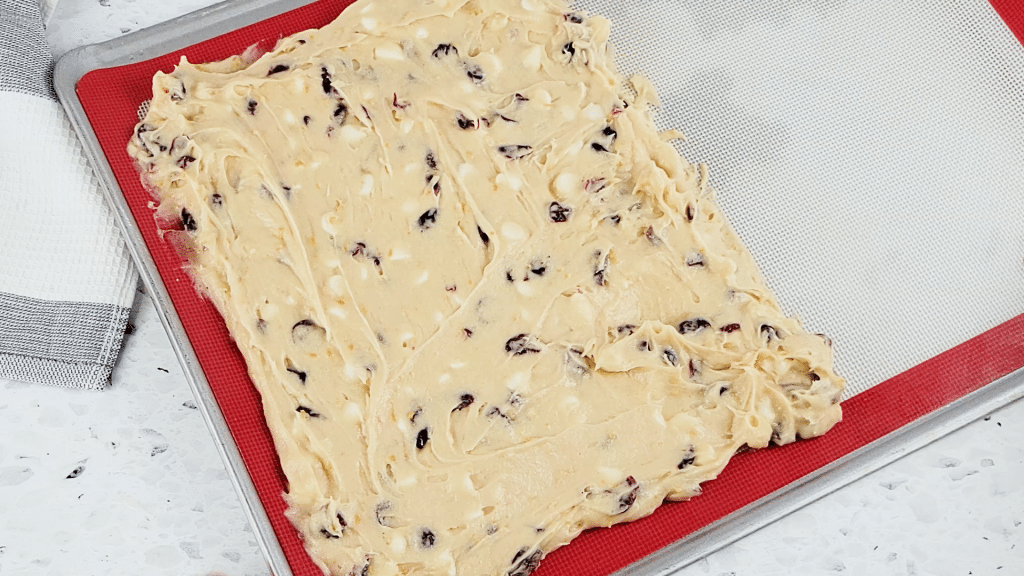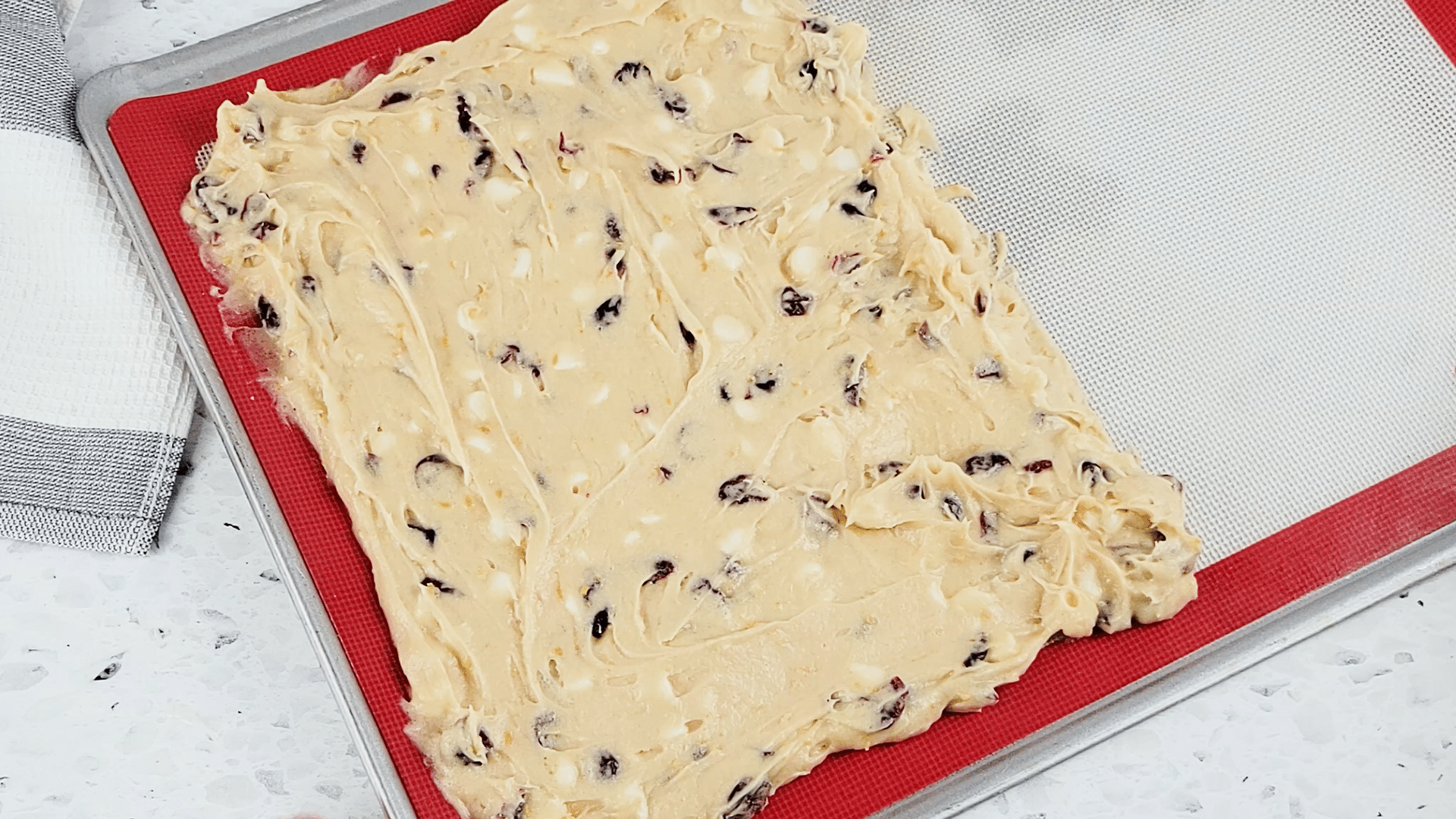 Step 5 Make the frosting While the bars are cooling, make the frosting. Combine the butter and cream cheese and beat until smooth. Add in the powdered sugar in parts followed by the vanilla extract and the milk.
Step 6 Frost the bars When the cranberry bars are completely cool, spread the cream cheese frosting over the top. A silicon spatula helps with spreading the frosting.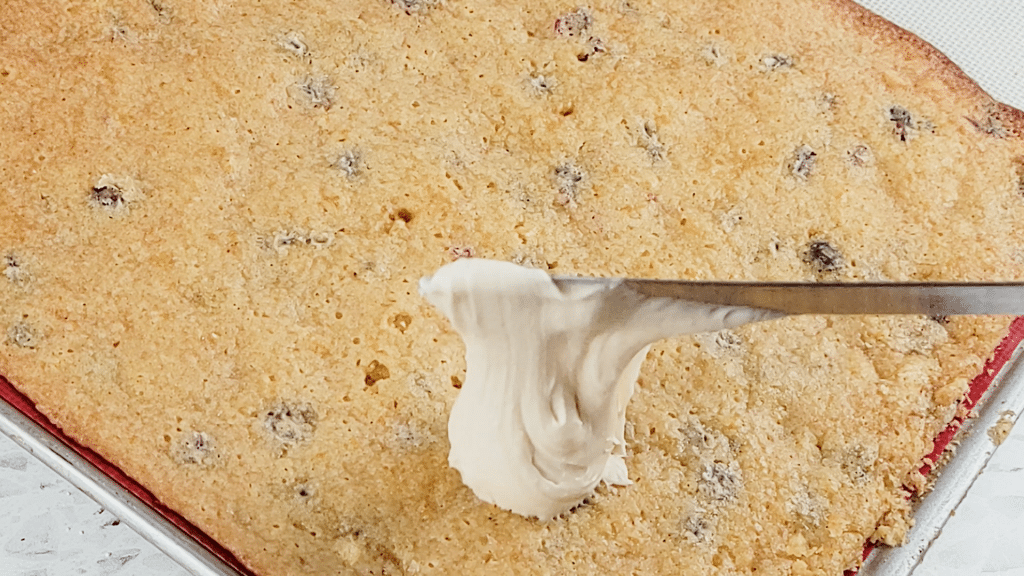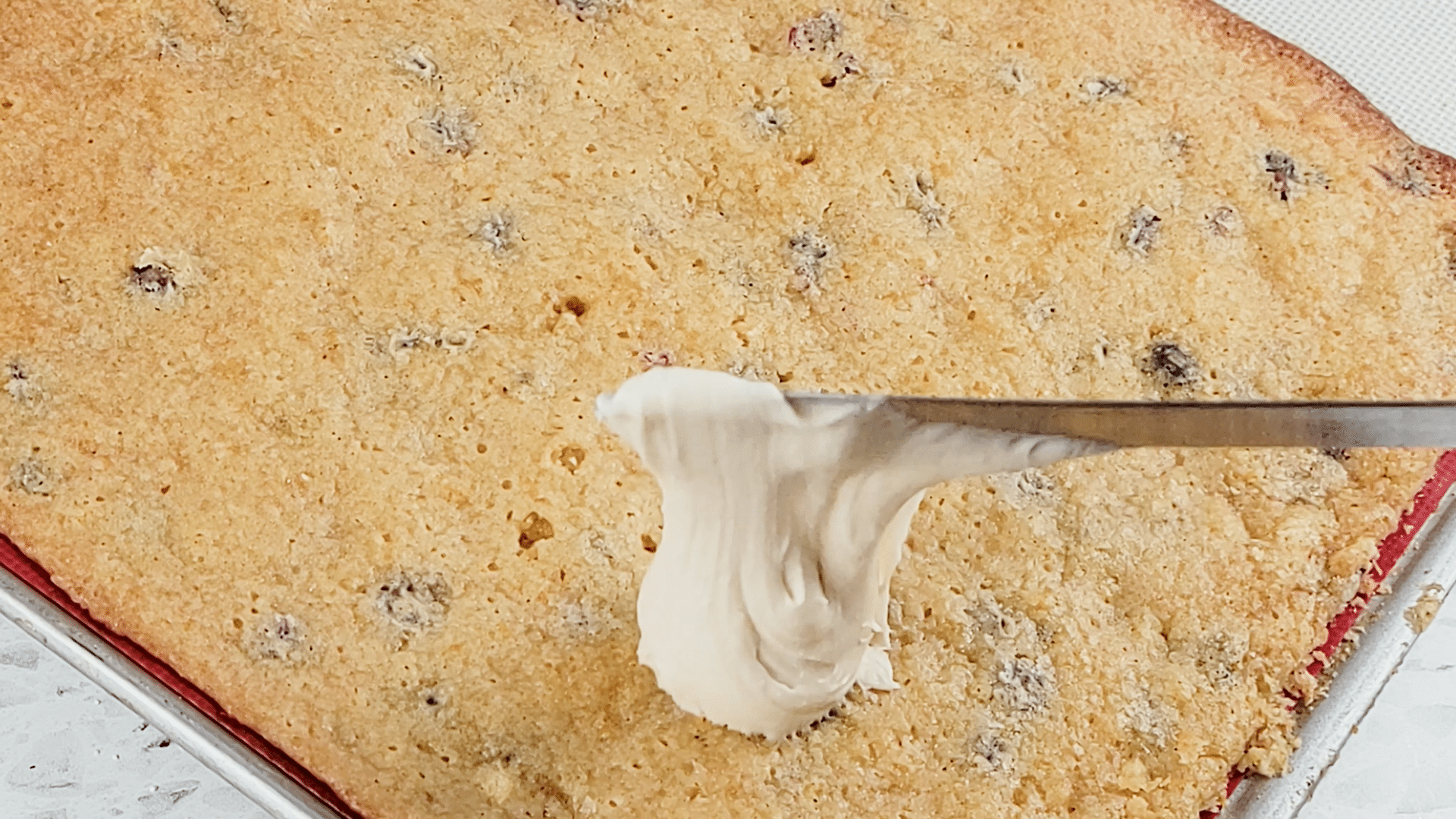 Step 7 Top the bars Sprinkle the extra cranberries and white chocolate chips into the frosting. Melt the remaining white chocolate chips in the microwave. Stir until smooth. Drizzle the white chocolate over the top of the bars and allow to cool in the fridge before cutting and serving.
How do you cut cranberry bliss bars?
You will want to cut the bars into triangles to make them the perfect copycat. Do this by making vertical cuts into the bars with a sharp knife. Then cut the bars horizontally to make squares. Finally, cut your squares in half diagonally to give them their classic triangle shape. 
Do Starbucks cranberry bliss bars need to be refrigerated?
Yes, these bars do need to be kept in the fridge. You need to place them in the fridge to help set the frosting and the melted chocolate. You also need to keep any leftovers in the fridge as well.
How many calories are in cranberry bliss bars?
According to the Starbucks website, one cranberry bliss bar is 290 calories. You can view the full nutritional value information on their website.
What other kind of pastries does Starbucks have?
I'm so glad you asked! Starbucks has a variety of other pastries on their menu, some seasonal and some are available year round. Some of my favorite pastries from Starbucks are: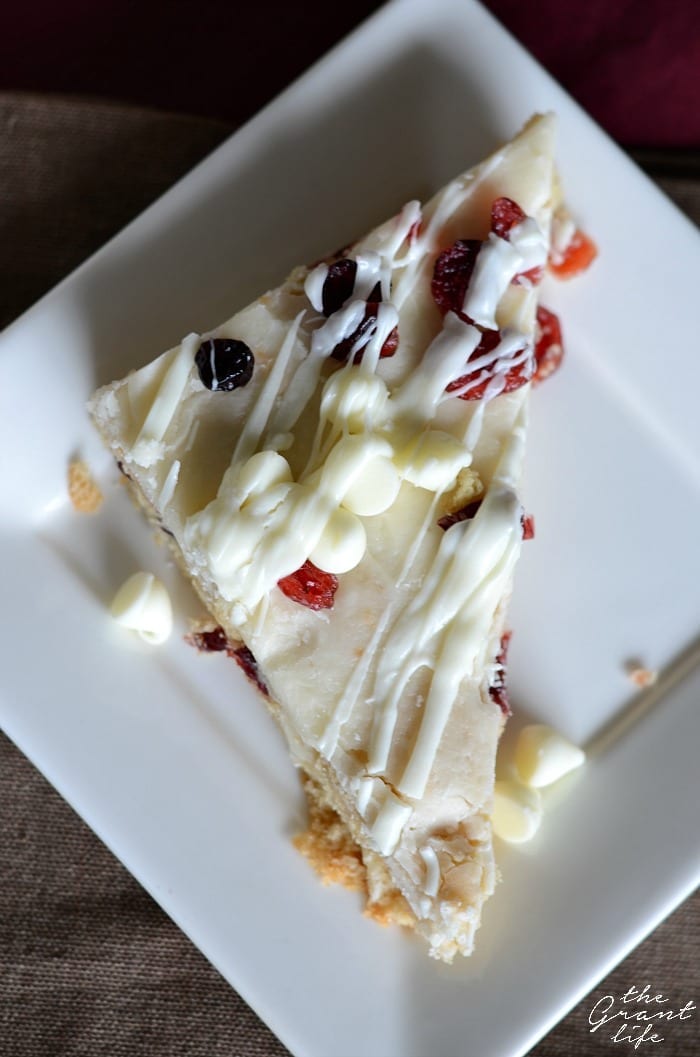 Tips and tricks
I made these cranberry bliss bars again this past week and they received mixed reviews from the kids.  They loved the white chocolate and the cream cheese frosting on the bars, but said what are those purple things momma?  They carefully picked those out and handed them to me. Kids are funny. To make these bars even easier follow my tips and tricks below.
Make sure your butter and cream cheese is softened before you start to make the bars and the frosting. You can leave it on the counter for 30 minutes before you start or soften it in the microwave, carefully!
Scrap down the sides of the bowl to fully incorporate all of your ingredients. A silicone spatula works great for this.
You can use a 9×13 baking dish or a baking sheet to bake the cookie bar base. The batter is thick enough that you can spread it out on a cookie sheet and bake it that way as well. A jelly roll pan works too!
If your frosting is too thick, add a bit more milk to thin it out. If it's too thin, add more powdered sugar. You want it to be thick but spreadable.
How to store leftovers
You need to store leftover cranberry bliss bars in an airtight container in the fridge. This will keep the bars and the frosting fresh. They will keep for 3-4 days in the fridge.
Can cranberry bliss bars be frozen?
Yes! These copycat Starbucks bliss bars can be frozen pretty easily. Make the recipe according to the directions and slice them as well. Wrap the bars in parchment paper and place in a Ziplock bag in the freezer. They will stay fresh in the freezer for up to 3 months. Allow the thaw in the fridge before enjoying later.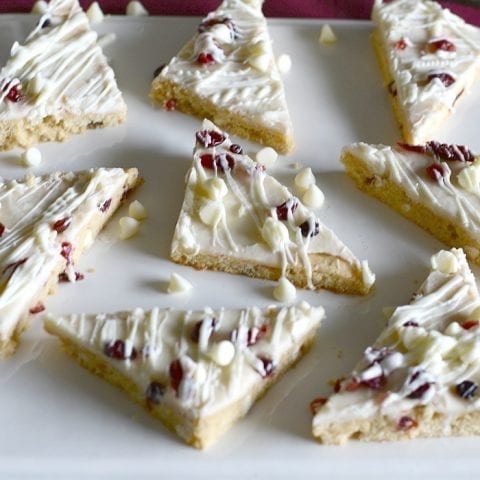 Cranberry bliss bars
Ingredients
Bars:
1 stick of butter, softened
1/2 cup brown sugar
1/2 cup sugar
2 eggs
1 teaspoon vanilla extract
2 tablespoon fresh orange zest
1 cup of flour
1 teaspoon baking powder
1/2 cup dried cranberries
1/2 cup white chocolate chips
Frosting:
2 ounces cream cheese, softened
1 1/2 tablespoon of butter, softened
1 1/2 cups powdered sugar
1 teaspoon vanilla extract
Drizzle:
1/4 cup white chocolate chips
additional dried cranberries and white chocolate chips
additional orange zest
Instructions
Preheat the oven to 350 and line a cookie sheet with a silicone baking liner.
Cream together the butter and two sugars until light and fluffy.
Add in the eggs, vanilla extract and orange zest. Mix to incorporate but don't over mix ingredients.
Mix in the flour, cranberries and white chocolate chips.
Pour the batter onto your prepared cookie sheet. Spread out evenly. (Mine took up about half of a large cookie sheet.)
Bake for 20-25 minutes or until a toothpick comes out clean in the center and the edges are JUST starting to brown. You don't want to over bake the bars.
Remove from oven and allow to cool completely.
For the frosting - mix together the cream cheese and butter until combined. Add in the powdered sugar and vanilla extract. If too thick to spread add a tablespoon of milk to thin.
Spread over cooled bars and top with the additional cranberries and white chocolate chips.
For the drizzle - melt the white chocolate chips in the microwave in 15 second intervals. Drizzle the melted chocolate over the top of the bars and garnish with additional orange zest.
Allow the white chocolate to harden before cutting.
Enjoy!
Starbucks copycat drinks to try
These bars are great on their own, but why not pair them with an easy DIY coffee drink? I recommend trying:
Did you make these cranberry bliss bars? I'd love for you to leave a rating in the recipe card above or the comments below.
Want to make them later? Pin the image below to your favorite dessert board! Either way, THANK YOU for the support!