Pumpkin lactation bites are a delicious no bake treat that is full of milk making ingredients. They are great for nursing moms but also make easy snacks for the whole family. Get into the fall spirit with these easy pumpkin flavored lactation cookie bites!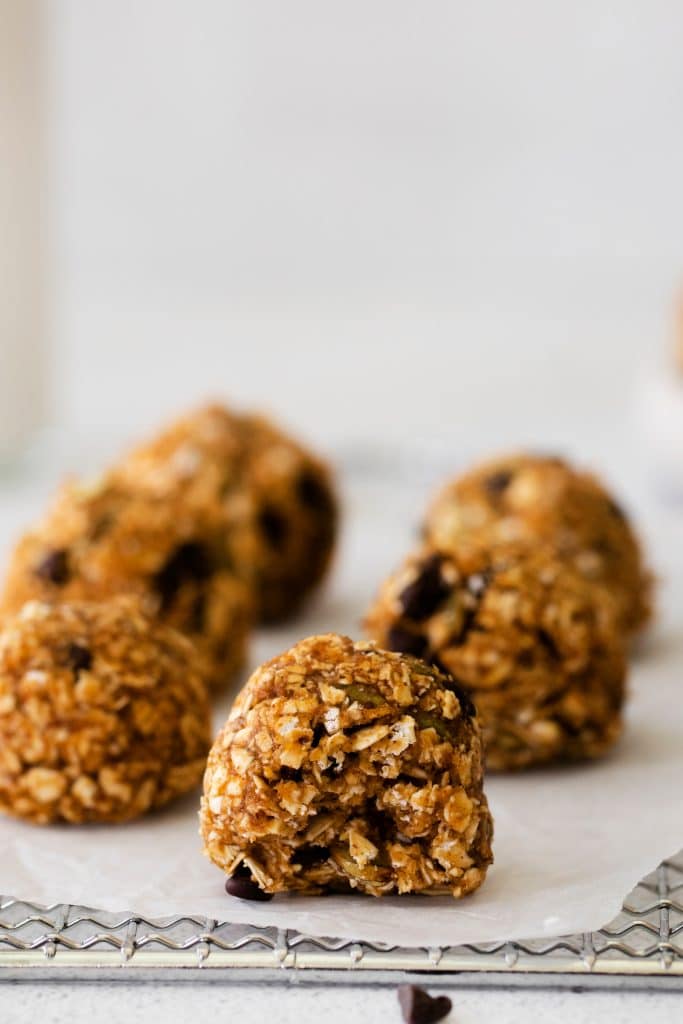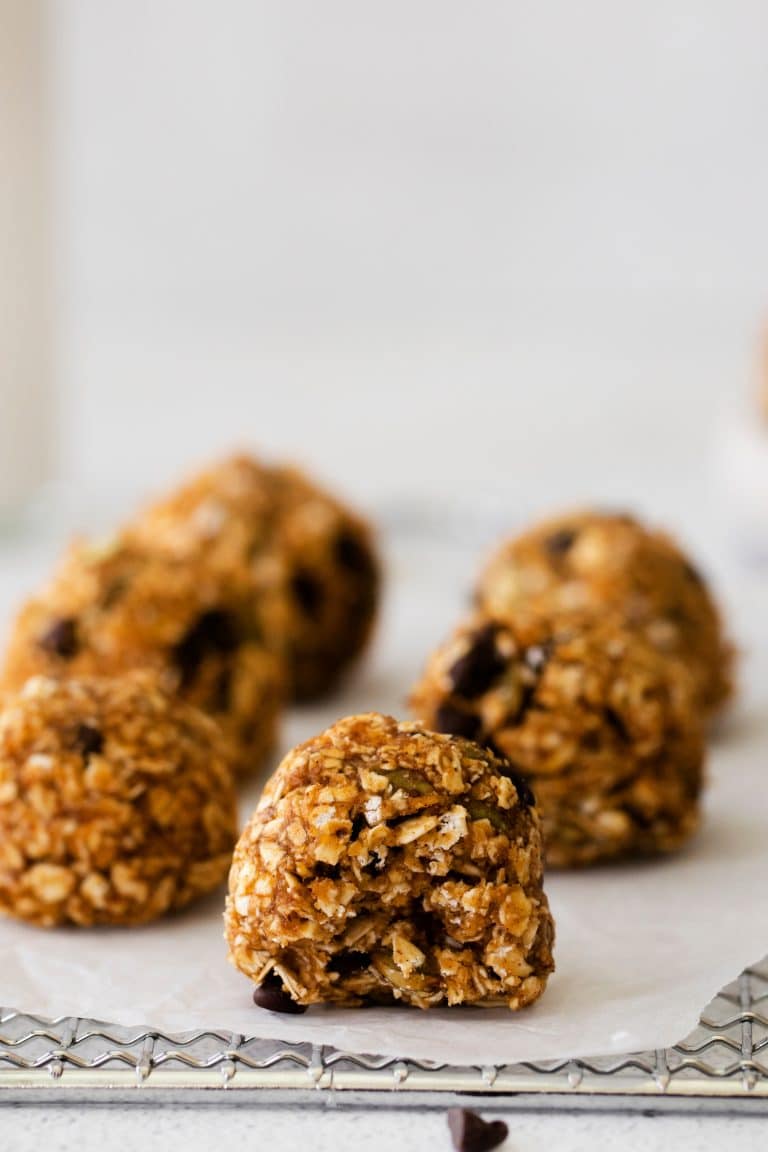 I think that there are 2 official signs of fall. The first is when Starbucks decides to release their fall menu at the end of August. That first sip of a pumpkin spice latte is the true sign that it's fall. The second is when it's "officially" fall according to the calendar. I go with the Starbucks schedule instead of the calendar.
Shortly after I had a pumpkin drink from the 'bucks, I decided my lactation bites needed some fall flavor. My classic lactation bites are good, but these fall inspired pumpkin ones are even better!
What are pumpkin lactation bites?
Lactation bites are a healthy snack for nursing moms that can help increase their milk supply. They are packed with milk boosting ingredients, such as oats, flax and brewers yeast. All of the ingredients combine to create a no bake treat that is packed with necessary nutrients for new moms.
Even though they are called lactation bites, they are a healthy treat for the whole family. They are great in lunch boxes or for after school snacks. The same ingredients that help with lactation are also great for boosting energy for everyone. This pumpkin version takes a classic lactation cookie bite and adds some fall flavors. Lactation bites but make it fall.
Pumpkin lactation bite ingredients
The great thing about these lactation treats is that they are full of good-for-you ingredients, not only for new moms, but for everyone! These things are so good that the whole family will be snacking on them! To make these no bake lactation bites you will need:
peanut butter
honey
pumpkin puree
oats
pumpkin pie spice
chocolate chips
pumpkin seeds
flax seed
brewers yeast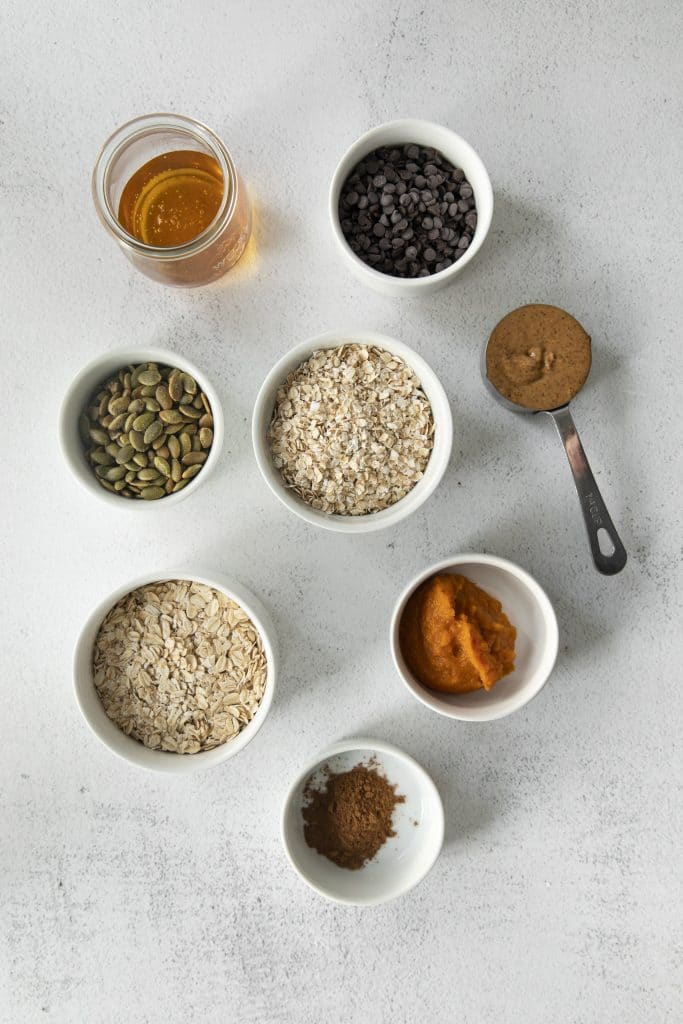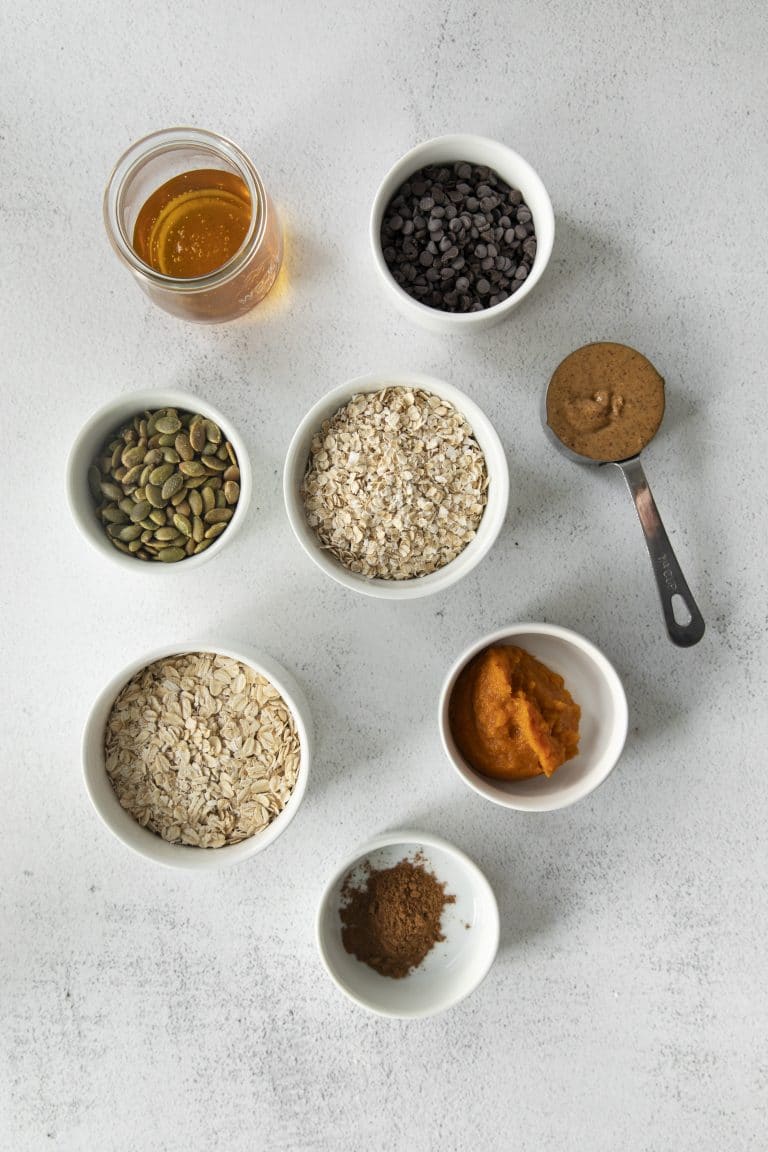 Peanut butter – You will want to use an unsweetened, creamy peanut butter for this recipe. The peanut butter acts as a binder along with the honey.
Honey – This will provide the sweetness to the pumpkin lactation bites. Any honey will work, but I always suggest getting local honey when possible.
Pumpkin puree – This can be found in the baking aisle. You only need 1/4 cup of this recipe, so I suggest saving the rest for other recipes that need pumpkin puree. I suggest trying my homemade pumpkin sauce or pumpkin cider!
Oats – Note you will need rolled oats and quick cook oats for this recipe.
Pumpkin pie spice – Make your own batch of homemade pumpkin pie spice and have it on hand for all your fall baking needs. Don't want to make it? Grab a jar of it in the baking aisle!
Chocolate chips – Use your favorite chocolate chips in this recipe. Note from my lactation consultant – The higher the cacao content in the chocolate, the better it is for nursing moms. I always try to use dark chocolate, but feel free to use whatever you like.
Pumpkin seeds – These give the pumpkin bites a great crunch!
The following ingredients are what help increase milk production in nursing moms. The ingredients are healthy for anyone, but have a positive effort on milk supply. If you aren't worry about lactation, feel free to omit them.
Flax seed – Ground flax seed mixes well into these pumpkin lactation bites. It has a slightly earthy taste on it's own, but that is masked thanks to the honey, peanut butter and pumpkin.
Brewers yeast – You can find Brewers yeast at vitamin stores or on Amazon. It is one of the best ingredients to use to help with milk supply.
How to make fall lactation bites
One of the things that I love about these bites, is that they are no bake and super easy to make. Once you have gathered all your ingredients, you will also need to grab:
a food processor
large mixing bowl
silicone spatula
measuring cups and spoons
Step 1 Mix together the peanut butter, honey, pumpkin puree, rolled oats, and pumpkin pie spice in your food processor. You will want to pulse it on high a few times until everything is smooth and well combined.
Step 2 Add the dry ingredients Transfer the wet ingredients from the food processor to your large mixing bowl and combine it with the quick cooking oats, mini chocolate chips, and pumpkin seeds. Using your silicone spatula, stir to combine everything together.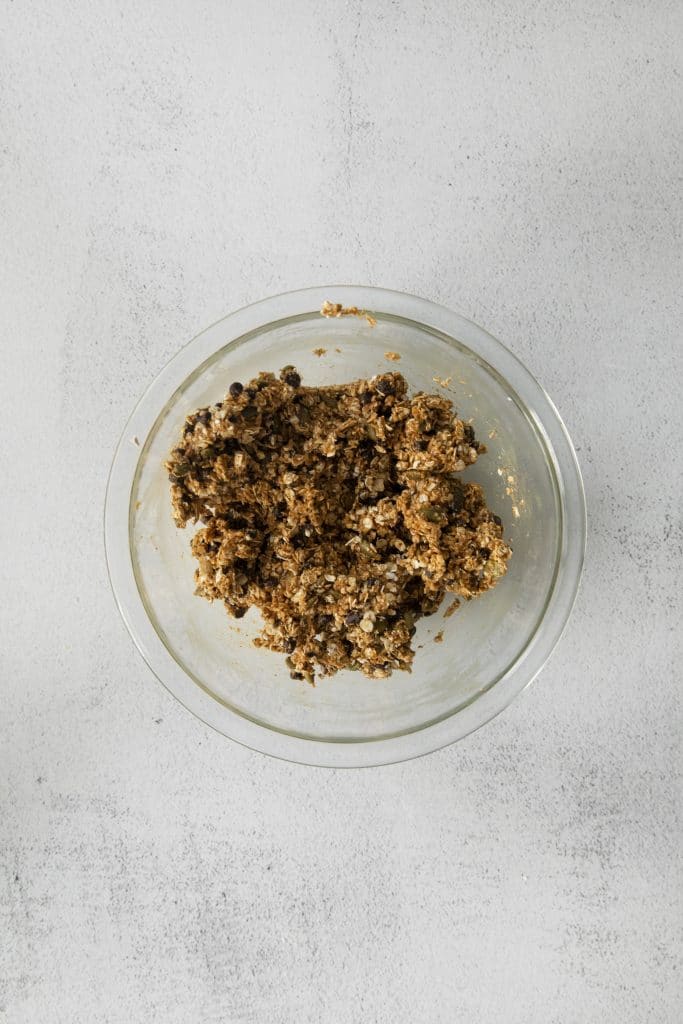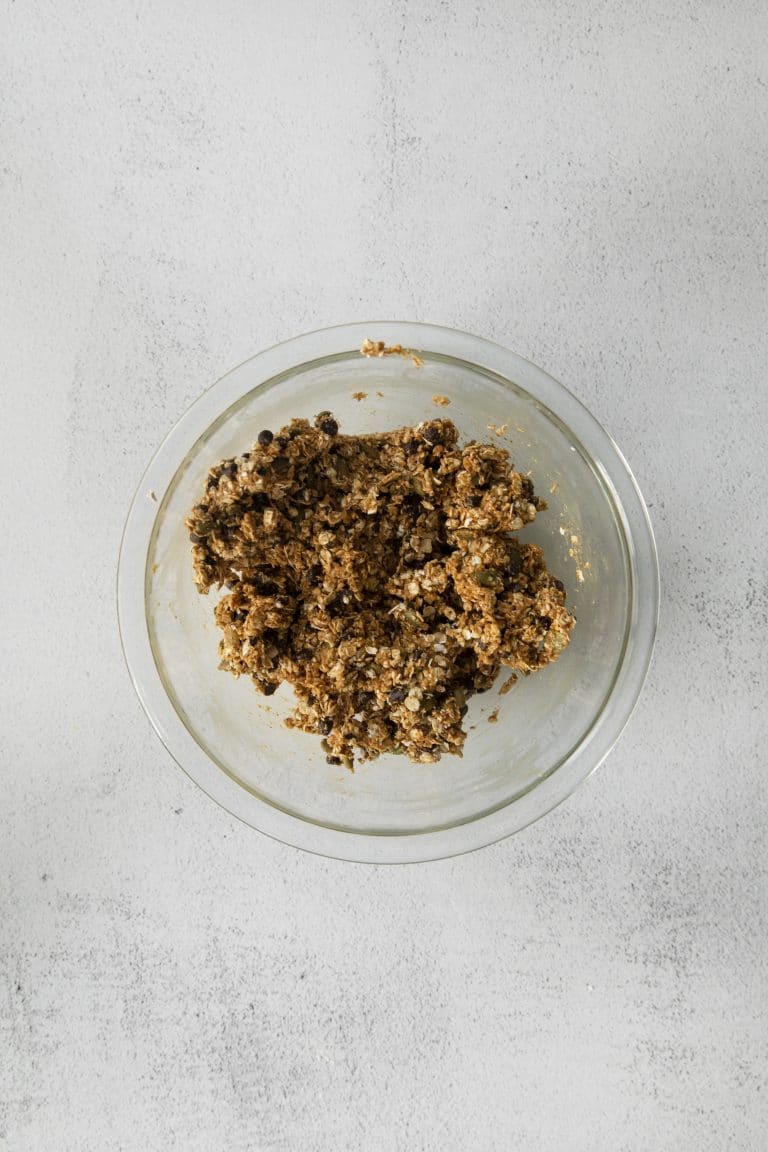 Step 3 Form the bites Grab about a tablespoon of the "dough" and roll it in your hand to form a ball. You will want to press it together in your palm so that the pumpkin pie bite doesn't fall apart. Place on a parchment paper lined baking tray and then in the fridge to harden.
How many lactation cookies should you eat in a day?
I suggest eating 2-3 lactation bites a day. The great thing about these lactation bites is that they are full of good for you ingredients, regardless of if you're nursing or not. Lactation bites are a great way to help increase your milk supply, but diet, water and proper latch also play a huge role. I have a post full of breastfeeding tips that goes into more detail.
How long does it take for lactation cookie bites to work?
How long it takes for lactation cookies to work depends on the person. Some people are able to see results the same day while it may take a day or two for others. Don't stress! As long as you are drinking plenty of water and listening to baby, you will do great. The lactation bites are an added milky bonus.
What drinks help with lactation?
There are a ton of drinks that will help with lactation. The key though, is to stay hydrated! Water is always a good choice but some other drinks that will help with milk supply are:
coconut milk
Body Armour
lactation smoothies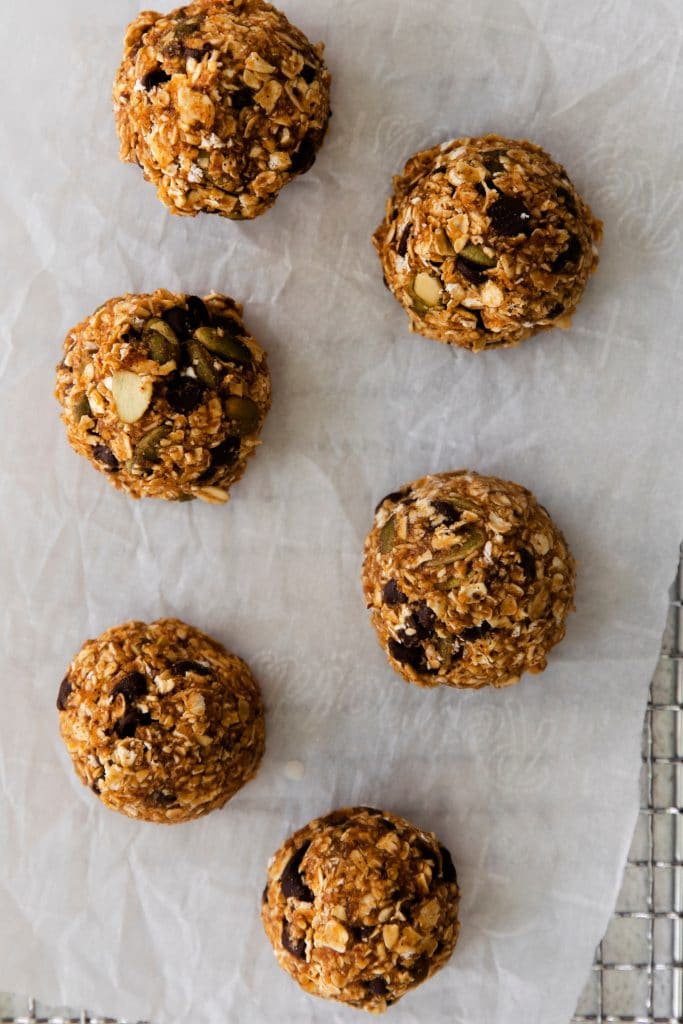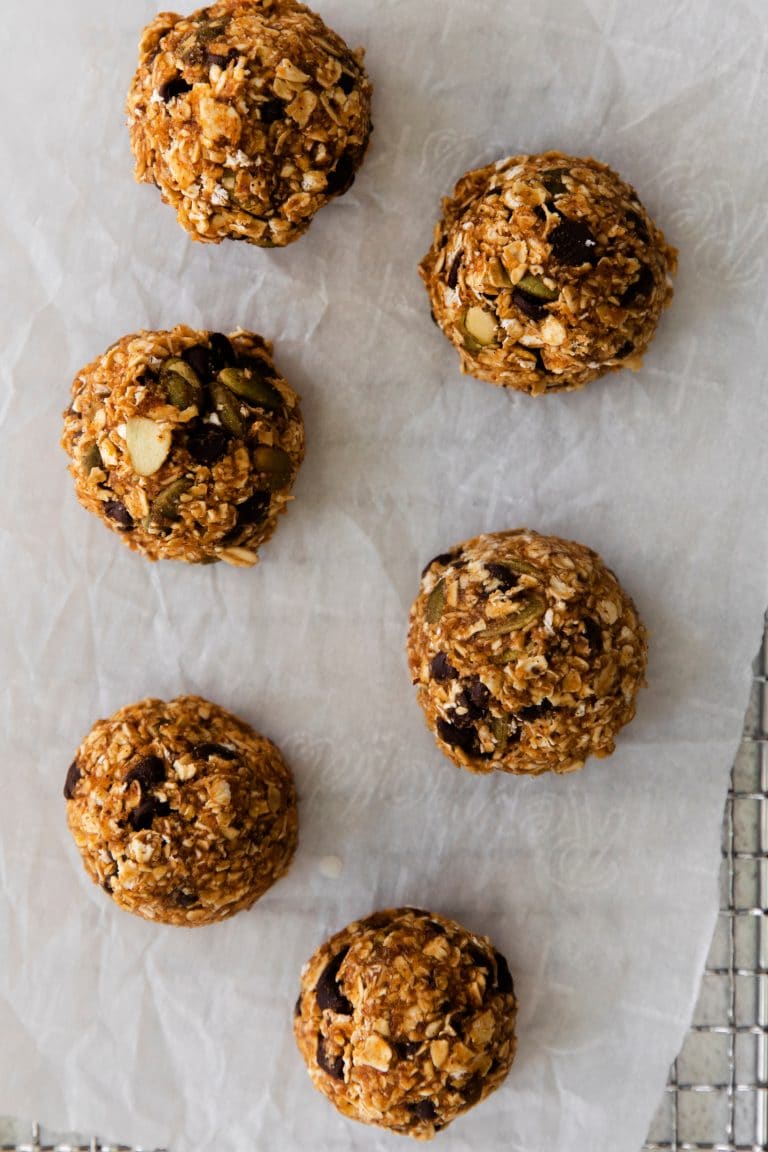 Tips and tricks
The lactation bites are pretty simple to make, but I wanted to provide a few more tips to help you get the best results possible.
Feel free to use crunchy peanut butter if you'd like a little more crunch.
Pulse until all of your ingredients until they are smooth.
You can use a tablespoon scoop to get evenly size bites.
If you use your hands, coat them in olive oil before shaping the lactation bites.
How to store lactation bites
You will want to store your lactation bites in the fridge to keep them fresh. Place them in a Ziplock bag or Tupperware with a lid. They will stay fresh for up to a week in the fridge.
Can I freeze lactation bites?
You absolutely can! Place the finished bites directly in the freezer on the cookie sheet. Allow them to flash freeze for 1-2 hours. Remove them from the baking tray and put them in a plastic bag. Remove the air and place the bag with the frozen lactation bites in the freezer.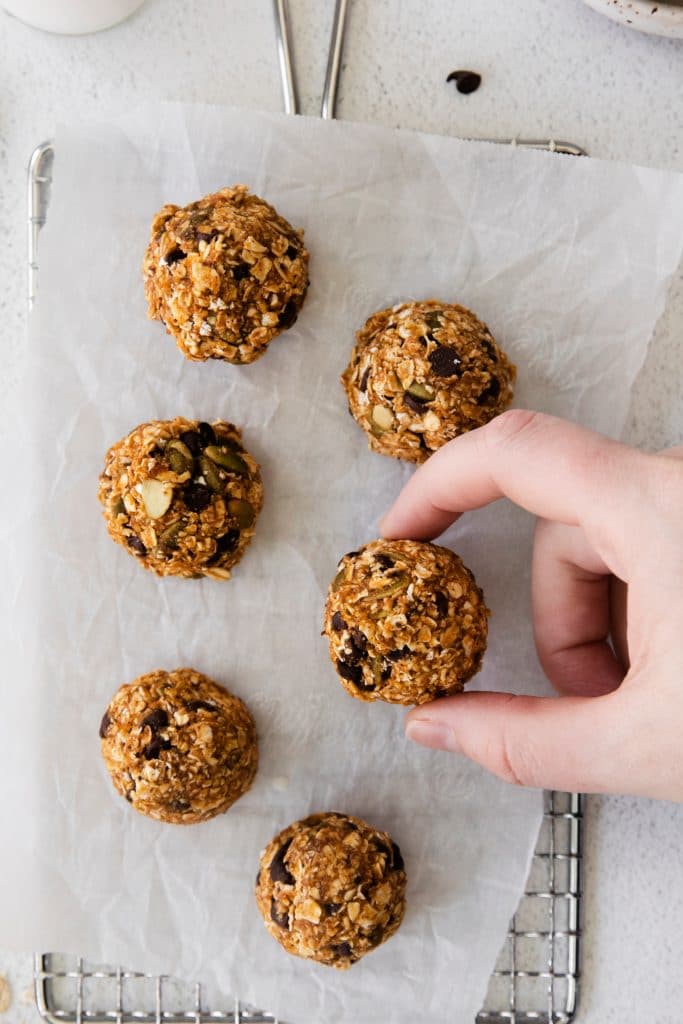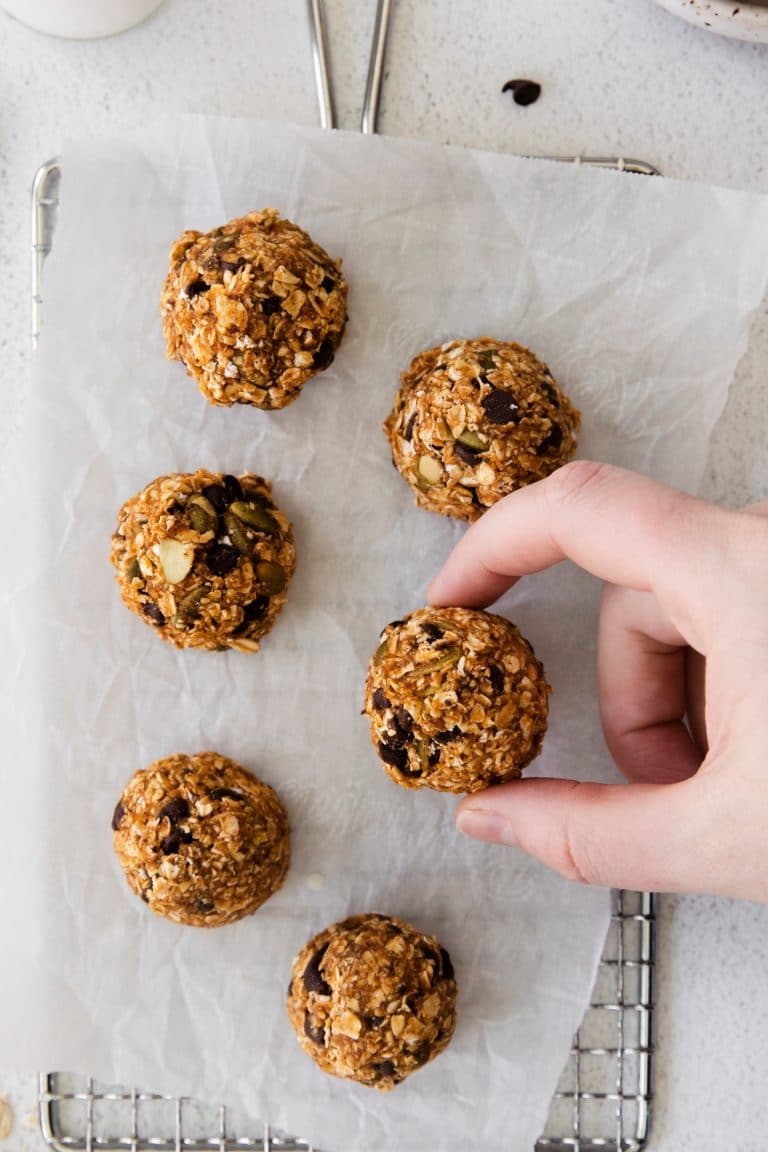 Can I make lactation bites in advance?
Yup! You sure can! The great thing about lactation bites is that you can make them in advance and store them in the freezer until you need them. I have made a batch of lactation bites during my final trimester to have on hand for after baby is born. They are a great snack and help get supply going those first few days.
Lactation bites are great, but sometimes you want to switch it up a bit. Some other great lactation recipes to try are: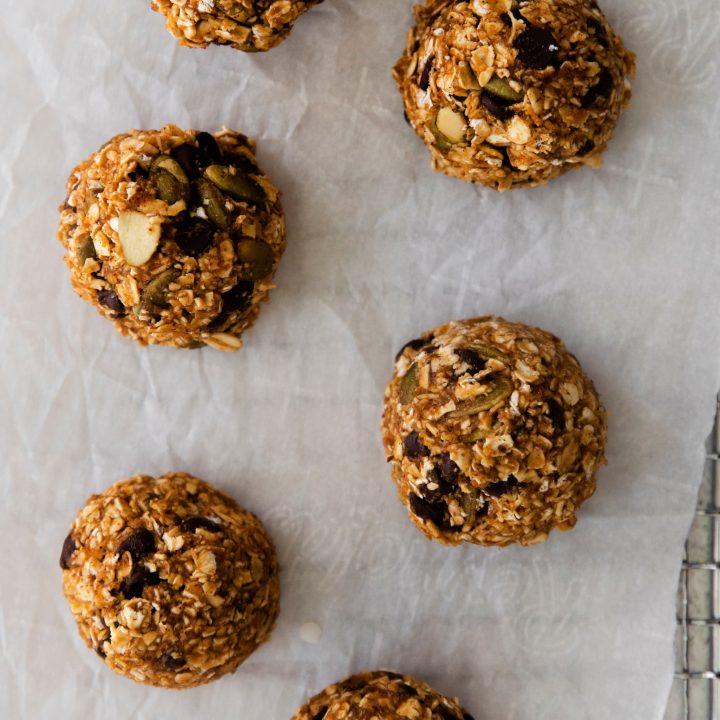 Pumpkin lactation bites
Make a milk boosting treat that is perfect for fall!
Ingredients
¼ cup all natural creamy peanut butter
¼ cup honey
¼ cup pumpkin puree
¾ cup rolled oats
1 teaspoon pumpkin pie spice
¾ cup quick cook oats
¼ cup mini chocolate chips
2 tablespoons roasted salted pumpkin seeds
¼ cup ground flax seed
2 tablespoons Brewers yeast
Instructions
1. Add the peanut butter, honey, pumpkin puree, rolled oats, and pumpkin pie spice to a food processor. Pulse on high speed until the mixture is smooth and fully combined.
2. Transfer the wet ingredients to a large bowl and add the quick cooking oats, mini chocolate chips, pumpkin seeds, ground flax and Brewers yeast. Stir to combine.
3. Scoop out 1 tablespoon sized balls onto a parchment lined baking sheet and roll them into smooth balls.
4. Transfer the oat balls to the fridge and chill them until they are full set-- about 1 hour.
Did you make this recipe? I'd love for you to leave a review in the recipe card above or the comments below.
Want to make it later? Pin the image below to your favorite food board!
Either way – THANK YOU for the support!