This homemade pumpkin syrup is like fall in a jar!  Put it over pancakes, brownies or anything you'd like! It's easy to make and you only need 4 common ingredients to make the best pumpkin sauce ever.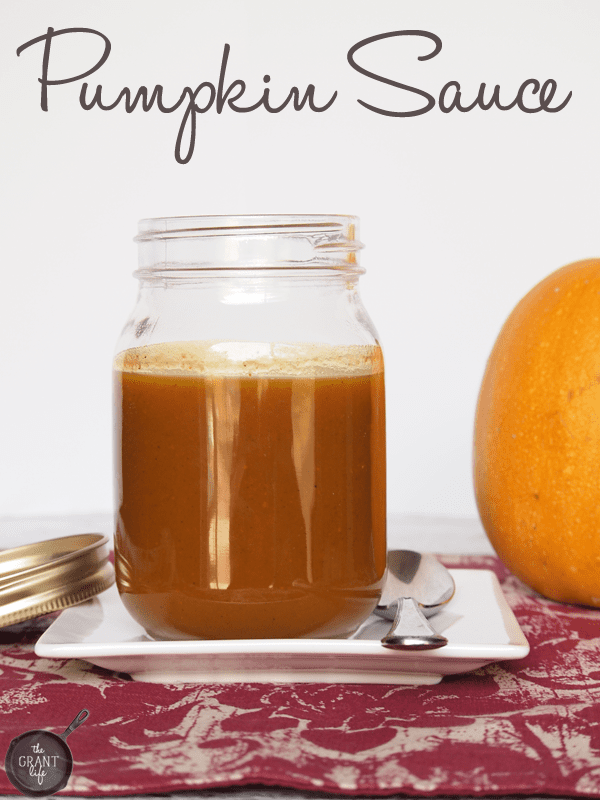 Oh hey, pumpkin. It's the time of year where food turns from normal flavors to pumpkin spice everything. Pumpkin spice latte, pumpkin pancakes, pumpkin brownies, pumpkin cake. Pumpkin, pumpkin, pumpkin.
To be clear – I am NOT complaining. I am merely stating a fact that this time of year everything turns to the pumpkin side.
Pumpkin Syrup or Sauce
No let's talk about one of the best pumpkin spice recipes – pumpkin syrup. Or pumpkin sauce. I originally coined this pumpkin sauce but realized later that it really is more like a syrup.
Especially since I use it as a pumpkin simple syrup in my coffee most mornings after I make a batch.
The good thing is that you can call it whatever you like and put it literally on whatever you like.
I've used this pumpkin syrup on pancakes, in my coffee and even on top of ice cream. I've even snuck a quick spoonful of just the sauce one afternoon.
It's delicious and super easy to make.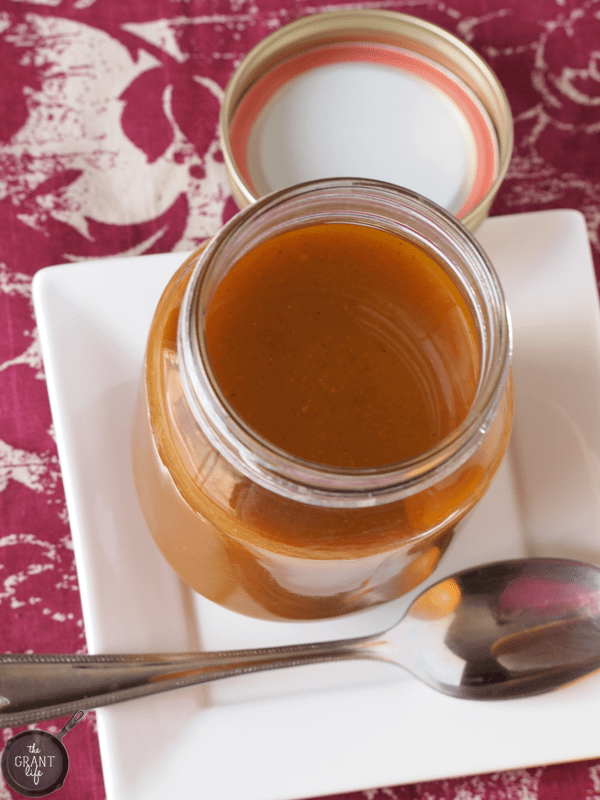 Pumpkin Syrup Ingredients
One of the best things about this easy pumpkin sauce is how simple the ingredient list is. You should be able to get everything at your local grocery store.
(I say should because the second I say you ABSOLUTELY can find everything you need, someone will say they couldn't find it. It's like Murphy's Law of grocery shopping.)
To make this homemade pumpkin syrup you will need:
pumpkin puree
sugar
water
pumpkin pie spice
No, seriously. That's all you need. If you have ever made simple syrup, this is similar, just pumpkin flavored.
To start, you can find the pumpkin puree in the baking aisle at the grocery store. Grab your favorite can and you are good to go.
You can either buy pumpkin pie spice or try your hand at homemade pumpkin spice. I love making homemade because I can make a big batch and have it all pumpkin season long.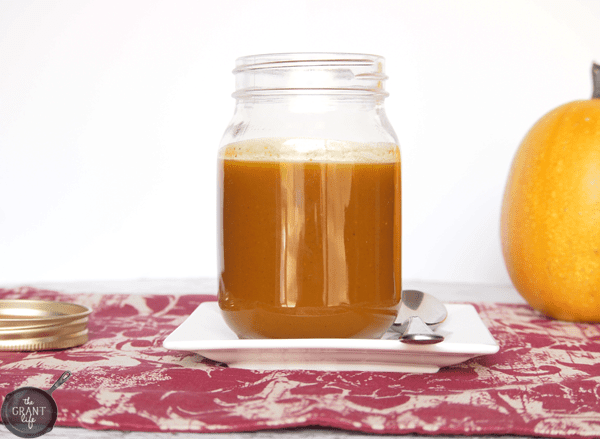 How to Make Pumpkin Syrup
Once you have all your ingredients, you will also need to grab a medium pot, whisk and measuring cup.
Pour the water and the sugar in the pot over medium heat. Bring to a boil and allow the sugar to dissolve. You can use the whisk to stir every so often.
Add in the pumpkin puree and whisk to combine. You may have to whisk it vigorously to combine until smooth-ish. I used a blender to make mine smoother and more syrup like when it cools down. You can do this or just whisk it as smooth as possible.
Mix in your pumpkin pie spice, remove from heat and allow to cool completely.
You can blend it smooth after it's cooled or use it as is. Either way, store in an airtight container such as a mason jar. It will keep in the fridge for about 2 week.
What to use pumpkin syrup with/on
Pumpkin syrup (or sauce) goes great on or in:
vanilla ice cream
buttermilk biscuits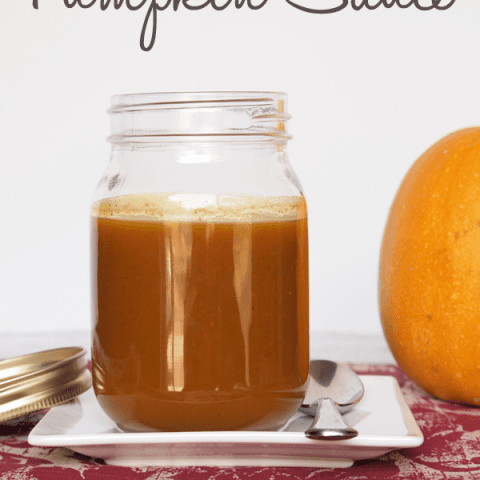 Pumpkin Sauce
Ingredients
1 cup pumpkin puree
1/2 cup sugar
1 cup water
1/2 - 2 tablespoons of pumpkin pie spice
Instructions
Combine the sugar and water in a small saucepan on the stove.
Allow the sugar to dissolve then add the pumpkin puree and the spice.
Let boil for about 5 minutes. If too thick, add a few tablespoons of water to thin a bit.
Remove from heat, place in a resealable jar and enjoy!
Notes
Should be stored in the fridge.
Also, I mashed my puree when it was in the pot but there was pumpkin chunks so I tossed it in a food processor. Pulse for a few seconds and it should be smooth!
Nutrition Information:
Amount Per Serving:
Calories:

494
Sodium:

26mg
Carbohydrates:

125g
Fiber:

8g
Sugar:

108g
Protein:

3g
If you enjoyed this recipe, be sure to check out these other great recipes: