You will love how easy these classic spritz cookies are to make! The dough comes together quick and then you can press out spritz cookies using your cookie press. See how to make these yummy cookies that everyone will love!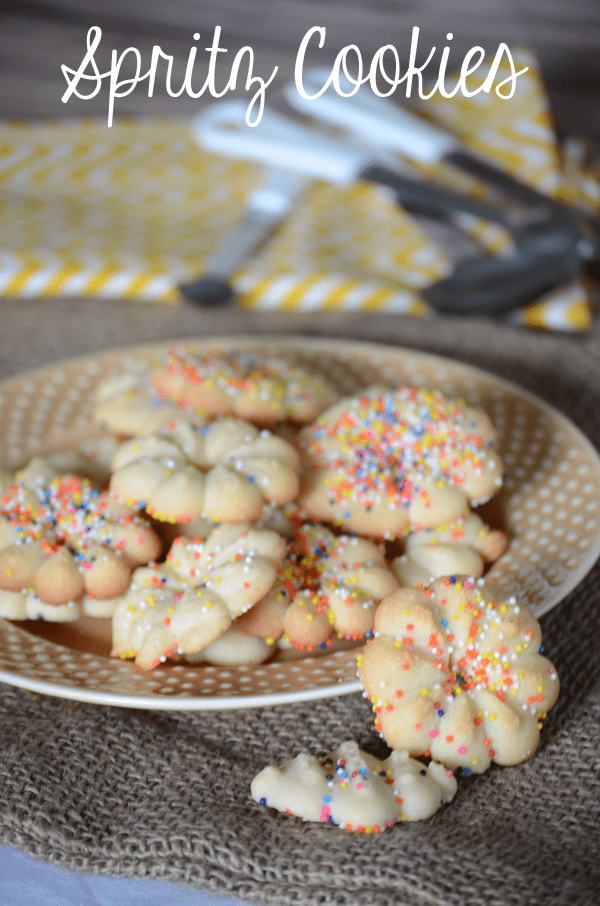 My grandma was always in the kitchen during the holidays. She was always cooking or baking or frying up something delicious. Ever since I can remember I was always right by her side. We fried zucchini together, we mixed homemade pasta sauce together and we made cookies together. Her absolute favorite was spritz cookies. They were (and still are!) so easy to make and the recipe makes a ton!
I haven't had spritz cookies in such a long time though. Once she passed, we just didn't make them as often anymore. But last Christmas my mom bought me a Wilton Cookie Pro (affiliate link) and I was super excited to try it out. The kids were fascinated with it and couldn't wait to press out the cookies. We spent all afternoon decorating little spritz cookies and just laughing together.
What are Spritz Cookies?
Spritz cookies are a semi-crispy, butter cookie that is similar to a sugar cookie. The word spritz comes from the German word spritzen which means "to squirt". You "squirt" the spritz dough through a cookie press and decorate before baking. We love adding sprinkles to our spritz cookies!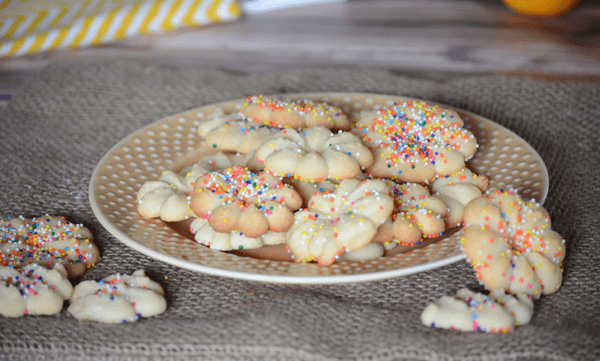 Easy Spritz Cookies Ingredients
Like I mentioned, these are a butter cookie and you need lots of it! Three sticks to be exact. You will also need:
flour
baking powder
sugar
egg
milk
vanilla extract
almond extract
What I love about this recipe is that the ingredients are pretty basic. You don't need anything to make these spritz cookies. The most exotic ingredient on this list would maybeeee be the almond extract but even that can be found in most grocery stores. You can even try your hand at homemade almond extract if you'd like!
Cookie press for spritz cookies
You do need a cookie press in order to make these spritz cookies. With a cookie press you place the dough into the cookie press tube and then press the handle to release dough onto an ungreased cookie sheet. My Wilton cookie press came with a few discs that would create different shapes but you can also buy discs too! These Christmas discs would be fun for the holidays.
Besides the cookie press you will also need:
two mixing bowls
hand held or stand mixer
cookie sheet
spatula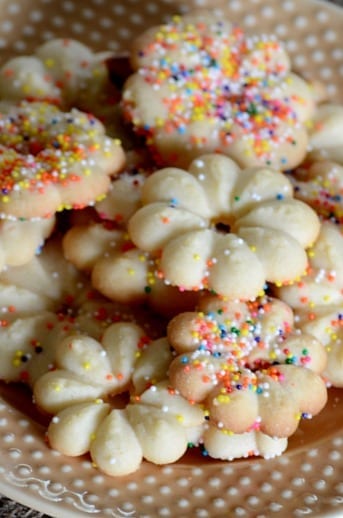 How to make the Best Spritz Cookies
These cookies can be broken down into 4 easy steps.
Start by creaming the butter and the sugar. To that you will add your milk, egg and extracts. This creates your wet portion of the cookies.
In another bowl, combine the dry ingredients – the flour and the baking powder. Slow add the dry ingredients to the wet and incorporate well.
Your dough should be thick. Take your dough and add it to the cookie press tube. Press your cookies onto your ungreased cookie sheet. Add your sprinkles before baking.
Bake for 10-12 minutes in a 350 degree oven until the edges start to turn a golden brown. Remove, allow to cool and remove from cookie sheet using a spatula.
Should you chill Spritz cookie dough?
Short answer – no, you shouldn't chill the spritz cookie dough before baking. The dough needs to be pliable in order to be added to the cookie press tube and pressed onto the cookie sheet. If the dough is cold, it's harder to do this.
Can you freeze Spritz cookie dough?
Yes! You can freeze your spritz cookie dough if you want to make the cookies later. The best way to do this is to place the just mixed dough onto a cookie sheet with parchment paper. Make a roll out of the dough and wrap it in the parchment paper. Place the cookie sheet in the freezer with the dough log and allow to harden. Remove from the cookie sheet, place the parchment paper cookie dough into a ziploc bag and place back in the freezer.
You will need to thaw the cookie dough before making your spritz cookies. Just place the parchment paper log on the counter long enough for the dough to thaw completely. You can then place it in the cookie press and make your cookies!
Do you decorate spritz cookies before or after baking?
You will need to decorate your spriz cookies BEFORE baking. The sprinkles will not stick to the baked dough. Feel free to use your favorite festive sprinkles on your spritz cookies!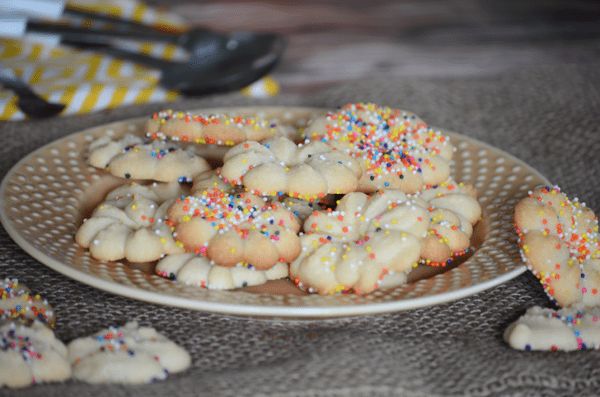 More tips for making your spritz cookies
Like I mentioned before, this recipe will make a bunch of cookies, close to 6 dozen cookies depending on the size of your disc used. They are smaller, but perfect for giving out as gifts or handing out at a cookie exchange.
How long does spritz cookies last?
Once your cookies are cooled, I suggest putting them in an airtight container. They should keep for up to a week on the counter this way. You don't have to place them in the fridge.
Serve spritz cookies with:
What's better than cookies and coffee?? You may want to pair your spritz cookies with: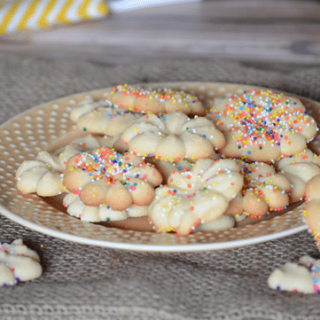 Spritz cookies
An easy butter cookie that everyone will love!
Ingredients
3 1/2 cup flour
1 teaspoon baking powder
1 1/2 cups (3 sticks) butter, softened
1 cup sugar
1 egg
2 tablespoons milk
1 teaspoon vanilla extract
1/2 teaspoon almond extract
Instructions
Preheat your oven to 350 degrees.

Combine flour and baking powder together in a bowl.
Beat the butter and sugar in another bowl. Add egg, milk and extracts to the mix.
Add the flour mixture and combine well.
Fill your cookie press with dough and press out cookies onto an ungreased cookie sheet.
Bake for 10-12 minutes, or until the edges are golden brown. Let cool and enjoy!
Makes about 6 dozen spritz cookies.
Notes
Not best to chill dough before using press. See post for more details.
Nutrition Information:
Yield:

6 dozen
Serving Size:

2
Amount Per Serving:
Calories:

412
Total Fat:

2g
Saturated Fat:

0g
Trans Fat:

0g
Unsaturated Fat:

1g
Cholesterol:

31mg
Sodium:

98mg
Carbohydrates:

90g
Fiber:

2g
Sugar:

34g
Protein:

9g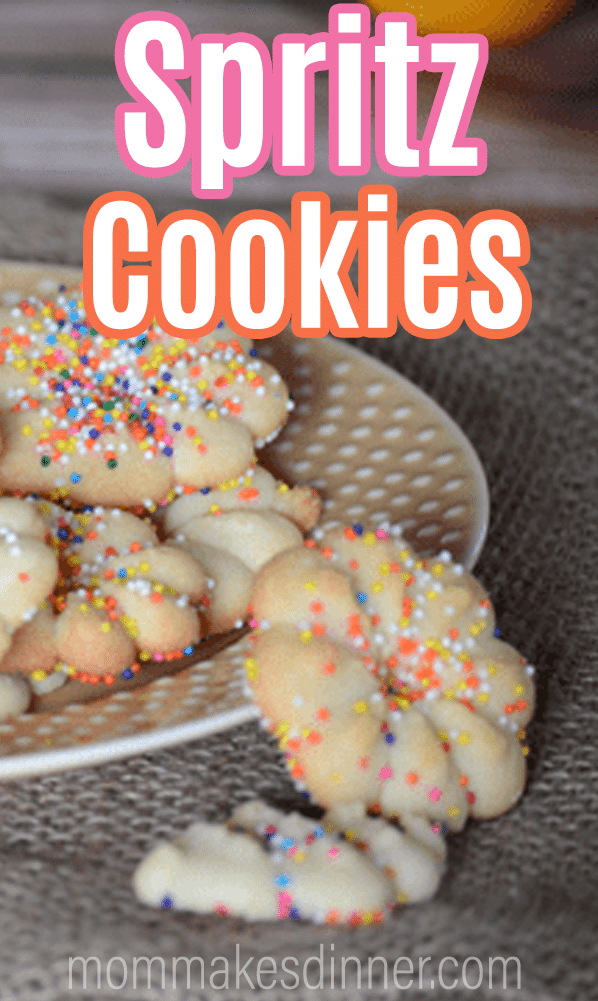 You may also enjoy these other cookie recipes: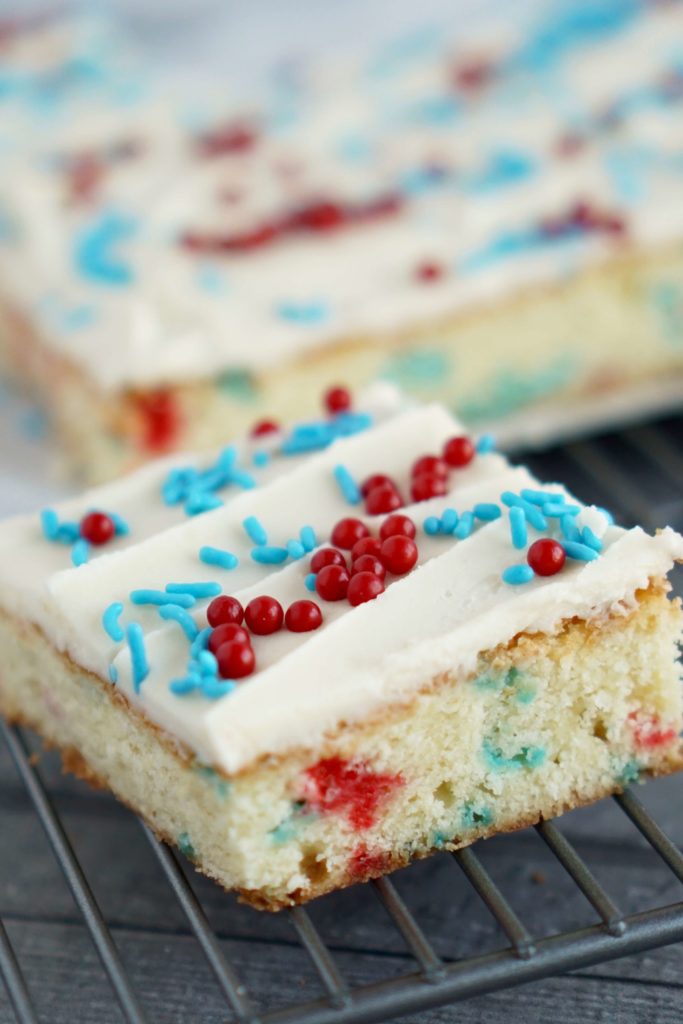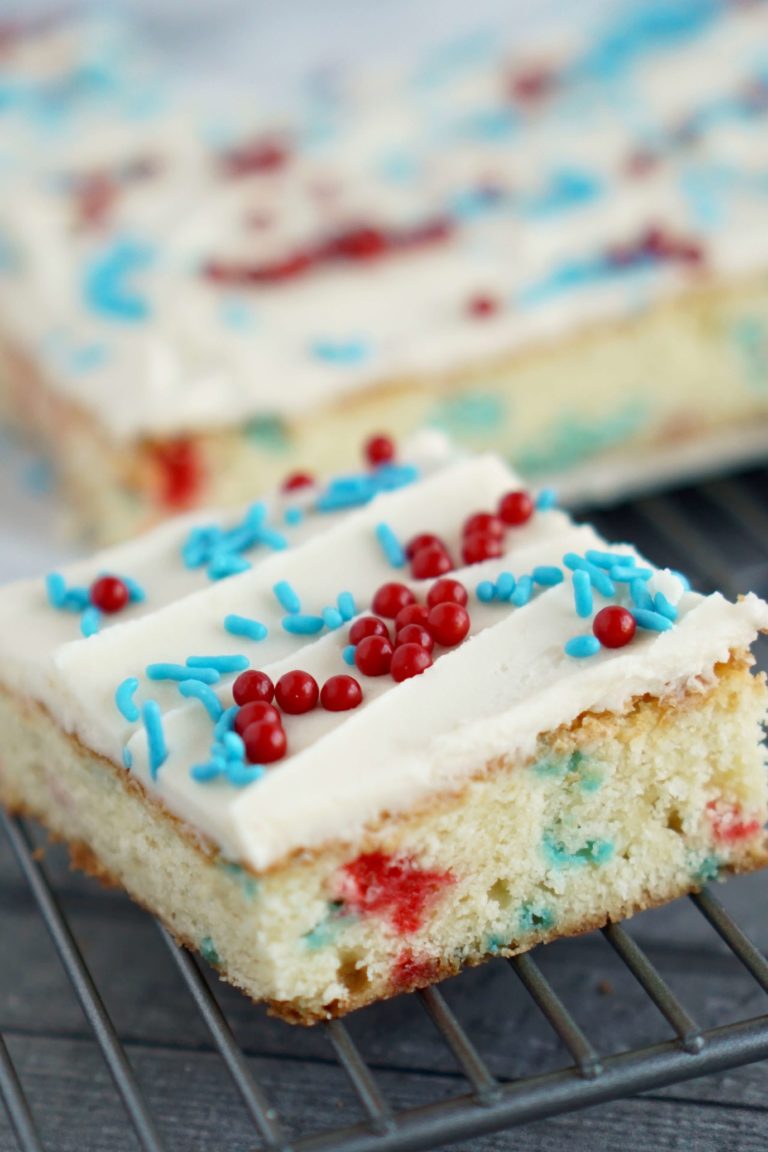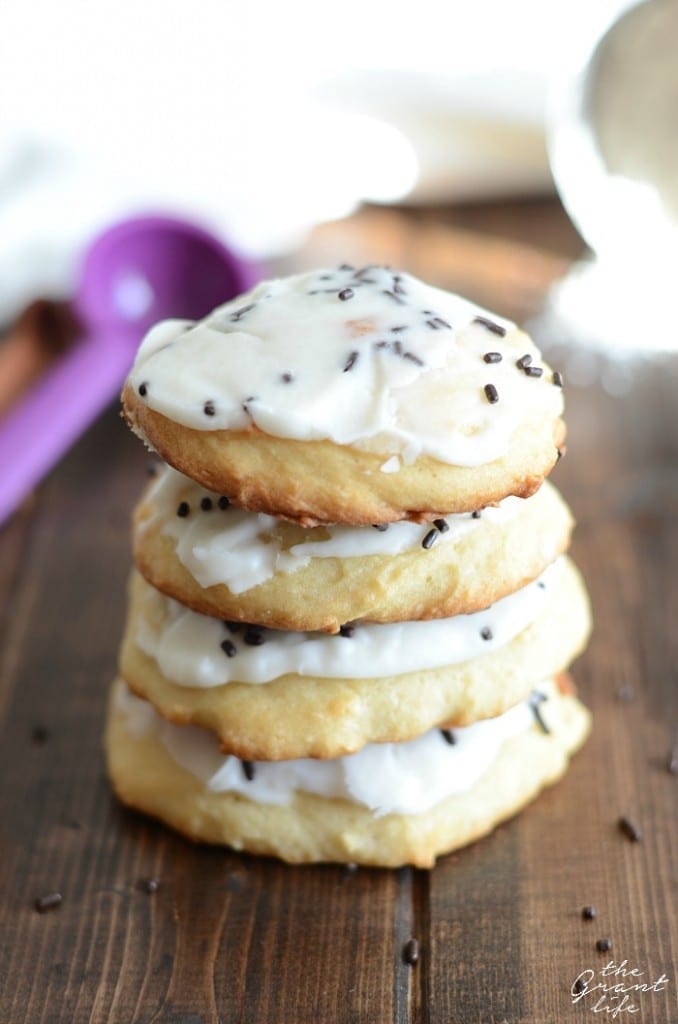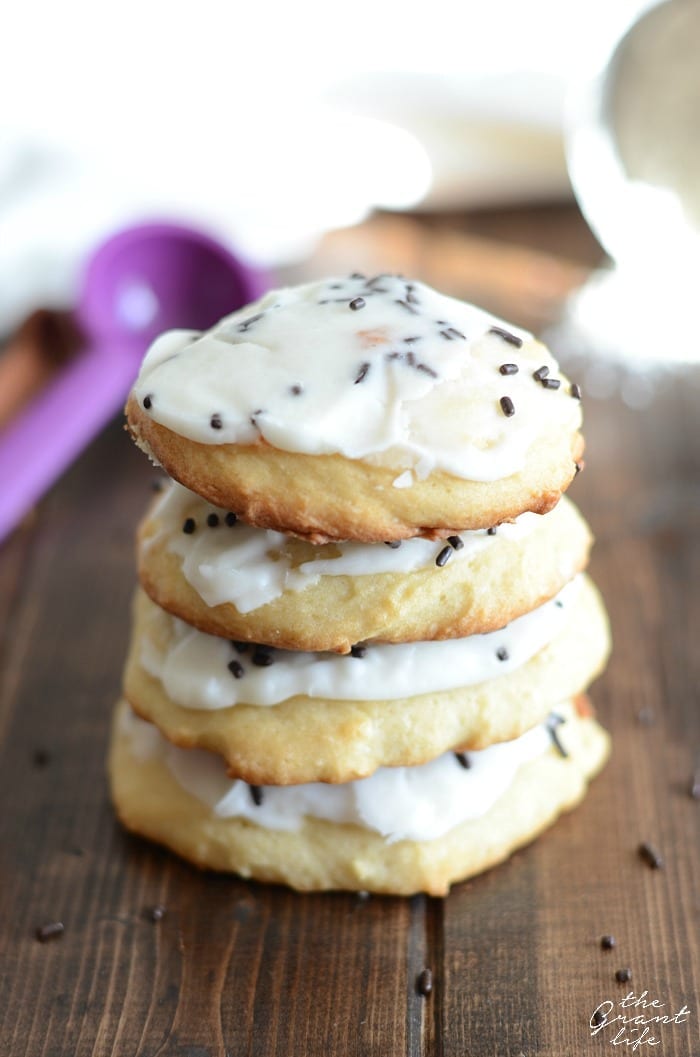 White chocolate cranberry cookies