Is there anything better than a warm peanut butter cookie topped with a Hershey's kiss? NO. The answer is most definitely NO. These easy peanut blossoms are a holiday favorite but they are awesome YEAR ROUND! Let me show you how to make these easy cookies using a cookie mix.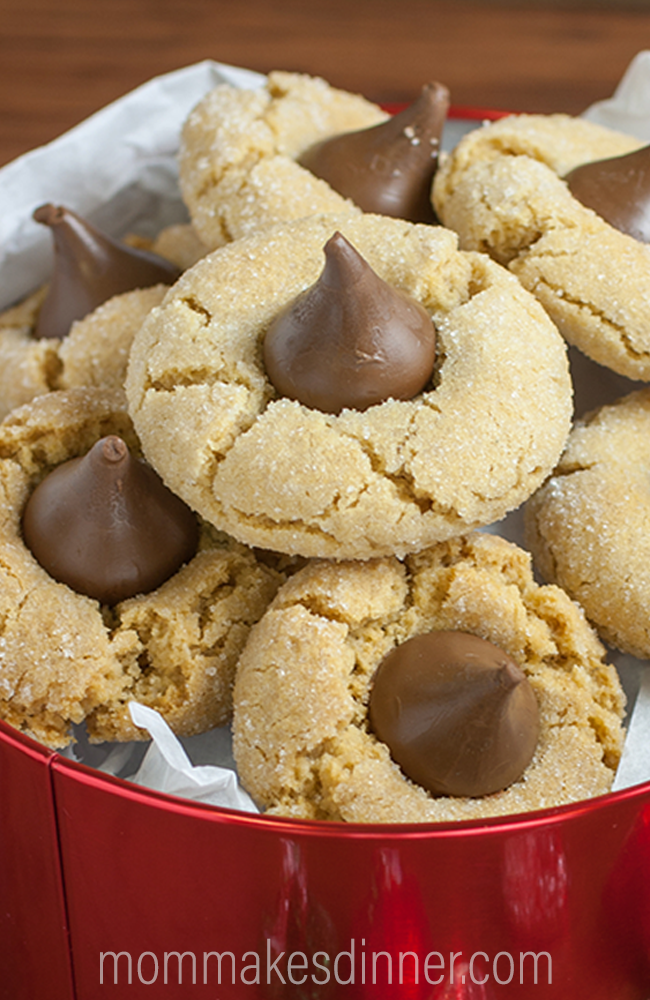 This Saturday I was busy making 4 dozen peanut butter blossoms for my annual cookie exchange! Yes! Four dozen. I was so nervous that I wasn't going to make enough too. I gobble these suckers up like it's my job. They are hands down my favorite Christmas cookie.
No contest. Peanut butter blossoms win. Every time.
What are peanut blossom cookies?
Peanut blossoms or peanut butter blossoms or Hershey kiss cookies, are a combination of a peanut butter cookie and a Hershey kiss. You take a still warm peanut butter cookie and smush a chocolate kiss in the center. If peanut butter and chocolate are your thing – these cookies are for you!
You can make these totally from scratch or use a peanut butter cookie mix to help. I took the cookie mix route because it saves a bit of time. Either way, these cookies are quick and easy to make. My kids love helping me make these cookies every year.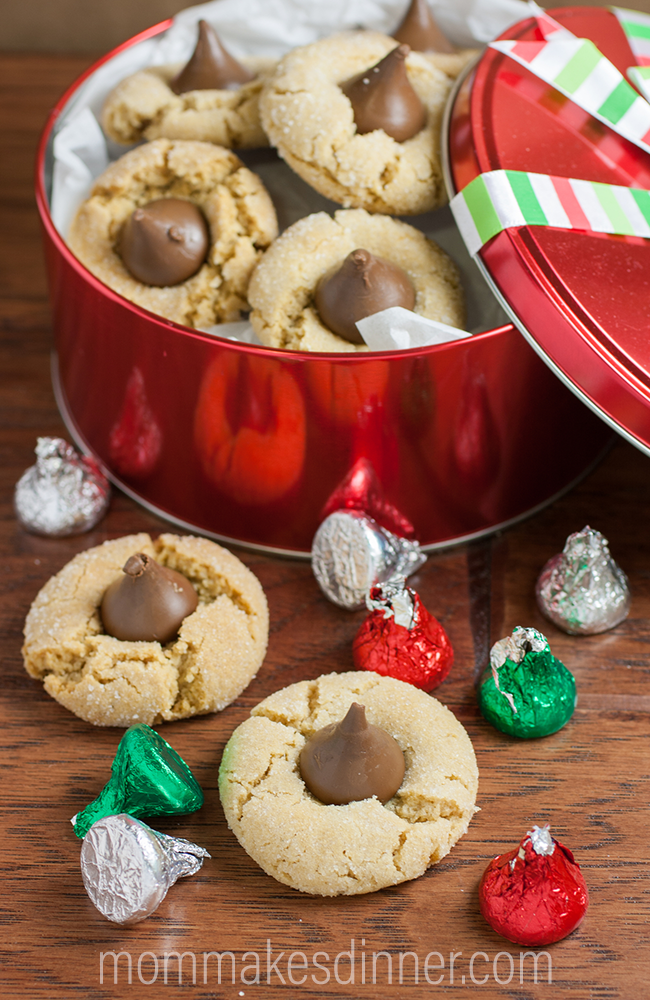 Peanut butter blossom ingredients
Like I mentioned, these cookies are made easier by using a peanut butter cookie mix. To make these cookies using a mix you will need:
2 bags peanut butter cookie mix
6 tablespoons oil
2 tablespoons water
2 eggs
a lot of Hershey kisses
1 cup sugar
Peanut butter cookie mix – I use the Betty Crocker peanut butter cookie mix for my peanut blossoms. You can use whatever peanut butter cookie mix you prefer, but be sure to grab two mixes.
Oil – You will need a mild oil for your cookies. Something like vegetable or canola oil works best in this recipe. I would not recommend coconut or olive oil.
Hershey's kisses – You want at least 3 dozen Hershey's kisses for your peanut butter blossoms. This recipe will make at least 2 dozen, depending on the size you make your blossoms. Grab a big bag of Hershey's kisses because you know you are going to snag a few before they make it to the cookie.
Sugar – Plain white sugar is all you need here. Before you add the cookies to the oven you will need to roll them in sugar. A fine sugar is suggested for this recipe.
After you gather all your ingredients you will also need to grab:
a large mixing bowl
a spatula
a small bowl
a cookie sheet
How to make peanut blossom cookies
This recipe can be broken down into 4 easy steps. Make the dough, roll in sugar, bake and top with a kiss.
Preheat over to 350. I suggest lining a cookie sheet with either a silicone baking sheet or giving it a quick spray with baking spray.
Combine your cookie mix, oil, water and eggs together in a large mixing bowl. Stir to combine the dough. It should be easy to handle and not very sticky. Pour your sugar into a smaller bowl and set aside.
Take your dough and roll them into about 1/2 inch balls. Take each dough ball and roll it in the sugar to coat. Place the cookie dough on the sheet and bake. You can unwrap your kisses while the cookies are baking.
Remove the cookies from the oven and allow to cool slightly. Place an unwrapped Hershey kiss in the center of the cookie. You can now remove them from the cookie sheet to cool on a wire cooling rack.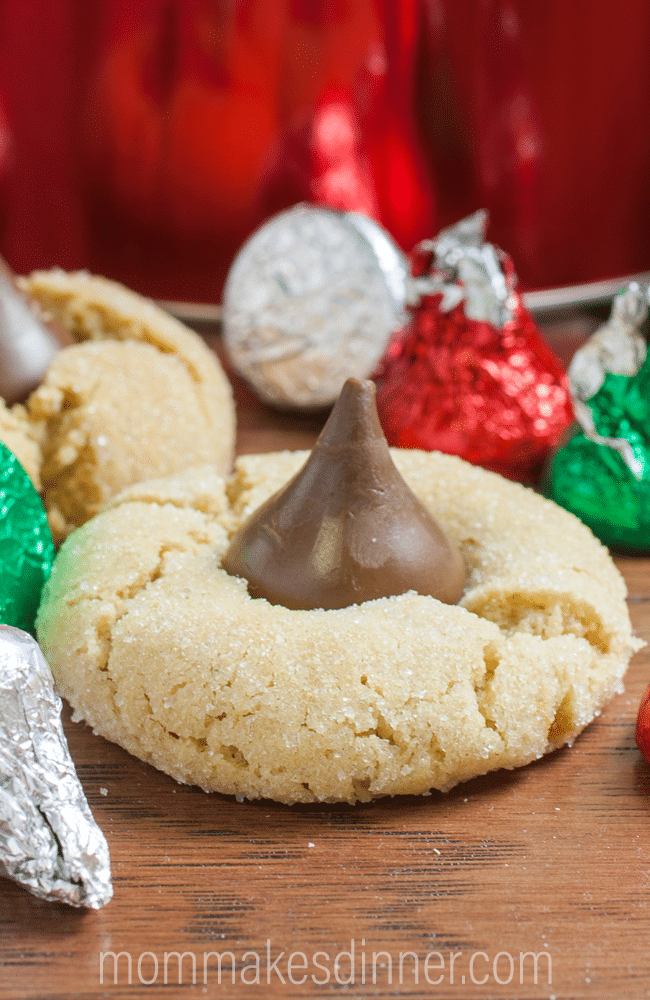 Tips for making your cookies
You do not want to chill your peanut butter blossom dough. If it gets too cold you won't be able to roll the dough into balls.
If your dough is too crumbly, add a tsp of extra oil to bind the dough together.
Once your cookies are cooled, store them in an airtight container on the counter. They will last for up to a week on the counter. You don't need to put them in the fridge, but it won't hurt them either.
If you are looking to make these cookies from scratch – you can follow Betty Crocker's peanut butter blossom recipe here.
Can I freeze peanut butter blossoms?
You can! You can either freeze the pre-cooked dough or freeze the baked cookies. To freeze the dough – make the dough according to the recipe and roll out the dough balls as instructed. Place them on a cookie sheet and put them in the freezer to set. Transfer to a large plastic baggy, seal it and put back in the freezer.
To freeze the baked cookies – make the cookies according to the recipe. Bake and allow to cool completely. Put them in a large plastic baggy and place in the freezer.
I do not suggest adding the Hershey kiss to the cookies if you plan to freeze them. Do this after they have thawed and you either cooked the dough or warmed up the baked cookies.
You may also want to try some of these other great blossom recipes: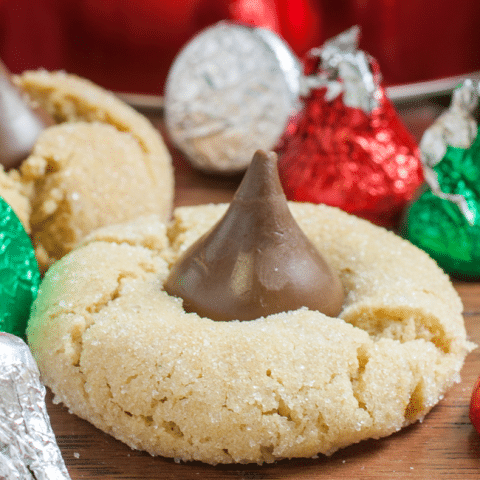 Easy peanut blossom recipe
The BEST peanut butter blossoms made even better with a cookie mix!
Ingredients
2 pouches peanut butter cookie mix
6 tablespoons vegetable oil
2 tablespoon water
2egg
1 cup sugar
45-50 Hershey's kisses, unwrapped
Instructions
Pre-heat the oven to 350 degrees.
Make the cookie dough according to the package - which should be to combine all the ingredients together until dough forms.
Place the sugar in a small bowl.
Shape dough into 1/2-1 inch balls and roll them in the sugar.
Place on a cookie sheet.
Bake for 8-10 minutes or until the edges are slightly browning.
Remove, allow to cool slightly and place a Hershey kiss in the center of the warm cookie.
Allow to cool completely and enjoy!
Recommended Products
As an Amazon Associate and member of other affiliate programs, I earn from qualifying purchases.
Nutrition Information:
Yield:

36
Serving Size:

1
Amount Per Serving:
Calories:

80
Total Fat:

5g
Saturated Fat:

1g
Trans Fat:

0g
Unsaturated Fat:

2g
Cholesterol:

3mg
Sodium:

13mg
Carbohydrates:

10g
Fiber:

0g
Sugar:

10g
Protein:

1g
Easy cookie recipes
Easy cookie recipes that everyone will love!
Like this recipe? Be sure to PIN IT!