Hold onto your candy canes – you are going to love this Chocolate Peppermint Cake! It is a semi-homemade Christmas dessert that is full of chocolate and peppermint flavors. Everyone will love this peppermint flavored chocolate cake! Grab your bundt pan and let's get baking.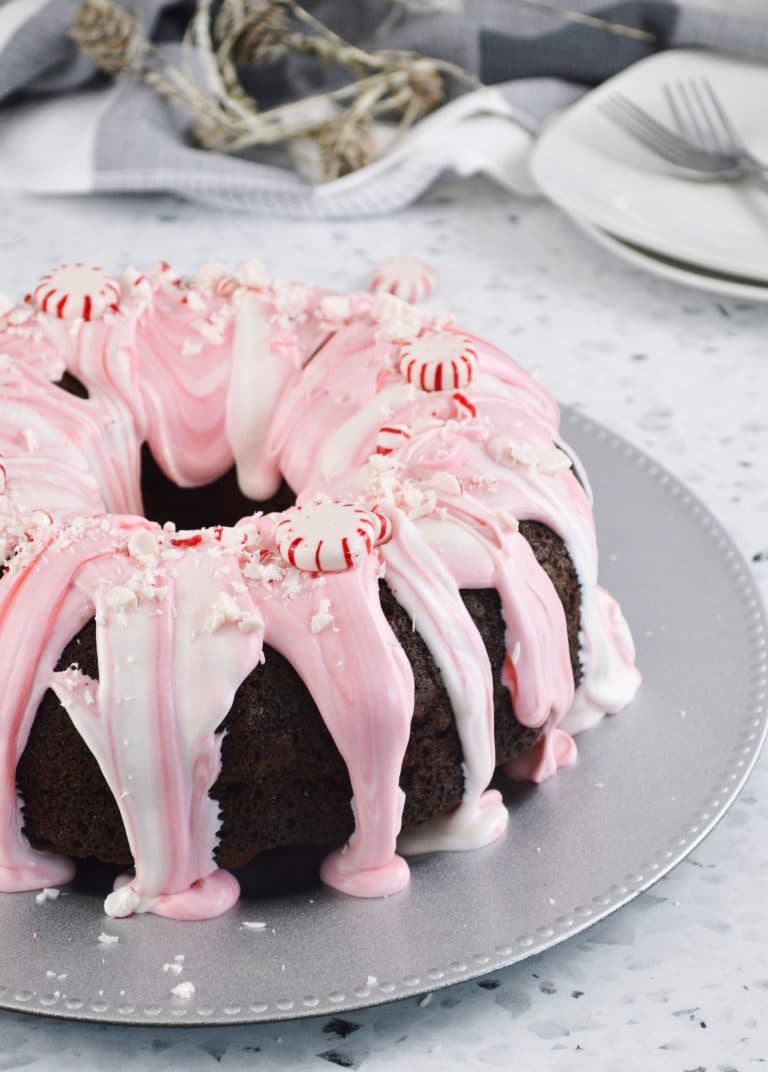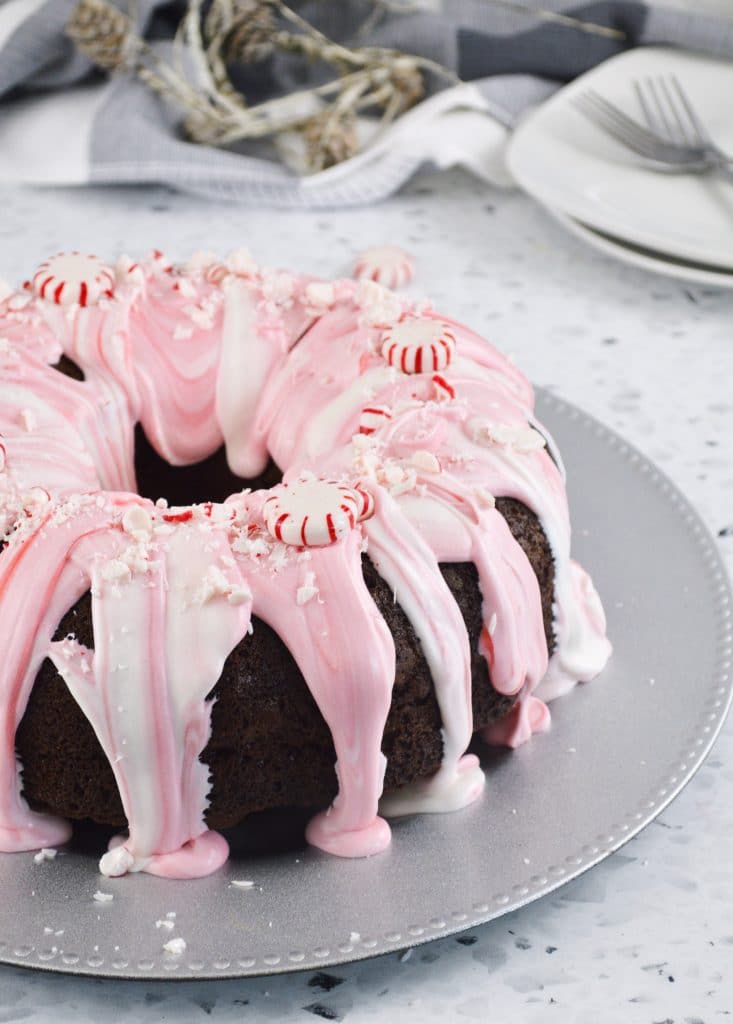 Are you ready for a super easy, delicious, and festive chocolate cake for the holidays? Try this Chocolate Peppermint Bundt Cake that comes together quickly with just a few ingredients. Your family and friends will be impressed with both the look and the taste of this moist chocolate bundt cake.
Chocolate and peppermint go well together, a la Starbucks peppermint mocha latte, especially during the Christmas season. This cake is one of our favorites and everyone loves it!
Chocolate peppermint cake
Keeping this Chocolate Peppermint Bundt Cake easy for you, we start off with your favorite boxed cake mix and jazz it up a bit. Then top it off with some canned frosting and crushed peppermint! Yes, that easy and I promise you, so good! My entire family loved it and we will be making it again over the holidays!
This bundt cake is similar to my peppermint chocolate roll cake! Just in case you needed another Christmas cake recipe to try. Wink wink.
Chocolate peppermint cake ingredients
This chocolate bundt cake is a semi-homemade dessert and only recipes a handful of common ingredients. You probably have most of them on hand too! You will need:
Devil's food cake mix
peppermint extract
chocolate pudding
vanilla frosting
red food coloring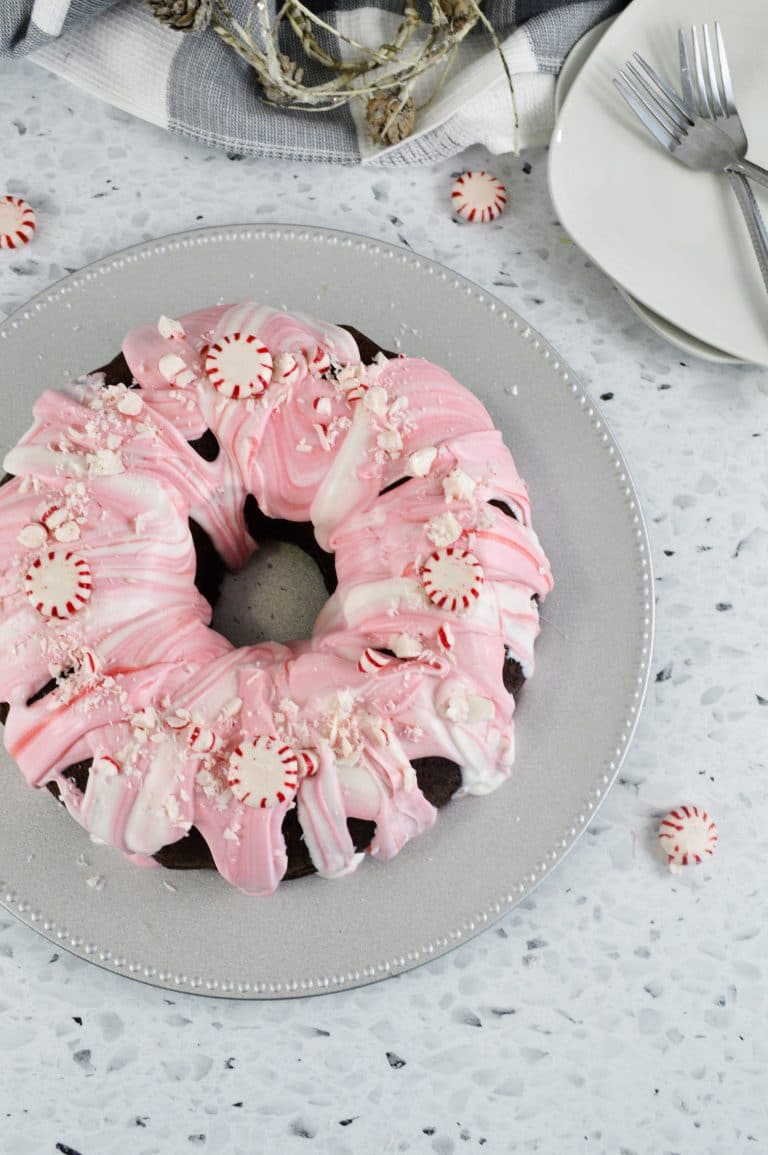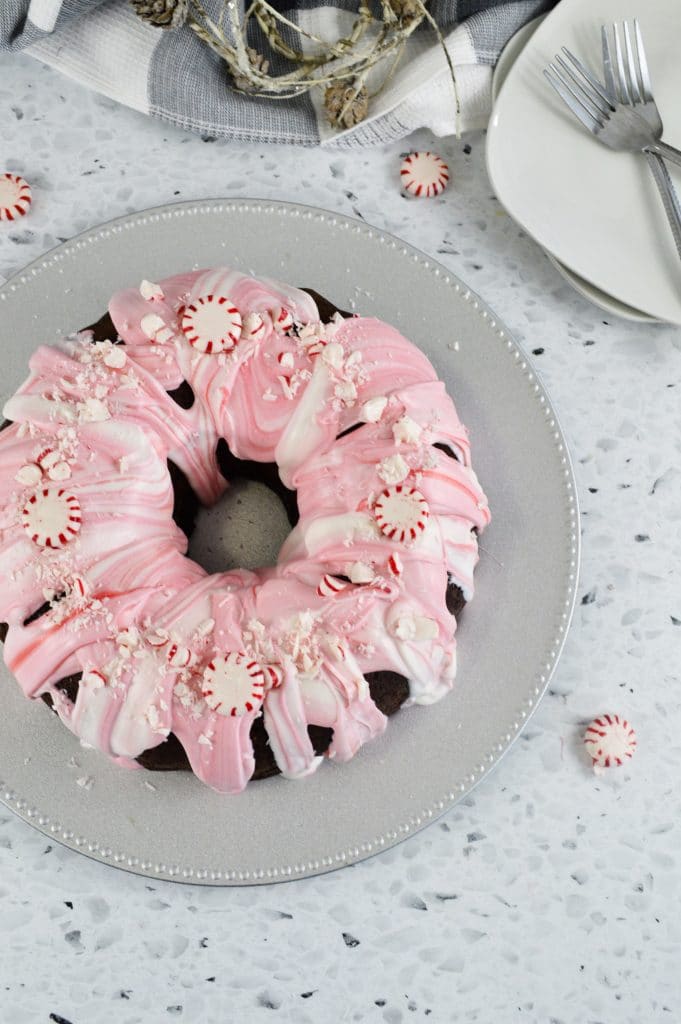 Devil's food cake mix – You can use whatever brand Devil's food cake mix that you'd like. The one that I used required water, eggs and oil to make. Be sure to check the back of your box to make sure you grab the right ingredients needed for your mix.
Peppermint extract – This can easily be found in the baking aisle along with all of the other extracts, such as vanilla or almond.
Instant chocolate pudding mix – Adding pudding to cookies and cakes makes them such moist and decadent. It's a great way to add extra flavor and creates an amazing treat. You will need chocolate pudding mix for this cake.
Vanilla frosting – Any canned vanilla frosting will work for this recipe. You can also use homemade vanilla frosting as well.
Red food coloring – You can use traditional food coloring or a natural food coloring like I do.
How to make simple peppermint chocolate cake
This peppermint cake could not be easier to make! Grab all of your ingredients along with measuring cups, mixing bowls, hand held mixer, spatula, spoon and rolling pin. Follow the directions below and in the recipe card to make this easy cake recipe.
Step 1 Mix the cake base Add all of your cake ingredients along with the cake mix to a large mixing bowl. You will also want to mix in your chocolate pudding mix and the peppermint extract too.
How much peppermint extract added to chocolate cake?
For this cake recipe you will need 1 teaspoon of peppermint extract to flavor the cake. A little bit of peppermint extract goes a long way!
Step 2 Pour and bake Pour the cake batter into your prepared bundt cake dish and bake. You will want to bake the peppermint bunt cake for 35 minutes. Make sure a toothpick comes out clean before removing it from the oven.
Step 3 Prepare the frosting While your cake is cooling, prepare the peppermint frosting. Place the can of frosting in the microwave for 30 seconds to soften it. Add the natural food coloring and 1 teaspoon of peppermint extract. Stir to combine. A butter knife works best for stirring it.
Step 4 Frost and decorate Flip the cooled cake onto a serving plate. Drizzle the frosting over the cake and then add crushed peppermints. You can easily crush the peppermint candies by placing them in a Ziplock bag and pressing a rolling pin over them a few times.
Slice and enjoy!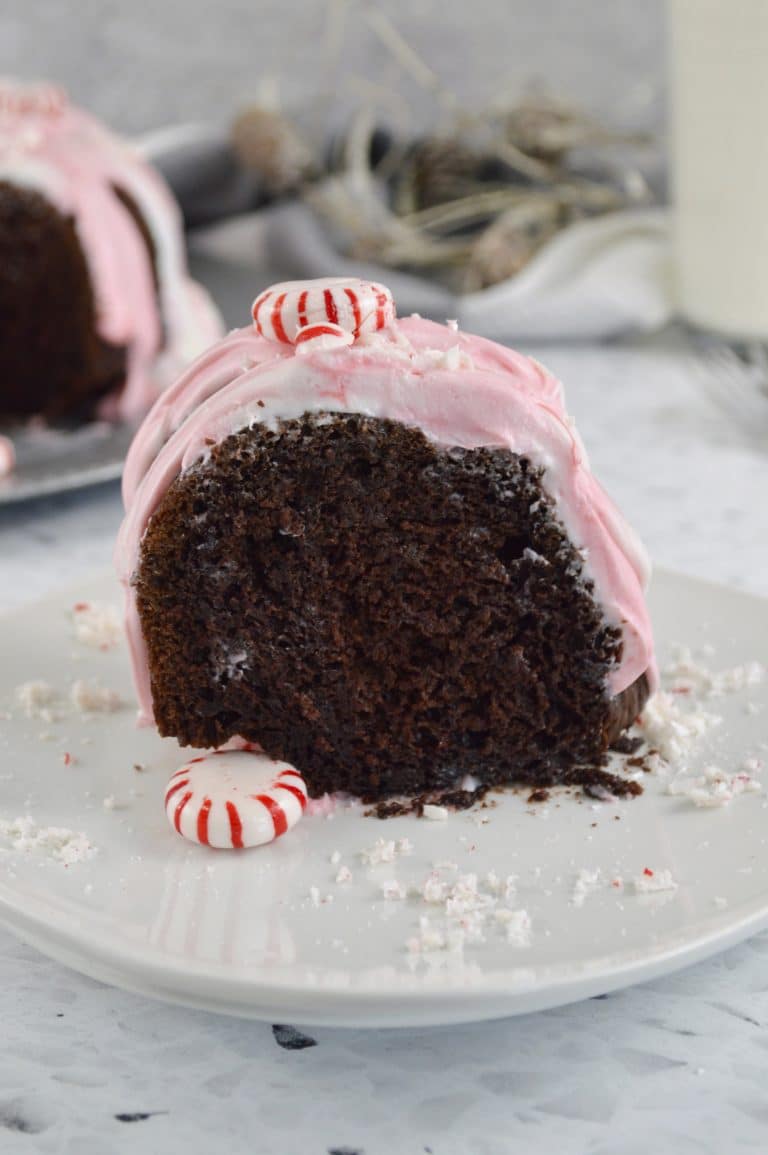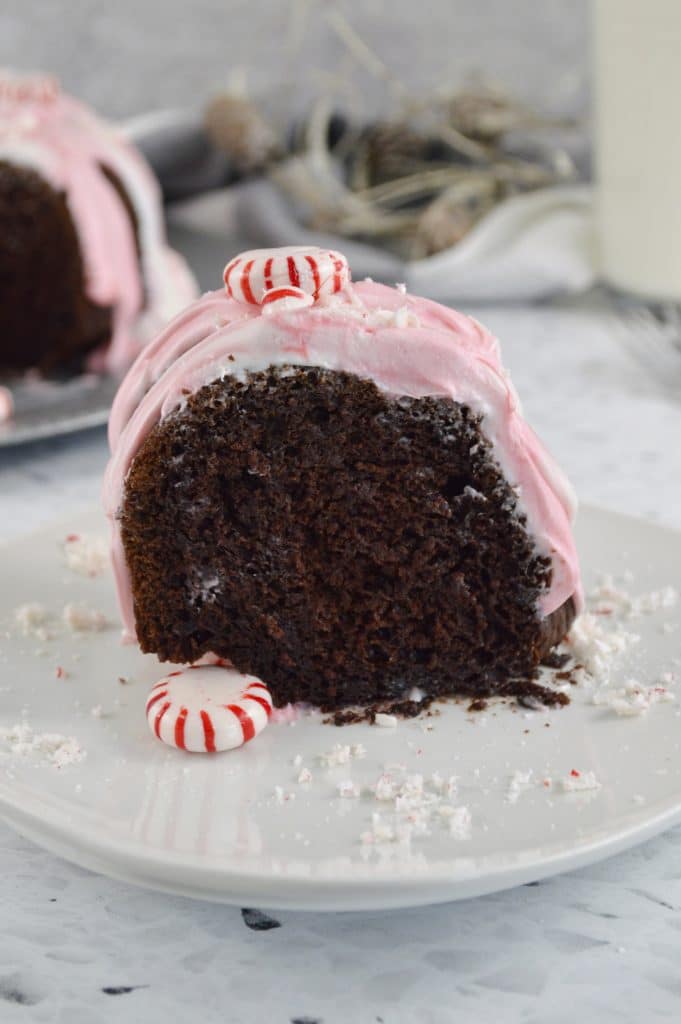 FAQs about this recipe
Some frequently asked questions about this peppermint chocolate Christmas cake recipe. Have a question that's not listed? Ask it below in the comments!
Can I use a different cake mix?
Yes, you can! This recipe calls for a Devil's food cake mix, but you can use any chocolate cake mix you prefer. I used a Duncan Hines Devil's food mix. Feel free to use any brand of kind of chocolate cake mix. You can also use a homemade chocolate cake, like the one in my hot chocolate cake recipe.
Can I do a homemade chocolate cake?
You sure can! If you have the extra time, you can turn this semi-homemade peppermint cake into a fully homemade recipe. You can use a classic chocolate cake recipe and add in the peppermint extract. You can also use a simple homemade vanilla frosting and add in the peppermint extract along with the food coloring.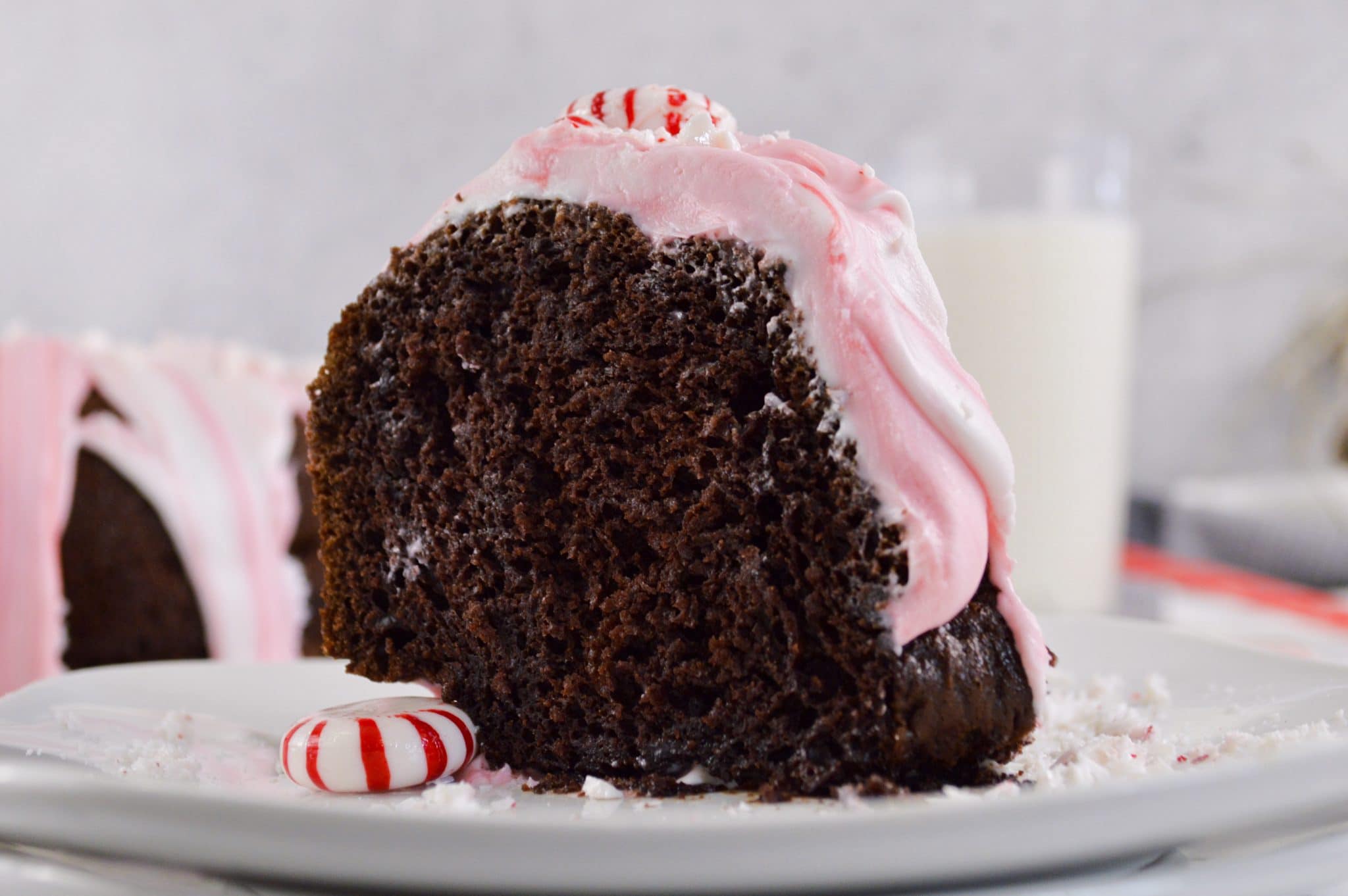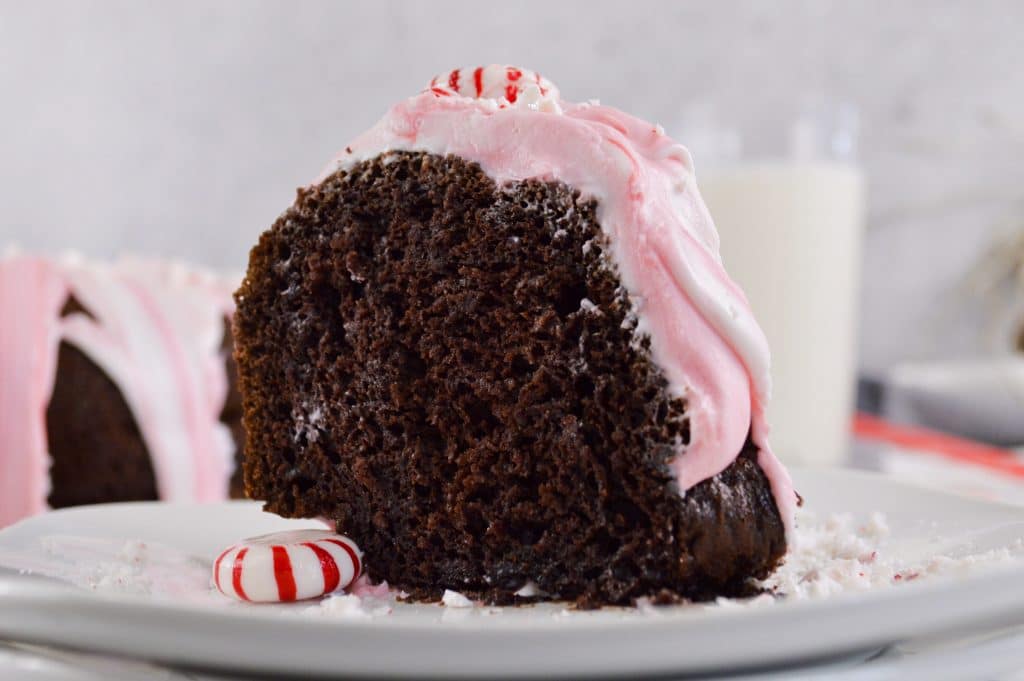 How to store leftovers
Place any leftover peppermint cake in an airtight container, such as a large cake Tupperware or container. You can keep the cake on the counter or place it in the fridge, if you'd like. If possible, store the cake unsliced for best results.
Can I freeze this peppermint cake?
Yup! You sure can! You can freeze the whole cake or you can slice it, place the pieces between parchment paper and freeze it that way as well. It will stay fresh for up to 3 months in the freezer.
Other peppermint chocolate recipes to try
I love the mint/chocolate combination! Some of our other favorites are: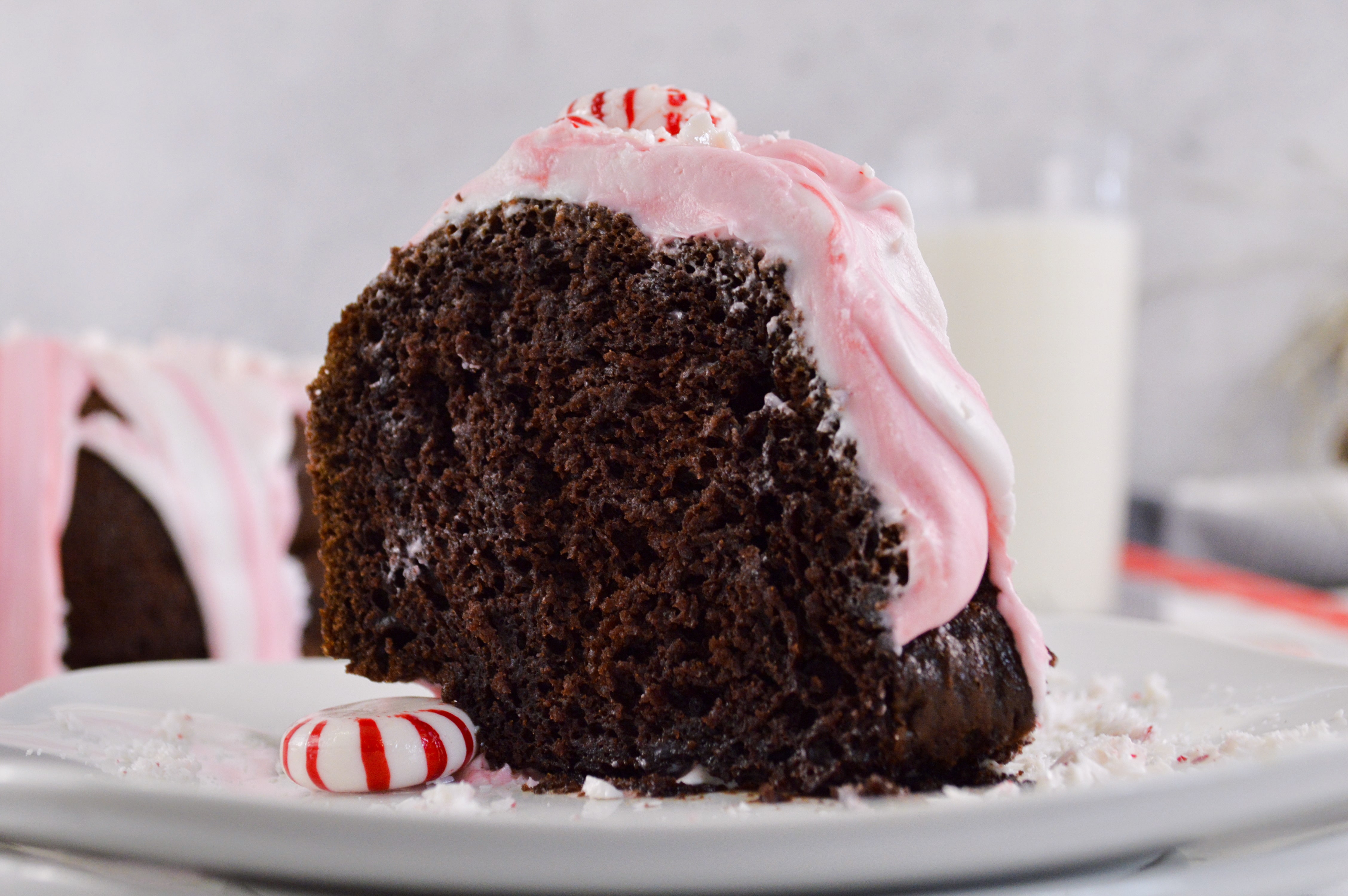 Chocolate peppermint bundt cake
Prepare this festive semi-homemade
Ingredients
1 (15 oz) box Devil's Food Cake Mix
1 cup water
4 eggs
½ cup vegetable oil
2 tsp peppermint extract (divided)
1 (3.4 oz box) instant chocolate pudding
1 (16 oz) can white frosting
3-4 drops natural red food coloring
Peppermint Candies, crushed for garnish (or candy canes)
Instructions
In a large mixing bowl combine the cake mix, water, eggs, vegetable oil, chocolate pudding mix and 1 tsp peppermint extract.
Using an electric mixer, beat until all ingredients are well combined, about 2 minutes.
Spray a bundt pan with non-stick spray and pour batter into the pan.
Bake at 350 degrees for about 35 minutes or until a toothpick comes out clean. (or according to box instructions).
Once cooled, flip out of the pan onto a serving plate or platter.
Remove the cap and foil from the frosting and microwave for about 20 seconds to soften.
Add 3-4 drops of red food coloring and the other 1 tsp peppermint extract into the frosting and use a butter knife or small spatula to swirl in the food color. (to create the striped look, just stir it a few times, do not over mix).
Then slowly pour the frosting over the cake.
Sprinkle the top of the cake with crushed peppermint or crushed candy canes.
Notes
Be sure to check what your cake mix requires as they may vary slightly.
Tips and tricks
This chocolate peppermint cake recipe is pretty simple, but here are a few tips or tricks to help you along.
You can use a handheld or stand mixer to combine the cake mix. It will speed up the process a bit.
Make sure to not overdo it with the peppermint extract! A little goes A LONG way!
You can use spearmint extract if you don't have peppermint.
Make sure all of the inner foil seal is off of the frosting container before microwaving it.
Crush your peppermints in a plastic bag with a rolling pin or a meat mallet, carefully.
Did you make this recipe? I'd love for you to leave a rating in the recipe card above or in the comments below.
Want to make it later? Pin the image below to your favorite dessert board. Either way, THANK YOU for the support!