If you are looking for a great 4th of July dessert to take to your Independence Day festivities, look no farther. These Cookie bars are an easy and delicious crowd pleaser!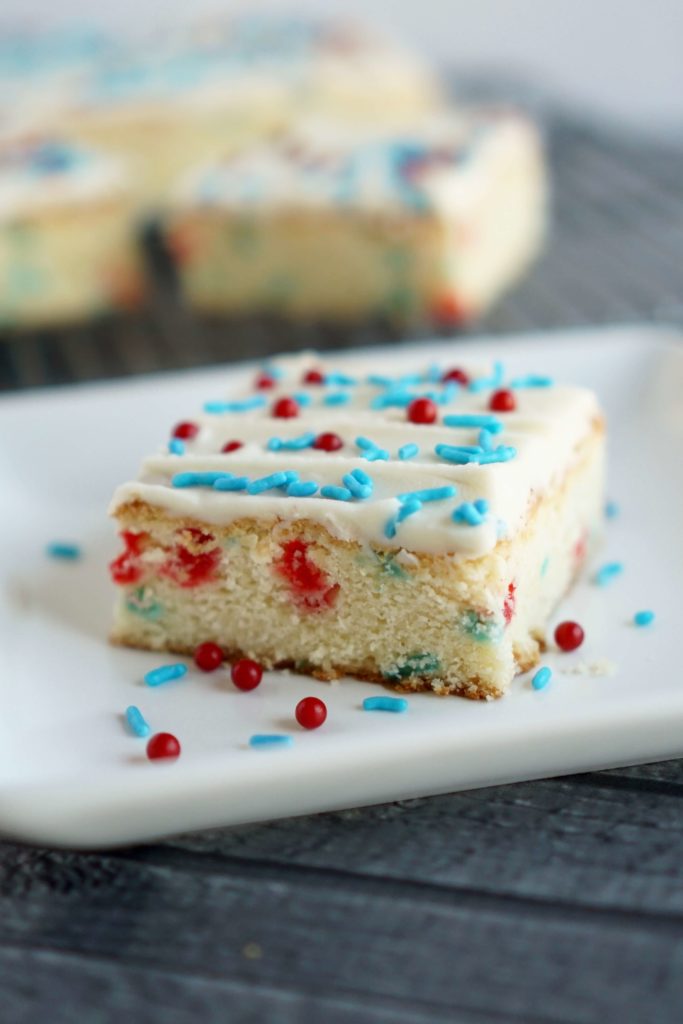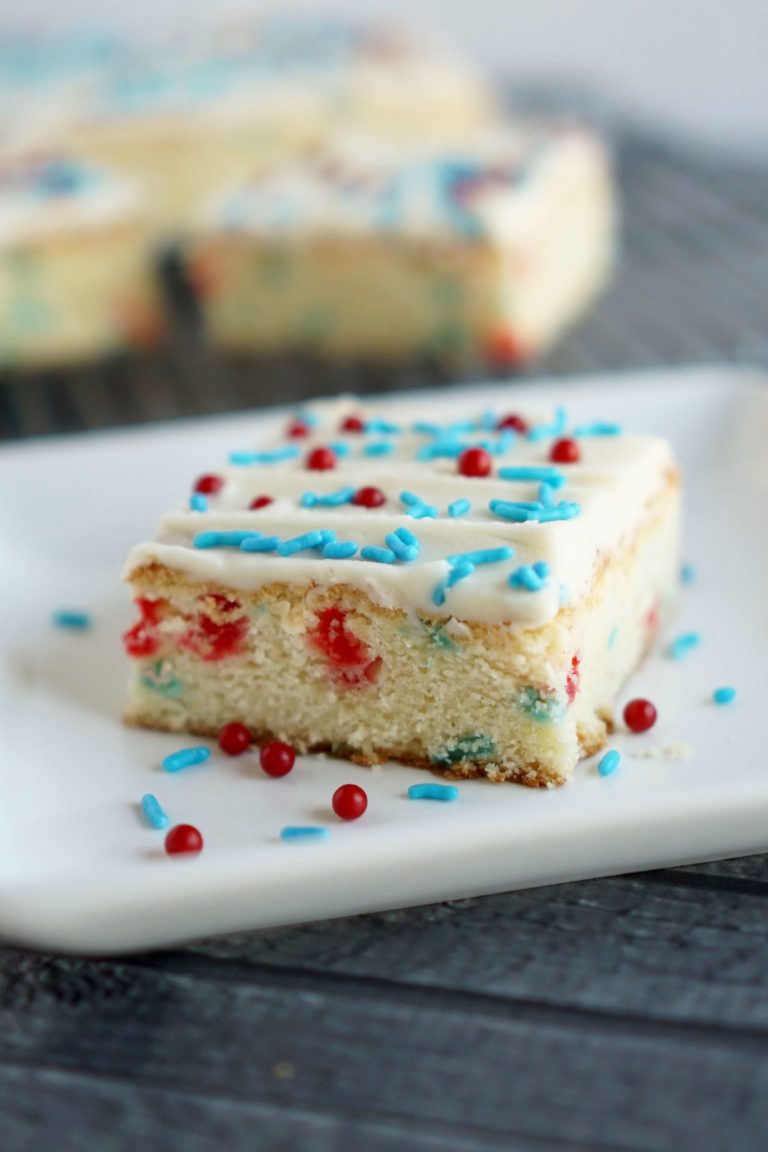 Independence Day means that everything is red, white, and blue. These cookie bars don't disappoint. The cookie is studded with festive sprinkles. The frosting is a nice white creamy confection. Once the bars are assembled, additional sprinkles give a hint of what will be found inside.
The best part about these cookie bars is that they can be used for any holiday. The tasty cream cheese sugar cookie base and buttercream will go well for any season. Change the sprinkle color or shape and you have a great dessert for any time of the year!
What are Sugar Cookie Bars
Cookie bars are the best of both the cookie and cake worlds. Add in the holiday sprinkles and you have an easy festive dessert. The base is a creamy sugar cookie dough. Add in the frosting and you have the best part of a cake!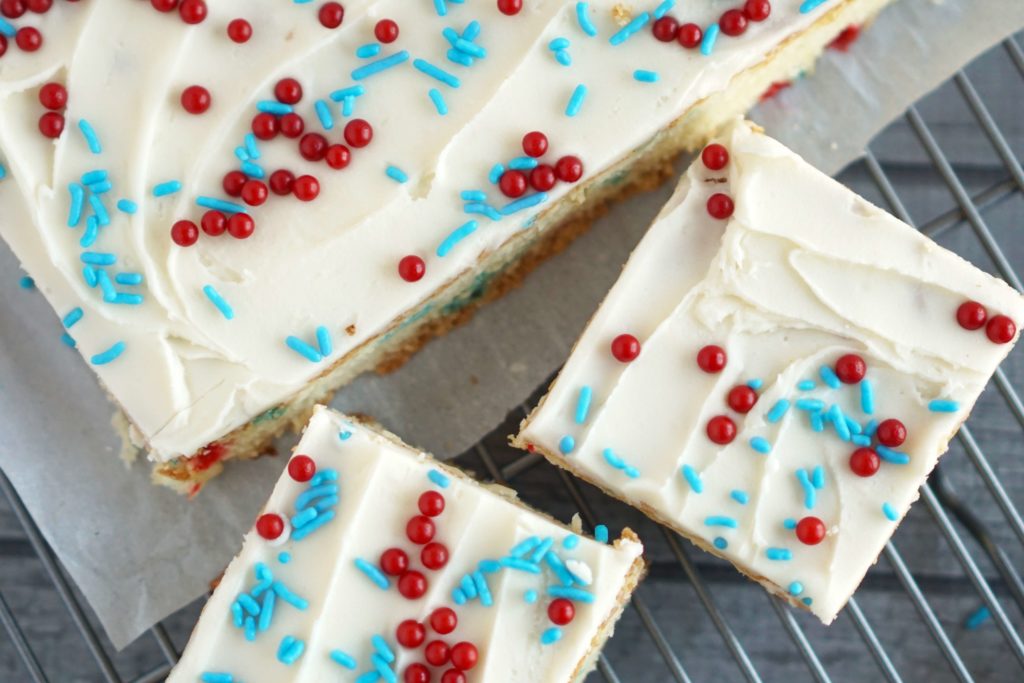 Sugar Cookie Bar Ingredients
Butter
Cream Cheese
Sugar
Eggs
Flour
Baking Powder
Salt
Holiday Sprinkles
The cookie dough is a cream cheese based dough. The cream cheese adds extra creaminess to the classic sugar cookie. The bars will stay soft and chewy even with the sprinkles.
The sprinkles add a wow factor to the bars once they are cut. While I made mine with red, white, and blue themed sprinkles, it could be easily swapped for another holiday. You can add Easter bunny themed sprinkles and have a fun cookie bar dessert for Easter brunch. During the holidays you could have red, green, and white cookie bars with a simple swap of the sprinkles.
Gluten-Free Cookie Bars
For those who are looking for a gluten-free version, swap the flour for your favorite gluten-free flour.  Bob's Red Mill One-for-One Gluten-Free flour works well when baking. You can find this in the baking aisle of most large grocery stores or order from Amazon. If you have a Trader Joe's near you, Trader Joe's All Purpose Gluten-Free flour is another great option. Double check the sprinkles and baking powder to make sure they are gluten-free as well.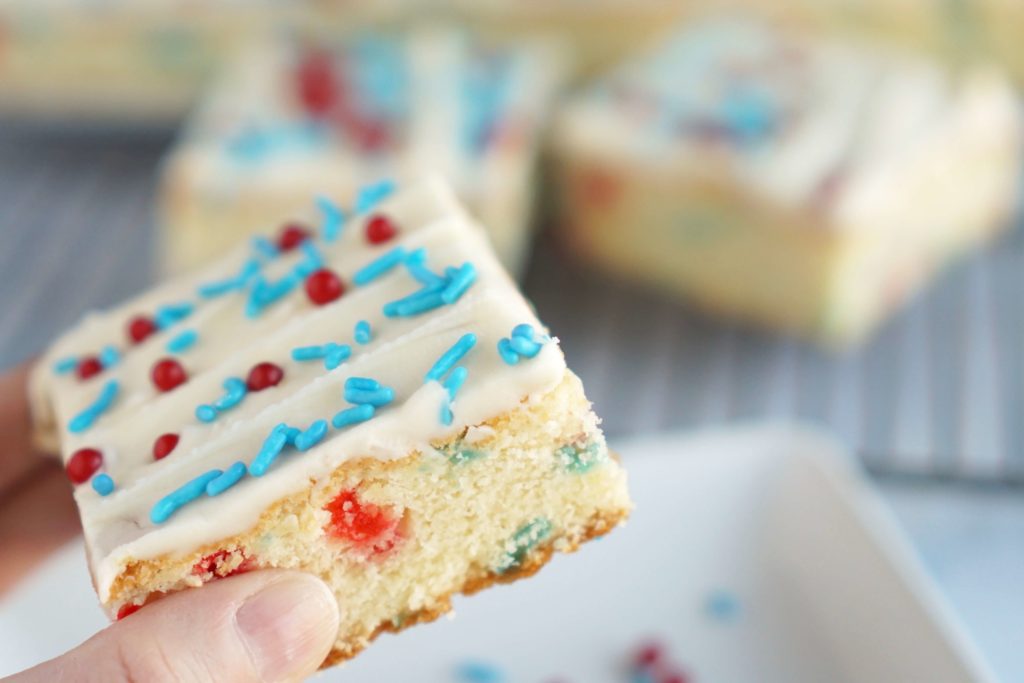 Frosting Ingredients
Butter
Powdered Sugar
Vanilla
Salt
The butter and powder sugar are the beginnings of the classic buttercream frosting. It is a creamy topping for the cookie bars. It will spread well across the cookies. It will stay nice and soft. Make sure that you soften the butter. I like to leave it out on the counter for a few hours. However, if you forget to take it out, you can put it in the microwave for a minute to soften. The other option is to put it on a plate on top of your oven while it preheats.
If you use high-quality pure vanilla extract, you will wish you made a double batch! Try to resist eating all the frosting while the cookie bars are cooling. You can find good vanilla extract at your local grocery stores. Make sure the packaging says pure vanilla and not imitation. It will be worth the extra expense, but a little goes a long way and you can use it in several other recipes.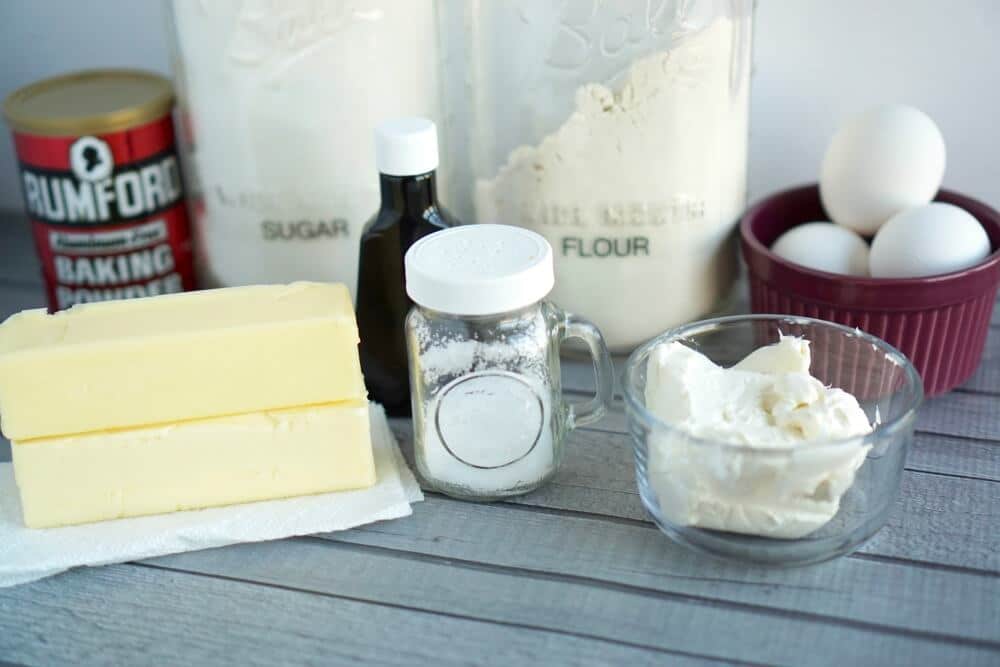 How to make Cookie Bars
After getting all of your ingredients, a 9×13 baking dish, parchment paper, cooking spray, and 2 mixing bowls, you'll be ready to mix up these easy patriotic cookie bars. Preheat your oven to 350 degrees Fahrenheit. If you forgot to set out your butter, now is the time to grab a plate and let it soften on top of the oven.
Line the 9×13 baking pan with parchment paper. Spray with the cooking spray and set aside.  Your pan will be all ready for the dough.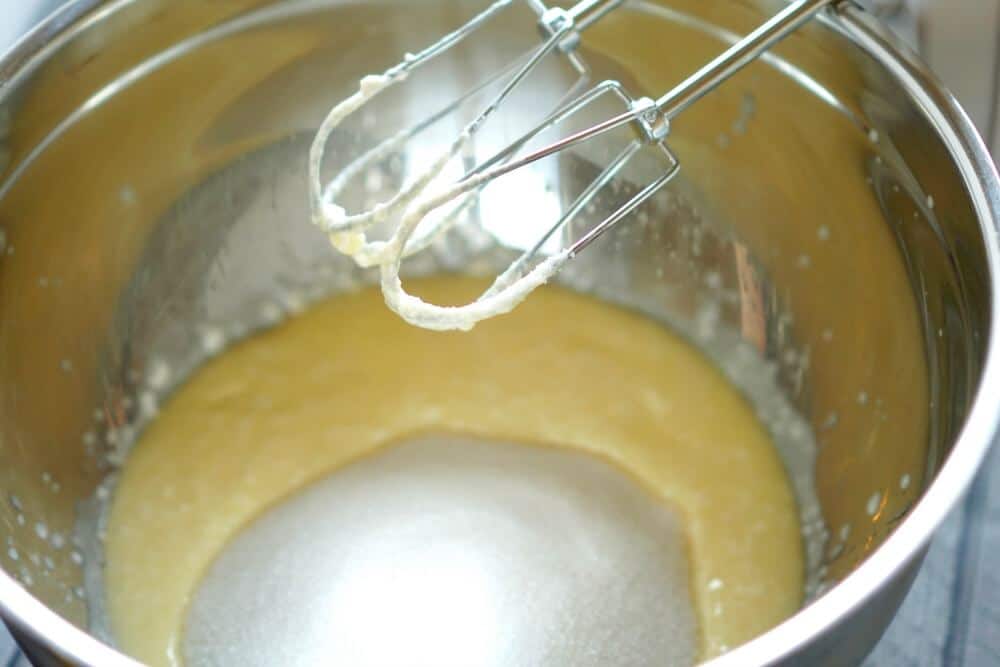 Put your softened butter and cream cheese in one of your mixing bowls. Cream them together with your electric mixer. You can use a hand mixer or a Kitchen-Aid stand mixer. Both will work equally as well. Add the sugar to your cream cheese butter mixture. Mix well.
The eggs and vanilla are added to the mixture next. Mix until both are incorporated into the mixture. Next, add in the dry ingredients. Mix well until a dough forms.
Now is the fun part! Fold in your holiday sprinkles. Be sure to fold the sprinkles into the dough to evenly to distribute them through the entire dough.
Evenly spread the dough in your parchment lined baking pan. Make sure you spray the lined pan with cooking spray to help your cookies come out of the pan easily.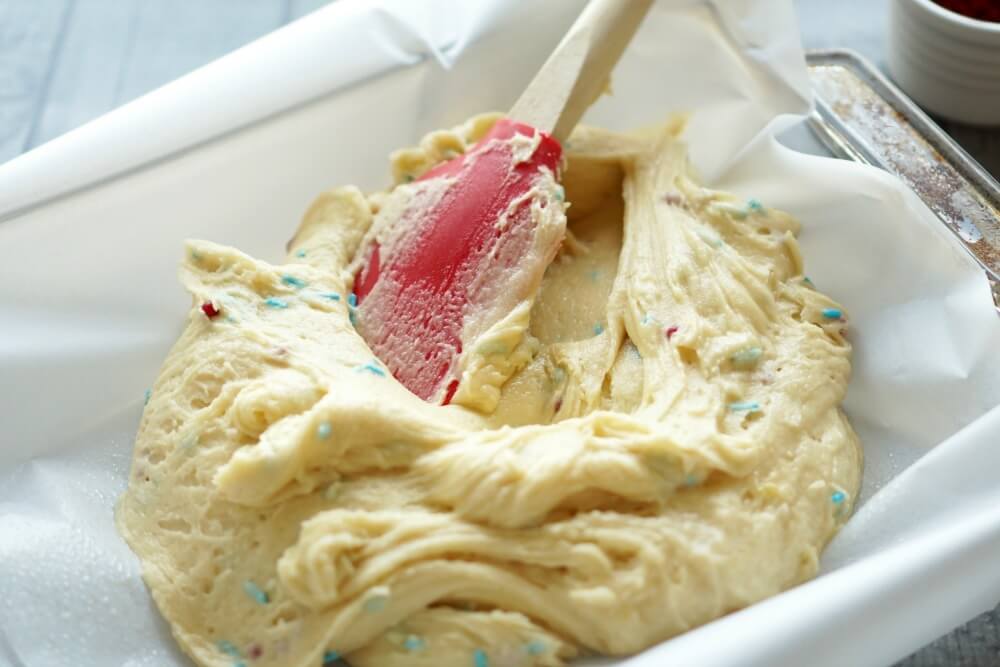 Bake the cookie dough for 30-35 minutes. Cooking time will vary based on how thick your dough turns out.
Once the cookie base is finished baking, take it out and cool completely. Don't skip the cooling. The frosting will melt if your cookie base is not completely cooled.
While the cookie base is cooling, you can make the buttercream frosting. Start by creaming together the softened butter with the vanilla. Add the powdered sugar and salt to the mixing bowl. Mix well with your electric mixer until smooth.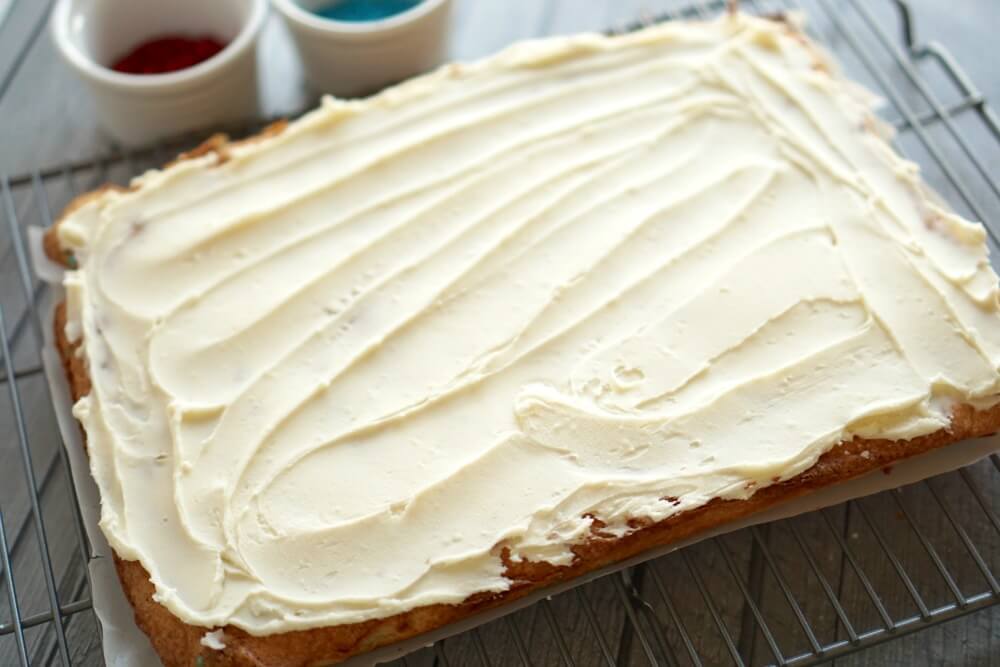 After the cookie base is completely cool, remove the base from the baking pan. Place the cookie base in the serving dish or platter. Add the frosting to the base. Once you get a smooth even layer of frosting, add additional sprinkles. Cut and serve.
The 4th of July cookie bar is an easy dessert to take to a BBQ or serve to your guests if you are hosting. With the right gluten-free flour, you will have a delicious alternative option. The red, white, and blue sprinkles in the dough add a fun patriotic touch.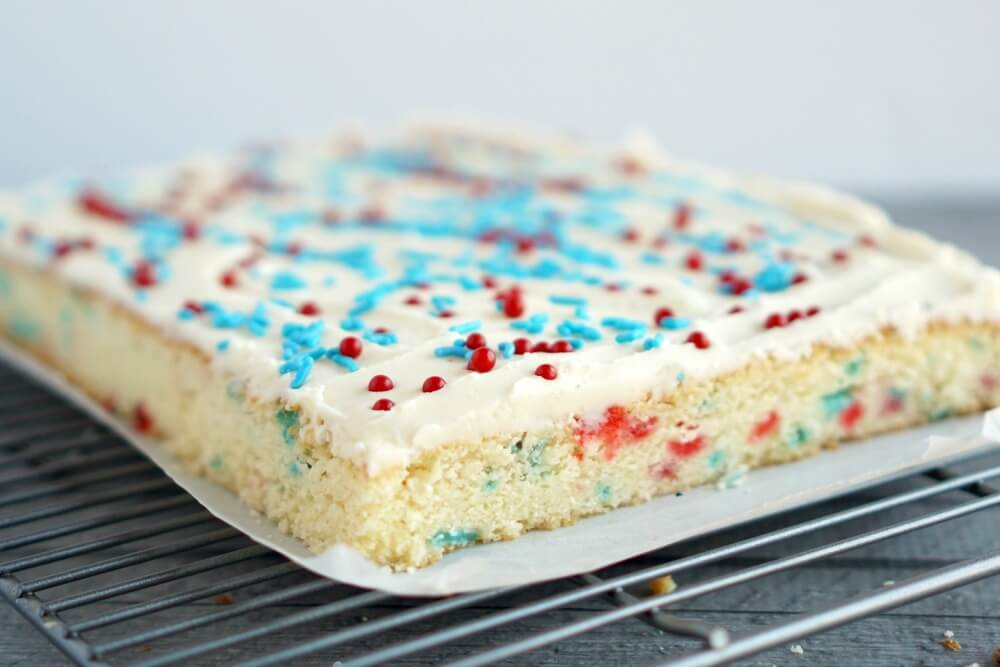 You may want to check out these other great cookie bar recipes: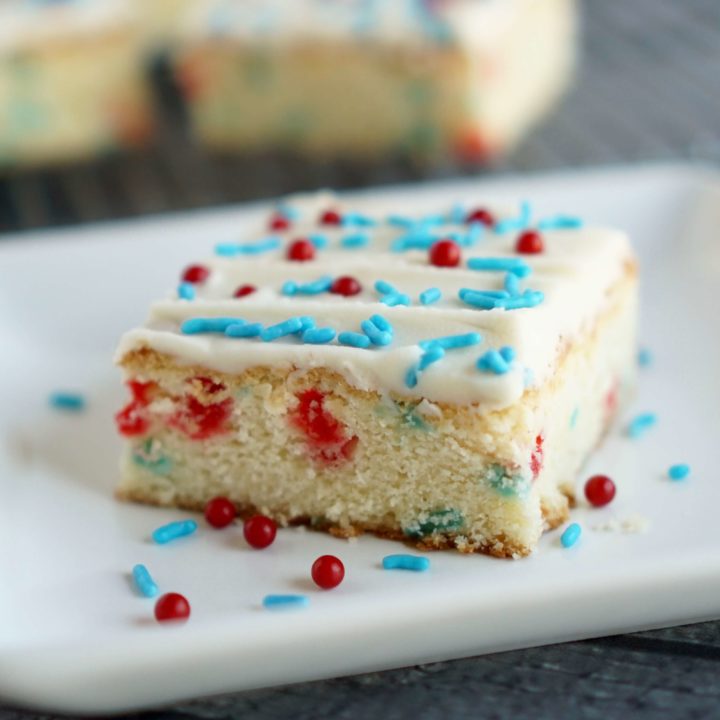 Sugar cookie bars
A basic sugar cookie bar recipe made festive with your favorite sprinkles!
Ingredients
Cookie Base
1 cup unsalted butter (softened)
4 oz cream cheese (softened)
1 ¾ cups sugar
2 large eggs + 1 egg white
2 teaspoons vanilla extract
2 ½ cups unbleached flour
½ teaspoon baking powder
1 teaspoon salt
Holiday Sprinkles
Frosting:
¾ cup unsalted butter (softened)
2 cups powdered sugar
1 teaspoon vanilla extract
¼ teaspoon salt
Instructions
1. Preheat your oven to 350 degrees and line a 9x13 baking dish with parchment paper. Spray lightly with cooking spray and set aside.
2. Using your electric or stand mixer, combine butter and cream cheese in a mixing bowl. After combined, add the sugar and mix well. Mix in the egg and vanilla until incorporated.
3. Add in the flour, baking powder, and salt to the cream cheese mixture. Mix well until the dough forms. Fold in about a ½ cup of holiday sprinkles.
4. Spread the dough in the prepared pan. Make sure that the dough is in an even layer to ensure that it bakes evenly.
5. Bake for 30 - 35 minutes (time may depend on how thick your dough is). Remove from oven and let cool completely.
6. While the cookie layer is cooling, make the frosting (directions below).
7. Once the cookie is cooled, remove from baking dish and frost.
8. Garnish with holiday sprinkles and cut into squares or bars.
Frosting Directions:
1. Add the softened butter and vanilla to a mixing bowl. Cream together until well mixed.
2. Add in powdered sugar and salt. Mix well with an electric mixer until smooth and creamy.
You may also enjoy these other great dessert recipes: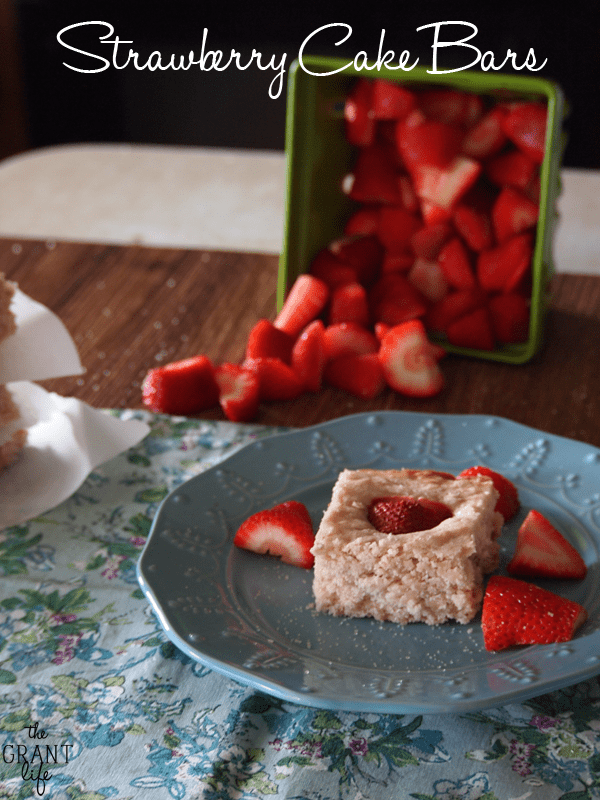 Chocolate covered macaroon bars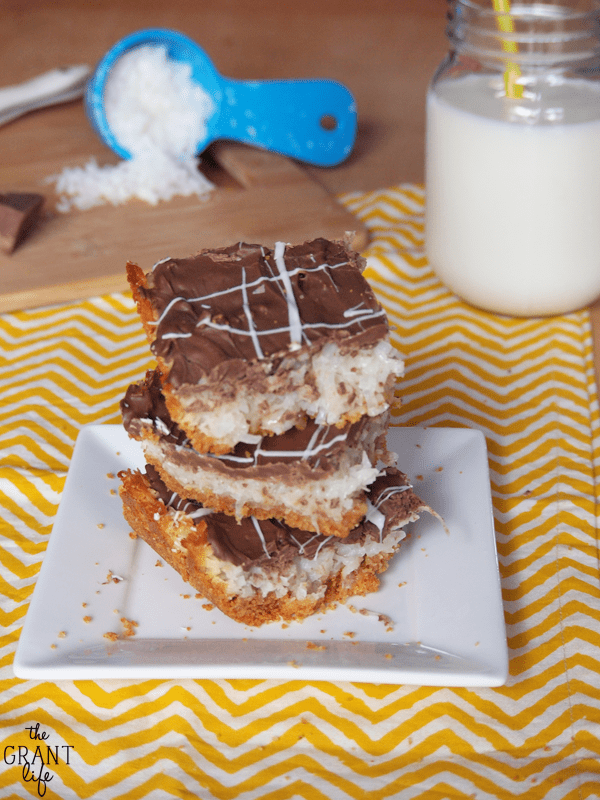 White chocolate and raspberry blondies