Ranger cookies are chocolate chip cookies that have been kicked up a notch. They included your typical chocolate chip cookie ingredients plus oats, coconut and a little something extra for added crunch. Let me show you how to make these insanely delicious ranger cookies!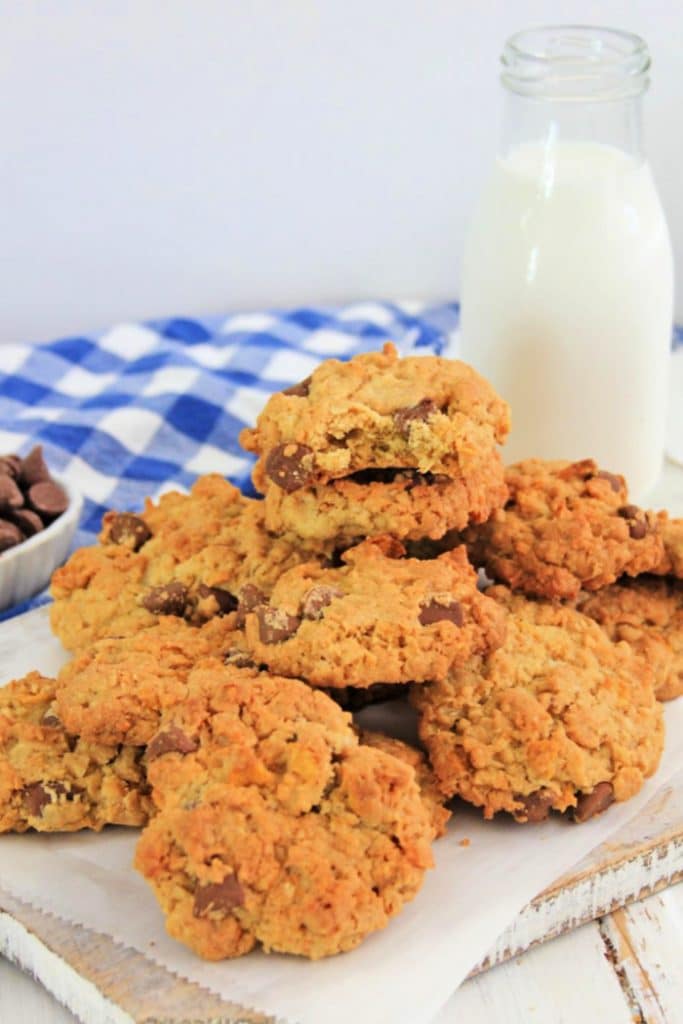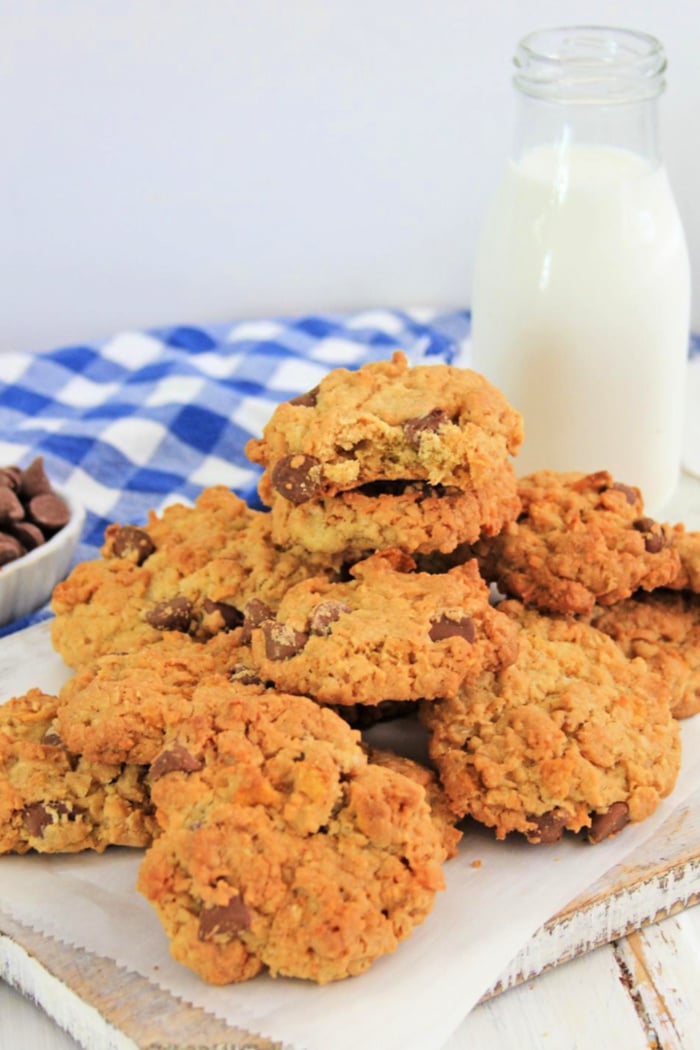 I don't know about you but there is just something magically about making chocolate chip cookies. From the time I start to soften the butter til I take the first bite, my whole body is happy. It's like baking cookies totally changes my attitude.
I'm sure I'm not alone in my happy baking vibes, right? You know you love homemade chocolate chip cookies just as much as I do.
These ranger cookies are one of my favorite cookies to make. They are loaded with goodness and are a fun spin on traditional chocolate chip cookies.
What are ranger cookies?
Ranger cookies are a mashup up of a chocolate chip cookie and a cowboy cookie with a little bit of monster cookie mixed in. Basically, they are chocolate chip cookies that have been jazzed up. Plus with a secret ingredient for added crunch!
I'm not sure where the name "ranger" cookie comes from, but they are sure to become one of your new favorites!
Ranger cookie ingredients
You need the basic chocolate chip cookie ingredients plus a few extra ingredients. Don't worry, they are all easy to find! I bet you have most of the ingredients for these cookies in your pantry already. To make these cookies you will need:
Butter
Sugar – brown and white
Eggs
Vanilla
Flour
Baking soda and powder
Salt
Chocolate chips
Oats
Coconut
Corn flakes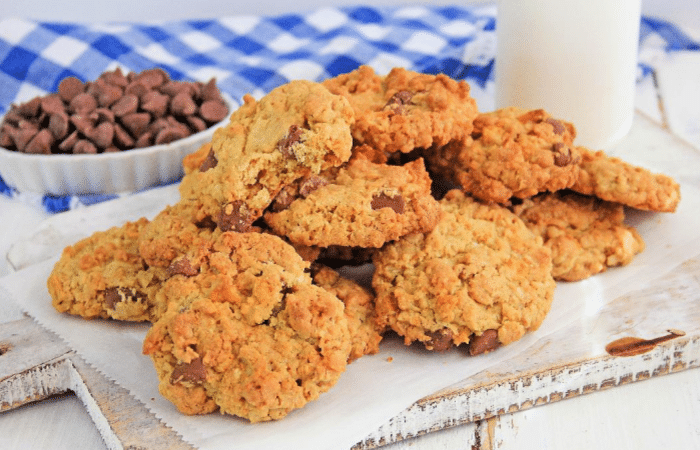 Did you see that last ingredient? Yup! Corn flakes! Corn flakes are the secret ingredient that give these cookies a crunch! Bet ya didn't guess that one, huh? Let me break down the ingredients for you and substitution suggestions.
Butter – Unsalted butter is best, especially since we are adding salt. If you have salted butter on hand, no worries. Just reduce the salt a bit.
Sugar – You need white and brown sugar for these ranger cookies. You can use any white sugar you'd like. If you don't have brown sugar on hand, try making it yourself! It's really easy and gives the cookies a great flavor.
Oats – I suggest old fashioned rolled oats for this recipe but you can use whatever oats you have on hand.
Coconut – Shredded coconut is what you need for these cookies. I would use unsweetened if possible, but if you already have sweetened, use that.
Corn flakes – Yup. Like the cereal! This is what gives the cookies a crunch after baking!
If you don't have corn flakes, you can use Frosted Flakes, Rice Krispies, Corn Chex, or other crunchy cereals in place of the corn flakes.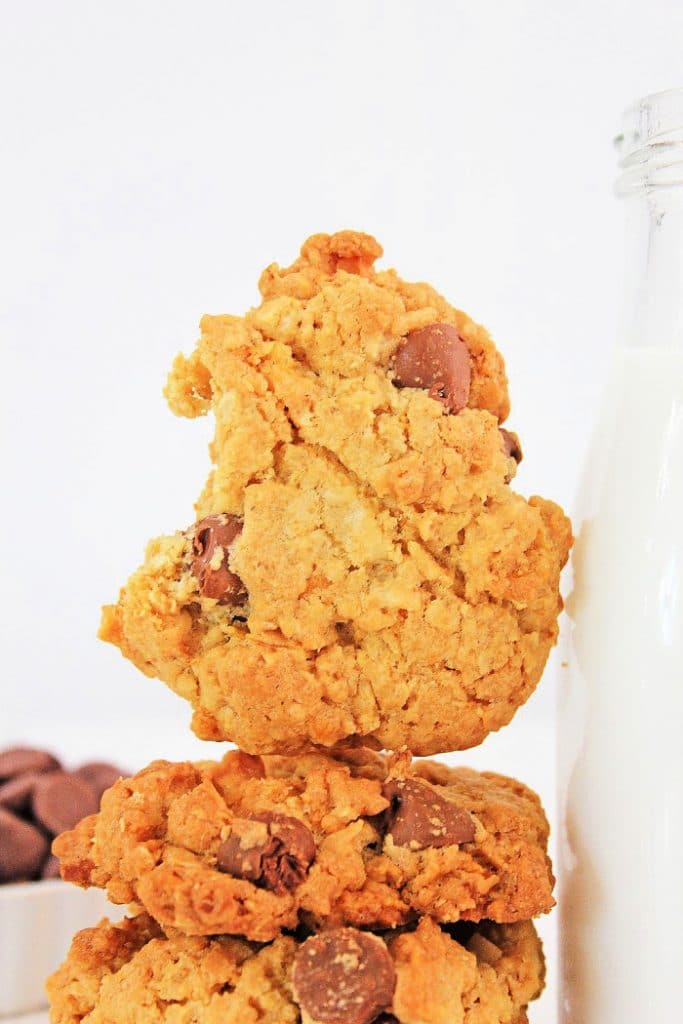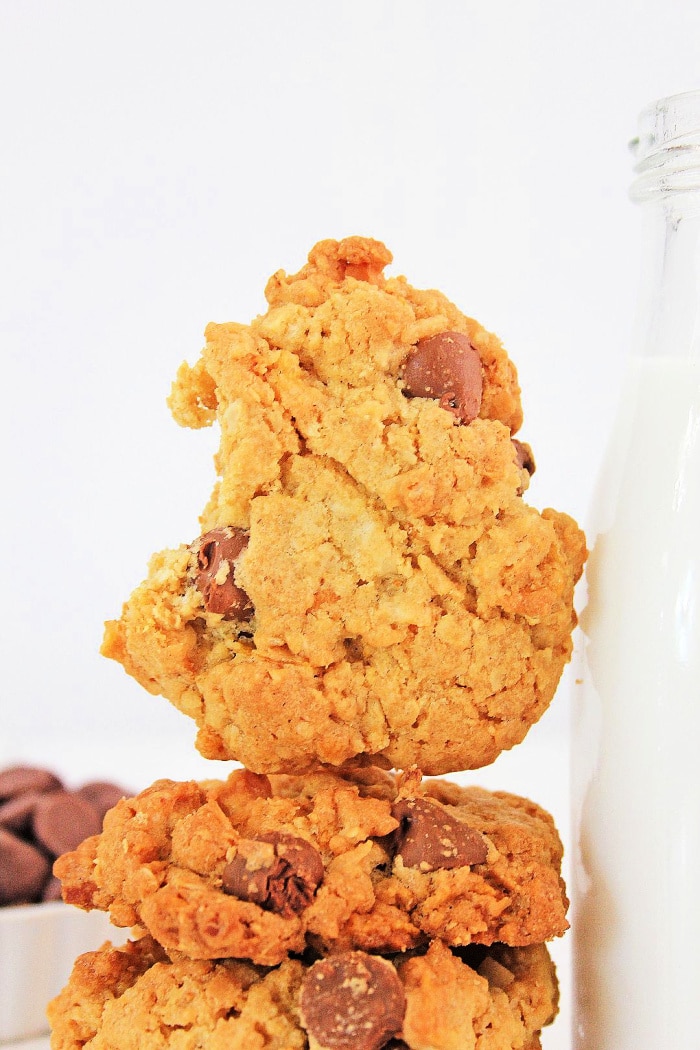 How to make ranger cookies
Once you have gathered all your ingredients you will also want to grab:
mixing bowl and hand mixer or stand mixer
extra bowl
cookie sheets
parchment paper or non stick baking spray
Step 1: In the bowl of your stand mixer or in a mixing bowl with a hand mixer, cream together the butter and the sugars until light and fluffy. This will take about 3 minutes.
Step 2: Add the vanilla and eggs and beat together until smooth.
Step 3: In a separate bowl, mix together the flour, salt, baking soda, baking powder and oats. Mix to combine.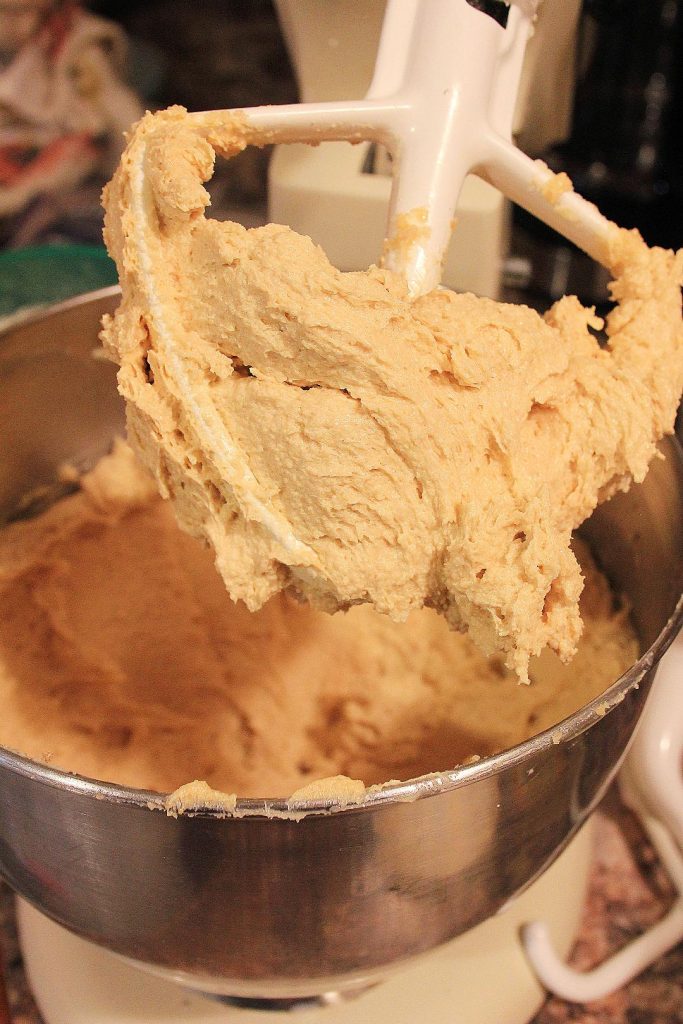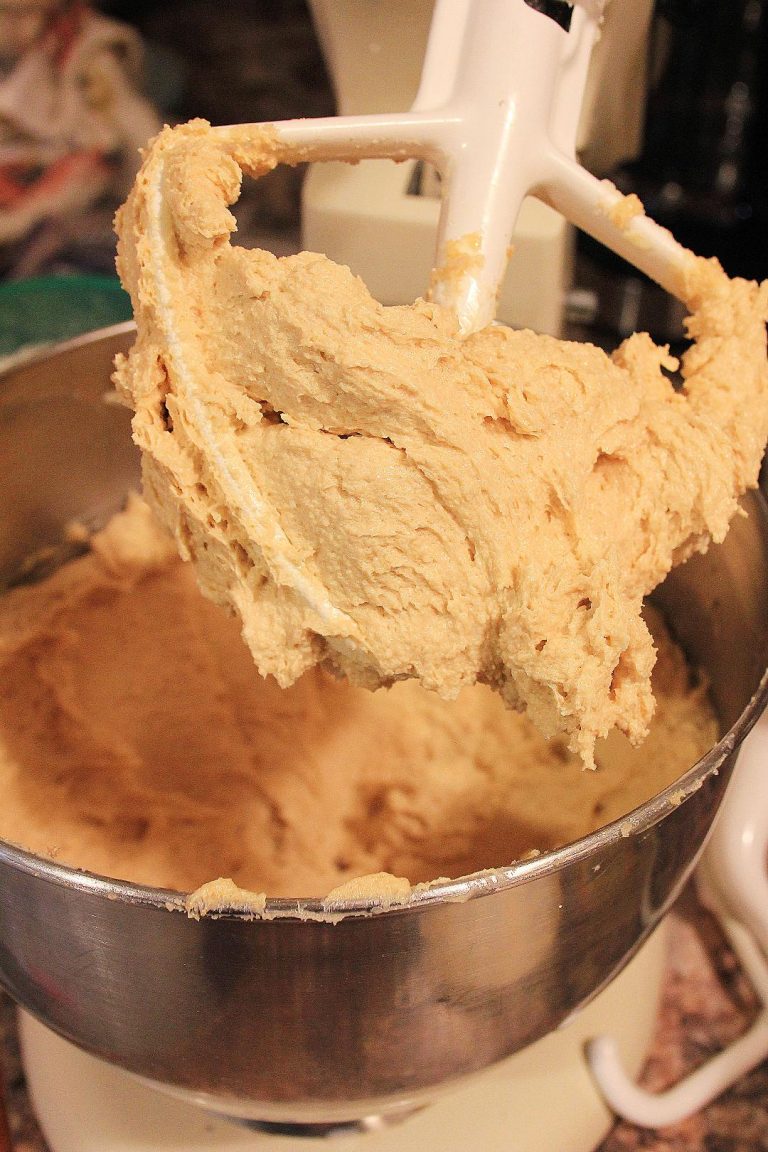 Step 6: Add the flour/oat mixture to the butter and sugar. Stir to combine.
Step 7: Fold in the coconut, corn flakes and chocolate chips.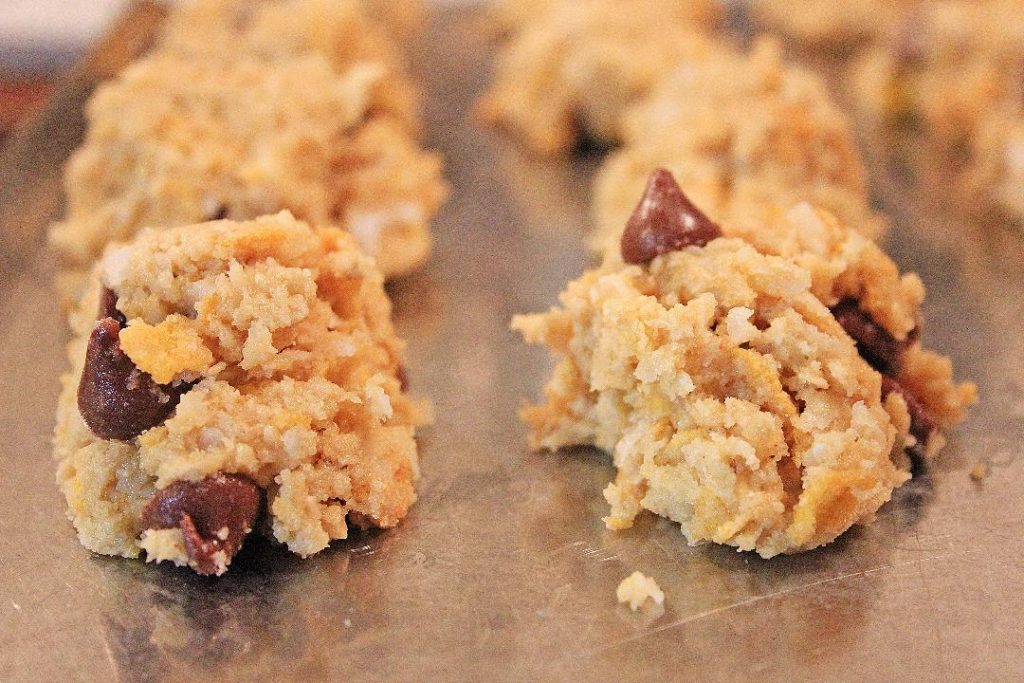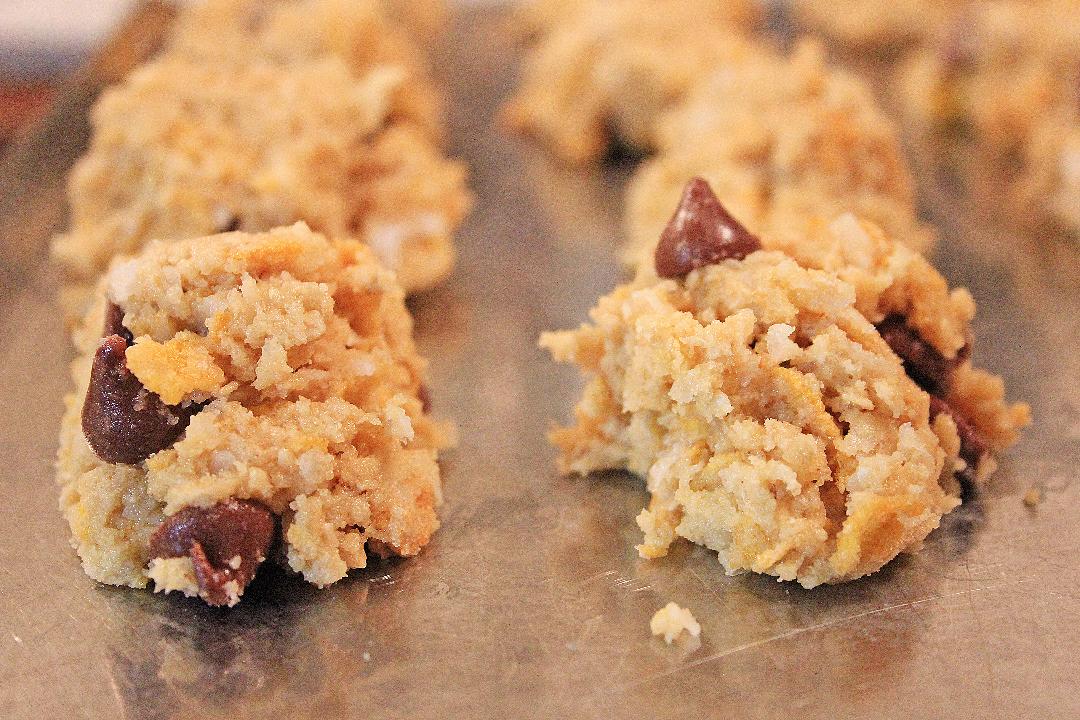 Step 8: Drop tablespoon sized dough onto your prepared cookie sheet. Bake for 12-15 minutes or until the edges are golden brown.
Step 9: Remove from oven and place on a wire rack to cool.
How to store cookies
Once your cookies have cooled, place them in an air tight container. You do not have to put the cookies in the fridge. These ranger cookies will keep for up to 5 days, if stored properly.
Can I freeze ranger cookies?
You can! You can freeze them before you bake them or after. To freeze before you bake, follow the instructions below but instead of putting them in the oven, place your cookie sheets in the freezer. Once the dough has harden, transfer to a ziplock bag and store in the freezer.
To freeze after you bake, place the cooled cookies in a ziplock bag with the air removed. Place in the freezer for up to 3 months.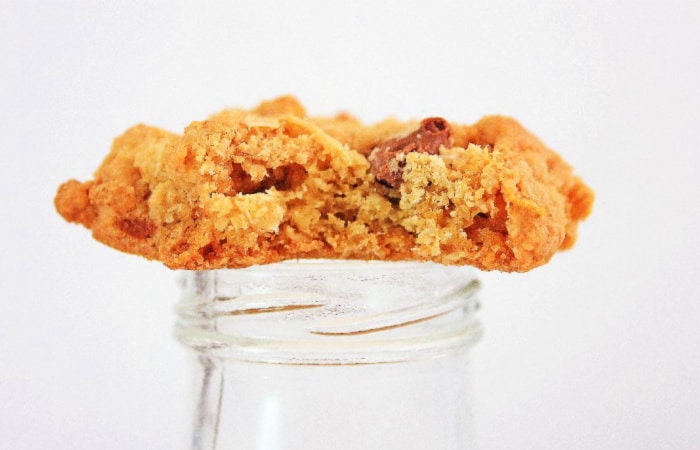 Other great cookie recipes to try
Need more cookies in your life? Try:
Or try these cookies with a DIY coffee drink!
Ranger cookie recipe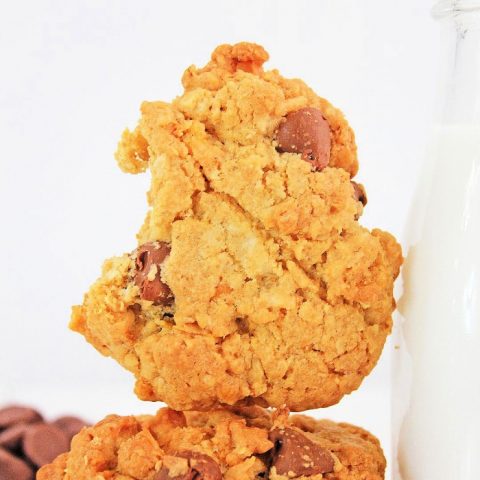 Ranger cookies
A classic chocolate chip cookie kicked up a notch with coconut, oats and corn flakes!
Ingredients
1 cup of butter, softened
1 cup of brown sugar
1 cup of sugar
2 large eggs
1 teaspoon of Vanilla
2 cups of flour
1 teaspoon of baking soda
1/2 teaspoon of baking powder
pinch of salt
2 cups of old fashioned rolled Oats
2 cups of corn flakes
1 cup of coconut
8 ounces of Milk Chocolate Chips
Instructions
Pre-heat the oven to 350.

In the mixing bowl of a stand mixer, using the paddle attachment, cream together the butter, sugar, and brown sugar, until light and fluffy.

Add the eggs, and Vanilla, and blend until smooth.

In a separate bowl, add the flour, soda, baking powder, and pinch of salt, and stir well. Add the oats, and stir well to blend.

Add the flour/oat mixture to the mixing bowl, and blend until mixed.

Fold in the corn flakes, coconut, and chocolate chips.

Drop the cookies by the Tablespoonful onto an prepared cookie
sheet, and bake for 12 to 15 minutes, or until golden brown.

Place the cookies on a wire rack to completely cool.

Serve, and Enjoy!
Nutrition Information:
Yield:

48
Serving Size:

1 cookie
Amount Per Serving:
Calories:

137
Total Fat:

6g
Saturated Fat:

4g
Trans Fat:

0g
Unsaturated Fat:

2g
Cholesterol:

19mg
Sodium:

86mg
Carbohydrates:

19g
Fiber:

1g
Sugar:

11g
Protein:

2g
Like this recipe? Be sure to PIN IT for later!