If I had to pick one drink to have on repeat it would be this Cinnamon Dolce Latte. It has just the right amount of sweet and the perfect amount of cinnamon flavor. You can grab one of these lattes at Starbucks, or you can make it at home! Let me show you how to make a cinnamon dolce latte at home.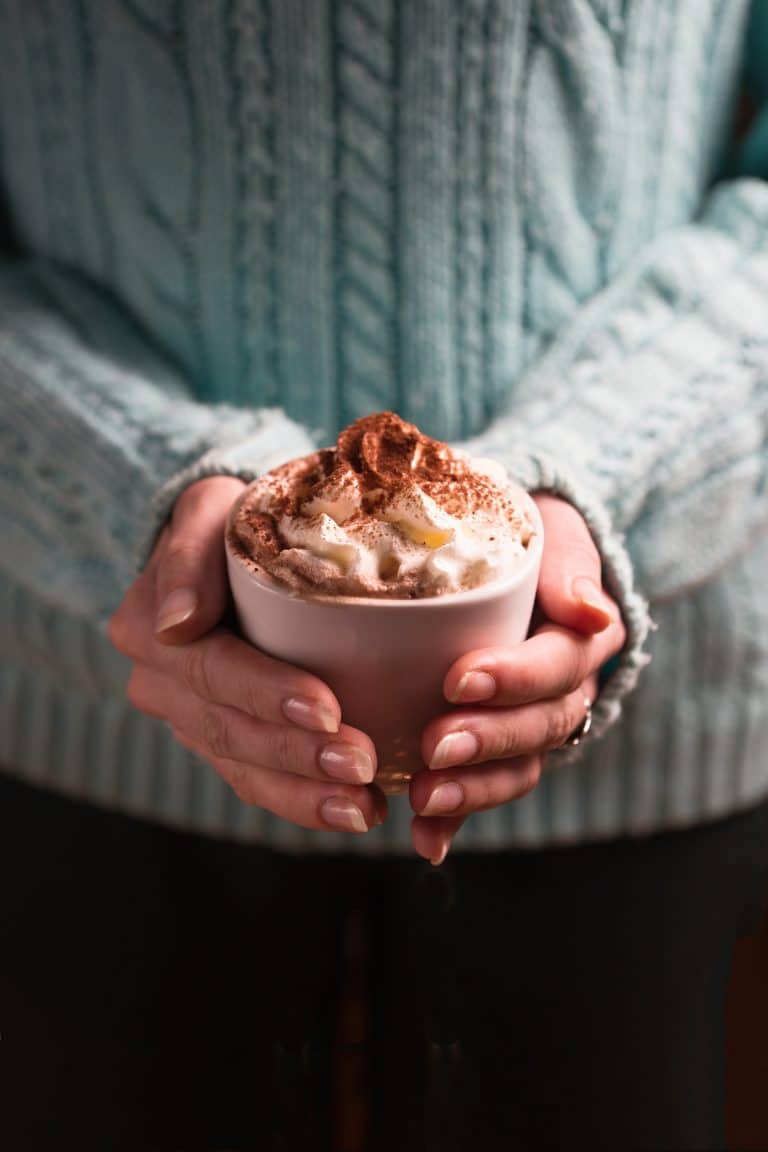 One of the first drinks that I ever fell in love with from Starbucks was the cinnamon dolce latte. I love that it has a sweet flavor with a subtle hint of cinnamon. To me, it is a classic drink and one that you can't go wrong with ordering. Of course I do change it up a bit and sometimes order an iced cinnamon dolce latte – haha!
What is a cinnamon dolce latte?
A cinnamon dolce latte is an espresso based drink that you can find at some coffee shops, including Starbucks. The latte starts with fresh espresso, cinnamon dolce syrup and milk.
How would you describe cinnamon dolce? The cinnamon dolce syrup is what makes this latte so special and so delicious! Cinnamon dolce literally means "sweet cinnamon". It has a warm cinnamon flavor with a hint of brown sugar. It's delicious and super easy to make at home.
Cinnamon dolce latte ingredients
The great thing about this cinnamon dolce latte, like most of my copycat coffee recipes, is that once you have the ingredients – you can make this drink over and over again! The key is to have the cinnamon dolce syrup on hand and you can whip up your latte in under a minute. To make a homemade copycat cinnamon dolce latte at home you will need:
cinnamon dolce syrup
espresso
milk
whipped cream
ground cinnamon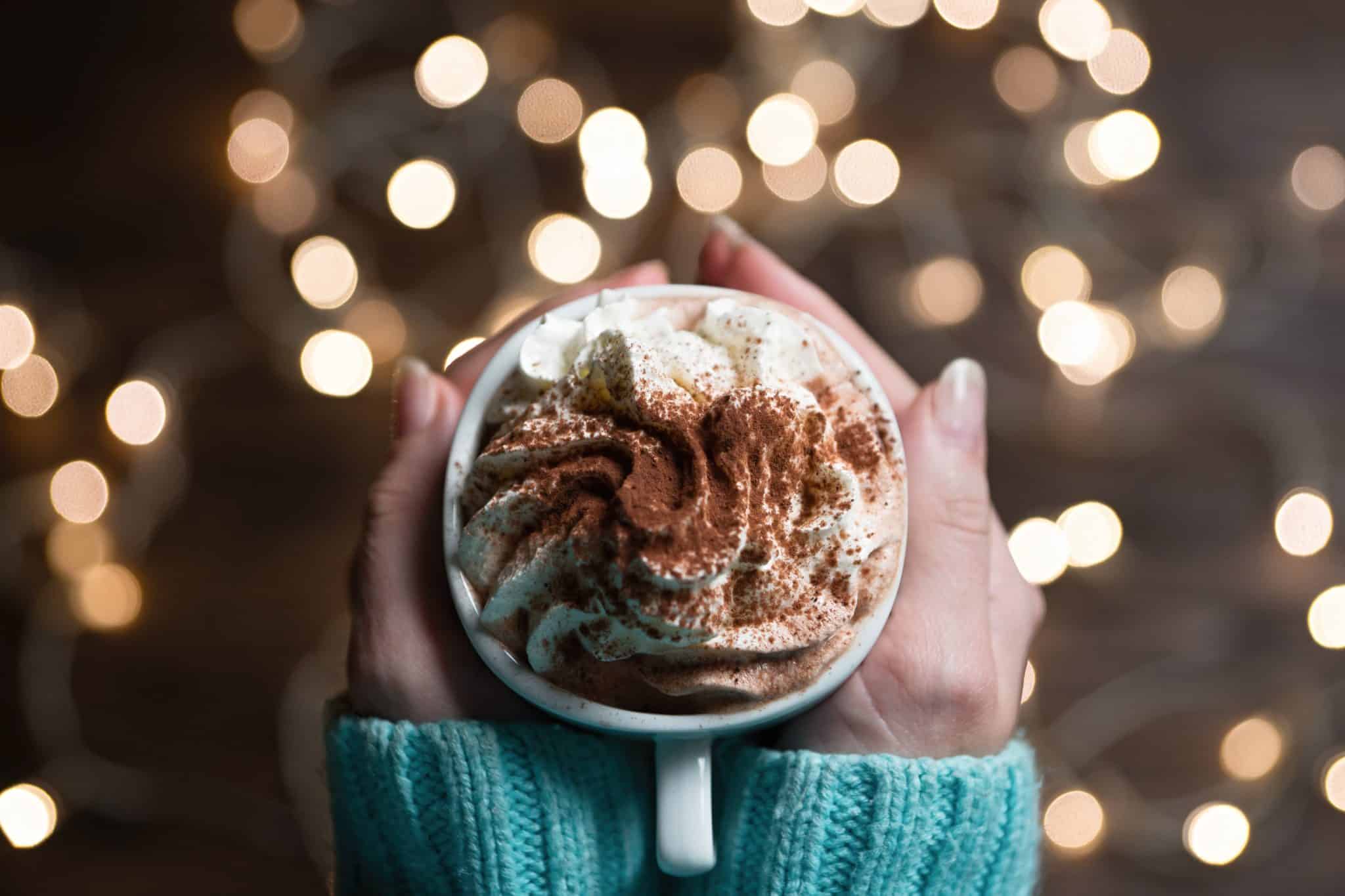 Ingredient notes
Cinnamon dolce syrup – This is what makes this latte so amazing. The cinnamon dolce syrup is a combination of brown sugar and cinnamon spice. You can make a homemade cinnamon dolce syrup (with only 3 ingredients) or you can buy pre-made cinnamon dolce syrup. Either way, you will have this delicious syrup on hand and ready to make a latte at any time of day.
Espresso – You will want 1 shot of espresso for this drink. You can also use hot coffee as well, just make sure to use a strong one.
Milk – Use your milk of choice for this recipe. Want it dairy-free? Use your favorite dairy-free milk alternative in place of milk.
Whipped cream – This is an optional topping, but makes any drink better! Try my homemade whipped cream to top your latte.
Ground cinnamon – Another optional topping, but a great one to put on top of the whipped cream.
How to make a cinnamon dolce latte at home
This recipe for a homemade cinnamon dolce latte is super simple and only requires a few minutes of work. Once you have all of your ingredients, you will also need to grab:
espresso or coffee maker
measuring cups
coffee mug
spoon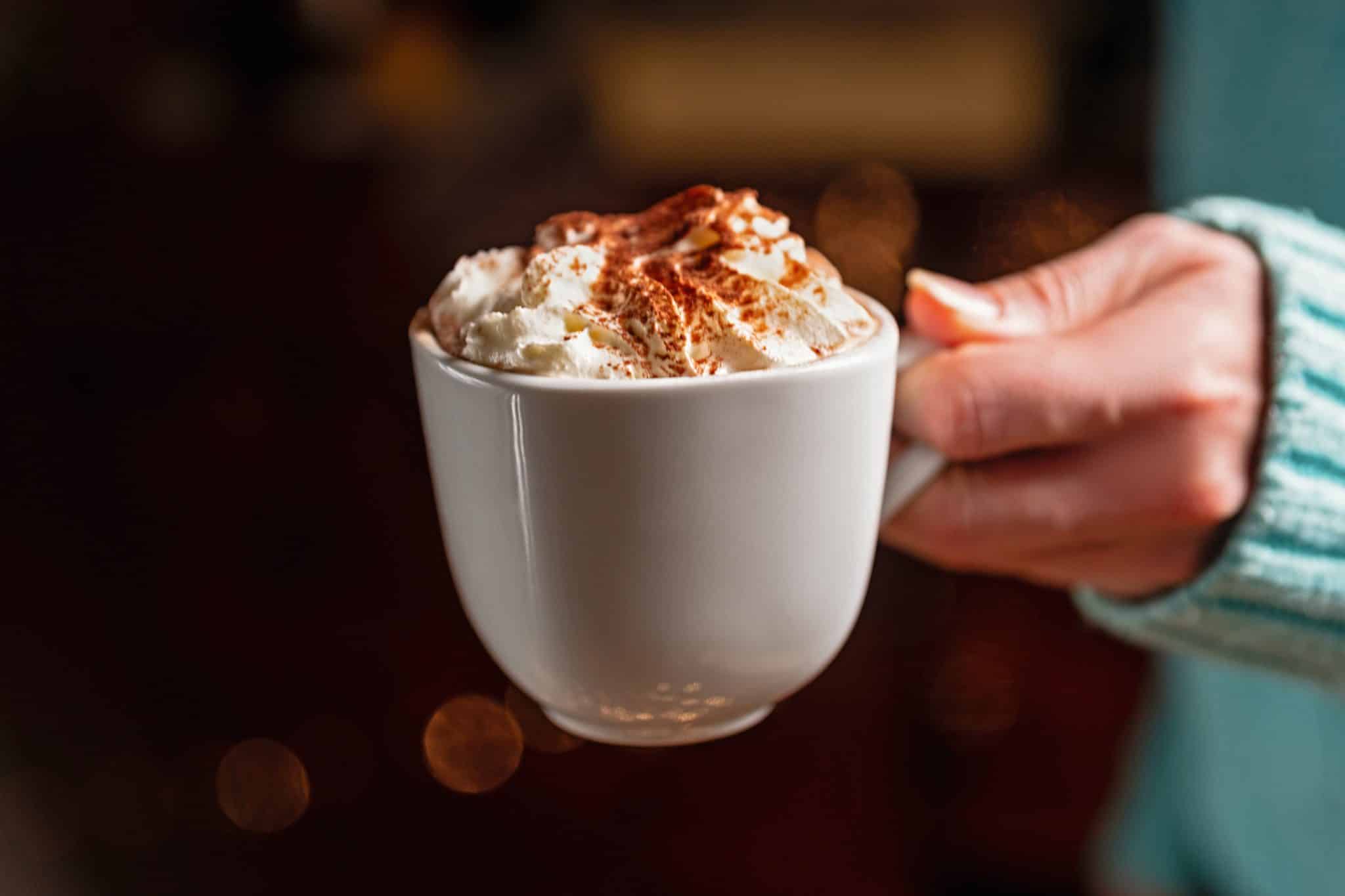 Step 1 Make your espresso Brew your espresso or coffee and place it in your coffee mug. Both espresso or strong, hot coffee make a great cinnamon dolce latte. If you want it to be more like the Starbucks version, use espresso.
Step 2 Add your syrup Pour your cinnamon dolce syrup into the hot coffee and stir to combine. I find that adding the syrup to the hot coffee helps it dissolve and distribute more evenly.
Step 3 Add your milk If you want this to more like the Starbucks cinnamon dolce latte, froth your milk before adding it your coffee mixture. I have this Instant Pot milk frother and absolutely love it.
You can also just add the cold milk to your coffee if you don't have a frother or want to save time. Either way tastes great and I use cold milk more often than I froth it.
Step 4 Add your toppings Add the whipped cream and ground cinnamon to the coffee mug and enjoy your homemade copycat cinnamon dolce latte.
Iced cinnamon dolce latte
Looking to make an iced cinnamon dolce latte? It's easy! You need all the same ingredients plus ice! You can follow this recipe and use either cold coffee or cold brew coffee – or check out my iced cinnamon dolce latte recipe here.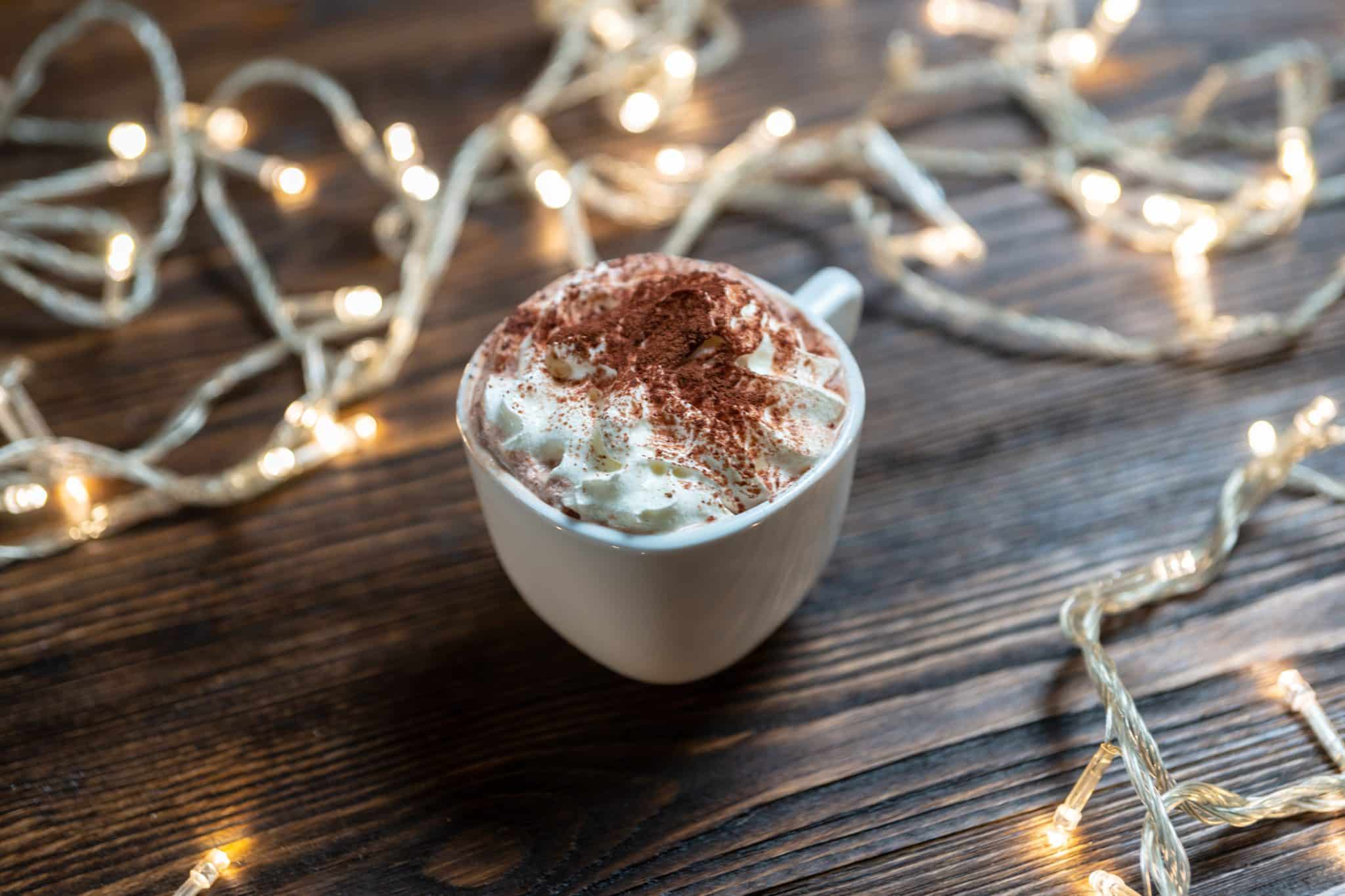 Frequently asked questions
How would you describe a cinnamon dolce latte? – Cinnamon dolce means "sweet cinnamon" and that's what it tastes like! The syrup combines brown sugar and cinnamon to make a sweet addition to your coffee.
What's in a cinnamon dolce latte? – There are only a handful of ingredients in a homemade latte. You will need cinnamon dolce syrup, espresso, coffee and milk. You can also add whipped cream and cinnamon to the top as well.
How do you order a cinnamon dolce latte at Starbucks? – The good news is that Starbucks has the cinnamon dolce latte on their permanent line of drinks so you can order it at any time. To order one at Starbucks simply ask for a cinnamon dolce latte. The barista will know exactly what you want and how to make it. The even better news is that you can easily make a cinnamon dolce latte at home with this easy recipe!
Other Starbucks copycat drinks to try
I love a good copycat coffee drink. Some of my other favorite drinks to re-create are: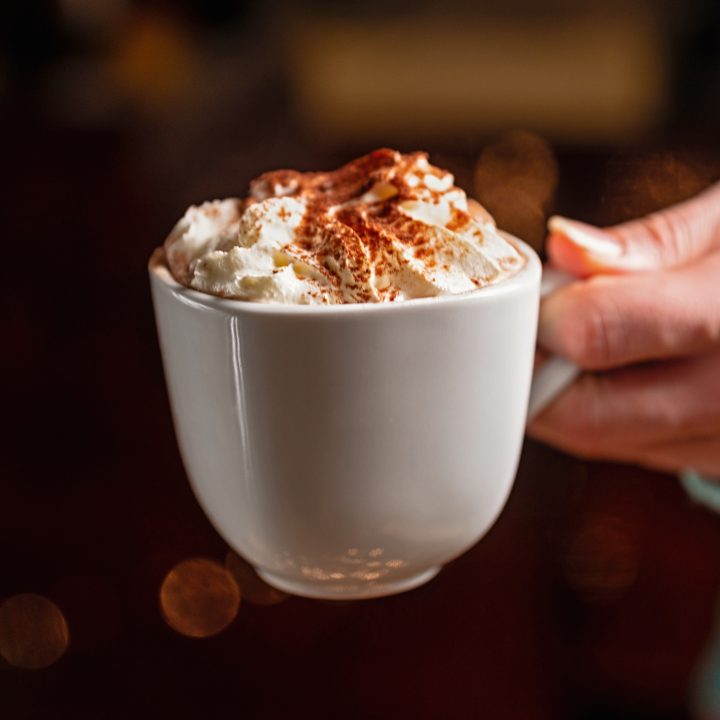 Cinnamon Dolce Latte
Make a copycat Starbucks cinnamon dolce latte at home with just a few ingredients!
Ingredients
1 shot espresso or 1 cup hot coffee
2-3 tablespoons cinnamon dolce syrup
1 cup of milk
whipped cream and cinnamon, for topping
Instructions
Brew the espresso or coffee and place it in a mug.
Add the cinnamon dolce syrup and stir to combine.
Froth your milk and add it to the coffee.
Top with whipped cream and ground cinnamon.
Enjoy!
Did you make this recipe? I'd love for you to leave a review in the recipe card above or the comments below. Want to make it later? Pin the image below to your favorite board.