Oh man. Do you love white chocolate? Me too! And can I say, you have hit the white chocolate recipe jackpot! I'm sharing some of my favorite homemade white chocolate recipes complete with a homemade white chocolate sauce.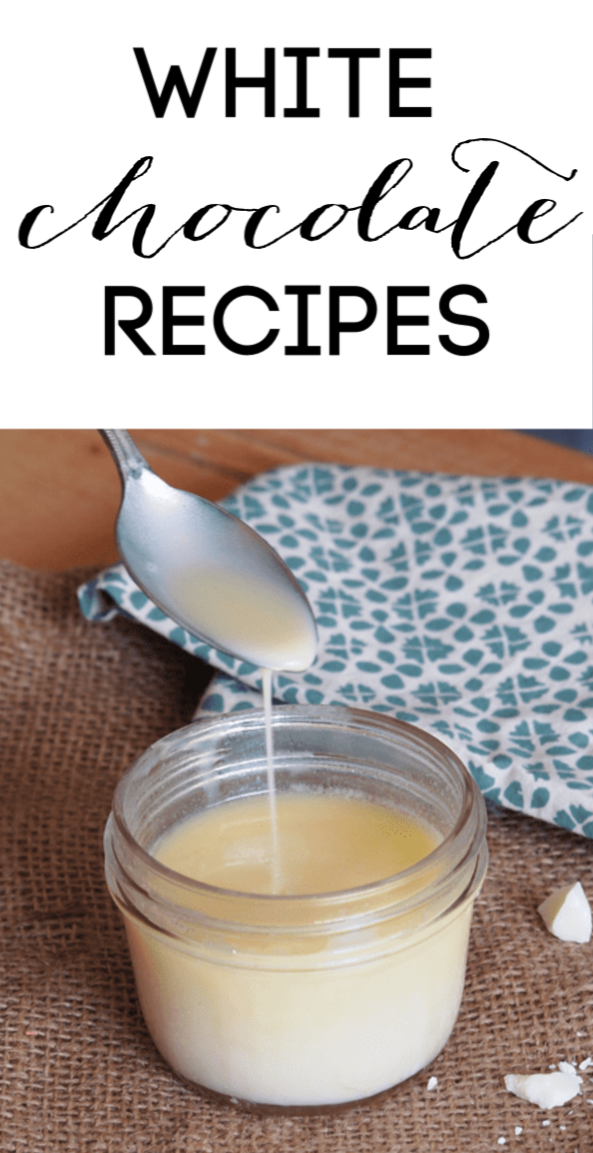 When I was younger I was never really a chocolate "fan". I liked it, but I always seemed to pick a caramel-y treat over a chocolate. For some reason, the older I got the more I appreciated a good chocolate bar or candy. Then I was introduced to the white chocolate mocha and whoa. I was a white chocolate lover from the first sip! Learning how to make my own homemade white chocolate sauce just sealed the deal.
How is white chocolate made?
Have you ever wondered how white chocolate is made? It's a fairly simple process and can even be made at home! You take your ingredients and heat them over a double boiler until smooth. You then transfer them to a mold and allow to set. You can use any mold or even a muffin tin works. Just spray the tin well before adding in the liquid chocolate.
White chocolate ingredients
To make white chocolate you will need:
When shopping for cocoa butter you are going to want one with that is food grade. Cocoa butter is also a common ingredient in lotions and body butters, so double check your cocoa butter before you buy.
Powdered sugar is also commonly called icing sugar, confectioners' sugar and icing cake. It is made by finely grinding regular cane sugar into a powdered state. It is easy to find in the baking section of most grocery stores.
Another common ingredient in white chocolate is powdered milk. Powdered milk is made from evaporating milk and removing the liquid while leaving the solids.
With all the above ingredients, the better the quality, the better the white chocolate will turn out. Use a high quality vanilla extract. You can also make homemade vanilla extract as well.
This video from Todd's Kitchen shows how easy it is to make.

White chocolate recipes
Now that you know how to make white chocolate on your own, you are going to need some recipes. Check out these great white chocolate recipes! And keep checking back for more.
White chocolate recipes
Love white chocolate? These recipes are for YOU! I'm sharing everything from drinks, desserts and even a homemade white chocolate sauce.