Hey there my chocolate lovers! I have THE ULTIMATE chocolate lovers cookie for you today. It's a combo of milk chocolate and white chocolate and is so perfect. Let me show you how to make these chocolate white chocolate chip cookies today!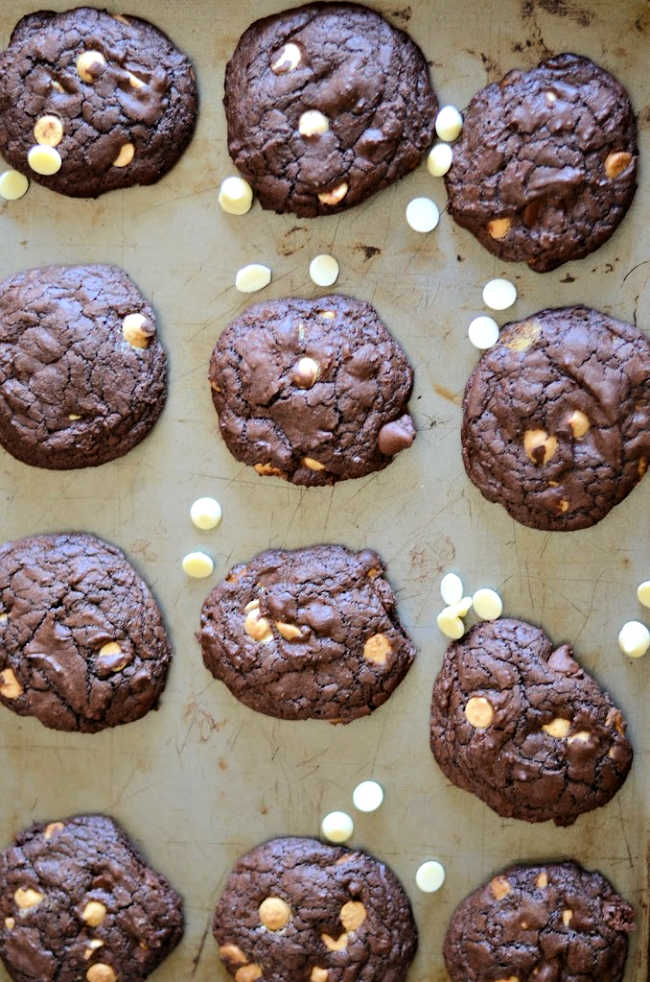 Alright friends, I'm going to be totally honest here. No holding back. I got to get this off my chest. The truth is.. if I had to pick ANY dessert out there.. I would pick a warm cookie fresh out of the oven.
I know, I know. Some people may think that's odd. I mean when you have cake or pie or brownies to pick from. But in my book, nothing beats a warm cookie. In fact, this chocolate white chocolate chip cookie may be my new favorite one.
Chocolate white chocolate chip cookies
I'm going to be honest again here, the name of these cookies is almost a tongue twister. I mean, chocolate white chocolate chip? Really? Yes, really. I wanted a name that accurately described the best cookies ever.
These cookies are thick and chewy and pretty much have a brownie consistency. Which makes sense because I used a brownie batter for the base of these cookies. Then, I added in regular milk chocolate AND white chocolate chips. Ya know, for funsies.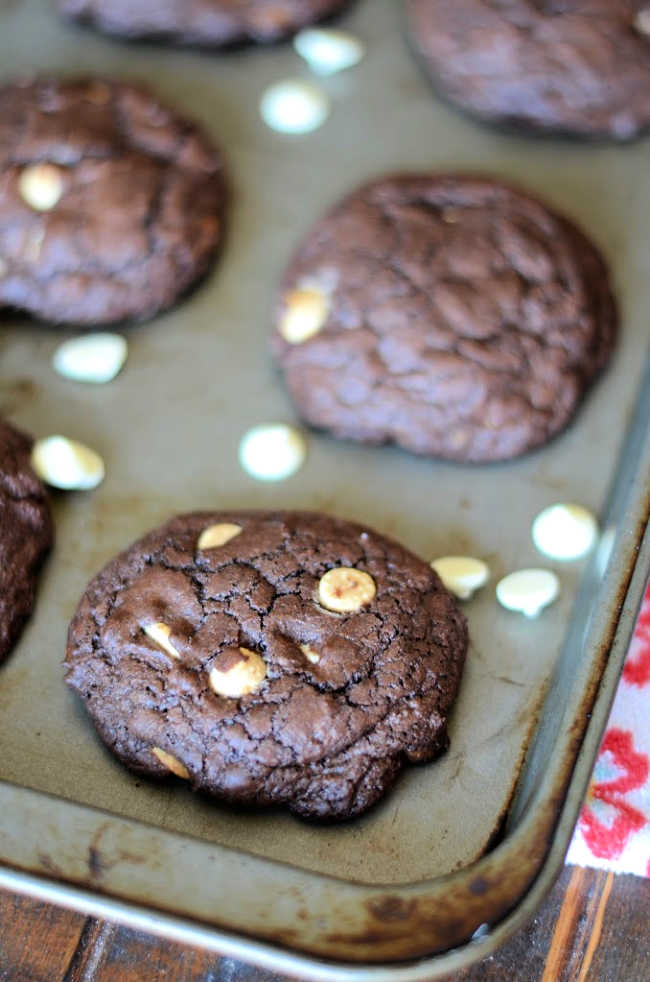 Ingredients
Besides the fact that these cookies are double cookie, extra chewy and oh so delicious, the ingredient list is also pretty simple. To make these chocolate white chocolate chip cookies you will need:
brownie mix
butter
water
eggs
flour
chocolate chips
You can use any brownie mix that you prefer in this recipe. I used King Arthur gluten free brownie mix for my cookies. The amount of flour needed to firm up the batter may vary slightly among other brownie mixes, but not by much. You can even try a homemade brownie too!
For the butter and eggs you can use any kind that you like here. You can even sub out the butter for oil. Also, I used large eggs for this recipe. Regular all-purpose flour works in this recipe. If you want to keep these brownies gluten free, use a gluten free flour blend.
You will need two different chocolate chips – milk chocolate chips and white chocolate chips. Feel free to sub the milk chocolate for dark chocolate or bitter sweet – whatever you like! Use a higher quality white chocolate chip to get the best results for this cookie. Find out more about white chocolate here.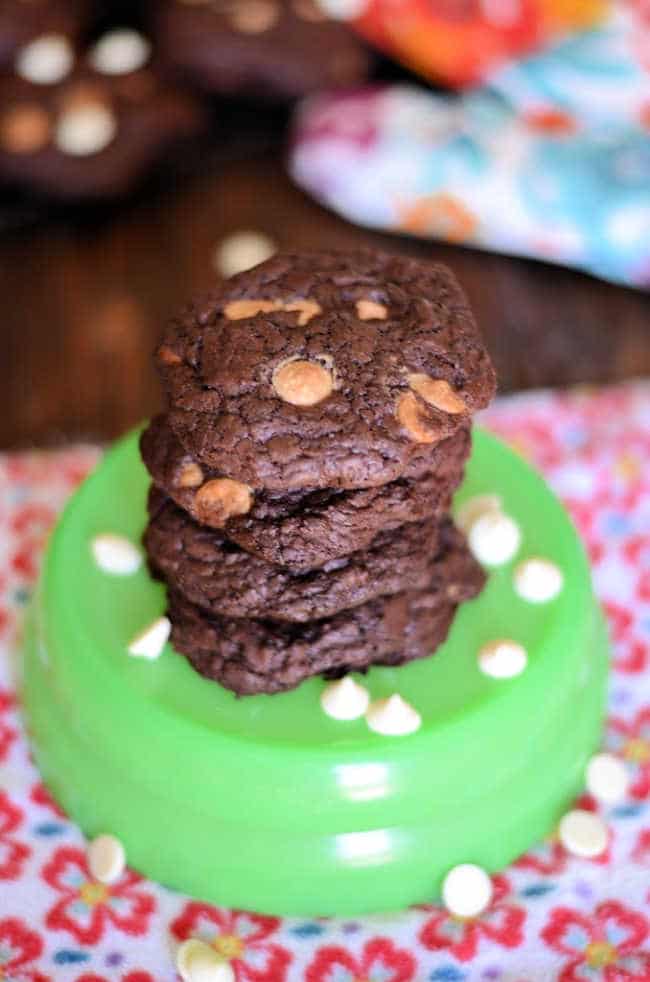 Instructions and tips
Once you have all your ingredients together you will also need to grab:
a mixing bowl
spatula
cookie sheet
silicone baking sheet or parchment paper
Pre-heat your oven to 350 degrees Fahrenheit and line your cookie sheet with either a silicone baking mat or parchment paper.
Start by mixing together your brownie mix, eggs, butter and water. (Or whatever ingredients your brownie mix calls for.) Then, slowly add in the flour until you get a thicker batter. You want the batter to hold together when you form a ball. If it's too thin, add more flour.
Mix in the regular chocolate chips and the white chocolate chips. Stir until just combined.
Use your cookie scoop to dole out balls onto your lined cookie sheet. You can also do this with a spoon or even using your hand. (No fancy tools needed!) The batter should be thick enough that it doesn't spread once it's on the cookie sheet.
Bake for 8-10 minutes. Your edges should be slightly brown and any white chocolate chips will get a bit darker. Place on a cooling rack once you remove them from the oven.
Everything can be mixed in one bowl! No need to dirty more dishes than necessary here.
If you are using parchment paper, crumble the into a ball and then stretch it out onto your cookie sheet. This will help with the edges curling over. The crumpled parchment doesn't affect the cookies at all.
The extra flour is needed to thicken up the batter so that the cookies don't spread on the baking sheet. Start with a few tablespoons and add more, if needed. The amount of flour you need will depend on the brownie mix you pick.
Allow the cookies to cool slightly and place in an air tight container to store. A plastic bag or tupperware work perfect.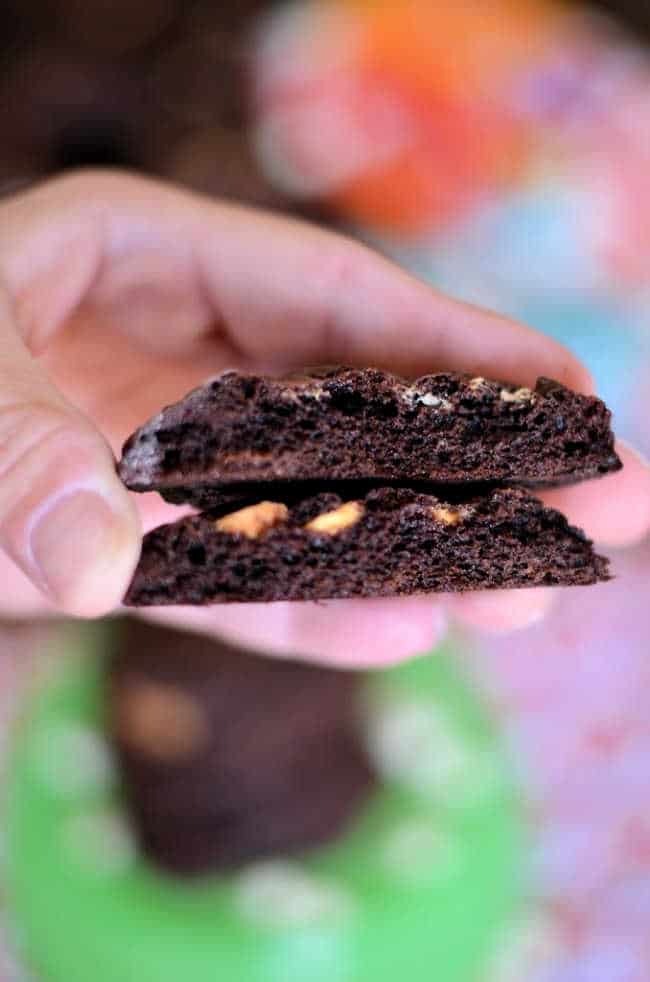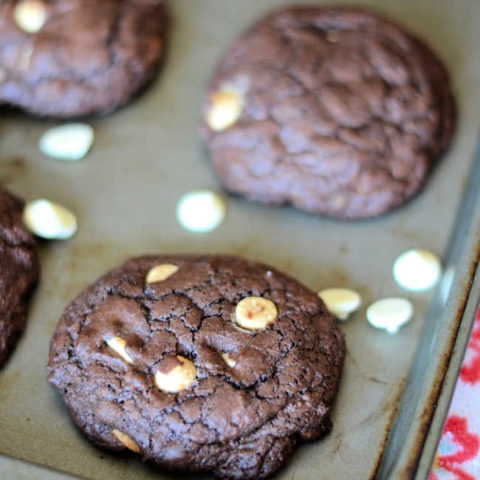 Chocolate white chocolate chip cookies
Brownie cookies made with two types of chocolate chips.
Ingredients
1 package of brownie mix, see notes
1/2 cup melted butter
2 tablespoons water
2 large eggs
1/2 cup of flour, see notes
1/4 cup milk chocolate chips
1/4 cup white chocolate chips
Instructions
Preheat your oven to 350 and line your cookie sheet with a silicone baking mat or parchment paper.
In a large mixing bowl, combine your brownie mix, butter, eggs and water.
Mix in your chocolate chips.
Start by adding in a few tablespoons of flour until your batter is thick and doesn't spread.
Scoop out your batter onto your cookie sheet.
Bake for 8-10 minutes or until the edges are slightly browning.
Remove, place on a cooling rack and enjoy!
Notes
I used King Arthur gluten free brownie mix which is a 17 ounce brownie mix. I have not tested this recipe with other brownie mixes.
Start by adding a few tablespoons of flour at a time until you get a thick batter that doesn't spread out on the cookie sheet.
Nutrition Information:
Yield:

14
Serving Size:

1 cookie
Amount Per Serving:
Calories:

306
Total Fat:

16g
Saturated Fat:

7g
Trans Fat:

0g
Unsaturated Fat:

8g
Cholesterol:

45mg
Sodium:

200mg
Carbohydrates:

40g
Fiber:

0g
Sugar:

3g
Protein:

4g
You may also want to try these other great cookie recipes as well: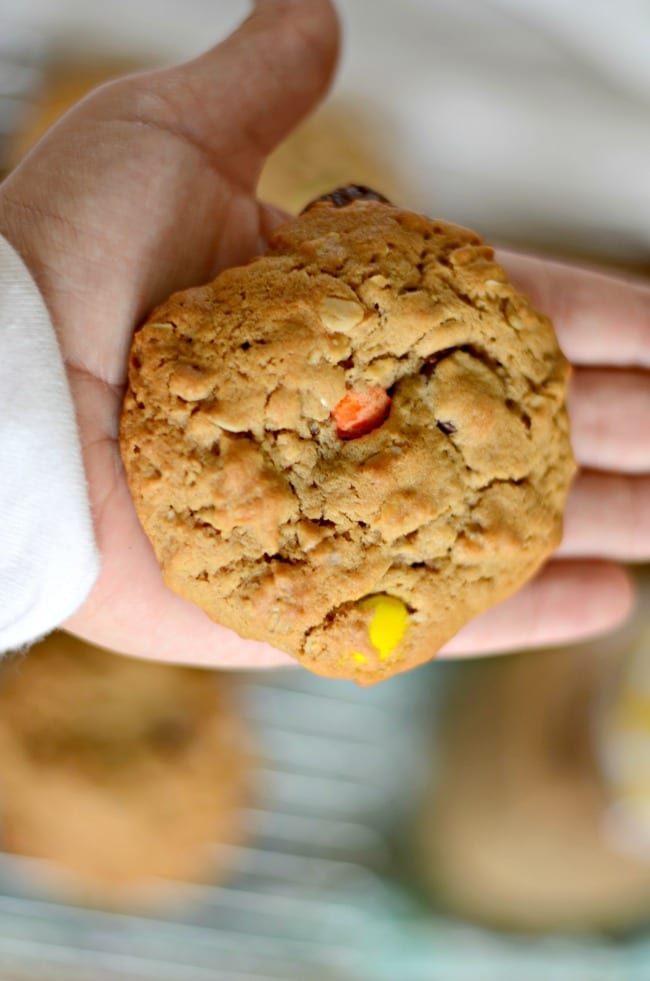 Pecan praline chocolate chip cookies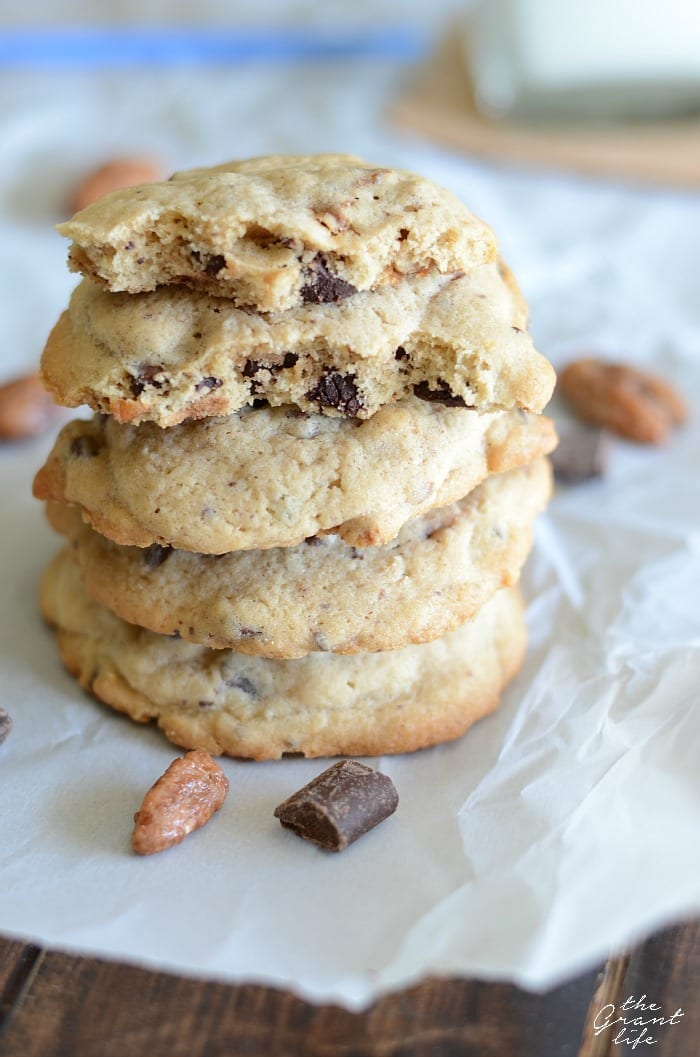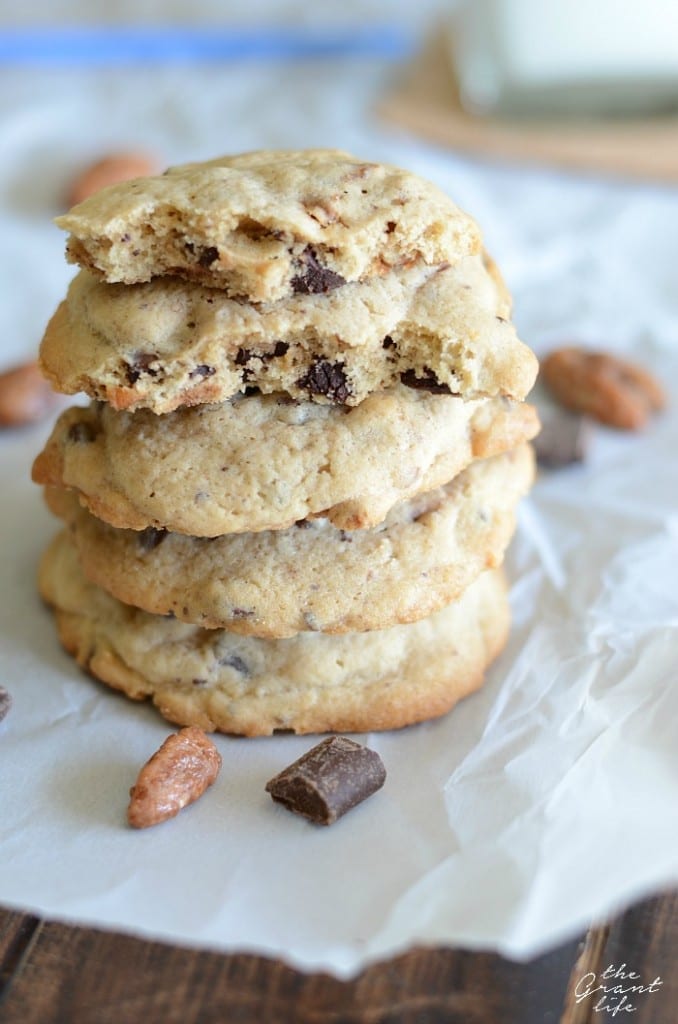 Starbucks copycat chocolate chunk cookies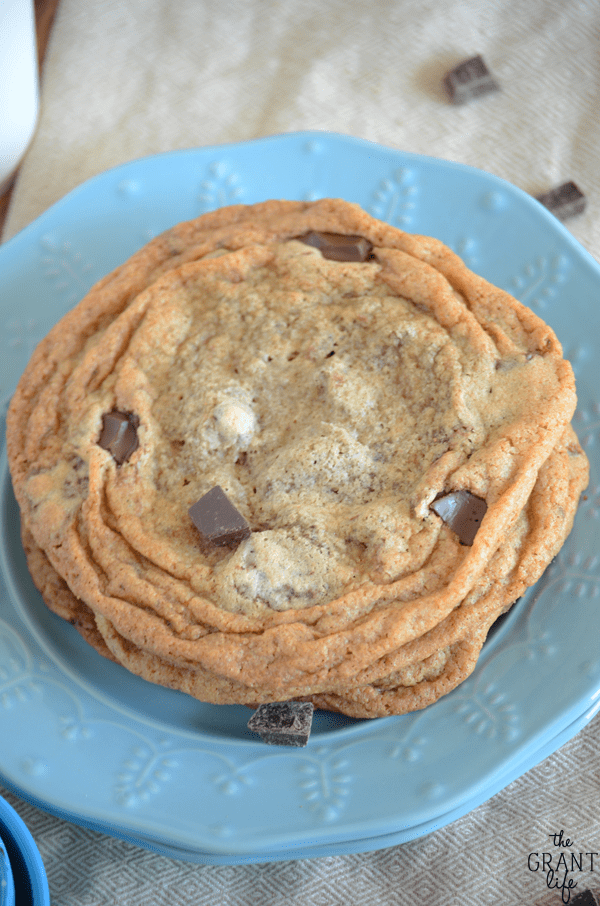 Like this recipe? PIN IT for later!