Homemade white chocolate sauce is super easy to make and perfect for pancakes, coffee and more!
So now I have to confess something. Remember how I made homemade butterscotch and caramel sauce? Yea, well when I was making both of those I also made homemade white chocolate sauce. Phew. I feel so much better. And yes, I really did make three sauces in one day. And yes, I might have been slightly buzzed from sugar the rest of the day. But look! White chocolate sauce!
For recipe updates and a free coffee e-book, enter your email below!
The good thing about this white chocolate sauce is that's its super easy to make and it keeps in the fridge for awhile. [I'd give you a definite time frame but I'm not sure yet. Its been 2 weeks and so far so good.] I made the other two sauces and used them both right away but tucked this white chocolate sauce away for later. [Which was hard to do because I literally wanted to dive into it. But I didn't.]
I needed to take pictures of this sauce, so I reheated it in the microwave and started shooting away. Ryon happened to be home for lunch so I asked to come help me. He was very confused as to how he could help, but I told him to hold the spoon and pour the sauce back into the jar so I could get a picture.
Like so. Once he understood what to do he started to get into it. He would tell me "Get it! Take the picture. Your too slow!" I was clicking as fast as I could and trying not to laugh at him. I have to say, he was a pretty good hand model. [Although slightly sassy.]
FAQs about white chocolate sauce
-It hardens in the fridge! What do I do?
You can reheat it in the microwave in 30 second intervals, stirring in between. You can also reheat in a saucepan on the stove top.
-What is the difference between light cream and heavy cream?
It has to do with the milk fat content. Here is a great reference on the differences.
-Can I use white chocolate chips?
You can! I used white chocolate bark but white chocolate chips should work just fine.
Hey! I also have a free coffee e-book for YOU! Enter your email below and I will send it right over!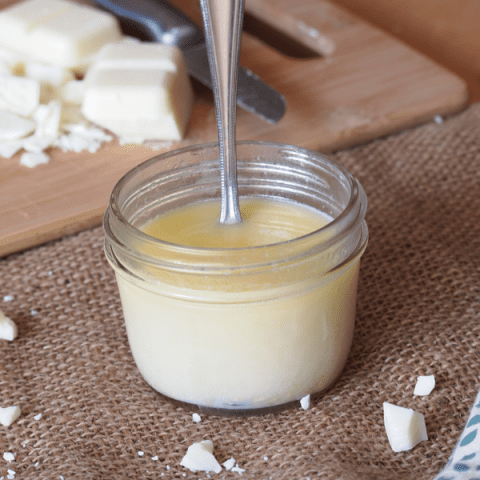 White Chocolate Sauce
Yield: 1

Cook Time: 15 minutes

Total Time: 15 minutes
Ingredients
8 oz white chocolate, chopped
1/2 cup half and half or light cream
2 teaspoons unsalted butter
Instructions
Heat the cream on the stove top in small pot.
Once it starts to boil, remove from heat and add the butter and chocolate.
Whisk until smooth.
Let cool and enjoy!
Nutrition Information:

Amount Per Serving: Calories: 1448Cholesterol: 113mgSodium: 255mgCarbohydrates: 140gSugar: 134gProtein: 17g
Like this recipe? Be sure to check out:
And sign up for our emails and have tasty treats delivered right to your inbox!