There are so many amazing white chocolate recipes, that I could probably make a new one every day. There is no wrong way to use white chocolate! Like white chocolate fudge. It's like traditional fudge but has the silkiness of white chocolate. Let me show you how to make this white chocolate fudge with cake batter.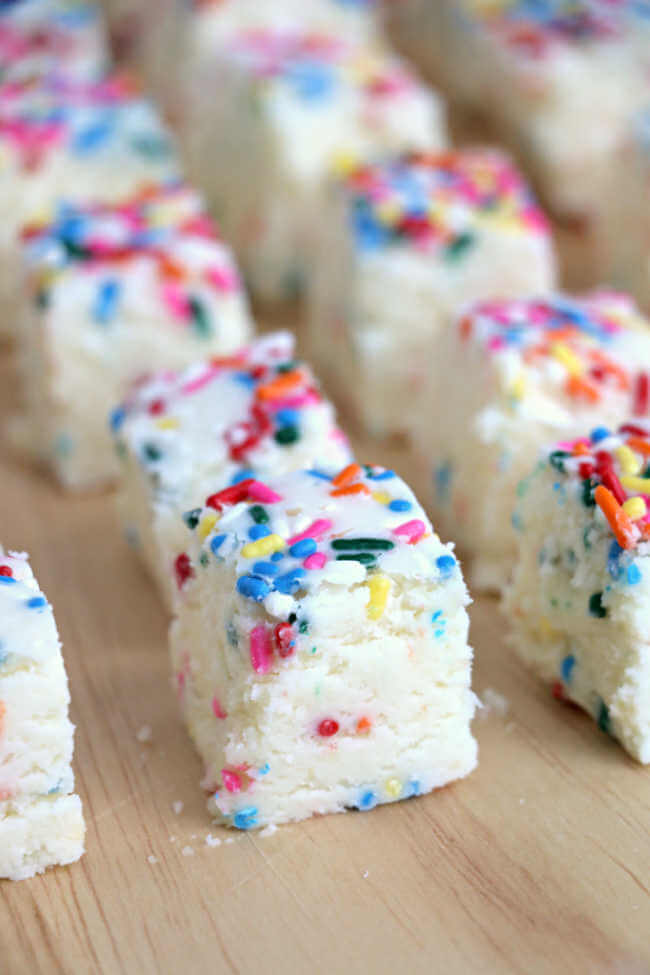 It never fails – whenever I make a dessert recipe with chocolate my husband always mockingly complains "Why don't you make more fudge?" Dude loves him some fudge. And I don't blame him. It's a super rich treat to that I like to enjoy every once and awhile as well.
The thing with fudge is that it's a one bite dessert. You grab a little square and pop that bad boy right into your mouth. Over and over again. And before you know it, the fudge is gone!
And if you are looking for some disappearing fudge, this white chocolate fudge with cake batter recipe is as good as gone once it hits the plate.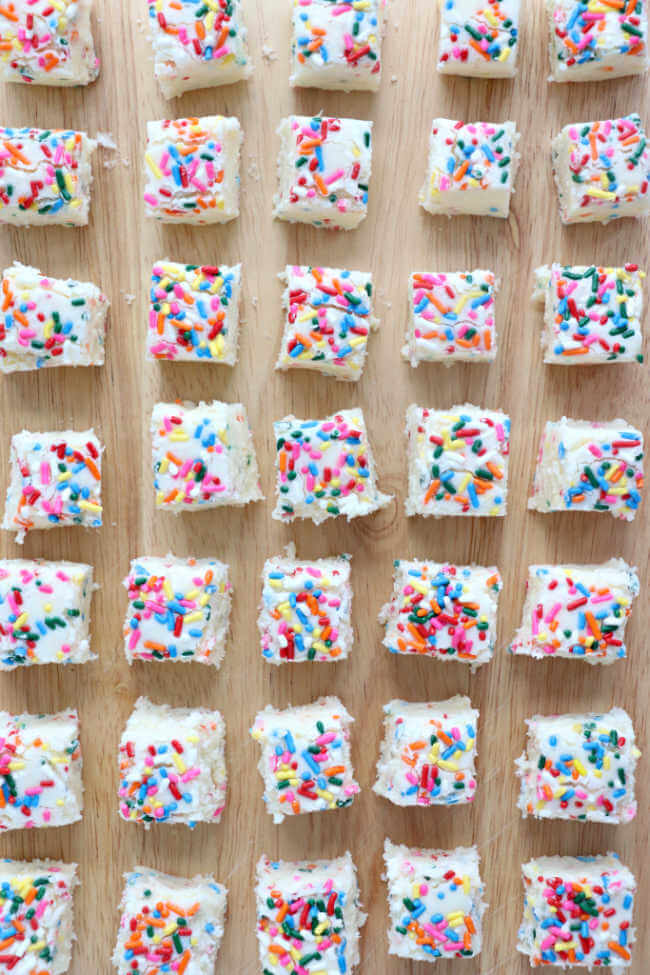 White chocolate cake batter fudge
How is this fudge different than traditional fudge? Well, instead of regular chocolate or even dark chocolate, we use white chocolate here. Some fudge recipes use sweetened condensed milk as part of the base. My root beer fudge and espresso fudge recipes are examples of this.
Using sweetened condensed milk and chips make the fudge super dense and thick. This white chocolate cake batter recipe uses marshmallow fluff, heavy cream and sugar to give it a light and airy texture. The cake mix adds a fun flavor to the white chocolate fudge recipe.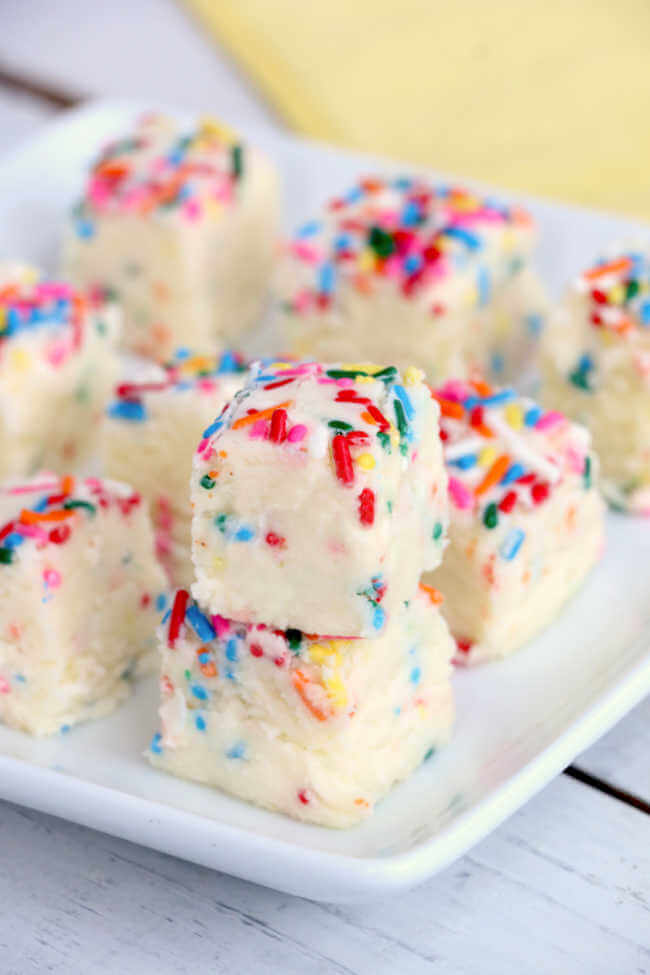 White chocolate fudge ingredients
I love this recipe because the texture is perfect and the ingredients are easy to find. The most "exotic" ingredient on the list would probably be the marshmallow fluff. Even that one is fairly easy to find in most baking aisles. To make this white chocolate cake batter fudge you will need:
white chocolate chips
yellow cake mix
marshmallow fluff
sugar
heavy cream
butter
sprinkles, optional
When you are purchasing your ingredients remember that the higher quality the ingredients, the better quality the fudge will taste. So for your white chocolate chips and yellow cake mix you want to buy a little better quality than you would for say white chocolate chip cookies or plain birthday cake.
You should be able to find the marshmallow fluff in the baking aisle, but if not you can buy it online or you can try your hand at homemade marshmallow fluff!
The sugar, heavy cream, butter and sprinkles round out the ingredients list and are common enough that you should have no problem finding them at any grocery store.
How to make white chocolate fudge with cake batter
After you gather your ingredients you will also need a large bowl for mixing, a pot for melting your butter, sugar and heavy cream plus an 8×8 baking dish to set the fudge. Parchment paper is highly recommended to ensure that the fudge doesn't stick to the baking dish. You can also use foil sprayed with cooking spray.
Over a medium heat, melt your butter in your sugar and heavy cream. Bring to a slow boil and allow to cook for 3 minutes. While that is cooking you can mix together your cake mix, marshmallow fluff and chocolate chips in your large bowl.
Pour the hot sugar mixture over the chocolate chip mixture in your large bowl. Mix until the chocolate chips have melted and are full incorporated. Add in 1/4 a cup of your sprinkles and mix until just blended. Pour the white chocolate fudge mixture into your prepared dish, top with additional sprinkles. Place in the fridge for at least 4 hours and then cut into pieces.
You can store the fudge in an airtight container for up to a week. You can also keep it in the fridge but allow it to be warm up a bit before eating.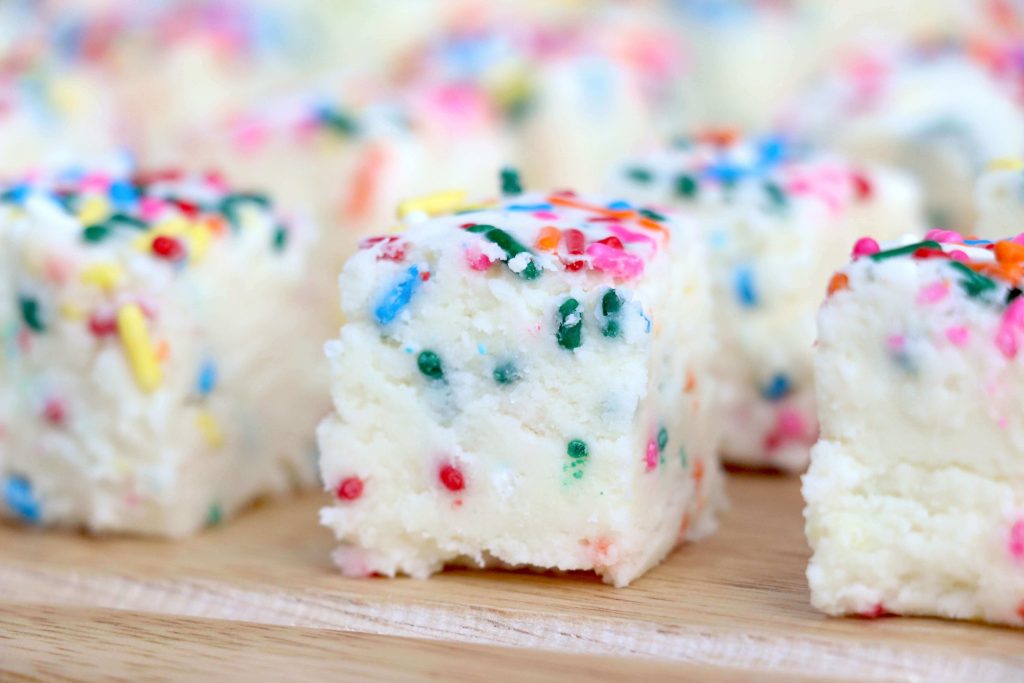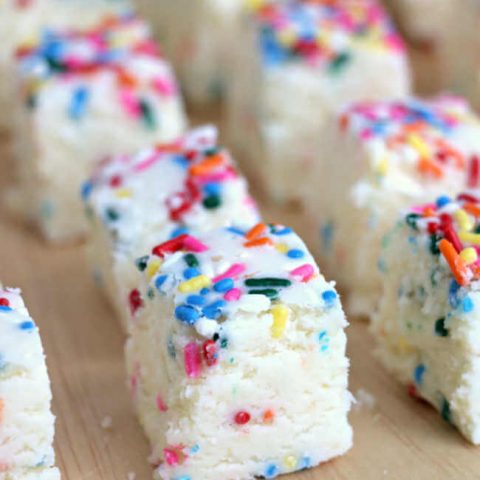 White chocolate cake batter fudge
Ingredients
2 cups white chocolate chips
1/2 cup yellow cake mix
7 ounce jar marshmallow fluff
1 cup sugar
3/4 cup heavy whipping cream
3/4 cup Unsalted Butter
1/4 cup sprinkles plus topping
Instructions
1. In a medium mixing bowl, add white chocolate chips, dry yellow cake mix, and marshmallow fluff. Set aside.
2. In a saucepan, combine butter, sugar, and heavy cream. Cook over medium heat, stirring often. Bring mixture to a slow boil for 3 minutes.
3. Pour hot mixture over fluff, cake mix, and white chocolate chips.
4. Beat just until chocolate chips are melted.
5. Next add 1/4 cup sprinkles. Blend until uniform throughout.
6. Pour mixture into a 8x8 pan that is lined with parchment paper. Decorate top with sprinkles.
7. Refrigerate for 4 hours.
8. Cut into bite size pieces.
Nutrition Information:
Yield:

30
Serving Size:

1
Amount Per Serving:
Calories:

183
Total Fat:

11g
Saturated Fat:

6g
Trans Fat:

0g
Unsaturated Fat:

4g
Cholesterol:

21mg
Sodium:

32mg
Carbohydrates:

22g
Fiber:

0g
Sugar:

19g
Protein:

1g
You may also want to check out these other great
white chocolate recipes
: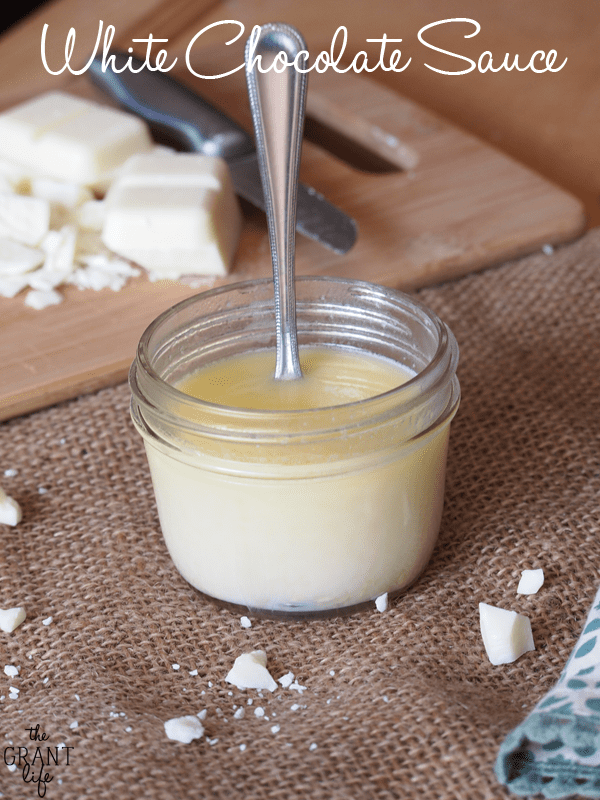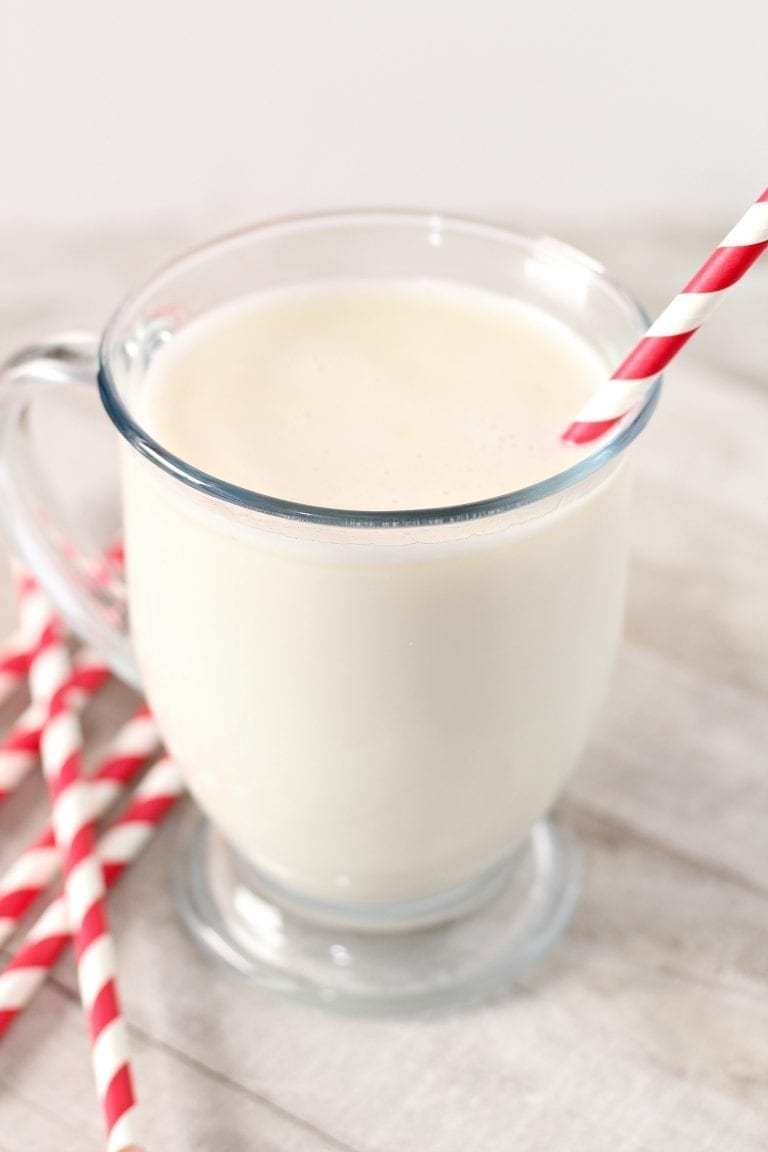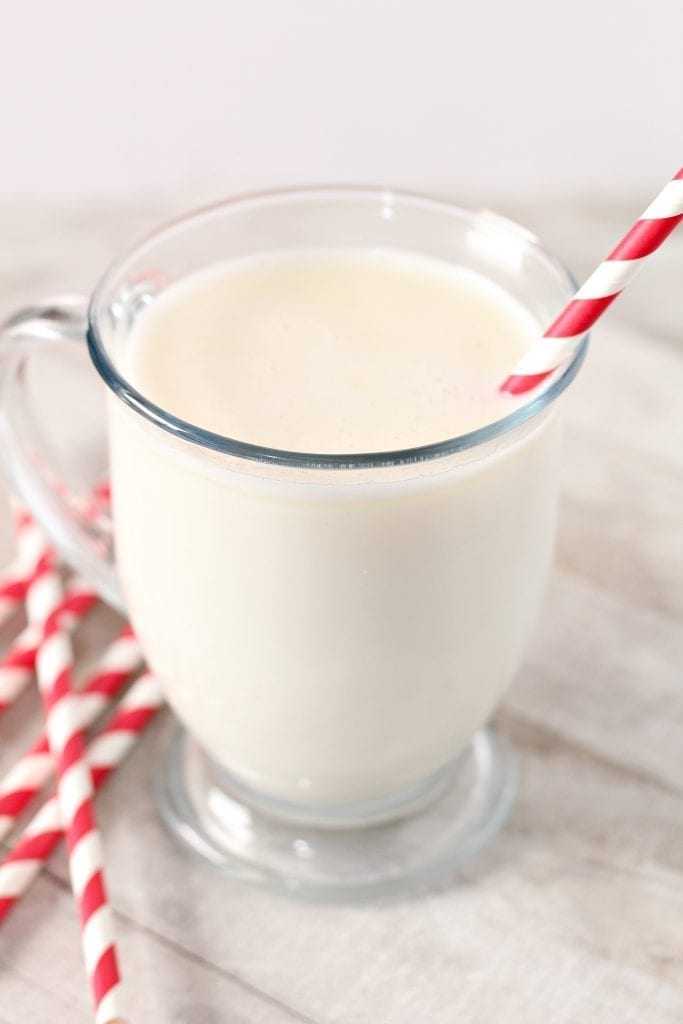 White chocolate macademia cookies with toasted coconut