If you love a good salty and sweet combo then you will love this white chocolate caramel fudge! It is sweet with a salty kick thanks to the pretzels added on top. Who can resist a good white chocolate dessert?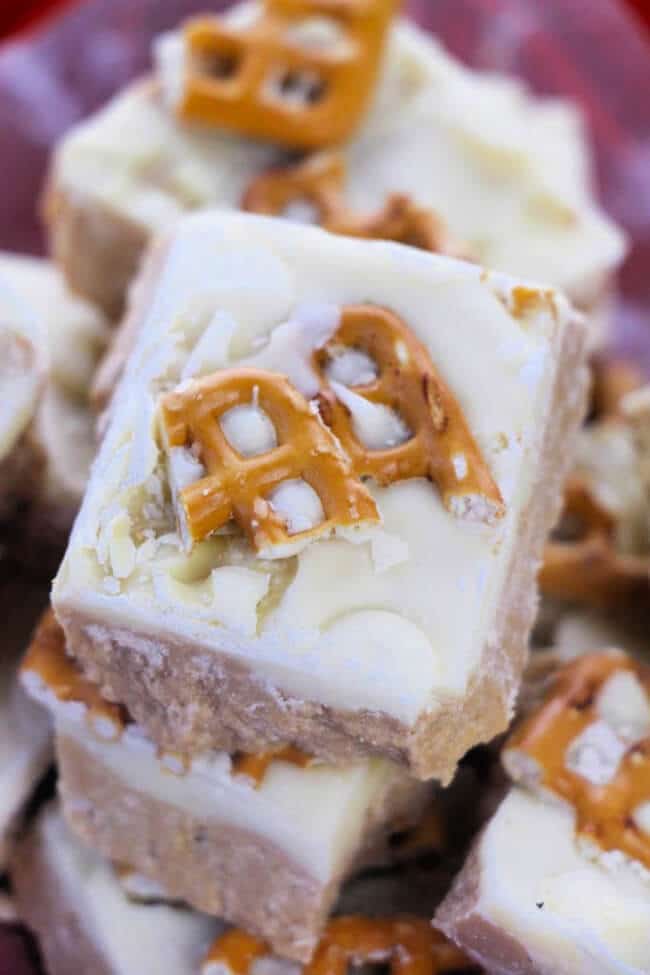 Let me tell you – I LOVE a good sweet and salty combo. Like I crave a good sweet and salty dessert after dinner. It's been something that I have loved every since I was little.
Eat dinner – find something sweet and salty. Repeat for 30 years.
None of my kids have picked up my love for the sweet and salty combo but I have hope. They are young – they don't know what's good for them yet.
White chocolate caramel fudge
There are a few parts to this fudge recipe – the white chocolate, the caramel and the pretzels. Together they make the ultimate sweet and salty combo. The white chocolate and caramel provide the sweet and the pretzels on top give the fudge a great salty bite.
I love an easy fudge recipe. I've shared a couple on the site including my espresso fudge, root beer fudge and white chocolate cake batter fudge. My espresso fudge and root beer fudge use the same base recipe – chocolate chips and sweetened condensed milk. This is also the base for this white chocolate caramel recipe. Easy peasy, fudge squeezy.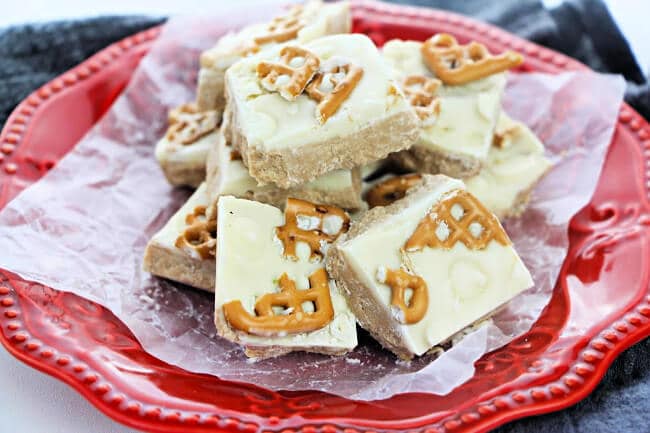 White chocolate fudge ingredients
Oh, I forgot to mention one of the best parts of this white chocolate fudge recipe. You only need 4 ingredients!
Yup. Four.
To make this fudge you will need:
caramel chips
white chocolate chips
sweetened condensed milk
pretzels
The first three ingredients can be found in most baking aisles at your grocery store. I like to use Ghirardelli caramel chips in this recipe, but any type of meltable caramel chips (or melts) will work here.
I've talked about it before, but you want a higher quality white chocolate for most white chocolate recipes. Ghirardelli also has a great white chocolate chip that would be perfect in this recipe.
While you're in the baking aisle, be sure to grab a can of sweetened condensed milk. Also, find your favorite kind of pretzels in the chip aisle and you are all set to make this recipe.
How to make white chocolate caramel fudge
After you have all your ingredients you will also need to grab:
a rectangle loaf pan
parchment paper
baking spray
2 microwave safe bowls
spatula
The basic instructions on how to make this fudge is to melt the caramel chips in one bowl and melt the white chocolate chips in another. Add in some sweetened condensed milk to each and layer. Top with crusted pretzels.
You can either melt the caramel and white chocolate in a double boiler or int he microwave. If you melt them in the microwave, you need to do it in 30 second intervals in order to not burn any of it.
Start by melting your caramel in either the double boiler or in a microwave safe bowl. Melt until smooth and mix in some of the sweetened condensed milk. Pour it into your prepared loaf pan and place in the fridge to harden.
Do the same with the white chocolate chips, in a different bowl. Add in your sweetened condensed milk and mix well. Pour over the caramel mixture and press in your pretzels on top. Place in the fridge to set before cutting.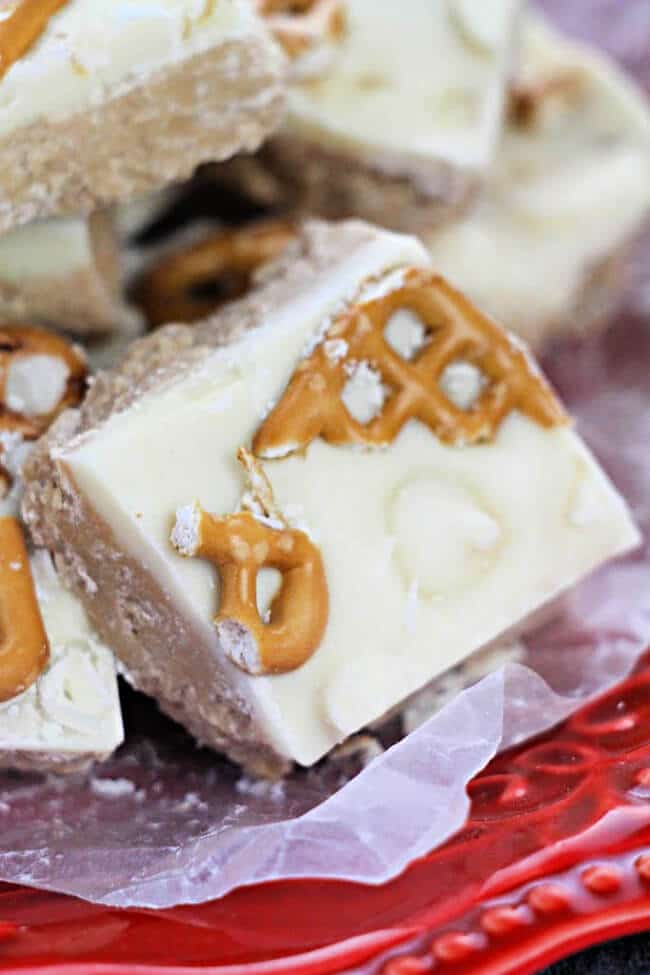 Tips on making this fudge
If you don't have a double boiler, you can make one! Grab two similar sized pots and place an inch or two of water in the bottom one. Put the second one on top and use that to slowly melt your caramel and chocolate. You can also put a heat safe glass dish on top of the bottom pot as well.
You need to allow the caramel layer to harden a bit before pouring the white chocolate layer on top. Also, be sure that the melted white chocolate isn't piping hot when you layer it on top of the caramel. This will help make two distant layers.
The more sweetened condensed milk you add to your fudge, the softer it will be. Use only as much as you need to get the desired flavor.
How to store white chocolate fudge
Once the fudge is cooled, use a sharp knife to cut it into pieces. Wipe the knife each time to to make clean cuts.
Place the cut fudge in an airtight container to keep fresh. The fudge should last up to 2 weeks in a good tight container. You can keep it in the fridge to ensure the fudge doesn't get soft.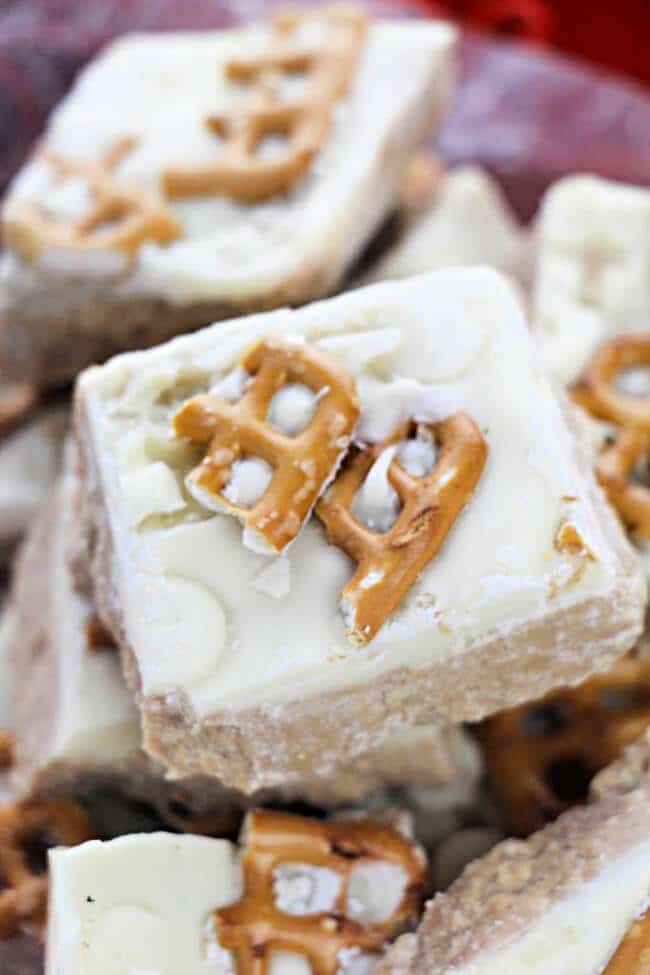 If you love white chocolate like me, you have got to try these other great white chocolate recipes!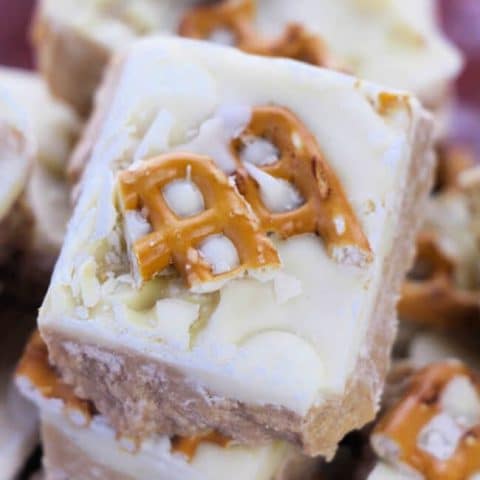 White chocolate caramel fudge
Additional Time:
10 minutes
A white chocolate and caramel mash up that is perfectly sweet and salty!
Ingredients
1 1/2 cup caramel chips (or caramel candy melts)
1 1/2 cup white chocolate chips
6-12 Tablespoons sweetened condensed milk
1/2 cup pretzels
Instructions
Grease and line a loaf pan or small baking tray, 9" x 4" or similar.
Place the caramel chips in a microwave-safe bowl or using a double boiler.
Melt the chips in a microwave, heating for 25 seconds, stirring well, and reheating as needed.
Stir in 3-6 Tablespoons of sweetened condensed milk, to taste.
Fold the mixture out into the prepared loaf pan. Use an offset spatula or the back of a spoon to smooth down this layer and place in the fridge.
Repeat steps with the white chocolate chips: heating, adding the sweetened condensed milk, and then smoothing over the caramel fudge layer.
Break the pretzels into small pieces and then press in the wet white chocolate.
Refrigerate for 3 hours or overnight before cutting into squares and serving.
Enjoy!

Notes
The more sweetened condensed milk you add to your fudge, the softer it will be. Use only as much as you need to get the desired flavor.
Recommended Products
As an Amazon Associate and member of other affiliate programs, I earn from qualifying purchases.
Nutrition Information:
Yield:

12
Serving Size:

1
Amount Per Serving:
Calories:

284
Total Fat:

9g
Saturated Fat:

5g
Trans Fat:

0g
Unsaturated Fat:

3g
Cholesterol:

11mg
Sodium:

221mg
Carbohydrates:

49g
Fiber:

0g
Sugar:

46g
Protein:

4g
You may also enjoy these other great dessert recipes:
White chocolate cake batter fudge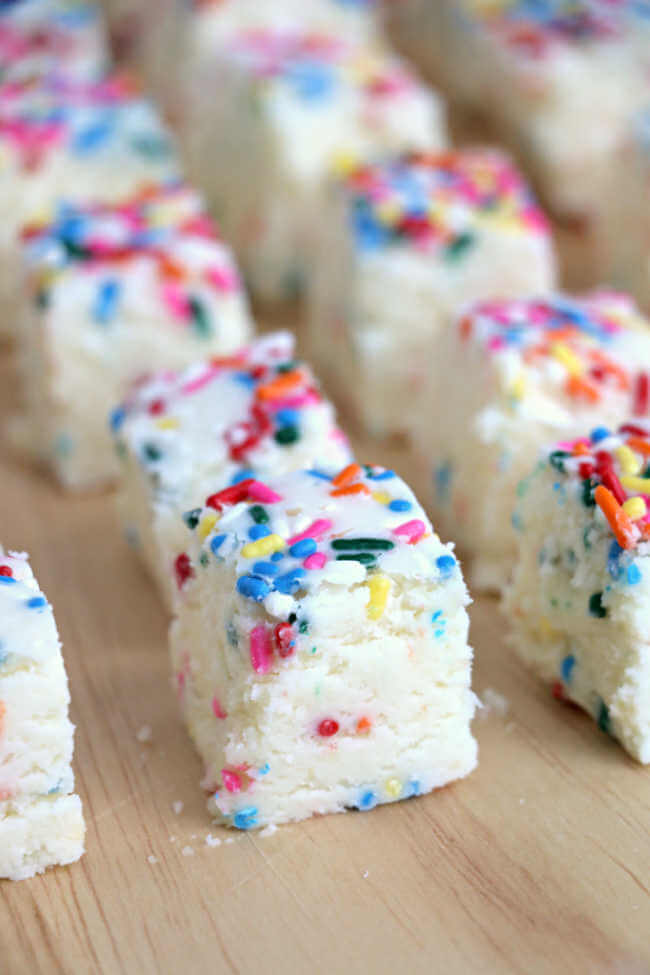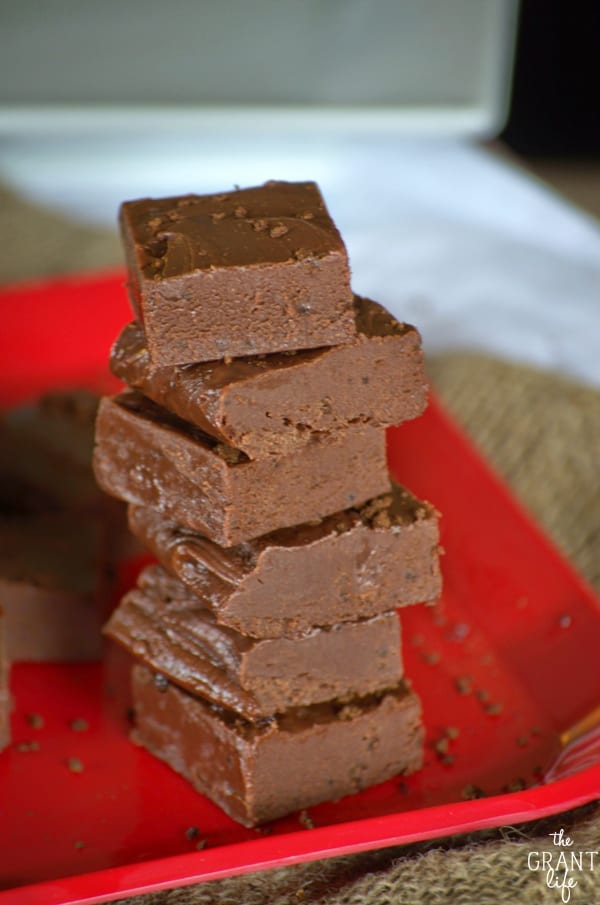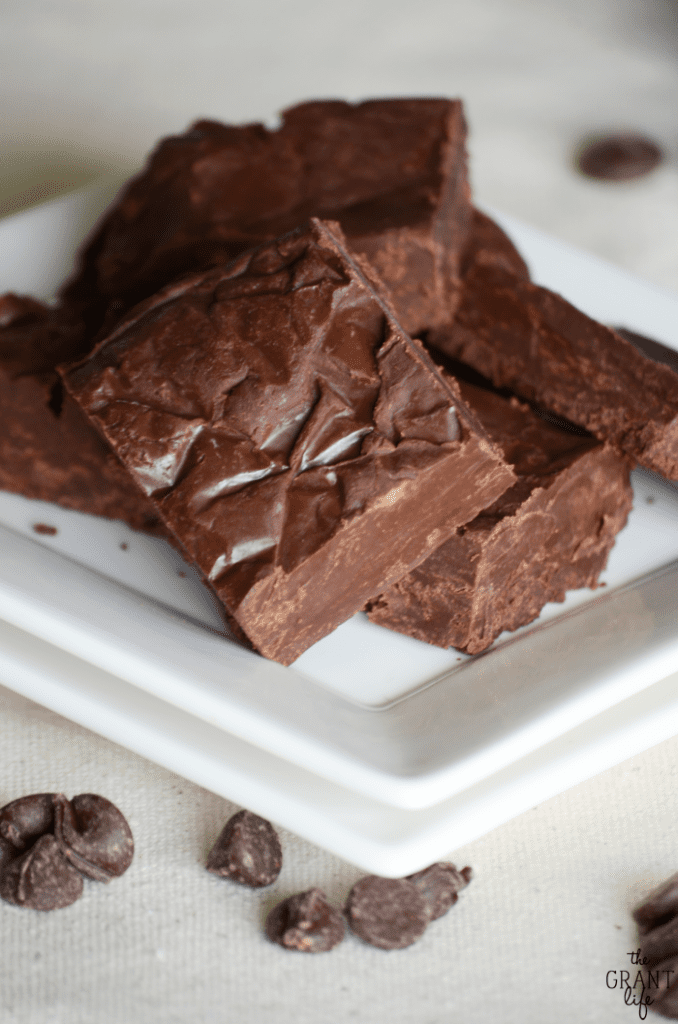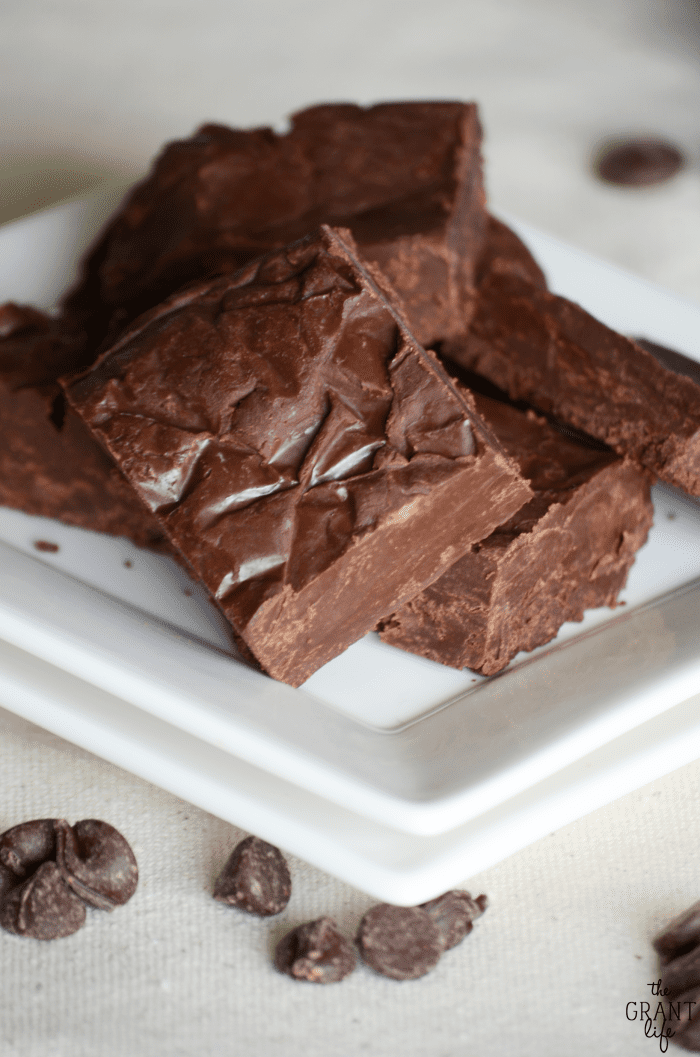 Want to save this recipe for later? PIN IT to your dessert board!