White chocolate fans rejoice! This is the drink for you. You will love being able to make this easy white chocolate mocha recipe at home. It's easy to make and will save you some serious dough.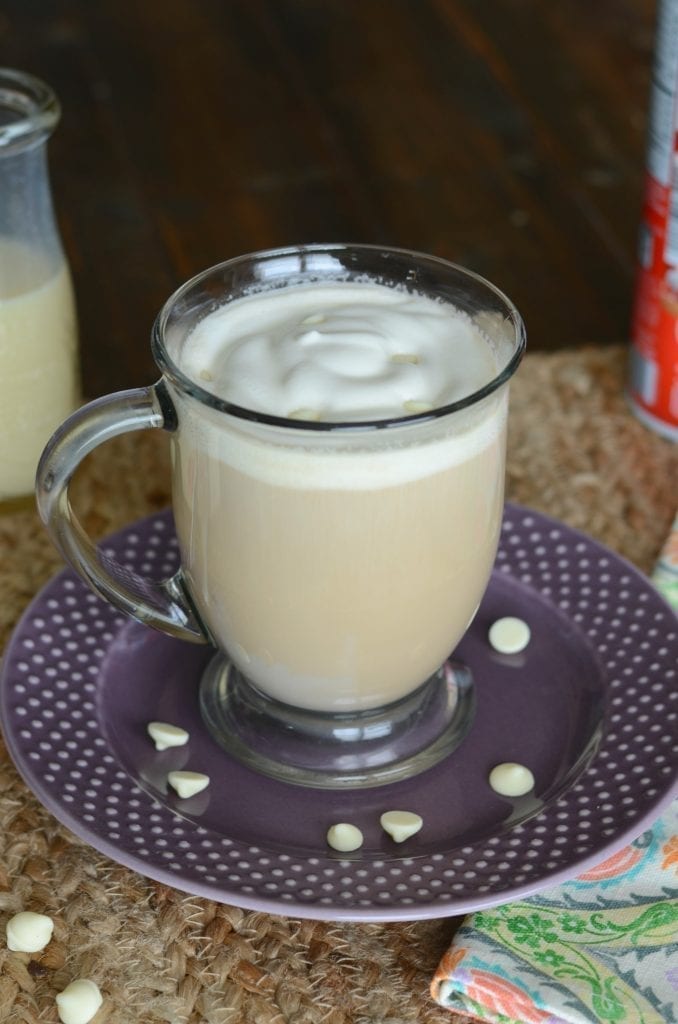 Hey there! Are you a white chocolate fan? I'm going to be honest – I'm not really. Wait, wait, wait. Hear me out real quick. I like white chocolate just not by itself. But when you put it in a sauce and then pour it over coffee – now I'm a fan! The iced white chocolate mocha is one of my favorite copycat coffee drinks.
I also like white chocolate in cookies and muffins too.
White chocolate mocha recipe
I know yall feel the same way because two of the most popular recipes here at my white chocolate sauce and my iced white chocolate mocha. There is just something about the smooth taste of the white chocolate mocha that makes it almost irresistible. I tend to order or make the iced version of coffee drinks since I live in South Texas and its ya know, always hot.
The great thing about this white chocolate mocha latte recipe is that once you make the white chocolate sauce you can whip one up in no time. The sauce is the key to making a totally decadent mocha.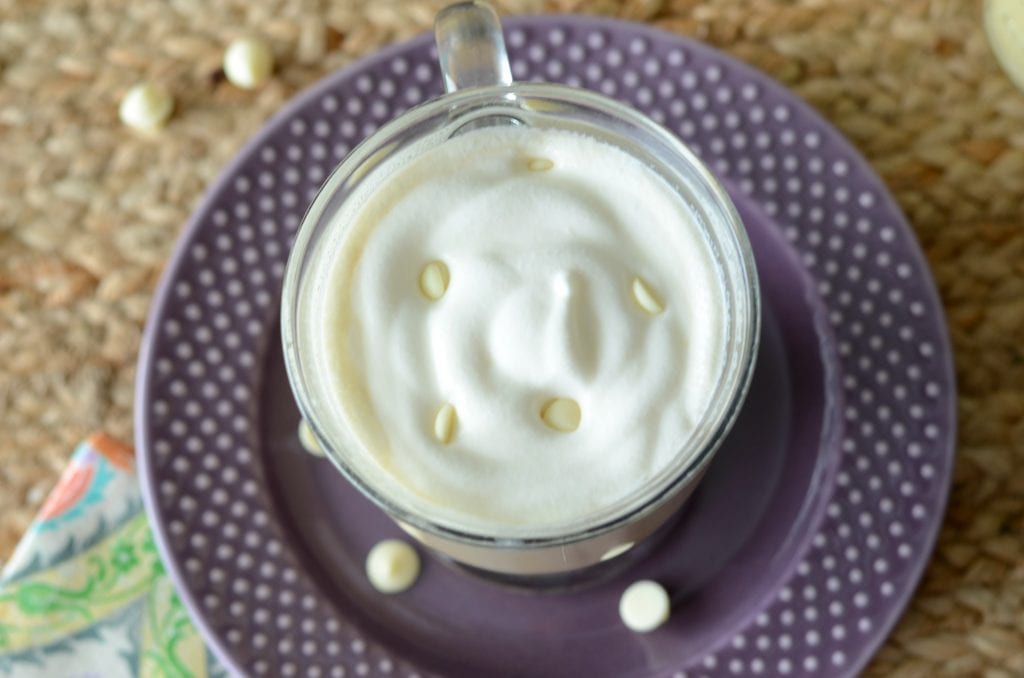 White chocolate sauce
Once you have white chocolate sauce on hand you can easily make this mocha in under 5 minutes. The sauce only needs three ingredients and can be stored until you are ready to make another white chocolate mocha. The white chocolate sauce is also great on ice cream and pancakes. All you need to make the sauce is:
white chocolate, chips or bar
half and half
butter
I bet you have at least one of those in your kitchen already too.
You can also purchase pre-made white chocolate sauce or syrup to make this mocha. I suggest Torani's white chocolate or Ghiradelli. I have used both and they are very tasty, I just give preference to my homemade version since it's easy and cheaper to make.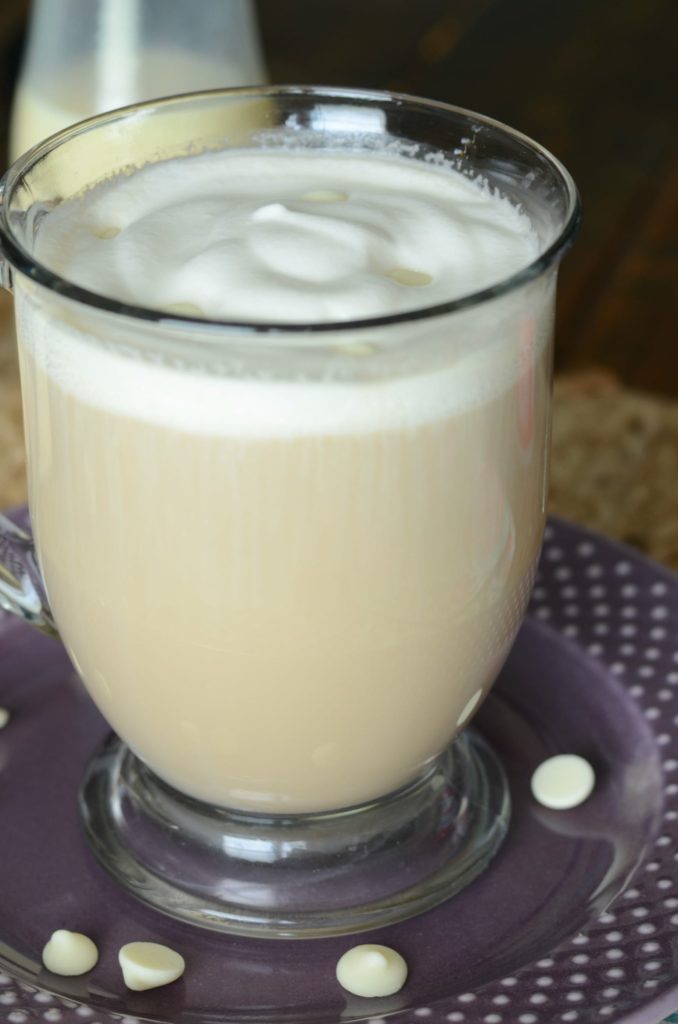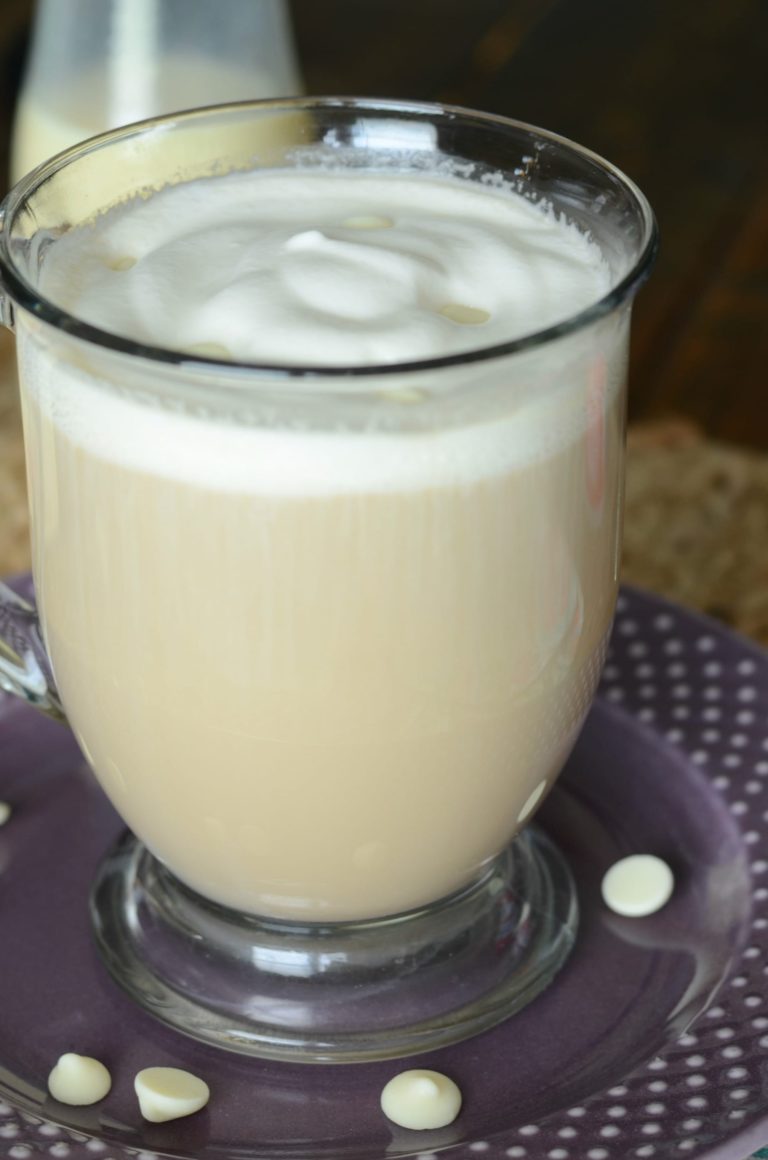 Once you have a white chocolate sauce you need a good coffee for your white mocha. Starbucks white chocolate mochas are made with a shot of their espresso and steamed milk. Since I don't have an espresso machine I tend to use regular coffee on instant espresso. Both work really well in this recipe.
If you are going to use coffee, I suggest a better quality whole bean coffee instead of something like Folgers. I like a coffee like Peet's and use this coffee grinder at home. Feel free to use any coffee you prefer to make your own white chocolate mocha.
Instant espresso is another option and gives the drink an extra boost of caffeine. You can find instant espresso at most grocery stores ( I would say all since it's fairly common but then there will be that one grocery store that doesn't carry it and I'd feel bad) or buy it online. I love Ferrara and have a jar in my pantry now.
Starbucks copycat white chocolate mocha recipe
To make this a true Starbucks copycat white chocolate mocha you need to use steamed milk. Again, I don't have an espresso machine with a milk steamer so I improvise. I steam milk on the stove top in a small pan and add it to my drink. You can do this as well or just add regular cold milk to your mocha.
Also, I love homemade whipped cream on top of my white mocha but any whipped cream is better than no whipped cream, right? Feel free to use whatever you have or make a batch of homemade whipped cream.
Now we have a good white chocolate sauce a good coffee or espresso and your milk, it's time to put it all together. The drink gets layered together in the following order:
white chocolate sauce
espresso or coffee
steamed milk
whipped cream
Stir together everything before you put the whipped cream on top and voila – perfect white mocha perfection. You can also add a Starbucks copycat chocolate chip cookie or cranberry bliss bar to go along with your drink.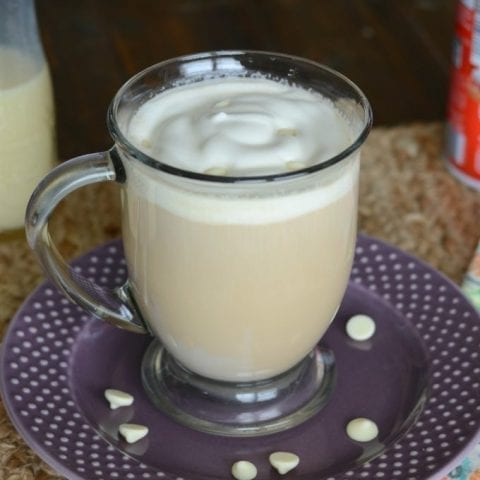 White chocolate mocha recipe
A silky smooth coffee drink made with white chocolate and espresso.
Ingredients
1-2 tablespoons white chocolate sauce
1 shot of espresso OR 1 cup of hot coffee OR instant espresso
1 cup steamed milk
whipped cream
white chocolate chips or shavings for topping, optional
Instructions
In a mug combine the white chocolate sauce, coffee or espresso. Add in the steamed milk and top with whipped cream. Sprinkle white chocolate chips or shaving on top. Enjoy.
Nutrition Information:
Amount Per Serving:
Calories:

410
Cholesterol:

53mg
Sodium:

275mg
Carbohydrates:

60.9g
Fiber:

0g
Sugar:

59g
Protein:

10.7g
Be sure to check out these other great
copycat coffee drinks
: