Looking to make a chai tea latte at home? Let me show you how!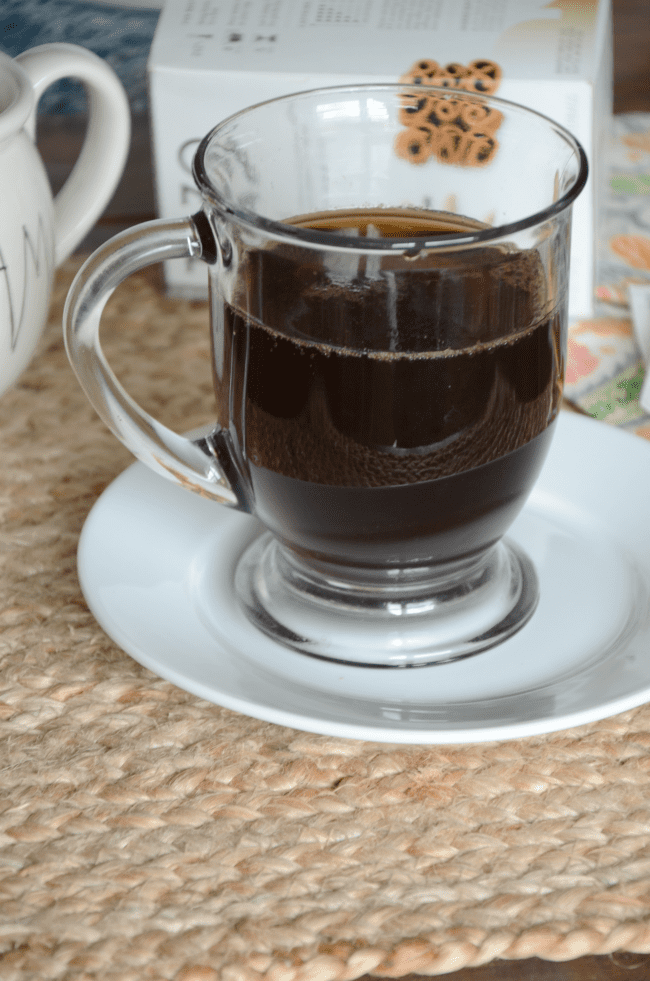 Hey friends! It's Monday morning and I'm sitting at my computer enjoying a hot cup of chai tea. And that only means one thing – Ryon took the kids to school today. (Insert all the heart eyes here.)
It's almost the end of the school year and everybody is a little bit sluggish in the mornings. Our routine has been tossed out the window as everybody is dreaming of sleeping in and summer days outside.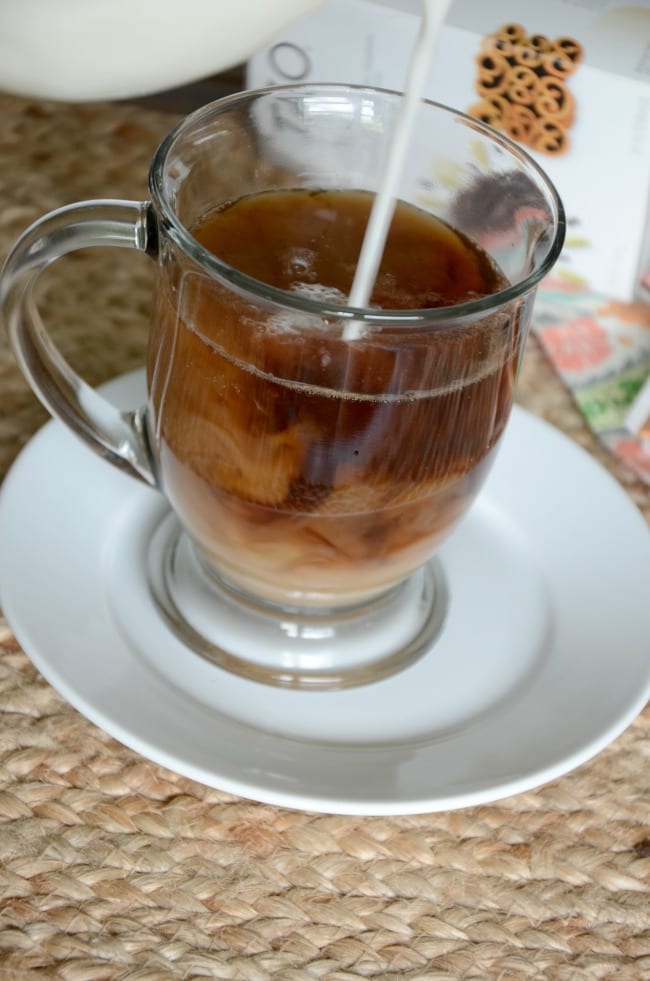 The only thing that bothers me is that it took me so long to realize that Ryon has to drive by the kids school on his way to work. I could have had him drop off the kids the whole year y'all!
But to be fair he goes in extra early since he has to drive through Houston traffic. Sometimes he leaves the house before I'm even out of bed just so he can miss the crazy traffic.
Houston traffic is no joke.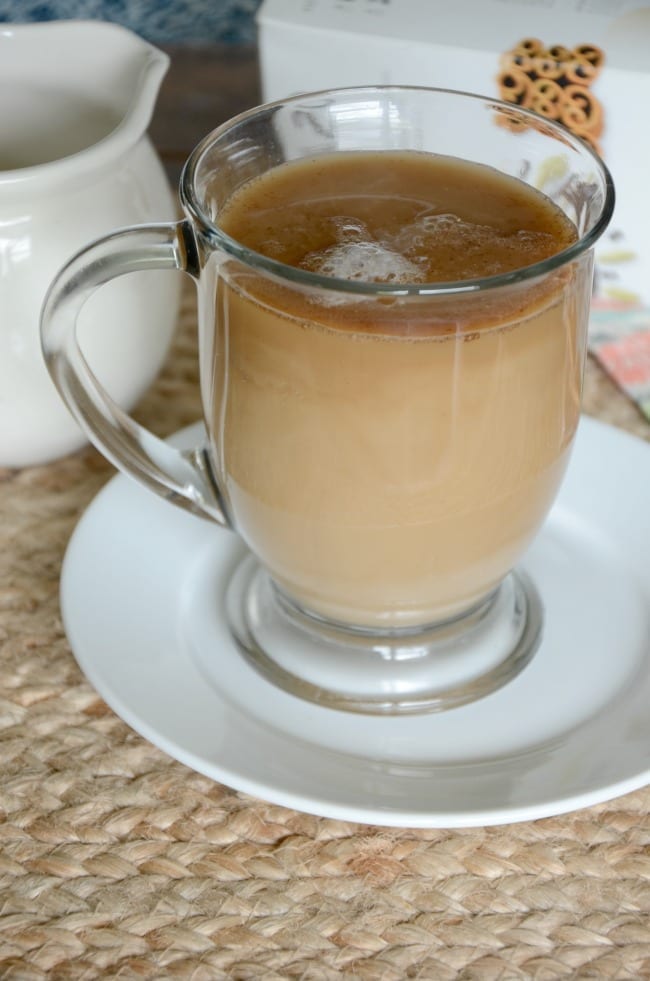 But today was not one of those freakishly early days. He loaded up the kids and dropped them at school for me. And then the baby slept until almost 730, which is unreal. That baby likes to wake up as early as possible most days.
Today though, with the baby sleeping in and the kids safely at school, I was able to enjoy a few moments with my chai latte at my computer. It may not seem like much but I was able to get some work done and actually taste my drink while it was hot. (Mamas I know you know what I'm talking about.)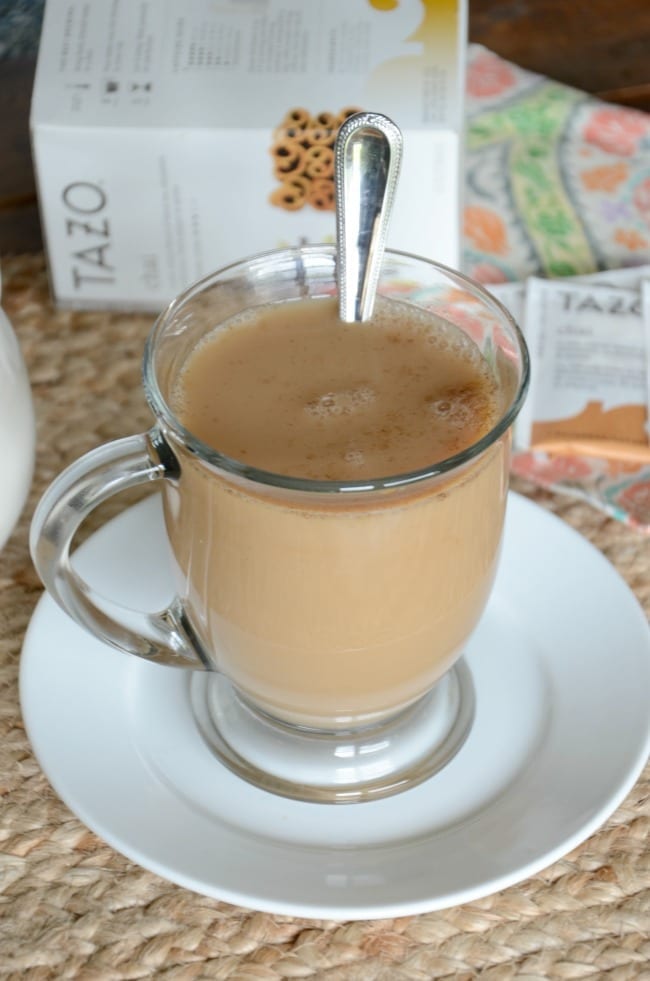 One of the best things about this chai latte is that it's easy to make and it's a Starbucks copy cat version. No need to run to the coffee house to get your chai tea fix. You can make it at home in your pajamas. If you'd like. And maybe I did this morning. (shhhh.)
There are a few ways that you can make your own chai tea latte at home:
You can start by making a chai tea mix from scratch. It's easy and only takes a few spices that you can find at most grocery stores. Once you have the mix you just add in hot water, black tea bags and your favorite milk of choice.
Another option is to use the chai tea and brew it yourself. Most teachers recommend 8 ounces of water to one teabag. Then add your milk and sweetener of choice.
The last option is the easiest you can buy the chai tea concentrate from most stores. With the concentrate all you have to do is warm it up and enjoy. This makes it easy to enjoy your chai tea at home without having to run to the box.
Which ever method that you choose to make your Starbucks copy cat chai tea latte, you are sure to save yourself time and money by making it at home. In your pajamas. If you'd like.
Here are a few common questions I get about how to make a chai tea latte at home:
-What brand tea do you use?
-How do you make your own mix?
-Is this a coffee drink?
No! It's a tea drink. In fact, chai means tea but some people (myself included) call it a chai tea latte.
-Is it sweetened?
If you use the concentrate then it may be sweetened already. The other two methods – homemade spice and chai tea bags – are not sweetened. Feel free to add your favorite sweetener to these!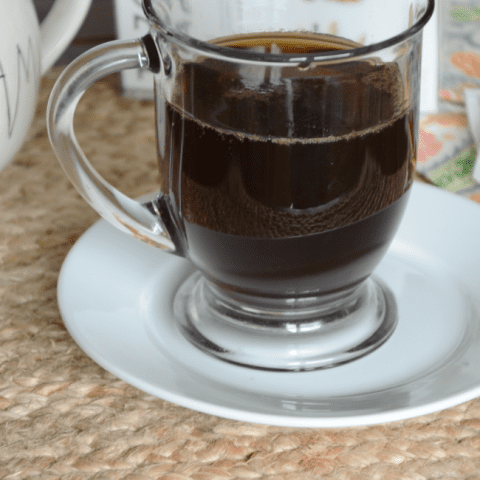 How to make a chai tea latte
Ingredients
Method 1 - homemade chai mix:
1 teaspoon allspice, ground
2½ teaspoon cardamom, ground
1 tablespoon cinnamon, ground
1 teaspoon cloves, ground
½ teaspoon nutmeg
1½ teaspoon ginger, ground
3-4 star of anise pods, optional
3-4 whole cloves, optional
2 black tea bags
Milk and sweetener of choice
Method 2 - chai tea bags:
1 chai tea bag
8 ounces of boiling water
Milk and sweetener to taste
Method 3 - chai concentrate:
8 ounces of chai concentrate
Milk and sweetener of choice
Instructions
Method 1 - homemade chai mix:
To make a cup of chai tea - add two black tea bags to 2 cups of water. Add in 2 tablespoons chai spice mix and bring to a boil. Remove from heat once it starts to boil and let steep for 10-15 minutes.
Pour chai tea into a mug, add sugar (or choice of sweetener) and milk to taste.
Method 2 - chai tea bags:
Boil your water and add the tea bags.
Let them seep for about 10 minutes.
Remove tea bags and add your milk plus sweetener of choice.
Method 3 - chai concentrate:
Warm up chai concentrate to desired temperature over the stove or in the microwave.
Add in milk and sweetener of choice, if not included in concentrate.
ENJOY!
Looking for more chai goodness? Check out: