Do you love picking up a sweet iced chai latte from your favorite coffee shop? Me too! But guess what – you can make this homemade iced chai latte – Starbucks copycat version – at home! I love chai tea latte recipes and I am excited to share this super easy version with you.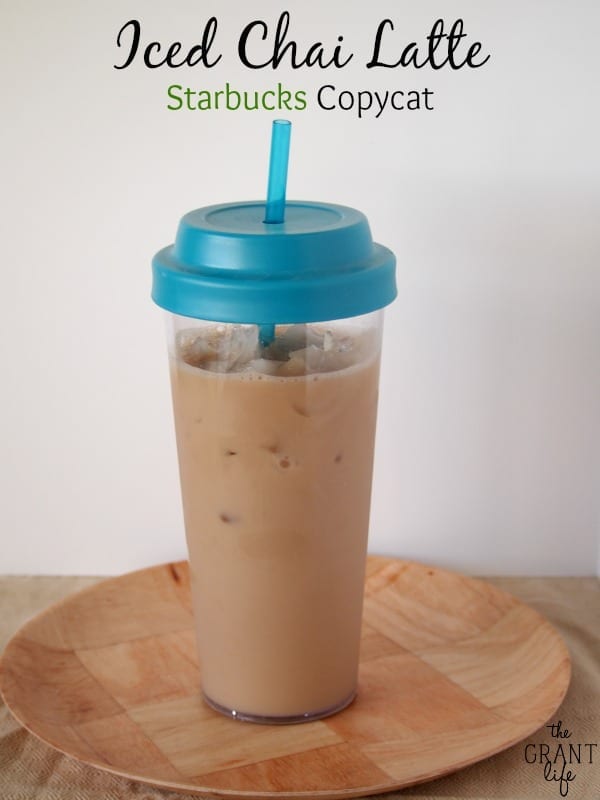 One of the great things about Ryon is he always has coffee ready in the morning. [Always.] We are coffee lovers in the Grant house [the adults anyways] and its how we start our mornings. Throughout the day sometimes as well. And I like good coffee. You know, the have to wait in line and promise your kids cake pops kind of coffee. After ordering an iced chai latte one afternoon I decided to ask Dr. Google – what's in this stuff that makes it so good anyways? And his answer was two little magical ingredients and a pinch of love.
The easiest iced chai latte recipe –
This has to be one of the easiest copycat coffee drink recipes that I have ever shared. But its caffeine, so its also one of my favorites. All you need to make your own iced chai latte is chai tea [I used Tazo brand] and milk. Yup. Seriously. That's all you need. Once I found that out I felt silly paying 3 plus bucks for one of these bad boys. Here is the quick tutorial on how to make your own. [And save a whopping 3 bucks.]
Pssst.. want more easy coffee recipes? Sign up for our emails and get a free coffee e-book!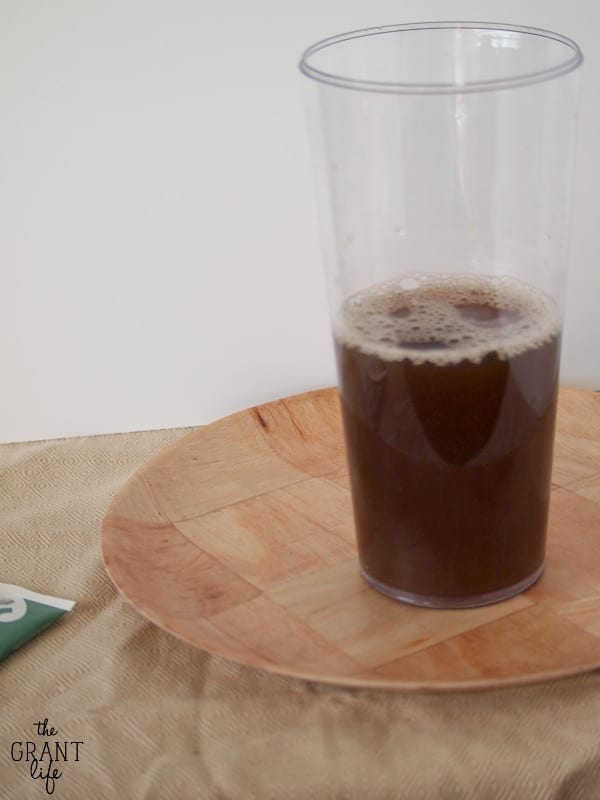 How to make iced chai lattes at home
I made a whole pitcher of chai tea and just added my milk when I was ready for a latte. So to make a pitcher I boiled 8 cups of water on the stove top and added 8 chai tea bags. I let them seep for about 30 minutes and then removed them. I poured the cool chai tea mix into a pitcher and put in the fridge overnight. [Note – you can add more or less chai tea bags to your boiling water depending on how strong you want it flavored.] Don't forget to add your pinch of love.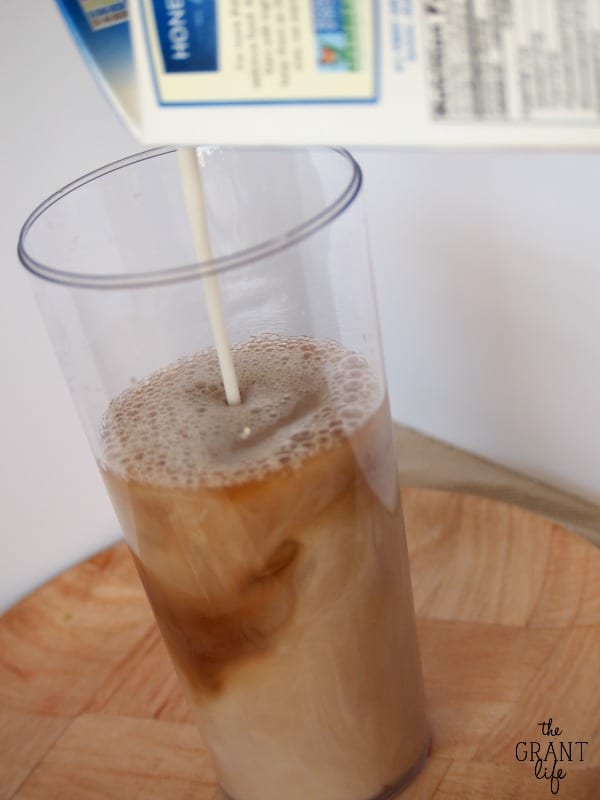 The next morning I filled my glass half way with the cold chai tea mix and then topped it off with almond milk and ice. I stirred it around and enjoyed my first iced chai latte in my jammies. [And crazy bed head.] I really liked the drink before but I loved it after my first sip. Being able to make my own anytime for a fraction of the cost just rocks. Cafe coffee for pennies? That my friends, is some good coffee.
FAQs about this iced chai latte – Starbucks copycat recipe
-What brand of tea do you use?
I use the Tazo chai tea brand tea bags. You can use any type of chai tea that you prefer. If you'd like you can also buy the Tazo chai concentrate and just add milk for an easier recipe.
-Is this sweetened?
No, it's unsweet. Feel free to add sugar or vanilla syrup to your drink. I used a sweetened vanilla almond milk.
-Is this a coffee drink?
Nope! It's black tea! In fact chai means tea.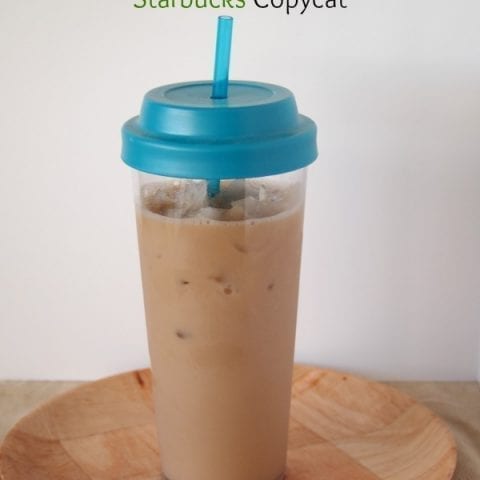 Iced Chai Latte
Ingredients
8 Chai Tea Bags
8 Cups of Water
Milk (to taste)
Instructions
Boil your water and add the tea bags.
Let them seep for about 30 minutes.
Remove the bags and let the tea cool before adding it to a pitcher.
Let chill in the fridge overnight.
Pour half a glass of the chai mix and top with your milk.
Add ice, stir and enjoy!
Notes
This makes one pitcher of chai tea mix. It will keep in the fridge for up to a week. When you are ready for a latte - simply add your milk and enjoy!
Nutrition Information:
Amount Per Serving:
Calories:

122
Cholesterol:

20mg
Sodium:

191mg
Carbohydrates:

12g
Sugar:

12g
Protein:

8g
Want more coffee recipes? Check out –
[New Recipe] – Iced vanilla chai latte!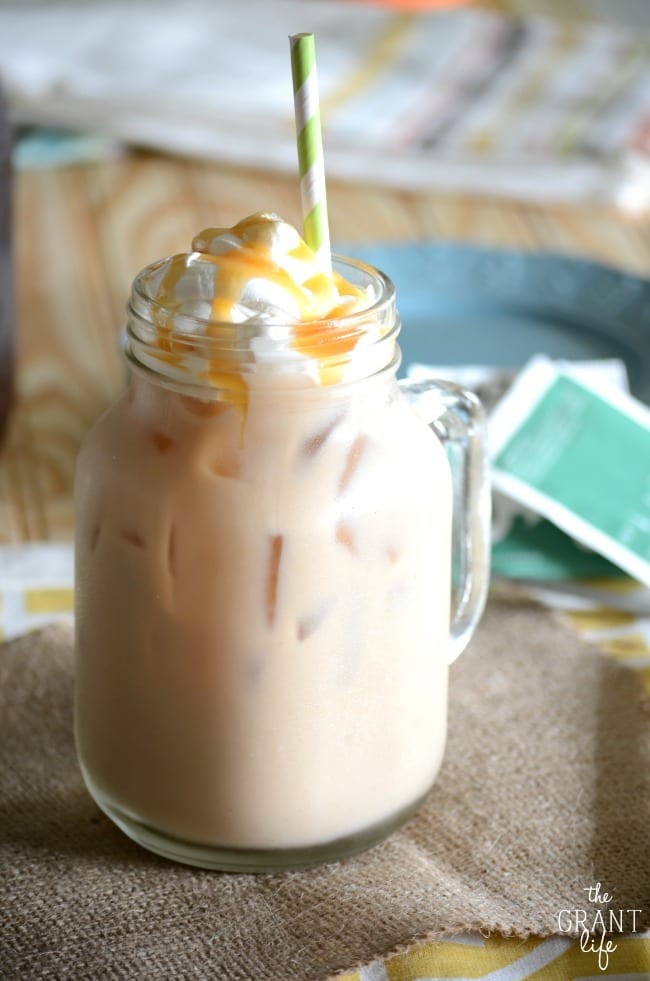 And be sure to sign up for our emails!

More chai latte goddness –
I love this recipe and make it all the time. I decided to update the pictures one day and share them with yall. Also, if you want to know even more about chai tea lattes and want extra recipes, check out my chai page. It's full of chai goodness!