You might not know this, but younger Kelley was sort of – prissy. I say younger, but I mean high school Kelley. She was a priss. [And sort of bossy too.] My friends from high school will tell you this. My mom will tell you this. I think everyone will tell you this. [Including me.] And really it was all because of cinnamon. I was not a fan of cinnamon in high school and I let you know it. All.the.time. Now? I'll take cinnamon any day of the week. [Without a side of high school dramatics.] So I present my ode to prissy Kelley, the cinnamon roll cookie.
I was never really a girly-girl growing up. I played softball for years and I was a jeans and t-shirt type of gal. I raised pigs in FFA and wasn't afraid to get dirty. [I spent one Thanksgiving shoveling out pig you know what because a pipe burst in our pen.] But I was very vocal about my opinions. Which sort of made me look prissy. I hated the taste of plain cinnamon on my tongue. Just the smell of it would make me start a rant of how much I hated it. I guess I just didn't understand cinnamon back then.
Now, cinnamon and I – we're cool. I use it in baking and don't make a big fuss about it. No fuss really. Especially when its cinnamon rolls. Or cinnamon roll cookies. I remember one time I was eating a cinnamon roll in high school and my friends were all staring at me. "You don't like cinnamon!" they all shouted. "But its covered in butter and sugar." I mumbled between bites. Oh the stories my high school friends could tell.
And they do tell stories about me to this day. [Over and over.] We all live close to each other and all have babies that are around the same age. The cinnamon story gets brought up a lot. I'm use to it. I just laugh. I know I was prissy and overly dramatic. Its better then listening to them tell the story of how I broke my ankle jumping the fence. That one never gets old to them. Don't you just love old friends? [And cinnamon roll cookies?]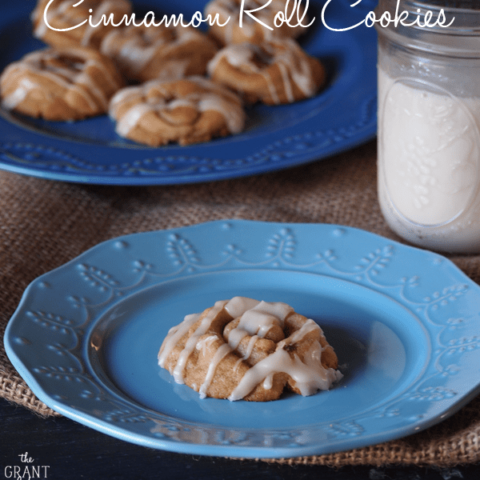 Cinnamon Roll Cookies
Ingredients
For the cookies -
1 cup (2 sticks) butter
1 cup sugar
1 cup brown sugar, packed
3 large eggs
2 cups flour
1 teaspoon baking powder
1 tablespoons butter
1 tablespoon cinnamon + 1 tablespoon sugar, mixed
For the glaze -
1 stick butter, melted
2 -3 cups powdered sugar
1 tablespoon heavy cream
Instructions
For the cookies -
Preheat the oven to 350.
Combine the butter and sugar until light and fluffy.
Beat in the eggs.
Add in the flour and the baking powder, a little at a time until you form a ball of dough.
Take small pieces of the dough and roll them into small rectangles.
Add a little melted butter and cover it with the cinnamon sugar mix.
Roll the cookies and place them on a cookie sheet.
Bake for 15-18 minutes, or until the sides are brown.
Remove and let cool.
For the glaze -
Combine the butter, powdered sugar and heavy cream together until smooth.
Drizzle over warm cinnamon roll cookies.
Enjoy!
Notes
The cookies bake down and form cute little cinnamon roll shapes!
Want more sweet treats? Be sure to check out: