Cinnamon Swirl Cheesecake is a classic vanilla cheesecake recipe where I've included cinnamon into the graham cracker crust and added dollops of a cinnamon butter-sugar mixture throughout the cheesecake filling, swirling it gently with a skewer or butter knife to get that pretty cinnamon swirl effect.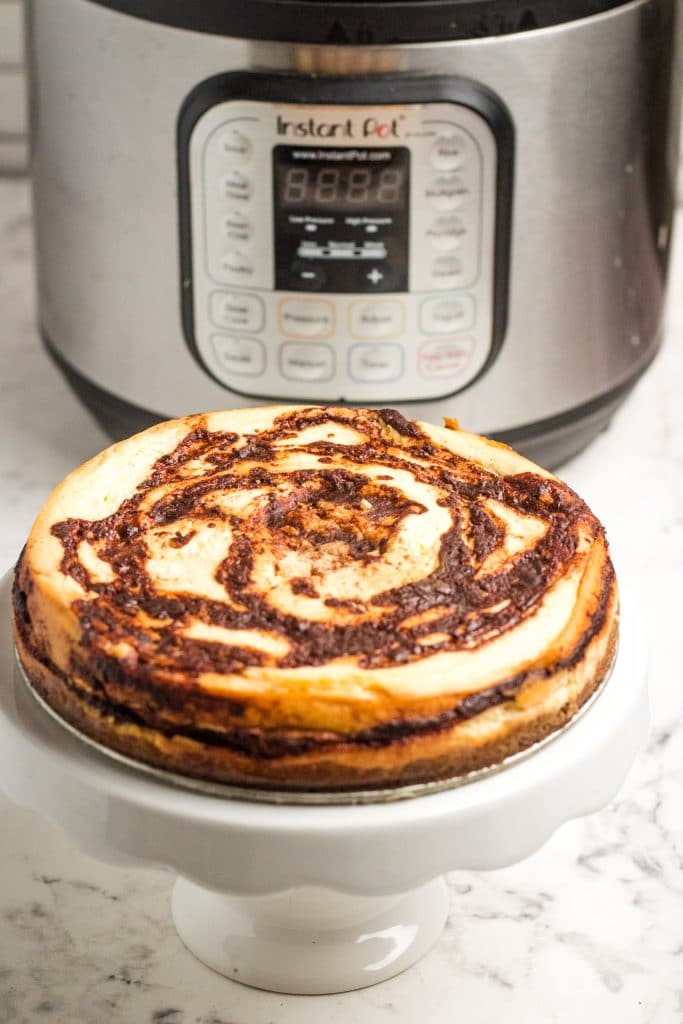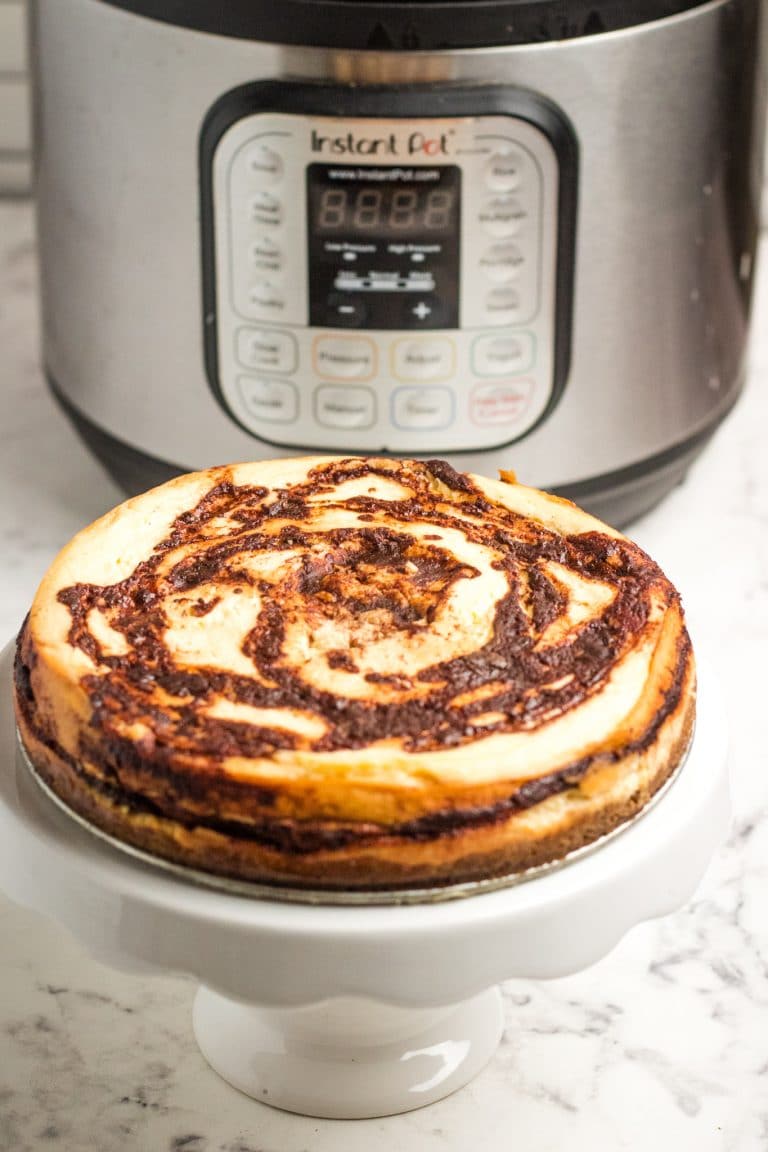 At this time of year, everything is either pumpkin, apple pie, or cinnamon-inspired so I thought, why not add to my collection of deliciously creamy and super easy Instant Pot cheesecakes by making an Instant Pot Cinnamon Swirl Cheesecake?!
The cinnamon swirls give this simple cheesecake another dimension of flavor that'll have you coming back for more. Serve your cheesecake chilled as is or with a side helping of whipped cream or ice cream.
What Is Cinnamon Swirl Cheesecake?
Cinnamon Swirl Cheesecake is essentially a vanilla cheesecake that gets its name from swirling dollops of cinnamon butter-sugar mixture through the cheesecake filling while assembling the dessert to cook in the Instant Pot.
For an extra kick of warm cinnamon, I've also included a small amount of this spice in the graham cracker crust! It's like a cinnamon roll in cheesecake form.
Cinnamon Roll Cheesecake Ingredients
crushed graham crackers
butter
brown sugar
cinnamon
cream cheese (softened)
granulated sugar
sour cream
vanilla extract
eggs (room temperature)
Crushed graham crackers – You can purchase pre-crushed graham crackers or you can crush your own. If you want to save a bit of time, grab the pre-crushed kind in the baking aisle.
Butter – Salted butter works best for this recipe.
Brown sugar – Light or dark brown sugar, either will work.
Cream cheese – Make sure it is softened. See notes below.
How To Make Cinnamon Swirl Cheesecake In The Instant Pot
For this recipe, you will need to make your cheesecake in 3 main steps. First, you will make your crust, then your cinnamon swirl mixture, and then your cheesecake filling.
You will also need a 7-8 inch springform pan, skewers/butter knife, aluminum foil, mixing bowls, parchment paper, baking spray, a hand mixer, and aluminum foil.
How to Make the Crust
With a fork, mix together graham cracker crumbs, melted butter and brown sugar until it resembles the consistency of wet sand.
Cut a piece of parchment paper to the size of the bottom of your 7-8 inch cheesecake pan. Fit the paper into the bottom of the pan and lightly spray the paper and sides of the pan.
Press crust mixture onto the bottom and about ¾ inches up the sides of the pan. Place crust in the freezer while preparing the filling.
How to Make The Cinnamon Swirl
Using a medium bowl mix together the butter, brown sugar and cinnamon until light and fluffy.
Set this aside while making the cheesecake filling.
How to Make the Filling
Using a large bowl, mix the cream cheese and sugar on low speed until thoroughly combined.
Add the sour cream and vanilla extract, continuing to mix on low speed until combined.
Then, add in the eggs, one at a time, mixing on low speed after each addition.
Pour half the filling into your pan. Spoon dollops of cinnamon swirl mixture on the top and swirl lightly with a skewer or butter knife. Pour the remaining filling on top of this.
Repeat the addition of the cinnamon swirl mixture, swirling again with a skewer or butter knife.
Cover the pan with aluminum foil, sealing the edges.
Place 1½ cups of water into the bottom of the Instant Pot. Place cheesecake on the trivet and lower into the Instant Pot.
Seal and set the Instant Pot to high pressure and cook for 45 min.
How Do I Quickly Soften Cream Cheese?
We've all been there…a busy schedule that's led us to forget to soften the cream cheese on the countertop in preparation for making a scrumptious cheesecake!
If you've found yourself in this position, you're not alone, and it's exactly why I decided to add this question to my post.
There are 2 ways I would recommend you soften your cream cheese when you know you don't have the luxury of waiting 30 minutes for it to soften at room temperature:
The Microwave Method – 1 minute or less
An average block of cream cheese is 8 oz. and as such you need 3 blocks for this cheesecake recipe. Place all 3 blocks of cream cheese (unwrapped) on a microwave-safe plate and heat on high for 15 – 35 seconds, checking on the cream cheese blocks during intervals until the cream cheese has softened.
Pro Tip: If you see any liquid (like whey) seeping out onto the plate from the softening process, add the liquid to the recipe when you add in your cream cheese.
The Warm Water Method – approx. 15 minutes
Softening cream cheese in the microwave has the potential of uneven heating. If you want to avoid this altogether then softening your cream cheese in a water bath is the best option.
Unwrap your cream cheese blocks but keep the foil wrapper intact and unopened.
Place each block in a medium bowl and then pour very warm – hot tap water into each bowl to submerge the cream cheese.
Let the cream cheese blocks sit in the warm water for 15 minutes, turning the blocks over every 5 minutes.
After 15 minutes, press the blocks to test for softness. Remove if softened and continue with the recipe or wait a little longer, replacing the hot water till the cream cheese is adequately softened.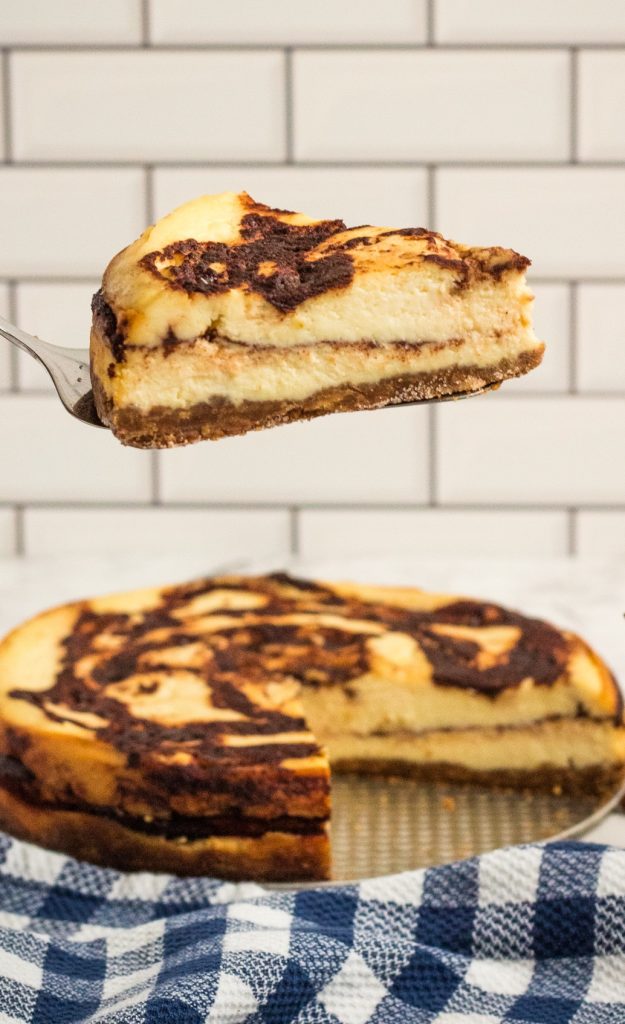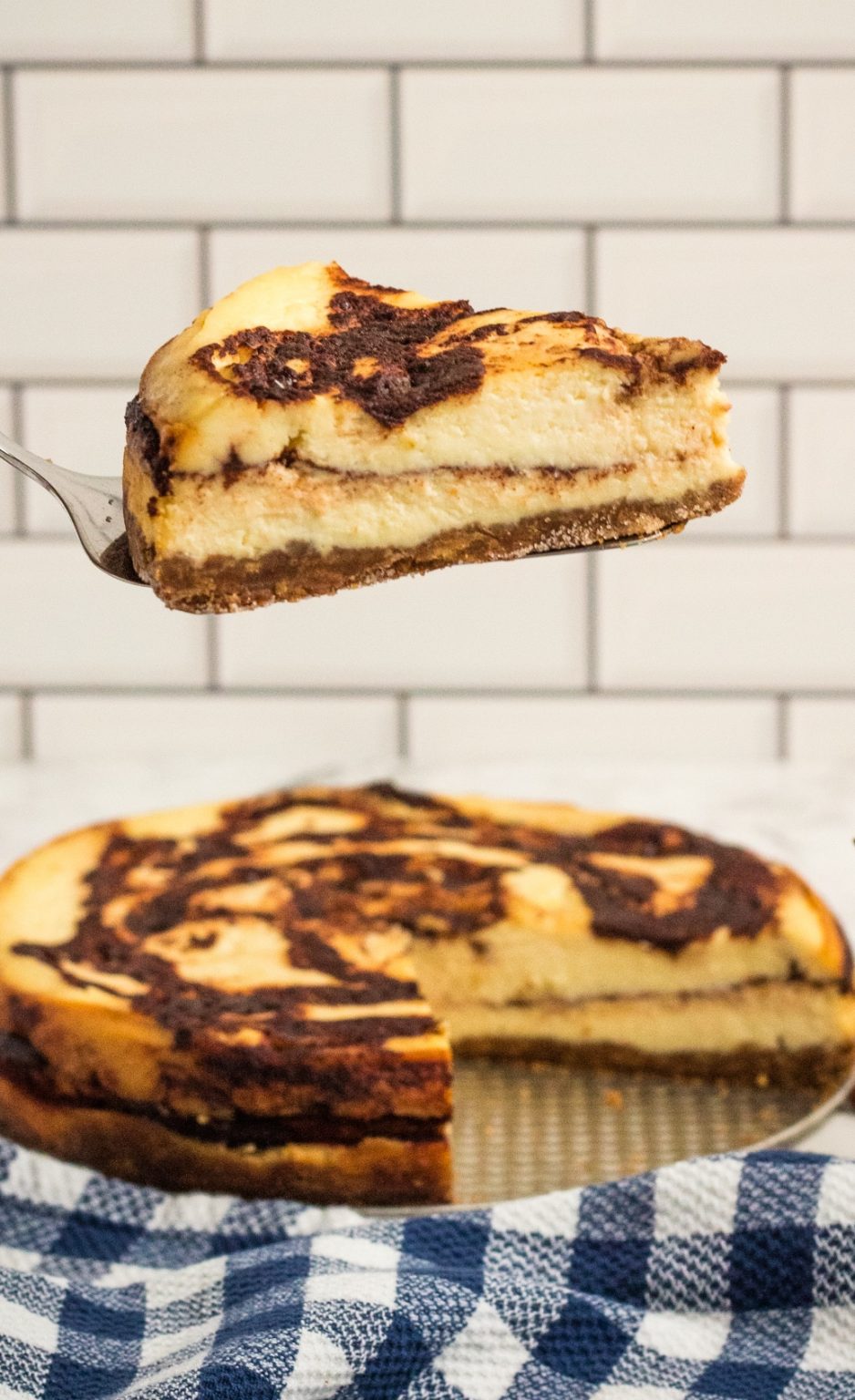 Can I Make This In The Oven?
Yes! If you don't have an Instant Pot then baking this Cinnamon Swirl Cheesecake in the oven is a great option!
You'll need to preheat your oven to 350? while making the crust, cinnamon swirl and filling.
Press the crust into a 8×8 inch pan and freeze.
Assemble the cheesecake exactly as you would in the Instant Pot springform pan.
Place the cheesecake in the oven for 20-30 minutes until set.
Once baked, remove the cheesecake from the oven and let it cool for 30 minutes on the countertop.
Continue to cool by placing the cheesecake in the refrigerator until it's completely cooled.
Seve and enjoy!
Other cinnamon recipes
Love cinnamon treats? Some of our favorites are: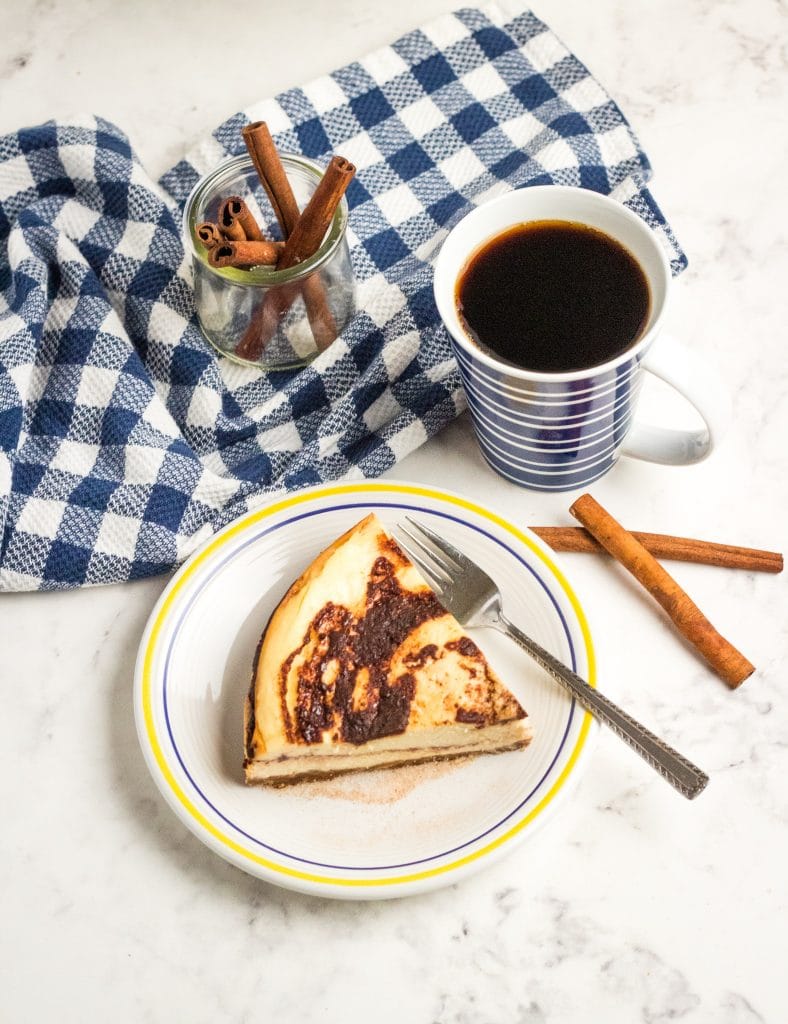 How To Store Leftover Cinnamon Swirl Cheesecake
While I doubt that you'll have any leftover cheesecake (it's just THAT good!), if you do then you can store it in the refrigerator for up to 5 days in an airtight container or cover the cheesecake with aluminum foil if it's still resting on the springform pan base.
Can I freeze it?
You can also freeze this cheesecake for up to 1 month. I like to wrap my cheesecake tightly with plastic wrap and then wrap again with aluminum foil when storing cheesecake in the freezer.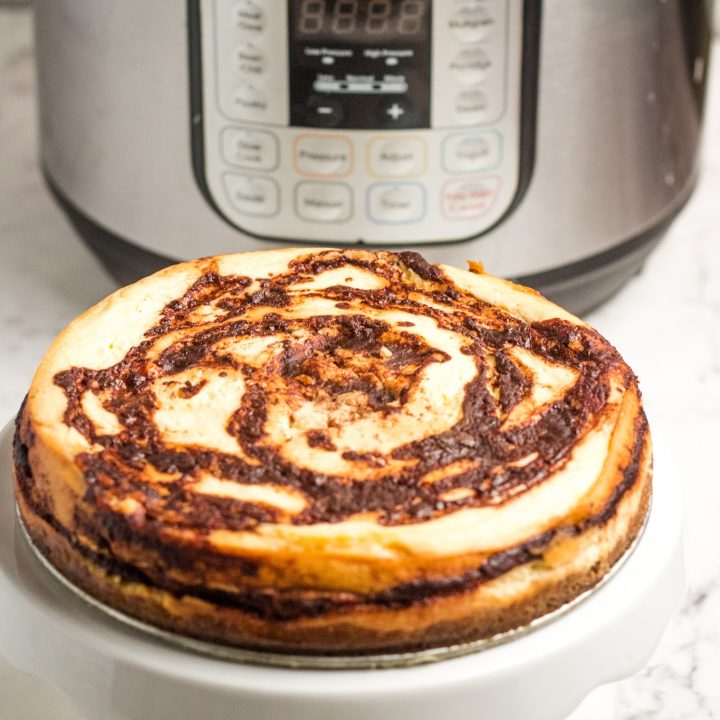 Cinnamon swirl cheesecake
Total Time:
1 hour
15 minutes
Make a decadent cheesecake that tastes like a cinnamon roll!
Ingredients
Crust Ingredients
2 c. crushed graham crackers
8 tbsp melted butter
3 tbsp brown sugar
½ tsp. cinnamon
Swirl Ingredients
½ c. butter (melted)
2/3 c. light brown sugar
2-1/2 tbsp. cinnamon
Filling Ingredients
24 oz. cream cheese (softened)
2/3 c. granulated sugar
½ c. sour cream
1 tsp. vanilla extract
2 eggs (room temperature)
Instructions
Combine graham cracker crumbs, butter, cinnamon and brown sugar until the consistency of wet sand.
Lightly spray bottom and sides of 8-inch springform pan with a non-stick cooking spray.
Place graham cracker mixture in bottom of pan and spread evenly. Press mixture into bottom and approx. 1/2 in. up sides of pan.
Chill in freezer while preparing filling.
In a medium bowl, mix together the butter, brown sugar and cinnamon until light and fluffy. Set aside while making the filling.
In large mixing bowl, on low speed, beat cream cheese and sugar until smooth and totally combined. Scrape bowl throughout mixing to ensure all ingredients are incorporated.
Add sour cream and vanilla and mix.
Add eggs, one at a time, mixing after each just until combined.
Pour one half of the filling into prepared crust.
Spoon dollops of the cinnamon swirl mixture onto the filling. Swirl lightly with a skewer or butter knife.
Pour remainder of the filling into the pan.
Repeat with the cinnamon swirl.
Put 1-1/2 cups of water into the bottom of the instant pot.
Cover the cheesecake pan with foil, sealing the edges.
Place the pan on trivet and lower into the Instant Pot.
Seal and set the Instant Pot to high pressure and cook for 45 minutes.
Allow the pressure to release naturally. Remove carefully and allow to cool before slicing.
Other Instant Pot Cheesecake Recipes To Try
Did you make this recipe? I'd love for you to leave a review in the recipe card above or the post below.
Want to make it later? Pin the image below to your favorite food board! Thank you for the support!