Cherry fluff is a fun side dish or dessert that is perfect for summer gatherings. It is easy to make and comes together without any baking required. Let me show you how to make this easy cherry fluff recipe with only a handful of common ingredients.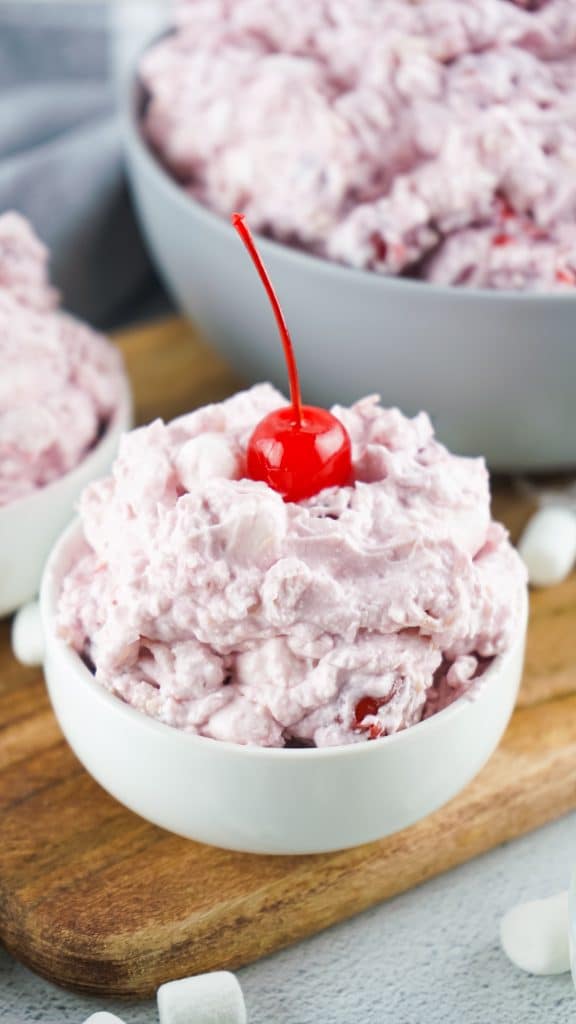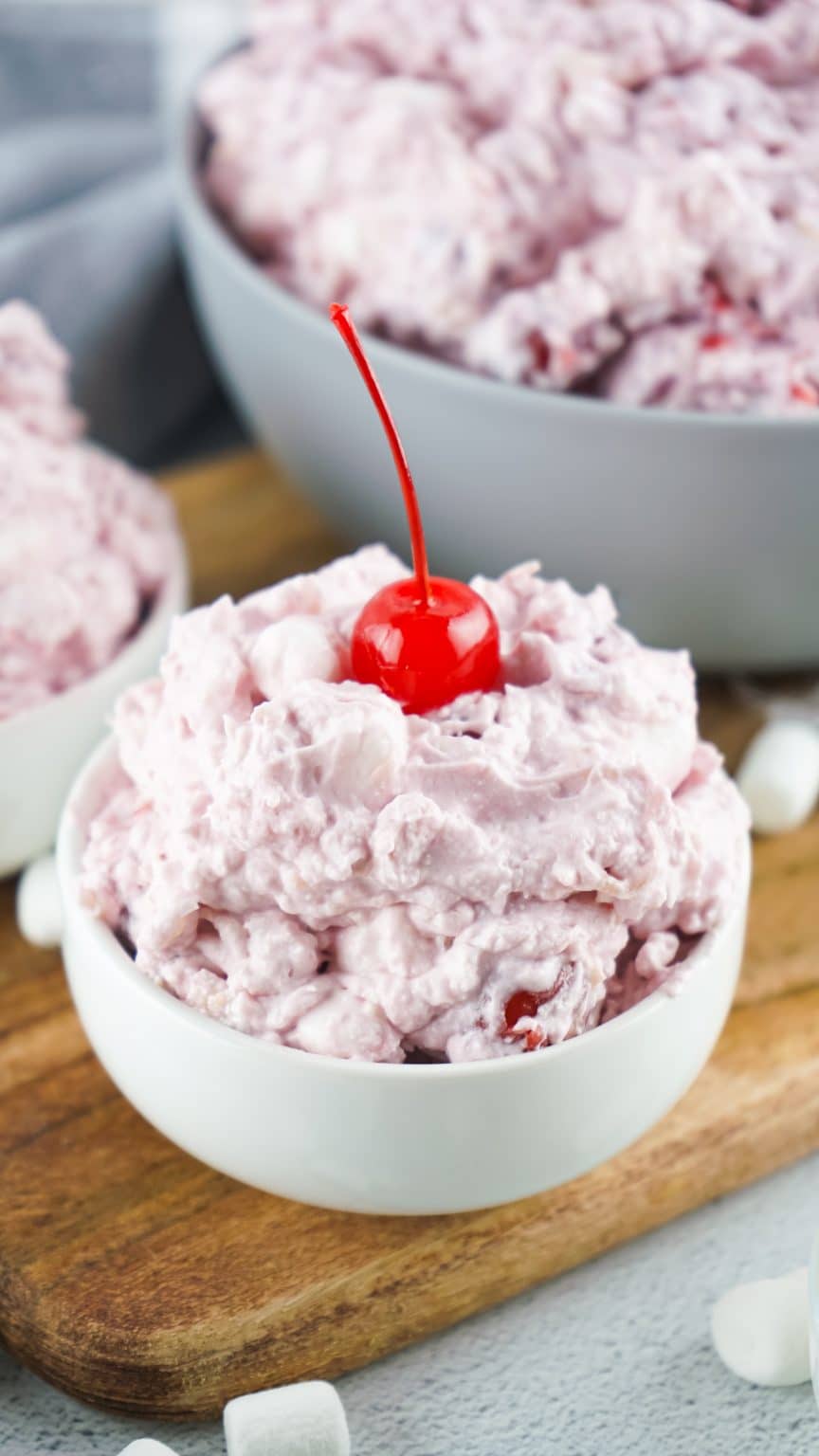 Cherry fluff is always a hit and always brings back childhood memories of family get togethers and BBQs. Someone always brought the cherry fluff and it was one of the first dishes emptied. It's a perfect no-bake dessert to make during the summer because who wants to turn their stove on on a hot day?!
What is cherry fluff?
This no-bake dessert goes by many names. Some people call it cherry fluff, ambrosia salad, cherry dump salad, and every cherry fluff salad. Whatever you call it – it's delicious! It's a handful of sweet ingredients including canned fruit, whipped topping and mini marshmallows. It whole dessert comes together quick and makes a great option to share with others. Cherry fluff salad is VERY similar to my pistachio fluff! Both are great summer side choices.
Cherry fluff ingredients
I think the best part about this dessert is that you only need a handful of common ingredients. I'm positive you can find all of the ingredients needed for this cherry fluff at your local grocery store. You will need:
cherry pie filling
crushed pineapple
whipped cream
sweetened condensed milk
mini marshmallows
shredded coconut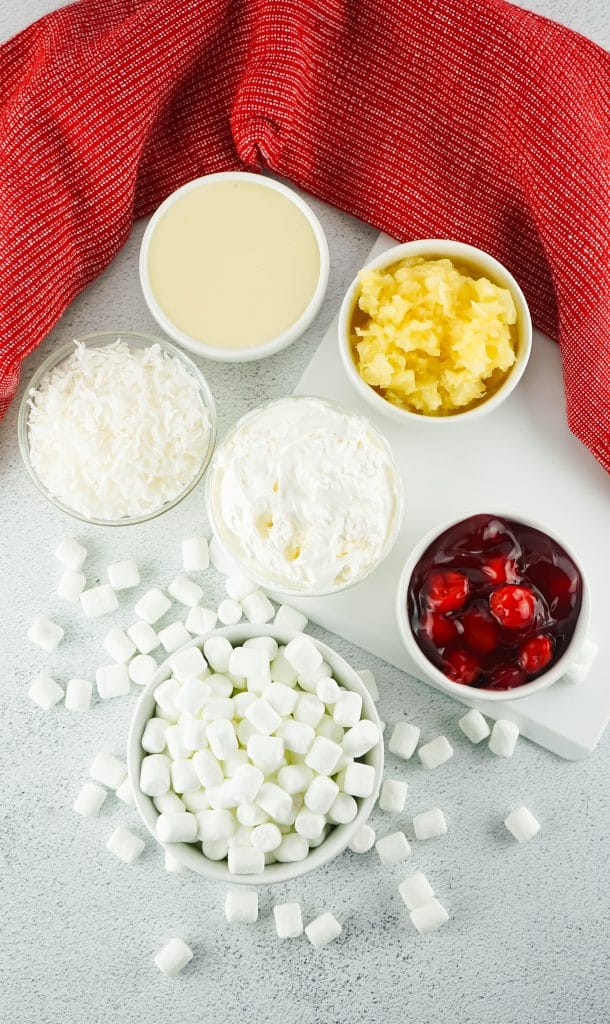 Cherry pie filling – This is what makes the cherry fluff.. cherry! You can find cherry pie filling in the baking aisle. You can also use maraschino cherries, drained, instead of the pie filling.
Crushed pineapple – Pineapple chunks will also work here. Just be sure to drain the pineapple no matter what you use.
Whipped cream – I suggest using frozen whipped topping instead of homemade for this recipe. It will be quicker and it gives the fluff salad a better consistency.
Shredded coconut – Make sure to get sweetened coconut to give your cherry fluff a nice sweet flavor.
How to make cherry fluff
Another great thing about a fluff salad is that it's simple to make. Not baking required!
Step 1 Add ingredients Place your pineapple, coconut, mini marshmallows and cherries in the bottom of a large bowl.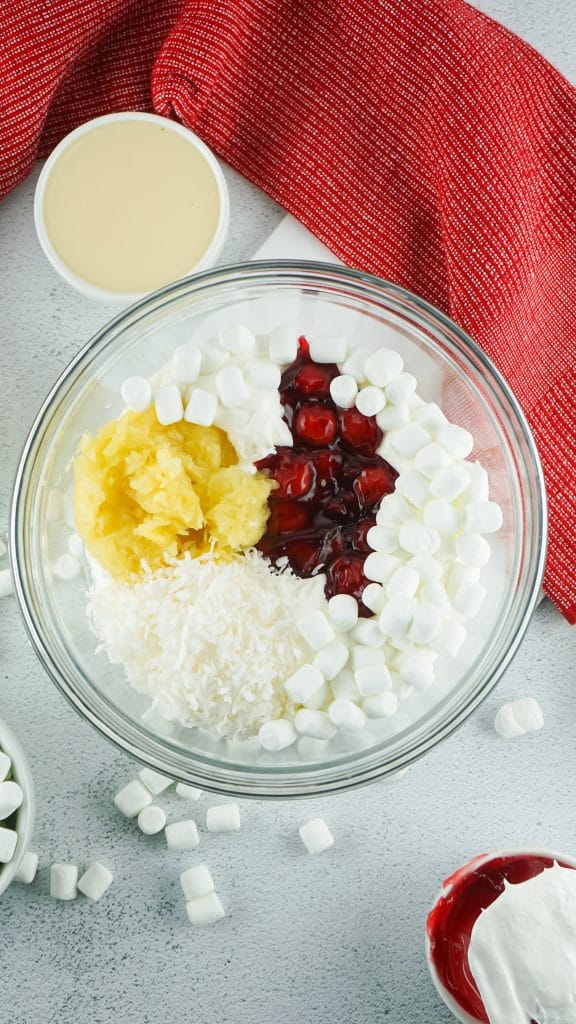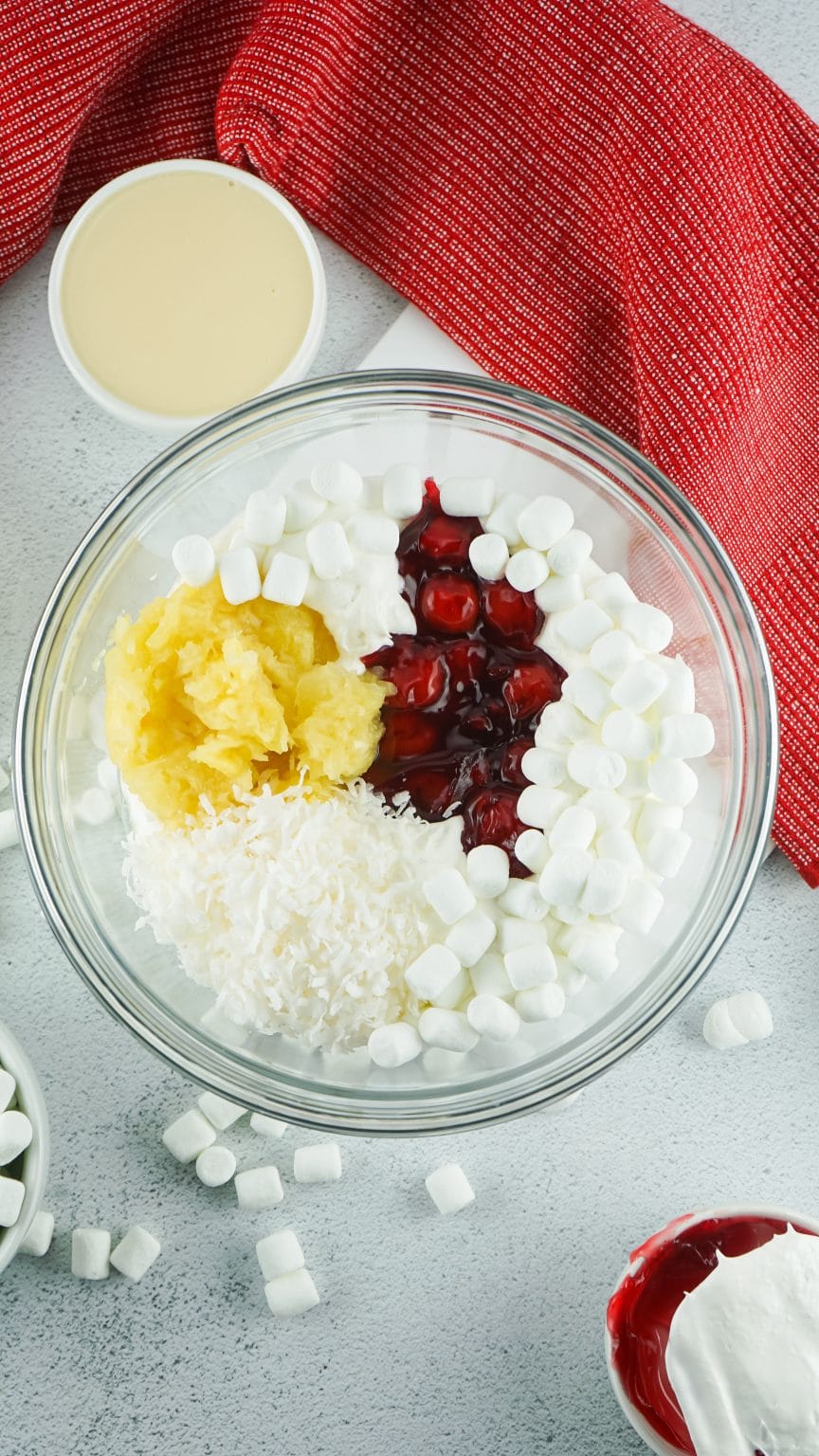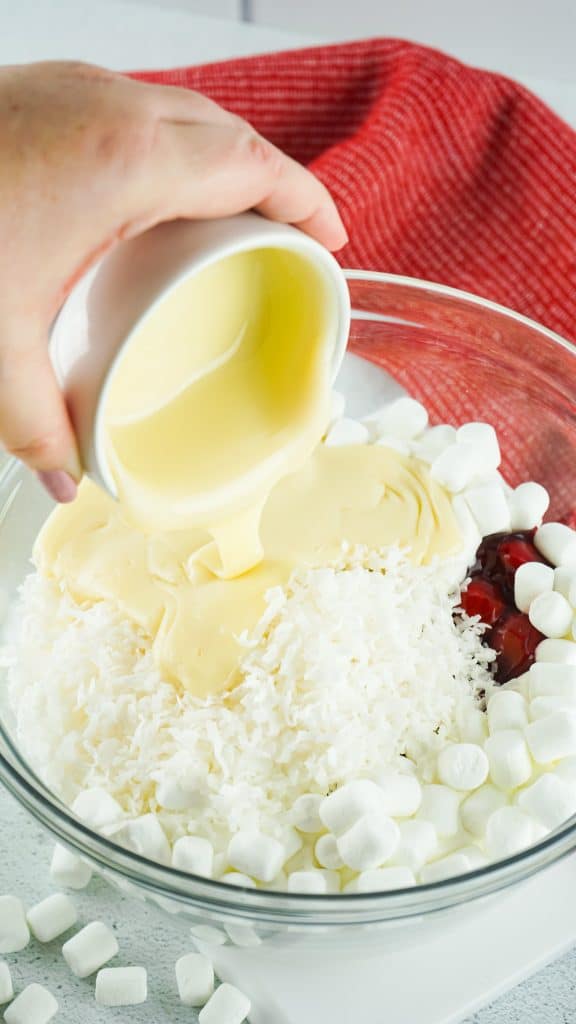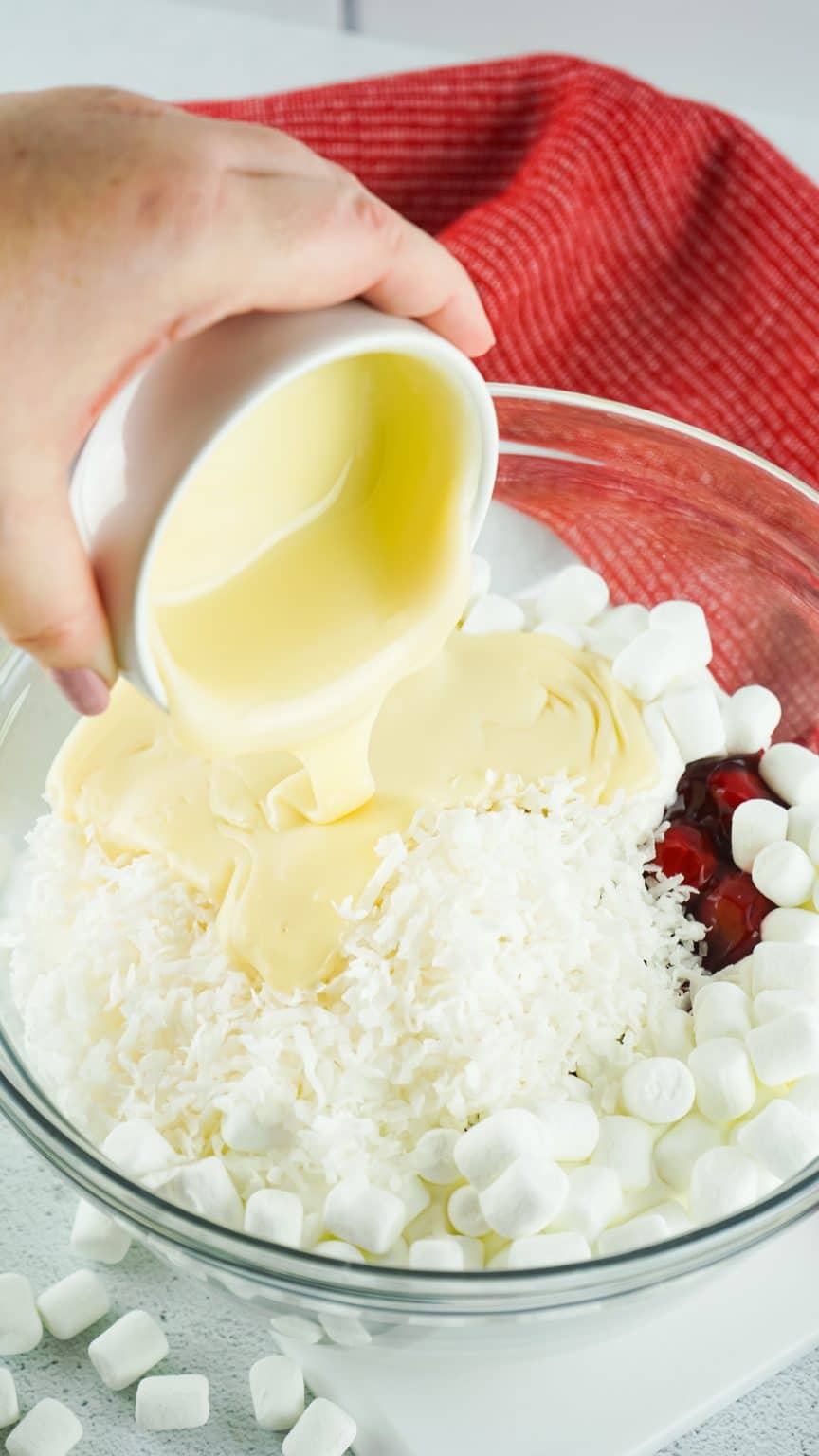 Step 2 Combine Pour in the sweetened condensed milk and stir to combine all the ingredients. Fold in the whipped top and gently combine.
Step 3 Serve Serve the pink cherry fluff salad immediately, or cover and place in the fridge for later.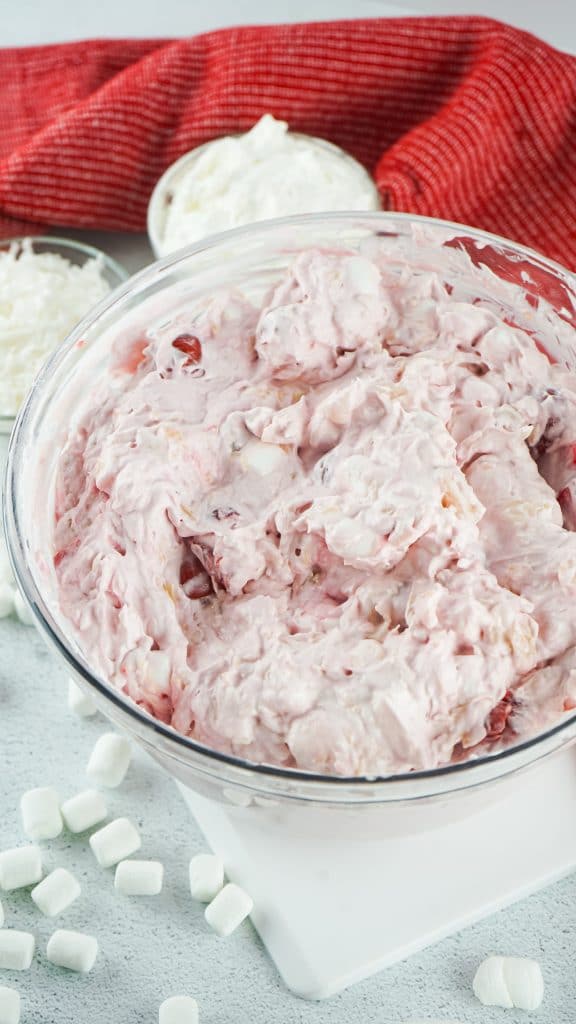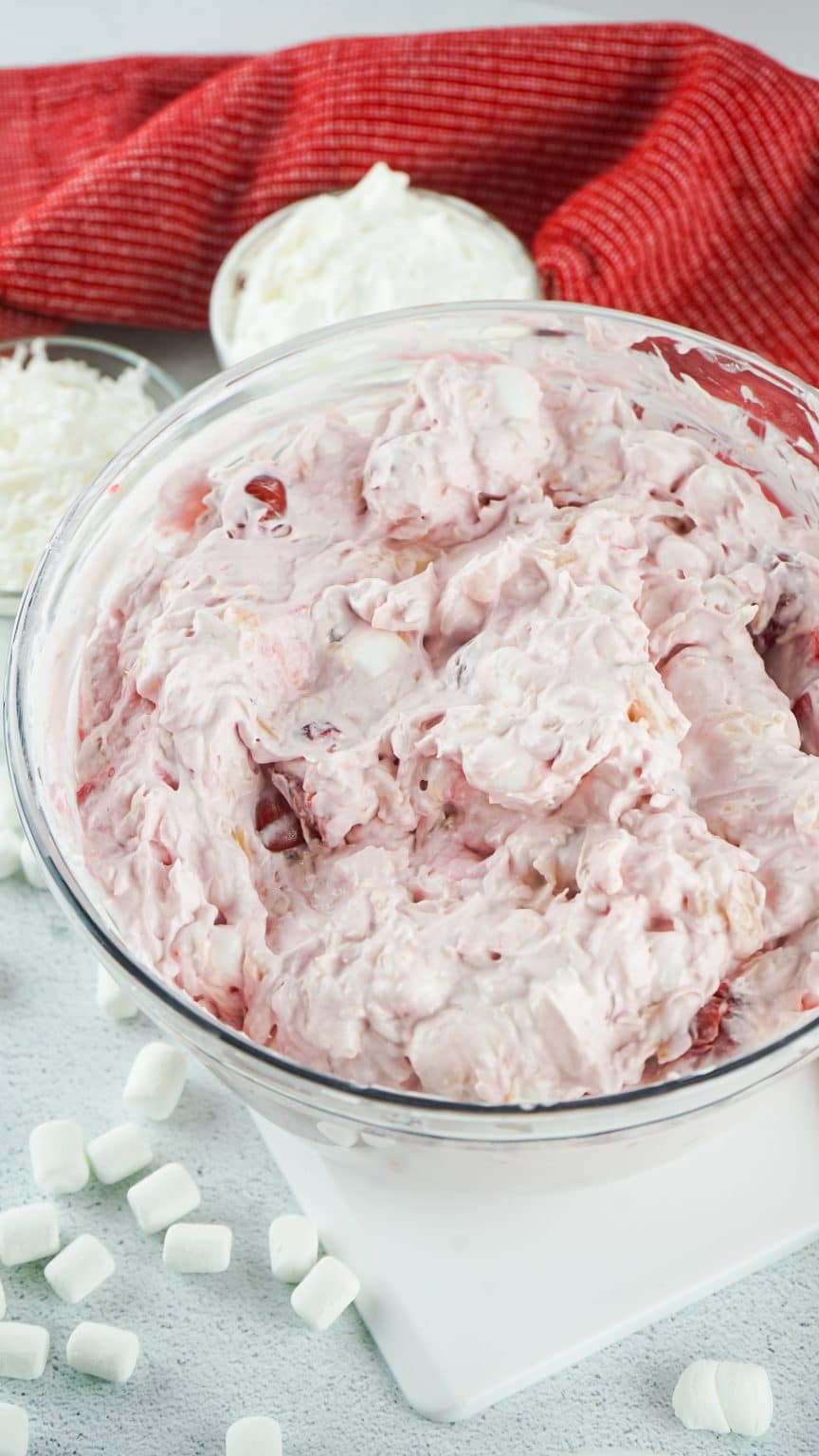 What is pink fluff made of?
Everyone seems to make their pink stuff a little bit different. Some people add Jell-o packets or nuts to their dessert. My version of cherry pink fluff uses whipped topping, sweetened condensed milk, mini marshmallows, cherries, pineapple and shredded coconut.
What do you eat with cherry fluff?
Cherry fluff is a great dessert or even side dish for BBQs. I suggest adding summer friendly options to your meal. Some great ideas are:
Do you drain pineapple for cherry fluff?
Yes! You need to drain your pineapple before adding it to the bowl. You can use crushed or chunk pineapple, but be sure to drain it first. It will be too watery if you don't drain it.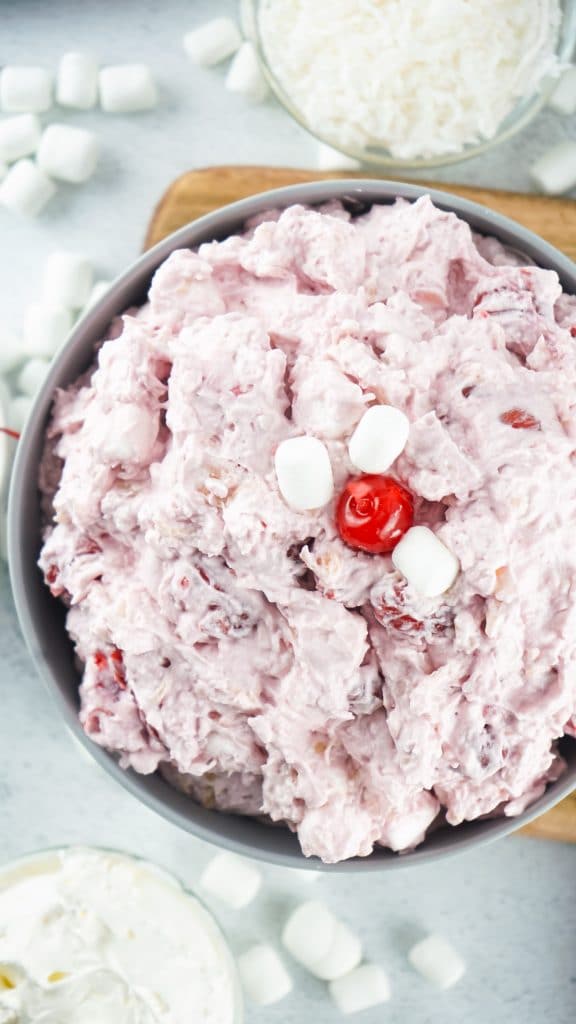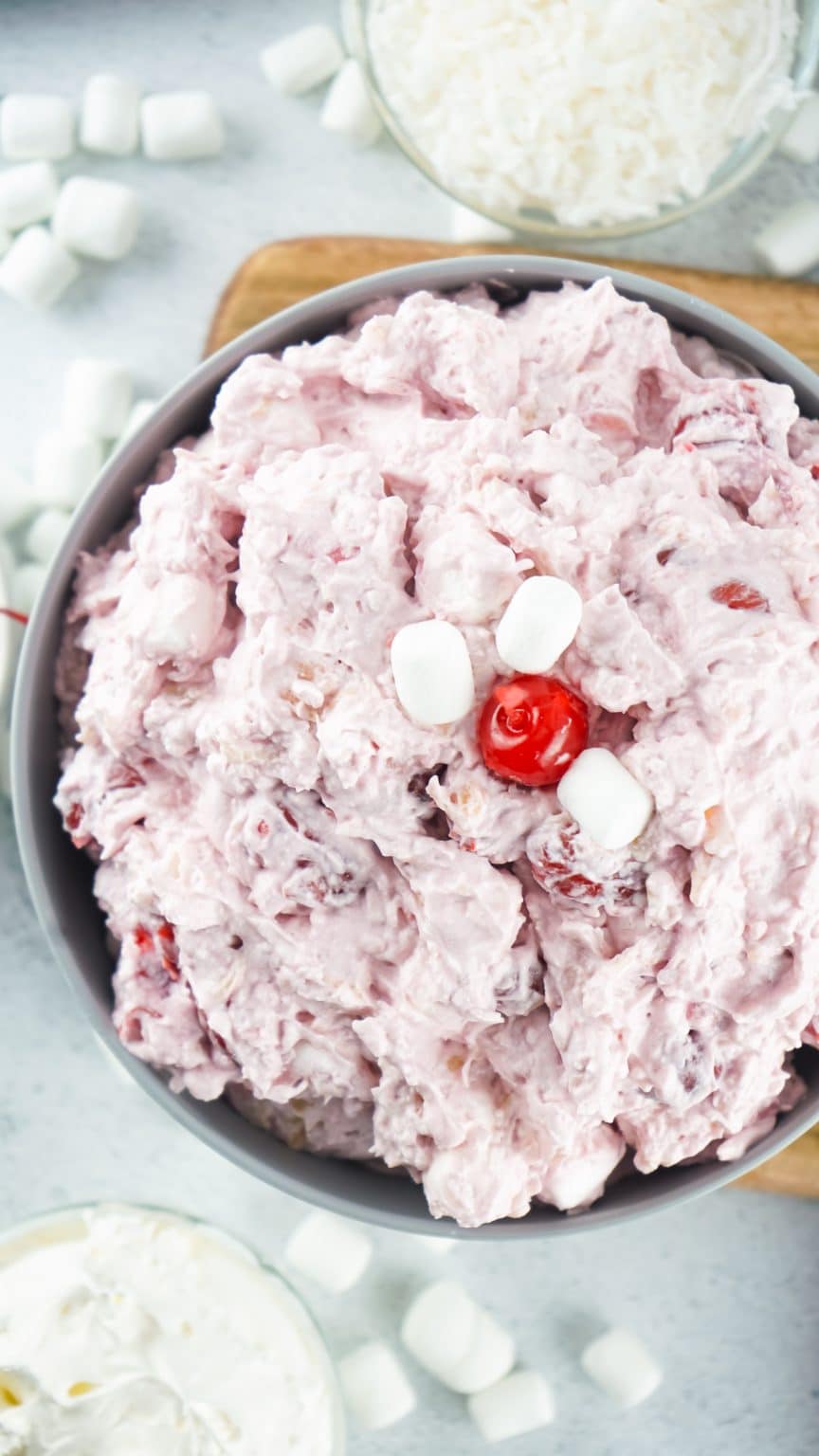 How long with cherry fluff last in the refrigerator?
Cherry fluff will stay in the fridge for 3 days. I do not recommend leaving it longer than that. Make sure to give your fluff a good mix before serving it from the fridge. Be aware that the marshmallows may become soft from sitting in the fridge as well.
Can you freeze cherry fluff?
No, it is not recommended to freeze any fluff salad.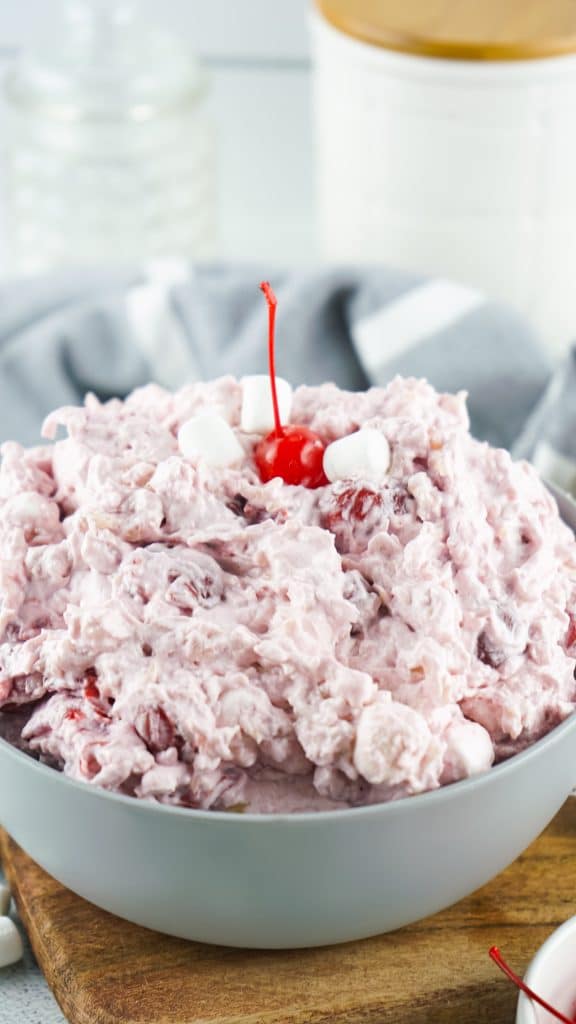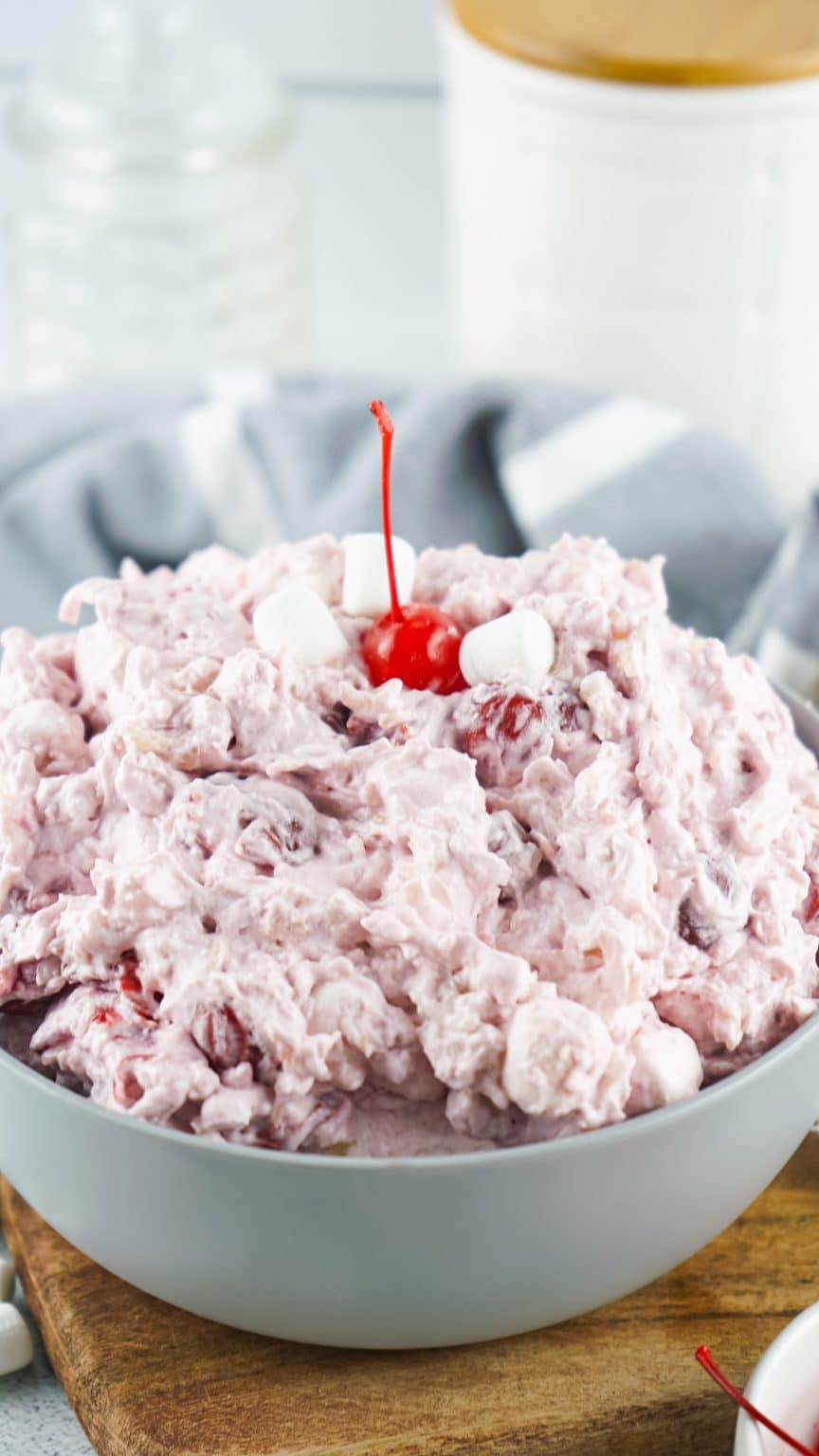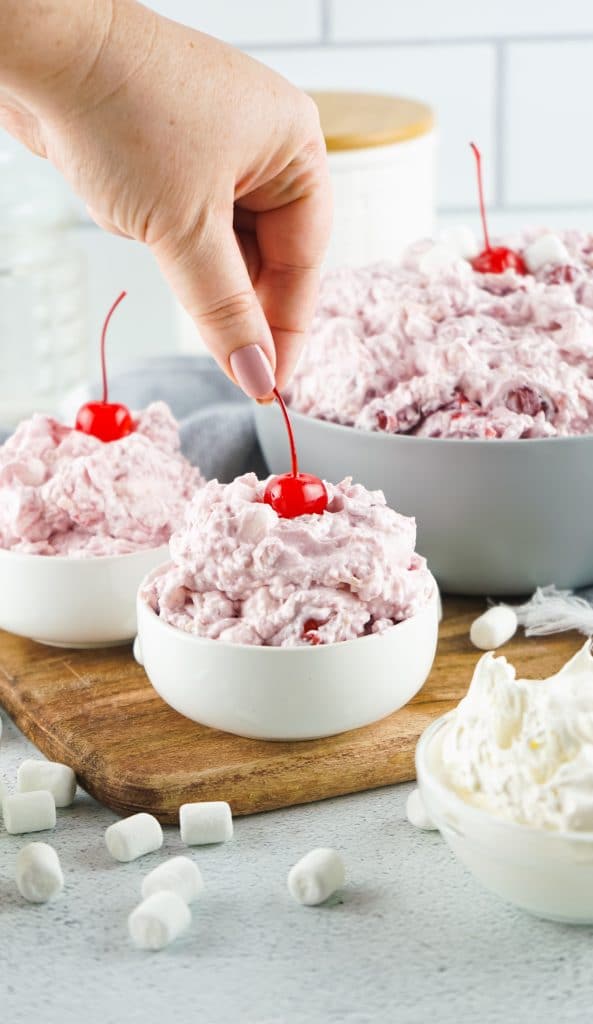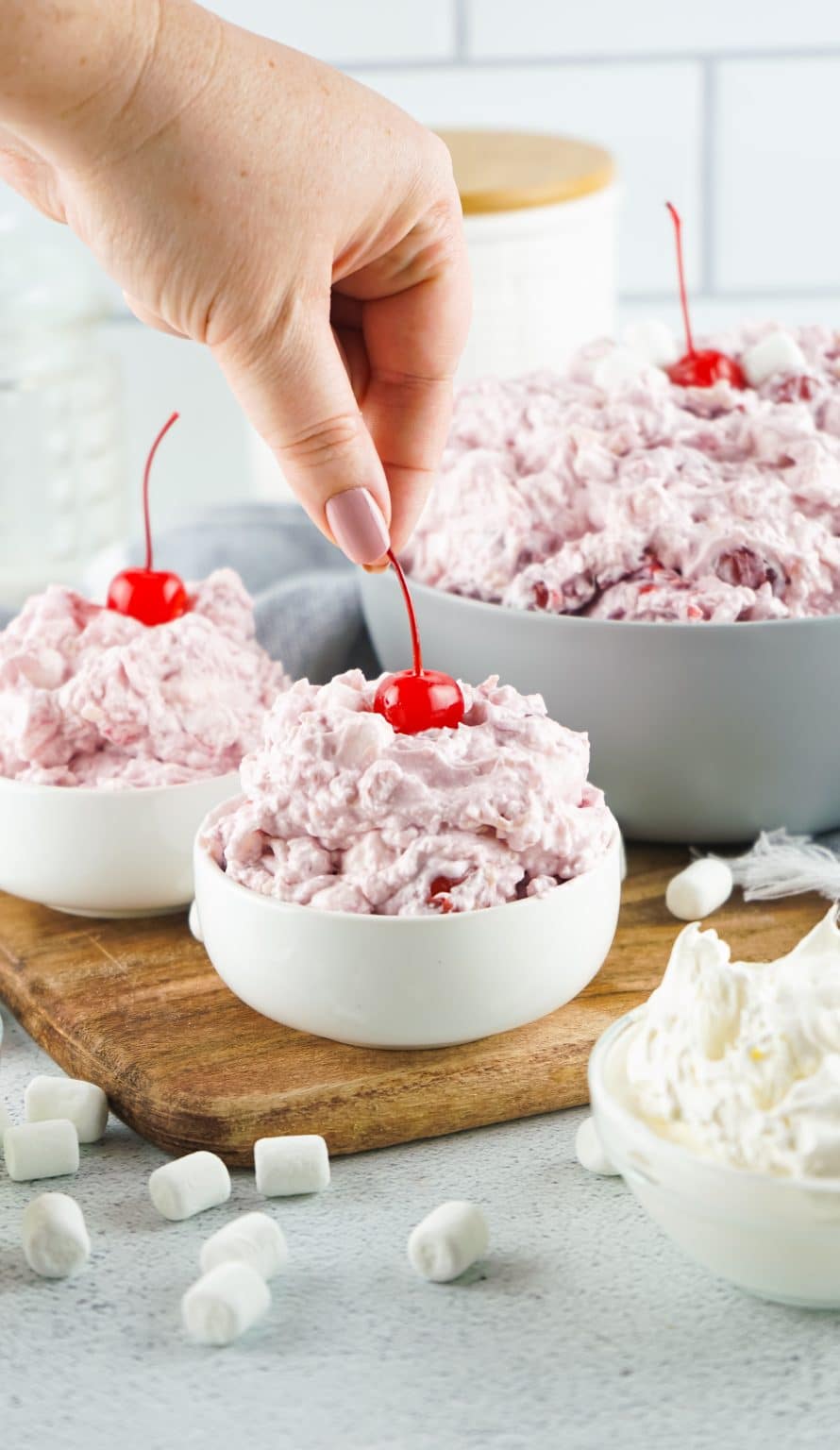 Optional add-ins
This fluff recipe is super easy to customize to make it your own. Some other add-ins that we like to put in our fluff salads are:
can of fruit cocktail (drained)
mandarin oranges (drained)
walnuts
cottage cheese
Other summer dessert recipes to try
Need another dessert recipe to share this summer? Some of our favorites are: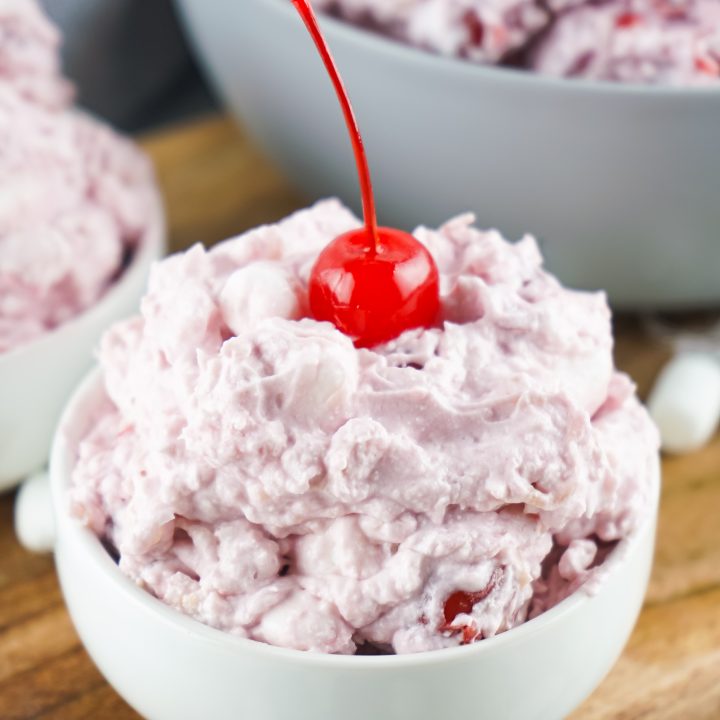 Cherry Fluff
Make this easy summer side or dessert that is perfect for sharing!
Ingredients
1 Can Cherry Pie Filling (21 ounces)
1 Can Crushed Pineapple, drained (20 ounces)
1 Tub Whipped Cream (8 ounces)
7 Ounces Sweetened Condensed Milk
1 ½ Cups Mini Marshmallows
1 Cup Sweetened Shredded Coconut
Instructions
Combine all of the ingredients in a large bowl.
Mix well and serve immediately, or cover and store in the fridge until it's ready to be served.
Did you try this recipe? I'd love for you to leave a review in the recipe card above or the comments below. Want to make it later? Pin the image below to your favorite dessert board. THANK YOU for the support.