You may want to make a double batch of these iced ricotta cookies. They always seem to disappear!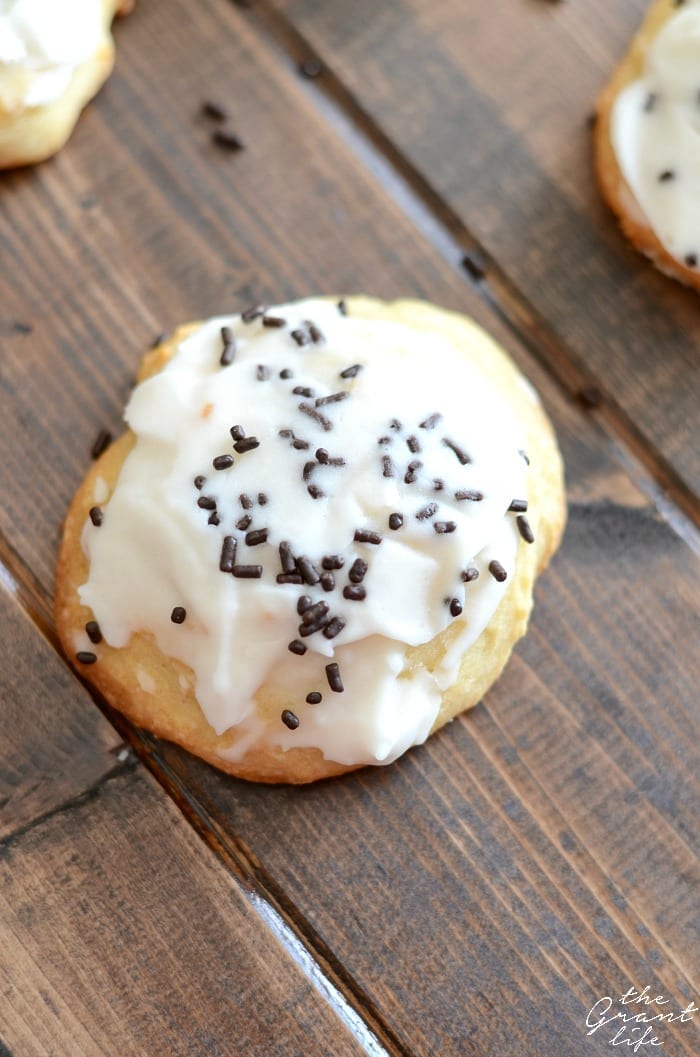 It's the final countdowwwwwn! … til Christmas! I know I already made that reference in another post but that's really all that comes to mind lately. Sorry.
Other then bad 1980's puns running through my head – I hosted my 4th annual cookie exchange this past weekend! My parents live on a street that goes all out for Christmas and has a big block party every year. So on the day of the block party I host a cookie exchange. I can't believe it's the 4th year!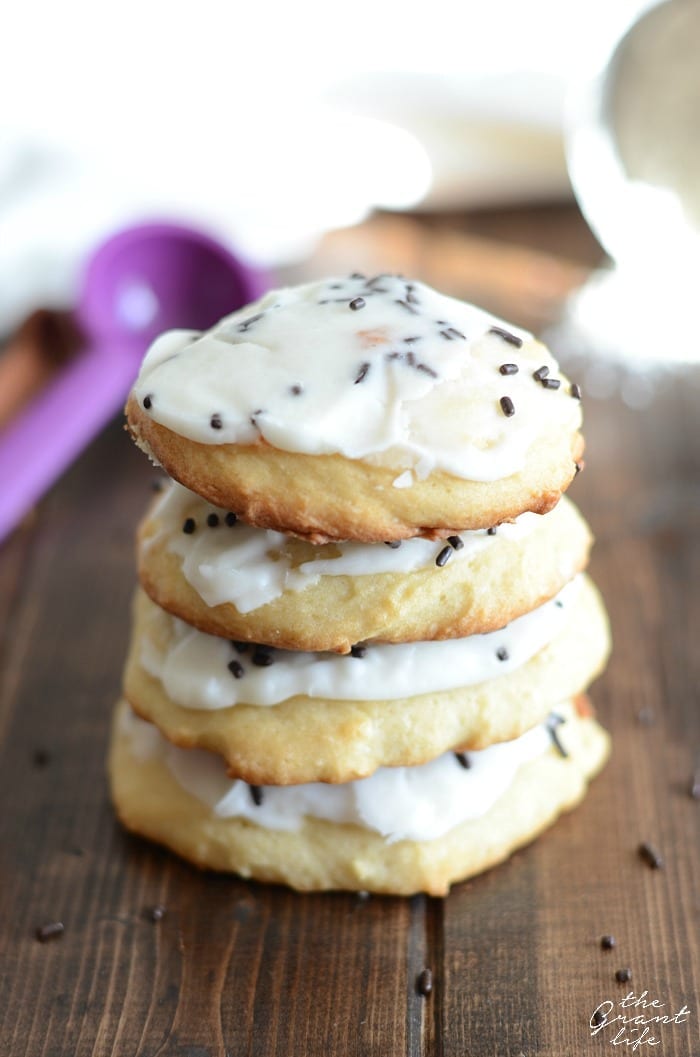 The first year I had like 5 people come. Just a few of my really good friends. No plan other then to go to the block party and look at the lights. We had cookies but it wasn't a big thing. Fast forward to this and it was my biggest exchange yet!
We had close to 40 people (including kiddos) come out. Everyone brought 2 dozen cookies and was instructed to wear an ugly sweater. I had a few appetizers, a fruit tray and some drinks ready to go when they got there. Plus cute Christmas boxes for their take home cookies. I was ready.
And then my dad got involved. Oh man. He didn't think that we had nearly enough food. He made a quick run to HEB to remedy the problem.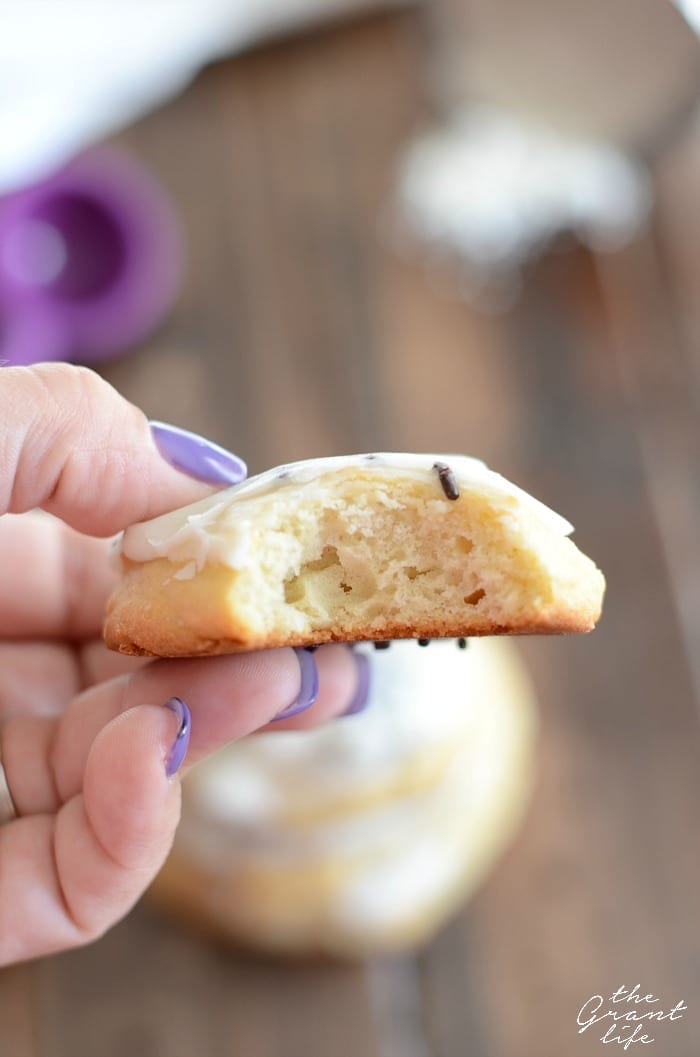 He cooked chicken, shrimp and sausage on the grill. Made a nut tray and put together an amazing avocado salad. Food literally covered the dining room table from one end to the other. He put my appetizers to shame.
Everyone said "I see where you get it from" meaning they understood where I got my love for cooking. Dad did good. He may have overshadowed the cookies a bit but that's ok. The party is about getting together anyways. He told me the next day "That was a really good time last night." and I just agreed. It sure was, dad!
Ps.. I did not make these for the cookie exchange. I made a few other cookies instead. I did make these for a friends party and they literally disappeared. Everyone kept sneaking "just one more" from the tin.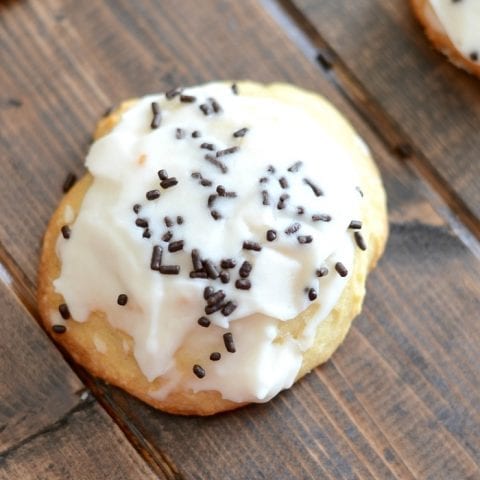 Iced ricotta cookies
Ingredients
For the Cake -
2 1/4 cups all-purpose flour
1 teaspoon baking powder
1/2 teaspoon baking soda
1/8 teaspoon salt
1/2 cup (1 stick) unsalted butter, softened
1 cup granulated sugar
1 egg
1 cup ricotta
1 teaspoon vanilla extract
For the icing -
½ stick of butter, melted
2 cups of powdered sugar
1 teaspoon almond extract
teaspoon of milk
sprinkles for topping
Instructions
Preheat your oven to 350 and line a baking sheet with a silicone baking liner.
Mix together flour, baking powder, baking soda and salt in a bowl.
Blend the butter and the sugar until fluffy.
Add in the egg, ricotta and vanilla.
Slowly add in the dry ingredients and mix until blended.
Drop spoonfuls of the dough on the lined cookie sheet. Bake for 15 minutes or until the edges are just turning brown.
Remove from oven and place on a wire rack to cool.
Mix together the melted butter, powdered sugar and almond extract. Add in a teaspoon of milk until desired consistency is reached.
Frost the cooled cookies, add sprinkles and enjoy!
Like it? Pin it!